There are some names that are indelibly associated with a specific region, as they represent either the most important historic estates of the area or that area's most iconic producers. Few would argue that Egon Muller, Bassermann-Jordan, JJ Prum, Vega Sicilia, Alvaro Palacios, Château Cheval Blanc, Château Lafleur, Petrus, DRC, Roumier, Ponsot, Trimbach, Zind Humbrecht, Domaine Weinbach, Hugel, Harlan, Ridge, Giacomo Conterno, Aldo Conterno, Bruno Giacosa, Château Rayas, Château de Beaucastel, Guigal, Philipponnat, Veuve Clicquot, Louis Roederer, Tenuta San Guido, Tua Rita and a few others are not the or at the very least amongst the benchmark name in their respective wine regions. Which doesn't mean of course that there aren't other fantastic estates in each wine region, because there are, but some estates in each world wine area are almost always those that first come to mind and that everyone can agree on when thinking of benchmark estates of specific wine zones. And so it is, when it comes to Bandol, where Domaine Tempier is one of the Appellation's brightest stars.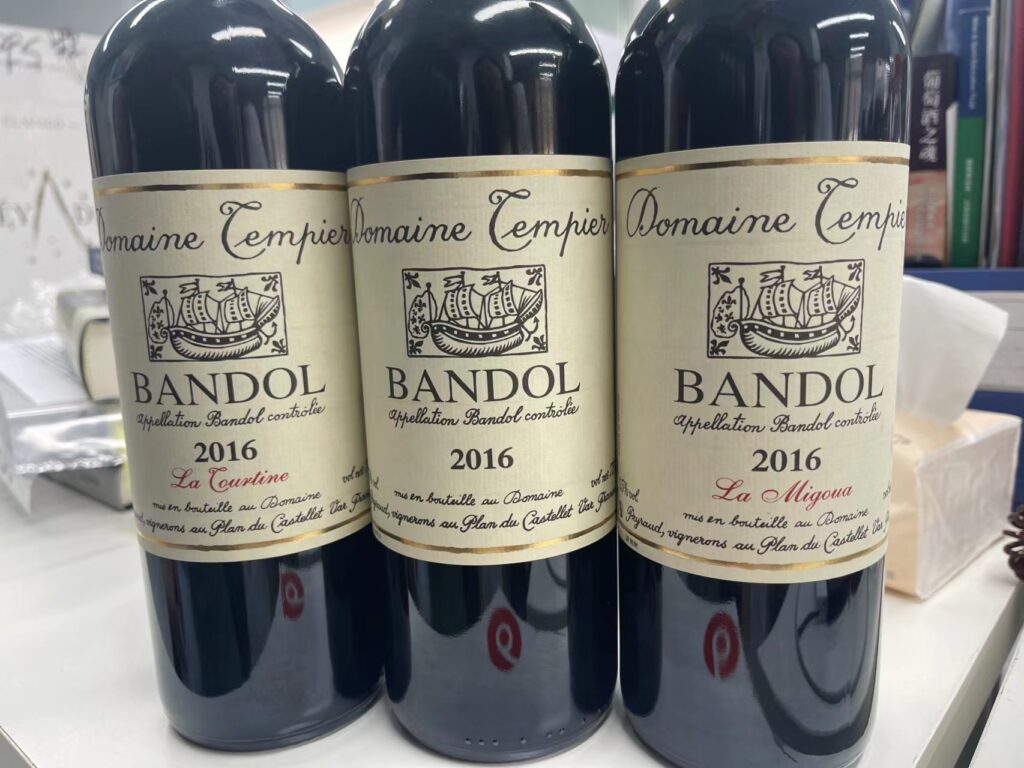 Bandol is an Appellation founded in 1941 located in the Provence wine region of southeastern France. Named after the quaint fishing town of the same name, the Appellation actually spreads out over the territories of eight different communes and is characterized by highly flavourful and distinctive white, rosé and red wines. Perhaps not surprisingly given its Provence we are talking about, the majority of the area's output is of rosé wines (65%), followed by red wines (30%) and white wines (5%). Domaine Tempier came to be with the 1936 marriage of Lucie Tempier and Lucien Peyraud. Lucie's father gifted the newlyweds with a farm in Le Plan de Castellet (near Bandol) called Domaine Tempier that had been in the family since 1834. Upon tasting the estate's wines, including pre-phylloxeric bottlings, Lucien quickly became aware of the potential not just of the estate but of the whole region and of its main grape variety, Mourvèdre, that had fallen on hard times and was being phased out in favour of more productive, easier to grow and to vinify wine grapes. Lucien took it upon himself to change the status quo, and in time became recognized as the patriarch of Mourvèdre as well as having a key role in the establishment of the Bandol Appellation by working closely with the other producers of the area and the Institut National de l'Origine et de la Qualité (INAO). Upon Lucien's retirement in the early 1970s, his sons Jean-Marie and François took over, and when they retired, it was Daniel Ravier's turn to keep Domaine Tempier among the world's wine elites (and who instituted biodynamic faming in the process).
Domaine Tempeir is world-famous for its wines: undoubtedly, a large portion of that fame is due to the estate's amazing Rosé, one of the world's best pink wines and a Provence Rosé that unlike many of the area's pink wines ages extremely well and boasts both depth and complexity. But Domaine Tempier is also famous because of its three special single-vineyard red wines (La Tourtine, La Migoua and Cabassaou) that also attract collectors all over the world. The three vineyard areas present noteworthy differences in soil and altitude; the wines are accordingly different too. Of the three, La Migoua is the one situated at the highest altitude (270 to 300 meters above sea level on the Beausset Vieux hillside) and boasts the greatest diversity of clays; its wine is always the softest and readiest to drink of the trio, given that its percentages of Grenache and Cinsault are noteworthy while that of the Mourvèdre is the lowest of all three cru wines. Think of it as a Bandol for Burgundy lovers. La Tourtine is characterized by a very heavy clay soil: that, plus the very high percentage of Mourvedre in the blend, accounts for this cru's beefy, powerful personality. Last but not least, Cabassaou is located just below La Tourtine and for many embodies the best of La Migoua and La Tourtine, though I personally find each of these three wines to have their unique personality and their specific charms, making it truly hard to pick a favourite.
The wines in the tasting
Domaine Tempier 2018 Cuvée Classique Blanc Bandol                    92
Deep straw-yellow. Orange blossom, butter, pineapple, and orange peel on the nose and in the mouth. Luscious yet lifted, there's a hint of minty forest floor adding complexity on the long suave and delicately herbal, mineral-laced finish. A blend of mostly  Clairette , plus Bourboulenc and Ugni Blanc and a whisper of Marsanne that represents less than 5% of Tempier's total wine production, so this is not just a great wine, but a rare one too. The cooler site allows the grapes to ripen evenly but fairly slowly, such that the finished wines have noteworthy complexity. In my experience though these whites aren't especially long-lived creatures, so I suggest drinking at most over six-ten years from the vintage for maximum enjoyment. But make no mistake about it, this is an absolute knockout wine that will match well not just with fish but with white meat dishes too. Really well done. Drinking window: 2022-2025.
Domaine Tempier 2018 Cuvée Classique Rosé Bandol                     93
Bright pink: not at all almost-transparent like many Provence Rosé wines can be. Rosehip, redcurrant, red cherry, garrique and violet on the enticing nose. Then luscious yet juicy in the mouth, with good chewy extract and building complexity to the violet pastille and red fruit flavours that longer nicely on the bright fresh finish while featuring a building quality and offering excellent clarity and cut. Always one of my favourite pink wines in just about every vintage, the 2018 Domaine Tempier Rosé continues in a long tradition of excellence. A blend of 55% Mourvèdre, 25% Grenache and 20% Cinsault made from roughly twenty years old vines planted on clay-limestone soils. This pink wine is made by blending direct press (65%) and macerated juice (35%) and is aged in a mix of stainless steel and concrete tanks. In my experience, it is a Rosé that ages fairly well too. Drinking window: 2022-2027.
Domaine Tempier 2016 Cuvée Classique Rouge Bandol                   92
Deep ruby. Perfumed aromas of violet, thyme, rosemary, red and black cherry complemented by flint and smoke. Then smooth, deep and lively, with hints of milk chocolate and forest floor persisting long on the suave, lively aftertaste. A blend of roughly three quarters Mourvèdre, and about one quarter Grenache and Cinsault (with just a drop of Carignan) made from roughly forty years old vines planted on clay-limestone soils, this boasts easy drinking charm and approachability but actually is quite deep and layered, despite its outwards freshness and sneakily uncomplicated air. Another knockout wine from Tempier. Drinking window: 2022-2030.
Domaine Tempier 2016 Cuvée La Migoua Bandol                            95
Good full ruby. Dark plum cassis, violet and vanilla on the inviting nose. The flavours are similar to the aromas, with complicating nuances of green olive and minerals. The finish is long and youthfully chewy. I especially like this wine's presence of Cinsault, an underrated variety, that gives noteworthy and needed elegance and lightness of being to what is usually one of the earthier, wilder crus from Tempier. A blend of roughly 50% Mourvèdre, 26% Cinsault, 20% Grenache and 4% Syrah, made from vines that are over forty years of age and planted on clay-limestone soils. Drinking window: 2022-2032.
Domaine Tempier 2016 Cuvée La Tourtine Bandol                          94+
Fully saturated ruby. Sweet spices, garrique, cocoa, flint and kirsch on the nose and in the mouth. Riper and bigger than the La Migoua, with an air-dried quality to the coffee and herbal nuances that linger impressively on the mineral, smoked beef-accented finish that features building tannins. A blend of roughly 80% Mourvèdre, 10% Cinsault, and 10% Grenache made from vines that are over forty years of age and planted on clay-limestone soils. Drinking window: 2022-2036.