I have been visiting the Valpolicella for longer than I can remember. Along with some of Italy's greatest wines (not just Amarone but Reciotos and Valpolicellas too), and a remarkably pretty scenery not to mention plenty of good food. No doubt, some wines are much less memorable. It's just like every other wine region in the world: there's the good and the bad, the very good and the very bad.  But the leading lights of the area make fantastic wines, are flag-bearers for Italian wine quality throughout the world, and it is a pleasure to sit down and listen to them while also doing much learning in the process. Paolo Speri and his family members are those kind of wine people.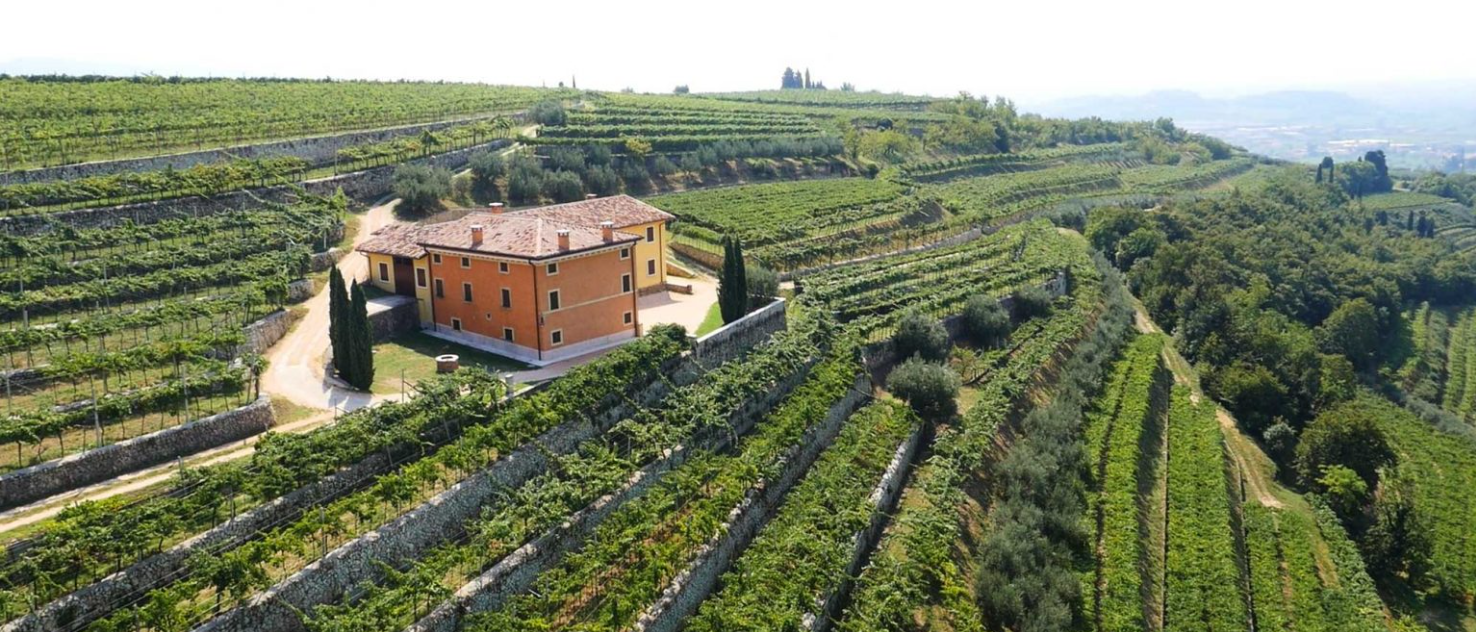 Ian: Ciao Paolo! I have been drinking your family's wines ever since I can remember, so it seems to me like your family has been a little around the Valpolicella block, so to speak… just when was your estate founded?
Paolo: You are not mistaken…1874!
Ian: Wow, that's not exactly yesterday. So how many total hectares large is your estate? And how many hectares are under vine?
Paolo: In total we have sixty hectares that are under vine and that we own fully.
Ian: How many different grape varieties have you planted or grow in your vineyards?
Paolo: Only four: we are rather faithful to the tradition, so it's nothing but Corvina Veronese, Corvinone, Rondinella and Molinara.
Ian: And how many different wines do you produce annually?
Paolo: Five wines, and they are all DOC/DOCG, it is our precise choice not to bottle or produce any IGT or Vino da Tavola wines.
Ian: How many bottles does Speri produce annually, on average?
Paolo: Only 400,000. So you see, we really aren't that big an outfit. Many people think we are bigger than we really are, but in reality, we are a small family-run operation.
Ian: We mentioned your winery has been around for a while. So, what was your estate's first ever vintage of Amarone?
Paolo: We first made our Amarone at the end of the 1950s, but to tell you the truth we really don't know what the first vintage was, we can't find the records. Then again, Amarone was never the traditional wine of this area, and became known as such only at the end of the 1950s.
Ian: And the first ever vintage of Valpolicella ?
Paolo: Who knows… since forever, really. It's the wine we used to drink every day at home and it is also the first one we ever sold at all the osterie in the town. Basically, our Valpolicella accompanied us everywhere!
Ian: And my personal favourite, the Recioto?
Paolo: Even further back than the Valpolicella, since always, in other words. People don't realize that the Recioto della Valpolicella is ultra-important, it has always been produced, that it represents the history and the identity of the Valpolicella territory like no other wine. It is THE wine of the Valpolicella and just because it is currently a little out of fashion (like most sweet wines are nowadays) that doesn't lessen its standing or importance any. And we sell ours very well, which personally makes me happy. It's a wine we are all very attached to.
Ian: Agreed, yours is smashingly good Recioto, something that may also have to do with your vineyards. Your estate is famous for having very high-quality vineyards in the Valpolicella Classica. In your opinion, what are the differences between the terroirs of the four historic valleys of the Valpolicella Classica? Today maybe these differences aren't as well-known, or as appreciated as they were in the past, mostly because many outfits just buy grapes from everywhere and have little interest in talking up areas where they may not own as many vineyards, but I think it's important to know such things. Otherwise, we are forever doomed as a species to be always thinking and acting in terms of the lowest common denominator and I think we have to instead strive to be better than that.
Paolo: Yes. Agreed. I may be wrong, but I think we are the only large estate left that has remained completely faithful to the Valpolicella Classica, from we farm exclusively, not owning and not buying grapes from anywhere else. This is an important thing to know about Speri and we would hope people place that fact in its proper perspective. The Valpolicella Classica is where we were born, it represents our birthplace, our origin, and we could not and will not betray it. To answer your question, the four valleys of the Valpolicella Classica differ mostly on account of the soils and the meso- and micro-climates that all lead to very different wines being made within the various micro-areas of the Valpolicella Classica.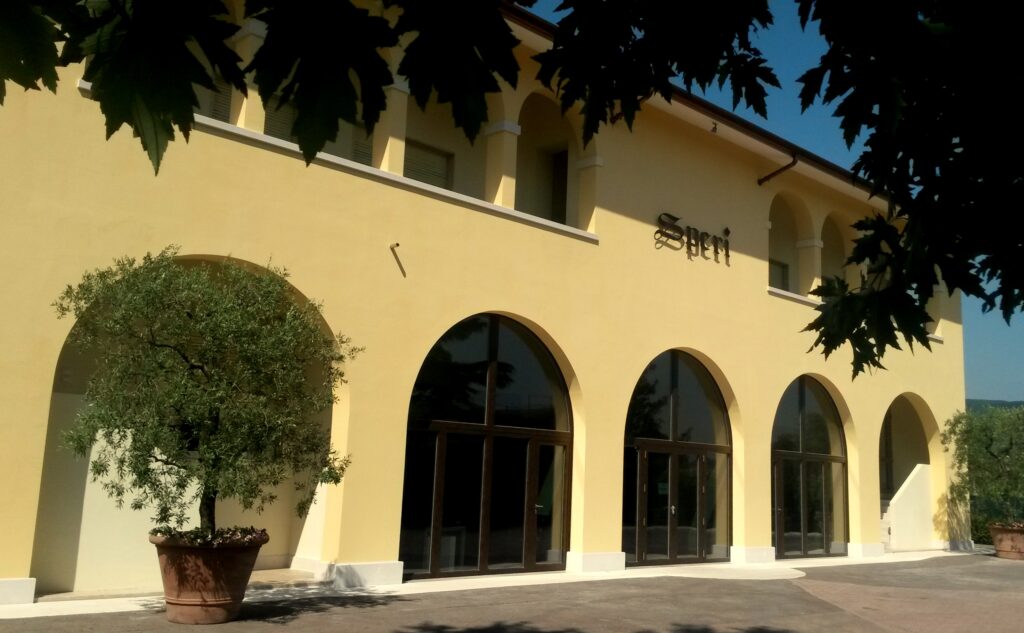 In wanting to summarize because as you know very well to give a full-scale answer would take up pages upon pages, my views are:
Valley of Negrar: The soils here tend to be clay-loamy, and moderately calcareous, such that the wines have paler colours but are refined, structured, even austere, belying their light hues.
Valley of Marano: A smaller valley but with deeper soils that are mostly clay-rich; and so, its wines are more deeply coloured than most but actually quite delicate.
Valley of Fumane: Here there are decidedly calcareous soils with basaltic tuff soil inclusions that give extremely savoury, refined wines, with complex aromas.
Valley of Sant'Ambrogio: Here the calcareous component is much more evident and the wines are darker and structured, even sharp and on the robust side.
Ian: I believe your family has always liked Molinara, a grape variety I love and that I believe that, just like it was with many other Italian native grapes, was culpably and mistakenly cast aside by many producers looking to make the biggest, blackest, and in my view most boring wines possible. I understand why people got rid of it, but the question is why was it necessary to do so to such an extent? I ask you: Why why why?
Paolo: Yes, for us Molinara has always been an extremely important grape especially for the making of Valpolicella wines. Fact is, you don't need much in the blend to get an extraordinary result. It's a difficult grape variety, the grape skin isn't that thick and so it is easily attacked by different pests and given its characteristics, poor weather is no walk in the park either. It therefore requires a ton of work and care in the vineyard. So it's both delicate and difficult to grow, and if we add that it doesn't offer much in the way of colour, structure and potential alcohol degree, it is easy to understand as you say why it was abandoned. However, we are of the belief that Molinara's capacity to give highly saline, savoury wines that have harmonious, noteworthy acidities lead to its wines boasting fantastic balance and drinkability. In our view, being lighter-bodied and having a paler colour does not mean being poorer or less interesting: on the contrary, we believe it means having greater complexity, depth and nuance.
Ian: Hooray for that: sometimes less really is more, and bigger and showier just means more vulgar, frankly. So what about Corvinone? Am I mistaken or do I remember correctly that you only use it in your Valpolicella Classica Superiore and the two Amarone wines, while it doesn't seem to be present in the varietal compositions of your other wines? And is it included in your Valpolicella Superiore Classico Sant'Urbano because it was always found in the old vineyards or because you wanted to make a slightly different wine by including this grape in the blend? I also remember that it isn't or wasn't used to make the Recioto either, but I could well remember wrong…But if so, why don't you use it to make the Recioto?
Paolo: In all honesty, our heart beats for Corvina, as we believe that its elegance and refinement are truly unique. We do have some Corvinone but to tell you the truth, it's a variety that needs to grow at the right altitude in the Valpolicella Classica area such that Corvinone's grapes have a chance to ripen fully. Otherwise, it gives off herbal aromas and flavours that are not at all pleasant, in my view.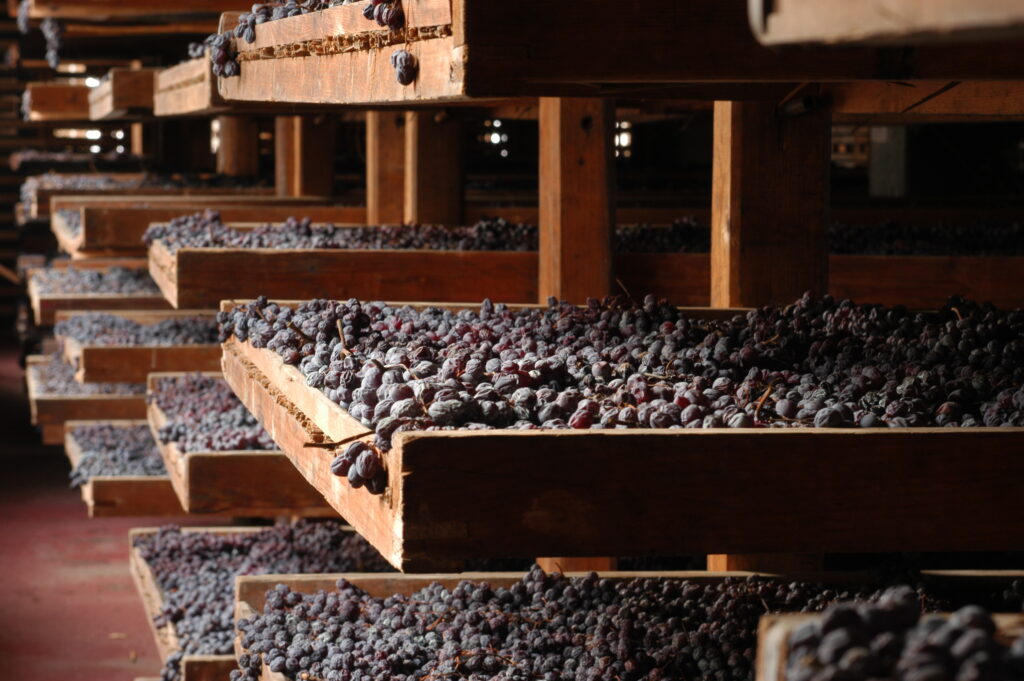 Ian: Do you own any vines of old and forgotten local native varieties such as Rossignola, Dindarerella, Pelara (as you know, it's a virus-affected biotype of the preceding grape), Turchetta or others? I ask because I remember that you have always told me when I asked you about your wine grape blends that the Recioto has 10% "other grapes" in its blend, but now I cannot remember (and can't read my own handwriting on the notes I took at the winery…I really have to taste less!) which grapes made up that 10%…. have you ever tried planting some native local grapes to see what they might give?
Paolo: Sure, of course. We have so many old vines that there are old native grapes growing in all of our vineyards. In fact many, the majority of which most people outside perhaps of you, local old-timers, and some university researchers, have never heard or tasted the wines of. I'll give you some names, some of which maybe even you haven't heard of before: for example, Bigolona, Cabrusina, Pipion, Rossanella, Terodola… but their percentages are really infinitesimally small now in both vineyards and wines and so they cannot really influence the final makeup of the wines. And you know, our family believes that the Valpolicella has three really fantastic grapes (Corvina, Rondinella and Molinara) and we don't need anymore to make outstanding wines: if we grow them and take care of them appropriately, then we really cannot ask for anything else, we're good and happy as can be.
Ian: OK, wow, you nailed me, I admit to never having heard of Pipion, let alone tasting a wine made with it; while I know all those other grapes well; believe it or not, I have tried wines made with the rest of them in your list though they were almost all experimental microvinifications (save for one I am not presently free to talk about because I have been asked to keep it a secret at least until the wine is released for commercial sale…yes, more great wiens from unheard native Italian grapes coming up soon, folks!). Anyhow, besides grape variety, what about soil? How do you think soil influences your wines? And is there one of your wines that is most affected by its soil type?
Paolo: For sure soil is all-important, but no, I don't believe that one of our wines is especially marked by a specific soil type.
Ian: Thanks for your time Paolo, it's always great to hear and see you. As one last question, is there anything you'd like to add in particular about your estate and wines to help wine lovers out there get to know you, your terroir, and your wines better?
Paolo: I would like to say in just a few lines just how important for us the Valpolicella is, it's our home and a place we love. How much we believe in it, and how hard we work for it. Beginning with a very long experience in sustainable agriculture (started back in 2008), we then applied for and received biological/organic certification. Over the years we have worked even harder to safeguard vineyard soil fertility, cultivating only local biotypes rather than going out and buying vines from far afield, continuing to grow those historic local varieties others have done away with, because we really do believe in the importance of the biodiversity of our territory. We wish to favour as much as possible the natural balance in our agricultural ecosystem, support our vine physiology, as well as the biology of the insect life in our vineyards. We wish and would hope that our wines offer something more than just nice and good colours, aromas and flavours, but added values that have to do with all that I have just mentioned. We are now working towards earning a sustainability certification so as to make our commitment to non-invasive, eco-friendly practices better known. Ad thanks for giving me the opportunity to speak about my, and my family's, life's work.
Ian: Always a pleasure, Paolo.
The wines in the tasting
Speri 2020 Valpolicella Classico                           92
Vivid ruby-purple. Perfumed aromas and flavours of cherry pie, raspberry syrup, roses and violets. Sweet supple and juicy, with bright nuances that linger impressively on the refreshing, long and very pure aftertaste that hints at an undercurrent of minerality. This is not the last word in complexity (not even close, actually) but it's so juicy and fun I can't help but be generous in my scoring. Basically there isn't a self-respecting burger, pizza or tomato pasta anywhere on the planet that won't love this wine. And you will too. Drinking window: now-2024.
Speri 2019 Valpolicella Classico                           93
This is a knockout, it's just about everything anyone could ask for from a fresh young red wine. Bright red-ruby in colour. Effusively fruity on the nose with precise, fresh brambly fruits and herbs, lifted by violet and iris. Then juicy, lively and clean, with lip-smacking acidity cleansing the palate at every sip and really extending the penetrating juicy fruity flavours (blackberry, red cherry, raspberry jelly) on the long vibrant finish. An entry-level wine from anywhere in the world does not get better than this. So good in fact, Speri did make one mistake with it: and that is they should have sold this in buckets, rather than bottles. Drinking window: now-2024.
Speri 2018 Valpolicella Ripasso Classico Superiore Sant'Urbano  91
Dark ruby-red. Spicy oak nuances dominate at first the aromas and flavours of blackberry, black pepper, ripe plums, herbs and tobacco. Nicely polished and smooth in the mouth, with repeating notes of dark berries and herbs on the long bright finish. Drinking window: now-2026.
Speri 2017 Valpolicella Classico Superiore Sant'Urbano         91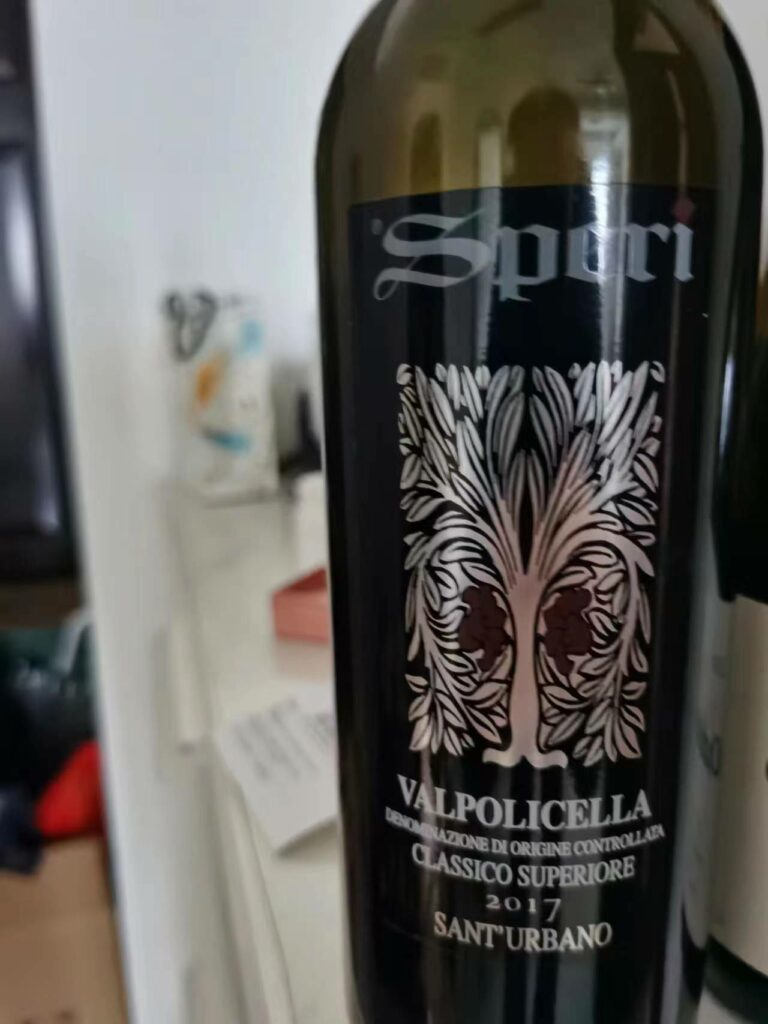 Good full ruby. Compelx, deep aromas and flavours of poutpourri, minerals, black pepper and a panoply of red and dark fruit. A good tannic spine nicely frames the fruit on the long aftertaste. A blend of 70% Corvina Veronese, 25% Rondinella, 5% Molinara, and 5% other native varieties. Drinking window: now-2024.
Speri 2016 Amarone della Valpolicella Classico Sant'Urbano        96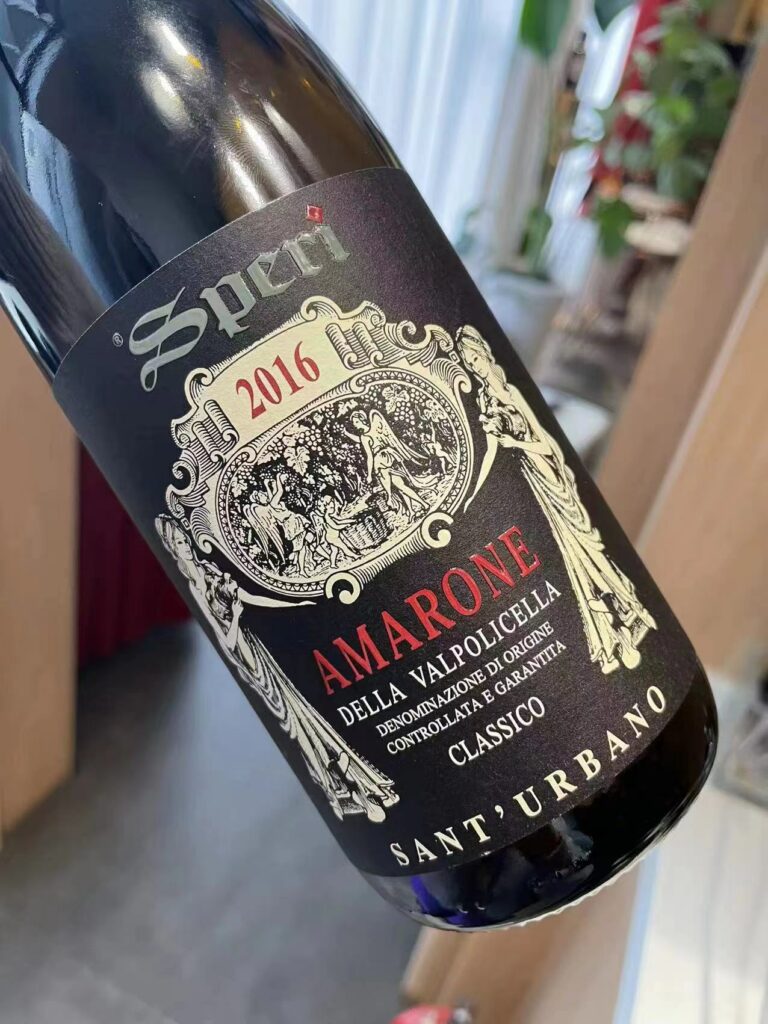 Good full saturated ruby. Superb nose combines blueberry, raspbery, violet, sweet spices, fresh herbs and leather, complicated by hints of cocoa, black pepper and mint. Suave, silky and utterly fine-grained, but with a massive tannic spine providing the framework for all the intense flavours of black fruits, red cherry jam, Oriental spices, orange peel, and sandalwood.  Finishes with outstanding persistence leaving behind an impression of impeccable balance and of sheer weightlessness. One of the best Amarones tasted in the last three or four years, and  you can believe me when I say I've tasted quite a few.  Drinking window: now-2035.
Speri 2015 Amarone della Valpolicella Classico Sant'Urbano        93
Saturated ruby with ahint of a pale rim. Youthfully medicinal, even herbal aromas of cassis, bitter chocolate, licorice and menthol are complicated by notes of forest floor and potpourri: this is a little too musky-vegetal for me.  Then nicely packed but fresh, with plenty of saline extract to the herbal flavours of blackberry, dried herbs and woodsy underbrush. There's a sophisticated enough texture here and an enticing sugar/acid balance, not to mention substantial fine-grained tannins, but the strong musky, forest floor note is a little much for me. Give this plenty of air: I suggest decanting six to eight hours ahead for maximum enjoyment. Drinking window: 2026-2032.
Speri 2018 Recioto della Valpolicella Classico La Roggia              94
Deep vibrant ruby. Raisins, prunes, cinnamon, cocoa, cherry pie, and candied violets soar from the glass. At once lively and juicy, but also creamy and supple, with flavours similar to the aromas. The finish is long sweet and clean and just keeps drawing you back to the glass again and again. A blend of Corvina Veronese (65%), Rondinella (30%), and other indigenous varieties (5%) that are air-dried for roughly 110 days. %The grapes are picked from the La Roggia vineyard, on the slopes of Monte Sausto in San Pietro in Cariano at about 160 meters in altitude.  The wine is aged twenty-four months in 225 liter French oak barriques. Drinking window: now-2030.
Speri 2017 Recioto della Valpolicella Classico La Roggia              95
Luminous red-ruby. Inviting nose of coffee, milk chocolate, stewed figs in Port, gingerbread and red cherry syrup. Ripe, sweet and rich butr very lively on entry and in the middle, while turning more refined and austere on the long refined finish. Much like eating a Selection de Grains Nobles Pinot Gris wine from Alsace is like eating a liquid apple pie, this is just like eating a slice of liquid chocolate cake: beautiful stuff. Drinking window: now-2032.