China Wine And Spirits (CWS) is one of China's leading wine and spirits importers that can boast over 150 brands and 1300 SKU's. More importantly, it shines brightly thanks to a bevy of truly iconic, and I do mean iconic, wineries. Created over fifteen years ago (in 2006, to be precise) and based in Shanghai but with branches/offices all over the large country in cities as far away as Beijing, Chengdu, Guangzhou, and Shenzhen (not to mention five warehouses), CWS can count on a multicultural team working for it, with citizens not just of China but also of Canada, France, Portugal and Spain amongst their ranks. Though mostly devoted to the On Trade, CWS's strong network of customers across China in the wholesale, digital, private and corporate channels helps it ensure not just presence and an important role, but also a very responsive and flexible service.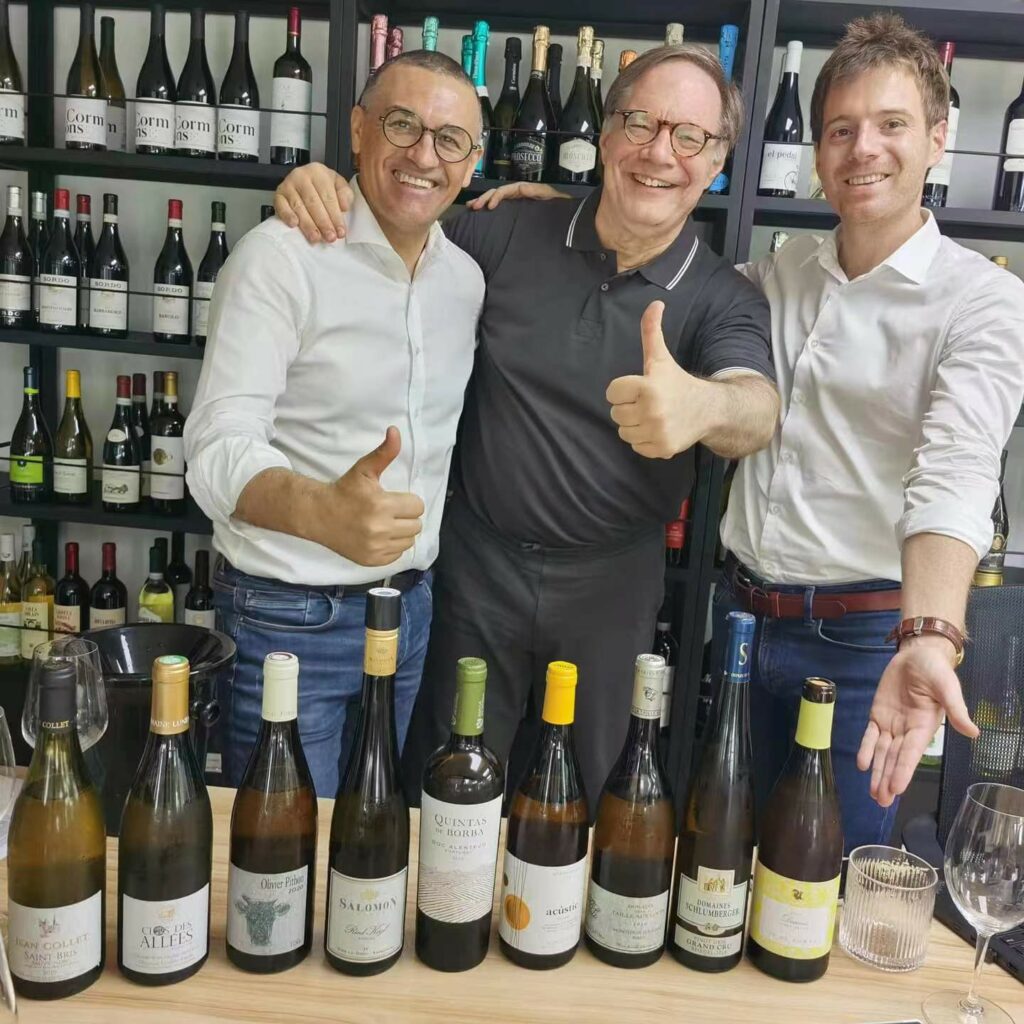 The company organizes about eighty wine dinners a year and over 100 mixology events, the latter an important part of its activities given the continuously expanding spirits portfolio with numerous labels having been added in recent years especially from France (not just Calvados but Whisky, especially).
In fact, CWS is a subsidiary of the ELAN group based in Bordeaux, France, and operating in three countries. The group has more than twenty-five years of experience in the distribution of fine wines and spirits; and through a centralized sourcing, logistics and purchasing center, the ELAN Group distributes over 400 brands from twenty-two countries throughout Eurasia, serving more than 4,000 customers. They are obviously doing something right, given they can speak of over 2.5 million bottles sold.
I recently sat down one morning with general manager Francisco Henriques CEO, and Vincent Simon, Marketing Director, and tasted through a lineup of some truly gorgeous wines. I taste practically every day anywhere from 10 to 50 wines, and this six days a week every week of every month save one or two months a year (and often 200 wines in one day, but such days happen mercifully only six to eight times a month), but in all honesty, it's not always a great time. As much as I enjoy wine and never stop being curious about trying new things, sometimes it's just a slog. I mean there's only so much truly memorable wine made. That much admitted,it behooves me to make clear that I rarely have come across so many outstanding wines in one fell swoop as I tasted on this morning's worth of tasting with Francisco and Vincent. All I can say is that the wine deities must have been with me, as there were a majority of truly stellar wines that I can recommend whole-heartedly. In fact, all us wine lovers are blessed here in China for a number of importers do a stellar job when it comes to sourcing high quality estates, and CWS has colleagues that are doing an outstanding job as well. But for sure, CWS is one of those wien and spirits importing companies leading the way and doing an outstanding job promoting the culture of fine wine in China, a country where the thirst for fine wine is not just on the rise, but seemingly unquenchable.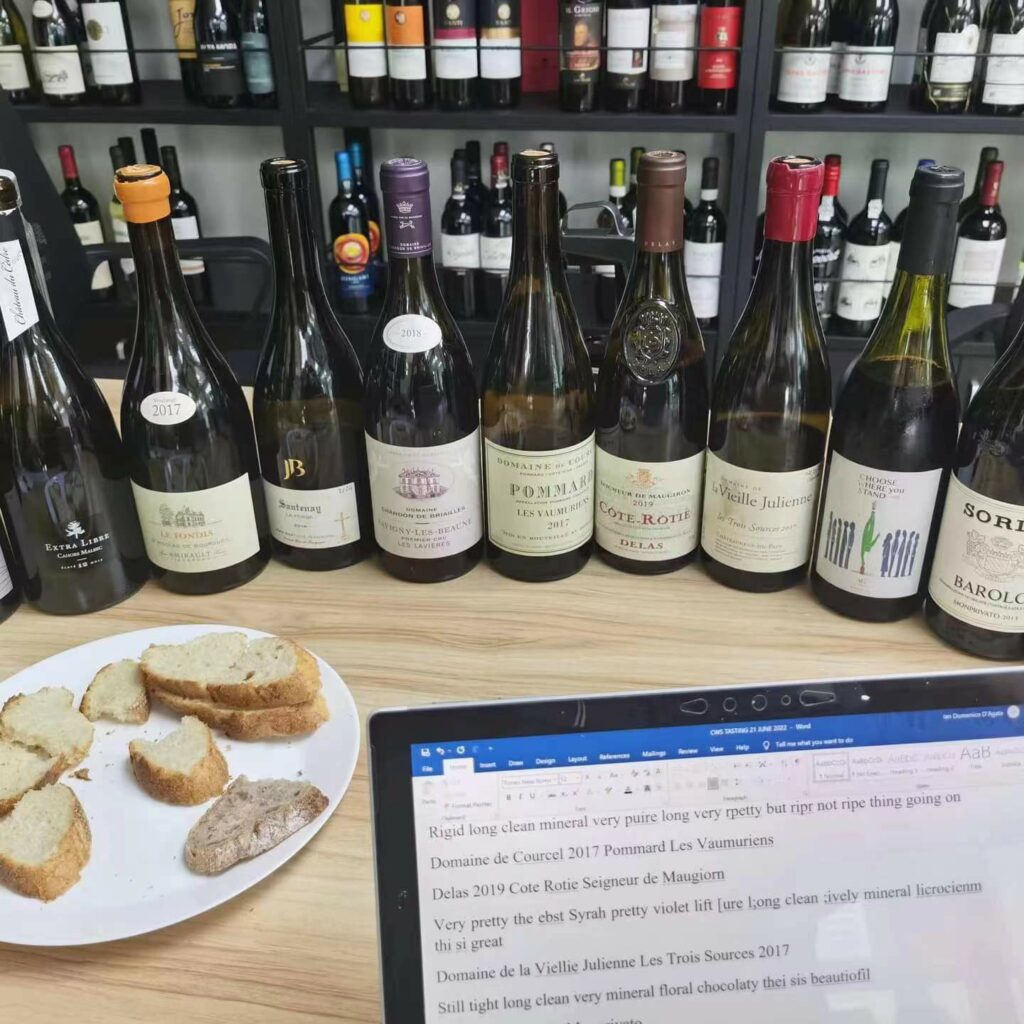 The wines in this tasting
ARGENTINA
Luigi Bosca 2019 Malbec de Sangre Lujan de Cuyo Mendoza                          90
Good full ruby. Blackberry, plum syrup, vanilla, violet and a whiff of porcini on the nose. Then smooth and deep flavours of creamy black fruits and cocoa. At once suave and powerful, with a distinctly syrupy yet lifted personality on the back end, which features weightless tannins and more fruit than an orchard. Still, very good acidity keeps this dancing nimbly on the taste buds, a neat trick. Not the last word in depth or complexity, but this is simply irresistible. Drinking window:  now-2027.
Luigi Bosca 2018 Malbec Verdot Finca Los Nobles Lujan de Cuyo Mendoza         94
Deep purple-ruby. Roasted dark plum, minerals, violet, graphite, cocoa, and spicy oak. Lush, silky and considerably more concentrated and explosive in the middle than the same winery's 2019 Malbec de Sangre. Also more structured, but still effusively fruity and rather refined while still doling out boatloads of ripe sweet fruit. Compellingly sweet and suave, the long finish features seamless, spreading tannins and a bright floral overlay. Hard not to be impressed. Drinking window:  now-2031.
Austria
Weingut Salomon Undhof 2019 Riesling Ried Kogl Erste Lage Kremstal         95
Pale green. Complex aromas of lime, citrus skin, nectarine, lemon verbena, jasmine, and minerals, with a tangy whiff of orange oil: this is like an infusion of citrus fruit-accented liquid minerality. Lively, dense and refined, this classically dry-styled white boasts and exotic nuance of white tropical fruit and nutmeg nicely framed by laser-like acidity that really perks up the palate. Finishes very clean and very long, with flavors of green pineapple and crushed stones leaving behind a penetrating impression of utter purity. Knockout wine: I realize the score might seem high at first glance, but honestly, if I didn't score this as highly as I have, I'd be doing you, the winery, and the wine a disservice. Drinking window: now-2035.
FRANCE
Alsace
Schlumberger 2019 Pinot Gris Grand Cru Spiegel Alsace                          94
Bright straw-yellow color with golden tinges. Tangy, slightly high-toned aromas of mandarin orange, honey and sweet spices have a mix of passerillage and noble rot qualities. Juicy and sweet, with utterly lovely creamy and thick flavours of fresh apricot, papaya and pear. Really quite sweet, but with just enough acidity to make its sugar/acid balance right and keeping this thick rich wine rather easy to drink. Closes long rich and ripe, with repeating honeyed and tropical fruit qualities and a mineral presence that is very typical of Pinot Gris on the Spiegel. Try this with roast chicken and mushrooms or ripe soft aged cheeses. Drinking window: now-2030.
Burgundy
Chandon de Briailles 2018 Savigny les Beaune Premier Cru Les Lavières              90+
Good medium red. Riper and deeper but less open and fruity on the nose than I might have expected, showing a medicinal aspect to the sweet red cherry aromas. Broad and dense, with an enticing mineral undertone to its black and red cherry flavors. A fairly large-scaled and clean Pinot Noir that finishes with smooth tannins and a slightly austere personality. I suggest aging this for another three years at least and decanting it an hour ahead at least. Biodynamic farmed (Demeter certified). Drinking window: 2025-2030.
Domaine de Courcel 2017 Pommard Les Vaumuriens                         90
Bright ruby. Musky aromas of raspberry, black cherry and espresso. Creamy-sweet and rather powerful on entry, with bright acids and an inner-mouth floral character that lift and frame this densely packed wine nicely, leaving behind a degree of finesse that isn't always typical of Pommard. Closes with fat but spreading tannins and terrific persistence. Drinking window: now-2028.
Jean-Baptise Jessiaume 2019 Santenay La Forge Rouge                     92
Deep bright ruby. Pungent, brooding aromas of recurrant, blueberry, violet and mint; very perfumed and very pure. Dense and seamless, but with terrific verve and innermouth perfume. This is at once lush and compellingly sweet but very lively and precise thanks to harmonious acidity. Finishes with fine, toothcoating tannins and lingering red and blue fruit nuances. Wonderfully juicy, pure, fruity red that is an essence of what makes Burgundy Pinot Noir so unique. The Jessiaume family started out in Santenay back in the 1830s when they bought the estate of the Marquis of Saint-Innocent, but Jean-Baptiste Jessiaume and his father Marc sold the estate in 2006, moving to Bouzeron where they took over Domaine Chanzy. Following that, Jean-Baptiste returned to Santenay and set up his own Maison and if this wine is any indication we are lucky he chose to do so. Drinking window: now-2030.
Jean Collet 2019 Sauvignon Saint Bris                                    88
Pale straw yellow. Penetrating aromas of lime, licorice, thyme and gooseberries. Fresh and classically dry but with decent density and palate presence; notes of lime, white flowers and herbs linger nicely on the fresh juicy finish. Not very complex but easy to like, this could go well with simpler foods or be used as an aperitif. Drinking window: now-2025.
Cahors
Chateau du Cèdre 2020 Extra Libre 12 Mois                                93
Good full inky-ruby. Aristocratic, complex fruit-forward aromas and flavours offers dark plum, blackberry coulis, blueberry nectar, roast coffee, tobacco and violet. Extremely refined and pure, with lovely vinosity to its very suave, fruit-crammed personality. Finishes with creamy, sweet tannins and terrific grip and length. A blend of 90% Malbec, 5% Merlot and 5%, this is made from 30 years old vines grown on the Coteaux de Bru. It's also the first ever "natural" wine made by this outfit, and given its purity and the smelly crap that gets passed off as good natural wines elsewhere, it's an amazing effort. Drinking window: now-2030.
Champagne
Deutz 2017 Champagne Blanc de Blancs                                89
Pale straw-green with a fine stream of small bubbles. Easygoing aromas and flavours of lime, lemon and whte flowers, along with a suggestion of oatmeal. Full yet gentle, offering good texture, ripeness and length, but not much complexity. Drinking window: now-2028.
Languedoc
Domaine de Cebene 2015 Faugeres Les Bancels                            91
Medium ruby. Expressive aromas of blackcurrant, graphite, cloves, and white pepper. Superbly pliant in the mouth but not soft, with outstanding density to its dark fruit, herb and spice flavours. Finishes with noble tannins and terrific grip, not to mention very good balance. Organically farmed grapes. If this blend of Syrah, Grenache and Mourvèdre is fun to drink, its name, "Les Bancèls", allows for a moment of erudition and intellect too. "Les Bancèls" is a local term referred to the schist terraces where many of the Domaine de Cébène vines grow. Legend has it that the goddess Cébenna's name was given to Les Cévennes, the mountains that form the southern part of the Massif Central, and her silhouette to the Caroux peak (1,020 metres) close to the vineyard. Drinking window: now-2028.
Loire
Amirault 2017 Saint-Nicolas de Bourgueil Le Clos des Quartirons Le Fondis         93
Deep purple-red. Perfumed aromas of blackcurrant, violet, minerals and graphite; and dare I say unusually floral for the vintage? Then very pure in the mouth too, with brisk acidity nicely focusing the wine's considerable fruity flesh and silky tannins. If "natural" wines were this good, I'd become a believer too; as it is, most of them are more often than not undrinkable, smelling and tasting in such a way that even horses would faint, but this is just dandy. Well done. Cabernet Franc planted on strongly gravel soil in a site that has been reputed for its wines for over 300 years., a real grand cru, if you will. Drinking window: now-2030.
Domaine de la Taille aux Loups 2020 Montlouis sur Loire Remus                    96
Luminous straw-yellow. Knockout nose combines peach, apricot, guava, dried fruits, honey, minerals and tangy grapefruit. Superbly vibrant, with noteworthy fruity sweetness in the mouth, but with strong harmonious acidity giving the citrus flavors razor-sharp definition and great lift. Extremely long, vibrant finish speaks of a strong grapey nuance and a cheay very Chenin-like quality. A great mouthful of organic wine, this is just about as good a Chenin Blanc you will ever taste. Unforgettable, really.  Jacky Blot is an absolute star and just about any wine you get from his estate will be special. This one is made from 50 to 80 years old vines planted on on clay-limestone-siliceous soil with a pure limestone bed rock. Only indigenous yeasts are used, no malolactic is done (and you can tell from the enamel-shattering but ripe acidity), and fermentation and aging are carried out in barrel (20% new, 80% 1-4 years old). Drinking window: now-2040.
Domaine Luneau Papin 2020 Muscadet de Sèvre et Maine sur Lie Clos des Allées 94
Deep straw yellow with golden highlights. Flamboyant, high-toned nose combines quince jelly, pear, peach, spiced apple, honey and balsamic oils. Opulent and superrich but framed by ripe, harmonious acidity, the flavors linger nicely on the suave textured and slowly mounting finish. A poster boy of just how good well-made organic wines can be; a pity they're so rare. While most Muscadet wines (made from the Melon de Bourgogne grape variety that basically grows nowhere else) are famous for their bracingly dry, cutting minerality and acid bite, Luneau Papin's versions are rich and textured; the Clos des Allées is a winery monopole, with the vines planted in 1974 in soils of mica and schist. Drinking window: now-2032.
Rhône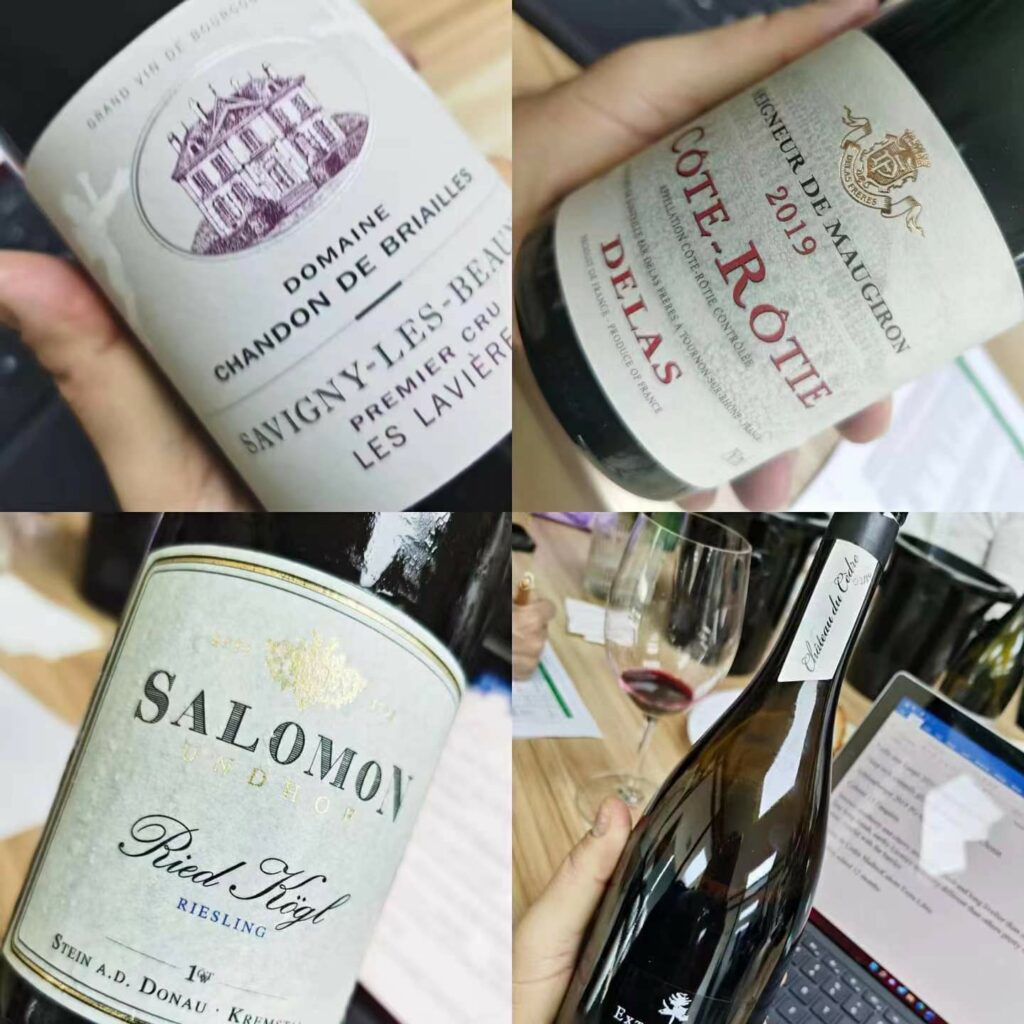 Delas 2019 Côte Rtie Seigneur de Maugiron                               93
Deep ruby. Superripe, pure aromas of cassis, minerals, smoke, pepper, bitter chocolate, violet and exotic spices. Concentrated yet light and lively, not to mention perfumed and seamless; offers explosive sweetness but also great verve, this is really a beauty. Finishes with very smooth tannins and a real kaleidoscope of floral and dark berry flavours. Very Côte-Rôtie in its perfume and lift. Drinking window: now-2030.
Domaine de la Vieille Julienne 2017 Châteauneuf du Pape Rouge Les Trois Sources     95
Deep ruby. Multidimensional, refined aromas of blackberry, iron, smoked meat, Oriental spices and herbs. Very intensely flavored but also pure and suave; boasts a very silky texture over firm underlying tannins that provide the lush pure fruit with noteworthy support. The aftertaste is long and floral and boasts repeating blue and red fruits, herbs and minerals. A wine of real breed, but complexity and character too, nicely lifted by harmonious acidity that also neatly focuses it. Biodynamically farmed (Demeter certified), this is made from vines growing across the winery on sandier soil: I'd say Jean-Paul Daumen has hit another one out of the park here. Beautiful wine.  Drinking window: now-2030.
Roussillon
Olivier Pithon 2020 Côtes Catalanes Lais Blanc                           91
Vivid straw yellow. Nuanced nose combines white flowers, lemon, flint, spices and fresh herbs. Fresh and juicy, offering suggestions of menthol and crushed stone along with the spicy fresh citrus fruit. In a rather elegant. easygoing style, this blend of Maccabeo, Grenache Gris and Grenache Blanc closes nicely pliant and persistent. The estate is engaged in biodynamic farming practices (Biodyvin certified). Olivier is the young brother of the talented Loire producer Jo Pithon; Olivier worked in Bordeaux (with Stephane Derenoncourt) and the Beaujolais before starting his own business in the Roussillon, settling in the town of Calce, where he ahs been helped by the well-known Gérard Gauby. Drinking window: now-2027.
ITALY
Bell'Aja 2018 Bolgheri                                                      92
Full ruby-red. Cool but ripe aromas and flavours of strawberry liqueur, violet, smoke and herbs. Densely packed, minerally and precise, with brisk, balancing acidity nicely framing the ripe red fruit and tobacco nuances that linger on the ripe but firm finish. Owned by the San Felice Chianti Classico estate. Drinking window: now-2028.
Campogiovanni 2018 Rosso di Montalcino                             94
Lively and very pretty medium-pale red colour. Captivating, truly enticing nose of violet, strawberry, sour red cherry, minerals, white pepper, and redcurrant jelly offers considerable sex appeal and knockout levels of perfume. Silky, juicy and long on personality, with a steely personality and building complexity to the redcurrant, fresh citrus and sour red cherry flavours. The aftertaste is very long, precise and energetic, with lovely smooth tannins and remarkable inner-mouth perfume. A wine of unbelievable charm, if this isn't the best Rosso di Montalcino of 2018, it's in the top three. Owned by the San Felice Chianti Classico estate.  Drinking window: now-2027.
Campogiovanni 2016 Brunello di Montalcino                                92+
Red-ruby. Roasted plum, black cherry, meat and grilled nuts on the nose. Enters full and fleshy, then with more structure in the middle, with a chunky quality to the nicely persistent red and black fruit and herbal flavours. Finishes with superb persistence and fine tannins, and a distinctly savoury quality. Not the most refined Brunello you'll ever drink, but at least it's very typical of the Sant'Angelo Scalo area of the southwestern quadrant of the Montalcino territory where the winery is found. This is an excellent Brunello from one of the best vintages in Montalcino's history, and one that will most likely evolve and improve further in a good cellar (hence the + sign on my score); but for as good as it is, and it really is an excellent wine, it's not really my preferred style of Brunello. Yes, it's bigger, richer and riper than the winery's 2018 Rosso, but I much prefer the latter wine's nuance and steely elegance. Owned by the San Felice Chianti Classico estate.  Drinking window: now-2030.
Frescobaldi Castello di Nipozzano 2017 Chianti Rufina Riserva Montesodi            93
Red-ruby. Spicy aromas of raspberry, boysenberry and roast coffee; shows the more exotic, candied-fruit character of some of the best '17 Chianti Rufinas and Classicos. Almost confectionery in its near-roasted richness yet boasts terrific vivacity to complex floral, herbal and dark chocolate flavors and outstanding fruit/acid/tannin balance. Closes with terrific persistence and a suave mouthcoating presence. Drinking window: now-2030.
Frescobaldi 2016 Mormoreto Toscana Rosso                                93
Full ruby. Sappy aromas of blackberry, blackcurrant, violet and dark chocolate. Lively and focused despite being very ripe, round and full in the mouth, with very pretty, dense flavours of dark fruit and herbs. Lingers very long, with sweet tannins and a note of bitter chocolate and violet hitting late. The lively acidity of the 2016 vintage is abig help to wat would have otherwise been a chunky, massive and very savoury wine. Drinking window: now-2030.
Grattamacco 2018 Bolgheri Superiore L'Alberello                       88
Medium ruby. Crystallized blackcurrant, minerals, and mint on the nose but with an underlying green nuance. Blackcurrant, mineral and flinty flavours show nice sensual texture but the green streak is apparent in the mouth too. Finishes with mounting tannins that spread over the entire palate, with a leafy and blue fruit note persisting nicely on the juicy back end. I'm normally a huge fan of the Grattamacco estate and its wines, truly some of Italy's best, but I think that the difficult 2018 vintage has left its mark here: this is a slightly fruit-challenged wine the grapes of which probably never reached full physiologic ripeness. Will prove much better with meat dishes and stews. Organically farmed.  Drinking window: now-2030.
Sordo 2013 Barolo Monprivato                                        92
Pale garnet red. Violet, fresh blueberry, and minerals accented by orange peel on the floral nose. Then saline and penetrating with delicate redcurrant and sour red cherry flavours. Closes intensely and mineral with a midweight, very fresh but not especially concentrated mouthfeel. I would also drink this up over the next five years or so rather than hold on to it for much longer than that. Drinking window: now-2028.
Sordo 2009 Barolo Riserva Parussi                                        92
Dark red. Musky aromas and flavours of savoury dark cherry, mushrooms, forest floor, coffee, tobacco and coconut. Smooth, rich and concentrated, but not especially nuanced and somewhat chunky. Finishes long and ripe, with a rich, chunky, tertiary quality. Drinking window: now-2026.
Vie di Romans 2020 Pinot Grigio Dessimis Friuli Isonzo                     93
Pale salmon pink colour. Aromas of strawberry, lime, honey and flowers. Supple and fruity, with broad but bright flavors of citrus skin, apricot, strawberries and minerals, along with a chewy saline quality. Finishes long, stylish and juicy, this is just a knockout Pinot Grigio made with skin contact. Owner Gianfranco Gallo is on a real roll with this wine, as the 2018, 2019 and now this one are all 93-94 point wines. If you can get them, don't miss out on his Flor de Uis blend and the Malvasia Dis Cumieris bottlings, absolutely stellar wines. Excellently done. Sustainable farming. Drinking window: now-2026.
PORTUGAL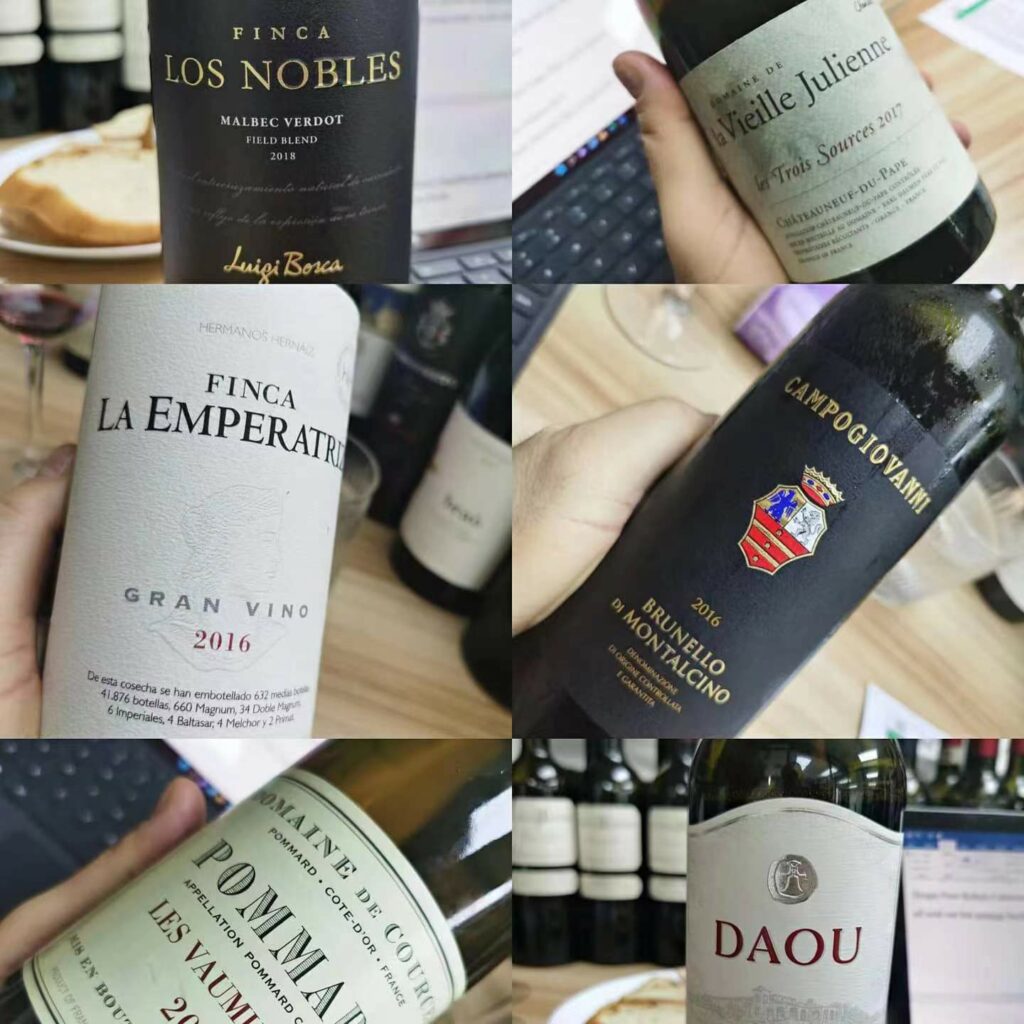 Adega de Borba 2019 Quintas de Borba White Alentejo                     88
Pale yellow. Sappy aromas of crushed rocks, sea breeze, chlorophyll and spice. Fatter on entry than expected, then citrussy and penetrating in the middle, with an impression of lemony acidity and white flower perfume. Closes long bright and clean. A blend of Roupeiro, Arinto, Verdelho that's relatively inexpensive and packs plenty of flavour on a light frame. Drinking window: now-2024.
Aveleda 2020 Alvarinho Vinho Regional Minho                            90
Luminous straw green. Precise lime, tangerine, honeysuckle and mineral aromas. Then classically dry and well-delineated, with harmonious acidity providing lift and grip to the rsther rich round orchard fruit and herbal flavours. Finishes with very good persistence. Drinking window: now-2026.
SPAIN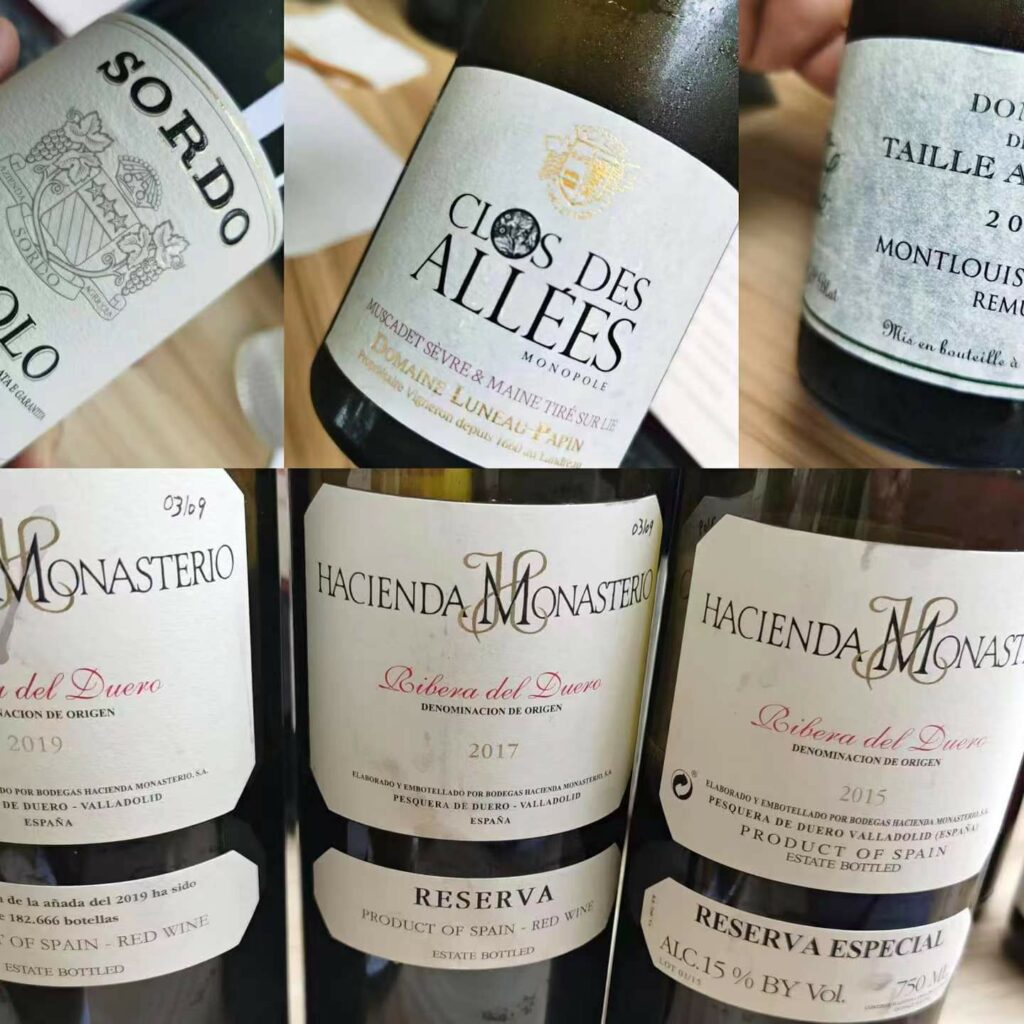 Acustic 2018 White Montsant Catalunya                                90
Bright straw yellow. Expressive aromas of lime, pineapple, star fruit and minerals. Full but juicy, with flavours similar to the aromas. Nicely balanced, easygoing and persistent, this is an attractive, accessible combination of juicy fruits, herbs and minerals. A blend of Grenache Gris, Grenache Blanc, Maccabero, Xarel-lo, this is an excellent wine made by winemaker Albert Jané, who founded Acustic cellars in 2003 with the express goal, quite common to a younger generation of Spanish winemakers today to source grapes from old vines in forgotten viticultural areas of the country. Drinking window: now-2025.
Acustic 2017 Brao Red Montsant Catalunya                                 91
Ruby-red. Floral, perfumed nose of cassis, violet and minerals. Intensely flavored and nicely elegant with good volume to the grilled meat, tar and red cherry flavours. Finishes long with hints of forest floor and camphor. Located next to the much more famous Priorat, Montsant has only recently come into its own thanks to a bevy of old vine red wines that are rich and full while boasting nice acidity and packing plenty of flavour. A blend of 55% Samsó (Carignan) and 45% Grenache, this is very good value for money. Drinking window: now-2027.
Hacienda Monasterio 2019 Cosecha Ribera del Duero Castilla Y Leon    93
Medium ruby. Blackberry, roast coffee and sexy oak notes on the nose. Nicely fresh and juicy but also quite layered in the mouth, offering waves of dark and red fruit in a very attractive fresh way. I'm not scoring it even higher because I think it could stand for a bit more complexity but this wine, which sued to be called a Crianza, is just lovely. Made with organically farmed grapes, this blend of 75% Tinto Fino, 15% Cabernet Sauvignon, and about 10% Merlot spent eighteen months in 30% new French oak and has about 15% alcohol but you really can't tell it's so well balanced. A Peter Sisseck creation (of Pingus fame), the estate was originally planted with cuttings from Vega Sicilia something like twenty-five years ago. Drinking window: now-2026.
Hacienda Monasterio 2017 Reserva Ribera del Duero Castilla Y Leon     95
Good full deep ruby. Deep perfumed nose combines blackberry, black cherry, balsamic oils, and licorice, along with a whiff of mint, coconut and vanilla. Sweet, dense and very ripe but also lifted and penetrating, with dark chocolate and mineral flavors complementing violet and forest floor nuances. Extremely rich but not at all heavy, with bright floral lift that really extends the flavours on the long suave back end. Organic farmed grapes (about 80% Tempranillo and 20% Cabernet Sauvignon picked on mostly limestone soils compared to the regular Cosecha), this is aged twenty months in 40% new oak. Drinking window: now-2033.
Hacienda Monasterio 2015 Reserva Especial Ribera del Duero Castilla Y Leon    96
Saturated ruby. Wild aromas of blackberry, black cherry, coffee, pepper, truffle and even a hint of game. Compellingly sweet, dense and concentrated, but with clearly more evolved flavours of black fruits and spices than the 2017 Reserva, that strikes me as being fresher. Finishes with terrific length and freshness for such a big wine. Made with organic grapes, this is an  80% Tinto Fino and 20%Cabernet-Sauvignon, aged in new barrels of Allier French oak for eight months, followed by another twenty months in two-years old barrels. A Peter Sisseck and Diego de la Fuente creation. Drinking window: now-2036.
Hermanos Hernaiz 2016 Finca La Imperatriz Gran Vino Rioja Alta        95
Saturated ruby-purple. At once superripe but very fresh on the nose and in the mouth with aromas and flavours of blackberry, blueberry, violet, flint and bitter chocolate, with a lovely cool minty undertone. Literally inundates the palate with a tidal wave of dark berry and chocolate flavors that last and last on the smoothly extremely fine tannic finish. This belnd of Grenache, Tempranillo and Viura (Macabeo) is a smashingly good, knockout wine. Drinking window: now-2030.
UNITED STATES
California
Daou 2018 Cabernet Sauvignon Paso Robles                         92
Red-ruby. Cassis, tobacco, violet, licorice and mocha on the nose. Intensely flavored and creamy but with a penetrating quality to the ultra-ripe, suave dark fruit and chocolate flavours that just suffuse the palate. Closes long and smooth, I'd enjoy this very forward wine on the young side and even slightly chilled. In the joke that are the California grape variety guidelines by which to make and bottle "Cabernet Sauvignon" wines, that more people should have the guts to call ot for what they really are, the 2018 Daou Cabernet Sauvignon is actually 78% Cabernet Sauvignon, 13% Merlot, 8% Petit Verdot and 1% Cabernet Franc: so much for this being a "Cabernet Sauvignon" wine, though clearly that is no fault of the winery. This lovely wine is the is the only Cabernet in the Daou lineup made entirely of purchased fruit, aged about eleven months in 60% new French oak. Drinking window: now-2025.