About the Ronchi di Cialla estate
The Ronchi di Cialla estate was founded in 1970 at Cialla, a very small hamlet consisting of a small group of houses located near the slightly larger town of Prepotto in Italy's northeastern Friuli Venezia Giulia (FVG) region. Cialla is located within the Friuli Colli Orientali (COF) denomination, but its terroir is highly unique, differing greatly from that of other famous COF localities such as Rosazzo or Buttrio. Famous for its native wine grapes, including Schioppettino and Picolit, Cialla is a cooler-climate, less sunlit and windier part of the region: its wines reflect these natural conditions by way of vibrant acidities and lively textures.
All that admitted, it is also only fair to point out how much of the hamlet's and the territory's fame is due to the Ronchi di Cialla estate and all it has done on behalf of the local viticulture and wine scene over the last forty-fifty years. The winery's name derives from the Italian word ronchi, meaning a well-exposed hill with terraces, and the Slovenian word cela, meaning stream, and that combination echoes well the reality of the place, one of the still relatively wild parts of the country.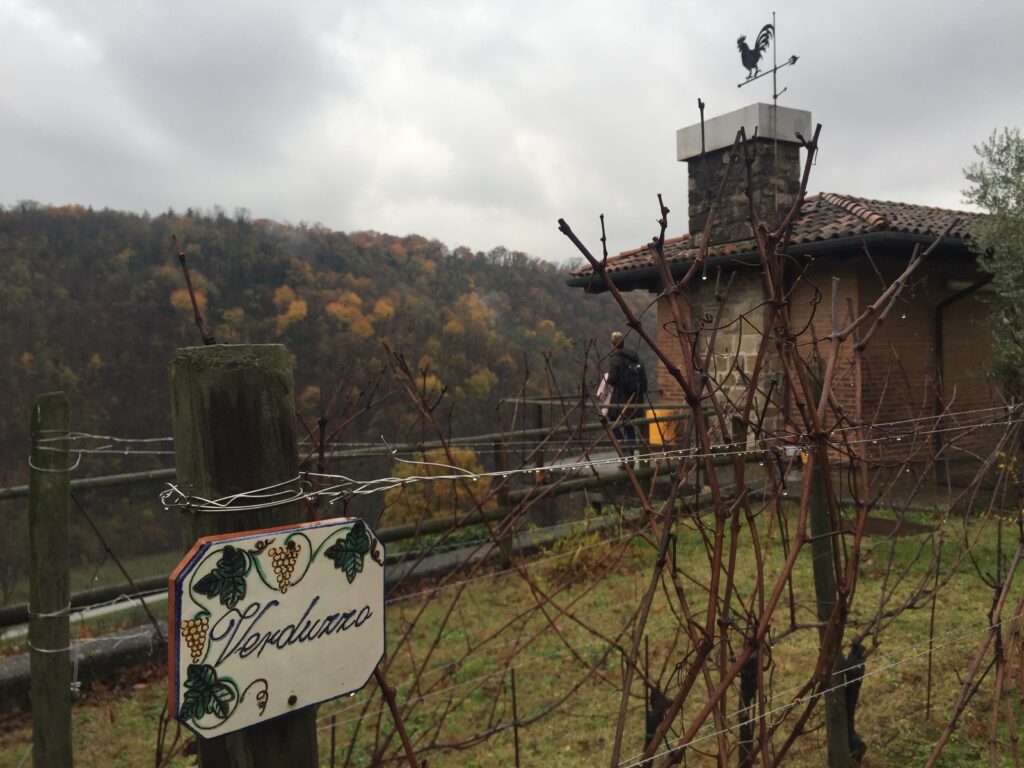 Ronchi di Cialla was founded by Paolo and Dina Rapuzzi, a husband and wife team that had decided to opt for a lifestyle change: prior to agreeing to completely change their lives together, Paolo used to work in Olivetti and sold typing machines (so getting away from it all and wanting to live in the country is more than understandable). Of course, such decisions are easy to come by when you find a place like Cialla: one of the most beautiful places on Earth, for what it's worth, every time I go visit there I also start thinking of saying good-bye to everything and everyone and just setting up shack somewhere in the vicinity.
Sadly, Paolo Rapuzzi passed away a little while ago, but I will be forever grateful for all I learned a from him and his family about the Colli Orientali, Cialla, its cultivars and the wines made there. Over the last thirty years I visited him and his family at their beautiful hilltop home in Cialla countless times (I remember one time to this day, even better than all the others: it was in the afternoon, and my beloved AC Milan would later that day go on to lose the Champions Cup, now called the Champions League, 1-0 to Ajax Amsterdam. It's a miracle I'm still talking to these people). Today, Paolo's two sons, Ivan and Pierpaolo, and his wife Dina, continue Paolo's work and legacy, producing great wines from teh likes of Schioppettino, Picolit and of course, Verduzzo. And though b y far the least famous and expensive of those native wine grape varieties and wines, it was in fact the Verduzzo that was Paolo's favourite wines of the bunch.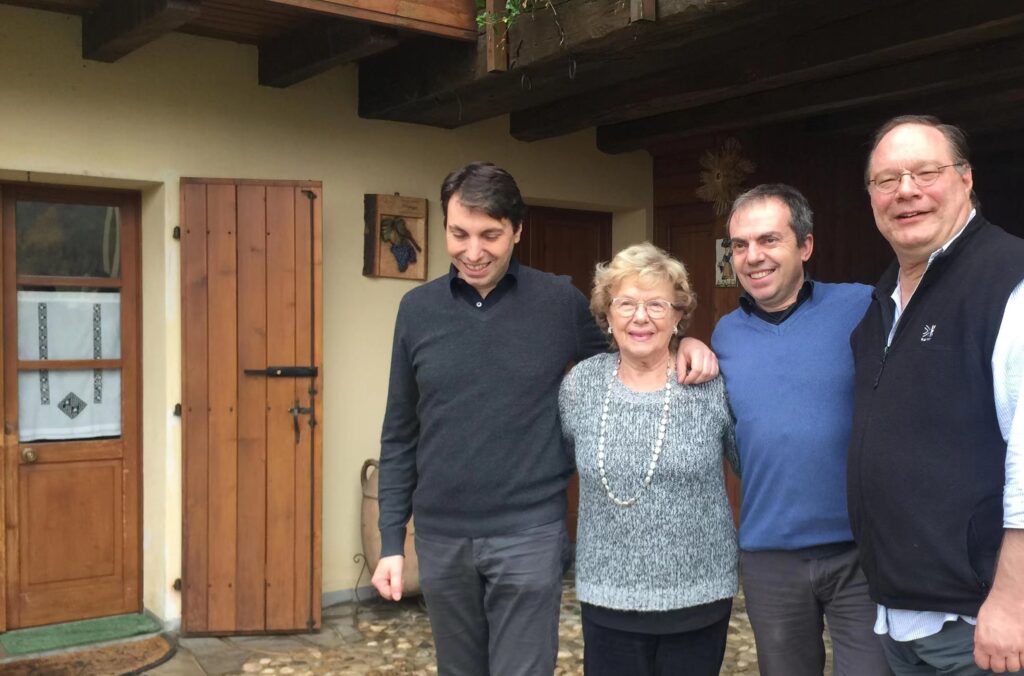 About the grape variety
People often speak simply of Verduzzo but in fact there are two main Verduzzo varieties, and at least two different biotypes of one of those varieties. The two, unrelated, Verduzzo varieties are Verduzzo Friulano and Verduzzo Trevigiano; of Verduzzo Friulano, which is the more famous of the two and the subject of this vertical tasting report, there are at least two major biotypes, Verduzzo Friulano Giallo and Verduzzo Friulano Verde (for simplicity's sake, these two names are abbreviated to Verduzzo Giallo and Verduzzo Verde). These two are subvarieties or biotypes of the Verduzzo Friulano variety, and are distinguished by morphologic, vticultural and enological characteristics. The colour descriptors of these two grape names, giallo and verde (yellow and green, respectively) refer not to the colour of the berries of each biotype, as might be easily assumed (and you'll find erroneously written just about everywhere), but to the colour of their floral caps. Verduzzo Verde is more adept at giving easy-to-like, classically dry wines of uncomplicated and early appeal, while Veduzzo Giallo is mostly used for delivering thick sweet wines of extremely high quality levels. Therefore, it is Verduzzo Giallo that has always been considered to be the higher quality grape of the two, a conclusion derived from the historical reality of sweet wines being more coveted and expensive. After all, it is Verduzzo Giallo that is used to give all of the region's famous sweet passito (air-dried) or rarer late harvest Verduzzo wines (the most famous Verduzzo wine of all is Ramandolo, one of Italy's most famous passitos and made with Verduzzo Giallo in the territories of a handful of small towns centered around the hamlet of Ramandolo in the COF). By contrast, the Verde biotype is mostly planted in flatland vineyards and its wines are light and brightly acid, brimming with uncomplicated appeal: I actually quite like those Verduzzo wines too (they make excellent aperitifs). In fact, Verduzzo Verde might well be capable of giving wines that are almost or just as complex as those of Verduzzo Giallo, but the variety needs to be grown in different terroirs: Paolo Rapuzzi told me he believed that by planting Verduzzo Verde in hillside vineyards, using old vines and cropping much lower than is usually done (flatland vineyards have yields that are much too high) one could make wines that were just as great as those made with Verduzzo Giallo. And as he knew more about Verduzzo varieties than I ever will, I'd be more than just a little inclined to believe him. But the world of the Verduzzos is actually much more complicated than that still: though this subject is outside the scope of the present article, I will just mention that there are in fact two biotypes of the Verduzzo Giallo biotype too (so in effect, those are sub-biotypes of the biotype, if you will): each of the two is best suited for the making of a specific style of wine, but their exact presence in vineyards isn't always apparent even to many of those growing them (at least, it still isn't at the present time). Hopefully, increased awareness and specific vineyards devoted to each one, and hence specific wines, will be forthcoming.
In general, Verduzzo Giallo does not like humidity and so too much clay in the soil is a no-no; not especially vigorous, it has good disease resistance as it is very thick skinned. It follows that the vast majority of sweet wines made with Verduzzo Giallo are produced from air-dried grapes rather than true late harvests affected by noble rot, for Botrytis cinerea has a hard time attacking Verduzzo Giallo's thick skins. However, it certainly can, and this is in fact one of Ronchi di Cialla's secrets to its Verduzzo wine success (see below).
About Ronchi di Cialla's Verduzzo di Cialla wine
During a visit at the estate back in 2008, I spoke at length with Paolo and his family specifically focusing on the Verduzzo grape variety and its wine (this has been a life-long characteristic of me: differently form many very fine wine-writing colleagues who can unfortunately visit wine estates only once a year, I have routinely visited wineries over the last thirty years focusing on just one wine and grape at a time, and talking about and tasting only those wines in that visit, allowing me to build up an unparalleled experience with each grape and wine). Paolo told me that "…In 1976 we went to meet Giacomo Tachis, the famous winemaker responsible for many ultra-important Italian wines, not the least of which was Sassicaia, to see if he could help us with our wines. We wished to move on from Slavonian oak barrels that we had used up until then to using French oak barriques". That's right: hardly anyone knows that the Ronchi di Cialla estate was the first winery in Italy to start using barriques for its sweet wines (and one of the very first to regularly use barriques, period). In fact, in 1977 the estate actually drew up a legal document with a notary attesting that that it had been fermenting three different wines in barriques (Schioppettino, Picolit and Verduzzo), so there is actual proof that they began doing so when they say they did.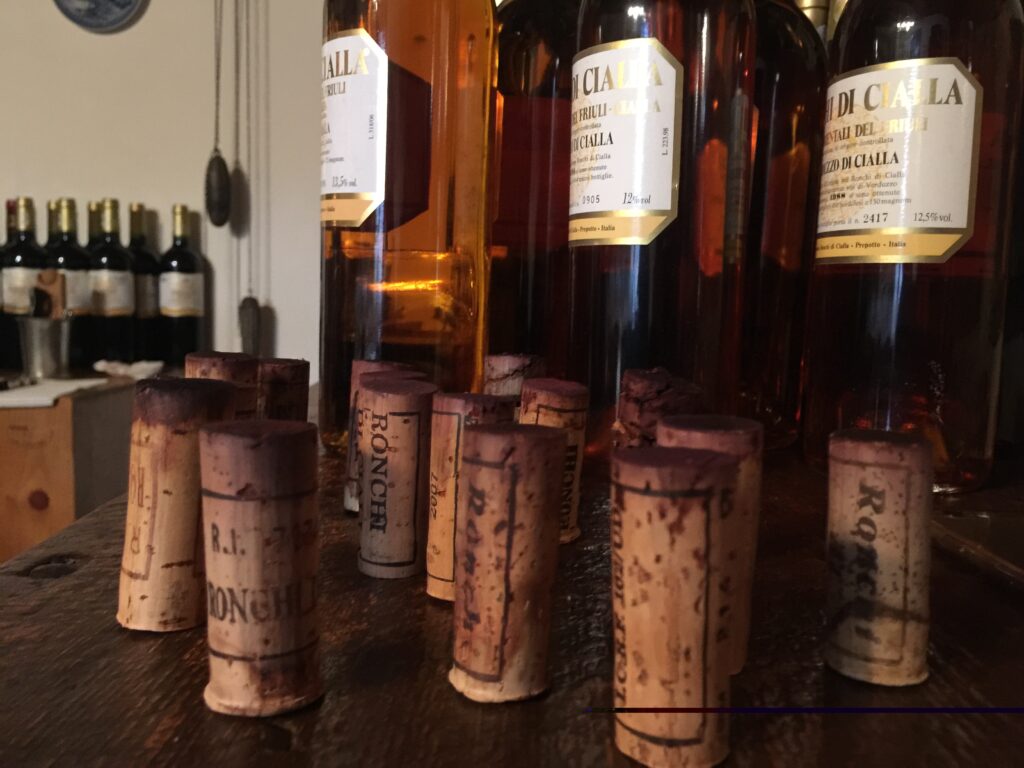 The Cialla area is in the southwest COF, a very different habitat from that of the much colder Ramandolo, that is situated in the denomination's northeast. It follows that the Verduzzo wines of these two areas of the COF cannot help but be different: but in fact, as Ronchi di Cialla chooses to late harvest its Verduzzo rather than make passito (air-dried) wines as they do in Ramandolo, its Verduzzo wines are characterized by a cool, vibrant personality, are only gently sweet taking on strong notes of almond paste (marzipan) with age, but without ever being super thick and jammy sweet.
Cialla's Verduzzo wine is made with grapes grown in the Cernetigh vineyard, about 0.90 hectares of fifty years old vines planted between 180-240 meters above sea level with a south/southeast exposure on soil rich in  marls and compacted sand (FVG's classic ponca). The Verduzzo grown locally is a biotype specific to the area, and for this reason the estate has long referred to it (on the wine labels too) as a "Verduzzo di Cialla", in order to better get that message across. Today the label reads "Sottozona Cialla', further showcasing that the Verduzzo grown at the estate is part of a specific subzone of the COF. Ronchi di Cialla chooses to make one Verduzzo wine only: they do not make a classically dry wine, but their Verduzzo wine, though sweet, is more strongly off-dry/sweet than truly sticky sweet. In fact, while most people in the region choose to air-dry Verduzzo in order to make their sweet wines with it, the variety can give outstanding late harvest wines too (unfortunately, given the frequency of autumn rain in FVG, you can understand why few of its wine producers are willing to risk true late harvests). However at Cialla they do like to late harvest, something that thanks to the variety's thick skins and loosely-packed bunches is not that hard to do (again, the rate-limiting step to making late harevst wines in the region is not the grape variety but the amount of late season rainfalls). At Cialla, the Verduzzo harvest is often carried out in late October and even November, when the leaves have mostly fallen and the berries have turned brown, or close to it; and most importantly, noble rot forms almost every year. Most often at least 10% or more of the berries used to make the Verduzzo di Cialla wine are noble rot-affected, and therein lies one of the secrets that makes this wine the Rolls-Royce of all Italian Verduzzo wines. The wine is fermented one year in barrique and also ages roughly eleven-twelve months in barriques (this used to be as much as eighteen to twenty months in the past, of which 30% was new oak) and then another two years in bottle prior to being released for sale.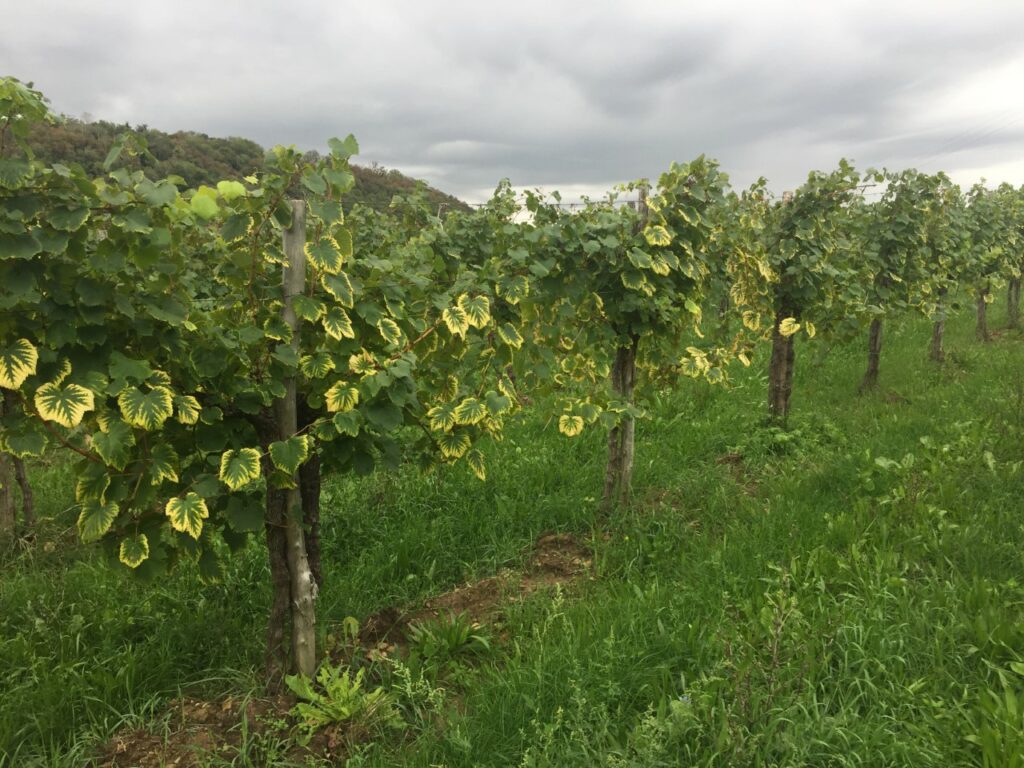 Wine and food pairing with Verduzzo
Verduzzo Giallo is a rare tannic white grape so its wines have quite a bit of tactile chewiness, and that is independently of whether the wine is oak-aged or not. It is a wine that can therefore stand up to rather full-bodied dishes. Besides the classic pairings of  foie gras, goose/duck/pork liver terrines and patés, not to mention blue cheeses of all kinds (Gorgonzola, Roquefort, Stilton, Bleu de Gex, Bleud de Causses, Fourme d'Ambert, Blu del Moncenisio), try it also with pumpkin soups, roast butternut squash with nutmeg, abalone, grilled salmon (even better if with a maple syrup-honey glaze), cheese flans and quiches, pigeon and duck dishes. Almond cookies and chocolate desserts also work (air-dried, thick Verduzzo wines will pair well even with brownies and flourless chocolate cakes, but Cialla's version is too light-bodied and delicate for that match to work).
The wines in this tasting report
Over the last thirty years devoted to Italian wines, I have sat through and/or guided more vertical tastings of Ronchi di Cialla's Verduzzo di Cialla than I even remember (and of the estate's Picolit wines even more often). I have been collecting this estate's wines since my university years and I know exactly what their aging curve is like (see my Vertical Tasting report : Ronchi di Cialla Refosco del Peduncolo Rosso, published here in the TerroirSense Wine Review on May 13, 2022, Vertical tastings section). Though I have long finished all the older bottles in my collection, and have only a few stragglers of single vintages left, I enjoy drinking the most recent vintages and think the wine, as well as the variety, deserve to be better-known. And so this represents yet another one of my many "first times" in the field of Italian wine, as this is to the best of my knowledge the largest vertical, and that goes back furthest, of Ronchi di Cialla's Verduzzo di Cialla ever to be published in an English language wine publication. For sure, you will find very little else written anywhere on this magnificent wine, which is a shame and is something I wished to do something about: in the near future, I will be also publishing a long piece on Verduzzo wines in general. Because if all we ever write on is about merlot and chardonnay, then farmers and producers have very little reason to grow any of these rarer grapes nobody ever bothers with. And we will all be poorer. Hopelessly poorer.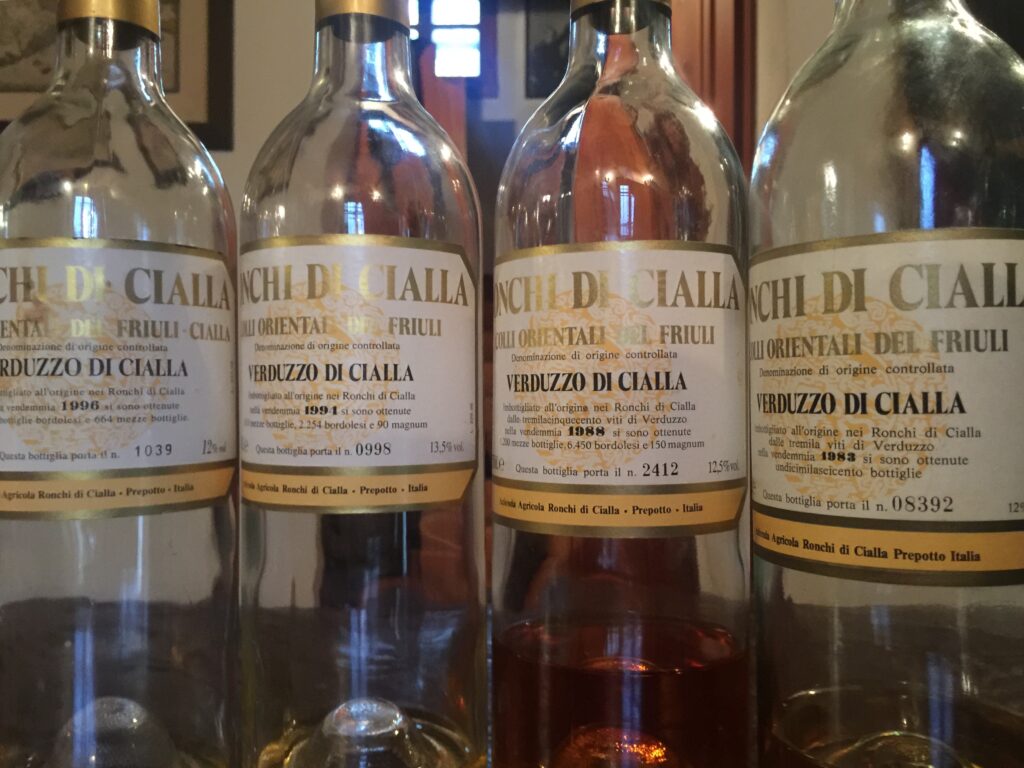 The wines in this tasting were all tasted in my office in Shanghai in September 2022. I thank the Rapuzzi family for a number of the photos in this article.
Ronchi di Cialla 2016 Verduzzo Di Cialla Colli Orientali del Friuli Sottozona Cialla                                 93
Pale-medium yellow with gold highlights. Racy aromas of pineapple, fresh apricot, tangerine oil, and marzipan, with enticing floral lift, with a lovely fresh botrytis character adding complexity. Suave, fine-grained and wonderfully light on its feet, this offers subtle, restrained but nicely delineated flavours of orchard fruit and vanilla and excellent grip. Nicely integrated and well-balanced acidity extends the clean bright flavours on the long lively back end. Drinking window: 2022-2040.
Ronchi di Cialla 2015 Verduzzo Di Cialla Colli Orientali del Friuli Sottozona Cialla                                94
Bright medium yellow-gold. Sexy aromas of caramel, baked cinnamon apple, canned pineapple, honey, crystallized lemon peel, marzipan and spicy vanillin oak. Big, rich and voluminous but nicely lifted by harmonious acidity, this unctuous sweet wine broadcasts enticingly rich and suave flavours of tropical fruits, sweet spices and honey. Slightly tannic and chewy as is typical of Verduzzo wines, but the greatness of this wine is that its texture remains distinctly refined despite its outward size and lusciousness. Closes long and richly sweet. Drinking window: 2022-2036.
Ronchi di Cialla 2008 Verduzzo Di Cialla Colli Orientali del Friuli Sottozona Cialla                              94
Pale golden-tinged yellow. Peach, sweet spices, and fresh citrus are complemented by hints of vanilla and acacia honey. Rather silky in texture, with a glyceral softness and a hint of banana to add complexity to the stone fruit and spicy caramel flavours. Shows an attractive plumpness mixed in to the laser-like delivery of flavours on the long, polished back end. A very refined Ronchi di Cialla Verduzzo that speaks of the year's growing season. Well done here. Drinking window: 2022-2032.
Ronchi di Cialla 2005 Verduzzo di Cialla Colli Orientali del Friuli Sottozona Cialla                              93
Medium bright yellow-gold. Delicate, exotic aromas of fresh apricot, tangerine and flower blossoms, complicated by pineapple, roasted banana and cinnamon. Very juicy and lifted but sweet and rich at the same time, this offers an inviting sugar/acid balance to the still lively flavours of spicy ripe apricot, marzipan, cloves and rock rose honey. More vibrant in the mouth and on the aftertaste than the nose suggests, closing long in a pure and easy-going style. Drinking window: 2022-2033.
Ronchi di Cialla 2003 Verduzzo Friulano Cialla Colli Orientali del Friuli                                                92                
Full yellow-amber colour. Orange peel, canned yellow peach, clover honey, caramel and spicy oak on the nose. Sweet, suave and both glyceral and tannic, with complex flavours of apricot paste, almonds, coconut and vanilla. Wonderfully fat and sweet but with a vibrant core that helps it avoid coming across as cloying and blowsy. The aftertaste is long suave and lusciously mouthcoating. It's not often you get a 2003 wine from Italy that is this good. A horribly hot year, many of this vintage's red wines are overripe, have gritty tannins or very little gracefulness to speak of, while most of the whites are well over the hill: but not this Verduzzo, which plays its cards right and gives you what it does best in spades, that being a thick, luscious, sweet mouthfeel of wine. Drinking window: 2022-2026.
Ronchi di Cialla 2001 Verduzzo Di Cialla Colli Orientali del Friuli-Cialla                                                94
Medium yellow-amber. Deeply pitched aromas of honey, orange and fresh apricot, with a suggestion of candied sweetness and some spicy oak all complicated by nuances of marmelady botrytis. Rich, sweet and wonderfully pure, with a nectar-like quality to its flavours of overripe peach, rockrose honey, orange oil and sweet spices. At once chewy and aromatic, with a refined texture to its fruit bomb-like qualities. Finishes with superb inner-palate energy and brilliant focus. Maybe I'm stiffing this a little by not giving it a higher score. Drinking window: 2022-2031.
Ronchi di Cialla 1999 Verduzzo Di Cialla Colli Orientali del Friuli-Cialla                                                85
Deep amber colour. Faded flowers and dry spices on the nose but with a hint of grey rot too. Then clean and straightforward on entry, boasting a very easy drinking style and polished tannins, then sweeter and fleshier in the middle but the notes of damp moss and musty underbrush return on the medium-long, slightly bitter, mushroom-accented finish. This is the only wine in this vertical I truly did not like. Drinking window: 2022.
Ronchi di Cialla 1998 Verduzzo Di Cialla Colli Orientali del Friuli-Cialla                                                94
Now this is gorgeous. Vibrant burnished gold colour. Inviting nuances of cinnamon, cloves, and nutmeg complicate aromas and flavours of ripe mango, caramel, rock rose honey and vanilla. Lively but harmonious acidity provides noteworthy clarity and cut and extends the juicy sweet and luscious flavours on the long suave finish. Drinking window: 2022-2030.
Ronchi di Cialla 1997 Verduzzo Di Cialla Colli Orientali del Friuli-Cialla                                                93
Deep amber-yellow. Very ripe, lightly evolved aromas of honeycomb, brown sugar and raisin oatmeal, underbrush, and grilled nuts complement notes of tropical fruit. Rich, sweet and viscous in the mouth, with the honeycomb and oatmeal flavours complicated by sweet spices and a touch of oakiness. Could use more definition and grip, but fills the mouth nicely with wave after wave of caramel-enhanced ripe canned and fresh tropical spicy fruit lingering nicely on the long suave finish. I wouldn't hold on to this much longer, but as it's so enjoyable now, why defer gratification any longer? Drinking window: 2022-2025.
Ronchi di Cialla 1996 Verduzzo Di Cialla Colli Orientali del Friuli                                                             95
Luminous dark golden amber color. A perfumed mix of flowers and sweet fruit fresh on the nose is lifted by lemon and lime nuances. Ripe, balanced, rich, sweet and very fresh, this boasts surprising liveliness for a 25 years old plus white wine with a whiplash of lemony acidity giving the marmelady botrytis-enhanced flavours of marzipan, grilled button mushrooms and roasted papaya flavours a strong penetrating quality. Finishes long and truly delicious, with a building, almost massive mouthfeel with refreshing saline bite. A knockout sweet wine, really. Drinking window: 2022-2034.
Ronchi di Cialla 1994 Verduzzo Di Cialla Colli Orientali del Friuli                                                           94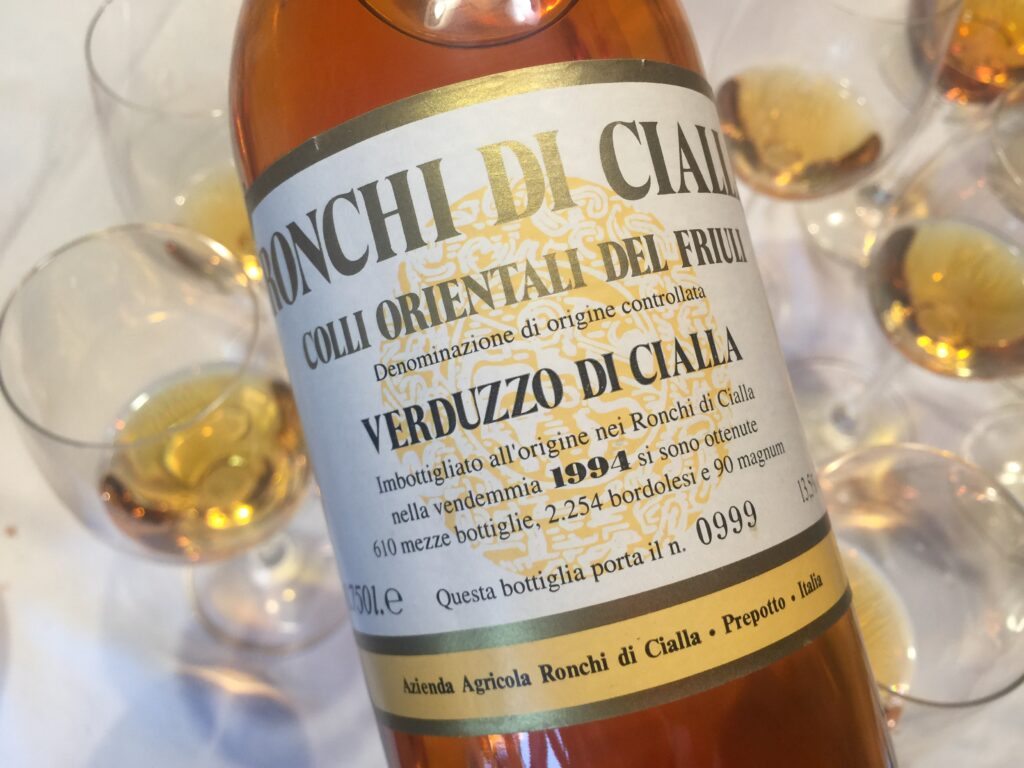 Deep amber-yellow. Lifted aromas of flowers, lime, marzapan, tangerine marmelade, caramel and grilled almonds on the enticing nose. Then fresh and floral in the mouth, with clean, brightly acid and sweetly spicy flavours of marzipan, honey, baked cinnamon apples and Calvados. Finishes extremely long with a cugnà-like note, building smooth tannins, and a savory nuance. One of the more elegant wines in this vertical, the 1994 Veduzzo di Cialla is a knockout wine. Drinking window: 2022-2034.
Ronchi di Cialla 1991 Verduzzo Di Cialla Colli Orientali del Friuli                                                          88
Bright, pale yellow with amber-gold highlights. Peach fruit salad, candied citrus and underbrush on the nose. At once juicy and fruity but tactile too, with spicy hints to the peach, marzipan and lemon curd flavours, complicated by cinnamon and green tea notes. Elegant and enjoyable, but boasting only modest mid-palate fat, the finish seems a little austere and lacking in a little length. Drinking window: 2022-2025.
Ronchi di Cialla 1990 Verduzzo Di Cialla Colli Orientali del Friuli                                                         95
Full yellow-gold colour with amber nuances. Flamboyant aromas of crystallized apricot, potpourri, white chocolate, vanilla, almonds, and smoke. Glyceral, fat and exotic, with plum jam, acacia honey, apricot and spice flavours of great richness. There's something here that reminds me of Chinese yellow wine, but with plenty of sweetness and balance to its glyceral texture. Closes very long with with an impression of chewiness, wonderfully luscious mouthcoating thickness, caramel and compelling sweetness. In truth, the acacia honey note is much more typical of Picolit than it is of Verduzzo (the sweet wines of which are usually characterized by notes of a thicker, sweeter honey such as rock rose honey), but in the 1990 vintage growing conditions were such that all the wines (white and red, dry and sweet) were not just concentrated but elegant too. Drinking window: 2022-2030.
Ronchi di Cialla 1988 Verduzzo Di Cialla Colli Orientali del Friuli                                                        95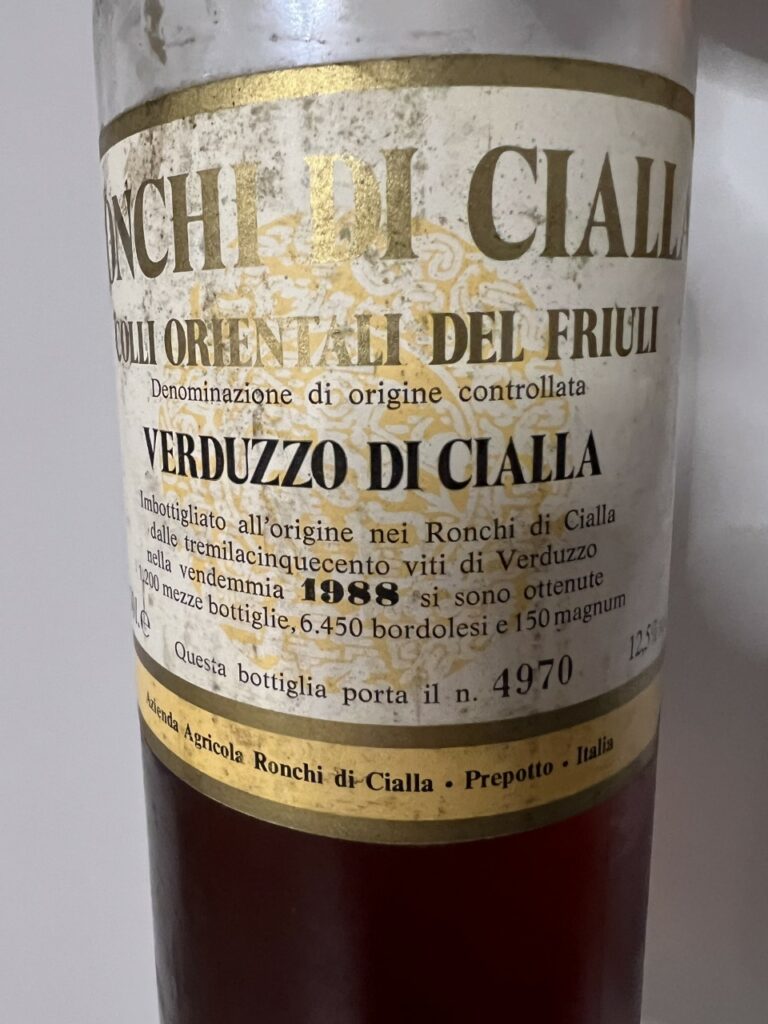 Dark bright amber-gold. Aromas and flavours of lemon curd, fresh almond paste, tropical fruit reductions and baked cinnamon apple. Fresh and very precise, starting out sweet and lively, then turns risingly tannic but finishes very long and clean. Really delightful, light on its feet sweet wine that thanks to balancing acidity seems much less sweet than it really is. This will pair well with grilled white meats and anything involving pumpkins; whatever you do, don't make the mistake of serving it with an overly-sweet dessert. Less sweet and concentrated than the 1990 Verduzzo but more refined and lifted. Drinking window: 2022-2034.
Ronchi di Cialla 1983 Verduzzo Di Cialla Colli Orientali del Friuli                                                        96
Deep burnished golden-brown colour. Lemon zest, orange oil, almond paste, white chocolate, crêpes suzette and tarte tatin on the nose and in the mouth. Clean, juicy and fresh, with excellent harmonious acidity nicely framing the very sweet and repeating flavours of marzipan and honeyed tropical fruit cocktail on the long and complex finish. Features noteworthy tannic bite and hints of lime and peach on the long back end. Still remarkably lifted and youthful considering its ripe old age, this packs in a ton of flavour and only 12% alcohol. Drinking window: 2022-2025.