The Ronchi di Cialla estate is not just one of Friuli Venezia Giulia's (FVG) leading white and red wine estates, but one of Italy's. The Rapuzzi family, owners of the winery, boasts numerous 'firsts' in Italian wine. It is the estate that, in combination with the passion and energy of Gianola and Benito Nonino of the famous Italian grappa family, literally brought Schioppettino back from the dead (or at least to everybody's attention, given that very few estates were paying any attention to the grape at the end of the 1970s). It is also the first estate in Italy to routinely use barriques (small oak barrels) for the aging of sweet wine (the estate's Picolit and Verduzzo are two of Italy's fifteen-twenty best sweet wines). Last but not least, Ronchi di Cialla helped show that cool climate Refosco del Peduncolo Rosso wines do not have to be routinely marred by green notes but can also deliver noteworthy elegance in the glass.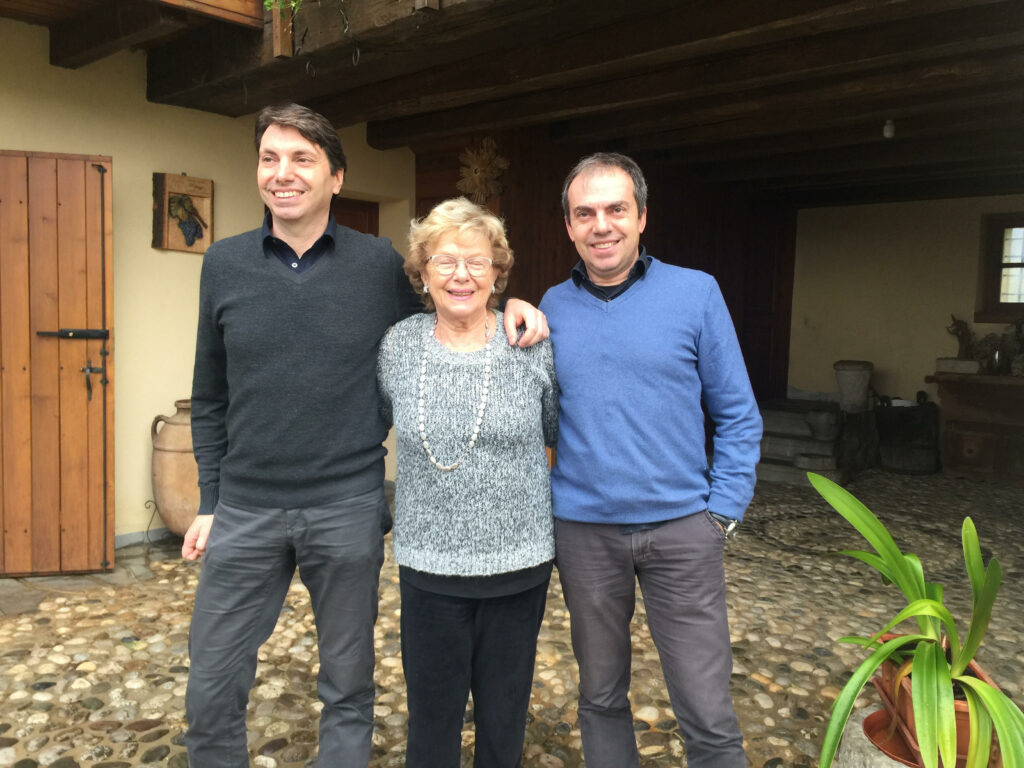 Founded in 1970 at Cialla, one of the cooler, less sunlit areas of the region, Ronchi di Cialla's wines are known for their cool-climate personalities and elegant lightly tannic framework. The estate's name derives from the Italian word ronchi, meaning a well-exposed, sunlit hill, and the Slovenian word cela, meaning stream). Cialla is a little village close-by the bigger towns of Prepotto and Albana in the Friuli Colli Orientali denomination, the area that has long been most associated with Schioppettino in particular, but that also makes outstanding wines from Picolit, Verduzzo, Ribolla Gialla and Refosco del Peduncolo Rosso. And while the estate is most famous for its world-class wines made with the first four of those varieties, if truth be told, their Refosco del Peduncolo Rosso wines are outstanding too.
Stop saying Refosco!There are more than one…
While practically everyone always says "Refosco" and stops there, this is wrong, because there are at least four different Refosco varieties all of which are most likely unrelated and that give completely different varieties. To say Refosco is akin to saying Cabernet or Pinot: that means nothing, given there are Cabernet Sauvignon and Cabernet Franc, and Pinot Noir, Pinot Blanc/Pinot Bianco and Pinot Gris/Pinot Grigio, all different grapes that give completely different wines. Same for the Refoscos. (NOTE: In an upcoming article for TerroirSense Wine Review I will be pusblishing a long article on the Refosco group of grapes in the Terroir Academys section of our magazine.) The commonly accepted Refosco varieties of today are:  Refosco del Peduncolo Rosso, Refosco Nostrano (though producers prefer the name of Refosco di Faedis as it ties the grape to their local territory), Refoscone, Refosco Bianco (a white-berried variety that carries the same name as the red-berried Refoscos though it is completely unrelated to the others).
Refosco del Peduncolo Rosso
Of these four there is no doubt that it is Refosco del Peduncolo Rosso that is the best-known and the most abundant, in fact the most common red grape wine you will drink the wine of in FVG. The grape was first documented in the literature in 1877. It is related to Teroldego, a Trentino native grape, Lagrein (also of Trentino and of Alto Adige), and to Marzemino (native of Trentino and Lombardy). Refosco del Peduncolo Rosso has a medium-large, pyramidal bunch with one small wing, and medium-small, dark blue berries with thin but resistant skins (a good thing, in view of it being a late ripener and that Cialla is a cold, rainy place). When Refosco del Peduncolo Rosso fails to reach optimal maturity, the wines display varying degrees of green-ess and vegetal aromas and flavors, something true of many varieties (just think of Cabernet Sauvignon, for example).
I find that Refosco del Peduncolo Rosso wines are by far the most complex of any made with Refosco varieties, hinting at red and black cherries, the currants, fresh herbs, almonds, and flowers (lavender, geranium, violet, even rose). It's is a reductive variety and needs lots of aeration in the winemaking process. In this it differs greatly from Schioppettino, which is a non-reductive variety; but it is not the only difference between the two. In fact, Refosco del Peduncolo Rosso and Schioppettino are often talked about in the same breath, even compared, and nothing could be more wrong as they differ on practically all counts: geographic diffusion, ampelology, winemaking characteristics and the types of wines each give.
Generally speaking, Refosco del Peduncolo Rosso is easier to work with in the vineyard, though it wants heat and therefore good vineyard exposures. Schioppettino wants that too, but if planted in a cool climate it tends to give very graceful silky wines, while the Refosco del Peduncolo Rosso wines end up being rustic and unfailingly green. No doubt, the best Refosco del Peduncolo Rosso wines are always mostly about power and size that are not typical traits of Schioppettino wines (in order to get Schioppettino, a large berried-grape with large skin to pulp ratios, to give massive fleshy wines you have to air-dry the grapes first, but to do that borders on the nonsensical given it means negating the very elegance the grape is capable of infusing its wines with). By contrast, air-drying does benefit Refosco del Peduncolo Rosso to a degree as elegance is neither what the grape's wines are known for, nor is it what one wants and looks for in them. That much admitted, Refosco del Peduncolo Rosso wines can be far more graceful than they are generally given credit for, and the greatest of all Refosco del Peduncolo Rosso wines are those that magically combine refinement with power: think Miani, for example. There are other estates that can similarly conjugate those two extremes (if on another, different, level than Miani's) such as Jacuss, La Viarte and Conti D'Attimis Maniago, and Ronchi di Cialla. But differently from the other fine estates in that list, it is the Ronchi di Cialla winery that uniquely expresses the terroir of Cialla in the FVG's Colli Orientali denomination.
Ronchi di Cialla: its Refosco del Peduncolo Rosso grapes and wine
At Ronchi di Cialla they now have some old massal selections growing but don't know enough about their Refosco del Peduncolo Rosso vines yet to be sure of different biotypes they might own, and the different wines that could be made from each. Originally they planted the Refosco del Peduncolo Rosso available from the Rauscedo nursery (world's largest, and in FVG) and so theirs is mostly a clonal selection (at least for the time being). The vines are roughly fifty years old as they were planted in 1970 and 1972. At Cialla they macerate/ferment at 25-28 days at 28-30 degrees Celsius and avoid racking, preferring to batonnage once or twice every one to two weeks and age the wine in barriques (Slavonian oak mostly, 10% new) for 15-16 months. As unfortunate and dangerous as it is on numerous counts, global warming has helped Refosco del Peduncolo Rosso at Cialla as there is now increased luminosity in the area, allowing for an earlier budbreak (by as much as two weeks earlier on average: whereas it was in mid-April in the 1980s, twenty years later it is now taking place at the end of March-beginning of April, allowing for longer hang time and greater complexity in the finished wines.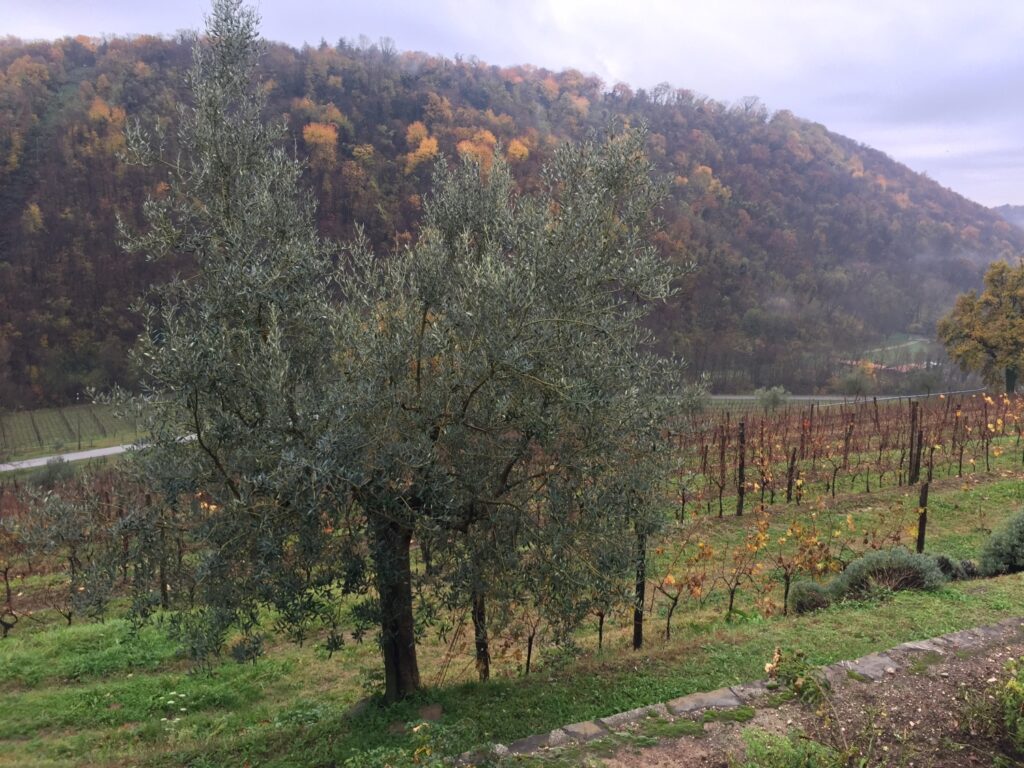 It is true that Refosco del Peduncolo Rosso's wines are undoubtedly much better in the warmer (but not too hot) years: the wines show deeper and richer fruit, that is also pleasantly chewier and sweeter. However, there is much to love about the shadow-rich, still relatively cool-climate area that is Cialla, where vineyards are little islands robbing space amidst forests. Cialla's is by no means the biggest, richest version of Refosco del Peduncolo Rosso wine you'll ever taste (just as their Schioppettino wine is not), but is certainly one of the most refined of all renditions. Wine-wise, Refosco del Peduncolo Rosso wines can be enjoyed fresh and young (once again, unlike Schioppettino, that while it can also be enjoyed young, is for the most part best consumed after some time spent in oak so as to deliver all the complexity and depth it is capable of).
Cialla's Refosco del Peduncolo Rosso wine is brimming with a delicate spiciness rather than boasting rich jammy fruit. Clearly, because it's still a cooler and not especially sunlit area despite ongoing climate change, the Cialla Refosco del Peduncolo Rosso wine will often show a hint of pyrazines along with the spices, but if the green pyrazine-associated note is not dominant or too strong, it actually adds a welcome bit of complexity, even of refinement. By contrast, Cialla's Refosco del Peduncolo Rosso wines rarely offer any sign of tobacco leaf, because it's actually too cold there for this molecule to develop in the wines. Last but not least, a note of white pepper is also a fingerprint of the Cialla valley (found in all its red wines), while earth tones are typical of the older wines (20 years plus).
The following wines were initially tasted directly at the winery in non-blinded fashion with the Rapuzzi family in 2018 and 2019. I then retasted most of the same vintages in my office in Shanghai in February 2022, adding a few vintages to make the vertical more complete; bottles were sourced from the Ronchi di Cialla winery, from my own private cellar in Rome (I have been collecting Ronchi di Cialla wines since 1982 and at one time probably had what is to the best of my knowledge the single largest private, non-estate collection of Ronchi di Cialla old vintages), and from here in China, where I live.
The wines in the vertical tasting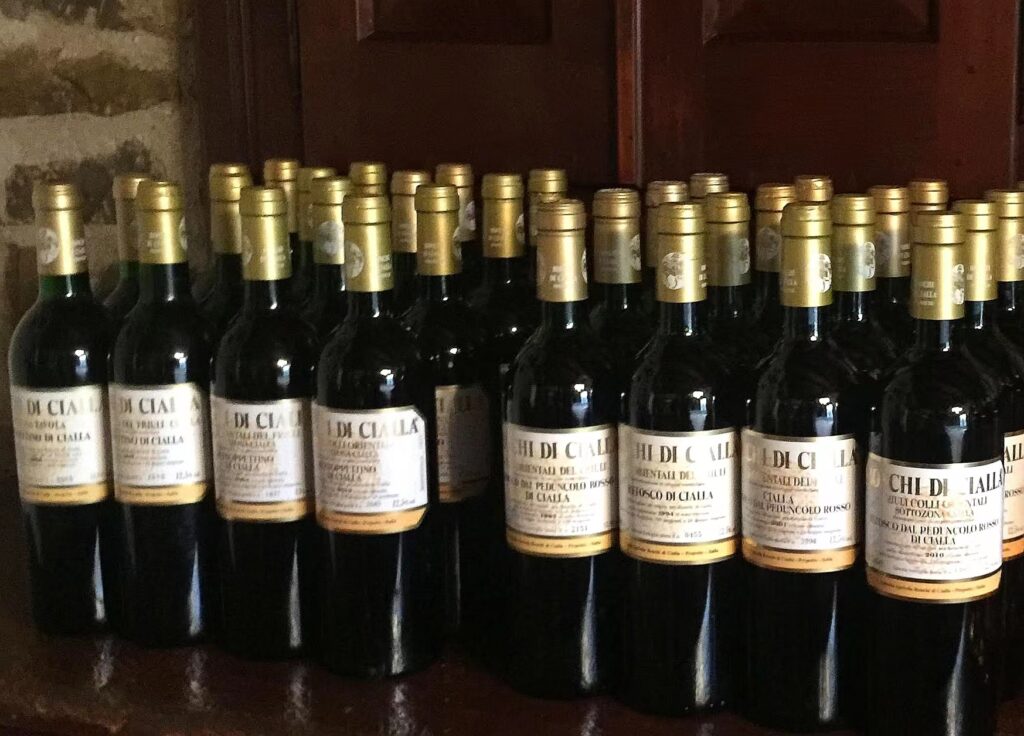 Ronchi di Cialla 2016 Refosco Del Peduncolo Rosso Di Cialla            92+
Dark ruby-red. Plum, redcurrant, minerals, white pepper and a cedary note on the deep nose. Dense and chewy but crisp, with very good intensity to the still brooding flavours of blackcurrant, red plum, raspberry and sandalwood. Boasts a penetrating quality thanks to balanced acidity, but this is still very folded onto itself and not showing much complexity orm laters presently. Finishes with noteworthy floral, smooth and long, with lovely sweetness. Very well done, but I would have expected more facets and levels: maybe they will develop with appropriate cellaring, hence the plus sign on my score. Time will tell.  Drinking window: now-2038.
Ronchi di Cialla 2015 Refosco Del Peduncolo Rosso Di Cialla            93
Inky violet colour. Ripe blackberry and red cherry nectar on the nose, with a violet pastille and white pepper topnote. Notes of sweet dark berry and candied cherry then repeat in the mouth, and display noteworthy depth and a smooth, velvety texture. Finishes sweet and supple, with excellent length. Another great red wine, but this too left me wishing for a little more complexity. Drinking window: now-2038.
Ronchi di Cialla 2013 Refosco Del Peduncolo Rosso Di Cialla            91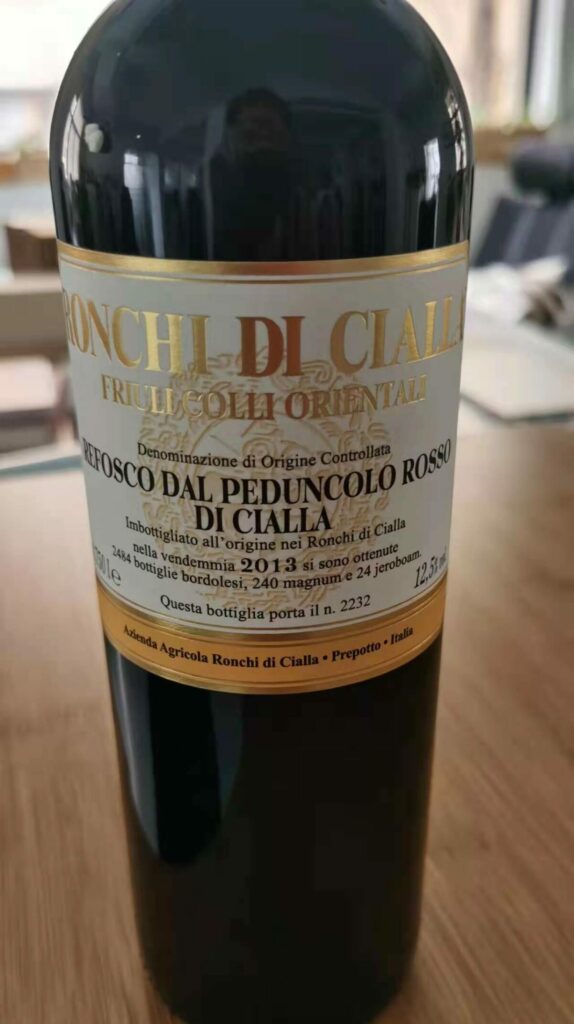 Good full ruby-red. Hints of minty herbs, almonds, truffle and porcini are complicated by blackcurrant jelly on the nose. Vibrant and piercing, with harmonious acidity giving freshness to the mid-palate and nicely extending the crisp. Pure blue fruit and almondy flavours on the long, multilayered aftertaste. The wine's tannins provide the finish with a slight youthful chewiness. Much better than most 2014 Italian red wines you'll try (a very rainy year throughout most of the country). Drinking window: now-2029.
Ronchi di Cialla 2012 Refosco Del Peduncolo Rosso Di Cialla            88+
Luminous ruby-red. Reductive notes typical of the variety greet the nose at first, but blow off with appropriately long aeration. Then a panoply of blackberry and aromatic herbs, with a hint of lavender. Enters smooth and juicy, with a steely core of fruit in the middle, finishing long and fairly smooth with plenty of high acid blue and red fruit flavours. The aftertaste has an earthy note and a chewy tactile presence that leaves one with an impression of rusticity, altogether typical of this variety and wine in a colder year (with some rain occurring during the October 20 harvest). Drinking window: now-2026.
2010 Ronchi di Cialla Refosco Del Peduncolo Rosso Di Cialla            92+
Good full ruby. Complex aromas of bluberry, black olive, bay leaf and violet. Fresh and juicy, but with sneaky concentration and very good weight but no undue heaviness to the dark berry, cocoa and herbal flavors. Finishes wth sneaky length and a bright violet nuance. More concentrated but less perfumed and refined than the Schioppettino di Cialla from the same vintage. Not a blockbuster in any case, but ought to prove ageworthy. Drinking window: now-2033.
2007 Ronchi di Cialla Refosco Del Peduncolo Rosso Di Cialla            94
Bright ruby. Perfumed violet, boysenberry, raspberry, white pepper, quinine and smoke on the nose and in the mouth. Polished tannins and harmonious acidity really support and extend the flavours on the long back end. Refined, long and very clean, this knockout wine shows the minerality of Refosco del Peduncolo Rosso. Vibrant, lovely wine. A warm year. Drinking window: now-2032.
2005 Ronchi di Cialla Refosco Del Peduncolo Rosso Di Cialla            94
Bright purple-ruby. Blueberry, blackberry jelly, sassafrass and violet on the knockout nose. Then bright and juicy but dense, with noteworthy floral and white peppery lift to the blue and dark fruit flavors. Closes long, savory and very pure. Knockout Refosco del Peduncolo Rosso of noteworthy refinement and complexity. A balanced wine from a year that was cooler than the general average but not excessively so. Drinking window: now-2032.
2004 Ronchi di Cialla Refosco Del Peduncolo Rosso Di Cialla            89
Bright red-ruby. Red fruit and dried herbs (cloves too) complicated by ferrous, flinty notes are the highlights on the nose. Bright and juicy on entry, then a tad lean in the middle with not much flesh to the somewhat skeletal tannic framework offering only hints of raspberry, blackcurrant, flint and cocoa. Finishes with an aromatic note no doubt due to the colder year. In some ways, especially with the elements of earth and cloves, this is rather similar to 2012. The green note really emerges with time Harvested Oct 15. Drinking window: now-2025
2001 Ronchi di Cialla Refosco Del Peduncolo Rosso Di Cialla                   95
Luminous purple-ruby. Initially reduced, but dissipates fairly quickly with aeration to showcase highly perfumed aromas of dark berries, violet, minerals and botanical herbs. Then very fresh and crisp, with savory flavours of dark berries, plum and spices complicated by hints of underbrush and crushed stone. Finishes with good flesh and weight. Outstanding wine of impeccable balance. No doubt the excellent vintage weather helped. Drinking window: now-2035.
1998 Ronchi di Cialla Refosco Del Peduncolo Rosso Di Cialla            87  
Ruby-red with a garnet rim. Strong leafy underbrush note on the nose is complicated by a hint of rose. Less green than the 2004, but a little evolved with oxidised notes of faded flowers and saltpeter. Finishes juicy and clean, but I was left wishing for a little more fruit. The 1998 was a really difficult, rainy vintage but Cialla had less rainfall than other parts of the Colli Orientali. Drinking window: now-2024.
1997 Ronchi di Cialla Refosco Del Peduncolo Rosso Di Cialla                   87+
Dark red. Slightly gamey aromas of red and blue fruits with lively acidity but also slightly tough tannins. Has a sharp, angular and tart quality that really aren't up my tasting alley; this really could use a little more flesh and size. A warmer than usual year, which serves to partly disprove the commonly held belief that heat is always good in and of itself for the Refosco del Peduncolo Rosso grape. Not so, unless it is a balanced application of heat during the whole of the growing season. Drinking window: now-2024.
1994 Ronchi di Cialla Refosco Del Peduncolo Rosso Di Cialla                   95
Bright red. Fresh aromas of redcurrant, blueberry and crushed tomato leaf, with a hint of rosemary and bay leaf. Fresh and juicy but with a tactile, luscious mouthfeel and surprising sweetness to the vibrant raspberry, blackcurrant and blueberry flavors, perked up by a note of violet. Not a blockbuster but lovely refinement and sneaky concentration. Why is it that graceful wines are never scored highly? Not here. Drinking window: now-2030.
1993 Ronchi di Cialla Refosco Del Peduncolo Rosso Di Cialla                   93+
Bright red-ruby. Slightly muted aromas and flavours of blueberry and damson plums, then tangy acidity lifts the floral dark berry and aromatic herb flavours. Finishes long and juicy, with harmonious acidity and noteworthy saline bite and rising polished tannins. A warmer year but not excessively so, and this wine has reaped the benefits. Drinking window: now-2030.
1990 Ronchi di Cialla Refosco Del Peduncolo Rosso Di Cialla                   95
Bright red with very little rim. Sour red cherry, raspberry, sweet spices, rose and no greenness whatsoever on the captivating nose. Then tactile wine in the manner of the 2007, but with suave, polished tannins and a real element of refinement to its juicy red berry, dark cherry, cinnamon, marzipan and balsamic oil flavours. Multilayered and deep, this boasts an uncommon level of inner-mouth perfume. The long aftertaste is juicy, compellingly sweet, featuring nuances of flint, raspberry nectar that are of striking purity. Knockout wine that is still very young still, this is less evolved than the 1998, for example. Drinking window: now-2032.
1987 Ronchi di Cialla Refosco Del Peduncolo Rosso Di Cialla                   91
Deep ruby-red with a pale amber rim. A strong note of licorice complements dark plum, tar and camphor on the rather deep, complex, tertiary nose. Fresh, juicy and surprisingly luscious on entry, then slightly tougher with grainy tannins and an aromatic twist to the dark and red berry flavours. Closes long with hints of fresh herbs and cracked black pepper. The tannins turn a touch dry at the back, though. Needs food, but at almost thirty-five years of age, this is remarkably sprightly. A warmer and dry vintage.  Drink: now-2030.
1985 Ronchi di Cialla Refosco Del Peduncolo Rosso Di Cialla            92
Lovely red colour with a tinge of orange at the rim. Strikingly precise and still remarkably fresh aromas of redcurrants, plums and a complicating green edge on the inviting nose. Then savory red and blue fruit, blood orange, pine cones and chocolate in the mouth and on the long smooth and even mineral finish. Lovely acid-fruit-tannin balance with a slightly green note that adds a lovely aromatic touch. There might been just a touch of water stress here, but the greenness is held nicely in check and actually provides an advantage here to the wine's overall aroma and flavour profiles, increasing their complexity. That much said, I remember this wine well from the early 90s when I had bought a whole case of it and I thought it would develop to even greater heights; still, it's pretty darn good. Drinking window: now-2028.
1984 Ronchi di Cialla Refosco Del Peduncolo Rosso Di Cialla            88
Medium dark red with an amber rim. Intense notes of underbrush and fresh herbs (pine needles, rosemary, bay leaf, sage) complicate cool aromas of blackcurrant and camphor. Fresh and juicy, with tactile, saline flavours of dried herbs, almonds, minerals and camphor. Finishes long and peppery. Made in a cool but also rainy year, this will appeal more to those who enjoy herbal-infused wines. Drinking window: now-2024.
1979 Ronchi di Cialla Refosco Del Peduncolo Rosso Di Cialla            96
Bright red with some orange-garnet (but not much) . Bright and fresh on the nose and in the mouth, with redcurrants and sweet spices complicated by a leafy and lavender note. Juicy savory and long and with a delicate note of faded rose petals lingering nicely on the wonderfully refined, well-balanced and smooth finish. Fantastic wine. Drinking window: now-2025.
1977 Ronchi di Cialla Refosco Del Peduncolo Rosso Di Cialla            90
Bright garnet red. Leafy and earthy  in the mouth, with notes of dried lavender, porcini, truffle and tar, and not much fruit presence. Juicy acidity keeps this interesting and the texture is suave and delicate. The finish is long and clean, with a repeating note of  lavender and tar and a late hit of licorice. Drinking window: now.