One of the world's most famous wines, Sassicaia is a Cabernet Sauvignon-Cabernet Franc blend that single-handedly put Bolgheri on the international quality wine map. Over the years, Editor-in-Chief Ian D'Agata has tasted every vintage of Sassicaia made numerous times and has written up many Sassicaia verticals for various wine magazines; but it's time for an update on just how the wines are doing. The past eight months saw Ian retaste over forty vintages of Sassicaia in four separate wine tastings detailed in this tasting report. And a vertical of San Guido's Guidalberto is coming up soon too…
Having lived in Italy for a great part of my adult life, I have had the amazing good fortune to witness from a front row seat, and take an active role in, the Italian wine renaissance of the 1980s. And so it is that, beginning in 1981, I have sat through more vertical tastings of Sassicaia than any other Italian wine. Which most likely also means that I have probably done so more than anybody else on Earth, outside of the immediate owners of the winery. I have in fact lost count of just how many small or large Sassicaia verticals I have been truly blessed to attend over the years: it is a stroke of luck that simply cannot befall those who live in North America, Asia or anywhere outside of the Italy. I have had every vintage of Sassicaia, including those of the 1960s and 1970s, numerous times at different points of their evolution. Sassicaia is, in short, a wine I know extremely well.
Sassicaia is a world-famous Cabernet Sauvignon and Cabernet Franc blend that was the brainchild of Mario Incisa della Rocchetta. It is made on the Tuscan coast, in the Bolgheri wine denomination situated not far from the sea between the large cities of Livorno (Leghorn, in English) in the north and Grosseto (tongue firmly in cheek, it's Grosseto in English too) in the south. However, Sassicaia's aura and fame stretch far beyond those borders: the name is instantly recognized by wine lovers everywhere. Sassicaia is, without doubt, a true Italian icon and arguably the country's best-known wine.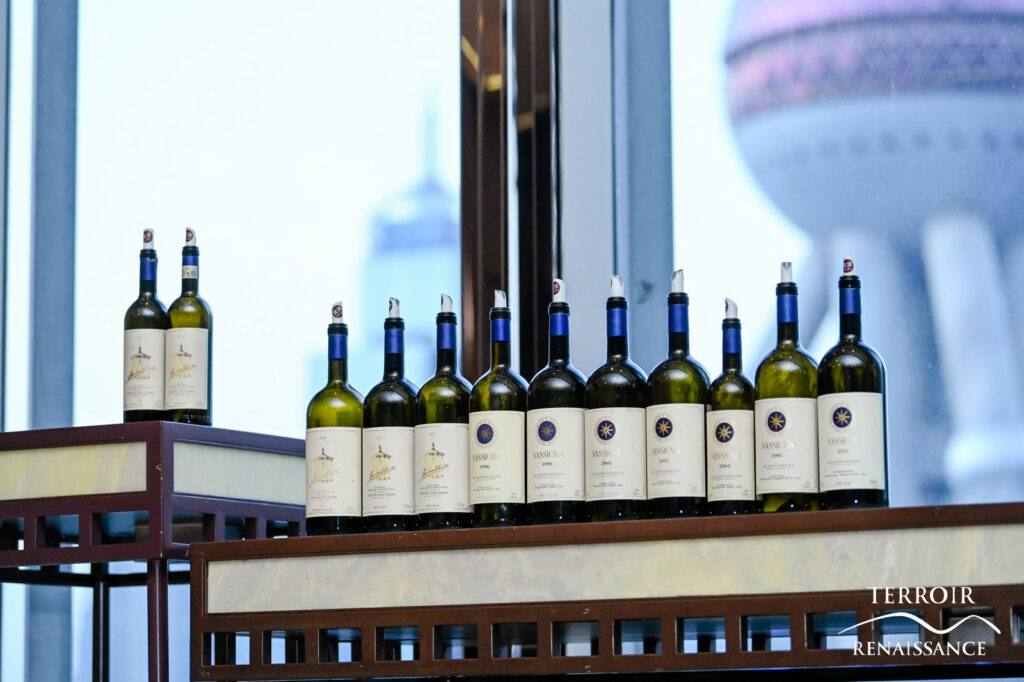 Not just wine: A truly extraordinary man and family
You don't have to read George Orwell's Animal Farm to know that, according to the pig Napoleon,  "some are more equal than others". In a different context, that is true: some people are just blessed with an innate capacity to achieve, to be successful that not everybody has. I think we can all agree that Einstein was not quite like everybody else, correct? And Jenner and Marconi and Stephenson and Newton were probably uniquely insightful and gifted as well. Well, in the context of Italian wine, Mario Incisa della Rocchetta was really a step above and beyond practically everyone else. For while everybody knows about his role in the creation and launching of Sassicaia, perhaps not as many know of his other achievements. And like practically all great men, he was helped in his climb to success by a great woman.
Just like Château Grillet in France and very few other wine realities, Sassicaia has its own Appellation (denomination or denominazione, in Italy): the Denominazione di Origine Controllata, or DOC, called Bolgheri Sassicaia. It is the only single estate in Italy to have it's own denomination. And while most people refer to the estate simply as the "Sassicaia" winery, in fact Sassicaia's producer is Tenuta San Guido (yes, in Bolgheri), named after Saint Guido della Gherardesca, who lived during the eleventh century.
In fact, that is not the only important link between the della Gherardesca family, San Guido, and Sassicaia. For if the merit of Sassicaia's creation must go to Incisa della Rocchetta, it is also true that without the della Gherardesca family, Sassicaia might never have seen the light of day. It was in fact the marriage between two nobles, Clarice della Gherardesca and Mario Incisa della Rocchetta on October 18, 1930, that provided the foundation of what was to be built patiently over time. It was the della Gherardesca family that owned the land in Bolgheri: when Mario Incisa visited his wife's holdings by the coast, he realized that the area bore a remarkable similarity to Bordeaux's Graves region (gravel everywhere and a relative proximity to the sea). That was the spark that lit the Sassicaia fire.
However, wine was not the only passion the husband and wife team shared: they loved nature in general, and adored thoroughbred horses. These two other loves led them to meet with incredible success in fields other than wine as well. Their passion for racehorses led them to create the Razza Dormello-Olgiata thoroughbred stud farm in association with horse breeder and trainer Federico Tesio. Were I to leave at that, you will never even begin to understand the magnitude of what these three people achieved with those beautiful quadrupeds. Over the course of fifty-three seasons, from 1944 to 1996, the children and descendants in the male line of three stallions bred by Tesio (Donatello II, Nearco and Ribot) won 120 of 265 editions of classic British trials (in other words, almost half of them); ninety-eight (or almost 37%%) were won by children or descendants in the male line of Nearco alone. What the Incisa della Rocchetta duo and Tesio accomplished boggles the mind: just imagine that at his farewell speech at the thoroughbred Breeders Association in Newmarket in 1964, Lord Rosebery stated that: "Nobody in this century has most influenced the breeding of thoroughbreds than Tesio and Lord Derby". And while Nearco is remembered by many horse racing aficionados as one of the greates horses that ever lived (think Secretariat-like great), it is Ribot that is generally held to be if not the greatest racehorse that ever lived then something very very close to that. Suffice it to say that the horse never lost a race, was defined as "the horse of the century", became the yardstick by which all other racehorses were measured by, and made the cover of Der Spiegel magazine (Europe's version of Time). In 1999, at the turn of the new century, when Italy's most important sports publications listed the greatest Italian athletes of all time, a collection of soccer players, formula 1 drivers, swimmers, runners, skiers and more, among all those men and women was also Ribot, a horse. Much to the public chagrin of some of the athletes who felt offended by his inclusion, Ribot made 29th of Italy's "50 Best athletes of all time" in one important publication and was the outright numero uno in the other (maybe they were animal lovers too, but still, you have to take your hat off to what Ribot accomplished in his lifetime and what he has come to symbolize). As if that was not enough, the couple shone like the stars they were (Sassicaia's logo is in fact a sort of star) in other realms too. In 1959 Mario Incisa della Rocchetta transformed their 73 hectares of freshwater marsh (surrounded by another 445 hectares of forest, wet meadows, pastures, swamps and arable land) into the first Italian private nature preserve. Then, in 1966, obviously thinking he hadn't yet accomplished enough in life, he founded the Italian World Wildlife Fund (WWF) together with Fulco Pratesi, an eminent Italian environmentalist and journalist.
And we haven't even begun talking about the wine yet.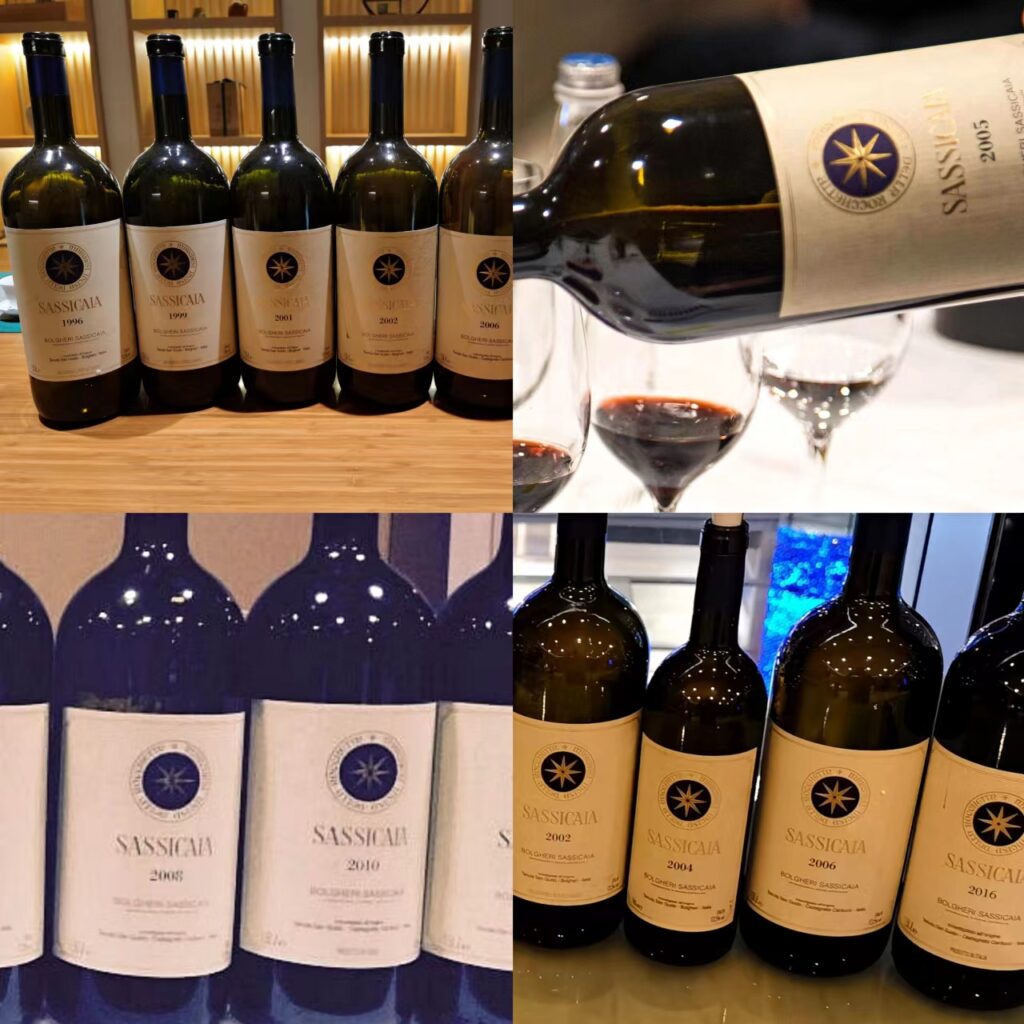 Sassicaia, the wine: history
I did not write "two nobles" earlier in a classist nod to a status level, but because, like it or not, being "noble" probably played a large role in making Sassicaia happen (Incisa della Rocchetta was a Marquis: the Marquisate of the Incisa della Rocchetta is a lordship of the House of Aleramici of southern Piedmont; today, a branch of the family is still making an absolutely outstanding Grignolino d'Asti wine, as well as others, in the Monferrato). The connection with and to nobility is important here: this is because back in the 1940s knowledge about wine in Italy was quite poor, and practically nobody outside the nobles and/or the wealthy had any chance (or even interest) in drinking the world's great wines (which at the time meant Bordeaux, and Bordeaux only). In other words, experience with and knowledge about the world's great wines were limited to the happy few. But by way of his family and social status, Incisa della Rocchetta was an individual who had the possibility not just to travel and see the world, but also of acquainting himself with such wines. When still a student in Pisa, he would often lunch and dine as a guest of family friends, the Salviati Dukes of Migliarino (so you see, more nobles). There he had occasion to drink numerous fine wines, and one in particular, made with the Cabernet varieties, stuck in his mind. It reminded him of Bordeaux (again: you have to have tasted Bordeaux to be reminded of it). Upon visiting his wife's holdings on the Tuscan Coast, he was able to recognize the similarities between the lay of the land of Bolgheri and that of Graves. As already mentioned, the two terroirs had noteworthy features in common: both were not far from the sea, and both very rich in gravel (Sassicaia does not have the name it does by chance, or by accident: it means "the area of rocks", as in the aia dei sassi). And so, in 1942 he proceeded to plant a number of different French wine grape varieties (for the cuttings, he asked the Salviatis). Of the various grapes planted and the wines he made experimentally, perhaps not surprisingly, it was Cabernet Sauvignon and Cabernet Franc that gave what he thought were the best result. And so it was that Sassicaia, destined to become perhaps Italy's most famous and one of the best-known wines of the entire world, was born. Clearly, as much as we might like to think otherwise, these society-changing events don't happen in a vacuum: Incisa della Rocchetta was able to create a world-class wine where nothing even remotely similar previously existed because he was able to put two and two together. And without any experience in the matters at hand, that's much easier said than done.
From 1948 to 1967, Sassicaia remained the Incisa della Rocchetta's family house wine. The family noticed that with aging in appropriate cellar facilities, the wine improved immensely (they stored cases of each vintage in the cellar of their castle in Castiglioncello), which was not surprising given that the wines of Bordeaux are ageworthy too. Sassicaia's chances of improving were bettered by introducing temperature control in the cellar, steel fermentation vats in place of old wooden vats of dubious quality and health status, and the use of French oak barriques in which to age it in. In time, friends, relatives and wine professionals began telling the Marquis that his wine was exceptional, and that he needed to start selling it. Ultimately, he relented, and the 1968 was the first vintage of Sassicaia to see officially the public light of day.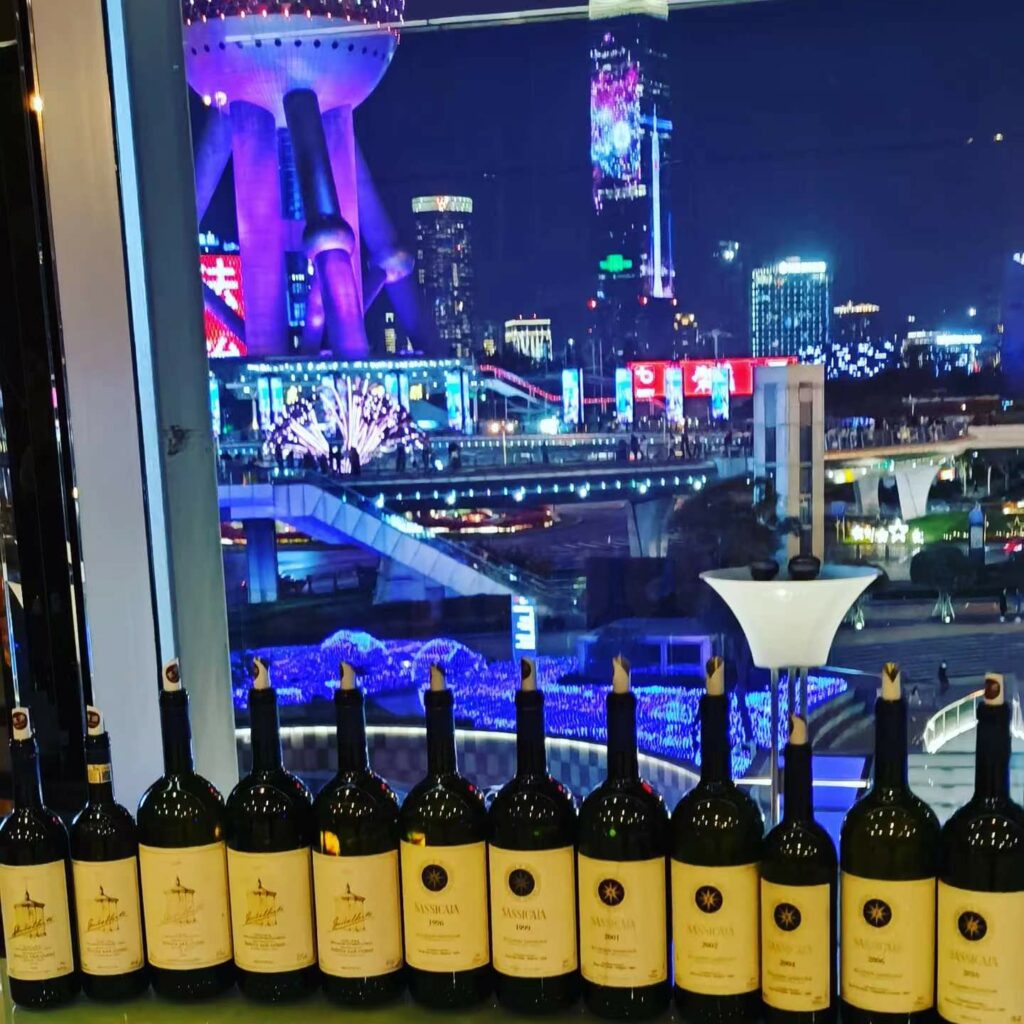 Sassicaia, the wine: present
Sassicaia is a blend of Cabernet Sauvignon and Cabernet Franc. While it is generally stated that Sassicaia is a 85-15% blend (and the estate's website reports as much too), I know for a fact that is not quite so. Or at the very least, it was not always so. The Marquis Niccolò Incisa himself told me, already in the 1980s when I was living in Rome, that it was more of an 80-20% mix. And in some vintages, it seems like the presence of Cabernet Franc was even higher, such as in the 1983, that has always shown a strong Cabernet Franc personality right from the day it was released (I know, I was there to taste it at that time, and the Marquis Niccolò was saying as much too). Sometimes, the sense of a heavier Cabernet Franc presence may have been due (or be due) to the vintage's growing season characteristics, perhaps more favourable to one Cabernet variety over the other, so as to ultimately make the expression of that variety in the finished wine more dominant (but clearly, Sassicaia is a Cabernet Sauvignon-based wine). Sassicaia has been made uninterruptedly since 1968, save for in 1969 and 1973, two vintages marked by sorry weather; consequently, the wine was not produced. For a while, there was also "special Sassicaia" made, called "Vino diverso della Sassicaia" (that is what is always written and reported: but in fact, the wine's real, full name was  "Vino diverso della Sassicaia-Imbottigliato al Poggio") that Mario Incisa, who preferred to age their wine for long periods of time in oak (up to three-four years) continued to make on his own for a few years (the best-known is the 1977, bottled in 1981).
The vines from which Sassicaia is born are planted between 100-400 meters above sea level on a limestone-rich soil with plenty of stones and clay. The estate's best and oldest vines are those of the Castiglioncello vineyard area (it's the one situated at the highest altitude), fairly magical and beautiful spot. The vines are planted with different densities depending on vine age, ranging from 3600-5000 plants per hectare to 6200 per hectare. The winemaking has always been very traditional and classic, first overseen by Giacomo Tachis (arguably Italy's most famous winemaker of all time) and then, beginning with the 2009 vintage, by a team composed by consultant winemaker Graziana Grassini (who was strongly supported as his successor by Tachis himself), general director Carlo Paoli (one of the most knowledgeable and talented wine minds in all of Tuscany and who is still running the estate now with Niccolò's daughter Priscilla) and the Marquis Niccolò himself. In fact, it is the 2008 Sassicaia that represents the watershed vintage and wine, wedged between the Sassicaia of yesterday and the Sassicaia of today. The last Sassicaia vintage wholly managed by Tachis was the 2007; the 2008 Sassicaia is the result of a joint collaboration between Tachis and the new trio, and it turned out to be an excellent wine (realize that the 2008 Sassicaia was bottled in January 2010, and the new technical staff was already at work and in charge of the winemaking by then). Relative to Sassicaia's winemaking, fermentation usually takes place in stainless steel tanks at no more than 30-31 degrees Celsius with only natural yeasts used. Maceration lasts usually 10-15 days, frequent pumping over and delestages are carried out, and the wine is aged about 24 months in new French barriques. Last but not least, Sassicaia was a lowly Vino da Taviola up until the 1992 vintage. The 1993 Sassicaia is the first one to sport the DOC Bolgheri Sassicaia on its label.
The wines in this tasting report
I have lost count of how many Sassicaia verticals I have been invited to or that I have organized over the years in cities as disparate as Toronto, London, San Francisco, LA, NYC, Florence, Milan, Rome, Singapore, Shanghai and I don't know how many others I am forgetting about now. Many of these have been in the company of the estate's owners or staff, including the always gracious and generous Marquis Niccolò, his daughter Priscilla, and/or general director Carlo Paoli. A number of these verticals have been published in Italian and international wine magazines, including Steven Tanzer's International Wine Cellar and Decanter. But as it has been about three years since my last important Sassicaia retrospective, I thought it was time for another update to see where these often glorious wines were at in their development.
In this context, a number of observations and conclusions I have reached about Sassicaia over the years may help you better grasp its nuances, so as to understand and appreciate this historically important wine even more.
Sassicaia is a wine that does not show its best in the first ten years of life. Recent vintages (2015, 2016, 2019) are amazingly charming and impressive right out of the starting gate, but for the most part, and especially with wines from their 1980s and 1990s, almost all Sassicaia wines always showed best ten to twelve years after the harvest. Drinking it before that period of time invariably meant coming away disappointed, and for this reason the wine often gets killed in blind tastings, especially when inexperienced tasters are involved. In other words, with Sassicaia, patience is greatly rewarded. Think of it as a lithe long distance or marathon runner, not a muscled sprinter.
Sassicaia has never been about plump, glossy fruit; softly acid, creamy mouthfeels; and cocoa or coffee by the boatloads. Differently from other famous Sueprtuscans that are instead very much just about that, Sassicaia has always played the card of cool minerality and an almost austere refinement, buoyed by forward, lifted freshness and amazing lightness of being. It's not that one wine style is better than the other, and each will have its fans; but you need to think of Sassicaia in terms of Léoville-Las-Cases, not of a garagiste liquid plum jam; or think of it like you would of 1960s or 1970s Diamond Creek and Mayacamas Cab wines, not the jammy stuff of the 1980s made at many Napa estates.
Remember that even though Bolgheri is in Tuscany, its weather patterns are not the same of those of Chianti Classico and Montalcino. In other words, a great vintage in inland Tuscany may not be as great out on the coast where Bolgheri is, and vice versa. In this respect, an example that comes to mind immediately is the 2010 vintage: wonderful in Montalcino, almost as good in Chianti Classico, but not a success in Bolgheri. Do not apply what you know about Montalcino or Chianti denominations to Bolgheri's wines thinking it's all one and the same. (Then again, given how well Sassicaia performs in bad vintages, it did very well in 2010).
This is important: Sassicaia performs remarkably well in off-vintages (most of the time, at least). In this, it has a real Château Latour-like quality to deliver the goods when the weather is less than ideal. For example, in generally poor vintages like 1984, 1992 and 2014, Sassicaia excelled. Clearly, the wines of those vintages neither have the longest staying power nor oodles or gobs of sweet fleshy fruit (Sassicaia rarely does anyways) but are pristine, refined wines heads and shoulders above most everything else made in Tuscany, and even Italy, in those years.
The following wines were tasted in Shanghai in December 2021, January, February and July 2022; I wish to especially thank Priscilla Incisa della Rocchetta and her general director Carlo Paoli for their generosity in allowing me to guide to packed room and enthusiastic crowd, with the two of them linked via zoom conference and present on screen to help lead the tasting, a truly memorable masterclass organized for TasteSpirit's International Terroir Symposium held annually here in Shanghai. That masterclass featured one of the verticals the wines of which are included in this tasting report.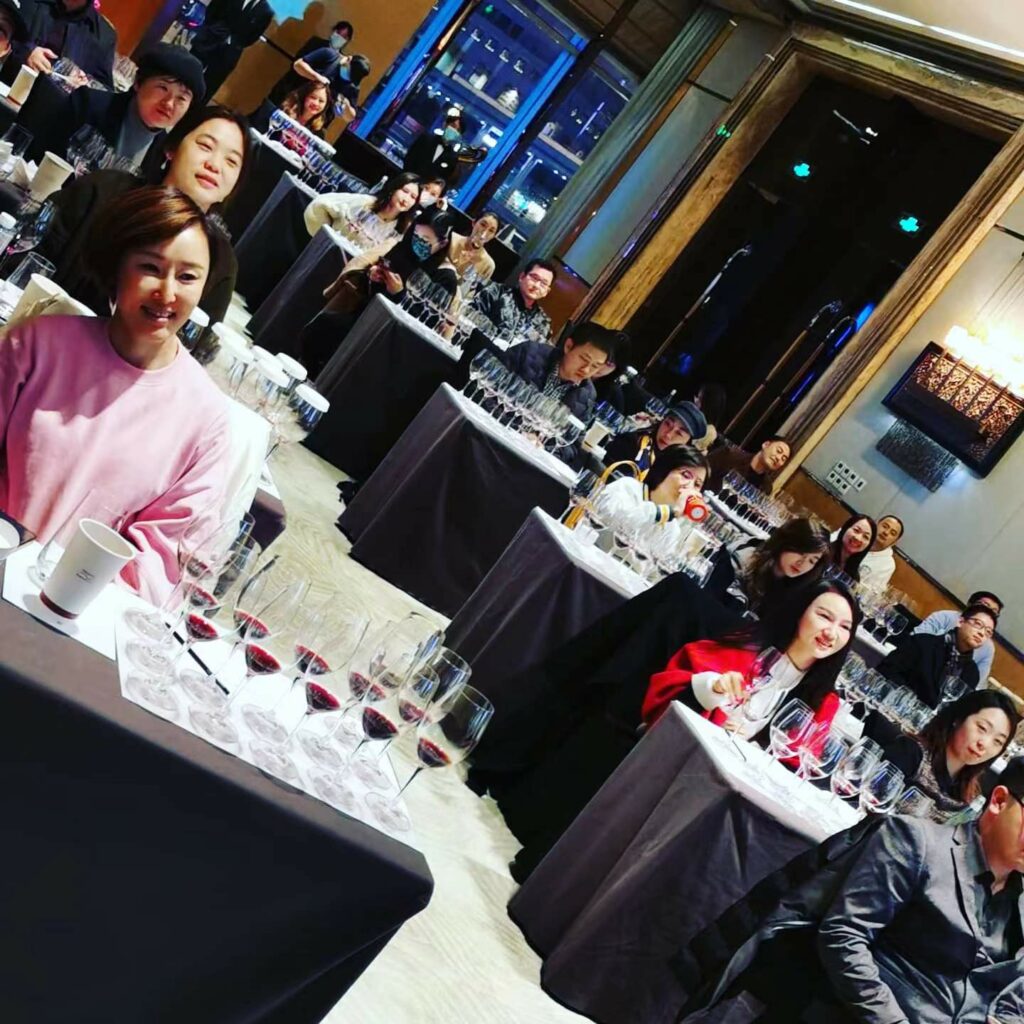 Tenuta San Guido 2019 Sassicaia Bolgheri Sassicaia                          98+
Deep bright red-ruby. Complex, rather Burgundian aromas of flinty dark berries, tobacco, herbs (sage and rosemary), sweet spices (vanillin, cinnamon) and minerals, plus a suggestion of leafy reduction and tarry earth. Velvety and pliant in texture, with compelling but restrained sweetness to its blueberry, raspberry, and cedar flavours lifted by outstanding inner-mouth perfume. Broad and accessible for such a young wine, and very shapely and fleshy for a young Sassicaia, this boasts repeating primary fruit flavours of blackcurrant and raspberry on its long and silky yet powerful finish. The 2019 showcases elements of the 2015 (power, flesh) and 2016 (tannic clout) Sassicaias, both outstanding wines in their own way. It might ultimately turn out better than both and warrant a 100 point score, hence the + sign on my score. Drinking window: 2027-2060.
Tenuta San Guido 2018 Sassicaia Bolgheri Sassicaia                           96
Dark ruby-red. Perfumed, forward aromas of blackcurrant, milk chocolate, roast coffee, powdered rocks, sandalwood, all complemented nicely by a whiff of candied violet. Then similar flavours to the aromas delivered in a light on its feet, graceful and very suave style, but with good stuffing and palate presence. Sneaky but balanced acidity extends the sweet long aftertaste. The 2018 is a remarkably accessible, politely-styled and hence very underrated Sassicaia, but there's plenty to like here. Don't miss it. The 2018 is important perhaps not only because of how good it is: remember that the 2018 wine marks the fiftieth anniversary of Sassicaia's creation (Sassicaia was released for the first time in the 1968 vintage: however, beware that given the 1969 and 1973 and were not made, the 2018 is not the fiftieth Sassicaia in history). Drinking window: 2025-2048.
Tenuta San Guido 2017 Sassicaia Bolgheri Sassicaia                       95
Good full deep purple-ruby. Blackcurrant, roasted plum, mint, sage, sandalwood, graphite, camphor, as well as a note of perfumed violet all combine to give a complex, multilayered drinking experience that is both polished and extremely long. Powerful and thick on entry, then fresher and more elegant in the middle with good acidity (total acidity of 5.85 g/L) nicely framing the fruit that is supported by thick, relatively chewy but not gritty tannins. In the signature Sassicaia house-style that often leads the wine to being  underestimated at times by wine lovers and critics upon release, the 2017 Sassicaia has a bit more obvious heft. Yields were down by 25% in this vintage and given the growing season's noteworthy heat and light units, the 2017 Sassicaia could easily have turned out to be a more brooding, thicker and powerful wine than usual, perhaps creamy on entry but gritty on the finish. Thanks to increasing the percentage of Cabernet Franc lightly in the blend, harvesting a little earlier than usual, reducing fermentation time and temperature, and using more old neutral oak in the aging process, the 2017 Sassicaia remains faithful to its historic profile, one of grace and refinement rather than of creaminess and outward size, though the season's heat was unavoidable and the tannins here are less polished than they usually are. Drinking window: 2024-2045.
Tenuta San Guido 2016 Sassicaia Bolgheri Sassicaia                       100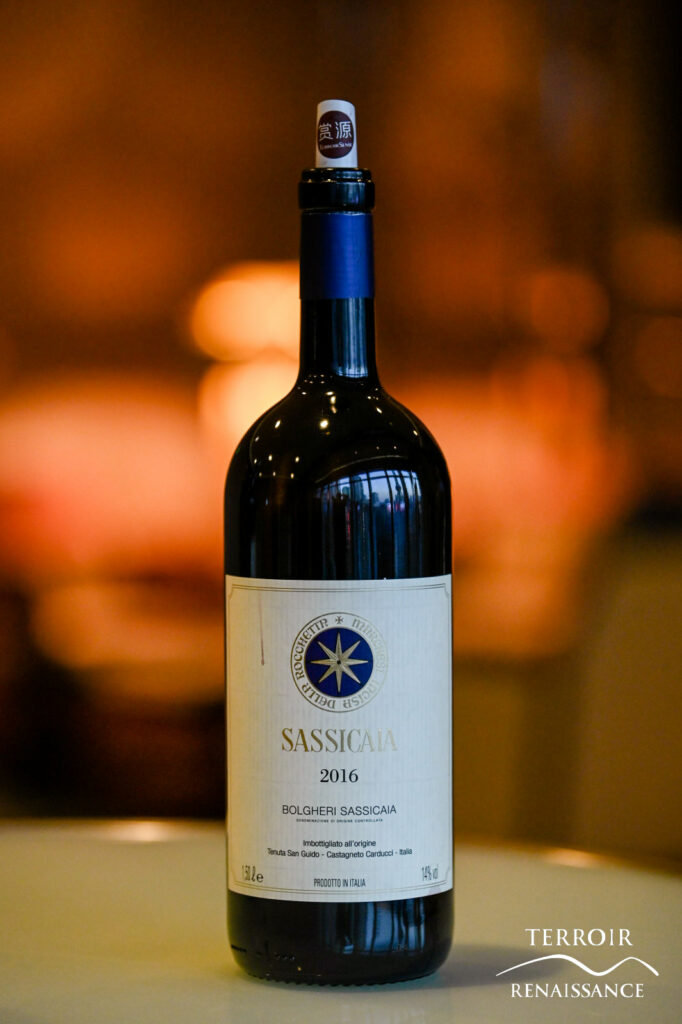 Moderately saturated red-ruby. The complex, captivating nose offers red and blackcurrant, dried violet, old fine leather and minerals complicated by violet, dark chocolate, coffee and cinnamon. Silky and pliant in the mouth, but with outstanding energy to the multi-layered juicy, sweet red and black fruit, licorice and herb flavours. Finishes with smooth tannins and superb length, not to mention an enticingly seamless and multi-layered quality and enchanting mineral verve. I have no doubts the 2016 Sassicaia, a paragon of balance and grace, will go down in history as one of the five or six best Sassicaias of all time.  Drinking window: 2026-2060.
Tenuta San Guido 2015 Sassicaia Bolgheri Sassicaia                       98
Good full red-ruby. Sweetly spicy red cherry, dried herbs, Cajun woodsmoke and flowers on what is a surprisingly perfumed nose for such a warm year. Then also compellingly sweet in the mouth, with a supple and wonderfully dense mouthfeel to its creamy red fruit, Ningxia apple, exotic wood, star anise, and sweet spice flavours. Despite the very warm year, the 2015 Sassicaia showcases enticing lift to the creamy, palate-saturating flavours, and finishes with uncanny persistence and verve, not to mention a hint of tropical fruit (guava, mango). A huge but well-balanced wine from an excellent, almost perfect vintage, the 2015 Sassicaia though perhaps not quite at the level of the 1978, 1985, 1988, 2009 and 2016 Sassicaias (it lacks the penetrating freshness of all those wines), will still be remembered as one of the greatest Sassicaias ever made. It will also be good to go earlier than those other memorable vintages, so why defer gratification? Enjoy this creamy, multifaceted and complex beauty sooner rather than later. Drinking window: 2025-2050.
Tenuta San Guido 2014 Sassicaia Bolgheri Sassicaia                       93
Bright medium red-ruby. Very pure and nuanced aromas of strawberry, eucalyptus, mint, licorce and graphite. Then also very pure and lively in the mouth, where flavours of blackberry, vanilla, and blood orange are lively and bright, and complemented by a noticeable saline tang and a hint of cocoa. The aftertaste is long and vibrant, with an almost Pinot Noir-like quality in the way concentration and purity of flavour are brought forward without any heaviness. One of the rainiest years in memory in Italy, but in Bolgheri it was much less wet, with the only problem posed by late-season showers. Nevertheless, 2014 will not go down in history as a great vintage in Bolgheri (a late spring, good early summer weather, but colder than usual in August, with some rain in September and during harvest). However, conditions were far from dire and besides, Sassicaia always comes through in difficult years: it does so brilliantly in 2014 just like it did in 1972, 1984, 1992, and 2002. If anything, the longer cooler growing season made for a more piercingly perfumed Sassicaia than most. Make no mistake, the 2014 Sassicaia is an absolutely superb wine, though it will appeal much less to those who prefer their reds mouthcoating, slightly sweet, and with Port-like levels of ripeness and alcohol. Drinking window: 2024-2035.
Tenuta San Guido 2013 Sassicaia Bolgheri Sassicaia                       95
Very dark ruby-red colour. Notes of strawberry-rhubarb pie and mint complicate nuances of blackcurrant, plum, menthol, white pepper and lavender on the nose and in the mouth. Harmonious but high acidity makes the polished tannins stand out more. The saline finish showcases very pretty floral and mineral nuances that linger impressively. A taut, steely and graceful Sassicaia, delicate and powerful at once, this is all about style over substance. For all those who know Sassicaia well, the 2013 vintage will forever hold special meaning, given that it marks the thirtieth anniversary of founder and creator Mario Incisa della Rocchetta's death as well as the eightieth birthday of his son Niccolò, one of the nicest people and true gentlemen in Italian wine.  Drinking window: 2027-2053.
Tenuta San Guido 2012 Sassicaia Bolgheri Sassicaia                       93
Medium dark ruby with a garnet rim. Forest floor, mint, and rhubarb complement reed berries and cherry on the forward, ripe nose. Then also ripe and showy in the mouth, with similar flavours to the aromas. Finely chiselled despite its intrinsic ripeness, the 2012 Sassicaia is far more polished than expected given the hot growing season, but is ultimately a little more forward and simpler than most of the better Sassicaias made. Drinking window: 2024-2042.
Tenuta San Guido 2011 Sassicaia Bolgheri Sassicaia                       94
Nicely saturated ruby with a pale garnet hint at the rim. Floral aromas of red cherry, blackberry, minerals and mint are lifted by allspice and balsamic oils. Then very juicy and light on its feet, with a gentle, multilayered quality to its silky dark fruit flavors. Showcases impeccable balance, smooth tannins, and a really dainty, lovely quality on the long pure finish. The 2011 vintage, generally not a good one in Italy and shamefully overrated by some, was actually much better in Bolgheri than in the rest of the country, and that's worth keeping in mind. Drinking window: 2024-2046.
Tenuta San Guido 2010 Sassicaia Bolgheri Sassicaia                       95
Vivid ruby-red. Boasts wonderful floral lift to the expressive nose of blackcurrant, blackberry, tobacco, graphite and oak, with a subtle note of green bell pepper emerging with aeration. Lively and nervous in the mouth, with a tightly chiselled core of dark fruits and a penetrating minty herb quality. Tapered and coolly herbaceous, this offers tongue-dusting but noble tannins and classical austerity on the long, vibrant pure finish. The 2010 vintage was a cool one in Bolgheri and not as good as it was in Chianti Classico and Montalcino: a wet and cool spring (with snow in March and heavy rains until May!), a mostly good summer with good diurnal temperature variation (July was very hot and sunny with no rain, though August was marred by some rainfall) and a later than usual harvest (beginning  in third week of September and lasting into mid-October). But what could easily have turned out not to be an exceptional Sassicaia given the cooler year possibly leading to a stronger pyrazine presence than usual, Sassicaia delivers a much stronger wine than expected, further confirming its Château Latour-like reputation for coming out very strong in poor vintages. This is a beautiful wine of noteworthy precision and energy. Drinking window: 2024-2038.
Tenuta San Guido 2009 Sassicaia Bolgheri Sassicaia                          100
Good full bright red-ruby. Captivating blueberry, raspberry nectar, cinnamon, nutmeg, and milk chocolate aromas are complicated by sweet pipe tobacco and violet on the drop-dead gorgeous nose. Suave and luscious on entry, then also plush and silky in the middle, with ripe acidity providing shape to the dark and red fruit and sweet spice flavours. Very creamy but enlivened by a cool coffee nuance, the finish is creamy but energetic and focused, showcasing magically polished tannins and outstanding lingering chocolaty persistence of exotic wood, cocoa and spices. A seamless, slightly meaty wine that boasts impeccable balance and memorable complexity. Though accessible already, its balance is such that it will last decades despite the low acid impression it leaves. I was the first to recognize, in writing, the greatness of the 2009 Sassicaia already upon its release for Stephen Tanzer's International Wine Cellar, going as far as stating that it was a Sassicaia cut of the same cloth as the fantastic 1985, and writing as much at a time when nobody else was saying great things about this wine (they all do now). For my money, the 2009 Sassicaia was and still is the best Sassicaia of the 21st century along with the 2016 (we'll see where the 2015 and 2019 go, but for now, beginning with the 2000 vintage, the 2009 Sassicaia is still tied for the numero uno). Drinking window: 2022-2049.
Tenuta San Guido 2008 Sassicaia Bolgheri Sassicaia                       97
Luminous red-ruby with no rim. Vibrant dark berries, violet and mint on the nose, along with a cardamom nuance. Then juicy and tightly wound, with a youthfully medicinal character to the very pure cassis, mineral, licorice and minty flavours. Sweet, concentrated and serious, with an attractive sugar/acid balance this is just beginning to show tertiary evolution and signs of its incipient old age. The 2008 Sassicaia has always been a firmly structured and quite impressive wine, but with plenty of sweetness lurking beneath the taut tannic but noble core. While it is often said to be similar to the 2007, possibly because of somewhat similar growing seasons, I find the 2008 Sassicaia to be the far superior of the two wines. The 2008 growing season was characterized by a slightly cooler than usual March, delaying vine growth by about ten days compared to normal annual averages, and pushing back flowering and véraison (and flowering was hampered by rainfall, leading to a 20% drop in yields). The remainder of the growing season was blessed by good weather. Drinking window: 2022-2048.
Tenuta San Guido 2007 Sassicaia Bolgheri Sassicaia                           93
Medium red-ruby with a slight hint of garnet at the rim. Blueberry and licorice aromas are complicated by tobacco and faded flowers on the nose, that is lifted by spices. Supple, sappy and dense on entry, with sweet dark berry, plum, and tobacco flavours that are powerful if not especially long or nuanced. Finishes with firm, oak-driven tannins, hints of prune, raspberry jam, and menthol that drive home the point that 2007 was one hot growing season. I have always felt the 2007 Sassicaia to be a generally overrated wine, like just about all hot vintages are initially (not by me). In Bolgheri, the spring of 2007 was mild, with some rain but good weather ensued leading to early flowering. June was rainy, July was hot and dry, and August was marred by unusually heavy rains in the month's second half, but the harvest was carried out eventfully. Still, I think those late season rains had a slightly dilutional effect on the 2007 Sassicaia. Drinking window: 2022-2037.
Tenuta San Guido 2006 Sassicaia Bolgheri Sassicaia                       98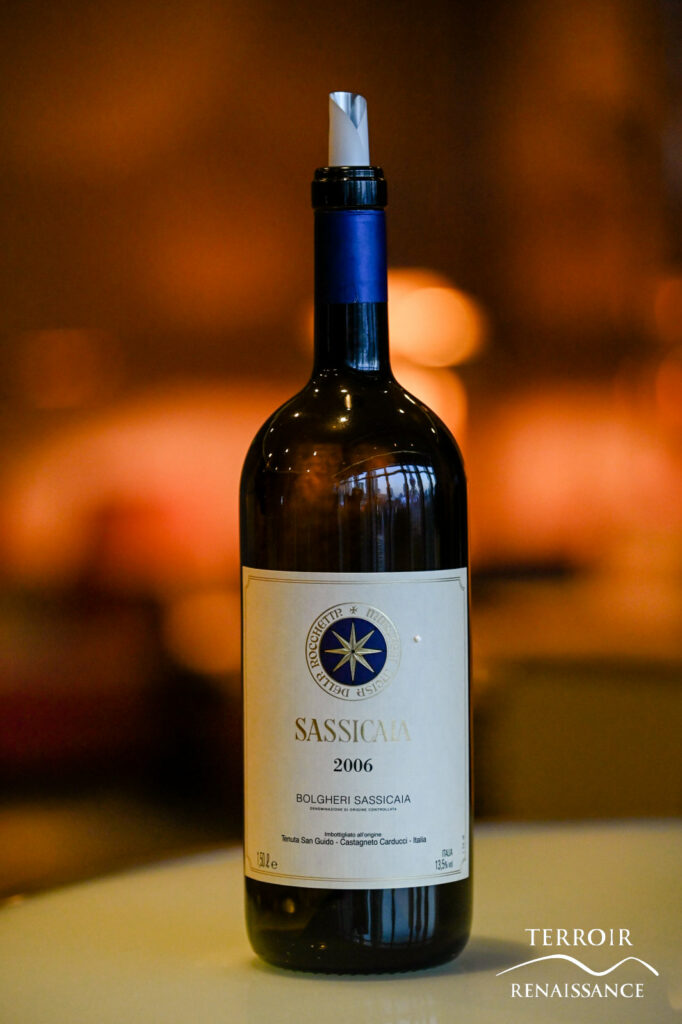 Vivid red-ruby colour, not too dark and very pretty. Gorgeous aromas of red cherry, raspberry, minerals, white pepper, and violet, complicated by sweet spices, cedar and graphite. Enters lush, sweet and concentrated, then creamy and very pure in the middle, but with perfumed lift to the pure, focused flavours of red berries, minerals and exotic spices. The 2006 Sassicaia's trump card is its added measure of refinement thanks to all the pristine, pure red fruit nuances it showcases in spades, and especially its vibrant undercurrent of minerality. Finishes broad, deep and vertical, with substantial tannins and noteworthy acid spine but it's all so well-balanced, the 2006 Sassicaia is simply wonderful at each and every sip: this is a timeless classic in the making. I also want to add that I found this last time none of the candied and exotic fruit notes that I described when the wine was first released. Because of those overly-ripe notes, I scored it 95 at the time, and preferring the 2001 and 2004 to it. Today I think it's the contrary, with the 2006 the best of that trio, especially with the candied notes nowhere to be found. So I am upping my score accordingly. Drinking window: 2022-2046.
Tenuta San Guido 2005 Sassicaia Bolgheri Sassicaia                       94
Good full ruby and garnet at the edge. Sneakily complex nose combines red plum, blackcurrant, graphite, bell pepper and black tea on the very Cabernet Sauvignon-like nose. Round and plump but slightly edgy in the mouth, with the redcurrant and plum fruit showing good sweetness of flavour and nice spicy, flinty cut. Could use a bit more fruit intensity and verve, but this is still an amazing accomplishment given the difficult vintage. Closes with hints of balsamic oils, chocolate mint, menthol and licorice that are nicely persistent. The growing season was characterized by good early season weather and early flowering. Spring was relatively cool and breezy, and early summer was also pleasant and sunny, with only July and August recording days of truly scorching heat. Overall though, 2005 is remembered as hotter than usual, and this coupled with the fact that rains had been forecast to fall during the harvest led to the team at San Guido to pull the trigger early on the harvest. Drinking window: 2022-2035.
Tenuta San Guido 2004 Sassicaia Bolgheri Sassicaia                       93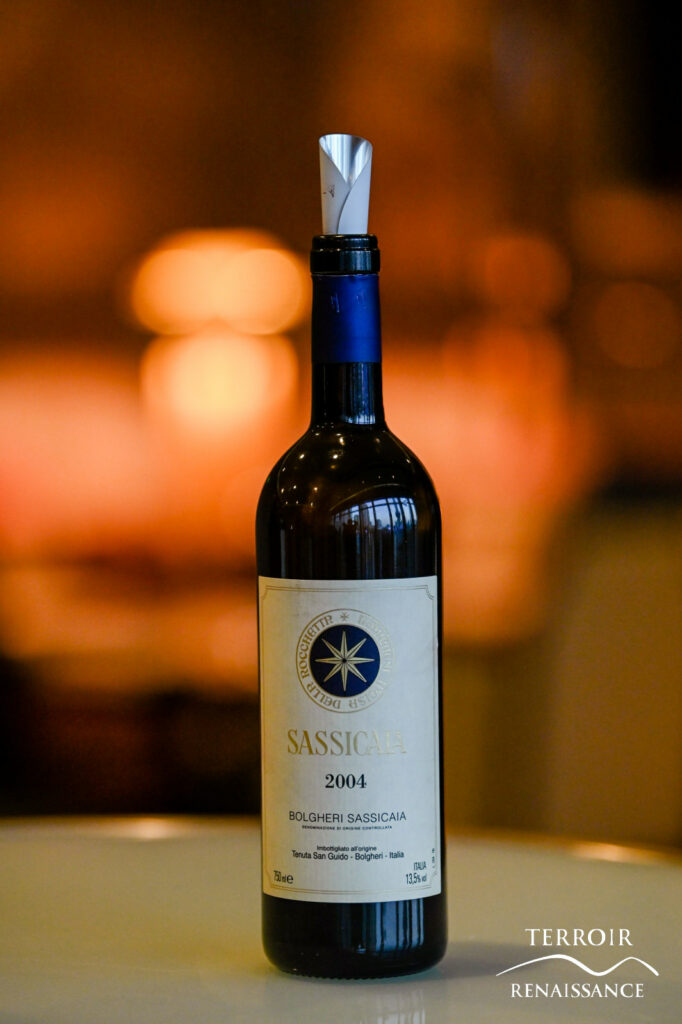 Moderately saturated medium red. Wild blackberry, exotic spices and woods, blood orange, roasted plum and camphor on the nose, complicated by dried herbs and flowers. Then similar flavours to the aromas, with a ripe quality but boasting real density of extract without any undue heaviness. Has the balance and backbone for a long and positive evolution in bottle, with dusty, broad tannins that build on the back but avoid dryness. Say what you will, but the 2004 Sassicaia is very long on personality, but for me, it lacks a little freshness. I honestly believe that as good as it is, the 2004 Sassicaia has always been slightly overrated (much like other vintages of Sassicaia have instead been criminally underrated). Drinking window: 2022-2035.
Tenuta San Guido 2003 Sassicaia Bolgheri Sassicaia                       92
Good, bright red with an orange tinge at the rim. Roasted plums, macerated figs, wild spices, black pepper, milk chocolate, and herbs on the musky nose. Sweet, supple and creamy, with a liqueur-like ripeness and enticing spicy character to the ultra-ripe flavours of strawberry, balsamic oils, dill and licorice. For all its ripeness and size, there's amazing freshness to this wine (for the ridiculously hot and dry year it was). The finish is with very smooth and long. The 2003 Sassicaia, though it's not my preferred style of wine, is much better than anyone had reason to expect and is one of the few 2003 Italian reds I would ever tell anyone to buy. So that tells you how good it is. Drinking window: 2022-2032.
Tenuta San Guido 2002 Sassicaia Bolgheri Sassicaia                       92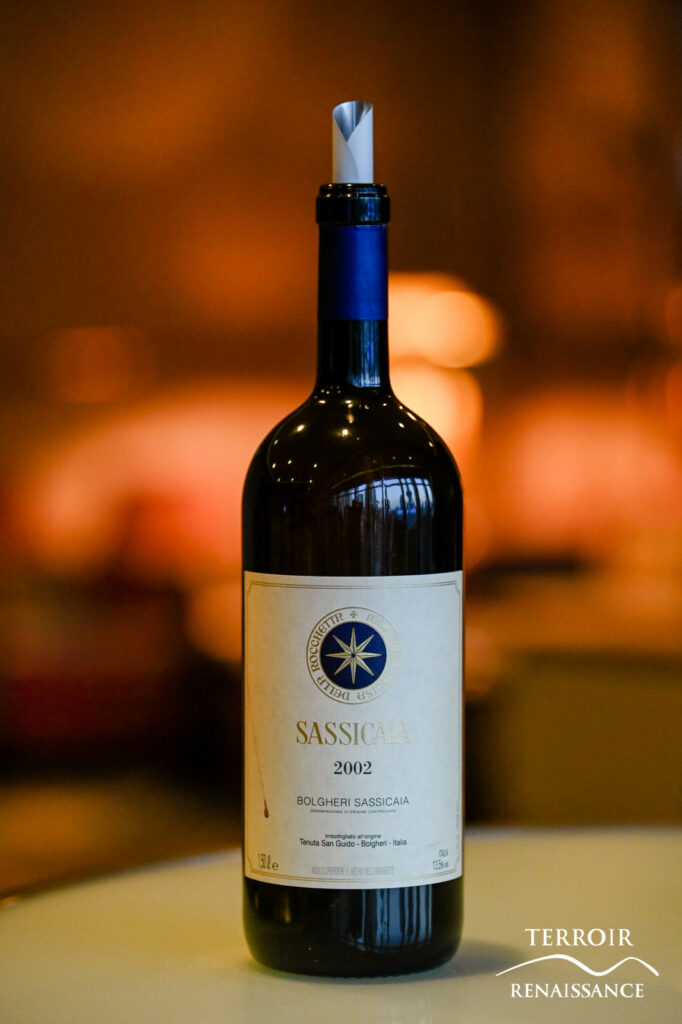 Remarkably pale red colour: very pretty. Aromas of wild strawberry and mint are lifted by violet and complicated by strong nuances of forest floor, truffle, yeast extract and licorice. Then very light on its feet, with very pure and pristine flavours of dark fruit, herbs and minerals. The aftertaste is long and vibrant, if not especially fruity. I have had the 2002 Sassicaia so many times out of 750 mL and magnum bottles I have lost count; in a few cases the incredibly cold and rainy year (for Bolgheri) has showed up clearly in the wine with notes of green bell pepper, but I did not find these in my most recent tasting of this wine (and haven't in fact in the majority of 2002 Sassicaias I have had). The 2002 spring was fairly normal, but during the months of June and July it rained excessively. Happily the weather turned for the better in September and stayed good throughout harvest time, which began on September 9. Drinking window: 2022-2029.
Tenuta San Guido 2001 Sassicaia Bolgheri Sassicaia                       95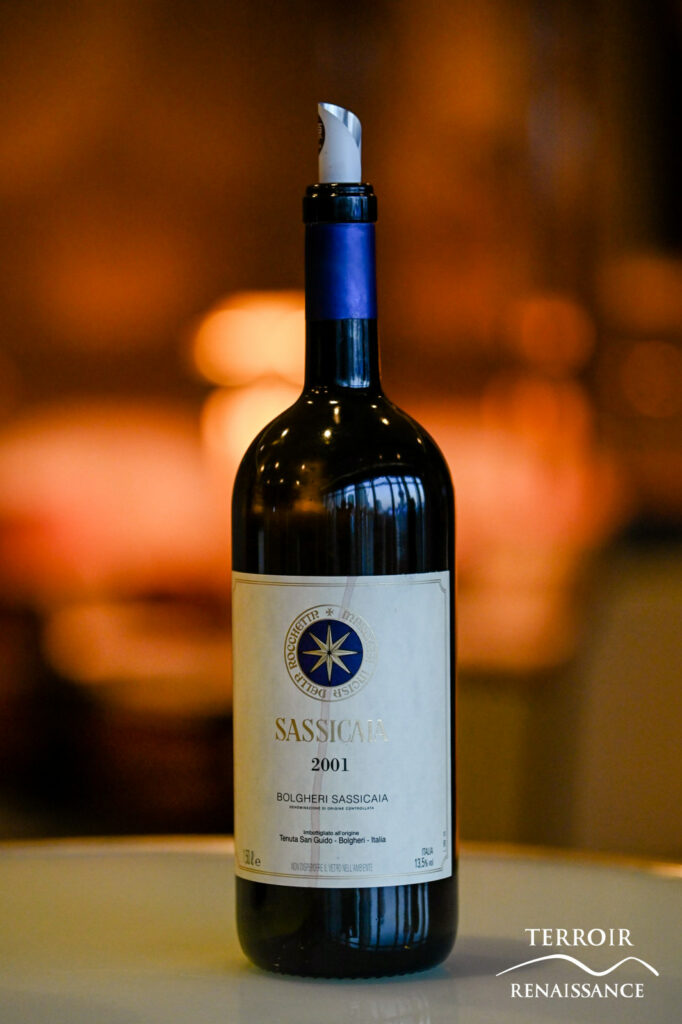 Good ruby-red with little or no rim. Plum, spice cake, coffee, licorice and a minty nuance on the nose. Supple and sweet, with sneaky intensity of flavour and nicely integrated acidity delivered in a very elegant, restrained manner and with a seamless mouthfeel. Finishes long with fine-grained tannins and subtle persistence. I have always thought that the 2001 Sassicaia is an excellent wine, but I also think it has failed somewhat to develop as well as I originally thought it might. For sure, it's an excellent vintage and a superb Sassicaia indeed, but in retrospect, I cannot help but feel that San Guido should have been able to do better. Some Bolgheri wines from 2001 are the best those estates have ever made, and in that light, this Sassicaia, while an excellent wine (hence the still very high score), feels like a missed opportunity. As I have written and said before, the 2001 Sassicaia speaks more of the Sassicaia signature wine style (great lift, freshness, suave tannins, no unnecessary concentration and heft, plenty of forward momentun and a refined austere personality) more than it does of the 2001 vintage in Bolgheri. Drinking window: 2022-2035.
Tenuta San Guido 2000 Sassicaia Bolgheri Sassicaia                       91
Good deep bright red with a hint of orange at the rim. Supple and sweet if not particularly complex, with just enough acidity framing and lifting the wine's very ripe cherry, sweet spice, mocha and smoked beef and black pepper flavours. Broad and ripe but a bit clenched and dry, with plummy fruit and notes of garrigue on the almost Grenache-like and liqueur-like finish. This has more in common with the Southern Rhone than it does with Bolgheri. A year that was too hot, I have always found the 2000 Sassicaia to be too big and too marked by fruit macerated in alcohol for my liking. One of the many "new millenium" wines from all over the world that were conveniently overrated by some, it is in fact the Sassicaia from a so-called "important" vintage that I like least. Drinking window: 2022-2038.
Tenuta San Guido 1999 Sassicaia Bolgheri Sassicaia                       92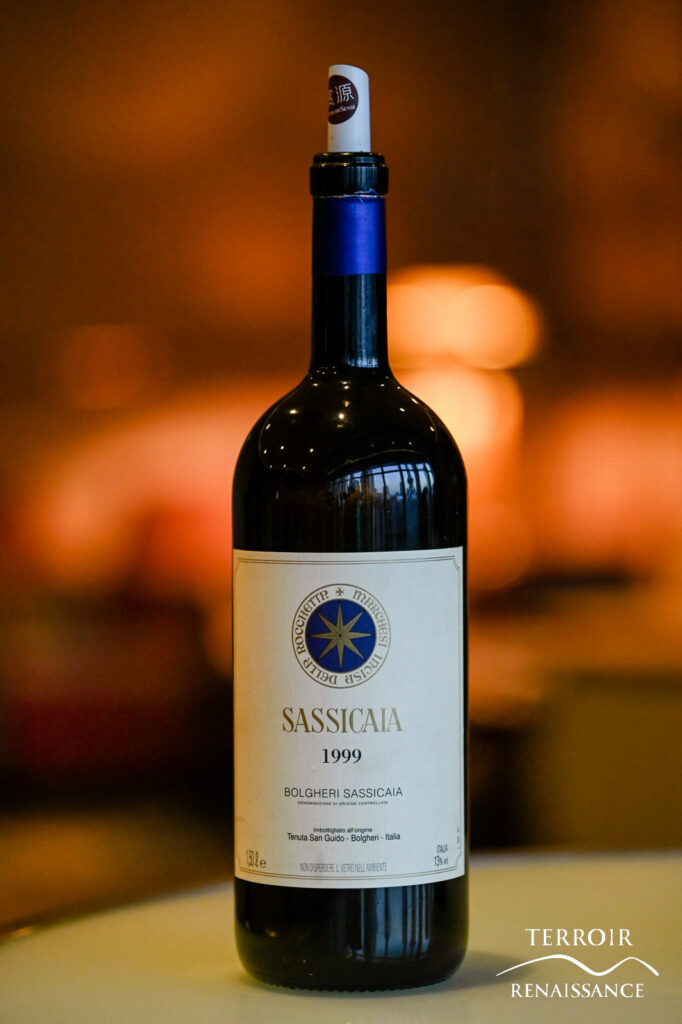 Very deep ruby but with an orange rim. Musky aromas of dark plum, tamarind and tobacco leaf are complemented by candied violet and ginger nuances. Juicy and ripe in the mouth, but with more than adequate lift to the flavours of dark berries, herbs and cedar. The aftertaste is silky and spreads out to coat the entire palate with a persistently mineral quality. From a very hot vintage similar to 2000, but this strikes me as aging better than that wine. Drinking window: 2022-2032.
Tenuta San Guido 1998 Sassicaia Bolgheri Sassicaia                       98
Good full red with a little bricking at the rim. The captivating nose suggests red cherry nectar, sandalwood, faded flowers, minerals, smoke and sweet spices, along with more evolved nuances of cured ham, crystallized orange peel and cumin. Then magically sweet, subtle and lively, with still excellent energy to the red fruit and milk chocolate flavours that are nicely complicated by potpourri and a dusting of powdered rocks and sandalwood. Beautifully delineated and still firm after all these years, the 1998 Sassicaia conveys an impression of excellent extract and wondrous balance. Clearly no spring chicken, but very impressively fresh on the full-flavoured finish that showcases substantial noble tannins, real class and memorable refinement. The 1998 is the best vintage of Sassicaia in the 1990s and one of the five best Sassicais of all time. Drinking window: 2022-2040.
Tenuta San Guido 1997 Sassicaia Bolgheri Sassicaia                       91
Garnet-tinged red. Plum, tamarind, mocha, grilled meat, botanical herbs and faded flowers on the nose, with a note of exotic Sichuan pepper providing needed lift to the aromas. Big, ripe and broad but not particularly sweet, this rather fleshy Sassicaia is another one that has Grenache-like elements of garrigue, pepper and bacon that make me think of both Vacqueyras and Gigondas. But for all its size, this is surprisingly fresh and floral, even a bit hard-edged on the back. This 1997 is another famous Italian red from a very hot year that was, as usual, hopelessly overrated on release. Drinking window: 2022-2032.
Tenuta San Guido 1996 Sassicaia Bolgheri Sassicaia                       95
Medium red with a hint of garnet at the edge. Spicy red cherry, dried herbs and still fresh violet and peony on the rather perfumed nose. Then quite silky, with excellent stuffing and palate presence to its pristine red cherry, redcurrant, forest floor, mineral and cedar flavours. Finishes with a fine dusting of tannins and lingering sweetness. This delicate, almost Burgundian Sassicaia is just drop-dead gorgeous and has always been criminally underrated by everyone. Had it not been so rainy during the harvest season, I have no doubts whatsoever that the 1996 Sassicaia would have gone down as one of the better wines made at Tenuta San Guido. Even with that caveat, it's still a fantastic wine; in fact, one of the top 15 or so Sassicaias ever made. Drinking window: 2022-2036.
Tenuta San Guido 1995 Sassicaia Bolgheri Sassicaia                       94
Bright orange-tinged red. Redcurrant, raspberry syrup, roasted coffee and flint on the nose. Not particularly complex but this spicy, still fresh midweight boasts plenty of flavour impact to its notes of soy sauce, raspberry puree, dried fruit, cola and fine old leather. Finishes with broad, suave tannins and excellent length, not to mention just as good structure and grip. Not the most concentrated Sassicaia of all time, but it has aged gracefully and showcases outstanding balance: the 1995 Sassicaia is more about nuance than power, and I quite like it. Drinking window: 2022-2032.
Tenuta San Guido 1994 Sassicaia Bolgheri Sassicaia                       93
Garnet highlights shine throughout the red colour. Floral, clean aromas of red fruits, herbs, licorice and minerals, plus more evolved notes of wet earth, orange peel and tamarind. Then juicy and clean, with red fruit, herb and soy flavours still nicely coiled around the strongly but harmonious acid spine. This lovely medium-bodied wine offers pungent, chewy charm and repeating flavours of strawberry, exotic herbs, orange peel and minerals. In 1994, Bolgheri had rain in the spring and at the end of the harvest (while August was scorchingly hot making for some thick-skinned gapes), complicatig matters somewhat, but this is yet another standout wine made in a difficult year, underlining Sassicaia's amazing capacity to gove much better wines than expected in poor years. Drinking window: 2022-2030.
Tenuta San Guido 1993 Sassicaia Bolgheri Sassicaia                       88
Very pale red colour by Cabernet's dark standards. Minty nuances strongly complement aromas and flavours of red berry, forest floor, potpourri and orange peel. Closes long with high acidity, a light on its feet quality and nice penetrating juiciness, but not much in the way of fruity flesh. A slightly thin version of Sassicaia, but perfumed. Very difficult rainy vintage that didn't allow for much extract, so drink up. It's an historic wine because it is the last year that Sassicaia was labeled as a Vino da Tavola prior to getting its own DOC with the 1994 vintage. Drinking window: now.
Tenuta San Guido 1992 Sassicaia Bolgheri Sassicaia                       94
Garnet-tinged red, but this is still pretty deep in colour for a wine that is now thirty years old. At once delicate and pure, with very vibrant aromas and flavours of sour red cherry, cinnamon, lavender, violet and mint. Lively, harmonious acidity deliver wonderful clarity and cut, nicely framing the almsot glossy red fruit. Impeccably well-balanced and with a long floral finish that makes it one of the prettiest Sassicaias ever. And in very poor vintage no less, once again demonstrating this wine's uncanny ability to succeed where everybody else fails (though it needs to be said that at Tenuta San Guido they had  finished picking grapes by Septemebr 26, so had harvested before the heavy rains came pouring down, and in so doing made a really standout 1992 Sassicaia). Drinking window: now.
Tenuta San Guido 1991 Sassicaia Bolgheri Sassicaia                       88
Pale garnet red. The nose offers hints of boysenberry, plum jelly, herbs, green bell pepper and yeast extract. Then juicy and lively, with herbal nuances to the fading red fruit flavours. Hints of cedar and flint add interest on the long juicy finish. A slightly peppery, herbal and thinner version of Sassicaia that has never been one of my favourites. Drinking window: now.
Tenuta San Guido 1990 Sassicaia Bolgheri Sassicaia                       95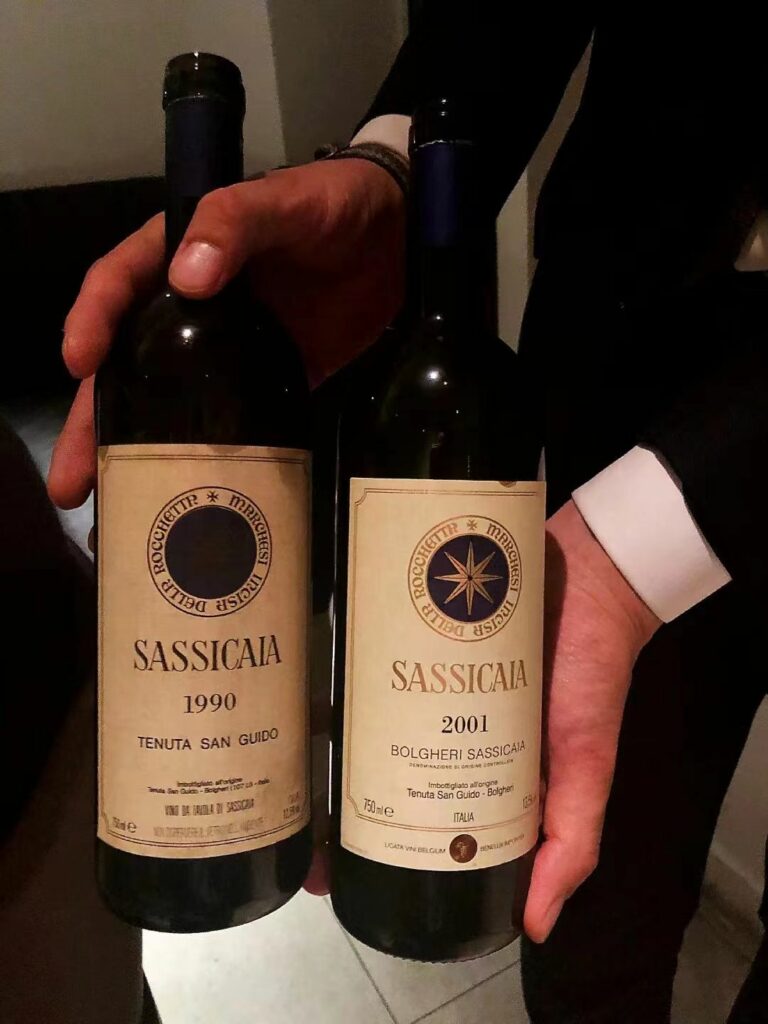 Deep red-ruby with bricking at the rim. Very ripe aromas and flavours of cassis, dark plum jam, balsamic oils, cocoa and eucalyptus, plus very strong soil tones and autumnal woodsy notes. Then rich and very ripe with a creamy, Grenache-like mouthfeel and plenty of density and intensity of flavour to its superripe, almost nectar-like fruit flavours. A real bombshell by Sassicaia's standards, the aftertaste is long, very shapely and almost Rubenesque. Despite some bottle variation, the 1990 Sassicaia can be a beautiful wine showcasing the effects of the very warm vintage with a ripe, seemingly low acid wine that is altogether different than about 90% of all Sassicaias ever made: this really does throw a curve ball at you. But while some bottles of 1990 Sassicaia  I have had are very clean and pure, others have been musty and lacked freshness. In this specific wine's case, provenance is really everything, so do your homework before you buy. I also think it is now close to hitting its descending curve and will not improve further anyways, so my suggestion is to drink up and enjoy. Drinking window: 2022-2030.
Tenuta San Guido 1989 Sassicaia Bolgheri Sassicaia                       89
Slightly orange-tinged medium ruby. Subtle aromas of red plum, sour red cherry, dried redcurrant, minerals, and violet. Then juicy and lively, with pristine sour red cherry and tobacco nuances lingering nicely on the long lively and acid finish. A politely styled Sassicaia with a light frame and the harmonious citrussy acidity further its graceful quality. Very pretty wine, but drink up any you might be lucky enough to have lying around.  Drinking window: now
Tenuta San Guido 1988 Sassicaia Bolgheri Sassicaia                       100
Full medium red with a pale garnet edge at the rim.  Great lift and sweetness to the very deep, multifaceted aromas of raspberry, white pepper, woodsmoke, minerals and smoky herbs. Remarkably sweet and supple for a wine that has such a steely, austere core at its heart, with the penetrating flavors of raspberry, Mediterranean herbs and minerals showing brilliant precision and energy. Finishes with serious but noble tannins and outstanding palate-staining length and density. This resounds on the finish like very few Italian wines from this or any other vintage; it is a remarkable compact, dense, powerful and well balanced Sassicaia that is the elegant version of the wondrous 1985: they are the two greatest Sassicaias ever made but they could not be anymore different, one Modigliani (the 1988: but with much more flesh than that geniuses's skinny perception of people), the other Boucher (but with more tone to the creamy voluptuousness of his ideals of figure). Which of the two you prefer probably says more about you than it does about the two wines, given they are both equally stellar. Drinking window: 2022-2040.
Tenuta San Guido 1987 Sassicaia Bolgheri Sassicaia                       89
Garnet-tinged red. Violet and coffee aromas complement cranberry and potpourri. Then similar flavours, with mineral and tar notes dominating with aeration. The medium-bodied frame, lifted by vivid acidity, makes for what is a lighter-styled but refined Sassicaia. But I can't think of anything else I'd rather drink with a plate of grilled venison sausages right now. Drinking window: now.
Tenuta San Guido 1986 Sassicaia Bolgheri Sassicaia                       88
Light bright red. Racy but ultimately simple aromas and flavours of red plum, blackcurrant, red berries tea leaf and mint. A note of raspberry flavour veers toward liqueur but this is not the densest Sassicaia you will ever try. Very well balanced and accessible with no loss of cut or clarity, it closes medium-long while displaying seductive floral tones, but fails to put on considerable weight in the glass even with prolonged aeration. A simpler, easygoing and light-bodied Sassicaia, I still think the 1986 had an impossible act to follow coming on the heels of the other-worldly 1985. This no doubt contributed to its being forgotten and cast aside. But it is a good wine that deserved better. Drinking window: now.
Tenuta San Guido 1985 Sassicaia Bolgheri Sassicaia                       100
Medium red, a bit less saturated than the 1988 Sassicaia, with only a hint of garnet at the rim.  Voluptuous, rich, ripe aromas of red berries, blackcurrant coulis, smoke, earth, iron and wild herbs.  Almost shockingly silky in the mouth, but with a underlying very noble tannic spine lending backbone to the blueberry, licorice and earth flavors, nicely framed by powdered rock and sweet spice nuances.  At almost forty years out, this is still incredibly sappy and edge-free wine with an explosive, endless finish that literally beats the salivary glands into submission. Riper and sweeter than the 1988 Sassicaia but that wine is a bit longer today, with darker, more austere flavours. The 1985 Sassicaia is a monument of the vintage and of all Italian wine. It's a wine that special meaning for me for many reasons: one is that it is the first wine I ever bought six bottles of all at once. Back when it was first released I was a relatively poor university student and up until that point in time I had always only bought two bottles of wine at a time (in case one was corked). But at tasting one evening of 1985 Supertuscans with every single great name you can think of poured, the 1985 was by far and away the best wine of an extraordinarily good long. So good in fact at that young age that for the first time in my life, I splurged on a half case. At 37,500 lire a bottle, I remember it cost me a fortune back then: of course, that amounts to about $US 20 a bottle of today's coin… Drinking window: 2022-2042.
Tenuta San Guido 1984 Sassicaia Bolgheri Sassicaia                       92
Good full red with little or no rim. Nuanced, elegant nose suggests pink flowers, minerals, smoke and herbs, thickened by hints of prune and blueberry. Then surprisingly smooth, clean and very refined, with gentle flavours of strawberry, dark plum, graphite, cedar, cardamom and scorched earth. The tannins are sweet, the acidity well-integrated, and the lingering notes of graphite, cedar and redcurrant reduction add both lift and complexity. A very pretty, seamless fruit-forweard and smooth Sassicaia, but neither as concentrated nor as complex as it might have been from a great vintage (1984 was a disastrous vintage all over Italy, though in Bolgheri it wasn't half as bad as everywhere else). As is often the case with Sassicaia, this is an exceptional result in a horrible year: well done. Drinking window: 2022-2035.
Tenuta San Guido 1983 Sassicaia Bolgheri Sassicaia                       93
Good deep ruby-red. Open-knit, raw aromas of cassis, violet, tree bark, porcini, and crushed rocks, complicated by thyme, sage and rosemary. Then juicy and sharply delineated on the palate, with firm acidity giving an edgy quality to the blueberry, licorice, cocoa, earthy, truffled and gravel flavours. Not a fat or fleshy style, and never the longest or most complex Sassicaia, the 1983 is a fairly unique wine in Sassicaia's history because I have always fund it to march to the beat of its own drummer. For example, unlike almost every other vintage of this wine, the 1983 Sassicaia has always been strongly marked by a loamy and downright aromatic herbal (not green or vegetal) presence right from birth: its aromatic herb component, heightened by hints of tropical cocoa of also noteworthy aromatic character, was evident already at the time of this wine's release on the Italian market. Even though the party line is that this is an 85% Cabernet Sauvignon and 15% Cabernet Franc wine like all the others, it is quite clearly the most Cabernet Franc-dominated Sassicaia ever, an observation that Niccolò Incisa complemented me on already when I was tasting the wine with him for the first time in Rome back in the 1980s (and to this day, I still consider that to be one of the greatest complements I have ever received in my life devoted to wine). He stopped short of telling me they had upped the Cabernet Franc percentage to 30% as some in-the-know have hinted at to me over the years, saying that the specific weather characteristics of the vintage made it so the Cabernet Franc presence in the blend stood out more than usual. In any case, though the 1983 Sassicaia stops just short of being included into the pantheon of Sassicaia's greatest wines, it is an absolutely fascinating expression of this Bolgheri great that speaks of terroir like few others have in their time. And there is infinite beauty in that. Drinking window: 2022-2029.
Tenuta San Guido 1982 Sassicaia Bolgheri Sassicaia                       94
Good full, bright garnet-ruby, almost orange-nuanced. Aromas and flavours of red cherry jam, candied blackcurrant, roasted plum, sage, sandalwood, graphite, exotic spices and orange peel on the broad, very open and forward nose. Thick on entry, then fresher and lighter in the middle with ripe acidity and supported by thick but not gritty tannins. Never the most perfumed Sassicaia of all time, and it closes a little more simply than I might have thought, but this is just a delicious wine. The 1985 excepted, the 1982 is the Sassicaia vintage I have had the most bottles of over the years, and have always liked it a great deal, though it will nto go down as one of the most nuanced versions of Sassicaia ever. Very broad, ripe and forward right from the year of its release, my only worry with it was that it might evolve too quickly and lack the staying power of the best Sassicaias. And though it has in fact aged faster than some Sassicaia greats such as the 1988 and 1985, the 1982 Sassicaia has more than held its end of the bargain. Good cellaring is even more key with it than with other old wines, but if you latch on to a well-kept bottle, you will find it offers a still suave, ripe, open-knit mouthfeel redolent of ripe red cherry, truffle and perfumed forest floor. Not everybody is as high on this vintage of Sassicaia as I am (and always have been, in fact), but I jut think it's a major success and super-easy to like. Drinking window: 2024-2045.
Tenuta San Guido 1981 Sassicaia Bolgheri Sassicaia                       91
Good bright medium red. Still piercing and complex perfume of faded rose petals, candied redcurrant, forest floor and tobacco, with a real mineral edge. Vibrant and aromatic in the mouth, with flavours of crystallized redcurrant, floral oils and licorice that are less penetrating and long than the aromas. Fresh and minty on the finish, that also features hints of strawberry-rhubarb, tamarind and eucalyptus. This is another Sassicaia I know extremely well, as back in Rome during my university days, the 1981, 1982, 1983 and 1985 Sassicaias became my favourite non-Barolo wines of all and I bought as many bottles of each as I could afford: at one point the corridor of my apartment was lined with bottles from these four vintages, in multiple rows. It was never the most structured Sassicaia, and actually has always had a bit of an angular edge to it, but what it lacked in flesh and heft it made up with penetrating perfume. For those who are interested, I will give you a scoop: Gianfranco Soldera, the famous Brunello producer, told me once (way back in the 1980s), that he would silently gauge the tasting abilities of those he didn't know by asking them which Sassicaia they preferred, the 1981 or the 1982. Those who replied 1981 he took to be individuals more blessed from a nasal/olfactory perspective; and those who preferred the 1982 were probably better equipped, in his opinion, to appreciate flavours and texture. The wonder that wine is, really. The product of a somewhat cold and rainy year, the 1981 Sassicaia was probably best drunk up about ten years ago, but it still holds its own quite well. For maximum enjoyment, best to drink this up fairly quickly. Drinking window: 2022-2025.
Tenuta San Guido 1980 Sassicaia Bolgheri Sassicaia                       88
Bright orange-ringed medium red. Slightly tired aromas of blackberry and raspberry skins, violet, licorice and forest floor, with a hefty measure of old leather too. Supple on entry, then quite chunky in the middle, with good breadth but a somewhat unrefined texture to its flavours of licorice, loamy minerals, leather and faint red fruit. Finishes a little short and monolithic, with broad, soft tannins. Never the most concentrated Sassicaia and always marked by a leathery and loamy nuance (and milk chocolate back in the 1980s, but that note disappeared with age and has been since long gone). In some respects, this has the structure of the 1982, but not that wine's complexity or nuance. Drink up any bottles you might still have or find. Drinking window: now.
Tenuta San Guido 1979 Sassicaia Bolgheri Sassicaia                       86
Orange-red colour. The nose hints at varietally accurate aromas of faded dark berries, violet, cedar and herbs, but there's not much in the way of aromatic lift here. In the mouth, this offers some reminders of blackberry and mulberry, plus hints of saddle leather, bay leaf, lavender and of bitter chocolate. Finsihes fairly broad and with below average length. Though by no means a bad wine, the 1979 Sassicaia was never an especially successful wine (and this even in the 1980s) and has always been characterized by a remarkably abrupt and short finish for a Sassicaia. Drink up any bottles you might still have or find. Drinking window: now.
Tenuta San Guido 1978 Sassicaia Bolgheri Sassicaia                       100
Orange-tinged pale ruby with a large garnet rim. At more than forty years of age, one of the greatest Sassicaias of all time is still showing remarkably pure and concentrated aromas and flavours of ripe yet elegant raspberry puree, faded violet, cocoa, resin, gunflint, aromatic herbs, minerals and nuts. Pure silk on entry, then more austere and neatly delineated in the middle, with an absolutely benchmark, classically austere "one of the Sassicaia greats" mouthfeel. For a wine with a serious tannic spine (a defining characteristic of the 1978 Sassicaia already back in the 1980s), this is, and has always been, remarkably delicate.  Finishes with subtle length and thrilling aromatic perfumed lift, another hallmark of this Sassicaia vintage and one of the reasons I have always felt there might have been a little more Cabernet Franc thrown in the blend. Whatever: this is the best Sassicaia of the 1970s, and one of the greatest Sassicaias of all time. Drinking window: 2022-2032.