JEAN-GEORGES SHANGHAI
4f, Three On The Bund, No. 3
Zhong Shan Dong Yi Road
Shanghai, 200002 China
Tel. + 86 21 6321 7733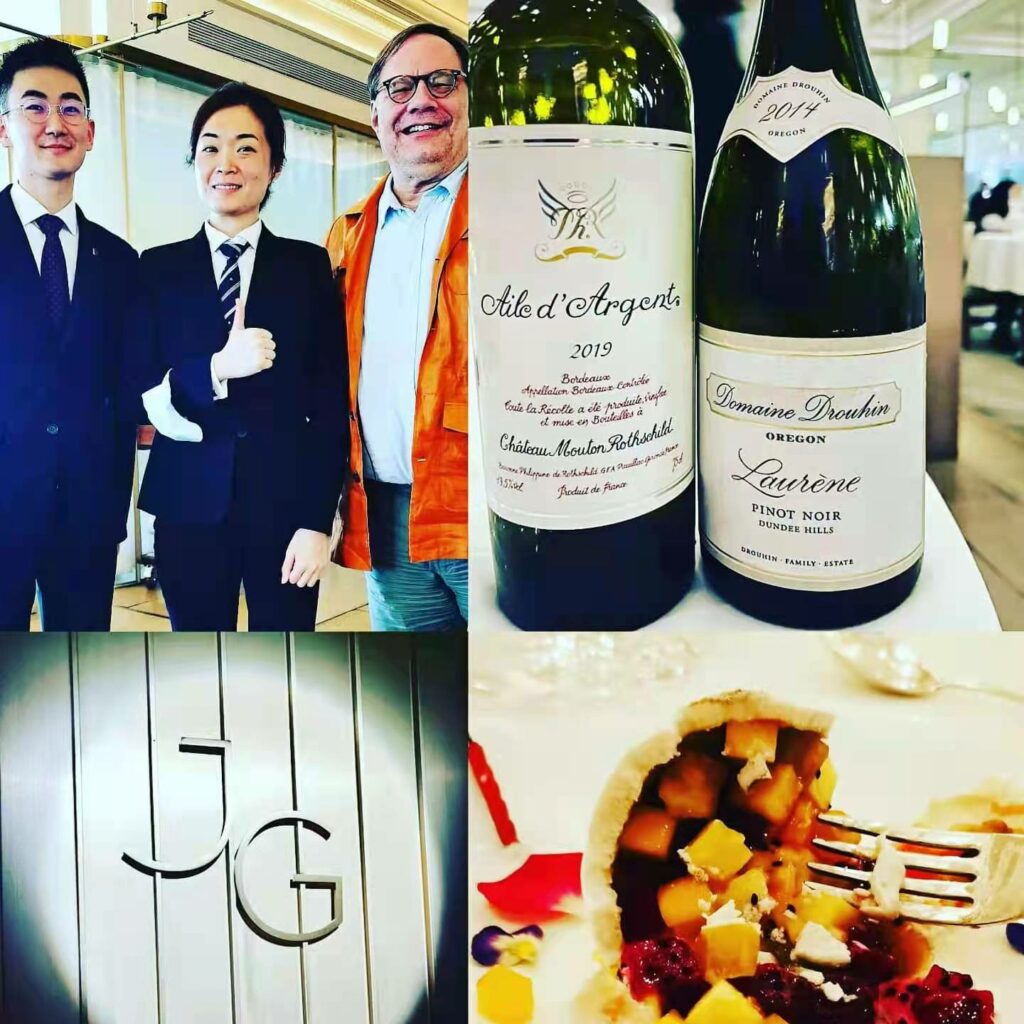 I have been a huge fan of Jean-Georges Vongerichten's cooking ever since I can remember, most certainly so after having been to Vong for the first time soon after it had opened in NY (in 1995 or 1996, I can't remember now). I literally fell in love with what was at the time one of the very few (perhaps the first?) successful takes on fusion cuisine (in this case, French-Thai) as well as the French-Asian décor straight out of an Emilio Salgari book (or for North American readers, an Indiana Jones movie) with all the potted palms, burnt sienna, red, and orange tones, lacquered partitions, recessed booths and more. Alas, Vong became a chain of little interest and the original shuttered in 2009, but I've remained a loyal fan of Vongerichten and his food nonetheless. His flagship restaurant has always been the Jean-Georges in NYC, which he then expanded upon creating new branches of same name all over the world, such as this one in Shanghai (not that the man is short of other dining venues, having created a real dining empire -and a very successful one at that- over the decades: over forty restaurants  in fact, in places as far away as Japan, the French West Indies, Mexico, Brazil and of course, China).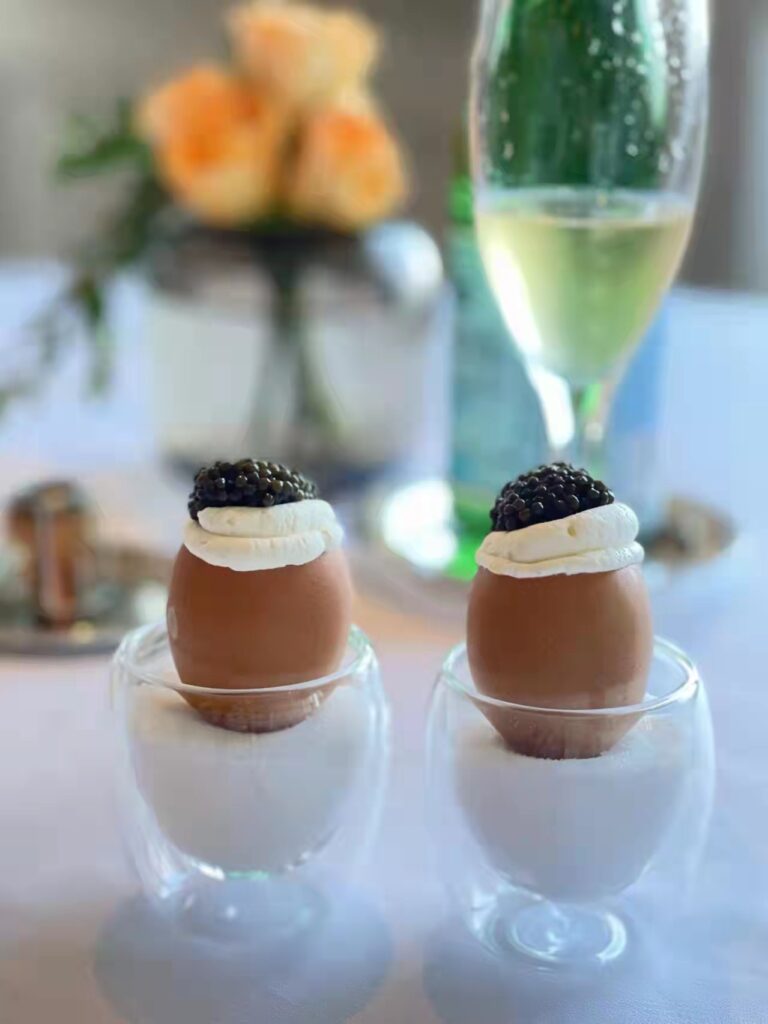 Jean-Georges first opened in Shanghai in 2004 (when along with the very recently closed M on the Bund it was one of the first two western restaurants on the Bund), then underwent an extensive renovation and reopened in April 2016. It was selected as a Michelin-recommended restaurant in 2017, and won its first Michelin star in 2018, and has continued to win one every year until now (the 2022 edition of the guide was released recently confirming the one-star status making it five years in a row with one star). The Jean-Georges in Shanghai is headlined by Executive Chef Nikolai Grigorov (former chef de cuisine who took over from Paul Eschbach) and features Vongerichten's internationally acclaimed French food with slight Asian twists, in which an adroit use of vegetable infusions, extracts, fruit and salt are mainstays making for an extremely light on its feet and light on your stomach feel (not much butter or cream here). Many of the chef's classic recipes are present on the menu, as well as new ones, including the (ultra-famous) egg caviar (and its derivative of toasted egg yolk, caviar and herbs); Madai sashimi on warm black truffle-garlic toast; turbot in Château Chalon sauce; lobster tartine, lemongrass broth, and pea shoots; sea urchin, black bread, jalapeno and yuzu; gently smoked squab with mushrooms and basil; warm chocolate cake with vanilla ice cream, and the not to be missed soufflés, worth getting to Jean-Georges all of their own. It really is a unique, and instantly recognizable, cuisine (at least to all those with even a modicum of experience in JG restaurants around the globe), that harkens back to Jean-Georges Vongerichten's training and work life experiences, having lived and cooked for a long time in Asia (his cooking career began in one of the world's ten or so greatest restaurants, Alsace's Auberge de l'Ill headed by the Haeberlin family -where numerous other star chefs have also trained, such as Hubert Keller of Fleur de Lys fame; but he also worked with other super chefs such as Paul Bocuse and Louis Outhier, before moving to the Oriental Hotel in Bangkok, The Meridien in Singapore and the Mandarin Hotel in HK).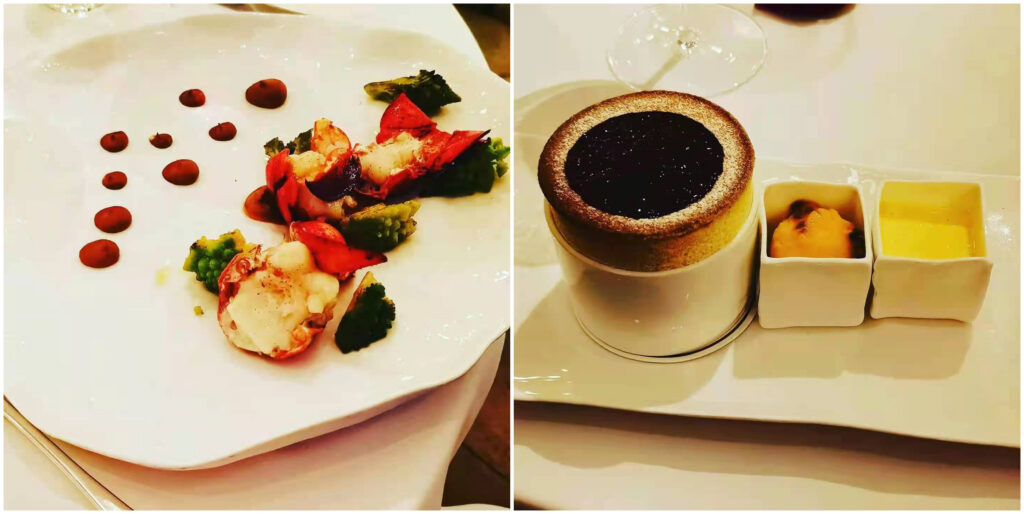 The Jean-Georges restaurant in Shanghai is situated on the fourth floor of Three on the Bund; the original restaurant was designed by New York architect Michael Graves, while the renovation was handled by Neri & Hu, with whom Vongerichten had already worked with for his Mercato as well. The new Jean-Georges is truly one of the most beautiful, elegant dining rooms in the whole city, winking at the French colonial past of the building it is housed in. Soaring ceilings and tall windows offering great views of the Huangpu river and the Pudong skyline, coupled with the very smart white-and-beige décor make for a luxuriously understated but extremely refined feel, and the open kitchen, spacious bar/lounge area and private dining rooms only add to this restaurant's many charms. Not to be outdone by the décor, ambience and the food, the wine list overseen by head Sommelier Fiona Huang is one of the best in the city. It's not exceptionally large, but deserves that accolade because of its intelligent choices of very fine wineries from all over the globe, with excellent wines not just from Burgundy and Bordeaux, but from Oregon, Alsace and Australia. Last but not least, the service is exceptional, even theatrical (with the silver domes covering each plate whisked off in unison tableside), very attentive and courteous. Compliments are in order to people such as General Manager Jenny Jin and Assistant Manager Cheng Chen (Charles).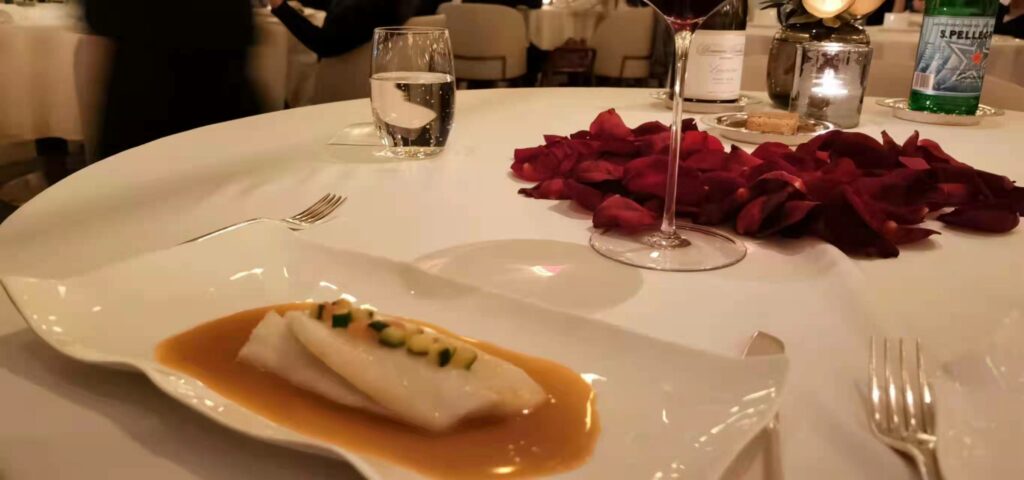 On my latest foray at Jean-Georges, things went swimmingly as always, and not because I mostly had fish dishes. The egg caviar is as good as it ever was, the turbot in Château Chalon sauce a delight, the lamb perfectly cooked and flavourful and the soufflé and look forward to each and every time I visit. My wine choices were similarly positive. The Grosset 2020 Riesling Watervale Clare Valley is a fun entry level wine that won't ever win any medals for complexity but its bright and limey accents allow it to perform in its ideal aperitif role well. The Chateau Mouton Rothschild 2019 Aile d'Argent is one of the best white wines the property has ever made, light on its feet yet welcomingly glyceral thanks to it 40%+ Semillon which really kicks up the interest and complexity factors of what would otherwise be the umpteenth boring Sauvignon Blanc wine with little or nothing to say. The Domaine Drouhin Oregon 2014 Pinot Noir Laurène Willamette Valley is a masterpiece and showcases very well just how great Oregon Pinot Noirs can be when not allowed to become overly jammy and ripe. At the end of the meal, after it was all done, a glass of Chapoutier 2015 Banyuls redolent in its chocolaty-raisiny nuances in the bar area followed by two or three glasses of different Malt Whiskies (just for study purposes, you understand) allowed us to happily call a beautiful dining experience a night.
The food
Egg Caviar
Turbot in Château Chalon sauce
Roasted lobster in the shell, Romanesco cauliflower, smoked chili-almond condiment
Roasted lamb rack, crackling riblettes and chili glaze
Soufflé
Semifreddo sphere and fruit
The wines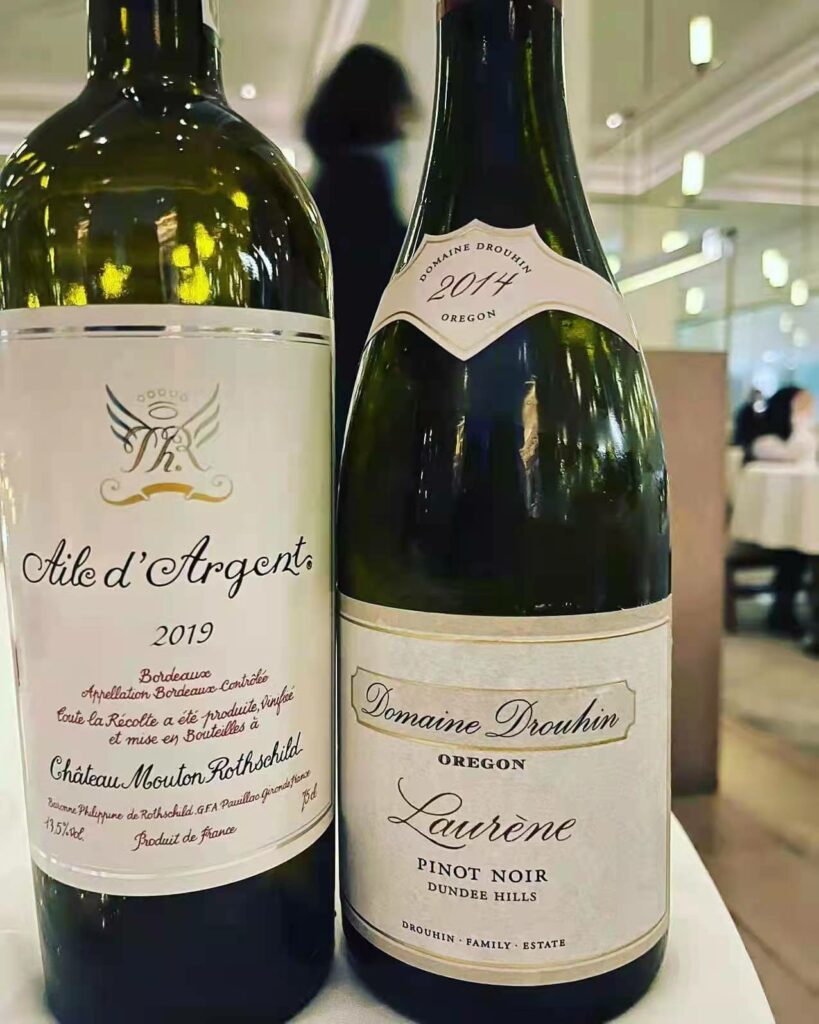 Grosset 2020 Riesling Watervale Clare Valley                       88
Chateau Mouton Rothschild 2019 Aile d'Argent                           95
Domaine Drouhin Oregon 2014 Pinot Noir Laurène Willamette Valley     92
Chapoutier 2015 Banyuls                                           92