If you thought Italy was complicated, when it comes to wine, Spain isn't exactly a walk in the park either. Happily, however, the country does not (yet) produce myriad wines from myriad grape varieties like the Italians do, so wrapping one head's around Spanish wines turns out to be easier than it first appears. A certain love for foreign languages will undoubtedly help in knowing and understanding what it is you are drinking (which is always nice); taking a shine to technical terms describing the many different age categories of red wines made helps too, but for the most part getting a hang of Spanish wine isn't as difficult as it might at first appear.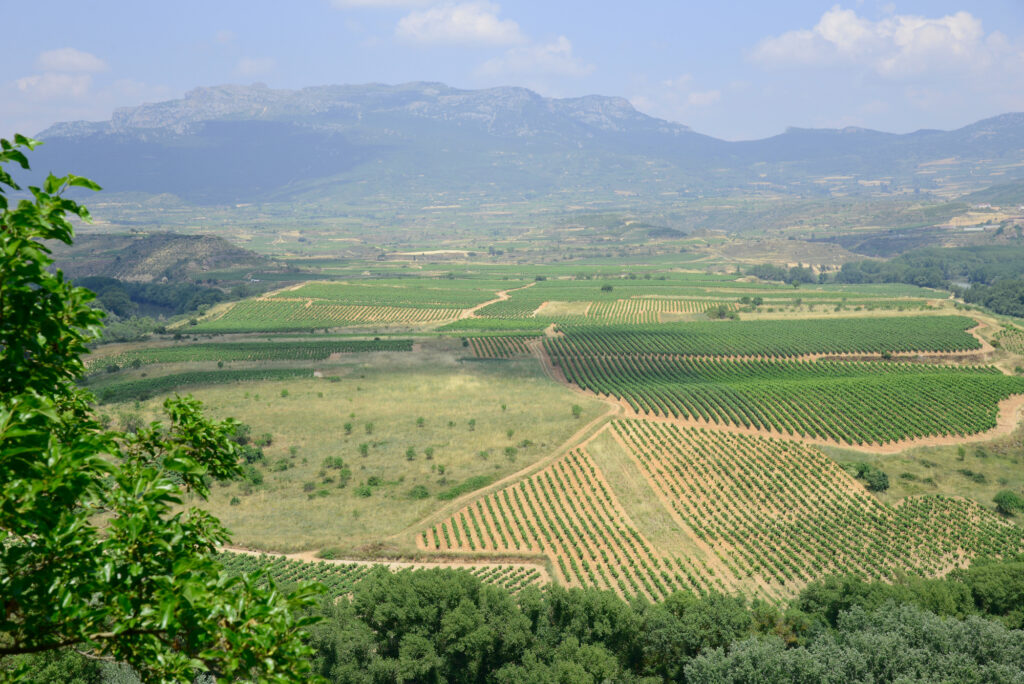 And it really is good to get to know Spain and its wines: I mean, the country is absolutely gorgeous, with two of the world's most interesting cosmopolitan cities in lively, rambl-ing (literally) Barcelona and princely (literally again: or royally, if you prefer) and stately Madrid, but in Granada and Sevilla, Spain also boasts two of the world's most romantic cities as well. The food is spectacular of course, as attested by the many Spanish or Spanish-influenced Latino restaurants springing up all over the world at what seems like break-neck speed. And the wines are of course more than just a little interesting: no more over-oaked and oxidized before even going into bottle, the reds and the whites of Spain, not to mention the many sparklers, pinks and sweet wines, offer something for everyone. And besides, any country that can make wines as unique and delicious as those of Andalucía (Sherry!) and the Canary Islands deserves a place in the sun.
Spain boasts a great diversity of soils and very different climates, and almost as many grape varieties (though fifteen-twenty or so are those most commonly used) resulting in a diversity of wines. This explains the 138 officially designated wine regions that call Spain their home. Galicia in northwest Spain is the home of ultra-popular Albarino which delivers a bevy of minerally, zingy whites and just as fresh, aromatic reds are also common made with the Mencia grape. The coast near Barcelona is the home to Cava, and one of the most famous denominations, Catalunya, is Cava's home. Cava is Spain's ever-improving sparkling wine made by the traditional method of fermentation in the bottle, a process exactly like that used in Champagne. But though famous for its Cavas, the D.O. (Denominacion de Origen) boasts a rich diversity of climates and grapes such as Macabeo (called Viura in Rioja), Parellada and Zarello, so that many different wines in many different styles can be found there. The Priorat, characterized by steep terraced slopes makes world-class red wines from the likes of Carignan and Garnacha (Grenache, in France), but Syrah, Cabernet Sauvignon and other varieties are grown too. The southern reaches of the Mediterranean coast produces fruit-forward reds thanks to the likes of Bobal, previously thought to be no more than a workhorse grape but in fact capable of being much more than that and Monastrell (France's Mourvèdre). Madrid and the Spanish Meseta Central (central plateau) is where Airén, thanks to the region's high elevation and sunny, dry climate still thrives (and is still one of the world's ten most planted grapes). In fact, this territory makes good Tempranillo-based reds (Tempranillo is locally called Tinto Fino), though the potentially cooler continental climate and different soil types allow many different wine grapes such as Albillo and Garnacha to flourish too. The DO is Vinos de Madrid. One of the most interesting wine-producing areas of Spain is the País Vasco (or Spanish Basque Country), located on the border with France, and that was once best known for the lovely zingy-fresh Txakoli aperitif wine made from local heroes Hondarribi Zuri and Hondarribi Beltza. Readers might like to know that the latter is one of the two parents of Cabernet Franc, that was almost certainly born in this part of the world. Castilla Y León is an historically famous wine-producing region of Spain, now divided into eleven sub-regions, by far the best known of which is Ribera del Duero located along the Duero River, making Tinto Fino (Tempranillo) wines of international acclaim, with internationals such as Malbec, Merlot and Cabernet Sauvignon also planted, plus other grapes including Garnacha and Albillo. In the Ebro River Valley, Navarra, is perhaps most famous for rosé wines, but the very cold winters and long, hot and dry summers means that grape and wine quality is potentially high while quantity is low, and other wine styles are made. Close by Navarra, Rioja (La Rioja, in Spain) is located in North-Central Spain next to the Ebro River, and is the most historic, world-renowned part of Spain. Once again, Tempranillo is king, but unlike in some other Spanish red wine DOs, it is often blended with internationals such as Cabernet Sauvignon as well Graciano, Garnacha, Mazuelo and Maturana Tinta. Farthest down south, Andalucía is the home of Sherry (actually Jerez, and so the wines are Jerez or Xéres, or Sherry in English and other languages), ranging from saline, fresh, bitingly dry Fino and Manzanilla made with the likes of Palomino to lusciously rich sweet stickies made with varieties such as Moscatel and Pedro Ximenez. Off at sea, the beautiful vacation paradise of Majorca and the Canary Islands offer unforgettable volcanic wines ranging from world-class sweet whites to hearty reds, though production levels are forcibly small. Local white (Listan Blanco, also called Palomino), and red grapes (Listan Negro) are super-interesting but not abundant, and so Chardonnay and Merlot (especially in the Majorca area) are now common. And perhaps not surprisingly, given the international clientele of these world-famous vacation getaways. Other Dos from where good quality wines can be found include Extramadura (out in western Spain: Tempranillo, Cayetana, Tinta Amarela, Alicante Bouschet and Albillo thrive), Valencia (one of the country's oldest wine regions, out on the east Mediterranean coast of Spain, but most of the vineyards are inland planted on limestone-rich where Muscat-based wines have gained in fame). Murcia is the home of Monastrell (Mourvèdre in France), strapping, bold, big-bodied hearty red, but Cabernet Sauvignon, Airen, and Macabeo are also grown. Aragon is where excellent Carignan and Garnacha-based reds and Parellada-based whites are made thanks to the continental climate of very hot summers counterbalanced by very cold winters.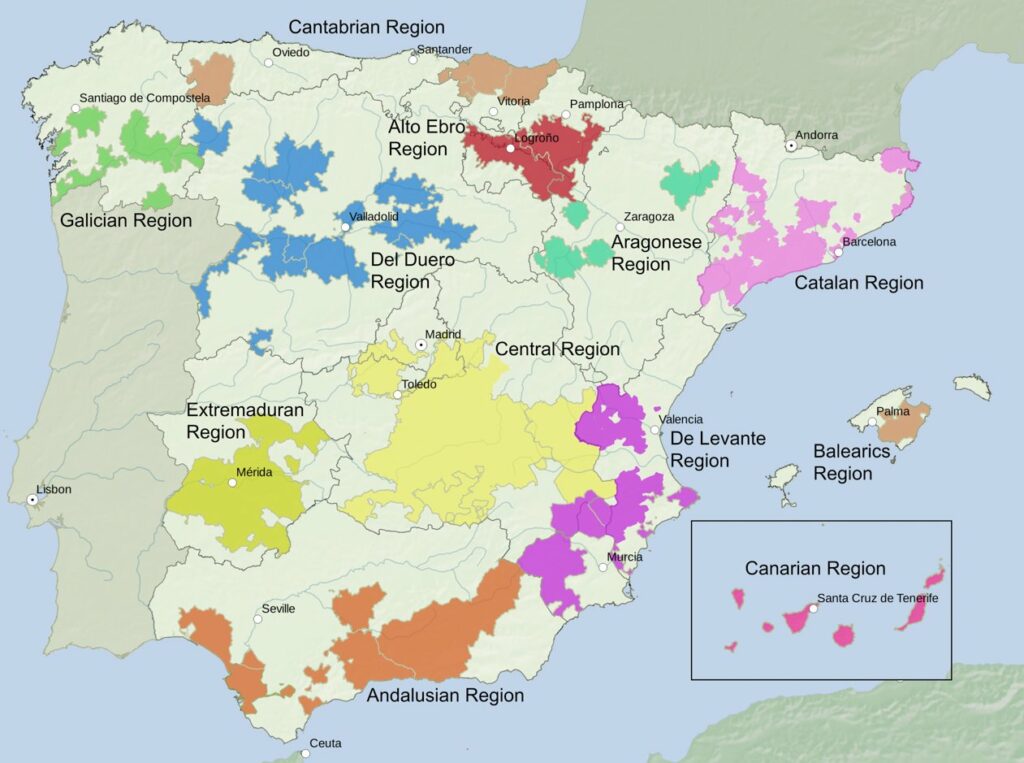 Last but not least, remember that Spain has a slew of different wine categories that tell you how long the wine has been aged for. In this the country's red wine output is unique, given that it's the wineries that do the aging for you, releasing many of their wines only after long periods spent maturing in the winery cellars. Wines can be labeled as Joven (a relatively young wine that has seen any oak, or spent very little time in barrel); Roble (which meaning "oak," indicating a Joven wine that has spent a little time in a barrel); Añejo (a "mature" wine that has been aged for two to three years); Viejo (aged for at least three years; and the three best-known and possibly best wine levels, Crianza (red wines that have been aged at least two years, six months of which must be spent in a barrel; and white or rosé wines that have been aged for a minimum of a year, of which six months must be in a barrel); Reserva (red wines aged for a minimum of three years of which at least twelve months in a barrel, or white and rosé wines aged for a minimum of two years with six months in a barrel); and Gran Reserva (red wines that have been aged for five years with at least eighteen months in a barrel, or white and rosé wines aged for a minimum of four years with at least six months in a barrel). Spanish wines can range from the low level bottom of the quality pyramid of the Vino de la Tierra (VT) (country" wines with supposedly identifiable local characteristics, but it's often a stretch); Vino de Calidad (VC) (theoretically a "quality" wine category of wines produced in a specific region with a specific terroir); Denominación de Origen (DO) (a protected designation of origin area just like the AOC and DOC of France and Italy respectively) and the Denominación de Origen Calificada (the highest quality -in theory- classification level of Spanish wine denominations, enforcing strict standards, including at least 10 years with DO status before being able to move up in the hierarchy). Last but not least, the Vino de Pago (highly thought of single-estate produced and bottled, estate wines).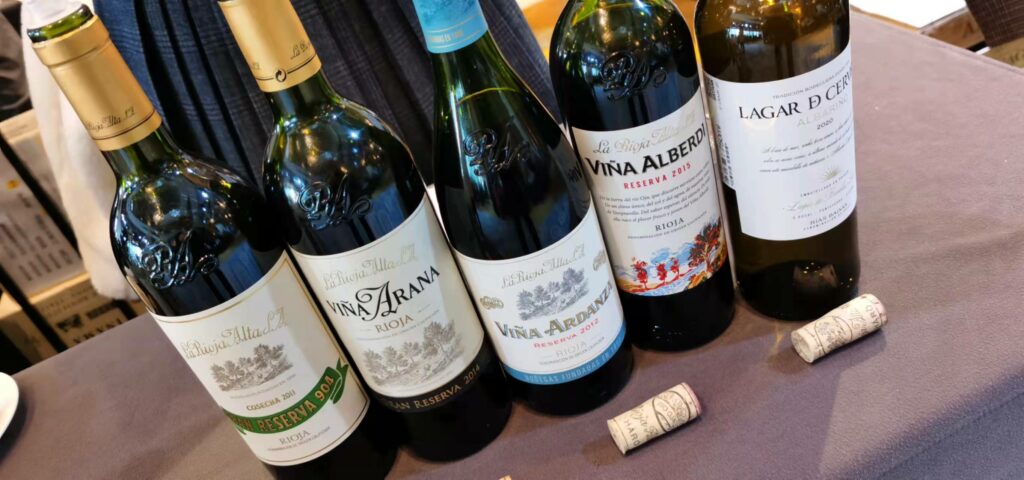 The wines
Aalto
2018 Aalto PS Ribeira del Duero 95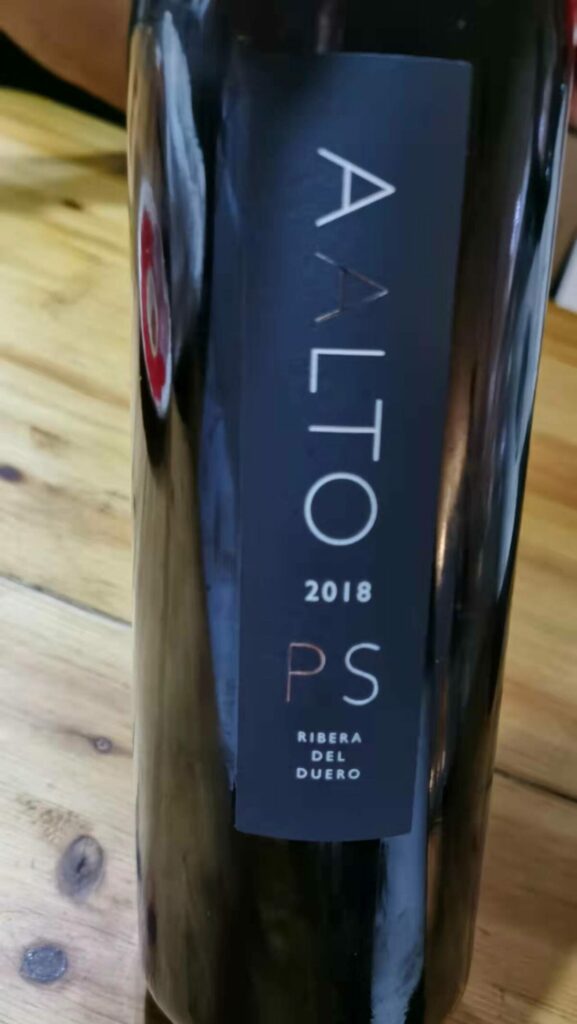 Good full purple colour. Very complex on the nose, with smoky, flinty and pure aromas of blueberry, blackberry, chocolate, coffee and herbs, with a dash of spices for good measure. Then elegant and refined in the mouth, with a laser beam of acidity nicely framing the blue and black fruit. Finishes long and clean. This is excellent. Drinking window: 2024-2035.
Abel Mendoza.
2018 Blanco 5VA Rioja  91
Medium-deep straw green. Strong aromas of pear and white flowers with whiplash of finishing mint. Then rich dense and creamy, with a little alcohol-derived heat on the finish where the flavours similar to the aromas linger nicely. A real famous producer of white wines that bottles five different mono-variety wines from the likes of Garnacha Blanca, Torrontes and Tempranillo Blanco, they also make this wine, a blend of the best lots of each one of the five varieties. Ages in a mix of old and new barrels. Drinking window: now-2026.
Agricola de Cadalso.
2018 Syrah Vinos de Madrid       91
Bright deep red. Pungently floral on the nose, with lavender and soapy nuances also repeating in the mouth, where the acidity is lively and the tannins very polished. Finishes very saline and fresh with lingering floral nuances. Smells like they used whole bunches, but apparently not for this wine (they maintain that the soils here are the cause of the pungent florality of the wine, and were reportedly surprised that Syrah could have these aromas and flavours). No oak: this is aged six months in concrete tanks. Drinking window: 2024-2030.
2017 El Hombre Bala Vinos de Madrid    94
Bright red. Juicy, explosive red fruit, orange, apple, herbs, salt minerals and flowers. This is lip-smackingly good and juicy! Finishes with a savory note that adds interest. Not a single vineyard like La Mujer Canon, but made with the same philosophy of preserving the fruit as much as possible. This is a real knockout, despite the warm vintage that made for a slightly more tannic and more alcohol-rich wine (the winemaker feels the 2016 was more elegant). Drinking window: 2024-2032.
Allende.
2015 La Locomotoria Tinto Crianza Rioja     90
Deep red. Deceptively simple on the nose and in the mouth, there's instead sneaky concentration and complexity to the red fruit and herbal aromas and flavours nicely framed by a youthfully chewy mouthfeel. Clean, fresh and juicy, this boasts very nice sweetness and good length on the pungently floral close that features a saline edge. The label depicts flowers, the same flowers you can find in the vineyard. The name of the wine is a tribute to the train that was built to take grapes and wines from Rioja, in the middle of the country, to its export markets. Drinking window: now-2025.
2010 La Locomotoria Tinto Reserva Limitada      92
Deep ruby. Smoky, beefy, and salty aromas and flavours of red fruit, saline earth tones and aromatic herbs are rich and ripe, but also precise and long. A youthful tannic bite tells you this needs to age a few more years in a good cellar to really show all it has to offer.  Drinking window: 2024-2028.
2014 Allende Rioja   92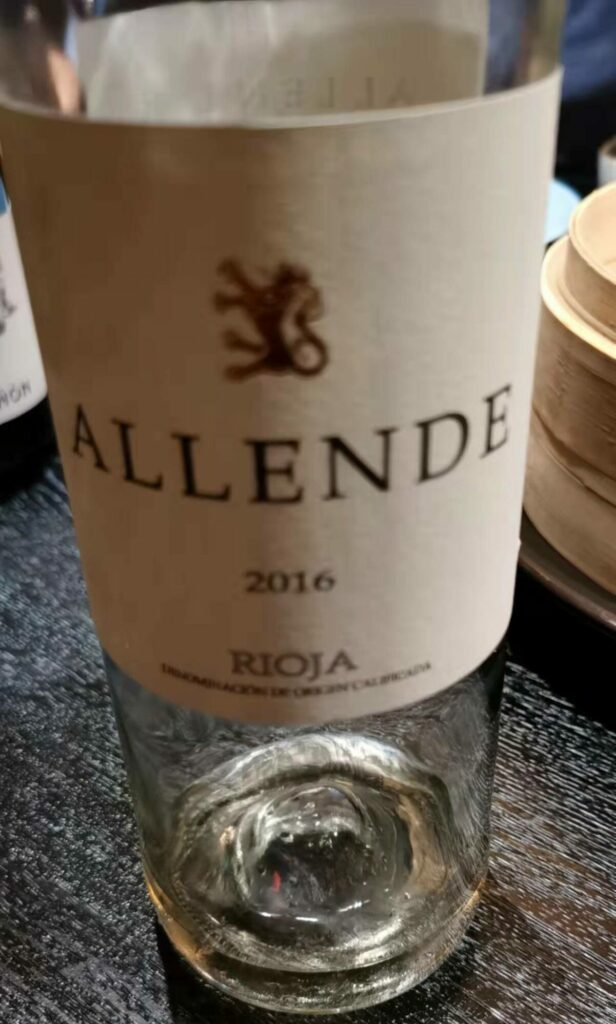 Good full ruby. Ripe, rich aromas and flavours red and black fruit has an almost candied quality. Finishes long with real tannic bite and size, but manages neither over the top nor too salty or tannic. The long smoky close has a savory element. This could be a Riserva but he chooses not to call it so. 100% Tempranillo spent aged in oak. Drinking window: now-2030.
Artuke.
2020 Artuke Rioja    90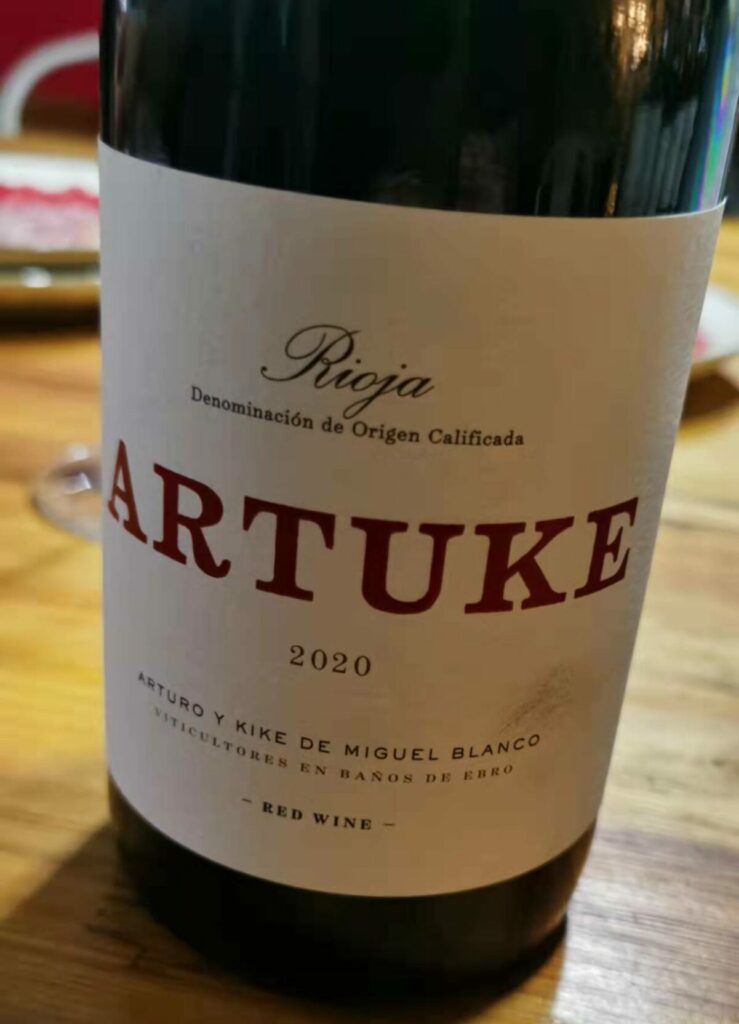 Bright deep red. Perfumed aromas of fresh berries and then flowers on the ripe slightly Beaujolais Nouveau-like nose. Juicy and lively in the mouth, with good fruity cut to the bright red and blue fruit flavours, this is bright and cheerful. The entry level red wine is in fact made with carbonic maceration. Artuke is the acronym of the two brothers that are running the winery, Arturo and Kike. 100% Tempranillo. Drinking window: now-2025.
2019 Paso las Mañas Paraje El Chorro Rioja 91
Ruby-purple. Perfumed, lively aromas and flavours of red and blue fruit (mostly plums and blueberries) this is long, clean and very lively on the bright aftertaste. A slightly youthfully chewy edge to the tannins tells you that it needs a couple of years of cellaring to offer its best, but this is an excellent and highly promising Tempranillo. Drinking window: 2024-2030.
2019 La Condenada Paraja Camino del Ciego Rioja   96
Deep purple-ruby. Very penetrating, deep clean aromas and flavours of violet, plum and blueberry. Wonderfully silky and harmonious in the mouth, with a very pure quality to its fruity and mineral aftertaste.  La "Condenada" means abandoned, as in something that nobody wants, an area that was rescued by the Arturo and Kike siblings that run the winery and whose name serves as its acronym: crazy to think that these beautiful, roughly 90-100 years old vines had been abandoned. Drinking window: 2024-2035.
Belondrade y Lurton.
2019 Belondrade Quinta Apolonia     92
Luminous straw-green with golden tiges. Pure aromas of white peach, lime, crushed rocks, butter and herbs. Lovely wine that strikes a fantastic balance between overt creaminess and freshness, with flavours that echo the aromas. Closes long and round but with very good acidity nicely extending the white flower and yellow fruit flavours on the long finish. The couple loved Verdejo and they were the first to age Verdejo in used oak barrels, something nobody had ever done before in the area. Spent three months on the lees and was aged in a mix of old barrels. Drinking window: 2023-2030.
2019 Belondrade y Lurton Rueda      90
Medium deep bright yellow. Piercing alcohol-accented heat on the nose with honeyed nuances and earth-tones complementing vanilla and sweet spices; a strong note of yellow peach, almost of peach nectar in fact, emerges with aeration. Much better on the palate than on the nose: while the latter is complex and very promising with a lovely creaminess to its ripe yellow fruit, spice and honeyed flavours, the former is currently dominated by the oak and not especially expressive. Made with organically farmed grapes in the Quinta San Diego single vineyard (subdivided in 23 plots), this spent nine months on the lees in new oak barrels. Drinking window: now-2028.
Bernabeleva.
2015 Moscatel de Bernabeleva Cantocuerdas San Martino de Valdeiglesias Vinos de Madrid     90
Vivid golden-tinged yellow. Aromas and flavours of peach, lemon curd, herbs and figs. Not especially sweet, but rather bright and fresh on the long, vibrant close. The 16% alcohol volume number sporting on the label tells you that they could have stopped fermentation sooner if they had wished to do so and I wonder if it wouldn't give this a bit more balance. 100% Moscatel de Bernabeleva. Drinking window: now-2025.
Bodega Albamar.
2018 Albariño Finca Opereira Rías Baixas     92
Golden yellow. Very fresh and lively orange marmalade and chamomile notes on the nose, complicated by balsamic oils. Then sharp and taut in the mouth, with a shockingly saline undercurrent nicely lifting and extending the crisp citrus and orchard fruit on the extended finish. A single vineyard wine surrounded by eucalypts trees (likely accounting for the wine's balsamic traits), aged eleven months in used oak barrels. Only 3300 bottles a year. Drinking window: 2023-2030.
2017 Albariño Pepe Luis Rías Baixas       92
Medium dark yellow. Hints of Bourbon vanilla, balsamic oils and sweet herbs on the thick but nuanced nose. Then rich and dense in the mouth too, with a creamy undertow to the crisp yellow fruit flavours. The finish is long and smooth. Aged eleven months in partly new oak barrels, but that new oak presence is not as obvious as I might have feared before tasting it. Well done here. Drinking window: now-2027.
Bodegas Arzuaga Navarro.
2019 Arzuaga La Planta Ribera del Duero            90
Fully saturated purple-ruby. Aromas of dark berries, espresso and sweet spices. Juicy and fruity but plush at the same time, with nicely persistent flavours of blackberry, licorice and crystallized fruit and a medium-bodied mouthfeel showcasing silky tannins. Closes with building ripeness in an open-knit style, but with more than enough focus and energy to avoid palate fatigue and make this beauty an absolute winner. A100% Tempranillo aged for six months in new and used French and American oak barrels. The estate was founded by Florentino Arzuaga in the early 1990's after purchasing Finca La Planta in the town of Quintanilla de Onésimo (Valladolid). Bodegas Arzuaga-Navarro also owns vineyards outside the province of Valladolid, in Ciudad Real. Drinking window: now-2028.
2019 Rosado Rosae Ribera del Duero       88
Bright pink. Simple easygoing aromas and flavours of wild berries and pink flowers. Nicely juicy on the medium-long, zippy finish. Drinking window: now-2023.
2018 Arzuaga Fan d'Oro Vino de Mesa Ribera del Duero 89
Deep bright yellow. Butter and lemon jump from the glass and into your nose and mouth. Plush but lively, with good juicy cut and medium-long tactile length. Barrel-fermented for about nine months and coming from a region mostly known for its red wines, this Chardonnay wine is made from roughly twenty years old vines planted in the Finca La Plata on calcareous-clay soils full of fragmented rocks. Drinking window: now-2028.
2017 Arzuaga Crianza Ribera del Duero 94
Dark ruby-purple. Deep, complex aromas of ripe red and black fruits, sweet spices and balsamic oils, complemented by a grilled cocoa and espresso note. Then big and strapping in the mouth, but at the same time smooth and opulent, with flavours of black fruit, cedar and chocolate. A 95% Tempranillo and 5% Cabernet Sauvignon blend that finishes long and clean, with an enticing multilayered quality, about  80%of the grapes were picked in the La Maquinilla vineyard (the oldest at the La Planta estate at 911 meters of altitude in calcareous clay soils, while the other 20% or so were picked from centuries-old vines planted on pebble-rich sandy soils in the province of Burgos. Bodegas Arzuaga-Navarro owns more than 150 hectares of vineyards between the area around the cellar and the La Planta estate, that benefit from  very hot sunny days but nights that are fresh and humid. Drinking window: 2024-2035.
2016 Arzuaga Reserva Ribera del Duero 93
Bright ruby-red with purple tinges. Complex and elegant nose speaks of black cherry, red berries, vanilla, licorice and candied flowers. Then nicely structured in the mouth but with silky, compellingly sweet tannins nicely framing the blackberry and Christmas cake flavours on the long finish. The 2016 Arzuaga Reserva is made from 95% Tempranillo, 4% Cabernet Sauvignon and 1% Merlot and will prove a very good match with roasted white meat, wild game and aged blue cheeses. Drinking window: 2024-2035.
2014 Arzuaga Reserva Especial Ribera del Duero       92
A 95% Tempranillo and 5% Albillo blend from the Castilla y Leon region and the D.O Ribera del Duero, this deeply coloured purple-ruby wine is almost impenetrable. Red but also some blue fruit compote aromas on the nose are complicated by cocoa, mint, cacao and caramel. Then more elegant in the mouth than on the nose, with polished tannins and a graceful, less showy delivery of smooth, fleshy black fruit and sweet spices. Closes long and spicy. Founded Bodegas Arzuaga-Navarro in the early 1990's by Florentino Arzuaga (after purchasing Finca La Planta in Quintanilla de Onésimo), the vineyards benefit from a unique combination of climatic factors that favour slow and optimal grape ripeness, such that the resulting wines are most often lush and perfumed, with great acidity. Drinking window: now-2032.
2011 Arzuaga Gran Reserva Ribera del Duero     93
Fully opaque ruby-purple. Dark berries and black cherry aromas are enlivened by nuances of cocoa, coffee, and cedar. Then spicy and with a roasted beef and fruit quality in the mouth, with ripe, soft tannins gently supporting the rich vanilla and dark fruit flavours. Closes long, sultry and rich. A 95 % Tempranillo (locally called Tinto Fino) and 5% Merlot and Cabernet Sauvignon blend, the 2011 Arzuaga Gran Reserva was produced with old vine Tempranillo grown on clayey limestone soils while the Cabernet Sauvignon and Merlot grapes were picked in the La Planta estate. Fermented in wooden vats and aged in French oak for 46 months. Drinking window: now-2031.
Bodegas Camillo Castilla.
NV Capricho de Goya Moscatel Dulce Natural Navarra   95
Vivid amber colour. Raisins, figs, vanilla, caramel and orange peel on the knockout nose that is perked up by a welcome touch of volatile acidity. Clean, fresh, rich and ripe, not to mention very typically sweet (about 200 g/L r.s.), treacly and raisined. The balanced finish features classic and lingering flavours similar to the aromas plus hints of roasted almonds and white chocolate. The label says 15.5% alcohol, but you can't really tell this has so many octanes, always a good thing. A superb wine that ciosts only a fraction of what it should, given the quality in the bottle. No doubt, this is one of the world's great wine buys. Bodegas Camilo Castilla is the oldest producer in the Navarre district, their NV Capricho de Goya Moscatel Moscatel Dulce Natural Navarra is produced from extremely old vines of Moscatel de Gran Menudo, which is identical to Moscato Bianco, better known in France as Muscat Blanc á Petit Grains [(or small-berried (White) Moscato, which is actually what the Moscatel de Gran menudo in Spanish translates to in English…so you see, there really is a logic to grape names, most of the time at least]. The wine's typical organoleptic profile is the result not just of the grape variety used but also because of the way it's made: first stored outdoors for approximately four years in 60 liter 'demi-Johns', the changing atmospheric conditions (pressure, temperatures and illumination) bring about oxidative changes and the development of aromas and flavours similar to those of wines made in Banyuls and Rivesaltes. The wine is further aged for another 3-4 years in 400-500 liter casks. Drinking window: 2023-2030.
Bodegas El Nido.
2018 Clio Jumilla      89
Deep ruby. Rich ripe sweet aromas and flavours of coffee and chocolate and dark berries. Rising tannins on the long eucalyptus and minty-accented finish call for a little patience. A touch of excessive alcohol-derived heat detracts a little from the experience this offers. A big strapping wine that is not for the faint of heart (or for those who like Burgundy), this is a blend of 70% Monastrell and 30% Cabernet Sauvignon that spent 22 months in oak barrels. Made by Chris Ringland of Three Rivers winery in Australia, and in fact this has "certain type of Australian wine" written all over it, but those who like big rich jammy wines will adore this, so who am I to argue?. Drinking window: 2024-2030.
Bodega Forjas del Salnéz.
2017 Vino Blanco Cos Pés     88
Medum-pale orange colour. Aromas and flavours of tangerine peel, cider, orage nectar, thyme and carry a pungent floral nuance on the back end. Despite the name of Cos Pés, which means "with the feet" these grapes are actually squeezed by hand in a massage-like motion; this accounts for this orange-like wine to be less orangy and less extreme than its stablemate. Another wine by the well-known and much respected Rodrigo Méndez. Drinking window: now-2025.
2013 Vino Blanco Cos Pés Vinos Atlanticos    88
Deeper colour than the 2017.  Funky earth-tones and nuts on the nose and in the mouth. There's something vaguely Jura-like in this wine's delivery of grilled nutty and herbal nuances. Closes rich and ripe but also lively and lingers nicely. Another wine by the well-known and much respected Rodrigo Méndez, this was made by pressing the grapes with the feet and so the degree of skin maceration was greater and longer-lasting than in more recent vintages of the Cos Pés (I which the grapes were hand-pressed allowing for a gentler maceration and therefore a wine that is less marked by the skin contact. I guess that if you're hand pressing grapes, then it can't surprise that there's only 900 bottles made of this a year. Drinking window: now-2025.
Bodega Lanzaga.
2018 El Velado  93
Good full ruby-red. Musky, medicinal aromas of black cherry, blackberry, violet and menthol. At once lively and lush, this really spreads out to saturate the palate releasing floral flavours of dark berries and minerals.  Still a bit youthfully medicinal but light on its feet, this precise wine offers suave tannins and terrific persistence. Drinking window: 2023-2030.
2015 Lanzaga           94
Vivid saturated ruby. Bright aromas of cassis, blackberry, licorice, and chocolatey oak. Densely packed and ripe, conveying an impression of chewy extract to its black cherry and minty flavours. Then mocha and coffee nuances abound on the broad, full finish but thanks to lively, juicy acidity, this avoids coming off as heavy or sweet. Noteworthy but supple tannins coat the front teeth and provide the ripe fruit with ample backbone. Excellent. Drinking window: now-2033.
Bodegas Morca.
2018 Garnacha Morca Campo de Borja  90
Opaque ruby.  Chocolate reduction on the showy nose, with hints of sweet spices, plum jam and balsamic oils, and building, rather strong, notes of torrefaction. Then brighter and fresher on the palate, with livelier blue and black fruit and sweet spice flavours than the nose initially suggested. The aftertaste is long and thick, but not devoid of elegance. Some tasters who prefer their wines on the refined side (say Chambolle rather than Pommard) might find this big boy a little palate-fatiguing. The winery harkens to Australian wine making methods, as the current winemaker, Franz Inzaes was the right-hand man of Chris Ringland Down Under for three years. Think of this as an application of Barossa or Napa to Spain. Drinking window: 2024-2030.
2017 Garnacha Tourán Campo de Borja 92
Deep ruby. Chocolate covered cherries, balsamic oils, menthol and plum jam on the nose and in the mouth. Smells like an Amarone with an air-dried quality to the grapes, but boasting very nice acidity lifting the ripe red fruit and chocolaty fruit. A huge wine but very well-balanced, with a long, clean and bright aftertaste. Amarone lovers will find this is right up their alley. Drinking window: 2024-2032.
Bodegas Muga.
2020 Rosé Flor de Muga 90
Luminous pale pink. Strawberry, raspberry, and white flowers on the nose. On the light side, with lively flavors of red fruits, spices and herbs with no heaviness. Not especially complex but attractively easygoing and easy to drink, it picks up a little flesh and palate weight on the long back end. Kept on the lees for four months. Made from 70 to 90 years old bush vines planted in roughly a dozen plots at an altitude of between 600 and 750 metres in the Alto Najerilla district.  Drinking window: now-2025.
2016 Reserva Seleccion Especial  94
Good full ruby-purple. Musky aromas of black cherry liqueur and blackberry, complicated by violet and wild herbs. On entry, wonderfully fine-grained tannins and perfectly integrated acidity give the wine a vibrant quality and really lift the dark berry and earthy flavours, then spreads out to coat the palate on the lively, subtle, long aftertaste. A wine of really impeccable balance, very typical wine of the Rioja Alta, this speaks of the generally cooler 2016 vintage, one of the best recent vintages in this corner of Spain. The Muga 2016 Reserva Seleccion Especial actually reminded me a little of the wines made in 2010 and 2011, straddling the border between the two: the 2016 has more body than the 2010 (a very graceful, refined wine) but slightly less tannic heft than the 2011 (though still relatively cool, 2011 was a slightly warmer year and wines were marked by riper, more assertive tannins than those of 2010). Another excellent wine by Muga, a real wine quality leader, and not just in Rioja and Spain. Drinking window: 2024-2035.
2016 Torre Muga Rioja  96
Fully saturated medium-ruby colour.  Remarkably pure aromas of blueberry, cassis, licorice pastille and game are lifted by a violet top note. Sweet and very concentrated, with seamless tannins providing backbone to the ultra-ripe, vanilla-accented but not over the top spice cake flavours that are in turn perked up by fresh boysenberry and repeating floral nuances. Beautifully harmonious acidity and superb fruity persistence dominate on the long sultry finish. A remarkably rich and pliant wine made from grapes grown at high altitudes in the limestone-rich soils around Villalba. Drinking window: 2024-2035.
2014 Prado Enea Gran Reserva  94
Deep vibrant purple-ruby. Penetratingly pure and sweet nose offers black cherry, cassis, and licorice, as well as hints of gunflint, violet and cocoa. At once plush and ripe, but also lively and fresh, with an invitingly pliant texture and a captivating penetrating quality to the flavours of dark fruit, herbs and flinty minerals. Finishes with highly polished tannins and excellent length. This is really outstanding and for all tis concentration and size, is deceptively easy and ready to drink, but will age another twenty years without problems. One of Spain's greatest and most famous wines, Prado Enea is Muga's flagship, and as such is only made roughly every four years, when the vintage conditions and the grapes are of a quality that allow for this important wine to be made. A blend of mostly Tempranillo, with Garnacha (20%) and roughly about 10% Mazuelo and Graciano, the wine is always characterized by sultry power but noteworthy freshness too, resulting from the combination of the growing area (Sajazarra, one of the coldest places in Rioja Alta) and the grape varieties themselves (for example, Graciano and Mazuelo give wines characterized by higher acidity levels and hence freshness). No wonder then that this very cellar-worthy wine ages as well as it does. Drinking window: now-2035.
Bodegas Riojanas.
2018 Cuvée Monte Real Rioja     91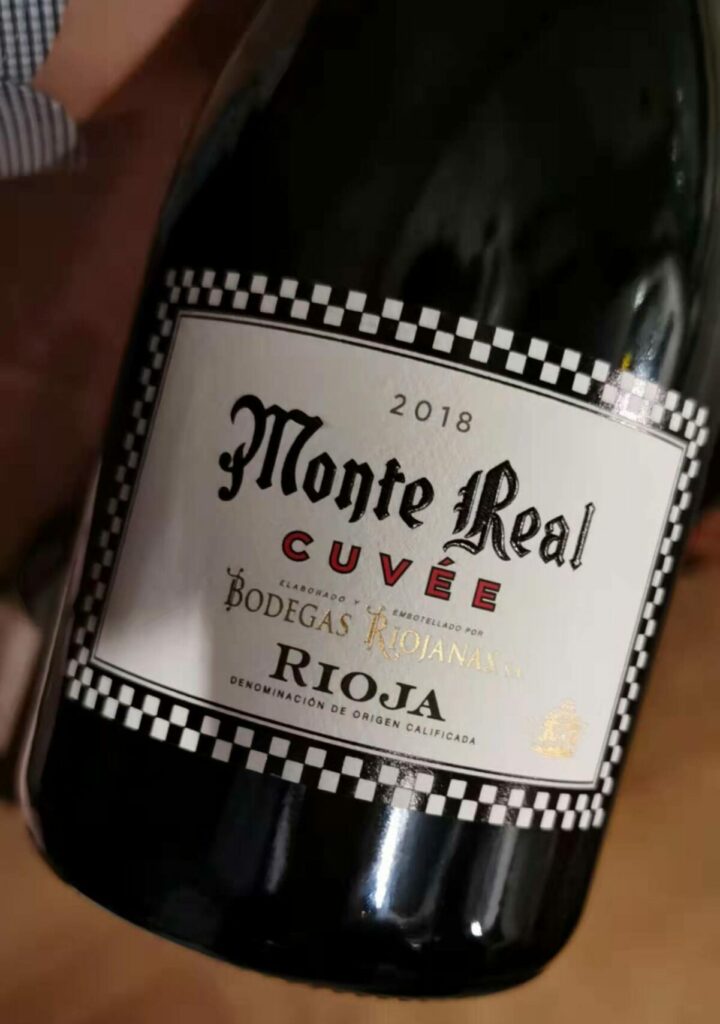 Fully saturated bright purple-ruby. Tarry red and blue fruit notes dominate on the nose and in the mouth. Despite its chocolaty richness on entry, the wine is remarkably lively and fresh boasting nicely precise flavours of red and purple fruits, licorice, herbs and cocoa. The finish is long and very smooth. Though neither the last world in complexity nor depth, the 2018 Cuvée Monte Real Rioja offers an easy-drinking quality and early accessibility, not to mention plenty of charm. A 67% Tempranillo and 33% Graciano blend. Drinking window: 2023-2028.
Bodegas Vinicola Real.
2009 200 Monges Reserva Blanco Selección Especial Limitada Rioja    94
Bright medium-deep yellow. Strong notes of oak and earth tones on the ripe, big nose and in the mouth. Enters rich and dense, with an oily mouthfeel buffered by high acidity so that the wine ends sharp and taut despite the creaminess on entry. Closes long with compelling sweetness and nicely lingering notes of smoky apricot, butter and underbrush. A blend of 70% Viura, 20% Malvasia varieties, 5% Garnacha Blanca and 5% Moscatel, this traditional white Reserva is made by manually selecting grapes from the estate's older and lower-yielding vineyards. Fermented in new barrels at 14 degrees Celsius for roughly twenty-six days, the wine is then aged about 14 months in French and American barrels, then another 24 months in stain-steel tanks prior to bottling and having these rest in their cellar until release. The estate believes in releasing the wines only when they are deemed fully ready, and this is why the wine released this year is the 2009 (the 2008 was out on sale last year). Drinking window: now-2030.
Bodegas Toro Albala.
1946 Don Pedro Ximenes Convento Selecion Madeira  Montilla Moriles   99
Luminous medium golden-amber colour. Ultra-concentrated umami-tinged aromas and flavours initially dominated by cinnamon, camphor and petrol but with aeration and time white chocolate, toffee, orange peel, lemongrass, spice cake, salted caramel and maple syrup emerge. Rich, dense and suave, this is at once sweet and salty on the long, mellow, complex close. It's a fabulous sweet wine that is a great deal more complex and graceful than many super sweet wines made with Pedro Ximenes, a wine I personally love when well made, that all too often are impressive at first taste but then neither especially lifted nor nuanced, despite all the high scores that are usually lavished on them. Only 825 bottles made, this was produced at the end of WWII but was bottled only in 2011. Drinking window: now-2060.
Bosque de Matasnons.
2018 Bosque de Matasnons Ribeira del Duero       94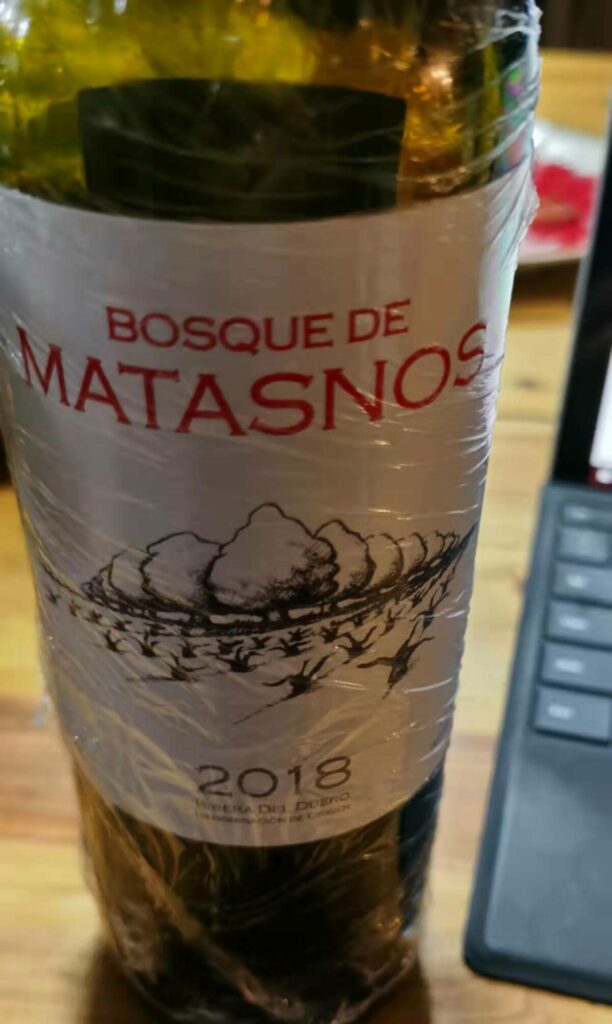 Deep ruby. Caramel and flinty notes complement the mostly red fruit on the deep, refined nose. Then similar flavours to the aromas, with a welcome mineral lift perking up the very ripe, chocolaty flavours of superripe red cherry, plums macerated in alcohol and herbs. The very long, powerfully tannic finish is nicely brambly and spicy. Made from grapes grown in vineyards located in some of the highest altitudes of the Duero, this matured twelve months in new and once used oak barriques and tonneaux. And though this is always a mostly Tempranillo wine, readers should take care of the slight but noteworthy difference in the complementary grapes, and their percentages, of the 2019 and 2018 blends: the 2019 is reportedly a blend of 88% Tempranillo, 9% Merlot, 3% Malbec while the 2018 is a blend of 90% Tempranillo, 5% Merlot, 3% Malbec and 2% Garnacha. The unique 2018 growing season really marked this wine: in 2018, the harvest was characterized by extreme drought conditions and was preceded by one of the toughest frost episodes in the history of the D.O. which led to very ripe concentrated grapes. Drinking window: 2023-2033.
Bruto Viticola.
2018 Monastrell Bruto Jumilla    90
Good full ruby. Very fresh aromas of red fruit and sweet spices on the nose but then very sweet in the mouth, but the overall the wine comes across as balanced thanks to very noteworthy but harmonious acidity. A very nice tannic spine nicely frames the red fruit and herb flavours on the long, lively finish. Without that tannic backbone and the acid spine present to the degree that they are, this would come off as too sticky sweet and uninteresting. Drinking window: 2023-2028.
Ca N'Estruc.
2019 Ca N'Estruc Blanc Catalunya   93
Medium-dark bright yellow. Aromas and flavours of orange flowers, lime peel, grapefruit, cinnamon, lemongrass and pepper. Strongly dominated by the Muscat on the very pretty nose, but classically dry and not as aromatic on the palate as the nose first suggested. This is mostly a blend of 30-40 years old Macabeo (what is called Viura in Rioja), 53% Xarello, Garnacha Blanca, and Chardonnay, plus 26% Muscat that despite making up only about a quarter of the blend, really brings this into the world of aromatic white wines. The Catalunya DO was established in 1999 and Ca N'Estruc was the first winery to enlist. Drinking window: now-2028.
2019 Xarel-lo L'Equilibrista Blanc Catalaunya     88
Lively straw yellow. Melon and a little lemon on the nose and again on entry. Then round, juicy and big with deep flavours of orchard fruit and fresh flowers, complemented by a sweet note of vanilla spices. This was aged six months in oak and you can tell on the vanilla-enhanced finish, which is a shame because you are left with the impression that there's a sense of balance missing currently. Perhaps another year of cellaring will help this come around, but for now this is a very pretty wine on both entry and in the middle, but then the vanilla just takes over. Drinking window: 2024-2028.
2019 Ca N'Estruc Rosat Catalunya   89
Deep pink colour. Strawberry on the nose and in the mouth, but the nose offers more in the way of complexity with nuances of medicinal herbs, pomegranate and pink flowers that are lacking on the palate. Then picks up on the finish, with rising floral flavours of peach and apple. But still, it's the nose that is especially beguiling here. Made with 100% Grenache. The Catalunya DO was established in 1999 and Ca N'Estruc was the first winery to enlist. Drinking window: 2024-2035.
2018 Ca N'Estruc Negre Catalunya   93
Bright pale red. Flint and juicy fruity red berries and herbs dominate on the bright nose. Smooth and juicy on entry, then slightly more taut in the middle, with a lovely easygoing juicy-fruity quality on the long finish. Honestly, I found it hard to put the glass back down once I started drinking this! A blend of mostly Grenache and Tempranillo plus a little Carignan, Syrah and Cabernet Sauvignon. The Catalunya DO was established in 1999 and Ca N'Estruc was the first winery to enlist. Drinking window: now-2030.
2017 Idoia Negre Catalunya        93
Pale medium red hue. Candied red fruit and balsamic oils on the nose and the palate. Large and broad in the mouth, but not as easygoing as other reds I tased from this producer in 2021. I remember thinking that the 2015 vintage of this wine was a little more structured and complex than this 2017, but mine maybe an impression that is just a function of time, and cellaring will help this spread out and gain in flesh. A blend of roughly 57% Grenache and 43% Samso (Carignan) that spent twelve months in one and two years old barrels. The Catalunya DO was established in 1999 and Ca N'Estruc was the first winery to enlist.
2015 L'Equilibrista Negre Catalunya       94
Medium bright red. Inky nuances colour the deep dark berry and cherry notes on both nose and palate. Closes long with a saline edge and refreshing acidity that really helps extend the flavours on the long, vibrant back end. I suggest decanting this beauty at least an hour or so ahead. The grapes come from the best and older parcels (the oldest are thought to be 40 years old) of the estate. A blend of roughly 55% Grenache, 30% Syrah and 15% Samso (Carignan) that spent fourteen months in mostly one and two years old barrels (only 30% were new). Drinking window: 2024-2035.
2014 L'Equilibrista Garnatxa Catalunya 93
Bright pale red with a garnet tinge. Red berries, orange peel, and herbs on the nose. Then similar flavours boast lovely depth and a taut mineral core that nicely carries the flavours on the long clean and fresh finish. Another very pretty wine from this estate that is blessed with a gentle tannic structure but also lots of fruit and sneaky concentration. A single vineyard 100% Garnatxa wine that packs the octanes (15%) but so well-balanced and fruity that you'll hardly notice that uppercut. Drinking window: now-2033.
Can Grauvell.
2013 Alcor Catalunya     94
Fully opaque ruby-purple. Spicy and chewy, but at the same time quite fresh, this finishes very long and suave. Only 3000 bottles made of this complicated blend of Syrah, Grenache, Monastrell, Marselan and Cabernet Sauvignon. A late release from the winery, this was actually aged only nineteen months in oak, (40% new), and spent the rest of the time in the cellar maturing, until it was deemed ready to drink (a very Spanish way, but as this is still a little oaky today, all that time spent aging in the cellar is probably not just a good thing but a real necessity.) Each grape variety in the blend is vinified separately and assembled into the final version of the wine. In my experience, the Monastrell is especially good here. The estate was born within the ranks of a family of restauranteurs, but Jordi Castellvi Agut has many interests, passions and talents. For example, "Alcor" is the name of the boat with which he sailed from Barcellona to Brazil, and if he must have felt like he had still free time on his hands, he bought a vineyard very close to Priorat and where the soil is more or less the same as that of the better-known appellation. The next step was to ask ultra-famous and talented Sara Perez to make the wine for him (the first vintage of Alcor was the 2003) and his family. But as these things often go, what was originally meant to be a small batch of wines made for family consumption, they were found to be so good that the decision was made to sell them commercially too. At the present time, he apparently does not sell them anywhere else but in China and Switzerland. Drinking window: now-2034.
Castro Candaz.
2017 Mencía A Boca Do Demo    92
Luminous bright red. Aromas and flavours of stone fruit, smoke, cracked pepper and licorice. Very clean, mineral and downright vertical, it boasts a floral edge on the aftertaste, which is long, lively and nicely saline. This wine project is a joint venture between two of Spain's leading wine figures of the moment, Raúl Pérez and Rodrigo Méndez. Drinking window: now-2027.
Clos Mogador.
2018 Nelin Blanco Priorat     94
Bright straw yellow with golden highlights. Chamomile, thyme, and minerals on the nose, with reticent white stone fruit nuances deep in the background. Compared to the oilier, more luscious 2015, the 2018 Nelin Blanco Priorat is more taut and steely even austere, than the 2015 also reviewed here, with good herbal and spicy cut to its somewhat fruit-challenged aromas and flavours. Well-balanced and quite zingy, it closes with lovely saline freshness and hints of wild fennel, chamomile and wet stones. A Garnacha Blanca-based blend fermented with indigenous yeasts and put through a little skin contact, then aged in concrete, oak, clay and stainless steel tanks and vessels. As mentioned in my review of the 2015 Nelin Priorat, there is no longer any Pinot Noir in this blend, as the wine is made with local grapes such as Garnacha Blanca, Trepat Blanc and Xarello (locally known as Cartoixát, but that's not the only change afoot, as this wine is now aged in used 2,200-liter oak tanks and no longer in the previously used mix of tanks in different aging materials and sizes. Drinking window: now-2030
2015 Nelin Blanco Priorat     95
Medium bright yellow. Expressive nose melds white plums, apricot, tobacco leaf and fresh herbs. Supple and drinkable, with a fragrant exotic fruit flavours and aromatic herbs adding interest on the beautifully suave, long, ripe, oily finish. Aged in a mix of different sized barrels (barriques, tonneaux, and foudres). A blend of mostly Garnacha Blanca, 10% Viognier, 8% Pinot Noir, and 6% Macabeo, but for future vintages they planned to remove the Pinot Noir replacing it with local grapes such as Trepat Blanc and Cartoixá (the local name of Xarello), make this an even more local, native wine (in fact, the 2018 I report on in this article no longer has any Pinot Noir). Clos Mogador was founded in the 1980s by René Barbier, nowadays one of the most famous names in Spanish wine, who trained in Burgundy and then at the University of Bordeaux, staging at many estates and châteaux across France, including Pétrus. Drinking window: now-2027.
2016 Vi de Vla Gratalopes Manyetes Priorat  94
Deep ruby. A touch of alcohol-derived heat on the nose that offers notes of blue and blackberry, complemented by earth tones and herbs. Then smoky and rich, with layered and fairly fresh flavours of dark fruit, balsamic oils, and aromatic herbs. The aftertaste is long, suave and highly concentrated. Very drinkable and elegant wine, this strikes me as a more minerally lifted red from this estate, in keeping with the fresher vintage. A 100% Carignan (but the estate has also planted Grenache in the area) made from a ten hectares large vineyard at 350 meters above sea level, the wine is aged eighteen months in 300 liter oak barrels. The grapes come from the area of Gratallops, a new village designation in the Priorat, an area where the sun-baked, parched growing conditions made just barely livable by the presence of the Ebro river. Drinking window: now-2032
Compañia de Vinos Telmo Rodriguez.
2019 Mencia Gaba do Xil Valdeorras       91
Deep ruby. Fresh, easygoing, very accessible red that is juicy and lively, with red cherry and berry aromas and flavours nicely complemented by herbs and ink. Very fresh and long with virtually no tannic clout whatsoever, this is beautifully lifted on the aftertaste. Lovely wine. The "Xil" in the wine's name refers to the name of the local river. 100% Mencia fermented with native yeasts and aged for twelve months in stainless steel only, to maintain freshness. The Valdeorras region is cooled by the Atlantic Ocean and allows Mencía to grow perfectly well. Drinking window: now-2029.
2016 Falcoeira a Capilla Single Vineyard Ladeiras do Bibei Valdeorras      93
Strongly pungent floral notes (roses, lavender) on the nsoe dominate the blue fruit aromas. Then sharper and quite acid in the mouth, with less body than I might have expected given the colour and the nose, with the dark fruit flavours remaining currently in the background. Finishes a bit sharp and so I'd lay this one away for another three years or so. Currently, the 2016 Falcoeira a Capilla Single Vineyard Ladeiras do Bibei Valdeorras is all about perfume, and smells very much like whole bunches were used, aprdon the pun, in bunches here. That may or not be the case, but the perfumed clout is obvious: think Vosne-Romanée, not Gevrey. Falcoeira a Capilla, in the village of Santa Cruz, is viewed by locals to be one of the very best crus of the area, with its wines boasting of the depth and finesse this more interior part of Galicia can give. The Falcoeira, one of the very low production field blends red wines of the Ladeiras do Xil collection is made from a 2.75 hectare vineyard that had to be almost completely replanted (such that now the vines are mostly 20 years old but some old-timers reaching 80 years of age are still present). In fact, the vineyard is actually split in two, with the top part planted to the red grapes that give the Falcoeira, while the bottom part closer to the Bibei river is where the white grapes grow that are used to make the Branco de Santa Cruz wine (the lone white wine in the same Ladeiras do Xil collection). The 2016 Falcoeira is a blend of Mencía, Sousón, Merenzao, and Caiño Tinto grown on mostly on decomposed granite soils at 400-600 meters of altitude; the wine is fermented with native yeasts in 3,000L oak vats and aged for twelve months in used 2,000L French oak foudres. Less than 2000 bottles made. Drinking window: 2025-2035.