The Aldo Conterno estate in Monforte d'Alba is universally considered to be one of Italy's twenty or so best wineries; and as if that wasn't reason enough to brag for a lifetime, their Barolo Bussia Riserva Granbussia is also regarded as one of the country's ten best and most important red wines (to be clear, ten best Italian wines of all, not just of Barolo). I have followed the Granbussia closely since 1980, when I moved to Rome and lived there for close to a decade prior to leaving the country to complete my studies elsewhere; after completing my student path, I returned to live in Italy for another fifteen or so years and was able to deepen my knowledge of this magnificent wine and the family-run estate that makes it. In fact, the Granbussia is not the only superlative Barolo produced by the Aldo Conterno estate: anybody who knows anything about Barolo is well aware that Aldo Conterno's Barolo Bussia Colonnello, Barolo Bussia Cicala and especially the Barolo Bussia Romirasco are another three of the very best Barolos made anywhere. But it is the ensemble of those three vineyards that gives a unique wine, the Barolo Bussia Riserva Granbussia, that has long been held by collectors and wine lovers everywhere to be the best of Barolo, in a league with Monfortino, Bruno Giacosa's red labels and Bartolo Mascarello's traditional classic Barolo.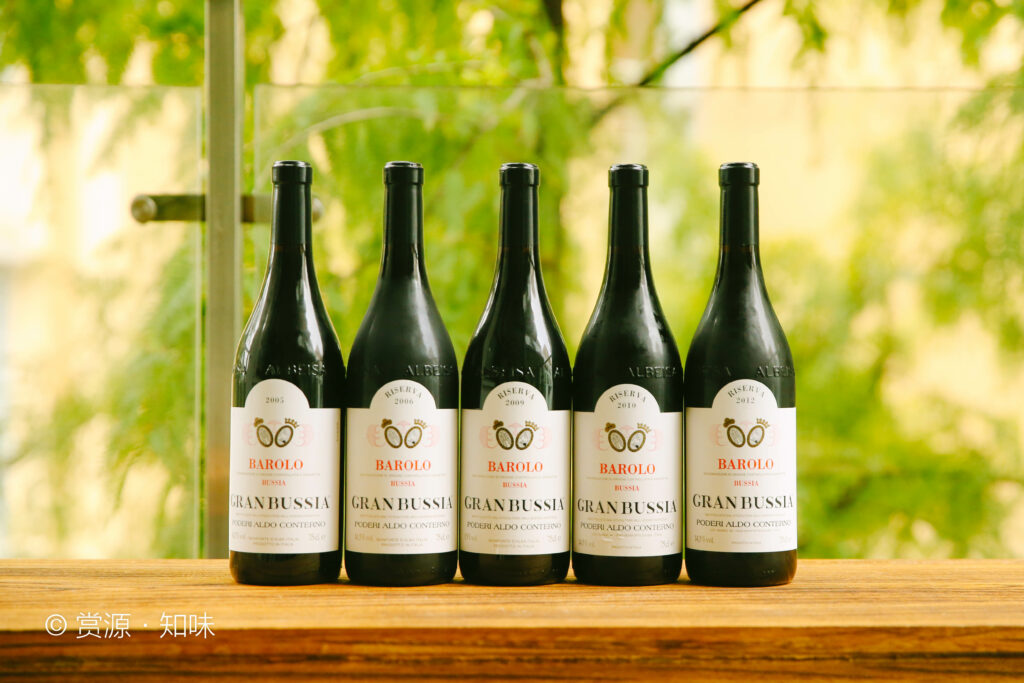 The vineyards and wine
The exact birth of Granbussia is open to debate, with the official launching being the 1974 vintage (though there were small trial bottlings already in 1970 and 1971). What has not changed is that it has always been a blend of grapes culled from the estate's best vineyard sites: the Colonnello, Cicala and Romirasco vineyards located in the large Bussia vineyard district of the Monforte d'Alba (Monforte for short) territory. Each of these vineyards contributes something totally different to the finished Granbussia wine, and it could not be otherwise since each vineyard is characterized by a highly specific, unique terroir.
Colonnello, Cicala and Romirasco are all located in the best subregion of the Bussia, called Bussia Soprana. When it comes to Bussia, speaking and writing of it in terms of subregions is an absolute necessity. With 2010's official launching of Barolo's Additional Geographic Mentions (MGAs) by which Barolo's cru areas were delimited and named, the Bussia was unfortunately enlarged to Brobdingnagian proportions, with areas such as Visette and Corsini included within the Bussia that though good have very little in common with the Bussia Soprana. In fact, just consider that the Bussia vineyard district of today extends over the territory of not one but two communes: at 292.31 hectares, most of Bussia is located within the Monforte d'Alba territory, but another 6.58 hectares are located within the Barolo commune. What that means is that today's Bussia is about 300 hectares large: compare that to Burgundy's Musigny grand cru which is all of eleven hectares large and you realize that to speak of one Bussia only is not just wishful thinking but just plain inaccurate. As I have written about already previously here on the TerroirSense Wine Review (Barolo Terroir: Analyzing two of the Bussia vineyard district's subregions; October 14, 2022) and in my most recent book published this year for Amazon Press and called Barolo Terroir Grapes Crus People Places (https://www.amazon.com/dp/B0BJGWYGBV), the Bussia vineyard district can be subdivided in at least ten if not twelve different subregions, of which Bussia Soprana is historically not just the most important (the other historic "Bussia" subregion is called Bussia Sottana) but also the best of the lot. And Bussia Soprana's most famous vineyards are, without any doubt whatsoever, the Colonnello, the Cicala and the Romirasco, all of which are located on the same hillside and belong mostly to the Aldo Conterno estate ("mostly", because other estates also own vines in and are making a Barolo Bussia Colonnello).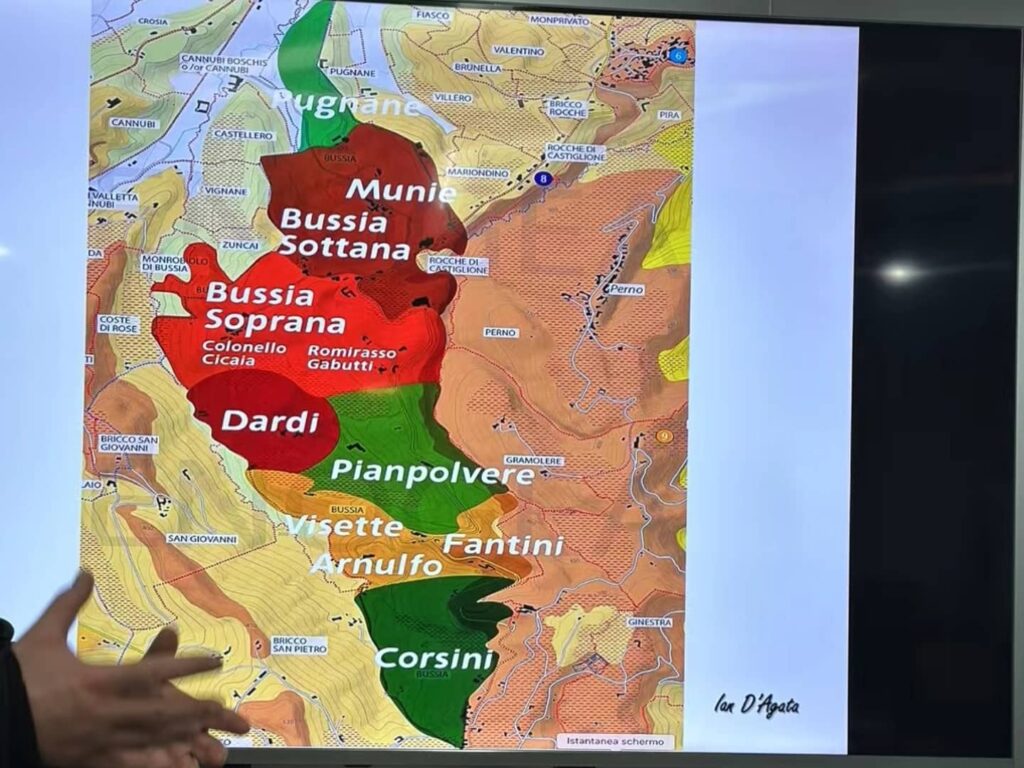 The Colonnello vineyard is planted to roughly fifty years old vines at about 350 meters above sea level and is characterized by a highly sandy soil: in fact, walking through the Colonnello will make you think of walking on a beach, for that's how sandy a site it is. The wines from the Colonnello are lighter in structure than those of the two other vineyards, but have a grace and refinement that is really remarkable. (Clearly, I use the term "lighter" relative to the wines made from the other two vineyards, because with the Colonnello it's still a Barolo we are talking about such that even the Colonnello Barolo is anything but a "light" wine.) By contrast, the Cicala vineyard, located at 350-375 meters above sea level and planted with fifty-five to sixty years old vines has a soil that is rich in clay and iron minerals, such that its Barolos are always massive, brooding wines that takes years to open up fully and to develop nuance. These are Barolos that besides all the usual Nebbiolo-related notes of red fruit, minerals, flowers and sweet spices, also boast nuances of leather, camphor and grilled meat. In short, they are completely opposite in structure and organoleptic profile from the more perfumed, airy Barolos of the Colonnello vineyard. Last but certainly not least, the Romirasco is a little less steep than the Cicala but is located higher up at 395 meters above sea level and is planted with the oldest vines on the property: its Nebbiolo is almost sixty-five to seventy years old. Romirasco's soil is clay-limestone and features notable amounts of manganese and magnesium, minerals that account for the characteristic spiciness of this Barolo compared to those from the other two vineyards and that renders the Romirasco immediately recognizable when tasting the Barolos of the three in blind fashion. I would also add that Romirasco's wine is recognizable because it is also, almost always, the best of the three: deeper (admittedly, this difference between the three wines is minimal), more complex, refined and nuanced (its these last three qualities that really help the Romirasco stand out from the other two). In fact, the Romirasco has always been considered to be the best of the three sites: a vineyard area so good that already in the nineteenth century its owner, the countess Faustina DeMagistris, had it mapped and drawn up in a lithograph, something that in Italian drinking circles was more or less unheard of at the time. Clearly, for such an action to be undertaken, it tells you just how important the Romirasco vineyard was felt to to be already back then.
Therefore, it cannot surprise that Granbussia, the winery's most famous wine is a blend of mostly Romirasco: the breakdown of grapes used to make Granbussia has always been roughly 75% Romirasco, 15% Colonnello and 15% Cicala. Only in the 1982 and 2001 vintages was there a little more Colonnello in the blend: which, by the way, is to my way of thinking truly noteworthy, given that those two (especially the 1982) are amongst the greatest Granbussia wines ever made. I only mention this because I find that the Colonnello, which gives lighter-styled, perfumed wines that pack less oomph is often underrated in tastings, while in fact it gives some of Conterno's most magical wines (look for the 1982 Barolo Colonnello and get ready to be convinced). The Grabussia is a Barolo Riserva, though for some reason that escapes me now the 2005, a superlative wine, does not bear the world "Riserva" on the label. Granbussia is aged for thirty months in large oak casks and then spends another five to six years in bottle prior to release (depending on the vintage). It is not made every year, but only in the best vintages. Make no mistake about it: Granbussia from vintages like 1978, 1982, 1989, 1990, 2005 and 2006 are amongst some of the greatest wines Italy has ever made. And in a showing of just how great this wine can be, the 2012 Granbussia is one of the top five Barolos of that difficult vintage.
All the wines in this tasting report were tasted in Shanghai in December 2022.
The wines in this tasting report
Aldo Conterno 2012 Barolo Bussia Riserva Granbussia                 97+
Bright, dark, saturated red. Knockout, downright sexy nose combines red cherry, raspberry nectar, rose petals, sandalwood, minerals, cinnamon and nutmeg. Then like liquid silk in the mouth, even though the underlying tannic spine is noteworthy and helps frame the red berry, sweet spice and floral flavours beautifully. This magical wine conveys great thickness of texture yet seems absolutely weightless, a neat trick, really. Noble, utterly vibrant Barolo with a finish that rises for three minutes or more. The Aldo Conterno 2012 Barolo Bussia Riserva Granbussia speaks of the hot 2012 vintage, such that its tannins will likely never lose their forceful impact, but boasts near-perfect balance such that it comes across as a sappy essence of Barolo that avoids the pruney and overripe aromas and flavours of many other 2012 Barolos: a very difficult hot year, to achieve something of this ilk is a real testament to the talent level of Franco, Giacomo and Stefano Conterno. And the scary thing is that this wine will no doubt improve further with proper cellaring, hence the plus sign on my score. Very, very well done here. Drinking window: 2027-2042.
Aldo Conterno 2010 Barolo Bussia Riserva Granbussia                  97
Good full deep red. Very deep and rich but also fresh aromas and flavours of small red berries, ripe black plums, dried flowers, and wild herbs. Rich and voluminous but sappy and not at all heavy in the mouth, this really saturates the taste buds with flavour and builds and echoes on the extremely long, fleshy, very ripe and polished back end. No doubt, this wine is a beauty in the mould of the (somewhat overrated) 2010 vintage; therefore, a beauty that will appeal more to all those who like their Barolos big, mouthcoating and voluminous, but those who favour elegance and nuance may not come away quite as impressed: think Chambertin or Pommard, not Musigny or Volnay. Not that there's anything wrong with that, of course. Drinking window: 2027-2042.
Aldo Conterno 2009 Barolo Bussia Riserva Granbussia                  93
Bright, garnet-tinged red. Herbal and sweetly spicy aromas of strawberry, potpourri, leather, sandalwood, anise, truffle and sassafras. Creamy, rich and broad, bordering on the opulent but without any undue heaviness, showing a very ripe flavor of crême de framboise along with sexy brown spices (nutmeg, cloves, cumin), tar and savory herb notes. This broad, sweet, pliant wine conveys a 2009-typical impression of surmaturité and expands impressively on the ripely tannic very long and broad savory finish. Not the longest-lived Granbussia you'll ever taste, my suggestion is to drink this up over the next few years for maximum enjoyment as there is little to gain by holding on to it any further. Drinking window: 2022-2026.
Aldo Conterno 2008 Barolo Bussia Riserva Granbussia                  95
Medium red. Stunning nose offers red and black cherry, blueberry, licorice, cocoa and iodine, along with suggestions of violet and rose. Then tactile, lifted and deep, with a slightly medicinal cast to the concentrated flavours of blackberry, raspberry, licorice and cola complicated by balsamic and mineral elements. Wonderfully dense Granbussia with serious but sweet tannins building on the long back end which features outstanding mineral persistence. The 2008 Granbussia is was made by co-fermenting the grapes from the three vineyards together, macerated for about one month in oak vat and then aged in a 25 hectoliter oak cask for roughly thirty-three months, plus another five in bottle. There's a riper element to this than I might have imagined, given the cool climate conditions of 2008, one of the last "classic Barolo weather" vintages of the last two decades. But to be clear, I am a huge fan of the 2008 Barolos, a very underrated vintage (compared to the overrated 2010, for example) and Aldo Conterno's Granbussia is one of the better wines of the vintage. Not extraneous to that reality is that in 2008 the Conterno family drastically reduced production of Granbussia (by about two thirds) and greatly increased skin contact (to about 40-45 days, the longest ever up to that point in time). Drinking window: 2022-2040.
Aldo Conterno 2006 Barolo Bussia Riserva Granbussia                  99+
Ok, now this is a knockout, and it's still nowhere near being ready to drink. Full, saturated medium red. Superb nuance and lift to the very deep, still brooding aromas of red cherry reduction, kirsch, violet, licorice pastille, aromatic wood, black truffle, tar, and crushed stone. Wonderfully alive in the mouth, with outstanding energy and tension to its dark fruit, floral and mineral flavours nicely supported by a truly massive but polished tannic frame. More than any other Granbussia in this tasting, the 2006 conveys a powerful impression of dry extract, but also an uncanny and downright exhilarating balance of sweetness and acidity. The building, vibrant aftertaste lasts and lasts and coats the mouth in a Barolo-grip that just won't let go: you taste the wine over and over again, and you still can't get through to its core of currently still impenetrable rich fruit and tannic mass (not by chance, this spent forty-four months in oak). A great vintage for Granbussia, it's so clear this will improve further that I am leaving myself some leeway with the score, but make no mistake about it, this is essentially a 100 point wine. Drinking window: 2028-2055.
Aldo Conterno 2005 Barolo Bussia Granbussia                         98
Bright full, vivid red. A real wake-up call on the nose, offering multidimensional, extremely perfumed and penetrating red cherry fruit and jam aromas complicated by coconut, Bourbon vanilla, white truffle, menthol, cinnamon, orange peel, and very intense notes of rose petal and violet; this is about as hard-core bombshell Barolo as they come. Then generous and dense but weightless on the palate, and much less austere and brooding than the 2006 Granbussia, showing captivating, exotic, sexy flavours of red cherry, porcini, aromatic woods and minerals boasting truly memorable inner-mouth perfume and conveying a long-lasting impression of sappiness and creaminess. Finishes with explosive palate-staining energy and enticing perfume, with harmonious acidity tying it all together. Like drinking one of the best Richebourgs you can think of, this is a great vintage for Granbussia, ready to drink now but that will last another 10 to 15 years in a good cellar.  In one of my many visits to the estate over the last twenty years, Giacomo Conterno told me the 2005 is the first Granbussia of the "new course" with very serious green harvesting in the vineyard and much longer skin contact in the cellar; the 2005 was aged forty-eight months in two 25 hectoliter oak barrels. For some reason I have forgotten about and need to ask the Conterno's again, the label of the 2005 Granbussia does not carry the world "Riserva" on it. Drinking window: 2022-2037.
Aldo Conterno 2001 Barolo Bussia Riserva Granbussia                  96
Bright red with a pale garnet rim. Urgent, precise aromas of strawberry, crushed red cherry, white pepper dried rose, and clove are complicated by autumnal elements of forest floor and truffle. Suave and pure on the palate, with floral and spicy elements dominating the red cherry fruit flavours. Utterly explosive on the seamless, lingering finish, which features superb tension and seamless tannins. Though this will last in a good cellar for another fifteen years or so, it's good to go now and I'm not sure holding on to it is worth the risk; furthermore, I have had some bottle variation with this wine, with not every 2001 Granbussia as memorable as I would have expected it to be; but clearly, when it's good, it's unforgettable and just a great bottle of Barolo. The 2001 is also the last of a long run of Granbussia wines (none was made in '02, '03 and '04). Drinking window: 2022-2035.
Aldo Conterno 2000 Barolo Bussia Riserva Granbussia                  95
Bright, deep red with an orange rim. Initially reticent but opens up with prolonged aeration to showcase pure aromas of raspberry, mint, mocha, minerals, violet, orange peel and smoky tobacco. The palate conveys huge density and massive tannic structure but no heaviness or grittiness, not to mention superlative inner-mouth tension to the lightly saline flavours of strawberry, raspberry, coconut and sweet spices. Boasts a whiplash-like fruity, spicy finish that perfumes the mouth without leaving any impression of weight and that is both juicy and vibrant. Great wine, but you must make sure to decant at least two hours ahead, even at this ripe old age, to allow it show you all it has to offer, which is plenty. What I especially like about the 2000 Granbussia is its freshness, not a given in as hot a year as 2000 when many comically overrated Barolos were marked by gritty tannins and overripe aromas and flavours. Drinking window: 2022-2032.
Aldo Conterno 1999 Barolo Bussia Riserva Granbussia                  96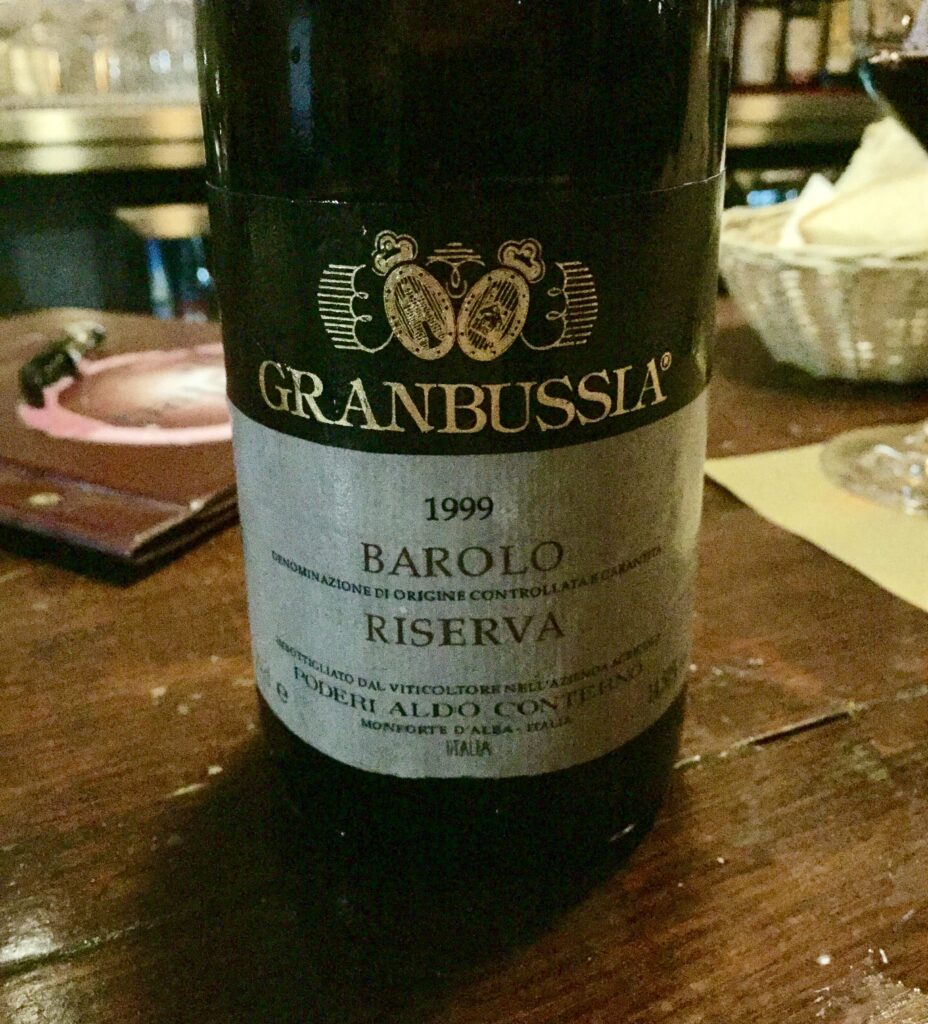 Medium red with bright garnet at the rim. Wonderfully subtle, still fresh nose combines red cherry, raspberry, licorice, camphor, peach and sweet spices, complemented by orange peel and candied violet.  Silky, soft and seamless, with subtle energy to its minty red cherry and red berry flavours. Much more forward and less uncompromising than the 2000 Granbussia (that still needs a lot of aeration, while the 1999 does not, with its noble tannins in perfect harmony with the wine's fruit on the long resounding effusively soft and fruity finish. Drinking window: 2022-2032.
Aldo Conterno 1996 Barolo Bussia Riserva Granbussia                  98
Pretty medium red color with garnet at the edges. High-pitched aromas in a very 1996 Barolo sort of way of sour red cherry, flowers, spicecake, redcurrant jelly and marzipan. Then powerful and vibrant in the mouth (again in a very 1996 Barolo sort of way), offering exceptional energy and focus to its raspberry, cinnamon, orange peel and flinty mineral flavors. Gripping, sharply delineated Granbussia with a very perfumed, brisk, palate-staining finish. Knockout Granbussia that is still very vibrant and youthful. Drinking window: 2022-2032.
Aldo Conterno 1990 Barolo Bussia Riserva Granbussia                  99
Lively garnet-red colour. Inviting aromas of raspberry, red cherry syrup, dried rose, cedar, tangerine peel, cloves, nutmeg and white pepper.  Deep, dry and intense on the palate, with compelling inner-mouth perfume to the mostly raspberry, underbrush and orange peel flavours. Boasts truly noteworthy sugar/acid balance and savory lift and a very long, nuanced finish brimming with verve and energy. The tannins are just as utterly suave today as they were when I first tasted this wine back in the 1990s. My hat's off to this remarkable wine. Drinking window: 2022-2030.