You will find the prestigious house of Philipponnat in the town of Mareuil-sur-Aÿ in the Vallée de la Marne. No spring chicken of an estate, it traces its roots as far back as 1522: documents show that already that year, a family ancestor, Apvril le Philipponnat, owned vines between Aÿ and Dizy in an area called Le Léon. But it was in 1935 that Pierre Philipponnat, the founder of the modern-day Champagne house, started buying vines within the Clos de Goisses. He then went on to launch the region's first Clos Champagne, maybe producing it for the first time in 1947. The winery makes about 60,000 cases of wine a year, divided amongst as many as thirteen different cuvées.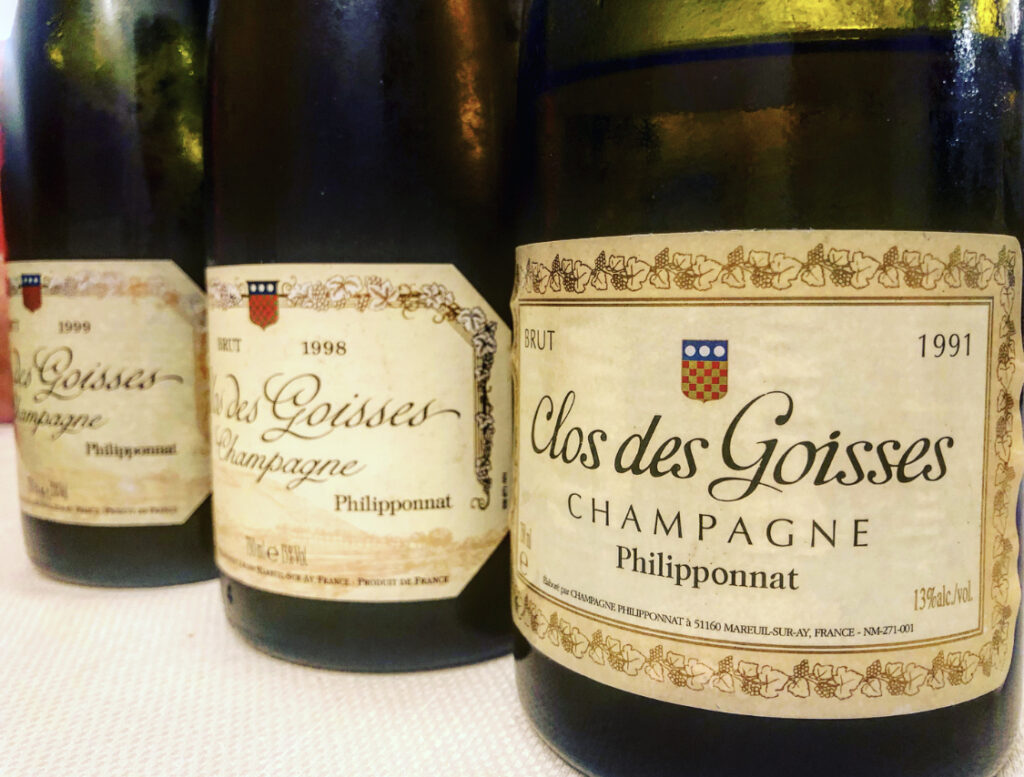 The estate is now part of the Lanson-BCC portfolio of eight Champagne houses, but since 1999 it has been managed once again by a member of the Philipponnat family: Charles Philipponnat, an extremely likeable and talented man, who is not just Philipponnat's manager but also the chief winemaker. With his arrival, the venerable Champagne house has seen numerous innovations take place, all of which have further cemented the name of Philipponnat and especially that of the Champagne Clos de Goisses amongst not just the best names of Champagne, but of the entire world of wine.
Philipponnat and the Clos de Goisses vineyard
Philipponnat owns about eighteen hectares of vines and farms another two under a sharecropping agreement, all of which are located in Mareuil-sur-Aÿ, Aÿ, Avenay Val d'Or and Mutigny. The majority of the domaine's vineyards are located in the territory of the first of those towns, and that is where you find the magnificent Clos de Goisses, the oldest clos vineyard in Champagne.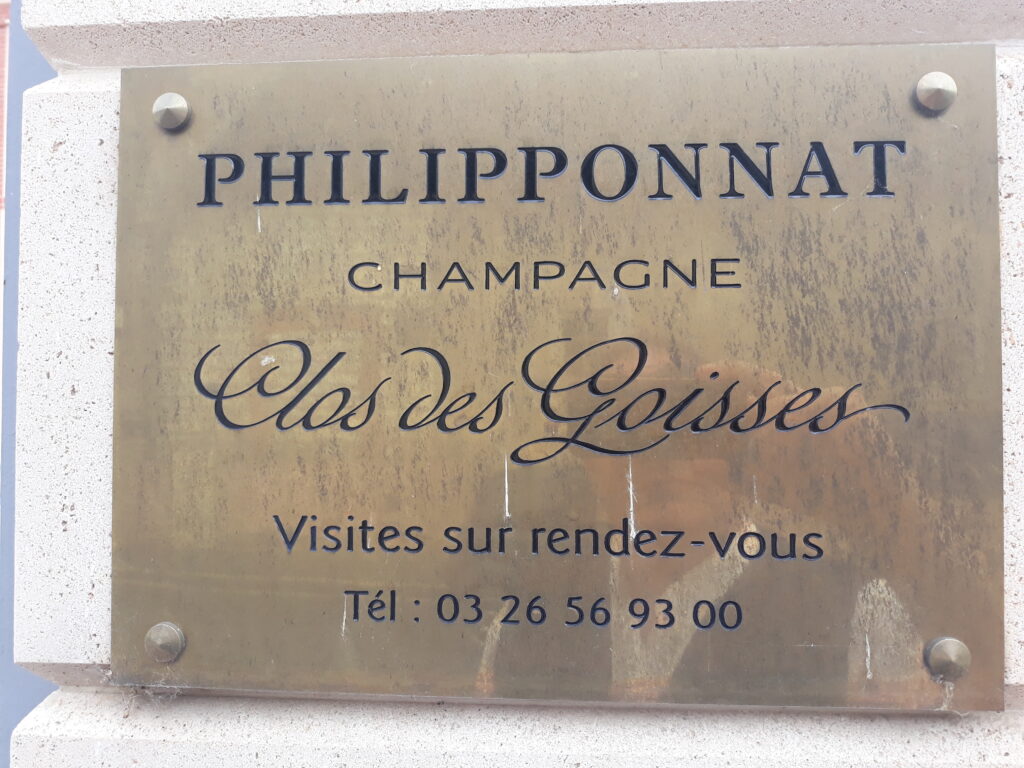 The Clos des Goisses is a walled vineyard uniquely situated on an exceptionally steep slope overlooking a canal that flows lazily below. And the vineyard really is steep (as the photos included with this article attest clearly), in fact the steepest of the Champagne region: a full thirty to forty-five degrees incline (in truth, sections of the Clos will have you thinking like they are even steeper than that, especially when you are left huffing and puffing trying to get up to the top of the vineyard area). Not by chance then is there the reference to goisses in the vineyard's name: in old Champenois dialect, the word gois (or goisse, which is the feminine singular of gois) means something that is "inclined, slanted", but in local Champenois parlance the term is used to refer to a "very steep slope". That gradient, plus the fact that the vines are exposed full south, means that the Clos de Goisses vineyard is one of the warmest in all Champagne; in fact, during my last visit there, Charles told me it was the warmest one of all, period. To help put that statement in perspective, let's put some numbers behind it: you need to know that, on average, temperature values in the Clos des Goisses are 1.5-2 degrees Celsius higher than the regional average. Which means that the grapes picked in the Clos are always much riper and loaded with sugar (and therefore, with as much as two percentage points more in potential alcohol by volume) than those sourced from anywhere else. (It follows that chaptalization, very much a way of life in most of Champagne, isn't really necessary with the grapes of the Clos des Goisses.) The Clos des Goisses has a very characteristic soil and subsoil, and in fact the vineyard has always been known for its outstanding, pure Belemnite chalk bedrock high in active lime (30%) that lies immediately close to the thin layer of poor surface topsoil (essentially a rendzina or rendsina, a chalk debris that is powdery-like and mixed with the sparse organic matter present). It is a very thin layer (fifteen to twenty-five centimeters deep at most, depending on where you take the measurement) because of the slope's steepness and the ensuing, unavoidable, erosion that has taken place, and takes place, over the centuries. This geologic reality is important, for the soil/subsoil complex of the Clos des Goisses helps accumulate daytime heat so as to further push grape ripeness along while also endowing the wine with all-important, noteworthy, levels of citrussy acid freshness. And so, at least for the time being, climate change is not a worry here, despite the site being a warm one (that's "warm" in the context of Champagne, that is).
The Clos des Goisses is usually stated to be 5.5 hectares large (at least that's what you will read on most websites and magazine articles), but in fact it is actually slightly larger than that, increasing in size in 2019 when the Champagne house exchanged parcels with two other growers, such that the Clos de Goisses extends now over 5.83 hectares instead of the previous 5.4 hectares. Charles readily admits that these new vineyard additions are not situated in the best section of the Clos (from a topographical perspective, the vines are planted on the less interesting, slightly flatter section at the top of the Clos), but their addition is extremely important and historically significant, for they help complete the Clos de Goisses property, bringing it back to what it used to be in its heyday. Frankly, I too was excited in hearing that these vines had come under the Clos des Goisses fold, because now, ninety years or so later, the Clos the Goisses really is a monopole.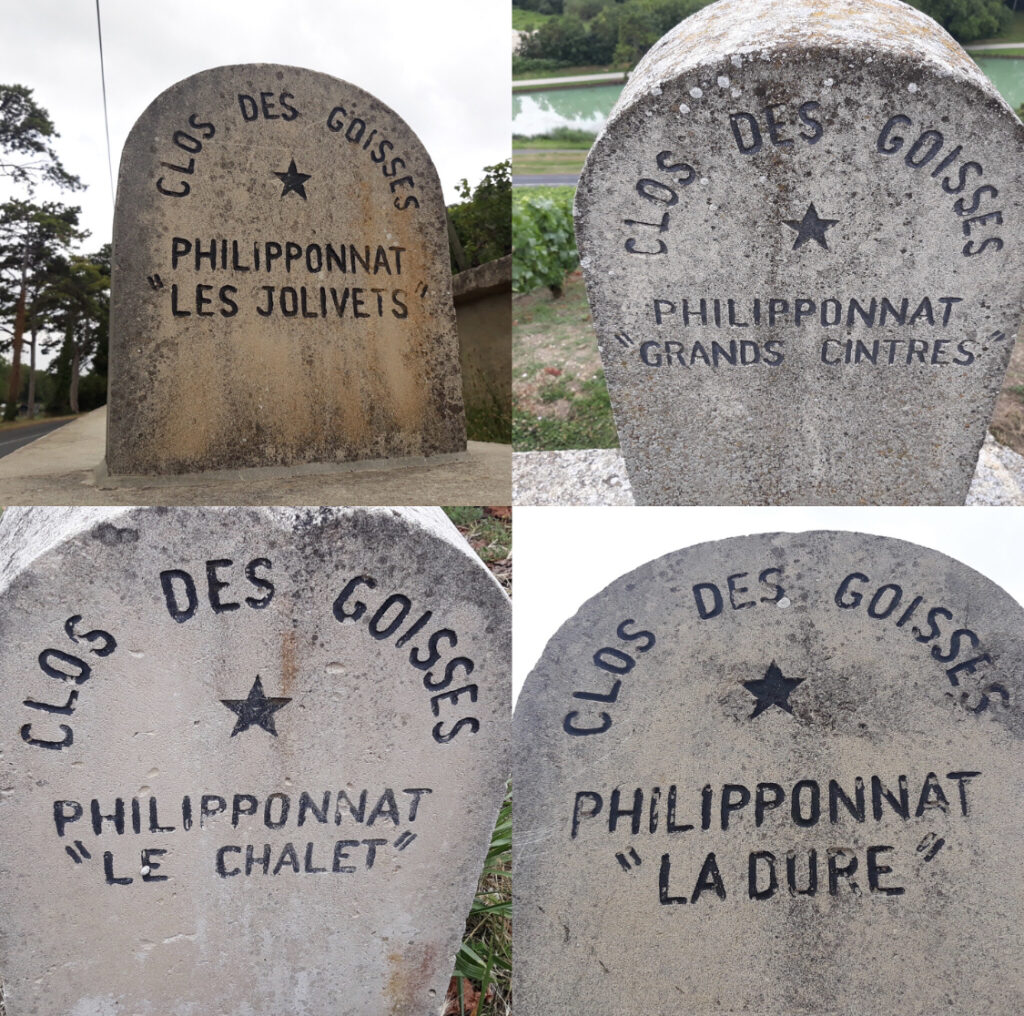 The Clos de Goisses vineyard as we know it today took form over the course of many years. Thanks to sixteenth century local maps and engravings, we know that this slope had always been planted with vines: in fact, it is located in the historic heart of Champagne (designated a UNESCO world heritage site) that spreads out over the south-facing slopes from Cumières to Bisseuil. And it was long associated with a very famous, much sought after wine. However, the land under vine in the clos was once much smaller than it is today: by the beginning of the twentieth century, much of the site had been abandoned as a result of the combination of its extremely steep gradient (making it very hard to work) and of the devastation caused by phylloxera.
In 1935, Pierre Philipponnat (the great uncle of Charles Philipponnat) bought the first 2.4 hectares of vines in the Clos, and then continued to buy more. Pierre Philipponnat knew the vineyard well because it was owned at the time by the Bouché family (he and they were cousins: members of the Bouché family still exist and are in fact shareholders of Billecart-Salmon) who made a Champagne Bouché. Unfortunately, the ravages of phylloxera and the World Wars meant for some very difficult economic times and the Bouché house (what was their Societé Génerale du Champagne) went out of business. In any case, they were the first to make a wine called "Les Goisses" or "Vin des Goisses" (perhaps even "La Goisse") from this now hallowed vineyard, most likely from the 1880s until the 1930s, and then followed by the Philipponnat family in 1935 when the latter family bought the property. However, it was only by the end of the 1950s that this specific Champagne became known as Clos de Goisses. And though it the Champagne Clos des Goisses was the first in the Champagne region to be a clos Champagne and the representation of a specific terroir, vinified and blended separately, the family is not sure which is the first vintage of Clos des Goisses: hypothesis run from the 1956 to the 1959 vintage, but documented evidence of which it might be is lacking. For sure, the name of "Clos des Goisses" only came into being at that time. This was thanks to the inventiveness of a French wine writer who had visited the winery in 1956 and wrote an article in which he first mentioned the word "Clos" (after seeing the iron grid fence surrounding houses and vines). This led to the name on the wine label being changed from Les Goisses to Clos de Goisses. The original owners, the Bouché family had walls surrounding the vineyards  built already back in the 1860s, the so-called cintres. The word cintre means "arch" and refers to the arched brick walls that surround the vineyard, effectively making it a true clos. In fact, the vineyard was not entirely surrounded by walls at the time of the Bouché family: it was  Pierre Philipponnat who built the drystone wall running parallel to the canal at the bottom of the slope, and he also built the top wall, and in so doing finally closed the vineyard off. Not to be too granular about this, but one could argue that the Clos des Goisses is not a true clos, or at least not in the full sense of that word (a true clos is a flatland vineyard enclosed by walls so as to create an artificial micro- and meso-climate so as to allow grapes to ripen in an area where it might otherwise not be possible for them to do so). The wall at the bottom I mentioned earlier is therefore not a wall in the sense of "walling something in" but is rather a retaining wall (and an absolutely necessary one, or the soil and rocks from above would just spread out down all over the road below the steep slope).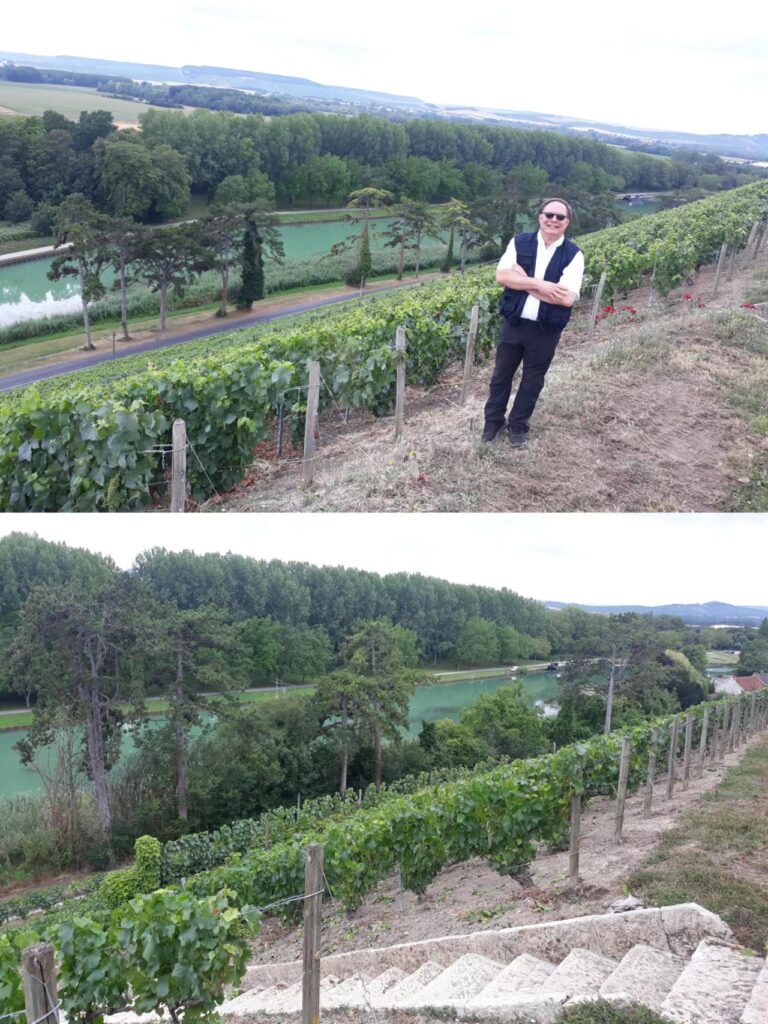 "Les Cintres" is also the name of a recently created, outstanding, Extra Brut Champagne made by Philipponnat with grapes sourced from two specific plots within the Clos des Goisses vineyard. In fact, the vineyard area of the Clos des Goisses is subdivided into fourteen different plots, each one clearly indicated on stone markers bearing the name of each specific vineyard plot area and placed at the entry points of each plot (see photos). Depending on the vintage, the grapes of a greater or lower number of plots are chosen to make that vintage year's Champagne Clos des Goisses: for example, in the less than successful 2011 Champagne Clos des Goisses (the only Clos des Goisses Champagne I have never much liked) the grapes from only four of the plots were used; in 2010, it was five of the plots that found their way into the Clos des Goisses blend. With their Champagne Extra Brut Les Cintres, Philipponnat made the decision to produce a Blanc de Noirs bubbly that is essentially a parcellar cuvée from Mareuil sur Aÿ vines and of the Clos des Goisses specifically. The two plots, called Les Grands Cintres and the Les Petits Cintres, are the most central and steepest of the fourteen plots that make up the Clos des Goisses, and this has a direct bearing on what the Les Cintres sparkling wine will taste like. This is because the topography of the Clos des Goisses vineyard follows a slight curve: its middle part is where the topsoil is thinnest but also where the solar radiation from the sun hits the soil at its most perpendicular angle, leading to an exceptionally powerful, deep expression of the Clos des Goisses (as transalted by a specific section of it, that of the two Les Cintres plots). The excellence of Les Cintres is no doubt helped by the fact that it is also where the Clos' oldest vines are found today, replanted by Pierre Philipponnat in1964.
The Champagne Clos de Goisses
Since his installment as manager, Charles Philipponnat has progressively increased the percentage of Pinot Noir in the Clos de Goisses Champagne's blend, bringing this variety back to the prominence it had always had in previous decades. In fact, in the years when the chef de caves/winemaker at Philipponnat was Louis Boland (from 1913 to 1962), a pharmacist and biologist by training who was one of the first consultant winemakers in the region (and the inventor of a bentonite-alginate riddling agent called colle Bolland) the Champagne Clos de Goisses had become very famous for being dominated by Pinot Noir. Charles Philipponnat wanted to bring that reality back. That the Clos was always famous for the quality of its Pinot Noir cannot surprise, given that the Clos de Goisses being such a warm site; there Pinot Noir always ripened better than it did elsewhere in what was then a generally frigid Champagne region (and even more so in the days before the onset of climate change). Nowadays, given the reality of today's weather and average temperatures, Charles ensures that freshness is never lacking in any vintage of Champagne Clos de Goisses by blending in more or less small amounts (depending on the vintage) of first press Chardonnay wine that he believes is especially interesting in the Clos. (In fact, the blend of Clos des Goisses can change considerably from vintage to vintage, as this tasting report will show, though for the most part it is always a Pinot Noir-dominated Champagne.)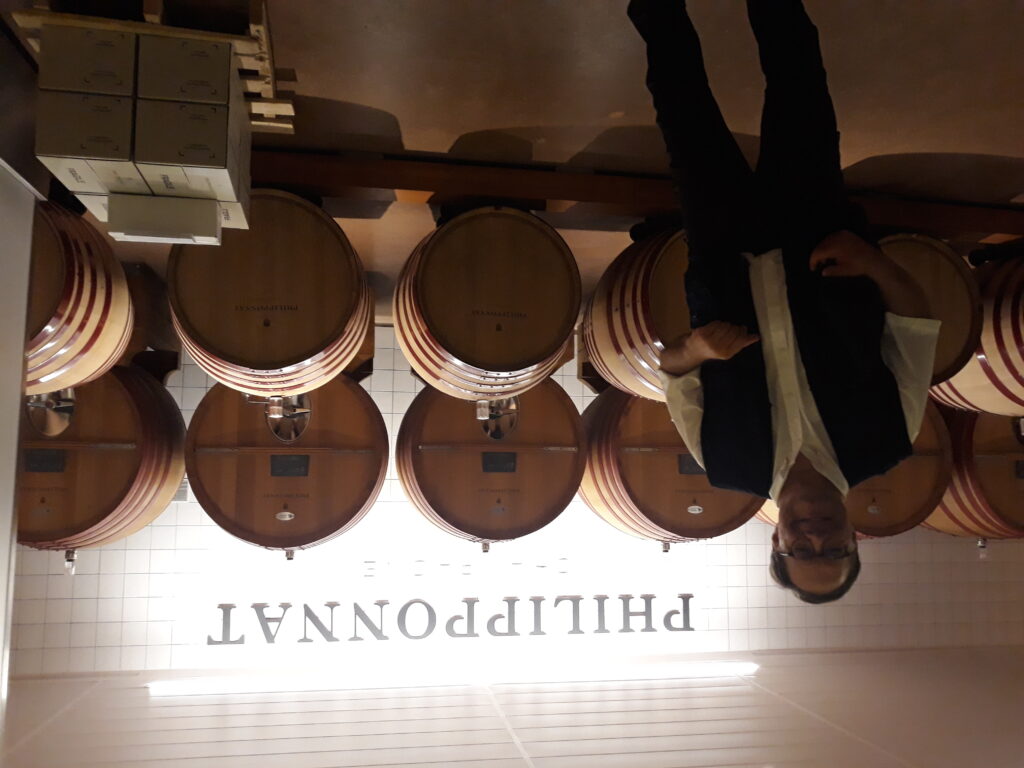 In fact, even though Philipponnat has always been viewed as a Pinot Noir specialist, they never produced a pure Pinot Noir cuvée. Traditionally, such cuvées were never made in the region: as the Champagne region is an extremely cold one (the coldest of all of the world's most important wine production zones), Pinot Noir never reached full physiologic ripeness there (at least, it didn't before the advent of climate change). In this light, a well-known but not much-talked about and telling fact of the region is that Pinot Noir in Champagne needed to be destemmed at all times (or close to it) because stems in Champagne are rarely if ever fully ripe. Furthermore, Champagne wines top-heavy in Pinot Noir always had the tendency to be heavy and to oxidise precociously: this is why it was common for just about everyone, Philipponnat included, to add a little Chardonnay to keep things fresher. For the same reason, Charles Philipponnat wanted to re-introduce oak in the winemaking process because the oak's tannins act as antioxidants (hence an increase of vinifications in oak barrels). Thus, Charles brought back barriques in which to partially ferment the Clos de Goisses wine. Traditionally, the Clos de Goisses wine was fermented in stainless steel tanks or old large foudres, but since 2000, small oak barrels (barriques) have been introduced, such that today about 40-50% of Clos de Goisses Champagne is barrel-fermented in these small 228 liters oak barrels.
At Philipponnat, they wish to make powerful wines that remain fresh and have no oxidative notes. Their Pinot Noir wines are generally more lifted than the famous, usually fuller-bodied Champagnes made with Pinot Noir from Ambonnay and Bouzy (generalizing greatly, areas characterized by soils that are more clay-rich and with loam lower down, but without much chalk). However, that richer, fuller-bodied Pinot Noir-based Champagne is not the Philipponnat house style of Pinot Noir-based Champagne, which is lighter in style and texture (thanks to a higher percentage of chalk-based soils). Today the Clos de Goisses is mostly planted to Pinot Noir with a little Chardonnay; there is no more Pinot Meunier present, for Charles had it removed when he came on board. Since 1993, the Clos de Goisses Champagnes have been made in coordination with Thierry Garnier, who moved over to Philipponnat from Champagne Canard-Duchene where he worked previously. Clos des Goisses Champagne does not undergo malolactic transformation, and generally remains about eight years on the lees. Avoiding malolactic allows the wine's natural acidity to ensure freshness, one of the keys to the deserved success of what is not just an extremely powerful wine Champagne, but wine. Furthermore, Clos des Goisses is now bottled as an Extra Brut, with very little dosage to speak of (roughly 4 g/L of residual sugar): this is another factor that helps maintain and extend this magnificent Champagne's rather unique combination of freshness, power and intensity. (By contrast, wines from the 1990s were labeled as Brut.) Recently, Philipponnat has begun releasing Long Viellissement ("long aged") vintages of Clos des Goisses, Champagnes that have been aged for 25 years in the cold cellars of the house and disgorged six months before going on sale: these wines are very much similar in thought process to the   Bollinger's RD [récemment dégorgé (or recently disgorged) and Jacquesson's DT (dégorgement tardive)].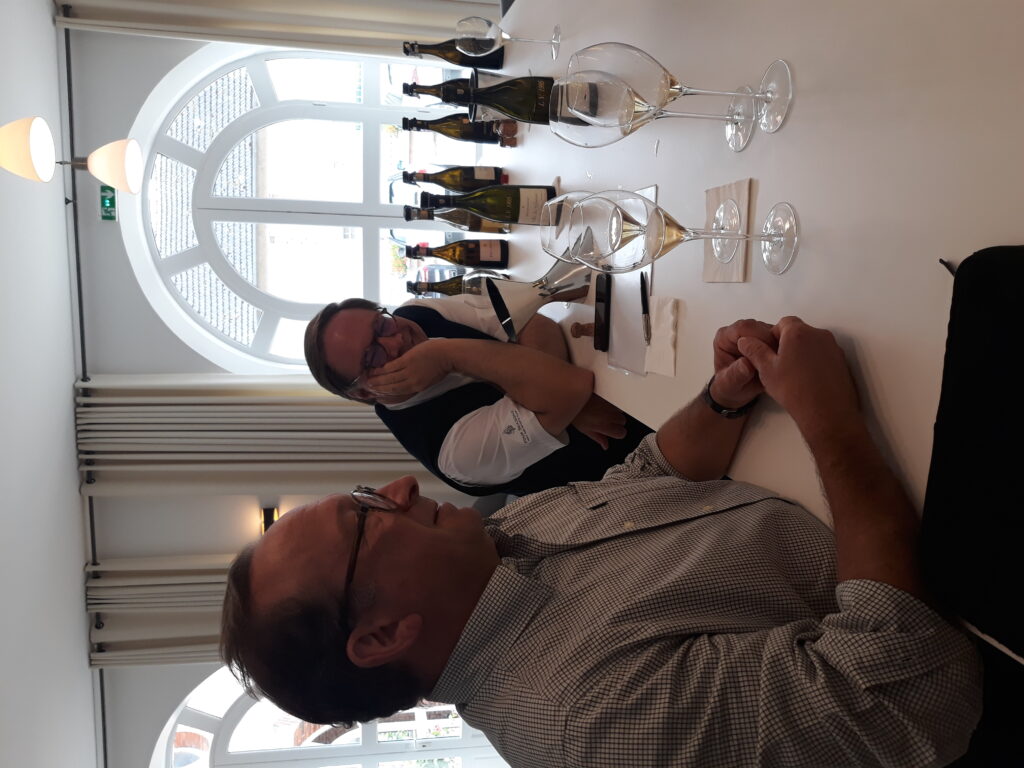 Last but not least, in 2021, Clos des Goisses became the first Champagne prestige cuvée to be sold through La Place de Bordeaux, an historic network that sells most of Bordeaux's most famous wines and other important wines from all over the world to international markets everywhere. The house chose to sell two vintages, the 2012 and the late-released (Long Vieillissement) 1996. (The winery chose four négociants to whom they gave small allocations of the new releases -the allocations were small so as to not harm long-standing relationship with existing distributors.)
In ultimate analysis, when all is said and done, what it really all boils down to is that a venerable Champagne house is currently making some of its best wines ever. And a great part of the merit must be ascribed to Charles Philipponnat. Charles' father was chef de cave of Dom Perignon for thirty years, so Charles, despite studying political sciences, had a solid home grounding in wine. He then worked for a while in Moet & Chandon's export department, but moved later to the research area with Philippe Coulon, while also working for about two years with head winemaker Richard Geoffroy (Charles shared an office with him; and so, by his own admission, he listened and learned a lot). Charles remembers that Coulon used to say that wine is nothing more than fermented grape juice, and so the best thing was always to try and keep things simple. Given the utter magnificence of vintage after vintage of the Champagne Clos de Goisses under his stewardship, I'd say that piece of advice was certainly worth listening to.
The wines in this report
The wines in this report were tasted in Shanghai in December 2021 and September 2022 thanks to the winery and various collectors. A number of the wines in this report were sourced from my own wine cellar.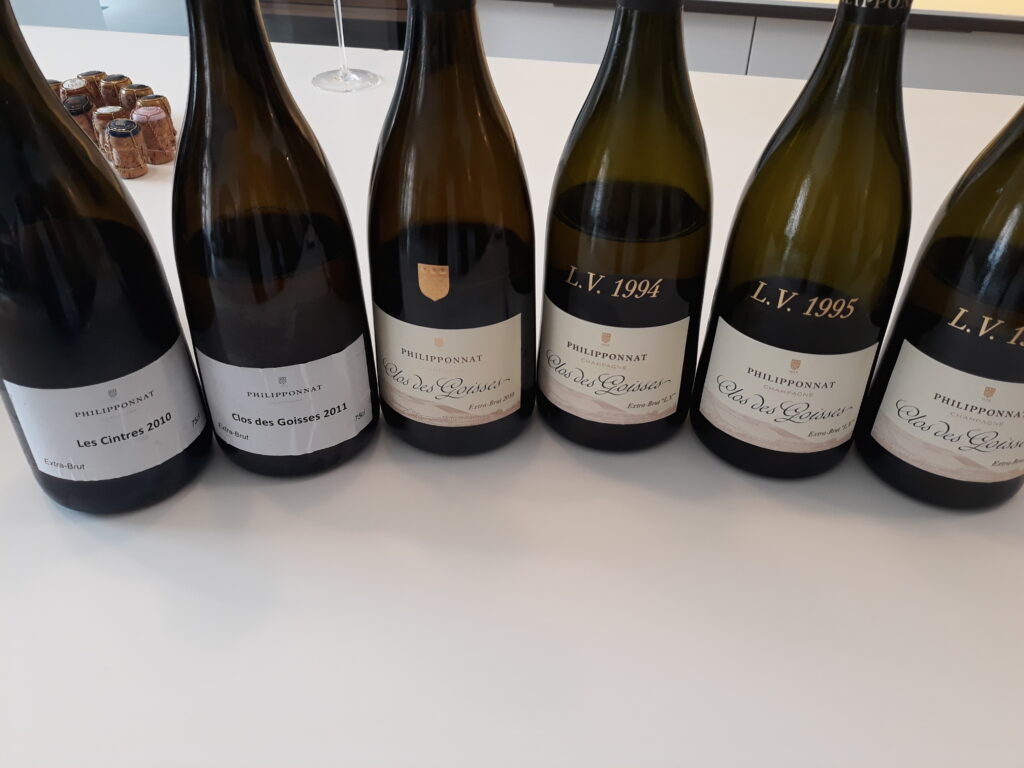 Philipponnat 2013 Champagne Extra Brut Clos de Goisses            96
Pale straw-green with golden tinges. Aromas of nectarine, lemon verbena, and custard cream are complicated by hints of blackberry, redcurrant, elderflower. Very light and lively on the palate, with perfectly delineated flavours similar to the aromas thanks to noteworthy, harmonious freshness typical of the year. Closes long and vibrant with lovely juiciness and compelling easygoing ripeness of fruit. A low to moderate yield year, the 2013 vintage will be remembered for its generally cool and rainy weather harkening back to a time before the advent of climate change: the 2013 Champagnes can be lovely, characterized by brightness and freshness, as is precisely the case with the superb 2013 Clos des Goisses. An 85% Pinot Noir and 15% Chardonnay blend that spent eight years on the lees and is bottled as an Extra Brut, with 4.25 g/L dosage (residual sugar), this is an absolute knockout Champagne that conquers every taster rather atypically not because of its power but because of its refinement and lightness of being. Whatever you do, make sure you don't miss it. Drinking window: 2025-2036.
Philipponnat 2012 Champagne Extra Brut Clos de Goisses            97
Pale straw with golden highlights and a pinpoint mousse. Raspberry, menthol hazelnut praline, and Angel food layer cake on the nose and in the mouth, lifted by hints of pomelo and jasmine. Very intense and perfumed, almost aromatic in some respects, this layered, deep Champagne is very Clos des Goisses in that it stays light on its feet while featuring sneaky amounts of power and concentration. The aftertaste is long and lively, with floral reminders. A very fresh vintage of small yields (cold and wet weather during flowering hampered yields), but also one of many really excellent Champagnes, the Philipponnat 2012 Champagne Extra Brut Clos de Goisses is a very different wine from the 2013 Clos des Goisses. First of all, the blend is noticeably different, as the 2012 is a blend of 61% Pinot Noir and 39% Chardonnay (hence much more marked by its Chardonnay presence), but also saw a much greater percentage of its vinification in oak (62% compared to the 47% of the 2013 Clos des Goisses). Where the 2013 and 2012 Clos des Goisses are similar is in the amount of time they spent on the lees (the usual eight years) and in their being Extra Bruts (the dosage is always about 4.25 g/L of residual sugar). Drinking window: 2025-2038.
Philipponnat 2011 Champagne Extra Brut Clos de Goisses            88
Medium-pale straw yellow with a springy bead of slightly larger than usual bubbles. Licorice, black tea, linden honey, wild mint and fennel dominate on the nose, with notes of green bell pepper and aromatic herbs emerging with air. Then much better in the mouth, with fleshy but elegant eau-de-vie notes and repeating pungent herbal and floral nuances that dominate on the rather austere, astringent, mouthcoating menthol-accented finish, with hints of bell pepper in the background. It is a very long Champagne, so perhaps all it needs is time in a good cellar to round out, but the note of green bell pepper note is just too dominant for me and I doubt it will ever resolve fully. Though you can drink this now, perhaps some extended cellaring will help it lose those green and astringent notes, though I doubt it. Only 12,000 bottles made, the 2011 wine is an atypical Clos des Goisses for many reasons. It is the first ever made with 100% Pinot Noir (they had uprooted much of their Chardonnay from many plots just before this vintage), and it is also the Clos des Goisses Champagne that saw most of its vinification  (80%) take place in oak. It is also the product of the earliest harvest on record at Philipponnat, with the first grapes being picked already at the end of August. But for all its being a unique wine, this is the only vintage of Clos des Goisses I have never liked: and though I don't mean to sound too harsh, I have always found it to be, at least to my taste, too vegetal and green and marred further by gritty tannins. For sure, the 2011 was a difficult vintage characterized by early season heat, then alternating days of strong heat and cold, with rain, such that disease pressure was high in the vineyards. Drinking window: 2027-2033.
Philipponnat 2010 Champagne Extra Brut  Clos de Goisses          96
Bright pale gold-tinged yellow. Very broad fruity and floral aromas on the expressive nose. Then very light on its feet and extremely precise for such an ample wine, with just a hint of incipient creaminess on the palate, but also plenty of lift and cut thanks to lovely citrussy acidity nicely framing the rich, ripe glossy orchard fruit, lemon confit, menton sea salt, beeswax and honeyed flavours. Much richer and riper than any other Clos des Goisses in this tasting report, but still very long and focused finishing very long and suave with lovely gingery spice nuances. The 2010 Champagne Clos des Goisss is a 71% Pinot Noir and 29% Chardonnay blend partly vinified (53%) in wooden barrels that spent longer on the lees than the Clos des Goisses Champagnes of vintages that followed (ten months on the lees instead of the customary eight years of more recent vintages). Drinking window: 2022-2030.
Though the 2010 vintage was marred by mid-August rains, the Champagne houses that sorted grapes carefully and seriously, made some absolutely compelling, memorable Champagnes and this is precisely the case with Philipponnat: their 2010 Clos des Goisses is superb, and worth every penny, but as there were only about 5000 bottles made, you'll have to look hard and long to find it. Should you be so lucky, my advice is to buy a case and enjoy it over the next fifteen years and watch it evolve. It's a fabulous Champagne, that will age better than most people believe, though it will always remain a bigger-boned Clos des Goisses than usual.
Philipponnat 2010 Champagne Extra Brut Les Cintres                   97
Bright pale straw-green with golden highlights. Very perfumed aromas and flavours of passion fruit, lemongrass, guava, bergamot, custard cream and candied citrus peels are complicated by pear brandy and a tell-tale smokiness (the 2010 Les Cintres saw the use for the first time of special barrels used, made by Seguin Moreau and that most likely contributed to this nuance of smokiness). Large-scaled but focused, this is a surprisingly subtle wine for all its richness and roundness. Closes long and very balanced with building lemony cut and an almost explosive, thoroughly enchanting note of wild strawberries. This is totally different from the 2010 Clos de Goisses: importantly, only one third of Les Cintres's grapes were used to make this small-batch bubbly so as to not risk impoverishing the Clos des Goisses. First made in 2006, the 2010 Philipponnat Champagne Clos des Goisses Les Cintres is an absolutely superlative Champagne. It is a 100% Pinot Noir made with 100% first-press juice from grapes sourced in the most central plots of the Clos des Goisses known as "Les Grands Cintres" and "Les Petits Cintres". Completely vinified in oak barrels, it ages ten years on the lees. It is an exceptionally powerful but also lifted Champagne, that takes the Clos des Goisses experience to another level: more powerful than the regular Champagne Clos des Goisses, but probably less complex too, it boasts an utterly mesmerizing level of precision and levity that are enchanting. Though Blanc de Noirs Champagnes are much hyped and talked up, the fact remains that finding one as good as the 2010 Les Cintres is a tall order indeed. Drinking window: 2025-2040.
Philipponnat 2009 Champagne Extra Brut Clos de Goisses           94
Pale golden yellow with a medium-sized bead. White flowers, mint, and an animal-like note of white pepper are complicated by subtle hints of white chocolate, honey, chili pepper, and black and red cherry on both the nose and in the mouth. Closes with very good delineation and surprisingly tapered for a 2009 Champagne, this strikes me as good deal more austere than the majority of other prestige cuvées I have tasted from the same year. The 2009 Champagne Clos des Goisss is a 61% Pinot Noir and 39% Chardonnay blend partly vinified (37%) in wooden barrels that spent eight years on the lees (so more in line with the Clos des Goisses of the 2011, 2012 and 2013 vintages and differently from the 2008 and 2010 that spent instead almost ten years on the lees). Drinking window: 2024-2033.
The 2009 vintage is the product of a sunny, ripe year characterized by some stormy early growing season weather but that was then mostly sunny and warm the rest of the way (for example in the five to six-week period before the grape harvest) leading to the production of very generous, even ample Champagne wines, but the 2009 Clos des Goisses seems to be, at least at the present time, divergent from the mean.
Philipponnat 2008 Champagne Extra Brut Clos de Goisses            98
Pale yellow-gold colour. Knockout high-pitched nose combines white flowers, almond paste, puff pastry, crushed stone, citrus peel, gingery spices and a saline oyster shell nuance. Quite reserved today but impeccably pure, displaying outstanding breadth and richness without any impression of weight to its flavours of lemongrass, acacia honey and candied bergamot. Wonderfully vigorous, this really coats the mouth with a lemony yet tactile minerality and is just a smashingly great example of what the better Champagne houses could have achieved in a vintage like 2008. At 55% Chardonnay and 45% Pinot Noir, the blend of the 2008 Champagne Clos des Goisses is very atypical, but I have to say that the Chardonnay presence really adds a different, thrilling, dimension to this wine. Partly vinified (75%) in wooden barrels and, as was customary up to and including the 2010 vintage Clos des Goisses, spent longer on the lees than the Clos des Goisses Champagnes of vintages that followed (between nine to ten years on the lees instead of the customary eight years of later vintages, beginning with the 2011).
The 2008 vintage will be forever remembered as a difficult, wet and rainy one in Champagne, but the marvellously dry and hot September weather made up for all the preceding difficulties, leading to the production of many outstanding wines throughout Champagne. Drinking window: 2022-2050.
Philipponnat 2007 Champagne Extra Brut Clos de Goisses                   94
Bright pale golden-tinged yellow. Aromas and flavours of smoky vanilla, ginger, mint and pear complement hints of strawberry and confit lemon. Rich and ripe but also showcasing noteworthy finesse, this finishes long and clean with wonderful tactile presence. The 2007 Champagne Clos des Goisss is a 65% Pinot Noir and 35% Chardonnay blend partly vinified (73%) in wooden barrels that spent ten years on the lees (like the 2008 and 2010 Clos des Goisses).
The 2007 vintage, which was generally bright and warm, is considered to be an exceptional one in local Champagne drinking circles and the wines are expected to age well. I liked this one but found it to be less taut and delineated than some other wines in the lineup but make no mistake about it, it's just a superlative bubbly. Drinking window: 2022-2034.
Philipponnat 1996 Champagne Extra Brut Long Vieillissement Clos de Goisses                  98
Very yellow colour. Truffles, fleur de sel, chamomile, and quince complement mushrooms, licorice and damp earth on the nose and in the mouth. Finishes with eau de vie-like notes that are fairly typical of these older Clos des Goisses, this is a very long, very pretty wine that closes with a rising tactile nuance and building complexity, under the guise of confit fruit and pineapple fruit cocktail. Released after twenty-five years in the cold Philipponnat cellars and disgorged just six months prior to release for sale, Charles Philipponnat told me he considers this to be the first bottling of the Log Vieillissement Clos des Goisses of which he only made 900 bottles (he considers the 1994 and 1995 to be more like trials, and of which he only released about 300 bottles of each). This is a remarkable wine from what has ultimately proven to be a very overrated year that gave us Champagnes that have evolved much faster than originally anticipated (possibly also as a result of yields that were just too high). That much admitted, I repeat, this is a gem. Drinking window: 2022-2035.
Philipponnat 1999 Champagne Brut Clos de Goisses         100
Pale gold-yellow color. Knockout nose combines white peach, blackberry, minerals, lemon verbena, jasmine, and a light nuance of chalk and green figs. Lush, sweet and deep, but with superb mineral lift and freshness to the orchard fruit, mint and wet stone flavours, leaving behind a compellingly palate-saturating impression of steely precision and concentration. Finishes with an elegant austerity but sneaky amounts of poached pear, Mirabelle and meyer lemon nuances, not to mention truly amazing levels of clarity and cut. A blend of 70% Pinot Noir and 30% Chardonnay partially fermented in oak (about 30% of the total), I have been fortunate to have this magnificent Champagne numerous times throughout my life and I have never scored it less than 97. Interestingly, these last few bottles have been the best yet, further cementing my belief that the 1999 Clos des Goisses is a long-distance runner rather than a 100 meters sprinter, a truly monumental Champagne that has developed increasingly well with age and is for my money one of the best Champagnes Philipponnat has ever made. It is also very underrated. Readers should note that the Clos des Goisses was being bottled and labeled as a Brut in the 90s, while today it falls in the category of Extra Bruts. Drinking window: 2022-2045.
Philipponnat 1998 Champagne Brut Clos de Goisses         95
Medium straw yellow-gold. Classic Clos des Goisses aromas of lemon cream, spices (that's the Pinot Noir) and minerals, plus a hint of white flowers and a building note of mushroom. More obviously powerful and rich than the 1999 Clos des Goisses but also more monolithic, with a slightly monotonal and austere quality to the middle palate and its suave flavours of orange oil, candied flowers, caramel and mushrooms. The aftertaste is rich but shows no undue weight, though it lacks the mineral step of some other vintages of Clos des Goisses though it certainly showcases well the site's capacity to give extremely powerful, broad, rich Champagnes. Still tasting rather young, this beauty can still age some in a good cellar. A blend of 65% Pinot Noir and 35% Chardonnay partially fermented in oak, this could not be any more different from the 1999 Clos des Goisses, and each will have its fans. Readers should note that the Clos des Goisses was being bottled and labeled as a Brut in the 90s, while today it falls in the category of Extra Bruts. Drinking window: 2022-2035.
Philipponnat 1995 Champagne Extra Brut Long Vieillissement Clos de Goisses            97
Bright straw yellow-gold. Confit citron, licorice, fennel, mango, white chocolate, underbrush on the nose and in the mouth. Very complex and deep, this is a very concentrated rich Champagne (the 1995 vintage endured double frost episodes and so its small yields led to highly concentrated wines). Finishes long with notes of cigar and blond tobacco and repeating notes of tropical yellow fruit. The blend is 60% Pinot Noir and 40% Chardonnay, and only 311 bottles were disgorged in March 2020. Drinking window: 2022-2035.
Philipponnat 1994 Champagne Long Vieillissement Clos de Goisses           95
Deep bright yellow-gold. Complex aromas of lime, menthol, vanilla, coffee and smoky silex Then racy and classy, offering reticent but pure flavours of porcini, Islay Malt whisky, ginger, oatmeal bran and ginger that are gently tactile and deep. Most impressive today on the rising finish that features nicely lingering nots of Islay Single Malt Whisky. Drinking window: 2022-2032.
Philipponnat 1992 Champagne Brut Clos de Goisses                96
Good full golden-tinged deep yellow. Complex, in your face aromas of peach, lemongrass, marshmallow, tropical fruit and nut oil, along with an exotic note of smoky oak. Large-scaled, dense and thick, but with a strong spine of acidity to provide shape and to the rich tropical fruit and lemony flavours. Large-scaled, powerful wine in the typical Clos des Goisses mold, with terrific aromatic persistence and without any of the wet forest floor vegetal nuances of the 1991, but I'd drink this up rather quickly. Readers should note that the Clos des Goisses was being bottled and labeled as a Brut in the 90s, while today it falls in the category of Extra Bruts. Drinking window: 2022-drink up.
Philipponnat 1991 Champagne Brut Clos de Goisses                91
Bright medium yellow-gold with a strong mousse. Soil-driven aromas of silex, lavender and oyster shell complicate yellow fruits, ginger and honey, but a slightly disturbing note of wet forest floor (a touch of grey rot, most likely) emerges with aeration. Broad and pliant on entry, then classically dry in the middle, with a pronounced wet moss and crushed stone quality but terrific intensity to its sweet, spicy fruit and herbal flavours. Finishes long, glyceral and chewy, with slightly caramelized, tired notes of licorice and faded flowers. If you can get past the note of wet grass, then this is a gorgeous old Champagne. Readers should note that the Clos des Goisses was being bottled and labeled as a Brut in the 90s, while today it falls in the category of Extra Bruts. Drinking window: 2022-2025.