The estate of Gianluigi Lano is located in the territory of San Rocco Seno d'Elvio, one of the only four communes of the Barbaresco denomination. Originally named Giacomo Lano, the winery first sold bulk wines; and even though Giacomo started also bottling a little wine, it was current owner Gianluigi (and his wife Daniela), who really launched the modern era of the estate, beginning with the 1990 vintage when he produced a whopping 600 bottles of wine (about 300 of Barbaresco, the rest a mix of Barbera, Dolcetto, and Freisa). There is now a new generation that is slowly moving in, with Samuele who is 26 years old who has been learning on the job and who especially loves being in the vineyards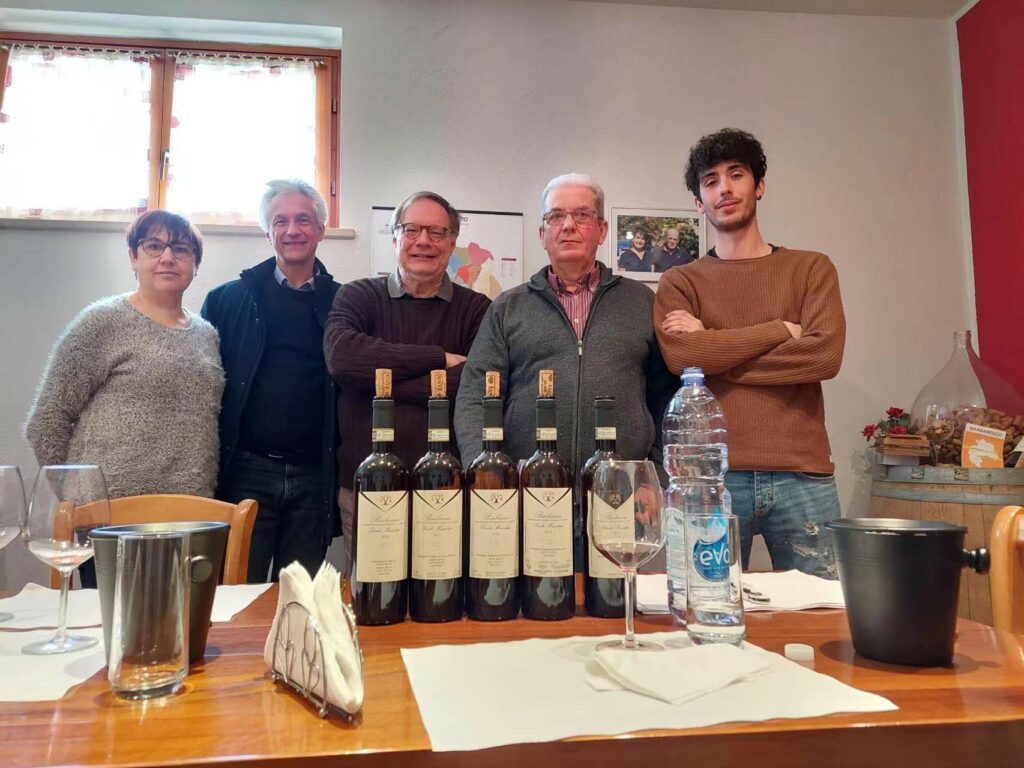 Though it is not especially famous or well-known, the Guianluigi Lano estate has many feathers in its cap. For one thing, it has been farming biologically/organically since 2002, becoming certified in 2017 (the official conversion to organic farming started  from 2014 but in fact the winery had been practicing this agriculture since a long time before). The lag in obtaining an official certification was only because the certification law and official guidelines by which to become officially recognized only became a reality in Italy in the last decade.
Another important fact about Lano is that it makes wine with most of the Langhe's red grapes and the wines are all exceptional, not something that is so common (most estates, understandably enough, excel with one grape variety or two at most). In fact, while the Barbaresco is the winery's most important and famous wine, in fact it is one of Piedmont's best producers of Freisa wines, for example. When you ask lano about these grapes and wines, he states straightforwardly that  Dolcetto is a disaster to work with, and to make matters worse, right now it's also difficult to sell.  Freisa is in his view the ideal wine for grills and BBQs, and they actually like to chill theirs a little come summertime. Barbera is the fun wine of friendship, and probably the grape and wine that Lano likes the most. But of course he recognizes that Nebbiolo is the truly great variety that the whole denomination falls back upon, much like Burgundy does with Pinot Noir, Pomerol on Merlot and Napa on Cabernet Sauvignon.
The Freisa
Lano's Freisa wines are amongst the best made in the region, and they age spectacularly well. That's not surprising, given that Freisa is Nebbiolo's closest relative and when its wines are well-made, drinking twenty to thirty years old Freisa wines is an absolute joy. Lano's current Freisa vines were planted in 1999 (there was an even older vineyard planted  back in 1985 that was uprooted in 2017 when some early season, unexpected, frost killed off many vines (in terms of frost, April 23, 2017 was murderous in the area). And so today Lano owns about 0.45 hectares of Freisa and makes a little less than 3000 bottles per hectare.
"Freisa is an amazing grape " says Lano. "It's the most resistant of all the Piedmontese varieties: drought, frost episodes, diseases such as flavescence dorée, peronospora,.. it handles all of that with ease, it is hardy and fears nothing. While varieties such as Cabernet Sauvignon, Chardonnay, and Barbera are suffering greatly and the older vines are virtually disappearing altogether, not so with Freisa, and to a lesser extent, Nebbiolo".
At Lano, Freisa is planted in a soil that is very clay-rich, very different for example from that of Rocche Massalupo, the cru from where Lano makes his Barbaresco, that is more sandy. Freisa actually does very well in both kinds of soil (the wines are even more perfumed in high sand content soils, bigger and even massive on clay-rich soils), in keeping with its hardy, rustic, adaptable personality.
Lano's Freisa wine is a benchmark for what the variety can give (strawberry, red cherry, sweet spices, violet), and it resembles Nebbiolo wines in an almost uncanny way. That in itself is as it should be given that often the wines of the two are indistinguishable (especially with a little age on them) with only the tougher Fresa tannins making it easy to recognize between the two.
Recently, after about a twenty years period in which Freisa sales had been flat and actually falling precipitously, there has been recently an uptick in interest and sales. "People like to work with rare gems, and look for biodiversity and so wines like those made with Freisa have a present and a future" tells me Lano. "So much so that buyers never haggle over the price of my Freisa wine, which isn't that high to begin with,  but neither is that of my Barbera wine; and yet, unlike with Barbera wines where there are an almost infinite number of choices out there on the market, leading people to look not just at the quality of the wine but also the best possible price, and want to pay as little as possible. With Freisa there is not so much choice, people go with the flow and accept what is asked for provided they like what's in their glass".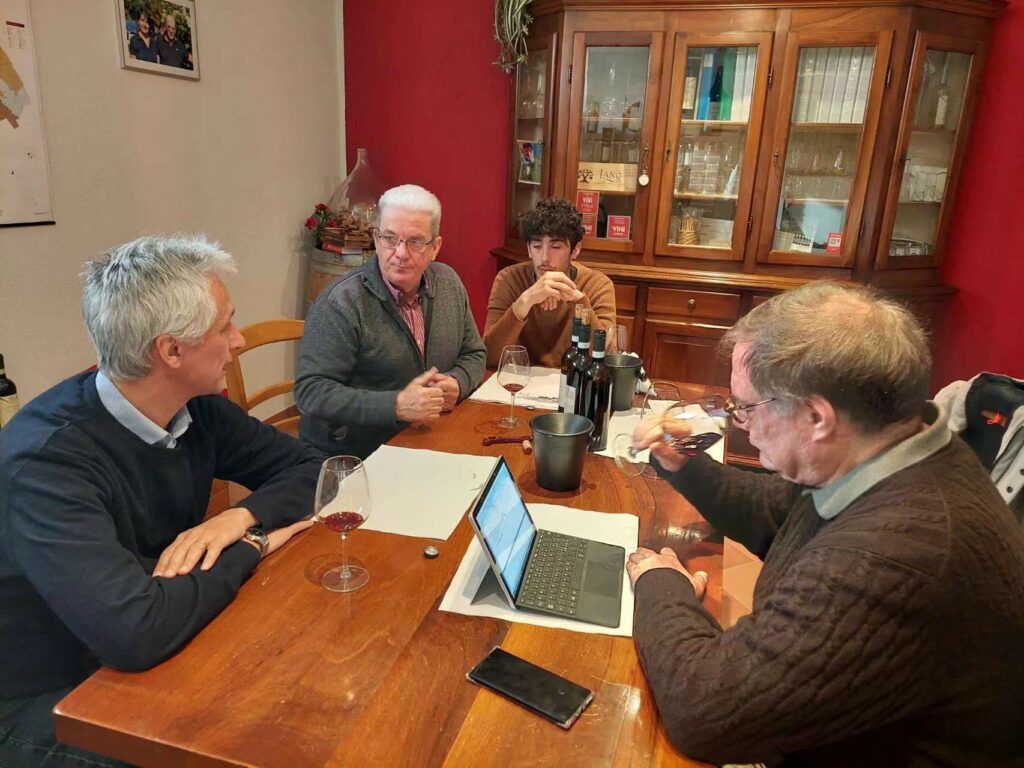 The Barbaresco
Lano first made his Barbaresco in 1990, but the name of the cru (which he never much liked and hence never wanted to use it) appears on the label only with the 2007 vintage (at the time of the actual official determination of the Barbaresco cru names). He still only makes one Barbaresco only, and it bears the name of the cru (hence there is no other Barbaresco made at Lano, in other words no Barbaresco classico). He only owns 1.3 hectares of Nebbiolo for Barbaresco production, of which 0.6 are of really old vines. The  original vines are over fifty years old, but there is a portion of  younger ones too, that are only five years old). Clearly, having old vines also helps make great wines. I have tasted this wine in all its vintages many different times, and I believe that this wine has an amazing track record of regularity and quality: never the biggest Barbaresco (those of the San Rocco Seno d'Elvio commune never are, while being the earliest maturing and most approachable Barbarescos when young), but is magically well-balanced and supple and easy to drink. The cru's high sand soil content goes a long way in living the wine that it does. Unfortunately, Lano was unable to make it in 2019 because of a severe hail storm that hit very late that year, around September 20 (the same hail episode that destroyed many of the vines in the Madonna di Como area), and so he declassified everything to Langhe Nebbiolo.
The wines in this tasting
The Freisa Langhe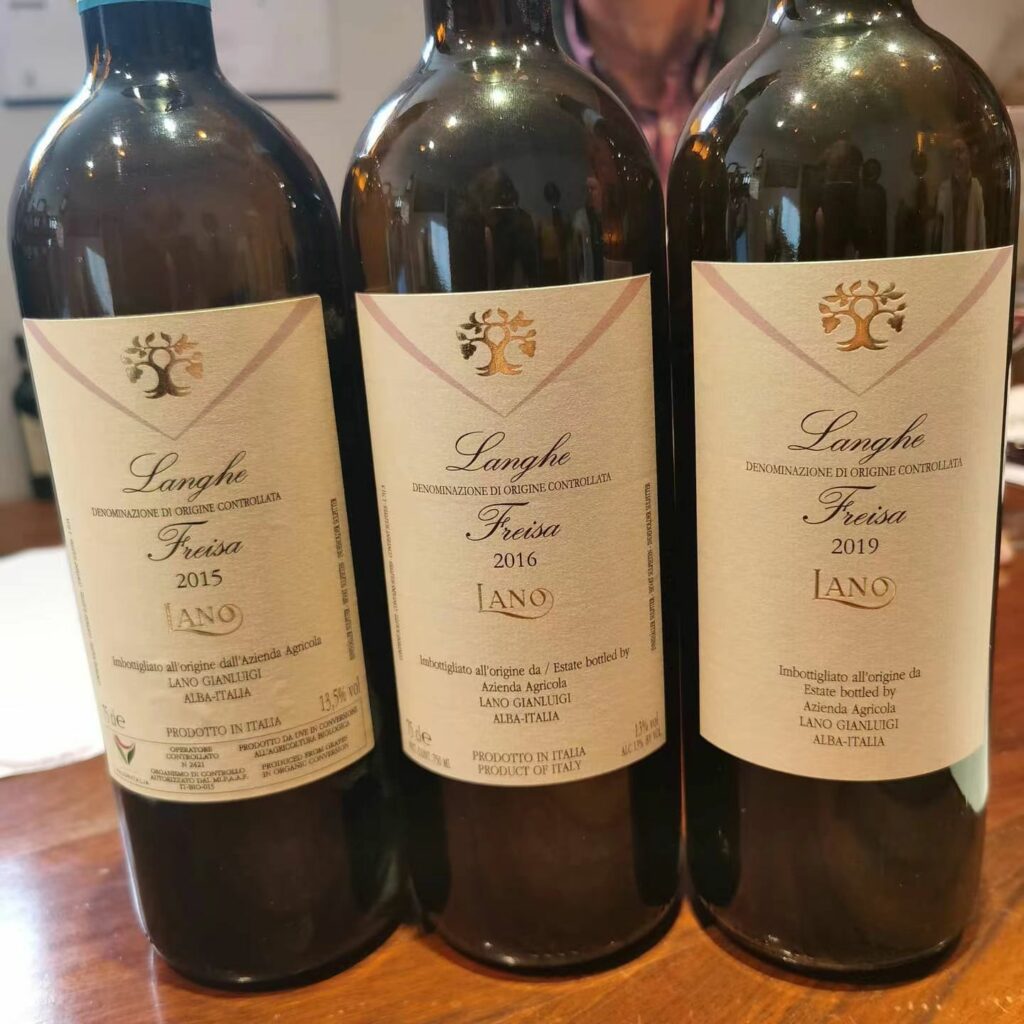 Lano 2019 Freisa Langhe                           90
Bright ruby-purple. Slightly oak-dominated aromas of red cherry, berries and violet, complicated by sweet spices, tar and herbs. Then very juicy and vibrant, but with currently slightly disjointed acidity leaving an edgy, nervous mouthfeel to the gentle, perfumed, noble red cherry and berry flavours. A hint of minerality and of Oriental woods adds interest and complexity on the long vibrant slightly high-acid finish. Very pretty wine, but currently a little metallic, in the typical style of the classic 2019 vintage Needs time to round out fully. Aged in used barriques and 500 liter tonneaux, the colour is a little lighter than usual because the grapes were hit by a little hail during the horrible September hail episode that destroyed many vineyards in the area. Drinking window:  2024-2029.
Lano 2016 Freisa Langhe                           94+
Deep purple-red, this is deeper in colour than the 2019. Deep rich and complex aromas and flavours of ripe red cherry, camphor, herbs and violet, complicated by hints of licorice and forest floor. At once refined and powerful, with very good density to the fruit, nicely extended on the long back end by peppery tannins and juicy acidity. This is a really great wine that with a few more years of cellaring will showcase even more excellence; it is really similar to a Barolo or full-bodied Barbaresco, and I am sure that nine out of ten people when tasting it blind will be fooled into thinking it's a Barolo or Barbaresco. Drinking window: 2026-2036.
Lano 2015 Freisa Langhe                           95
This is beautiful. Extremely well-balanced, with an almost perfect acid/tannin/fruit balance, with Freisa's classic lively acidity and grippy tannins but bathed in gobs of luscious refined red berry and cherry fruit. A hint of sweet spices adds further complexity on the long finish. Already eight years old, this is remarkably young and will age seemingly forever, just like the best Barolos and Barbarescos. Drinking window: 2025-2034.
The Barbaresco Rocche Massalupo
Lano 2018 Barbaresco Rocche Massalupo             92
Luminous medium-bright red. Very pretty wine with floral and juicy red berries and cherries on the open-knit nose. Clean, long, steely and youthfully tactile with a note of licorice emerging on the long juicy back end. Delicious example of a well-made 2018 Barbaresco, which is not always the case in this difficult vintage. Drinking window: 2025-2032.
Lano 2017 Barbaresco Rocche Massalupo             92
A very difficult year but Lano, having a very small holding in the cru, is able to intervene speedily (at the time he owned only 0.6 hectares, now it's 1.3 hectares after removing the Freisa and Barbera that had been hit by hail) and also at the right time to avoid problems. The 2017 is made with only the fifty years old vines, as the younger part of the Vineyard had not been yet planted. This wine is a testament to Gianluigi's wine talent: though undoubtedly quite tannic, they are relatively smooth and noble, and even though it is mouthcoating, the tannins are neither gritty nor bitter. If you weren't yet convinced by Lano's talent after tasting his wonderfully delicious Freisa wines, then this 2017 Barbaresco will convince you and everyone else and for all. Still, there was no getting away from the 2017's heat and drought: these Nebbiolo grapes were harvested around 17-18 September, when normally it is around the first ten days of October. Very different form the 2018, but just as good. Drinking window: 2024-2033.
Lano Barbaresco 2016 Rocche Massalupo             95
Bright red colour. Perfumed, spicy and ripe red cherry, minerals, tobacco and even peach on the nose.  Refined, multilayered aromas and flavours of raspberry, strawberry, pomegranate and herbs, complicated by hints of tobacco, cinnamon and nutmeg. Dense, plush and focused and energetic, with impeccable acid-fruit balance and a very long finish of small red berries, cherry and cinnamon. Really beautiful Barbaresco, that showcases just how great the 2016 vintage was for Nebbiolo in the Langhe. Drinking window: 2026-2036.
Lano Barbaresco 2015 Rocche Massalupo             94
Deep red. Ripe red cherry, camphor, and botanical herbs, lifted by a vibrant violet topnote. Bigger and richer than the 2016, but perhaps a touch less elegant, this is at once plush and juicy thanks to vibrant acidity. It boasts a ripe, thick mouthfeel, finishing long with a note of red cherry syrup, licorice and delicately herbal, and noteworthy intensity. A hugely successful, superb Barbaresco that unites power and liveliness very effectively, featuring evolved hints of orange peel and of faded flowers. Drinking window: 2025-2033.
Lano Barbaresco 2013 Rocche Massalupo             93
Bright red. Perfumed aromas of violet and rose with hints of white pepper and cinnamon. Bright and fresh, refined and with huge and not totally harmonious acidity levels that leave you with the impression of a wine of great lift and elegance but not much flesh to its notes of red berries and minerals. Finishes long and vibrant, with rising but noble tannins. This is lovely. Not the most concentrated wine in this series, but nicely balanced, delicious and approachable, but with sneaky complexity and lovely balance. It's also, and this is important, a very accurate rendition of the vintage in its elegant, high-acid personality that won't appeal to everyone and might leave some tasters with the impression of leanness, but this is anything but. Drinking window: 2023-2033.