This is the third and last in a three-part series of verticals devoted to Alsace's outstanding Dirler-Cadé estate. More pertinently, a three-part series of verticals devoted to the "somewhereness", to use Matt Kramer's brilliant neologism. The somewhereness of wine expressed through two different grape varieties in the same terroir, as well as one grape variety in two different terroirs. And so here you have the last one in this series of reports: this time, it's an analysis of the expression of Riesling in the Alsace Grand Cru Saering, following on the heels of the report devoted to its translation by Alsace's Muscat varieties. Have fun!
The Saering grand cru is associated with the city of Guebwiller in the southern part of the Haut-Rhin and Alsace's route des vins. We are in Alsace's fine wine most southern reaches, given that the region's quality viticulture essentially stops at Thann, which isn't much farther south from Guebwiller. The Saering gives jaggedly mineral wines for the most part, and it is a rare grand cru that tends to dominate the grape variety: clearly, it's not as if Pinot Gris or Gewurztraminer wines taste radically differently or become unrecognizable when from the Saering, but they unmistakably take on a much more mineral, stony quality that is very obvious (and makes for some especially interesting Pinot Gris wines). For a full description of the Saering's terroir and history, please refer to the first article in this three-part series: "Dirler-Cadé Muscat Saering Vertical 1997-2017: Twenty Years And Counting…" published here on TerroirSense Wine Review on June 1, 2022.
The Dirler-Cadé estate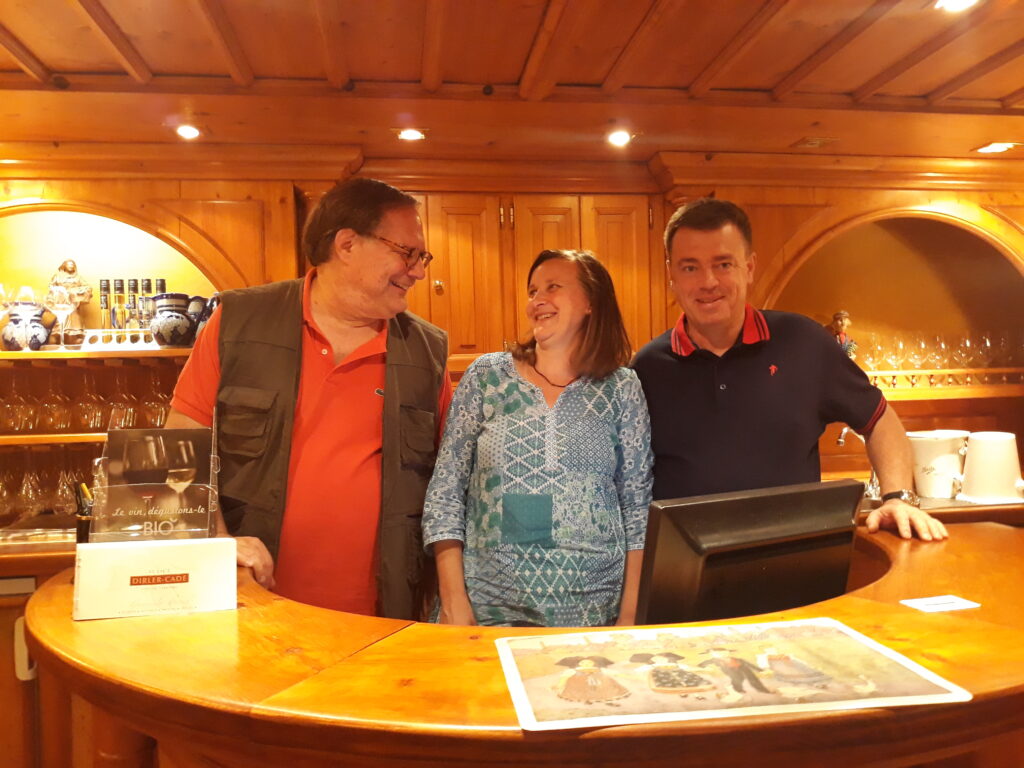 The original Dirler estate was founded in 1871, initially as a négociant business too. Dirler is actually a famous name in Alsace wine circles, for Jean was one of the first to make sparkling wines in Alsace. The Hell-Cadé estate traces its roots back to 1710, but moved to Guebwiller in 1887. After the war, Charles Cadé and Alphonse Cadé (the latter the grandfather of Ludivine Cadé, who now runs the Dirler-Cadé estate along with her husband Jean), divided up their vineyards: Alphonse died in 1951, and so his daughter Nicole Cadé (Ludivine's mother) took charge of the estate….at seventeen (17!) years of age!!!! She married Léon Hell in 1959, and four daughters were born. The estate grew in size to nine hectares and then united with the Dirler estate in 2000 by way of marriage. Today the winery boasts 18.4 hectares, all under vine save for a 0.47 hectares area in the Grand Cru Kitterlé. And the Saering is biodynamically farmed, like the entire estate, since 1998.
Dirler-Cadé, the Saering and the estate's Riesling Saering wine
Dirler-Cadé wasn't even born as such when the Saering first showed up in the winery's holdings. The first acquisition there dates to 1975, when Jean-Pierre and Marthe Dirler bought and rented about 15 ares (one are is equivalent to one hundred square meters or 0.01 hectares); of those vines that were rented, they are still being rented today (but were replanted in 1977). Over the years, the estate continued to buy vineyard plots in the Saering: 21 ares in 1980, two very small plots more in 1988 and 1989; it all adds up today to 2.5 hectares, of which 1.081 hectares are planted to Riesling essentially combined together and divided up in two main vineyard stretches. The oldest Riesling vines owned by Dirler-Cadé are the vines they replanted back in 1977, the youngest dates back to 2005. Actually, they replanted very small sections of the vineyard in 2008 and 2010, but these vines are too vigorous and Dirler-Cadé does not use them to make their grand cru wine.
What I find most interesting from a terroir perspective with Dirler-Cadé's Riesling wine is where in the Saering these vines are located exactly. In Alsace, you need to be aware that the grand crus are a little like vineyard districts, because most of them are fairly large expanses of vines, so that each grand cru can be broken down in more subregions (that in fact have historical lieu-dit names). Dirler-Cadé's vines are in the Untere Saering (Untra Saering, in Alsatian) which is a highly distinctive portion of the grand cru, characterized by a superficial sandier layer (much like it also is in the Kitterlé, another grand cru that overlooks the Saering). But differently from the Kitterlé, the Saering has a noteworthy presence of clay, which is found deeper down, well below the sandy segment. The Untere Saering also has a little limestone, but, to give you an idea of just how important it is to know exactly what the specifics are of each Alsace grand cru, keep in mind that another Saering lieu-dit, called Zieglerweingarten, is characterized by much more limestone than the Untere Saering. It follows that while both sites are part of the Saering and that any Riesling made from grapes grown in either lieu-dit can be called with the name of Saering grand cru, because of that different percentage of limestone, the two Rieslings, though both carry the name Saering, are in fact going to be very different wines (even if made in the same way). Intricacies of terroir, I hear you thinking? Way too complicated, I hear you say? Yes, perhaps: but part of terroir's magic, too.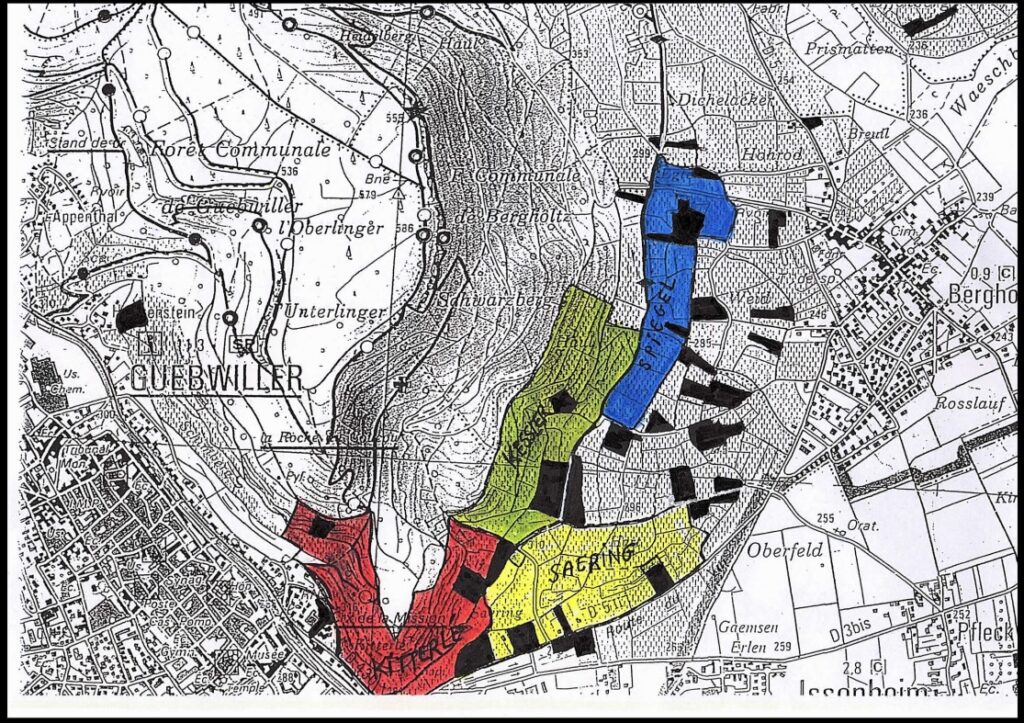 The two Dirler-Cadé Riesling holdings present however some noteworthy differences. For example, they are planted with Rieslings of different origin: the oldest plot is planted with Riesling nursery clone 49, the most planted Riesling clone in Alsace and by most accounts a rather successful and good-quality clone. The younger plots is planted with massal selections sourced from Alsatian estates [Kientzler, Mittnacht et Vonville (Otrott)]. The soil also differs slightly between the two: one has more limestone in its upper reaches while it is sandstone and sand lower down, while the other is mostly sand and sandstone. Both parcels do very well in dry years, while in rainy years there can be a small problem resulting from excessive water-retention, mostly because of the slope's trough-like disposition where the vines are planted. Furthermore, rainy years are associated with a greater amount of grey rot formation, and so no Saering was made in 2006, a year hampered by rain  (and again, as a demonstration of the fact that if you want to really be an Alsace wine expert you need to know the grand crus in depth: in fact, the grey rot problem is typical only of the Untere Saering section of the grand cru). By contrast, the presence of deep clay formations and porous soil helps the Saering make beautiful wines in dry years such as 2016.
The Riesling Grand Cru Saering wines are, at least in my experience and independently of the producer, typically floral with pronounced fruit flavours on the palate (orchard and pomaceous fruits: green apple, mostly, but nectarine too and citrus fruits, such as lemon, lime, tangerine) and of herbs. There are also notes of  minerals (iodine especially) and white flowers. The best Saering Riesling wines are characterized by a very intense mineral presence coupled with a fruity intensity that is instantly recognizable even when tasting blind. Interestingly, for all their salinity and minerality, the Saering's Riesling wines, though fresh, are never markedly acidic and present a more rounded, mellow, even fleshy mouthfeel compared to those of the Kitterlé or the Spiegel, but of other well-known Alsace grand cru sites as well. Therefore, its wines are deceptively easy to drink when young, but in my experience age fairly well too.
Last but not least, with the 2019 vintage the Dirler-Cadé has revamped its labels. From the 2019 vintage onwards, each label of grand cru wine is associated with one of the four elements. For the Saering, the identifying element is water: not so hard to understand, given that the pink sandstone subsoil was covered by marine sediments rich in Oligocene age limestone particles (remember that as I explained in the first article of this three-part series devoted to the Muscat Saering wine, saering means "sea ring"). By contrast, the grand crus Spiegel (which means mirror) is associated on its label with the element of air/light; the Kessler (which means "boilermaker") is not so surprisingly associated with the image/element of fire; while for the Kitterlé, the distinguishing element is the earth/soil. The labels are simple but pretty, and feature the colours of the calendar of Maria Thun. (Maria Thun, a German researcher, is the author of the biodynamic Calendar; she spent fifty years performing research on the influence of the moon and planets on cultivated plants. It was she who established the existence of root-, flower-, fruit- and leaf-days.)
The wines in this vertical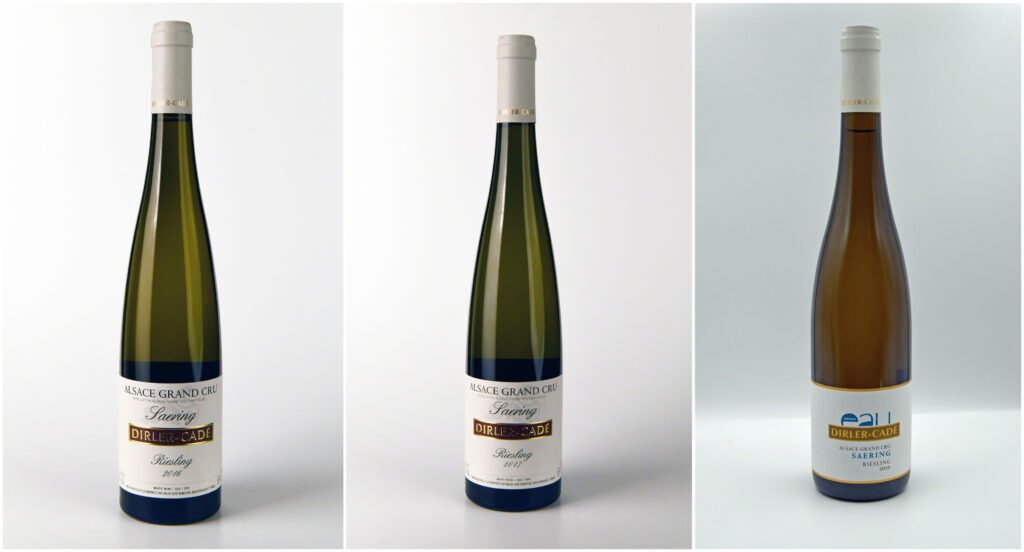 Dirler-Cadé 2019 Riesling Saering Grand Cru                             93+
Luminous straw-green. Aromas and flavours of pomaceous fruits, hawthorn, and white flowers complemented by mineral notes and herbs. Powerful, classically and minerally Saering Riesling that is at once lively yet tactile, finishing long with hints of candied lemon peel. Pure, juicy, with intermingling saline and citrus notes. Still an infant this will develop splendidly. This vintage is the first to feature the wienry's brand new labels devoted to the four elelemnts: I have to say they are really very pretty, easy to read, clean, and modern, but nicely modern. Whoever did the graphics work, perhaps with the family's input, has talent. Drinking window: 2025-2040
Dirler-Cadé 2018 Riesling Saering Grand Cru                                        90
Good pale yellow-green. Lemon peel, pineapple, lime, hawthorn and crushed rocks on the nose. Juicy and vibrant in the mouth, with noteworthy acidity leaving a pungent impression of crispy apples and and slightly green pineapple flavours. The aftertaste is both floral and citrussy acidity and well-balanced (5.21 g/L r.s. and 6.29 g/L total acidity). Not the most complex or concentrated wine from the Saering that the winery has ever made, but very easy to like: will make a lovely wine by the glass number in restaurants. Oysters anyone? Drinking window: now-2028
Dirler-Cadé 2017 Riesling Saering Grand Cru                                93
Luminous golden-tinged yellow. Elegant, pure aromas and flavours of lime, grapefruit, orange and tangerine, all complemented by a mineral sheen. Clean and fresh on entry, then taut in the middle with juicy citrus fruti boasting a lovely, delicious, very food-friendly sweet and sour quality (4.6 g/l r.s and 8 g/l total acidity). Slightly more open today than when I first tasted it at the winery now four years ago or so, and I'd say very near at entering its optimal drinking phase but maybe not quite there yet. Cellar for another couple of years still. Drinking window: 2024-2037.
Dirler-Cadé 2016 Riesling Saering Grand Cru                                    94
Pale straw-green with golden tinges. At once structured and elegant, with aromas and flavors of apple, pear, peach and graphite, lifted by nuances of lemon verbena and jasmine. Long and clean on the long close, not to mention impeccably balanced (4.5 g/l r.s., and 7 g/l total acidity) and features an enticing mineral nuance and an obvious saline edge.. Differently from the Spiegel grand cru that is characterized soil-wise by compact clays, deep, porous clay pockets that help it perform admirably in hot, droughty years such as 2016. I'm not sure this will age quite as well as most of the wines in this vertical but it's so delicious now, why wait? Bottoms up! Drinking window: 2023-2028.
Dirler-Cadé 2015 Riesling Saering Grand Cru Cuvée Cecile                        95
Bright golden-yellow. Aromas of lychee, mango, diesel fuel, beeswax and honey, lifted by a pleasant citrussy note and complicated by boatloads of marmelady botrytis. Very fresh despite its outrageous lusciousness, with sweet crystallized ginger, mango and grapefruit flavours nicely framed by amazing levels of acidity for the vintage and impeccable balance (39 g/L r.s. and 7.7 g/L total acidity). About 30% of the grapes were hit by noble rot and you can tell. Also very refined, thanks to the pink sandstone soils from the secondary Buntsandstein donate noteworthy finesse to what is a very broad rich and yet refined white wine. Long, rich and very complex on the finish. Fantastic wine but nowehere near classically dry, try it with aged cheeses, anything involving pumpkins and even roast chicken with mushrooms or turkey and cranberry sauce. Dirler confirmed what other producers who farm the Saering have told me over the years: this is their grand cru that tends to give the wines with the highest acidity levels, or at least it did so in 2015. A small lot of Riesling wine from the Saering was declassified into the estate's genetic Riesling wine. Drinking window: now-2039.
Dirler-Cadé 2014 Riesling Saering Grand Cru                                     88
Bright golden-tinged straw yellow. Gently ripe on both the nose and in the mouth, with aromas and flavours of medium-intensity (green apple, Kaiser pear, nectarine and orange blossoms). Medium levels of acidity help extend the flavours on the finish of only average length. Lovely, clean and very lively, offering early appeal and an easygoing approachability, but not especially memorable. Drinking window: now-2029.
Dirler-Cadé 2013 Riesling Saering Grand Cru                                 89
Bright green with golden highlights. Fresh, vibrant nose of green apples, minerals and lime. Then good inner-mouth perfume and a savoury edge to the mineral and orchard fruit flavours. Not the sunniest of summers meant slightly less ripeness and complexity but the wine offers an easygoing personality and plenty of verve. Will match to a boatload of different dishes: many ethnic cuisines for sure, but also anything involving shellfish and simply prepared freshwater fish creations. Drinking window: now-2031.
Dirler-Cadé 2012 Riesling Saering Grand Cru                                 91
Vibrant straw-green. Soft floral peachy fruit with hints of chamomile and sweet spices on the nose and in the mouth. Very long clean and mineral on the finish, with above average complexity and inner-mouth perfume. This is a really lovely wine that Riesling fanatics will just gobble up by the gallon, never mind the bottle. Drinking window: now-2033.
Dirler-Cadé 2011 Riesling Saering Grand Cru Vendanges Tardives          91
Medium deep yellow-gold. Minerals, licorice and aromatic herbs on the nose. Fresh and slightly  sweet on the palate, but very pretty and fresh, with nuanced, honeyed flavours of stone fruit and chamomile tea. Slightly less complex than the 2015 but very much in the same style (after all, Dirler tells me it's always the same old parcel of vines that give their Riesling Saering VT. Closes long and luscious, with intriguing hints of candied orange peel. About 20% of the grapes were hit by noble rot. Drinking window: now-2034.
Dirler-Cadé 2010 Riesling Saering Grand Cru                                93
Medium dark straw colour. Opens with a good whiff of menthol on the nose, then remind some  of honeydew, chamomile; also, hints at a start of Riesling's famed diesel fuel note. Lovely brightness throughout, with about 3 g/L RS long adding a suave touch to the juicy mineral and orchard fruit flavours. Interestingly, they didn't have the great acidity here that they had in their 2008 wine; and while the latter vintage was characterized by extremely high levels of acidity, so was 2010, but that's not so much evident in this wine. The flowering was difficult in 2010 because of the cold spring (never mind spring, even June was cold in 2010!), and so part of the grapes were late harvested and fermented dry. A lovely Riesling from the Saering (I'm a huge fan of the 2010 vintage) with noteworthy depth and complexity, but perhaps a little more evolved than I might have expected; still, any Riesling lover will like this immensely. Dirler tells me that looking back now he realizes he maybe he left a little less SO2 than usual (those were the years of his commendably tinkering around with lower sulfur levels) and maybe it has turned out to be bit of a handicap. Normally I'd say a 2010 Riesling from Alsace could last forty years easy, but this particular bottling, I'm not so sure, hence the tighter drinking window. Drinking window: now-2030.
Dirler-Cadé 2009 Riesling Saering Grand Cru Vendanges Tardives           91
Medium yellow gold. Very ample on the nose, open and showy, with a very strong presence of licorice, cinnamon and an oxidative note of caramelly botrytis, plus a nuance of bruised apple. Then fresher in the mouth with long and pretty ripe but fresh stone fruit flavours that linger nicely on the palate. About 30% of the berries were hit by noble rot. Drinking window: now-2030.
Dirler-Cadé 2008 Riesling Saering Grand Cru                                94
Luminous golden-tinged straw yellow green. Redolent of candied fruit notes on the nose, with a rich and ripe nuance to the tropical and orchard fruit aromas, complicated by a hint of balsamic oils. Then boasts a chiseled quality on the long, clean, rich and remarkably round finish that showcases notes similar to those of the nose. Maybe slightly less complex than the 2010,  this clocks in at  8 g/L r.s and plenty of vibrant, harmonious acidity.  In my experience the 2008 vintage, which was a stellar one throughout Alsace, was even better in the more southern reaches of the Haut-Rhin, but I might well be mistaken. Drinking window: now-2042.
Dirler-Cadé 2005 Riesling Saering Grand Cru                                 93
Bright golden-yellow. Orange peel, crystallized ginger and white pepper nuances on the nose, this is very complex due to the presence of noble rot (10% of the grapes were hit by botrytis cinerea). Big and broad in the mouth, with very good freshness and a strongly savoury finish. Finishes with the slightest of bitterness and chewy with an iodine undertone. This is an excellent wine and one of the two Saering Rieslings the winery made that year, called tentatively n.1 and n.2; the latter was from more calcareous soils and the former from more fertile ones and the didn't have any grape affected by noble rot. Dirler then partly blended percentages of the two together to arrive at the mix he liked best. Lovely wine. Drinking window: now-2036.
Dirler-Cadé 2004 Riesling Saering Grand Cru                                 87         
Bright golden medium-dark yellow. Salt taffy and barley sugar on the open-knit, broad but not especially deep nose. A slight hint of oxidation is evident on both the nose and in the mouth, with tactile slightly chewy apricot and peach kernel flavours bordering on almond paste. Dirler tells me it was a tough harvest with late season rains and wines that were very evolved from the start. And though he doesn't remember why now, the Spiegel grand cru seemed to fare even worse than the Saering. Drinking window: now (2022).
Dirler-Cadé 2003 Riesling Saering Grand Cru                                 93
Deep straw yellow and gold. The first wine in this vertical with an obvious diesel fuel note, plus very strong menthol and woodsy nuances to the apple, pear and peach aromas and flavours. Very complex and blessed with impeccable balance, this is a knockout wine that has a captivating multi-layered quality and is way above average for a 2003, a very difficult hot and sunny vintage (but remember that the Saering does well in the hot vintages, also thanks to the combination of old vines with long rooting systems and the 3309 rootstock).  Closes long, very rich and deep. In 2003, the vineyard was hit by hail and so the vines produced secondary shoots that the winery decided to harvest and press the grapes anyways, They gave a very small yield of second generation grapes that added freshness to the first generation's liquid. Drinking window: now-2035.
Dirler-Cadé 2002 Riesling Saering Grand Cru                                 92
Good full yellow. Lovely and long, without quite the power of the 2003 but balanced, offering aromas and flavours of sweet herbs, balsamic nuances, chamomile, candied apricot, and glazed kumquat. Finishes long and straightforward but nicely tapered, very 2002 in style (meaning clean pure linear and not as complex as some other just as good vintages). Drinking window: now-2038.
Dirler-Cadé 2001 Riesling Saering Grand Cru                                 94
Golden yellow. Aromatic nose offers floral tangerine jelly, crystallized mango and white flowers. Then clean and deep, with brightly rich and deep honeyed flavours of stone fruit, kiwi, and savory herbs. Finishes very long and complex, with dense lingering echoes of lemony botrytis (about 35% of the grapes were hit by noble rot). If you like weighty, tactile concentrated wines that are naturally so and not because of new oak galore, then this is the juice for you!. Drinking window: now-2040.
Dirler-Cadé 1998 Riesling Saering Grand Cru                                 94
Golden yellow. Peach, apricot, orange, bergamot and green tea notes on the nose and in the mouth. Chalky and tactile, on the palate it's very long, saline and fruity. This one is another wine in this series obviously hit by noble rot and has a little residual sweetness that gives it a riper, broader suaver mouthfeel. In 1998, the winery made almost all its Riesling wine from the Saering in a VT style, and only a small batch of this one, a more classically dry wine (though it's really more off-dry than dry). From only one parcel of Riesling in this grand cru at the time, they made a trie and what was left over after what had been picked to make the VT, became this wine. Lovely and precise, this is really delicious. Drinking window: now-2040.
Dirler-Cadé 1998 Riesling Saering Grand Cru Vendanges Tardives                  95
Honestly, what's there not to like? This is just drop-dead gorgeous. Bright golden yellow color. Very pure, refined nose of crushed stems, peony, lavender, crystallized ginger, mango, and grapefruit. Clean and fresh, pure and multi-layered, this is just a great wine that is still remarkably young and nowhere near its 20 years+ of age. Closes long mineral, with a highly complex personality thanks to the 40% of the grapes hit by noble rot. Drinking window: now-2045.
Dirler-Cadé 1997 Riesling Saering Grand Cru                                        92
This has the nose of a VT: In fact, it clocks in at 16 g/L r.s. (not surprisingly, Dirler-Cadé also made a VT in this vintage but this was also ultimately a very sweet and rich wine). No noble rot but obvious passerillage as grapes air-dried directly on the vine. All Alsace '97s seem to be aging better than expected (the grapes came in at most wineries in perfect shape), though I have found some Alsatian '97 wines to be slightly diluted an/or thin this is not the case with this beauty. Drinking window: now-2035.
Dirler-Cadé 1996 Riesling Saering Grand Cru                                 92
Archetypal 1996 Alsace wine, this you can recognize from a mile away as such, with even just minimal, and I mean minimal, Alsatian wine drinking experience. A year in which the wines were marked by noble (and at times less noble) rot to the umpteenth degree, truly to a degree that I've never really witnessed before or after, this deep yellow wine offers intense notes of truffle, baked apple, mushrooms, forest floor, caramel, and ripe butter, but stays spectacularly fresh and clean on the bright mentholated salty finish. Some 1996 can be musty, but not this one. Drinking window: now-2033.
Dirler-Cadé 1995 Riesling Saering Grand Cru                                 90
Lively straw yellow colour. Clean and very laser-like on the nose and in the mouth, with mineral honeyed and citrus nuances to the iodine and noble rot accented stone fruit and exotic spice aromas and flavours. Finishes with hints of faded flowers, dried herbsand truly enamel-shattering acidity that maybe a little much for most palates. Drinking window: now-2035.
Dirler-Cadé 1994 Riesling Saering Grand Cru                                 91
Deep straw colour. Clean fresh and saline aromas and flavours speak of diesel fuel, truffle, honey and sweet spices. Finishes long with a buttery nuance (I remembered visiting here and being told this wine had started the malo but it was stopped) and hints of hay and dried herbs. Closes long, rich round, with a little noble rot presence. Much riper and rounder than the other wines in the lineup (probably the partial malo). Drinking window: now-2033.
Dirler-Cadé 1993 Riesling Saering Grand Cru                                 93
Vibrant golden yellow. Very beautiful, laser-like delivery of  rich and deep aromas and flavours of white peach, faded jasmine, honeyed minerals, chamomile and iodine. Sneaky concentration and depth here, finishing long, saline, tactile and juicy with an enticing mineral sheen. Still remarkably young.
Dirler-Cadé 1992 Riesling Saering Grand Cru                                 88
Bright dark golden yellow. Aromas of canned peach, white flowers and almond paste. Simple but sweet, with a slightly diluted middle and a relatively short finish. The aftertaste hints at almond cookies, marzipan, quinine, and canned peach. Savory crushed stones add another dimension at the back. One of the highest volume years (after 1982) in Alsace wine history, and it shows.  Drinking window: now-2026.
Dirler-Cadé 1991 Riesling Saering Grand Cru                                NR
Too evolved to be able to judge this fairly.
Dirler-Cadé 1990 Riesling Saering Grand Cru                                 94
Bright dark golden yellow. Fresh and vibrant and not at all showing thirty plus years of age, with very fresh and precise notes of fresh menthol, apple, pear and lemon verbena on the nose (an initially musty note cleared up with aeration). Boasts tactile acidity and very nice tension on the palate, with a saline element and long nuance of saline grilled nuts, aromatic herbs and balsamic oils. An enchanting wine that is still very young and precise. Drinking window: now-2035.
Also see: "Dirler-Cade Muscat Saering Vertical 1997-2017: Twenty Years and Counting…"
and "Another 30 Years and Counting: Dirler-Cade Muscat Spiegel Vertical 1987-2017"