Make no mistake about it: the Köfererhof estate in Alto Adige'small and bucolic Valle Isarco subregion is one of Italy's best wineries. Even better, its Sylvaner 'R' (where the'R' stands for 'Reserve') is one of Italy's twenty-five best white wines, as confirmed by tasting not just the new vintages every year for the past twenty years or so, but also entire verticals of this specific "reserve" wine repeatedly over the years.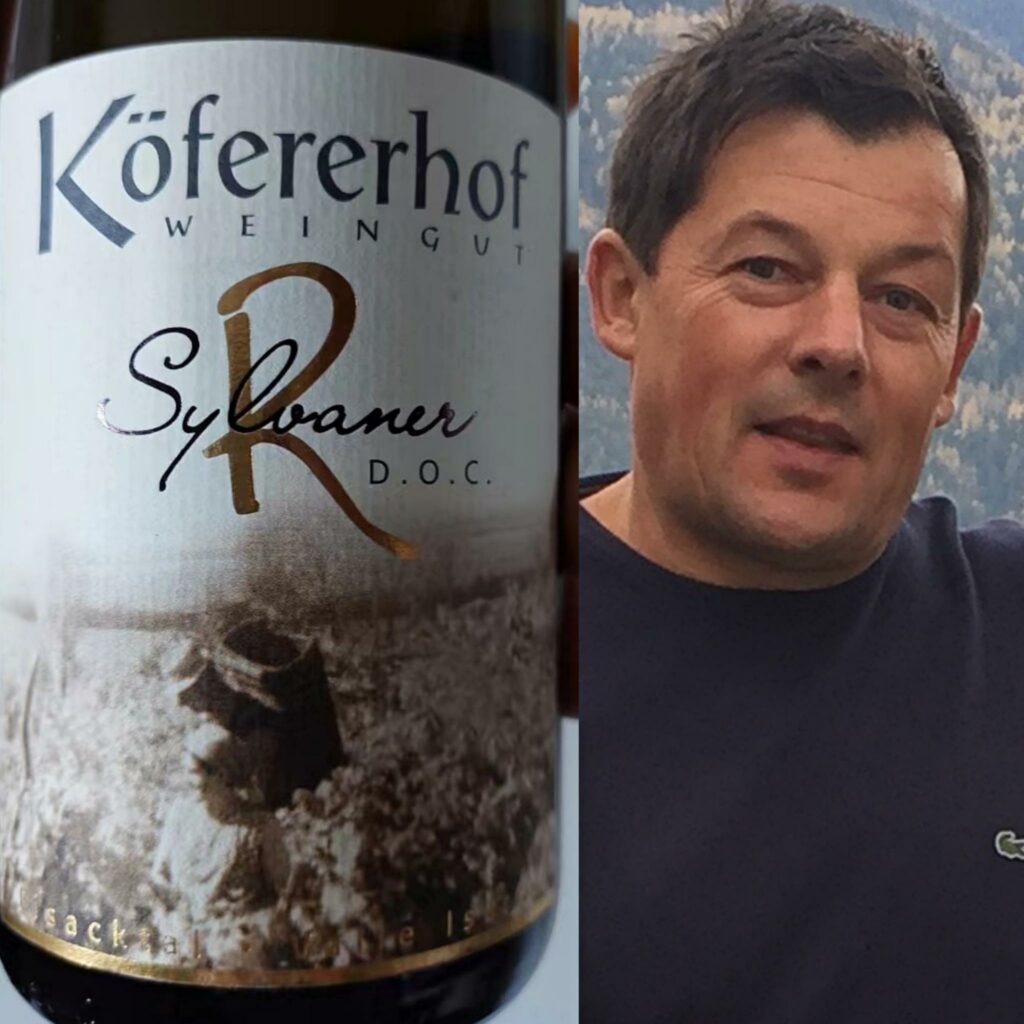 The Köfererhof estate
It is usually the case with Alto Adige, where extremely high-quality wine cooperatives rule, that private wine estates are for the most part very small; and the Köfererhof winery is no exception to this rule. Honestly now, at slightly less than six hectares owned (and another 5.2 hectares rented), there is no other way but "small" by which to describe the winery and its vineyard holdings. That said, this is a classic case of Lillipuitian size and Brobdingnagian quality. You simply won't find anywhere in Italy too many other wineries where the fellow running the show is so remarkably talented with just about every grape variety he decides to try his hand. It's not just uncanny, but also truly noteworthy.
Köfererhof is located in the Valle Isarco subregion of Alto Adige, which is a very specific and unique part not just of the region of Italy. Köfererhof traces its roots a ways back (976 AD!) and is in effect one of the oldest wineries in Alto Adige (the part of Italy with Germanic roots and that is at times also referred to as South Tyrol). Since 1940, Köfererhof has been managed by the Kerschbaumer family and today the current generation at the helm is (well) represented by Gunther Kerschbaumer and his wife Gaby (who also run an excellent country restaurant in association with the winery, and I really recommend you make a pit stop there and try the autenthentic, hearty, and thoroughly delicious Alto Adige fare). Like the vast majority of small vineyard owners in Alto Adige's Valle Isarco, Köfererhof used to confer its grapes to the Abbazia di Novacella, an historic and extremely high quality local cooperative. But the family decided to start estate-bottling in 1995, and frankly has met with such whirlwind success that it has never had to look back. Today the winery follows ecosustainable farming practices and makes wine from grape varieties such as Kerner, Gewürztraminer, Müller-Thurgau, Pinot Grigio, Riesling and Sylvaner, all of whic are now fairly common to the Valle Isarco area but some of which are not especially traditional to it (such as for example Riesling and Pinot Grigio, the plantings of which have increased in the last thirty years or so secondary to market forces and sales and importer demands). From all those grapes, the winery makes about 70,000 bottles a year. In particular, it makes two different Sylvaner wines (the only grape variety from which it makes more than one wine).
The Valle Isarco
The Valle Isarco (or Eisackthaler in German, from Eisack (Isarco, in Italian) and thal (or valley, in Italian). The Valle Isarco is a river valley named after the Isarco/Eisack River that flows on the valley floor surrounded by the Dolomite mountains to the east and the Sarntal Alps to the west. It is Italy's northernmost winegrowing region, extending in a diagonal direction from the township of Varna/Vahrn (near Bressanone/Brixen) in the northeast down to to Bolzano/Bozen to the southwest. Wine grapes are grown from 400 meters up to close to 900 meters above sea level, though the majority of quality vineyard areas are between 600-800 meters above sea level. It is a cold climate area, with very large diurnal temperature shifts but also a long growing season. Days are warmer than one might expect, and in fact signs of a more Mediterranean landscape are present, such as chestnut trees. The soil varies throughout the subregion. It is mostly sandy-gravelly moraine (basically a mix of shale, gneiss and granite) around the Bressanone amphitheater; by contrast, it is mostly quartz phyllite from below Bressanone/Brixen to Chiusa/Klausen; and then quartz porphyry below Ponte Gardena/Waidbruck (a porphyry is a term referring to a diversity of igneous rocks containing visible, large crystals called phenocrysts such as feldspar and quarz, surrounded by a matrix of finer-grained mineral crystals that can be indistinguishable or easily seen and/or both; just beware that the porphyry of the Valle Isarco is a different one than that of the area of Terlano, which the one most people have at least heard of). Last but not least, interglacial alluvial deposits are found across the entire Valle Isarco.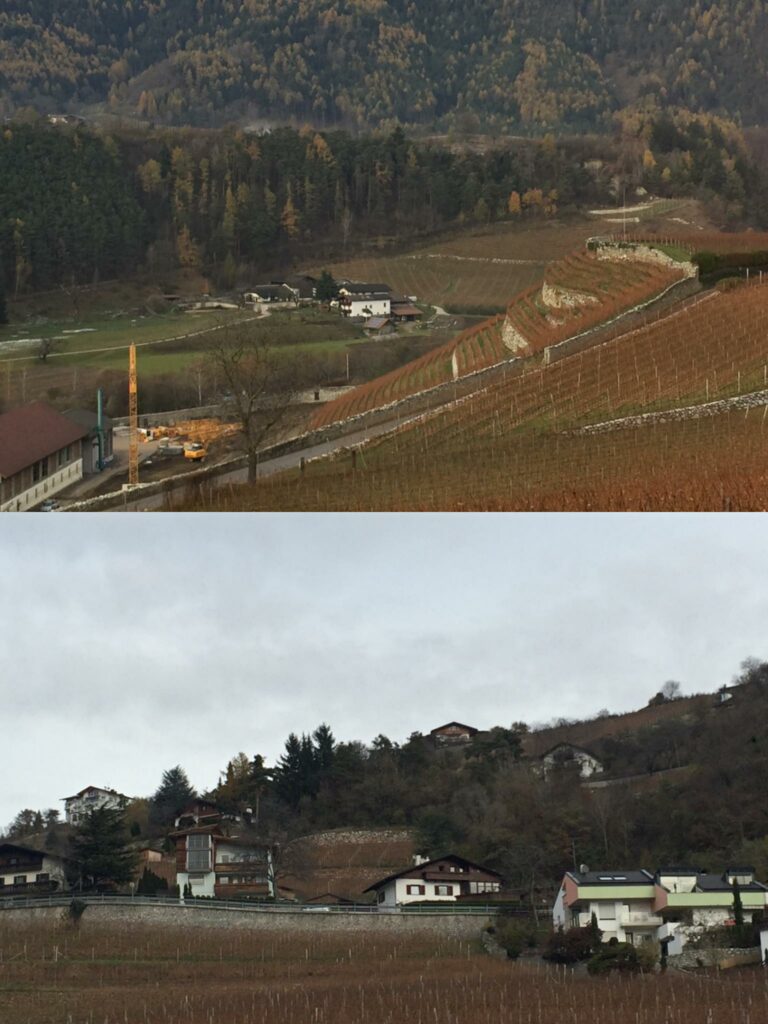 Broadly speaking and in wanting to summarize, I can tell you that it all amounts to a generally very permeable soil the rocky nature of which easily absorbs heat during the day and then releases it quickly at night, such that wine grapes ripen very well (especially so in times of climate change). And while explaining "minerality"in wine is still not something we can do comfortably from a scientific point of view, clearly the high mineral content of the Valle Isarco's soil is believed to be in some way responsible for the stony, mineral profile of the valley's wines. High acidity is clearly not a problem here, and that explains the generally steely, chiseled quality of the Valle Isarco wines.
The Sylvaner grape and the Valle Isarco: the facts
The most typical, historic wine grapes of the Valle Isarco are Sylvaner and Müller-Thurgau. By contrast, neither Riesling nor Pinot Grigio were ever grown much in the Valle Isarco (Grüner Veltliner is also now being planted there, and Sauvignon Blanc in the lower reaches of the Valle Isarco as well). Such varieties are relatively recent newcomers to the Valle Isarco, having been planted there in an effort to increase sales by cashing in on the brand name of far sexier, popular grapes than are Sylvaner and Müller-Thurgau. However, it should be obvious to everyone that uprooting old vines of Sylvaner and Müller-Thurgau in favour of making wine from young vines of Grüner Veltliner and Riesling is short-sighted at best. (Especially when German and Austrian wines made with those grapes are far better than anything the Valle Isarco makes.) Very simply put: if anyone tells you that something else than Sylvaner and Müller-Thurgau are the historic, most common white wine grapes of the Valle Isarco, they are either not being honest or are just plain ignorant about such wine matters. Anyways, you know better, so don't just sit there and take it.
In fact, there are precise, historical, and even logical reasons why Sylvaner is so common to the Valle Isarco. The history of viticulture in the Valle Isarco goes along way back (with evidence of winemaking as far back as the fifth century BC). However, up until the nineteenth century it was mostly red grape varieties that were grown in the Valle Isarco. Not surprisingly, because of the area's cold climate the red wines were nothing to write home about. Apparently, the first time Sylvaner was planted in the Valle Isarco was in 1857, near Bressanone (Brixen), when Franz von Guggenberg planted Sylvaner for the first time in his vineyards in the Seeburg. The grape variety gained further traction subsequently too two different, unrelated events but that had the same end-result. First, Sylvaner plantings increased greatly after 1881, in the aftermath of a horrific series of frost episodes that killed off a large number of vines in the area. In this case, Sylvaner was planted upon the recommendation of Edmund Mach, dirctor of the Istituto agrario di formazione e sperimentazione di San Michele all'Adige (the then already famous San Michele all'Adige wine school), along with other Austrian grape varieties nobody had ever dealt with in the area. Second, with the onslaught of the phylloxera scourge around the turn of the century, more vineyards died and had to be replanted. Vineyard and wine consultants were also brought in from Würzburg (not at all a strange decision: Germany's wine schools have long been amongst the best in the world and remember that Alto Adige only became a part of Italy in 1917). Being no fools, those experts immediately recognized the suitability of the Valle Isarco terroir for growing white, not red, grape varieties. Importantly, they also extolled the virtues of their own main wine grape: Sylvaner (or Grüner Silvaner, as it is called and spelled in Germany; by contrast, in Italy it's "Sylvaner" only, and its spelled with a 'y' instead of an 'i', as is done in Alsace or as it was anciently written in Germany and Austria). These events, explain why some of the oldest vineyards in the Valle Isarco are of Sylvaner (and of Müller-Thurgau), and certainly not of Kerner or Riesling. It is also why Sylvaner became the single most planted grape variety of the Valle Isarco post World War II. This wealth of old Sylvaner vines is one of the reasons that competent Valle Isarco winemakers can make outstanding Sylvaner wines in the area like in very few other wine regions of the world. To be clear, Sylvaner is very much a Valle Isarco grape asset, and should be treated as such: what the world needs right now is not more cheap Sauvignon Blanc wines. In fact, there are very few places in the world besides the Valle Isarco where you will find Sylvaner wines of a similarly high quality: certainly, Germany's Franken, parts of the Rheinhessen and Austria, Hungary, Switzerland, the Czech Republic, Croatia and especially old vine Alsace bottlings.
Sylvaner, the grape variety
As I have documented before in a previous article for the TerroirSense Wine Review (for an in-depth history and analysis of the Sylvaner grape, please see: TerroirSense Wine Review; Verticals section: "Domaine Burn Alsace Sylvaner vertical 1992-2017", published on March 30, 2021), Sylvaner is the result of a natural crossing between Österreichisch Weiss and Traminer (its parents, in other words) that most likely took place in Austria (Germany celebrated the 350th anniversary of Silvaner in 2009, but Austria's history with the grape apparently goes even further back). Sylvaner is not an especially hardy variety and it succumbs to extremely cold temperatures. And while it has a relatively short growth cycle, outstanding late harvest wines are made with it (in Alsace, Germany and Austria mostly, not Italy where Sylvaner wines are practically all classically dry). Sylvaner has long been saddled with the poor reputation of its wines, most often made from overcropped flatland vineyards of Europe. But nowadays we have, for example, countless examples of German and Alsatian Sylvaner wines that are of world-class quality; and the best from Alto Adige are right up with them. There really aren't too many grape varieties that express 'somewhereness' (to quote Matt Kramer and use his brilliant word descriptor of a sense of place in wine) like Sylvaner does (Riesling, Pinot Noir, Nebbiolo also come to mind). Furthermore, the aromas and flavours of quince, green apple, white flowers, lime, herbs, and minerals that so typify a great Sylvaner wine are captivating.  For more on Sylvaner, read my upcoming report on world Sylvaner wines to be published here on the TerroirSense Wine Review on Wednesday, July 8, in the Terroir Academy section of our web wine magazine (go to: terroirsense.com/en/).
Köfererhof's spectacular Sylvaner 'R' wine
Kerschbaumer makes the Sylvaner 'R' ('R' for reserve) from the oldest vines in his vineyard located right by the town of Novacella, and planted back in 1985 (so the vines are now almost forty years old); from the others he makes an outstanding classic Sylvaner wine that is practically as good as the 'R' and is also one of Italy's best white wines. He has since added grapes culled from another small parcel of old vines planted in 1993.
In 2006 Kerschbaumer decided that the grapes from these specific old vineyards deserved to have their own wine bottled separately, since the wine was always recognizably different and superior to the already great Sylvaner wines he was making. In fact, if you visit the winery (which I recommend you do) and take a walk amongst the vines there (always a nice way to spend the morning or the afternoon, even if you don't write about wine for a living) you will realize that this old vine Sylvaner looks different than the regular Sylvaner vines planted not far away. It's characterized by smaller bunches and berries and gives a much more intense, more flavorful wine. It's planted on soils formed from the advancement and retreat of the glaciers with a strong sandy clay-gravel component and a high concentrations of mineral elements. The Sylvaner vines are planted at 700 meters above sea level and are exposed full south; Kerschbaumer told me he believes the original vines were obtained from Germany's ultra-famous Geisenheim university's oenological institute. He also decided to call the wine 'R', where the 'R' is meant to signify "Reserve", though he cannot officially call the wine a "reserve" because it would need to be sold two years after the harvest (while Kershbaumer prefers to sell it after just one year).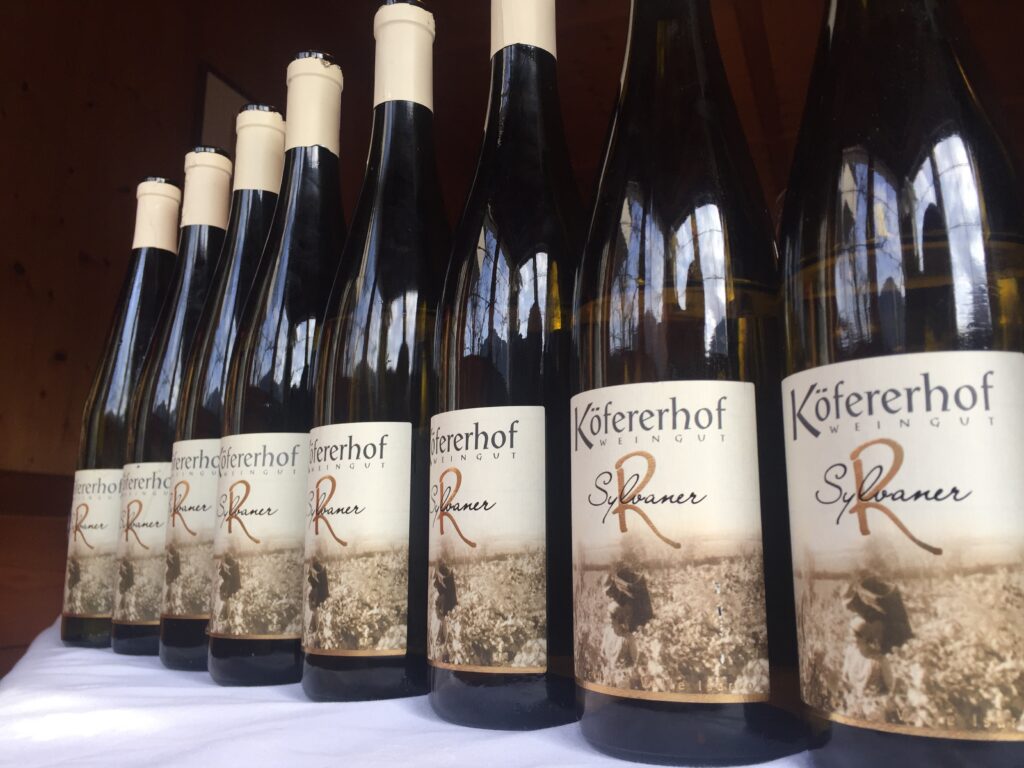 In order to make the 'R', Kerschbaumer picks the grapes about two weeks later than those used to make the regular Sylvaner bottling. The winemaking involves fermenting about half the must in 50% large acacia casks (a type of wood that Sylvaner takes extremely well to) and the remainder in stainless steel. Recently, it has been 50% in large acacia casks and the remainder in two 15 hectoliter Stockinger oak barrels. The wine then stayed on the lees for about six months and aged in 25 hectoliter steel tanks and third used tonneaux or barriques, as Kershbaumer's goal is not to have the oak show. However in time Kerschbaumer felt that the acacia wood at times contributed to having slightly green tannins as the wine aged; and though he continued to use it for the regular Sylvaner bottling until 2014, he has since moved to oak too. About 10,000-12,000 bottles a year of the Sylvaner 'R' are made. The wine is pristine and pure, with a thicker texture than is common with Sylvaner wines" not as jaggedly mineral as some examples from the Franken, but expressing hints of Mediterranean herbs amongst the notes of stone, white flowers, white stone fruit, chamomile and coriander, Köfererhof's Sylvaner 'R" is a remarkably great wine that ages and improves over the course of a decade,, though it's franly irresistible early on. It is most interesting in the different aromatic and flavour profile it offers comapred to the best Sylvaner wines from Germany and Alsace, especially. Should you want to try the Sylvaner 'R' right out of the gate, I point out that prior to popping its cork, it's a wine that benefits greatly from a couple of years of cellaring after the vintage; decanting it for a good thirty minutes to one hour ahead is also a good idea.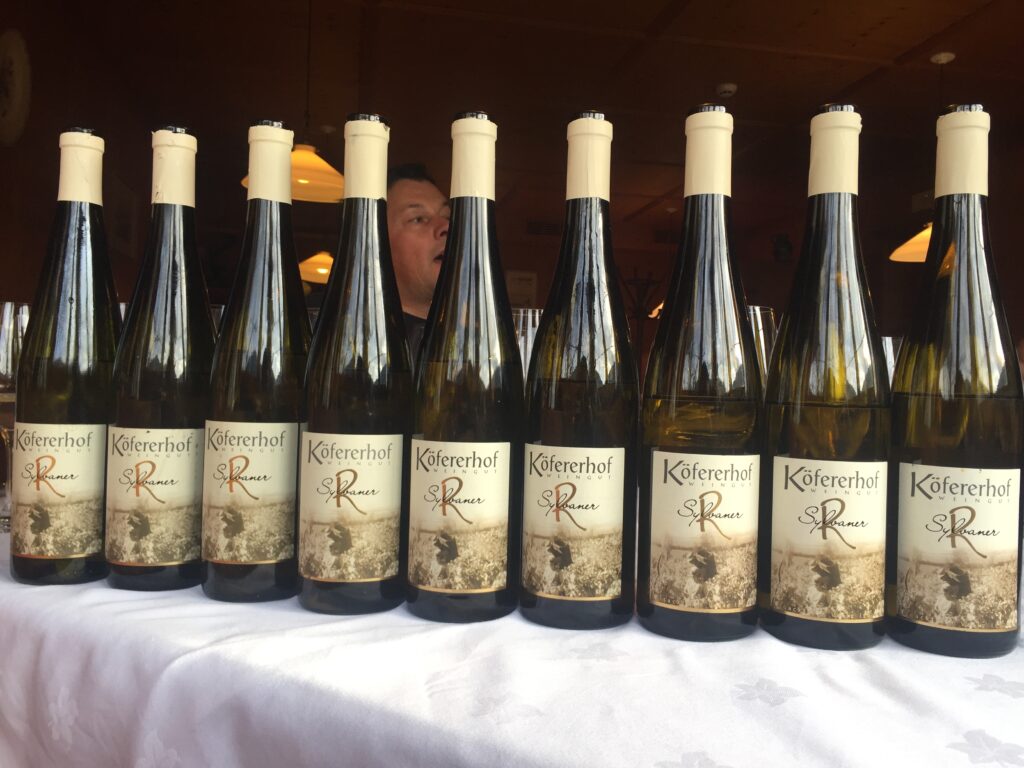 The wines in the tasting
Köfererhof 2019 Sylvaner R Valle Isarco Alto Adige                        94
Vibrant deep straw-green with golden highlights. Complex aromas of lime, white flowers, aromatic herbs and licorice, nicely complemented by a suave mineral undertone. Dense but juicy, with flavours similar to the aromas that are extended on the youthfully chewy, mineral-accented aftertaste. Still rather closed today, but has sneaky persistence and way above average complexity. Drinking window: 2024-2032.
Köfererhof 2018 Sylvaner R Valle Isarco Alto Adige                        92+
Bright golden-tinged yellow. Honey, apricot, mango and spiced Asian pear, even a hint of grilled nuts on the nose. Complex, vibrant and fairly full in the mouth, with saline, pure flavours of cantaloupe, acacia honey, ripe tropical fruit and just the slightest hint of marzipan. Closes long and youthfully chewy with lively suggestions of lime blossom and of quince. Drinking window: 2023-2030.
Köfererhof 2015 Sylvaner R Valle Isarco Alto Adige                        93
Luminous very pale straw yellow. Pure penetrating aromas and flavours of lime, nectarine and minerals. Fresh and lively, with sneaky concentreation to the stone fruit and spicy flavours. Finishes multilayered and very complex, with a savory bent and lively acidity. This stayed on its lees until the beginning of July, thereby gaining in structure and weight but unlike some new-wave German dry white wines that are all the rage now, this doesn't taste like something cows might like to drink. In other words, it's not green, leesy and herbal to a fault. Still remarkably fresh and young, with only 1 g/L residal sugar (and only 5.9 g/l total acidity), yet seems sweeter and riper than the less successful 2014. This refined Sylvaner is balanced and refined.   Drink: 2018-2025
Köfererhof 2014 Sylvaner R Valle Isarco Alto Adige                        89
Bright straw. The nose hints at chamomile, underbrush and stone fruit. Fresh and juicy, with crushed rock and sweet red chili pepper flavours complicated by honeyed  flavours that linger impressively on the slightly hot finish. A successful wine but I find it less charming than the riper 2015. About 6.4 g/L total acidity but less balanced and vibrant than other wines in this tasting. Drinking window: 2022-2026.
Köfererhof 2013 Sylvaner R Valle Isarco Alto Adige                        96
Bright golden tinged straw. Deep aromas of quince, yellow apple, chamomile and coriander. Rich, dense and balanced, with lively, harmoniuos acidity providing the rich, ripe deep flavours of stone fruit and coriander noteworthy clarity and cut. This boasts 6.6 g/L total acidity (and 3 g/L residual sugar), which is actually very high acidity for a Valle Isarco Sylvaner, but it gives this wine a beautiful translucency and really helps extend and lift the flavours on the back end. The finish is long, multilayered and complex. This is a knockout Valle Isarco Sylvaner that is a dead ring for a great dry Franken or Alsace example. Great stuff, and an archetype of just how great Sylvaner wine can be from the Valle Isarco. Drinking: 2022-2030.
Köfererhof 2012 Sylvaner R Valle Isarco Alto Adige                        95
Bright golden tinged straw yellow. Honeyed aromas of elderberry flowers, tangerine, pear and apple are complicated by notes of spicy botrytis. Dense bright and juicy, with fresh yet complex flavours of stone fruit and honey, with sweet spices adding more layers to what is a complex, multifaceted wine. Clocks in at 6.4 g/L total acidity and 3 g/L residual sugar, but interestingly, though the sugar concentration is the same as it is in the 2013, this seems sweeter than the 2013 (perhaps because of some noble rot?). Knockout wine that is still on the young side. No oak used in this vintage. Drinking window: 2022-2030.
Köfererhof 2011 Sylvaner R Valle Isarco Alto Adige                        91
Bright golden-tinged yellow.Very deep, rich aromas and flavours of apricot, licorice, and botanical herbs. Then tactile and chewy, with a long pure finish that hints at rose water and quince jelly, complemented by nicely spicy overtones. A touch of alcoholic heat on the back end lowers my score, but this is a deep, complex wine and much better than Köfererhof's 2011 Kerner, for example. Kershbaumer says that this Sylvaner wine was one of the greatest surprises of his life, as he never though the wine would age well and gain in complexity, with refined tannins (because the vintage was a very hot one and the grapes were cooking already on the vines). Even worse, in 2011 the grapes ripened very fast and weren't quite as concentrated as those of other years, and the acidity is also not as ripe as it is, but this is a very impressive Sylvaner nonetheless. Drinking window: now.
Köfererhof 2010 Sylvaner R Valle Isarco Alto Adige                        94
Bright straw yellow; much less evolved than the 2011. Delicate aromas and flavours of stone fruit, honey, crystallized ginger, and raisins. Fresh and lively, but with sneaky concentration to the multilayered flavours of lemon, mango, chamomile, quince paste and sour cream and onion potato chips. Closes long and lively with ripe acids nicely framing the ripe fruit flavours from start to finish. These grapes were picked at the end of October which is tremedously late for a Sylvaner: I loved this wine's balance and length. Drinking window: 2022-2029.
Köfererhof 2009 Sylvaner R Valle Isarco Alto Adige                        93
Bright deep golden yellow: this looks like a dessert wine! Late harvest aromas of honeyed peach, quince jelly, marzapan, and cinnamon on the very complex, rich but lifted nose. Then sweet, rich and ripe, with very pure and deep flavours of honey, tangerine, and bitter herbs. Finishes long and clean with mineral and savory herb flavors, plus a rising note of sweet almond oil. Knockout wine: it's not a classically dry white wine, but who cares? Have this with anything involving pumpkin, blue cheese, salmon with a tropical fruit chutney on the side, or even roast chicken with mushrooms and you'll be the happiest person around all day. Drinking window: now
Köfererhof 2008 Sylvaner R Valle Isarco Alto Adige                        87
Bright medium-deep straw yellow. Strongly floral nuances complement apricot, peach and sweet spice aromas and flavours. Fresh and juicy in the mouth, with lively flavours that are very similar to the aromas. Closes only medium-long though, and with a hint of bittterness, leaving behind an impression of being slightly fruit-challenged. In 2008, the ripe grapes were partly hit by noble rot, which gave for a broader but less concentrated wine. Aged only in stainless steel. Drinking window: now.
Köfererhof 2007 Sylvaner R Valle Isarco Alto Adige                        89
Golden yellow; this also looks like a dessert wine. Very rich and deep aromas and flavours of marzipan, candied tangerine peel, grilled plantain and crystallized mango, but its resolutely, classically dry. Very rich deep, downright luscious in fact, but perhaps a little but more evolved than most of the others in this vertical tasting. It's a lovely wine, but finishes  just a tad short and slightly hot. Fermented in an acacia wood barrel. Drink: now.
Köfererhof 2006 Sylvaner R Valle Isarco Alto Adige                        93
Beautiful straw-yellow color; this doesn't look at all like it's sixteen years old. Spicy botrytis complicates baked yellow apple, coriander, cumin, mango and green papaya aromas and flavours. Ripe and broad but also very juicy, boasting strongly saline nuances on the long, complex finish. This was aged completely in acacia barrels. This is the first ever Sylvaner 'R' made by Kerschbaumer, and I am not only honoured to have tasted it, but am impressed by just how great this Sylvaner wine was right out of the gate. I can see why Kershbaumer was right to vinify these grapes on their own thereby creating the Syl;vaner 'R' wine. This 2006 is simply a knockout. It's also quite clearly not the only memorable vintage Köfererhof has made of this wine since that first time. Bravissimo, Gunther! Drink: now.