In this second installment of the three part series devoted to the study of Alsatian grand crus, their history, their physical geography and how the same and different grape variety/ies express themselves in what are some of Alsace's most famous grand crus, Ian D'Agata tackles the Spiegel. After having documented last Wednesday what the two Alsace Muscat varieties achieve in the Saering Grand Cru, it is the turn to learn how they behave in the Spiegel Grand Cru nearby. Next week, in the third and final part of this set of articles devoted to Alsace's great wines and those of the Dirler-Cadé estate in particular, Ian takes us back to the Saering, but this time around to broach the subject of Riesling there. And in so doing, to hopefully provide insight into how this distinct grape variety behaves in the Saering compared to the Muscats that were discussed in the first article of the series.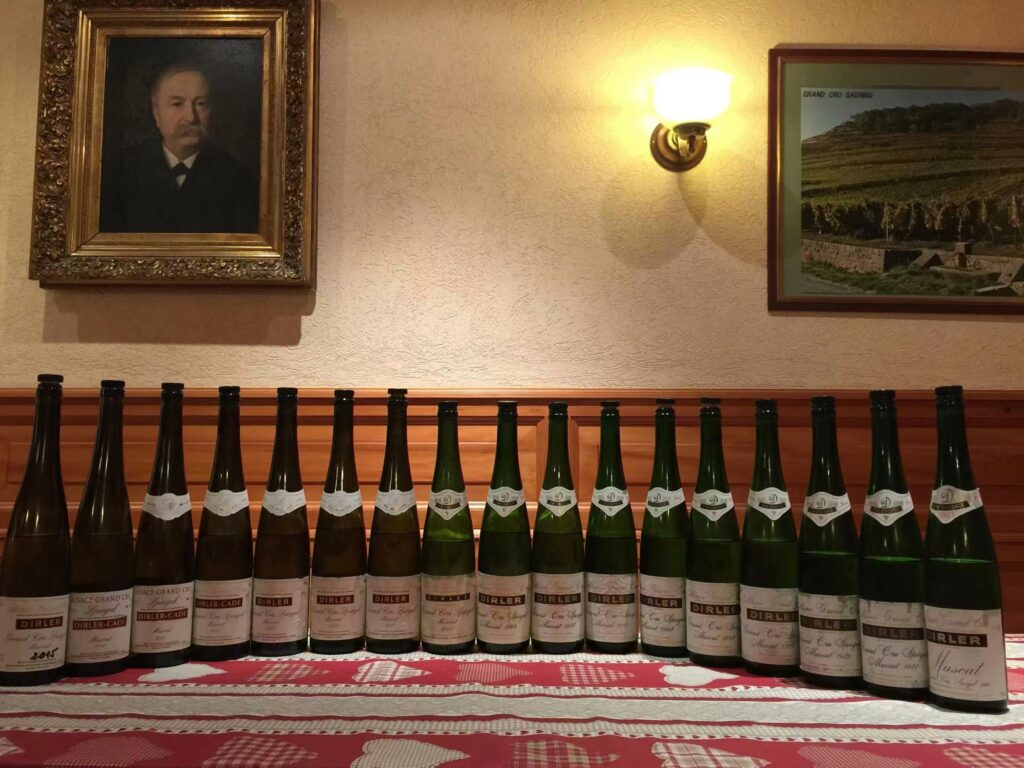 Mirror mirror on the wall…
Well, that is as fitting a beginning as any to this essay on Alsace's Spiegel grand cru and the great Muscat wine made from there by the Dirler-Cadé estate. This is because Spiegel in German means 'mirror' (remember that throughout history Alsace was long torn between two lovers; er, I meant countries, France and Germany). The grand cru Spiegel is so-named because of the quartz inclusions that characterize its soil, crystals that capture sunlight and reflect it onto the grapes that grow there. In a nutshell, I've already told you a lot about this grand cru but even more importantly, about the wines that can be made there.
The Spiegel Grand Cru and its terroir
The Spiegel Grand Cru is divided between the territories of the towns of Guebwiller and Bergholtz (where the Dirler-Cadé winery is located). Other grand cru vineyard districts nearby are the Pfingstberg to the north, while down south the Spiegel shares part of its western border with the Kessler. Even further south, but only a very short car ride away, is the Saering, the grand cru I also discussed in terms of its Muscats wines in the first part of this three part series of articles devoted to Alsace terroirs and the Dirler-Cadé estate (the Muscat Saering report was published last Wednesday, June 1, 2022) and that I will broach again in next Friday's article, but in that occasion turning my attention to Riesling's expression there.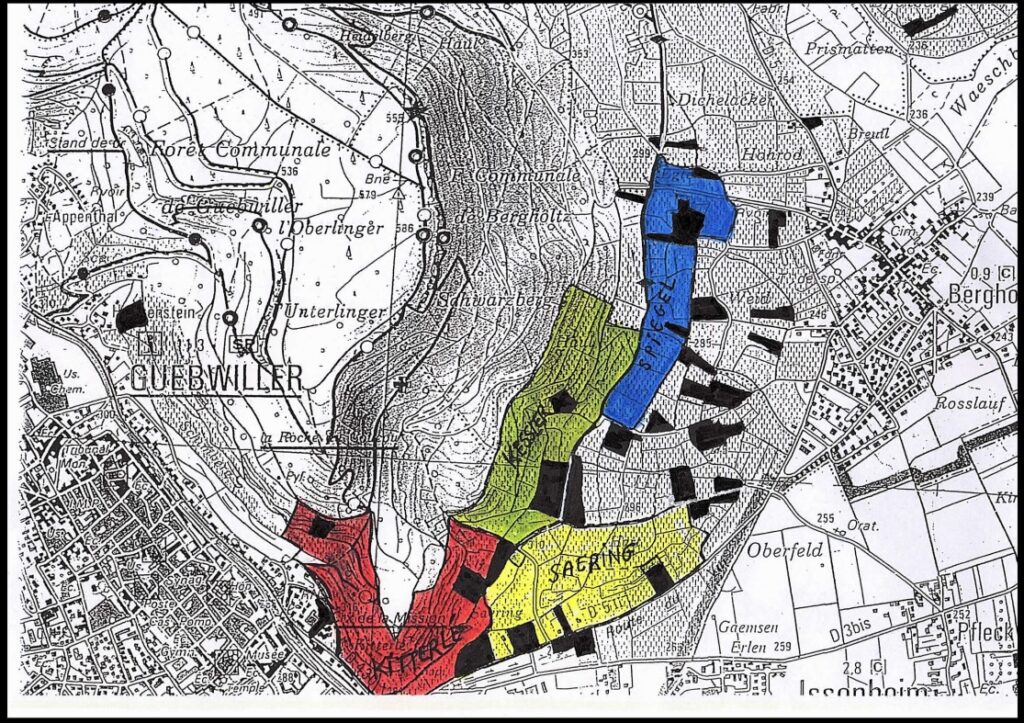 Characterized by a relatively gently-rising gradient, the Spiegel stretches out in a narrow band-like fashion over 18.26 hectares at an altitude ranging from about 260 to 315 meters above sea level. Its slope faces mostly east. Its soil is essentially Triassic period sandstone and Latdorfian stage (lower Oligocene epoch) marly mix with a little clay and limestone over an Oligocene-derived conglomerate sublayer, with quartz crystals and sandstone pebbles one of the site's defining traits [please note that 'period', 'stage' and 'epoch' refer to precise, distinct, temporal moments in geology: for more information, see my book Italy's Native Grape Wines Terroirs (University of California Press)]. The combination of the thermoregulating effect of the crystals and the sandstone pebbles confers good drainage and a generally warm, luminous microclimate (average of 1724 sunlight hours/year); the potential for a warm microclimate is further enhanced by the protection afforded by the Vosges mountains, which thanks to the shadow effect, safeguard all of Alsace's best vineyards from rain and wind. However, the Spiegel's eastern exposure buffers the potential for heat somewhat, allowing for long hang times and wines of noteworthy complexity to be made.
The Spiegel's grapes and wines
Given the climate, geology and topography I've just described, it won't surprise you to know that the Spiegel's Gewurztraminer and Pinot Gris wines are powerful and often made in a late harvest style with residual sugar. They are beautiful wines worth looking out for, as they represent a style of wine from these two grapes that can really only be made in Alsace. For example, anyone who has only tasted fresh simple Pinot Grigio or Pinot Gris wines should really give the Spiegel's a try. Not only are they immensely richer and layered, but they boast an uncanny minerality that really elevates these Pinot Gris wines into the realm of the world's truly greatest white wines. It is not by accident that Gewurz and Pinot Gris are the two most planted wine grapes on the Spiegel. By contrast, the Riesling and Muscat grapes, planted with more southernly aspects (something the lower acid Pinot Gris and Gewurztraminer don't need). Furthermore, often  on the strongly sandstony portions of the grand cru providing wines of uncanny lift and delicacy, something that can surprise given what we know about this grand cru's physical geography factors of terroir. For sure, all of the Spiegel's wines age remarkably well (the Spiegel's Riesling and Muscat wines especially have greater, more balanced acidities than one might expect), as this vertical tasting report attests.

The Dirler-Cadé family and their Spiegel Muscat wine
Like in the Saering I described in the previous article, the Dirler Cadé family farms biodynamically and grows both of Alsace's Muscat varieties in the Spiegel: Muscat Ottonel and Muscat d'Alsace (also called Muscat à Petits Grains in Alsace -a reference to the variety's small-sized grapes- but better known as Moscato Bianco everywhere else in the world). Muscat d'Alsace has been grown in the region since at least the sixteenth century (though I personally find it hard to believe Roman legionaires didn't bring up plants of it at the time they conquered Gaul, given that the Moscato Bianco variety has lived in Italy since forever). By contrast, Muscat Ottonel is a more recent arrival to the region, discovered in the nineteenth century in the Loire valley (in fact, Muscat Ottonel is a crossing of Chasselas and another Muscat variety that is undetermined: some reports say Muscat Ingram, a red-berried variety crossed with Chasselas in 1852; others state it was Chasselas crossed in 1839 by French breeder Jean Moreau with Muscat de Saumur/Muscat d'Eisenstadt: it's significant that people can't even agree on the date, never mind what grape was actually used. And for further fun, I will just mention that I have seen reports where it is written that Muscat Ingram is a synonym of Muscat de Saumur/Muscat d'Eisenstadt, which is curious, to say the least given that the former is a red grape and the latter a white grape. Hilarious, really). Muscat Ottonel is even more precocious in its growth cycle than Muscat d'Alace and gives wines of explosive floral perfume, while Muscat d'Alsace gives more structure and body. Therefore, the two make for ideal blending partners and that is why most of Alsace's Muscat wines are in fact blends of the two. Blending also allows to get around some of the difficulties each Muscat variety poses: Muscat Ottonnel suffers easily from berry shatter and flowering issues (such that its yields can be devastantingly small in some vintages) while Muscat d'Alsace does not always reach optimal physiologic ripeness in Alsace's at times northernly cooler weather. Clearly, the latter problem is becoming less insurmountable with the advent of climate change; this is also why Muscat d'Alsace is the variety that growers in Alsace most choose to replant with nowadays when the time comes to do so. There also exists a third Muscat grape in Alsace, this one red-berried, most likely a biotype of the Muscat d'Alsace (at Dirler-Cadé they farm all three though the red berried one is in the minority, as it is most everywhere).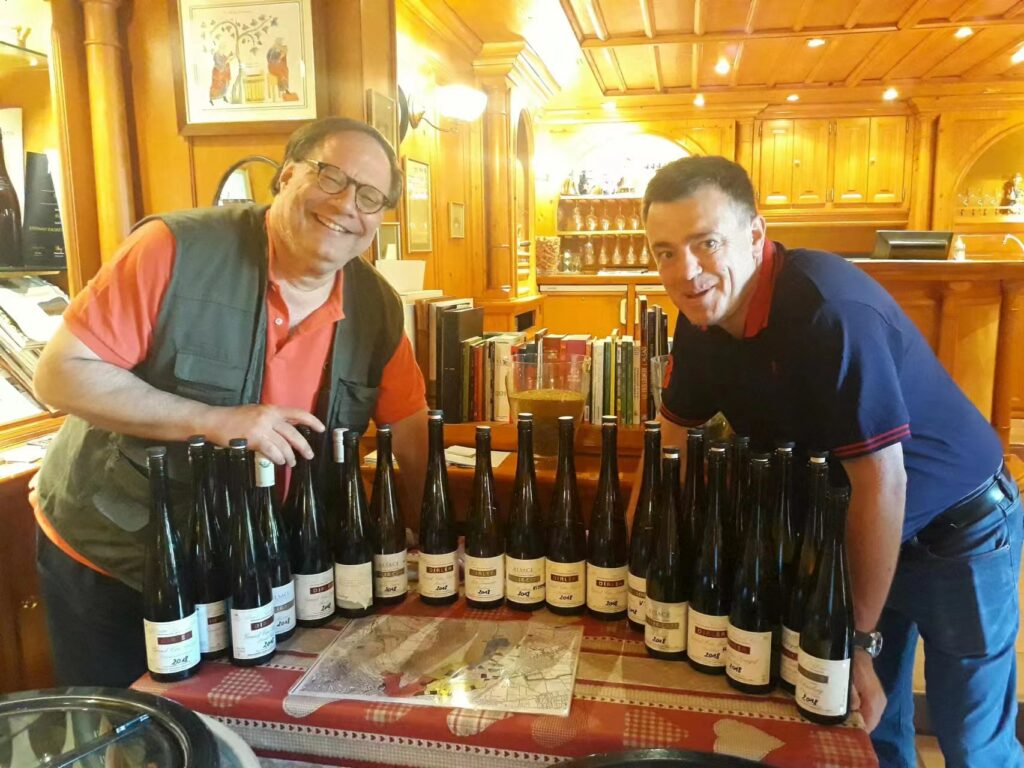 Dirler-Cadé owns a very small Muscat holding (0.19 hectares) in the Spiegel, in a stonier section of the grand cru historically known as Stein; it consists in roughly 95% Muscat Ottonel and 5% Muscat d'Alsace. The vines were planted in three different moments, such that the vineyards of today are fifteen and twenty-four years old (a small plot of Muscat d'Alsace that had been planted in 1963 unfortunately had to be uprooted in 2012). Also differently from Dirler-Cadé's Muscats planted in the Saering (where the vines are older and there is just a little less Muscat Ottonel, though it is still the dominant variety), is that while the Muscat grape vines in the Saering are planted with a south-eastern exposure, in the Spiegel they face full south. While the Saering gives a citrussy Muscat with a slight tannic, austere quality, this is not at all the case of the Muscat wines of the Spiegel which tend to be more floral and more refined. However, given what I have told you about the Spiegel's physical geography, it won't surprise you to know that fermentations are always slower and oftentimes never completely finished with musts from the Spiegel. Given that Dirler-Cadé makes biodynamic wines, it is likely that the natural yeasts have trouble with this grand cru's less nutrient-rich soils.
What to eat with the Muscat Spiegel
As I am sure you can tell by reading the articles, I love Dirler-Cadé's Muscat wines (and their remarkable Sylvaner just as much if not even more) and have great fun pairing them to myriad different foods. Ludivine Cadé suggests dishes such as a yellow melon and grape salad and generously applied mint sprigs, and also appettizers such as white asparagus, ham and mayonnaise. I also like it with more Meditterranean salads such as fresh tomato salad (Pachino or heirloom all work well) with fresh and/or dried herbs and burrata. Clearly, goat cheese never met a Muscat wine it didn't get along with just swell. I also never hesitate to pull out oysters but all shellfish in general work really well (in broth, risottos or on pasta), not to mention scallops in brown butter. Salmon steaks especially when married to citrus infusions work great, but so does poached John Dory, even with slightly creamy sauces. Bouillabaisse works too provided it is not too tomato heavy, and Mexican food with its notes of cilantro and bell peppers also get along real well (in the latter case, Sylvaner works even better).
Dirler-Cadé first made its Muscat Spiegel Grand Cru wine in 1987; unfortunately, given the small vineyard size and the berry shatter-related problems of Muscat Ottonel, the annual production volumes are small. For example, only 1013 bottles were made in the 2020 vintage and 1010 bottles in 2019. So in other words, don't dilly dally around, and go out and get them while you can!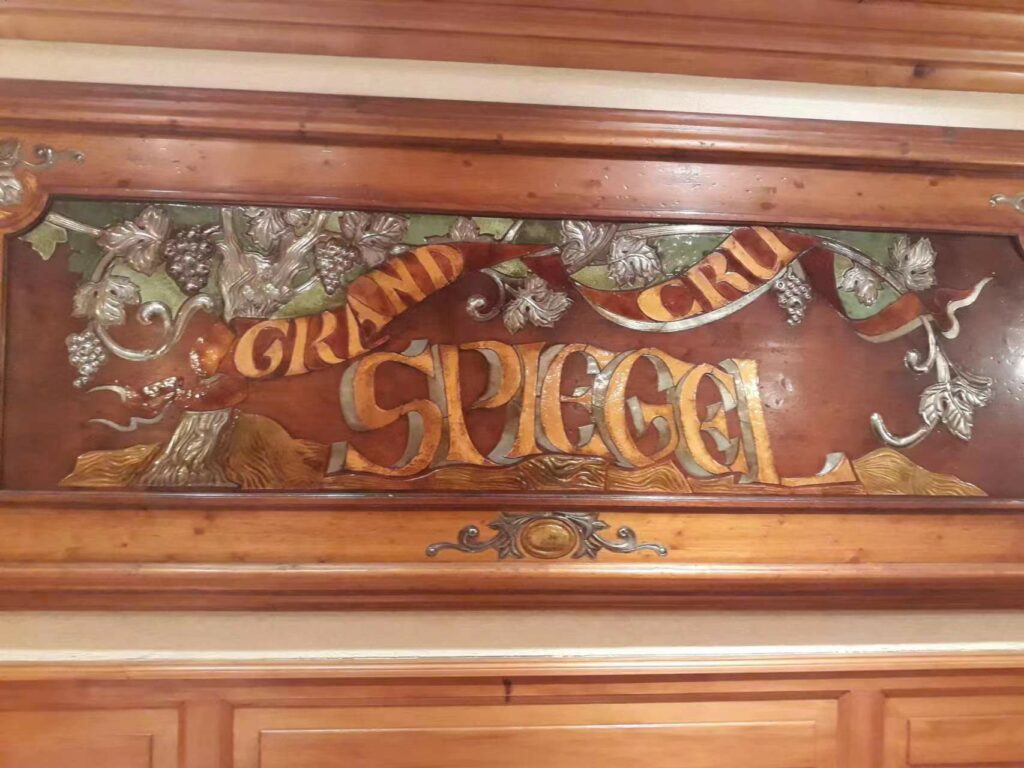 The wines in this tasting
Dirler-Cadé 2018 Muscat Spiegel Grand Cru                                       93
Pale yellow with green highlights. Lime fruit and white flowers soar from the glass. A citrussy quality nicely frames the minty orchard and stone fruit flavours, complicated by hints of lemon verbena and peppermint. Finishes with very good cut and lingering mineral character. A blend of 97% Ottonel and 3% Muscat d'Alsace, this boasts a paltry 2.85 g/L r.s. and tastes bone dry. Drinking window: now-2033
Dirler-Cadé 2017 Muscat Spiegel Grand Cru                                92
Bright straw-green. A floral and herbal potpourri greets the nose (lemon balm, peppermint, thyme, oregano) complicating hints of white peach and grapefruit. Lovely sugar-acid balance in the mouth, this classically dry Muscat wine (only 3 g/L residual sugar) boasts precise flavours similar to the aromas on the long vibrant finish. A 90% Muscat Ottonel and 10% Muscat d'Alsace, this is delicious. Drinking window: now-2032.
Dirler-Cadé 2016 Muscat Spiegel Grand Cru                                      91
Lively straw-yellow with green tinges. Pungent aromas of lemon verbena and lemongrass complement nectarine and minerals. Downright crystalline in the mouth, with light, subtle flavours of green apple, aromatic herbs, and grapefruit. Very Ottonnel and very delicate. Clocks in with more octanes than I would have guessed (12.9% alcohol) and finishes classically dry and vibrant (1 g/L r.s. and 4.1 g/L total acidity). Drinking window: now-2027.
Dirler-Cadé 2015 Muscat Spiegel Grand Cru                                94
Good full straw-green. Very floral on the nose, with a delicate spearmint overlay. Then white stone fruit and fresh citrus flavours that are long, fresh and lively. Here once again it's very easy to recognize the Ottonel. Closes long and juicy with an enticing potpourri of jasmine, lemongrass and bergamot. This is really lovely and it strikes me as having improved with bottle age. Really magnificent; given how good the 2015 Muscat Saering is at this estate, I have to say that 2015 was very much a Muscat year here. Drinking window: now-2033.
Dirler-Cadé 2014 Muscat Spiegel Grand Cru                                90
Lively straw-yellow green colour. Lime blossom and mint dominate the nose that also has nuance of linden flower. Then smooth and glyceral, with pungent but dense flavours of lime oil and minty apple sauce. At 2 g/L r.s., a classically dry Muscat wine from the Spiegel that closes long with hints of lemon verbena and a noteworthy saline edge. Drinking window: now-2030.
Dirler-Cadé 2013 Muscat Spiegel Grand Cru                                91
Medium golden-tinged yellow green colour. The nose offers baked apple and white peach nectar, complicated by a potpourri of aromatic herbs. Dense and thick but penetrating, with a nuance of herb liqueur on the thick but not heavy finish. Only 3 g/L r.s., this will work very well as an aperitif too. Drinking window: now-2032.
Dirler-Cadé 2012 Muscat Spiegel Grand Cru                                92
Good full yellow. Exotic, ripe nose delivers pineapple, lime skin, grilled plantain and spearmint, complicated by an obvious smoky note. Solidly built and very pure, there's lovely delicacy to the pineapple and grapefruit flavours. Plenty of flesh and freshness on the aftertaste, with a gentler texture and a rounder mouthfeel thanks to 7 g/L r.s. Outstanding wine if perhaps slightly less explosive than the 2015. Drinking window: now-2035.
Dirler-Cadé 2011 Muscat Spiegel Grand Cru                                93
Bright yellow-green. Fruit-driven aromas of very ripe peach, yellow plum, vanilla, sweet spices and white flowers. Fat and rich but brisk, with nicely concentrated flavors of lime jelly, apricot, even a curious note of cream soda. An edge of acidity gives this wine excellent grip. Lovely showing but not classically dry (10 g/L r.s.) which I think is great because it gives the wine wonderful balance, but those looking for a classically dry wine might want to pick another vintage. Drinking window: now-2032.
Dirler-Cadé 2010 Muscat Spiegel Grand Cru                                88
A little evolved with notes of caramel and not much Muscat personality. This was made during the time when the winery was experimenting with making low-sulfur wines and organically/biodynamically farming and so less free sulfur was used than usal and I think the wine is worse for wear, evolving precociously. Still drinkable, but I'd drink any bottles you find quickly. Drinking window: now.
Dirler-Cadé 2009 Muscat Spiegel Grand Cru                                91
Deep straw-yellow with gold highlights. Ripe, open-knit aromas and flavours of candied fruit peel, ginger, sweet spices and even a hint of pepper. Closes long and tactile with a repeating hint of peppery stuff. About 9 g/L residual sugar but barely off-dry; this was a hot vintage and you can tell. Drinking window: now.
Dirler-Cadé 2008 Muscat Spiegel Grand Cru                                96
Whoah, hold your horses, WOTN (wine of the night)! Crystalline straw green with golden tinges. Minty grapefruit and lime aromas on the knockout nose are complicated by coriander, cinnamon, minerals, lemon verbena, jasmine and thyme. Very fresh and clean, with a laser beam of acidity really lifting the floral and apple flavours. Long and almost mineral with a hint of sweet spices on the close. Still really young wine  despite it being now fourteen years old, this boasts marvellous freshness and balance. Great stuff. Drinking window: now-2040.
Dirler-Cadé 2007 Muscat Spiegel Grand Cru                                91
Good full yellow. Clean floral white stone fruit and spiced pear on the nose. Good material and intensity here, with long mineral strokes to the fresh fruit and minty herbal flavours. Tastes surprisingly fresh and lively, but is not an especially explosive Muscat wine. In 2007's there were unseasonably hot days with grapes still hanging in the vineyards that led to the wine being slightly aromatically compressed but not hot, overripe or over the top because the summer was cool. Drinking window: now-2029.
Dirler-Cadé 2001 Muscat Spiegel Grand Cru                                93
Luminous straw green and yellow. Aromatic nose offers deep rich nuances of tropical fruit, and a hint of honey. Nicely fresh and crisp, with layered almost opulent fruit flavours in the mouth that have better precision than the 2007. Closes long and rich but fresh and vibnrant, with gin and tonic minty twist. Excellent. Drinking window: now-2032.
Dirler-Cadé 1999 Muscat Spiegel Grand Cru                                94
Medium dark yellow. Grapefruit and orange zest on the perfumed dense nose. Then also dense in the mouth, with very ripe flavours of fruit and less floral than is typical with Muscat Ottonel-domianted wines. Tastes large, rich and round, but despite an absence of residual sugar it is remarkably suave and balanced. Finishes long with a slightly exotic note and with noteworthy minty freshness. There is a bit more Muscat d'Alsace than nusual in this vintage because the Muscat Ottonel suffered berry shatter and diseease pressure. At the time there was also a small piece of old Muscat d'Alsace vines that was ripped out later (in 2012).  You can tell there is less Ottonel in this wine especially on the nose. Drinking window: now-2032.
Dirler-Cadé 1997 Muscat Spiegel Grand Cru                                93
Medium deep straw colour. Initially reduced then fresh mint, green tea, nectarine and herbs on the nose and in the mouth. There is a suggestion of a herbal nuance here and there, but the wine tastes nicely full and ripe, boasting an enticing hint of almond paste on the long, chewy and peppery close. Drinking window: now-2030.
Dirler-Cadé 1995 Muscat Spiegel Grand Cru                                91
Dark golden-tinged yellow. Fresh on the nose and in the mouth with hints of caramel and toffee complicating apple, baked pear and earth tones. Some obvious nuances of lemony botrytis verging on the herbal on the nose speak of the noble rot presence and so harvest had to be done quickly (but Jean Dirler told me grapes came in with some remarkable acid levels, a consequence of the noble rot's concentrating ability). The herbal note is a little much for me, but Muscat lovers will adore this. Drinking window: now-2029.
Dirler-Cadé 1994 Muscat Spiegel Grand Cru                                94
Medium gold. Wild and still remarkably fresh aromas of elderflower, mirabelle, banana, clove and exotic herbs. Lively and juicy, with a strong floral flavour complicated by notes of ginger, clove, and exotic tea. Boasts more than enough acidity to maintain freshness. Finishes with explosive length, long, clean and very bright. This is still very young. Lacks the complexity or mineral freshness of the 2008 but this is a knockout. Drinking window: now-2040.
Dirler-Cadé 1993 Muscat Spiegel Grand Cru                                94
Pale green-tinged gold color. Scented, varietally accurate nose combines mint, grapefruit, rose petal, cinnamon, passion fruit, quince and hints of crystallized citrus fruits. Fresh and sharply delineated in the mouth, with lovely bright fruits over a mineral spine; seems to have a green streak because of all that mint, but finishes clean, long and with repeating notes of rose water, passionfruit that are just lovely, not to mention crispy and clean. Outstanding clarity and cut here on the slightly off-dry clsoe. Drinking window: now-2034.
Dirler-Cadé 1992 Muscat Spiegel Grand Cru                                89
Vivid straw yellow. Pure aromas of rose petal, lemon balm and baked apple. Fairly dry and laid-back, clean but a little more linear and less explosively floral; good but not great and ultimately less interesting. This had a higher yield and you can tell (easily 80 hL/ha). The 1992 vintage was one of the largest volume years in Alsace history, for example, not far off, really just behind 1946. Drinking window: now.
Dirler-Cadé 1989 Muscat Spiegel Grand Cru                                90
Pale golden yellow. Smoke, earth and lichee aromas with plenty of marzipan and caramel apple aromas and flavours. Bright and fairly dense in the mouth, offering a slightly evolved mouthfeel but very good intensity and richness. A slight green tannic nuance on the firm and persistent finish speaks of a little rot, but it doesn't strike me quite as noble as you'd expect froma vintage like 1989 when there was so much of it that bascially it was growing on your tires and on your house drapes too. Still, this is a lovely wine. Drinking window: now.
Dirler-Cadé 1988 Muscat Spiegel Grand Cru                                88
Pale, gold-tinged color. Discreet nose offers lime, almond flowers and mint, with a hint of rose petal emerging with aeration. Sweet, concentrated and nicely filled in, but showing more of a phenolic character, which gives the finish a slight dryness. The aftertase has repeating nuances of almond paste and aromatic herbs. I have had better bottles of the 1988 Muscat Spiegel before, so I think this bottle, though perfectly drinkable, is not indicative of the good level this wine normally shows. Drinking window: now
Dirler-Cadé 1987 Muscat Spiegel Grand Cru                                NR
This bottle was unfortunately tired and past its prime.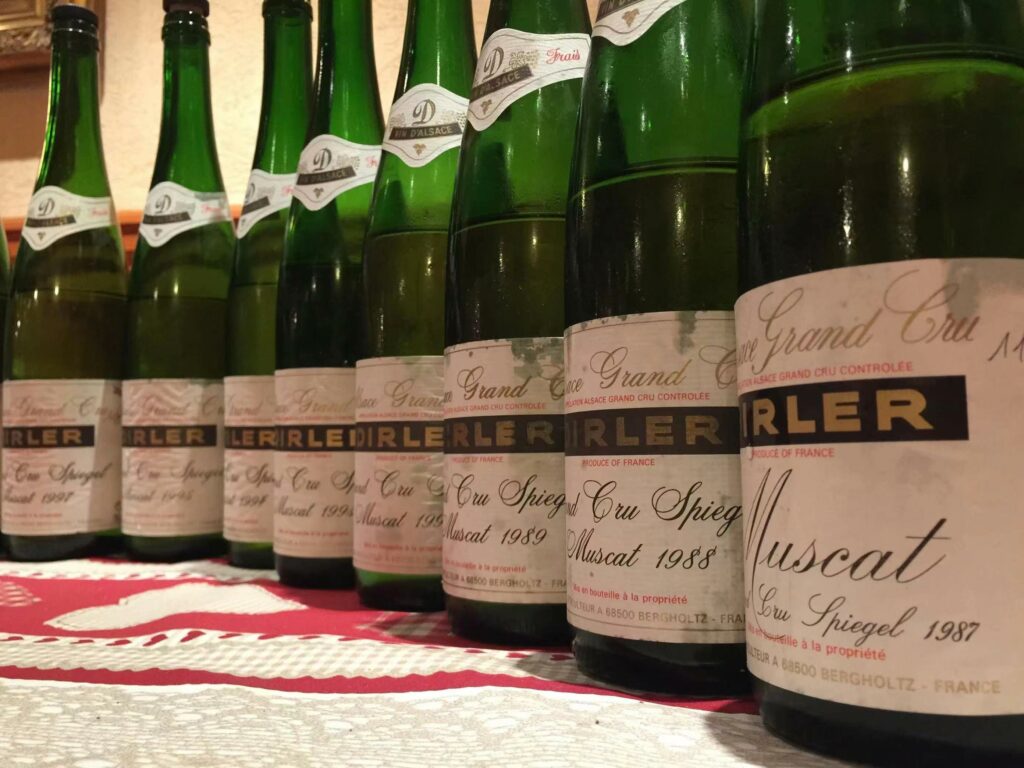 See also: First part: Dirler-Cade Muscat Saering Vertical 1997-2017: Twenty Years and Counting…
And Dirler-Cade Riesling Grand Cru Saering vertical 1990-2015