For any wine lover, it's a great privilege to taste and compare differences wines and vintages of the wines from of the Domaine de la Romanée-Conti. Recently, we were very fortunate to organize a superb tasting dinner that brought together 7 DRC Grand Crus and 6 unforgettable vintages of La Tâche. This wine tasting also gave us the opportunity to discover the characteristics of 10 important vintages of Romanée-Conti: 1988, 1995, 1999, 2000, 2003, 2008, 2009 and 2010.
I will share the precious experience about La Tâche in this article and in my next article about the other great wines of Domaine de la Romanée-Conti.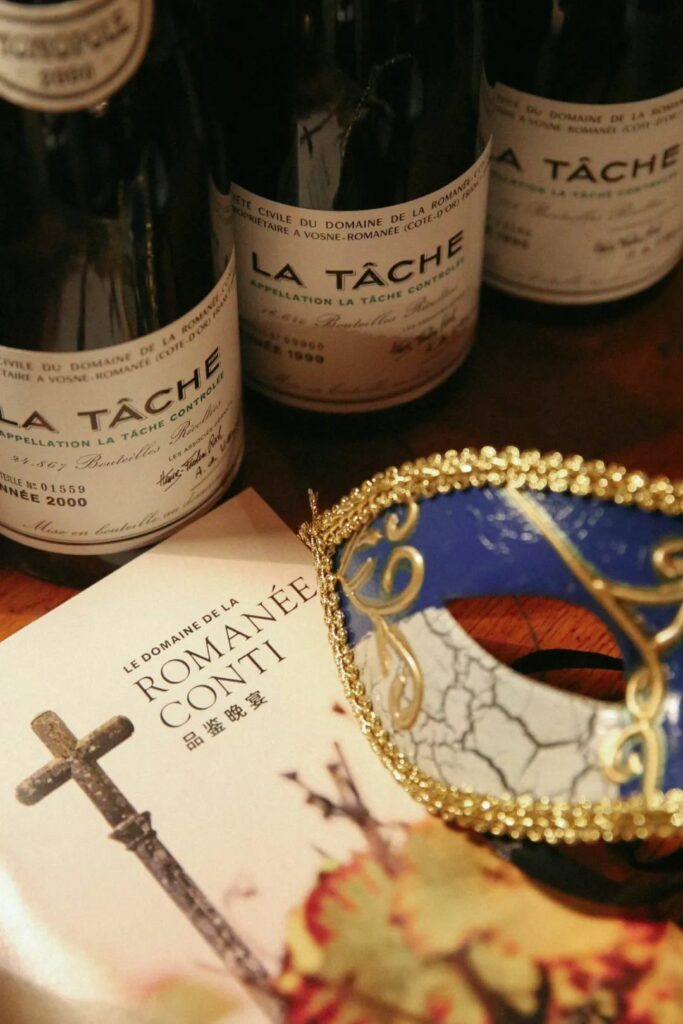 Of all great terroirs owned by Domaine de la Romanée-Conti, La Tâche is recognized as one of the estate's most symbolic Grand Crus, whose greatness is very close to its monopoly peer – the supreme Grand Cru la Romanée-Conti.
The consistent performance of La Tâche is so good that some experts can even go as far as saying that La Tâche almost meets all the expectations of sensory pleasure that one can wish for from a wine. Meanwhile the appreciation of La Romanée-Conti requires more tasting experience and needs the drinkers to take the initiative to go closer to the wine themselves.  And the vineyard of La Romanée-Conti is only 1.814 hectares, with an average production of around 5,000 bottles a year. With an area of 6.062 hectares, La Tâche is much larger, in fact, it is the largest plot owned by the Domaine de la Romanée-Conti. And so there's also more wine made from it, with an average production of 18,000 bottles each year. Over the years, the price of la Romanée-Conti has been a bit more than 4 times of La Tâche from the same vintage. No wonder many enthusiasts joke that La Tâche, turns out to be the "best value wine" produced by the Domaine.
The history and expansion of La Tâche
There are many versions of the history about La Tâche's early ownership, but some are no longer verifiable after so many centuries have passed. It is clear that in the 18th century, the vineyard was once owned by Joseph Joly de Bévy, the president of the Burgundian Parliament, and that's how at that time it got named La Tâche Joly de Bévy. After the French Revolution, the vineyard was put up for auction and bought by Jacques Jacquinot, the mayor of Nuits-Saint-Georges, who was actually an agent of Claude-Francois Viénot-Rameau, a wine merchant from Dijon. And then the land was sold to Guillaume Bazire in 1800 and then sold or passed on to his son-in-law Louis Liger-Belair in 1815. Since then, it has been owned by the Liger-Belair family for 118 years. In 1933, La Tâche was sold at auction due to succession problems and bought by the owner of Domaine de la Romanée-Conti, Edmond-Gaudin de Villaine, grandfather of the current co-owner Aubert de Villaine.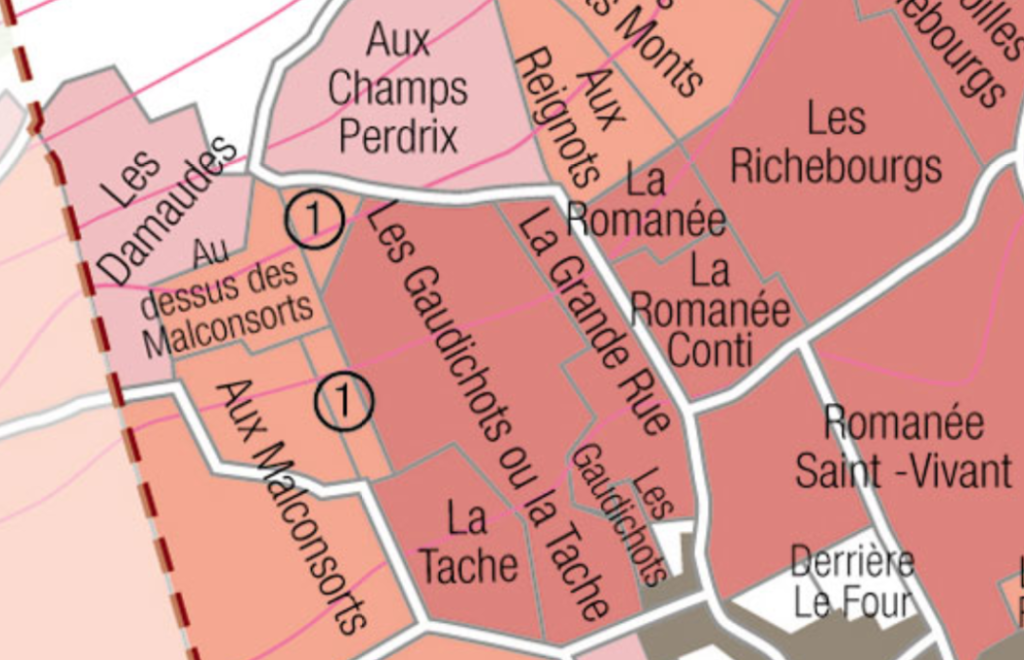 The word "tâche" means "task" in French. But without the phonetic symbol on the letter "a", "tache" means "stain", a far cry from the former meaning. Clearly, the former is more relevant to vineyard farming. Still today in France, they use the word "tâcheron" to refer to someone who is hired temporarily to do farm work. Ever since the 1978 vintage, "La Tâche" has been used on the labels of DRC wines; before that, the domaine only used "La Tache" on the label (save for older wines with new labels released afterwards by the domaine itself or wine merchants in collaboration, such as the 1971 vintage of La Tâche, released after 1978 by Wilson-Daniels, Romanée-Conti's US agent).
According to the transaction record, the earliest plot of La Tâche Joly de Bévy only covered an area of about 1.40 hectares, but later underwent two expansions. Once in the hands of the Liger-Belair family, according to Allen Meadows, it first grew by another 0.027 hectares through an acquisition from the Groffier family. And then, after Domaine de la Romanée-Conti assembled several plots of the climat adjacent La Tâche called Les Gaudichots through several acquisitions over the years, DRC began to bottle and sell Les Gaudichots under the name of La Tâche. And in 1932, this practice has been ruled by the court as lawful in the disputed proceedings with the family Liger-Belair. In 1933, when DRC acquired La Tâche Joly de Bévy, the domaine merged it with its holding of 4.63 hectares of Les Gaudichots (still referred to as "les Gaudichots ou La Tâche" today) to form up the monopoly of La Tâche of 6.062 hectares. Both parts of La Tâche were recognized as Grand Cru in the official classification of 1936.
To trace how the original La Tâche Joly de Bévy before 1933 tastes like, seems more like a wine nerd's obsession. The current understanding of La Tâche came more from modern drinkers' experience of tasting this wine after those two expansions. I would prefer to focus on the history closer to us.
The terroir and the style of La Tâche
La Tâche is located in the heart of Vosne-Romanée, on the same slope and in the south of La Romanée-Conti and La Romanée. It is immediately south of the narrow La Grande Rue (upgraded to Grand Cru in 1992) and continues southwards in the direction of the Premier Cru Aux Malconsorts, which extends further in the south to the village of Nuits-Saint-Georges. Interestingly, those four grands crus mentioned here, are four of the only five Burgundy's grand crus in monopoly status with Clos de Tart in Morey-St-Denis as the fifth.
If you wander through these vineyards and take the La Tâche path next to the gentle slope at the bottom and go all the way up to its top at about 300 meters above sea level, you will find a terrace overlooking the entire village of Vosne-Romanée and it really is a beautiful sight to behold.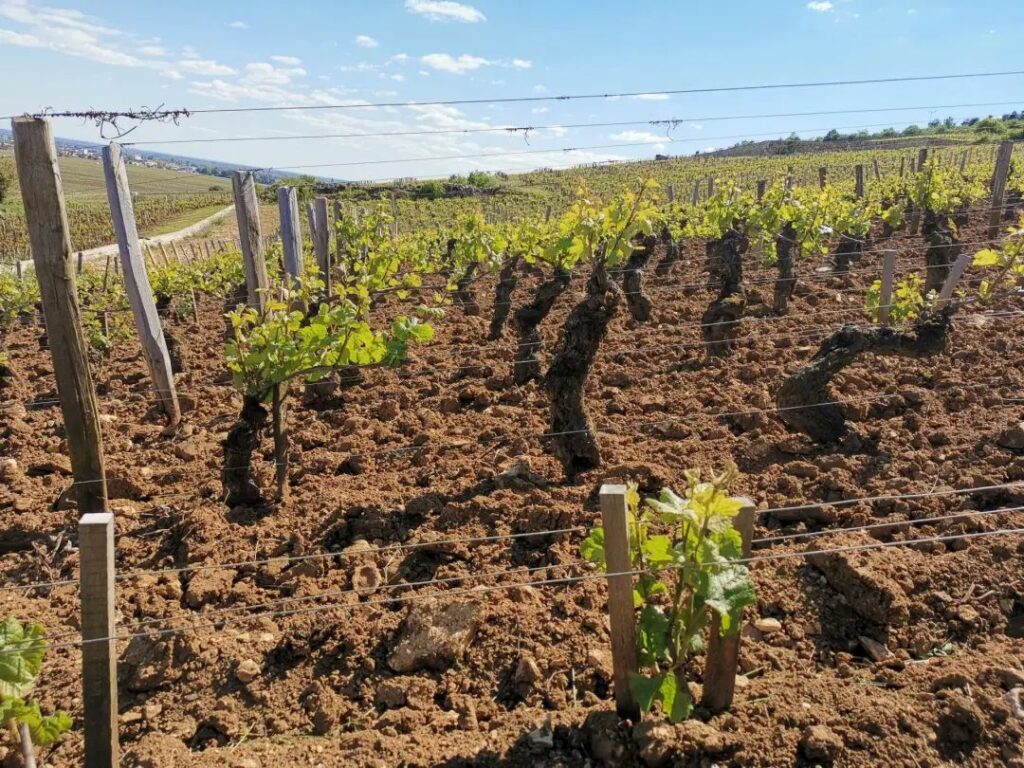 Aubert de Villaine, the co-owner of DRC, states that La Tâche is a terroir with a relatively high diversity of soils, boasting the presence of limestone substrates, red clay, pebbles, marble, calcareous marine fossils, and others still, all of which vary in distribution and proportion from the bottom to the top. He considers La Tâche the healthiest of all his vineyards, characterized by the presence of old vines (average age: 50-60 years), and one that is particularly resilient to unusual climate, pests, and diseases. What the trailer delivers, of course, is a wine that is absolutely, mesmerizingly unique and consistent.
La Tâche is a combination of elegance and precision. There's an almost ruthless courtly elegance ruling underneath the warm, firm tannins and the fire-like passion of fruit exploding in each glass. As Aubert de Villaine pointed out, it's like the chancellor of King Louis XIII – Cardinal Richelieu painted by the famous French painter Philippe de Champaigne: his hands nervously resting on the scabbard with authority and dignity. But all this tension and energy are hidden in a precious box decorated with ermine and velvet.
The vertical tasting: the vintages and the wines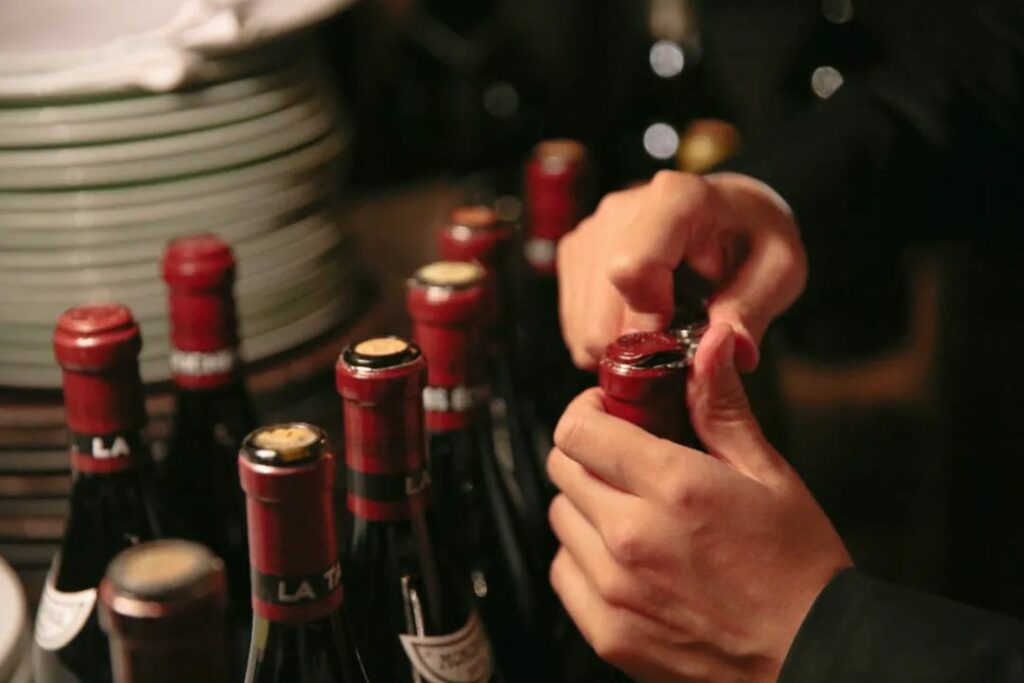 This La Tâche vertical tasting was divided into three vintage groups: we began with the 2010 and 2008, then moved on to the 2000 and 1999, and finished with the 1995 and 1988. In terms of aging potential and wine condition, the 2010 and 2008 are still very young wines; the 2000, 1995 and 1988 have all entered their prime drinking period; and the superb 1999 vintage is still on its way to the top echelons of world wine quality (it will not enter its optimal drinking phase before 2024 or 2025). The tasting has showed that it takes 20 years or even longer for La Tâche to reach its peak, regardless the vintage, and this also tells us that far too many La Tâche are drunk too young, well before they really show all the magic they can deliver.
Among those vintages, 2010, 2008, 2000 and 1995 can be regarded as the most classic La Tâche with three-act structure: it opens with a complex, explosive, kaleidoscopically floral nose; and in the middle, it gives a voluptuously full-flavored fruity texture and a grand, solid structure; all this ends with a mineral, spicy, long finish. These are wines that meet almost all the expectations the drinkers could have for a "perfect wine". But the most outstanding 2 vintages of the evening – the powerful 1988 offering distinctive notes of Lapsang Souchong black tea, and the compellingly ripe, and rich 1999 redolent of ginger blossoms, also showcased the features of their vintages, creating benchmark examples that can age for a very long time.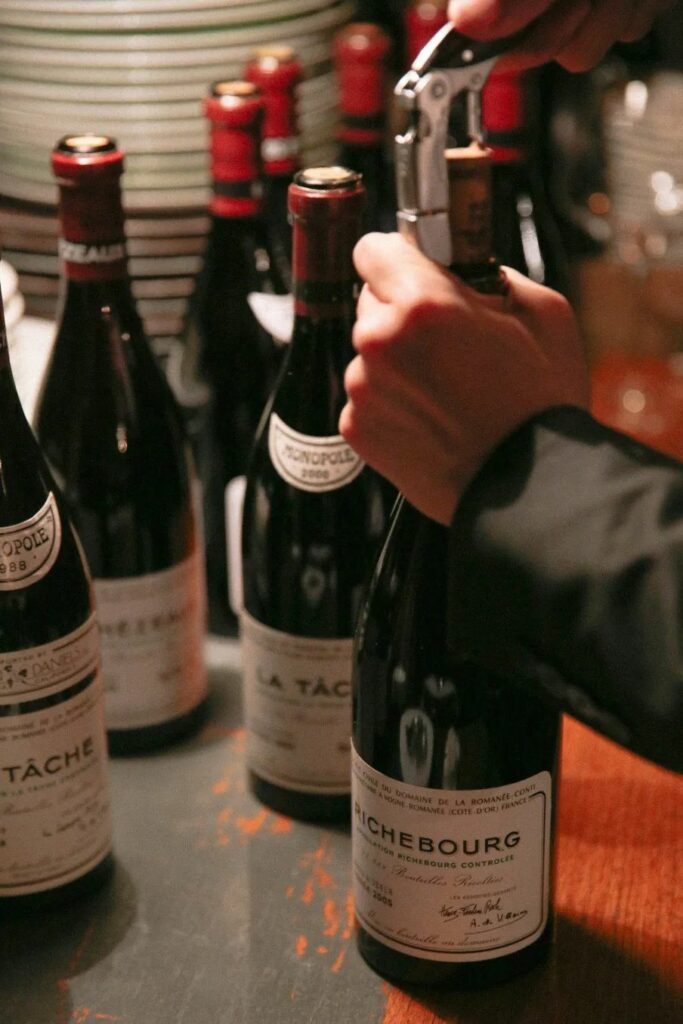 The wines in this report were tasted on October 31st, 2020 at the Villa Le Bec restaurant in Shanghai. All the tasting notes are accompanied, where possible, by vintage reports obtained directly from the property, and especially from the co-owner of DRC, Mr. Aubert de Villaine. In quoting these vintage notes, my deepest feeling is that the winegrowers who really care about their land, the grapes they grow and the wines they make are as anxious and worried in every vintage as parents worry about their children. At the same time, they also have faith and respect for the truly great terroir and are consequently able to raise "children" that will become great adults in time. You will find the notes are very detailed. Should you find anything that does not seem right to you, please don't hesitate to let us know in our "comments" section, all contributions and discussions are welcome!
2010 Domaine de la Romanée-Conti La Tâche Grand Cru                                        98
From 6.0620 hectares, 15,763 bottles were made. According to Aubert de Villaine, the 2010 is a rare Burgundy vintage in which so many different potential disasters threatened to occur, but in the end, the grapes turned out to be of outstanding quality. The wet and cold weather led to an extended and uneven flowering period leading to uneven ripening, even of grapes on the same bunch. But the bad weather led to smaller bunches greatly improving the concentration of the final wine. The reduced yields also allow the vines to produce fruit of exceptional ripeness – especially in a vintage with difficulties like 2010. August was surprisingly wet and cold, causing great concern for the quality of the year. But because of it, we didn't experience any water shortage at the end of the season. The harvest of the Romanée-Conti vineyard was on September 25th, followed by La Tâche on the 26th and 27th. The yield in 2010 was particularly low, between 2,200 and 2,300 liters per hectare. About 50-70% whole bunches were used (so with stems). Overall, like a miracle, 2010 is a vintage of elegance rather than power – the wines are fresh, dense, beautifully transparent, and very well balanced.
The 2010 La Tâche opens with a faint fragrance, but this really needed to be aerated. After double decanting the whole bottle, and a 2.5-hour stay in the open bottle, it showed an extremely rich and dense aroma of rose bouquet with layers of fresh rose peddles, cool notes of red and black cherries, and spice. With gorgeous harmony and silkiness on the fruity mid-palate, it then offers a magnificent structure, an abundance of concentration and power in a smooth and generous way. Throughout the night, it shows an amazing sense of variation and persistence in the glass. 2010 is an elegant and classic vintage distinguished by its high concentration and richness of layers, already very enjoyable now, but still has long aging potential ahead of it.
Drinking window: 2035-2060+.
2008 Domaine de la Romanée-Conti La Tâche Grand Cru                                        97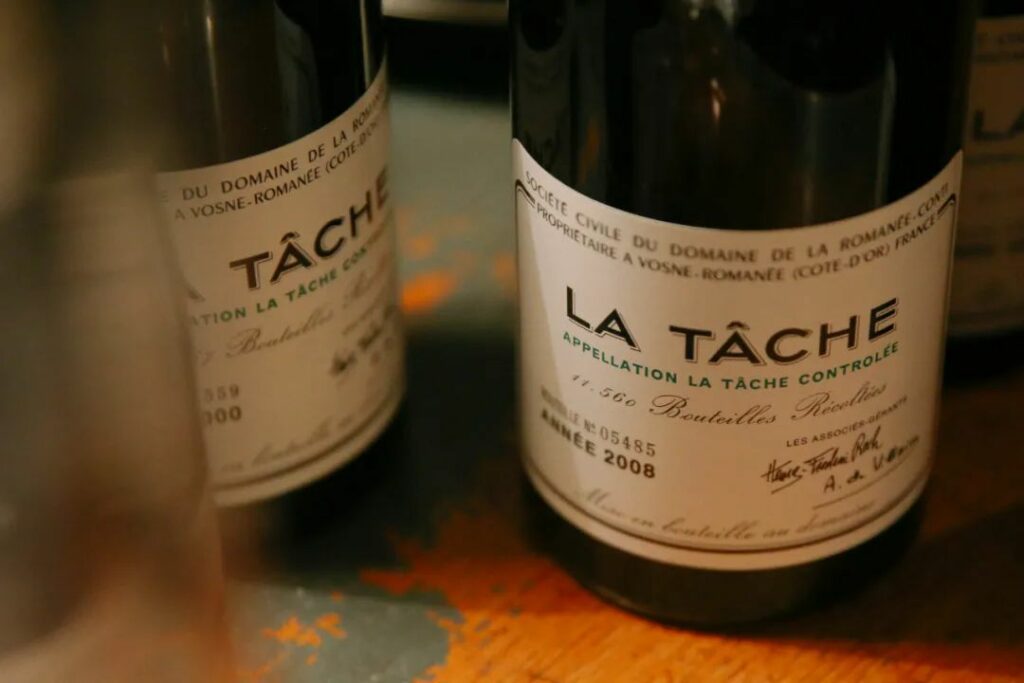 11,560 bottles were made. According to Aubert de Villaine, the growth cycle started much later in 2008 than in 2007 due to a cold and rainy April, with a later flowering than usual, causing uneven ripening of the fruit. The weather remained difficult throughout the growing season, with considerable disease pressure amongst the wines. Fortunately, the rain stopped completely on September 13th, and the next day, the north winds set in. With this cool wind, a succession of cold nights and bright days helped to stop the botrytis, accelerate the ripening by photosynthesis and to concentrate sugars and acidities in the grapes, as we had also observed in 1996. We waited until the end of September to harvest in order to let the grapes benefit as long as possible from the wind and the sun which healed their wounds. The harvest started with La Tâche on September 27th and ended with Echezeaux on October 6th. To summarize, 2008 was a relatively tough year that brought smaller bunches of concentrated grapes; but it also required a very strict selection, with 30-40% of the harvest being sieved out, but what grapes we were left with showed ideal ripeness levels and we were confident we could make wines of good aging potential, also considering the large reduction in yields (1500-1900 liters per hectare, lower than normal at the Domaine). About 30-40% of the grapes were destemmed.
The 2008 La Tâche opens with aromas that are still fairly reticent: the layers it hints at haven't unfolded yet, so this needs plenty of air. Double decanted, after 2.5 hours in the bottle, a multi-layered aroma and flavour reality presents itself: extremely fresh, delicate rose petals, violet, green calyx (stem flavor) and a panoply of sweet spices reel off; this dazzling complex of aromas is underpinned by a smooth and generous flavour of perfectly ripe black cherry. This is very pure and delicate despite its noteworthy concentration. A cooling note of noble licorice begins to emerge on the long and intoxicating aftertaste. In general, the style of 2008 La Tâche is like 2010's cooling aromas and classic harmony, but it appears to have evolved a bit faster and further in terms of aging. 2008 is one of La Tâche's very successful vintages like 2001 and 2006 which shouldn't be underestimated.
Drinking window: 2028-2048.
2000 Domaine de la Romanée-Conti La Tâche Grand Cru                                        95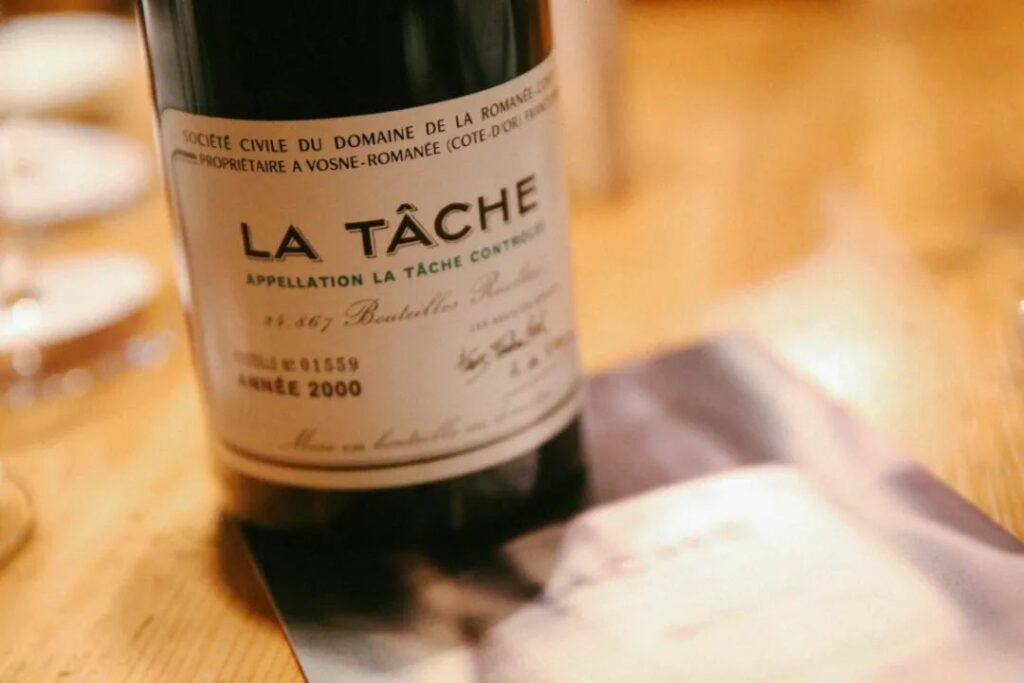 24867 bottles were made. According to Aubert de Villaine, the 2000 vintage was another weather roller coaster. Because of the warm winter, the grapes budded early and the whole growth cycle was brought forward. June was hot like August in previous years, bringing about a very rapid completion of the flowering period. July-August was uncharacteristically cold, with lots of precipitation and storms, and the already early growth cycle was pulled back a bit and there was a high incidence of mildew. Fortunately, summer returned on August 20th. The ripening period, which had been interrupted by the cold and wet weather, came back quickly and mildew also stopped developing. The harvest of red grapes took place on September 14th and lasted 9 days in total, while the harvest of white grapes in Montrachet started on September 25th, to ensure full grape ripeness. The significant presence of botrytis required meticulous sorting, first "haute-couture" work in the vineyard, then at the sorting table. The final yield was about the same as it was in 1999, about 2800-3200 liters/ha. The precocity of the vegetative cycle brought an exceptional ripening: rare indeed are the years where such sugar levels are reached while maintaining an acidity, certainly rather low, but reasonable. 2000 is, as we say in Burgundy, a "winegrower's year".
Having recently turned 20 years old, the 2000 La Tâche happens to be at the watershed of its adulthood. It opens with the smell of wilted rose petals, which is the classic aging scent of Burgundy's grand wine. But it's still a bit reticent. After double decanting and 3 hours in the open bottle, an overwhelmingly sweet, rich, and fleshy smell of rose petals and ripe red and black cherries comes surging through, punctuated by complex scents of sweet spices. The palate brings a delicate, silky, expansive and hedonistic texture. Its concentration is though not quite as deep as that of the 1999, has enough to provide a solid, full mid-palate structure. Currently at its peak, although not from a great vintage, it brings out the magic charm of La Tâche in its full glory.
Drinking window: 2020-2040.
1999 Domaine de la Romanée-Conti La Tâche Grand Cru                                 98+
Production: 16640 bottles. According to Aubert de Villaine, the 1999 vintage in Burgundy is one about which even he cannot find the words to describe just how perfect the grapes harvested were that led to wines of gloriously gorgeous, full and rich Pinot Noir wines. Burgundy had been blessed with several superb vintages in the previous ten years, but none of those brought wines combining the outstanding finesse and ripeness of those of the 1999 vintage. Despite its undeniable success, the 1999 vintage was not a simple one at all, as demonstrated by its very small grapes brought about by uneven ripening and the low yields of the old vines. When the rain never seemed to stop in the spring, when the mildew diseases threatened the vines, when the farmers were unable to plow their vineyards while the weeds grew wildly, when extreme drought hit in mid-August through the early part of September, and when the harvest started too early (on September 20th), who could have known that 1999 would turn out to be one of the best vintages in a century?
In retrospect, it was precisely those excessive spring rains that allowed the vines to survive the dry period of water stress that raged on between August 15 and September 20. This water balance allowed the foliage to fully function in its sugar-making role and the grapes ripened completely and harmoniously, leading to the rare combination of ideally high sugar content and excellent acidity. Furthermore, the grapes couldn't have been in a more perfect health condition. We know that it's very hard to have those three conditions – grape ripeness, acidity, and health- reach their qualitative zenith all in the same vintage, but when it happens, then unique results are possible here. The grapes were picked in two separate moments in 1999. The first batch of grapes (the ripest grapes from the oldest vines) was picked on September 20th; four to five days later, it was time to begin the second harvest of the remaining grapes that had by then reached optimal ripeness too. Final yields of 3,000 liters/hectare were obtained, or close to those of 1990 and 1996. Generally speaking, the 1999 vintage has a ripe and concentrated fruit taste, with its acidity and alcohol content being balanced at a high level.
This was the third time that I have tasted this great vintage of La Tâche, including one blind-tasted bottle in the Domaine. This 1999 La Tâche opens with a scent of rose and ginger blossom, but the aroma is still relatively closed. It tastes very young and powerful. After double decanting a half bottle and breathing for 3 hours in the bottle, this wine is poised to take off when it enters the glass. It offers very generously ripe, full-bodied red and black cherry fruit, along with a strong nose of ginger blossom, candy and sweet spices. The strong of the floral and fruity aromas may make it easy to overlook the nuanced notes of black tea, licorice, and forest floor; one sip and you feel as if you have strayed deep into the forest in search of flowers and fruits. Though truly grand and powerfully structured, this is very light on its feet, thanks to an extremely intense aromatic component that really provides lift. The most concentrated of all the wines in this tasting, it is also the most persistent one (only the 1988 and 2010 come close). The tannins are abundant but not astringent due to the richness of the ripe fruit, all in line with what Aubert de Villaine calls the "miracle of a great year with high ripeness (high sugar), high acidity and super-healthy fruit at the same time". In this vertical tasting, 1999 has shown more the greatness and characteristic of this unique vintage, expressing the ripeness of fruit rather than the elegance and freshness of flower. This is different from the classic "La Tâche" style.
Drinking window: 2025-2050+.
1995 Domaine de la Romanée-Conti La Tâche Grand Cru                                         96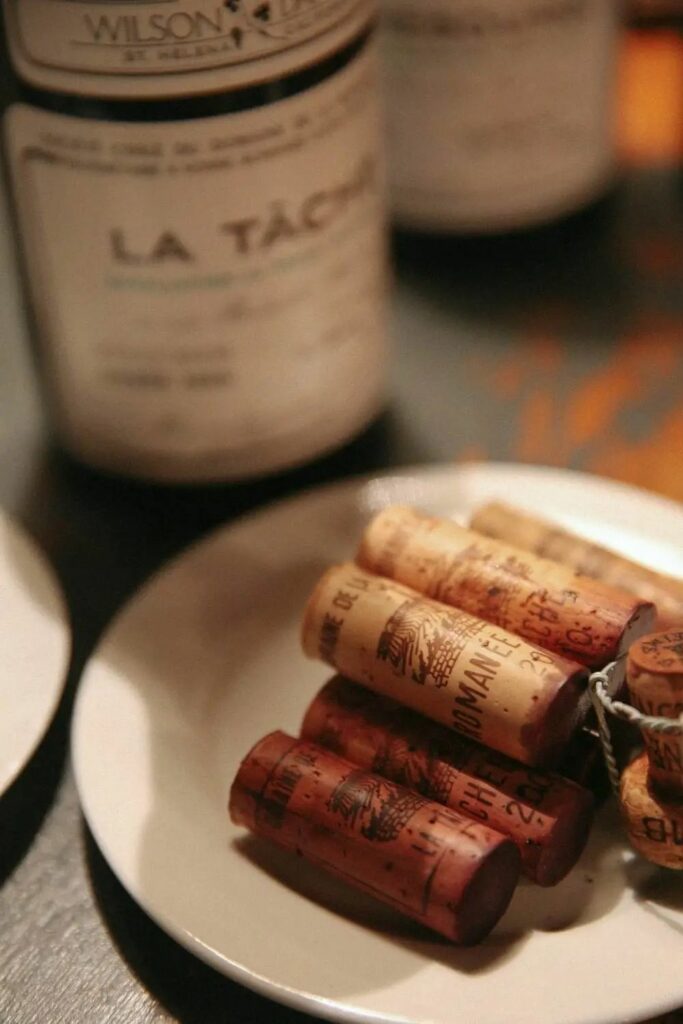 Production: 21118 bottles. The spring weather in 1995 was unsettled, with delayed and troubled flowering. Damage was had in finite areas because of localized hail episodes, but the summer was mercifully dry and hot, with some timely rainfalls in mid-September. It rained again on September 30th during the harvest of the Côtes de Nuits, but the grapes were healthy enough to withstand the humidity, with only a little mould infestation occurring. The 1995 vintage ended up with balanced and rich wines with enough acidity to age for a long time.
The 1995 bottle opens with a surprisingly young floral aroma; in fact, it even smells younger than the 2000, which has more of a tertiary (spicy-herbal-earthy) quality to its bouquet. After breathing for 4 hours in the open bottle, the nose is very open and forward when the wine is poured into the glass. Very pure, charming even, boasting a fresh and noble aroma of rose petals, red and black cherries, followed by a slowly emerging note of hoisin sauce and varied spices. The 1995 is not the most tightly structured vintage for La Tâche, but now in its optimal drinking phase, it offers a calm, relaxed and well-balanced structure, with a high and extensive concentration; The finish is very long. Though certainly not the biggest wine of the tasting, it makes you feel that it has just reached its peak at the moment, and it will be a very well balanced and durable vintage with great potential of ageing. Drinking window: 2020-2040.
1988 Domaine de la Romanée-Conti La Tâche Grand Cru                                         98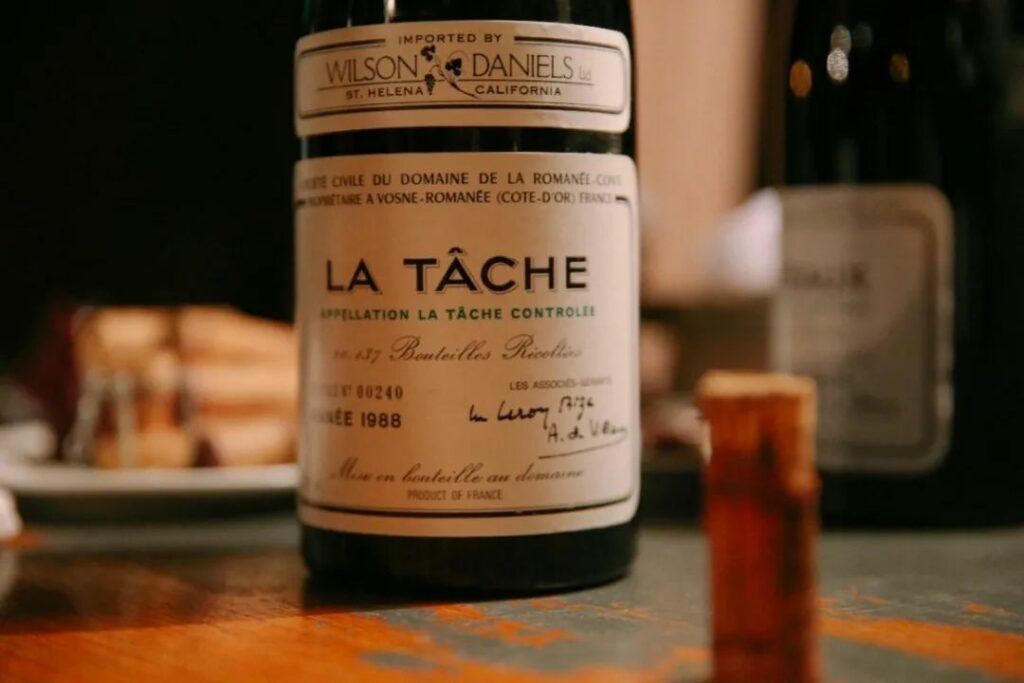 Production: 20137 bottles. The warm and dry weather in early spring brought about an early budburst, but the rainy and overcast weather in May and June caused trouble for the flowering period. Summertime was characterized by alternating periods of heavy rain and drought, but finally the weather cleared and warmed up in early September. The small bunches of fruit reached very good ripeness levels, with a later than usual harvest that occurred in unexpectedly warmer, better weather. Overall, 1988 will be remembered as a vintage of quality red wines, which were closed and astringent in the early years, but later proved their age-worthiness when the tannins finally softened.
Upon opening the bottle, the top end of the cork under the aluminum foil bottle seal was moist and slightly concave, all signs of a good preservation condition. After opening, the floral aroma was reticent, complicated by a note of black tea. After breathing for 4 hours in the bottle, the wine offers a broad range of aromas and flavours dominated by Lapsang Souchong black tea and Wuyi rock tea rather than flowers, along with complex flavours of spices including dried soybeans, ginger, aged black tea and fried sesame. There's a strong mineral undercurrent coupled to the perfectly ripe and nicely evolved concentrated notes, boasting its impressive power and grand structure. The wine is constantly changing in the glass, displaying a life and persistence that can compete with the great 1999. This is really a great La Tâche. Unlike the classic three-act style of La Tâche, 1988 is distinguished by its outstanding powerful fruit rather than delicate notes of flower, and its surprising vitality and aging potential.
Drinking window: 2020-2035+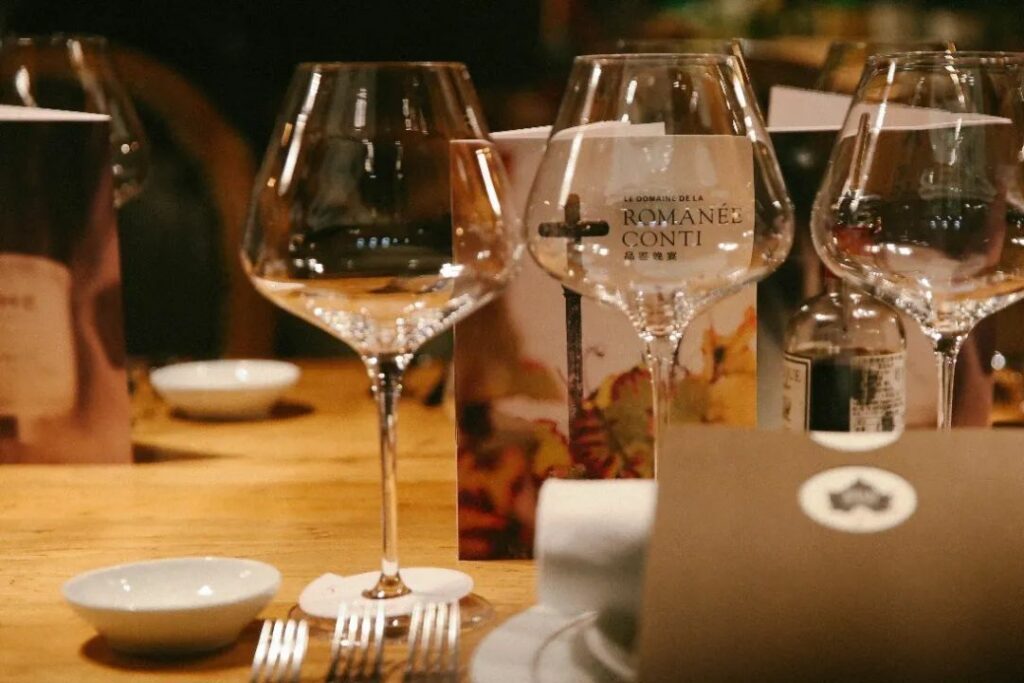 Reference:
Official website of Domaine de la Romanée-Conti: http://www.romanee-conti.fr/
Allen Meadows, The Pearl of the Côte – The Great Wines of Vosne-Romanée
Steen Öhman, La Tâche – a historic view on a legendary grand cru – Winehog