There's an almost endless supply of very good to outstanding Barolo made in the denomination nowadays: clearly, there are duds like just about anywhere else, but the good news for wine lovers is that they don't need to always run after the most famous names in order to drink well. Clearly, there are a number of really iconic estates in Barolo that are must-haves for all the serious collectors out there, but thanks to the area's overall high quality of winemaking and viticulture, there's an embarrassment of riches to choose from. One of the many small, high quality Barolo estates is Mauro Molino in La Morra.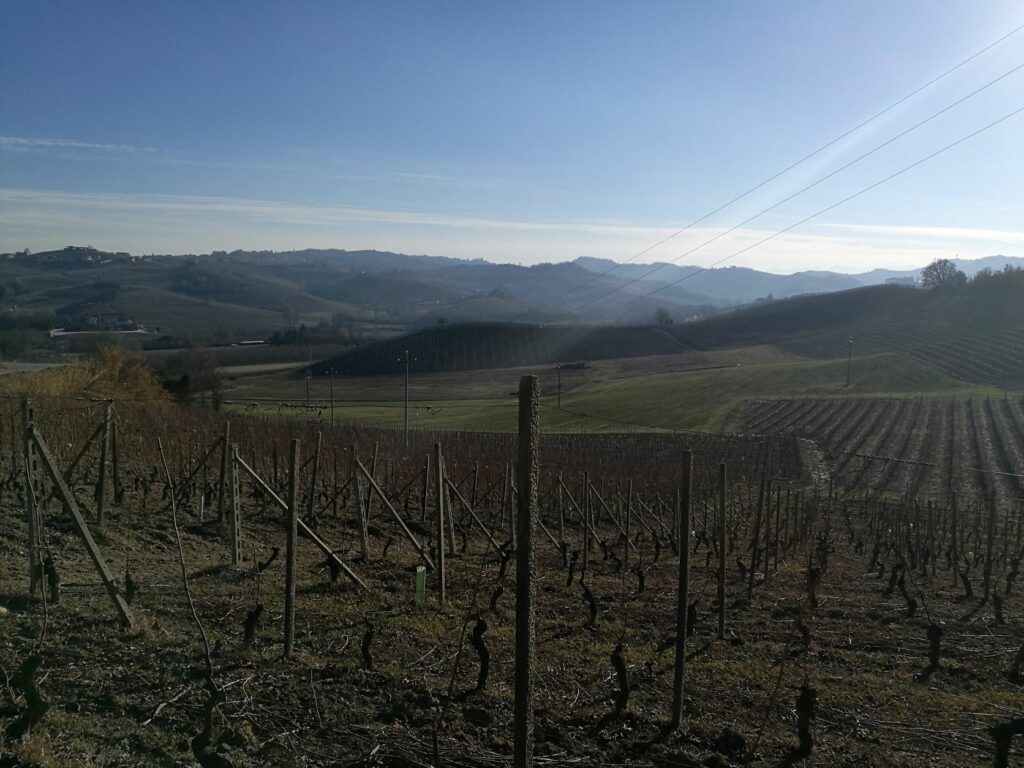 Mauro Molino and his winery
Mauro Molino graduated in Viticulture and Oenology at the Alba wine school (Scuola Enologica di Alba) and began gaining experience in Emilia Romagna where he worked for the large CIV wine group from 1975 to 1979. When in 1979 his father Giuseppe passed away, Mauro inherited the family's vineyards prompting him to pack his bags and make his way back to his native Piedmont. There he began to restructure and replant the old vineyards as well as to build his winery (located in the Annunziata fraction of La Morra). To make ends meet, he doubled as a consultant enologist for some of the agricultural associations of the area. Molino made his first Barolo in 1982 (admittedly, a pretty good year to start with): that wine was made with grapes from the vineyard that is the subject of this vertical, the mythical Conca vineyard of the Annunziata. In the following years, Molino was able to acquire more vineyard plots in other famous vineyard districts of Barolo (what are also called Menzioni Geografiche Aggiuntive or MGAs nowadays). To his credit, he was one of the first to realize the then untapped potential of cooler climate Barolo vineyard districts such as Berri. And so today the Mauro Molino estate owns twenty-two hectares (twenty under vine) of prime vineyard land. The winery makes lovely Barolos not just from Conca, but other well-known vineyard districts such as Bricco Luciani and La Serra. Today the estate is mostly run by Mauro's two children, the ultra-talented and very passionate sibling duo of Matteo and Martina Molino.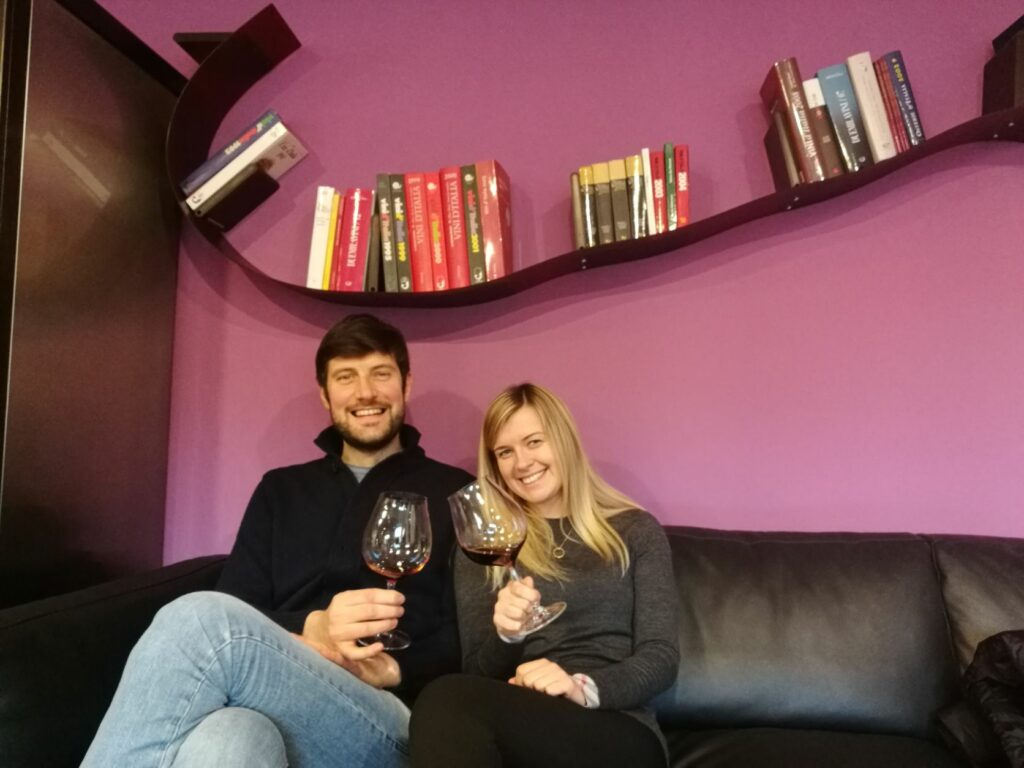 The Conca vineyard district: a grand cru
Of all the places Molino owns vines in, there is no doubt that the Conca is the most famous spot of them all. It is an historically famous site that once used to belong to the nearby Abbazia di Marcenasco (abbey of Marcenasco), and if perhaps not quite at the level of a Rocche dell'Annunziata and Brunate, it is considered amongst the better places to grow Nebbiolo in the La Morra commune. If we were to use a Burgundian classification system, Conca would rate out as a grand cru.
Conca is one of Barolo's five smallest vineyard districts/MGAs. As its name implies, it is a small south-facing bowl-shaped patch of vines that is very sunlit and warm. As far as Barolos of La Morra go, those born from Conca are some of the fleshiest, sultriest and spiciest you'll ever lay your taste buds on. The grapes have no trouble ripening there and this is one of the reasons why historically its grapes (what little there were, given Conca's small size) were always much sought after to improve blends. No surprise there, especially back in a time when the negozianti (négociants) ruled the Barolo roost and climate change had not yet arrived on the scene (Nebbiolo grapes in many parts of Barolo, as recently as thirty years ago, did not reach optimal physiologic ripeness every year). Most importantly, Conca gives wines of noteworthy complexity thanks to a soil that is just as complex as the wines that are born from it. Whereas Conca is generally thought of as having a Saint Agatha Fossil Marls soil lithology typical of much of the La Morra commune's territory, formed during the Tortonian stage of the Miocene epoch, things are not so cut and dried (are they ever, in matters of geology and of Italian wine). I have been studying Barolo's soils and wines for the past thirty years and never cease to be fascinated by the intricacies and detail that are at the core of the genesis and makeup of each of the denomination's wines; this is something I will return to in future in-depth articles here on the TerroirSense Wine Review (for all those readers interested in Barolo's terroir, keep in mind that I have broached this and other similar subjects at length -and I do mean at length- in my upcoming book on Barolo, co-written with my good friend and Italian wine expert Michele Longo (finally out this July: Barolo Terroir: Grapes, Crus, People, Places).
In my view, that by the Mauro Molino estate is a benchmark Barolo Conca. It is made from 0.45 hectares of south/southeast-facing vines planted at 250 meters above sea level. Of note, about 10% of the Nebbiolo is actually Nebbiolo Rosé, the presence of which is easily recognizable in the finished wine (Nebbiolo Rosé contributes to the extremely perfumed nose redolent of cinnamon spice and flowers). The remaining vines are all of the Nebbiolo Lampia biotype. The winemaking involves about ten days of maceration on the skins, then alcoholic fermentation in stainless steel tanks for about twenty days, and aging of twenty-four months in lightly toasted (or even untoasted) Allier forest French oak barriques (of which about 10% are new).
Already back in 2006, during one of my first interviews with Molino, he told me that of his then three main vineyard areas in Barolo [those were at the time the Gancia (part of the Bricco Luciani today) Conca and Gallinotto)], he told me that it was the Conca that always gave him the best looking grapes and that was the easiest of his vineyards to work (back then climate change wasn't yet a problem). At the same time, he also told me that his Barolo Conca gave not just the most structured wines, but also the most complex. Nothing has changed in this respect since then, since Matteo and Martina feel the same way. The Barolo from Conca lacks perhaps the graceful verticality of the Barolo Gallinotto or the nervous, rustic energy of the La Serra, but more than makes up for it with its mouthcoating texture and spicy, compellingly sweet charm. Its aroams and flavours are always reminiscent of sweet spicy red fruit, cocoa and tobacco, with a very typical Conca terroir-specific note of pennyroyal (please: not peppermint or menthol). Mauro's children, Matteo and Martina are also deeply attached to this vineyard site, but pint out that it needs to be worked carefuly. A warm site, they have planted cover crops between rows in an effort to save every possible drop of water, but also to help lower the ground temperature. Deleafing is done with utmost care so as to avoid the risk of sunburn or making wine with cooked aromas and flavours. But they are both quick to say that Conca gives the estate's deepest wine and find that it is also the one that almost always most appeals to those tasting their wines for the first time. I am in that camp too, and I've been tasting it for something like thirty years.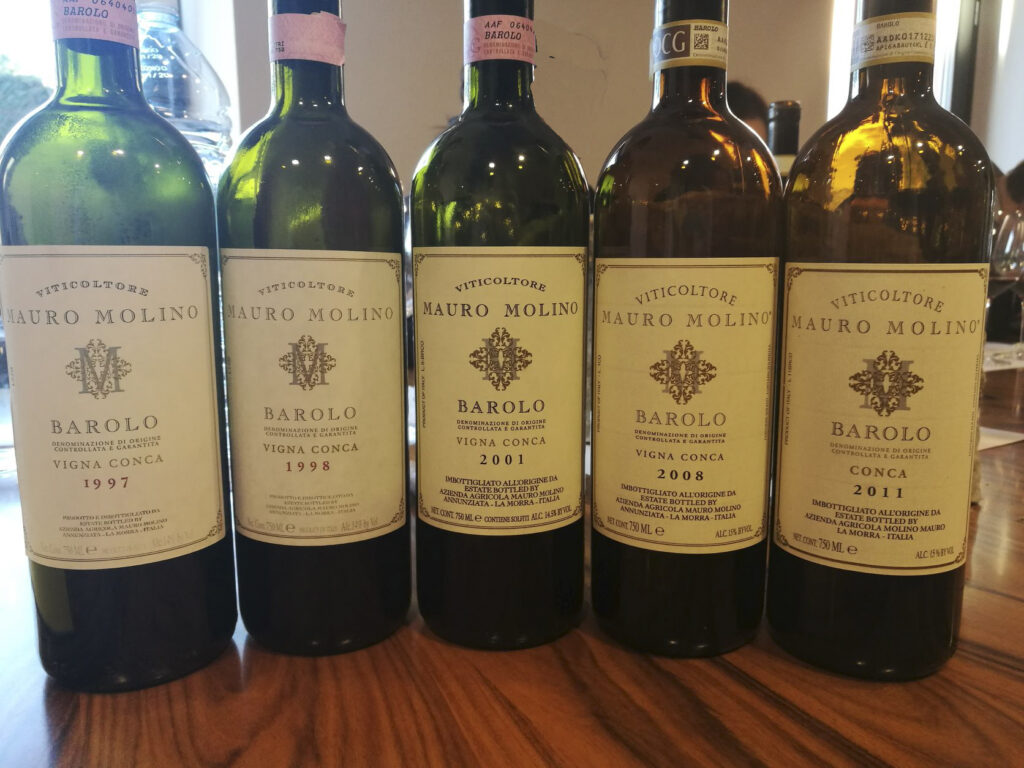 The wines in this vertical tasting
Mauro Molino 2017 Barolo Conca                                          94
Good full red-ruby. Ripe red cherry, vanilla, red plum nectar, and a hint of smoke on the nose. Broad, supple and sweet, with very juicy and sweet lush red and dark berry flavours are complicated by repeating notes of cherry and vanilla and a rising note of sweet pipe tobacco. Closes with excellent clarity and Conca-typical spicy length. Given the hot year, I was surprised by this wine's almost Pinot Noir-like undertone, but the amzing perfume is the Nebbiolo Rosé talking, leaving avery recognizable imprint. This beauty will appeal to people who like their wines on the big and textured side, but that also boast noteworthy perfume; those who favour refinement and lither bodies will choose the 2016. Drinking window: 2025-2032.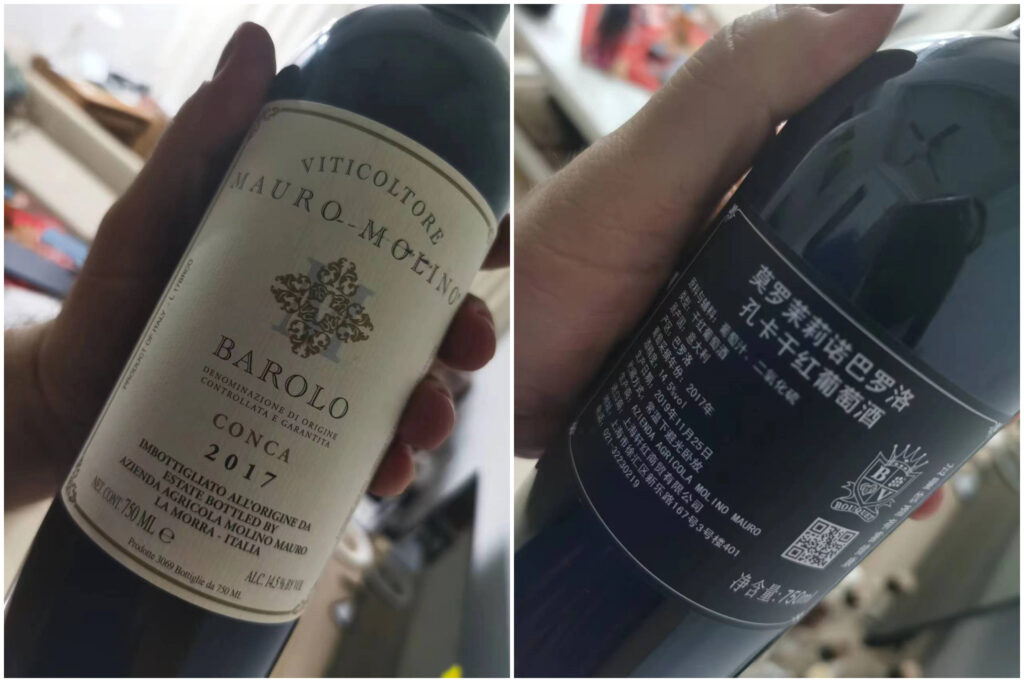 Mauro Molino 2016 Barolo Conca                                          95
Bright, deep red. Aromas of raspberry, cocoa, pennyroyal and a whiff of violet on the perfumed nose. Then juicy and intensely flavoured but still rather folded in on itself, only hinting for the time being at sweet, vibrant red and dark cherry flavours, complicated by Oriental spices, and a hint of potpourri. Dense and multilayered, this cool, elegantly austere Barolo has a brooding multilayered quality, finishing with firm but polished tannins and exceptional length. This lacks the sultry perfumed charm of the 2017, but it's hard to resist its cool, restrained elegance hinting at so much more underneath. Layered, indeed. Drinking window: 2026-2038.
Mauro Molino 2015 Barolo Conca                                          92
Full red-ruby. Higher-toned aromas of kirsch, sweet spice and licorice. Dense, luscious and ripe, but with very good freshness to the flavours of red fruit cocktail and spicy tobacco that boast noteworthy early appeal. The finish is quite persistent, with ripe, dusty tannins. Drinking window: 2025-2034.
Mauro Molino 2014 Barolo Conca                                          90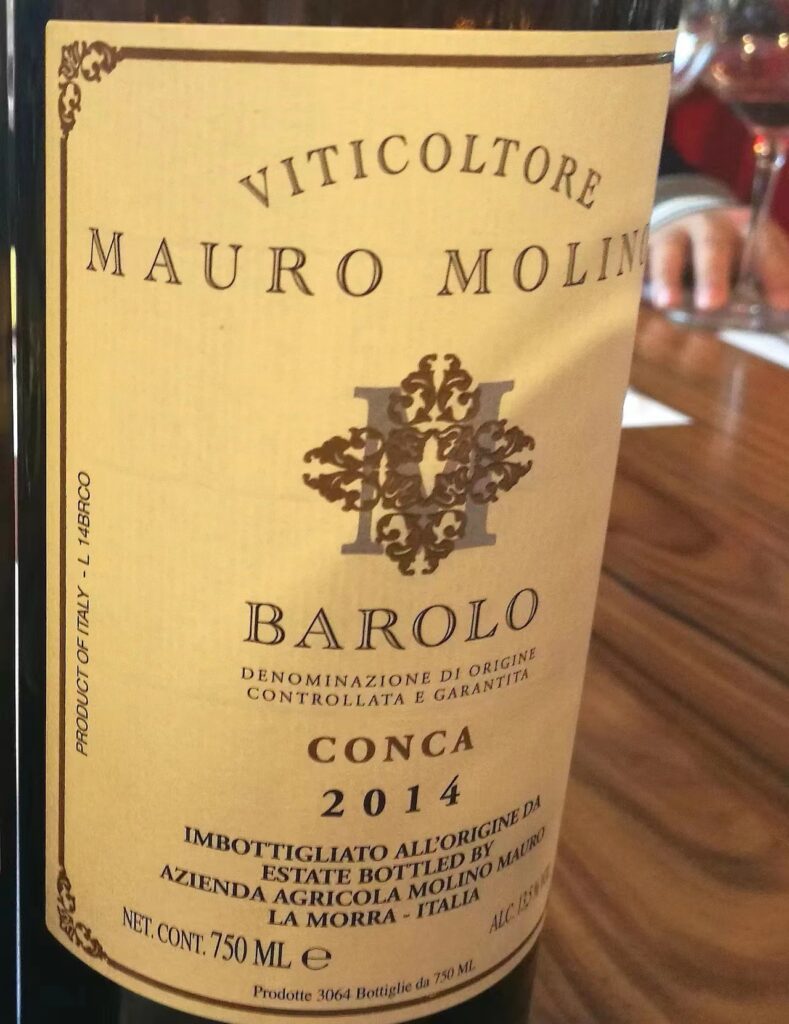 Luminous red with a garnet tinge. Perfumed aromas and flavours of candied rose and violet pastilles, with hints of ink, red fruit cocktail and licorice. At once vibrant and smooth, with very good acid-fruit-tannin balance. Not the last word in complexity or concentration, but this is drinking very mciely currently. A finishing note of spearmint is evident, rather than this site's more typical pennyroyal. Given how difficult the year was, I quite liked this: very well done. Drinking window: now-2029.
Mauro Molino 2011 Barolo Conca                                          89
Medium saturated red with a hint nof garnet at the edge. Reticent aromas and flavours hint at slightly suppressed red and blue fruit, complemented by underbrush, tobacco and tar. Enters with plenty of fat and sweetness but turns slightly tougher in the middle. Probably best today on the persistent finish, but the tannins are a little gritty for my taste. Drinking window: now-2027.
Mauro Molino 2008 Barolo Conca                                          92
Bright red colour. Highly perfumed nose mixes musky red cherry, faded rose petal, ginger, apricot paste, and cinnamon oil lifted by a strong note of pennyroyal; this boasts an almost aromatic nuance. Juicy and precisely detailed, with thrilling mineral lift to the flavours that are very similar to the aromas. Pure precise and broad, but not at all heavy. Finishes very long, spicy and classically austere. Perhaps not a super-concentrated Barolo Conca, but very easy to drink and to like. Boasts a building, rising, intense note of pennyroyal at the back. Drinking window: now-2036.
Mauro Molino 2001 Barolo Conca                                          95
Deep red with garnet highlights. Red cherry, iron, candied violet, pennyroyal and toffee on the enticing nose. Large-shouldered and broad on entry, then tighter and more elegant in the middle, with juicy acidity and polished tannins providing support to the spicy and ripe red fruit, coffee and herb flavours. Not obviously sweet but very well balanced and with a rather powerful structure for a La Morra Barolo. Extremely long on the perfumed aftertaste, with the firm but polished tannins nicely buffered by the wine's extract. Great stuff.  Drinking window: 2025-2032.
Mauro Molino 1999 Barolo Conca                                          96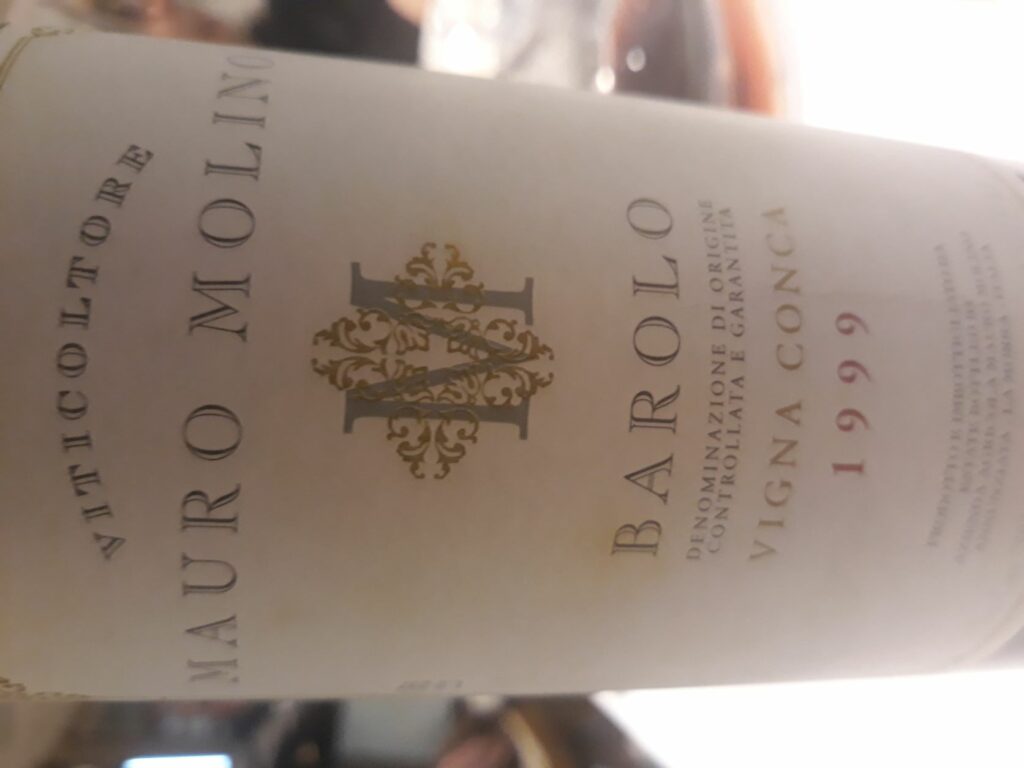 Vibrant red with garnet tinges. Showy, downright exotic aromas of raspberry, red cherry syrup, mocha, fine aged leather, sweet spices, and smoky oak on the knockout nose: this is really very Nebbiolo Rosé-like. Lusciously ripe, dense and suave, with terrific depth of almost boudoiresque raspberry, kirsch, and peach nectar flavours sweetened and complicated by cinnamon and nutmeg. Ripe acidity and impressive persistence with knockout inner-mouth perfume lingering nicely are just some of this lovely wine's trump cards. Drinking window: now-2030.
Mauro Molino 1998 Barolo Conca                                          92
Good full red. Sexy aromas of musky raspberry, faded flowers, tobacco and truffle. Then taut and very pure in the mouth, with detailed flavours of red fruits and iron shavings complemented by minty herbs and notes of cocoa. Closes with serious, late-hitting tannins and terrific length, but the strong acid and tannic spine leaves one with an impression of subdued underlying sweetness (a fairly common finding in many other 1998 Barolos that always seem slightly fruit-challenged; that isn't the case here, but I wished this otherwise very pretty Barolo had the enticing fruity richness of Molino's 1999 Barolo Conca). Drinking window: now-2030.
Mauro Molino 1997 Barolo Conca                                          91
Good bright red with a large garnet rim. Flamboyant aromas and flavours of raspberry, tobacco, mocha, minerals and dried flowers. Suave on entry, then large-scaled and almost fat, with a voluminous mouthfeel and slightly chewy tannins that reach the front teeth. The aftertaste is noteworthy for its violet perfume but not for exceptional length. On the plus side, this is a rare 1997 Barolo that boasts noble tannins and that is just fresh enough to avoid tasting overripe; on the minus side, I would drink this up sooner rather than later. Drinking window: now-2025.