Rozes 40+ year old Tawny Port                                      96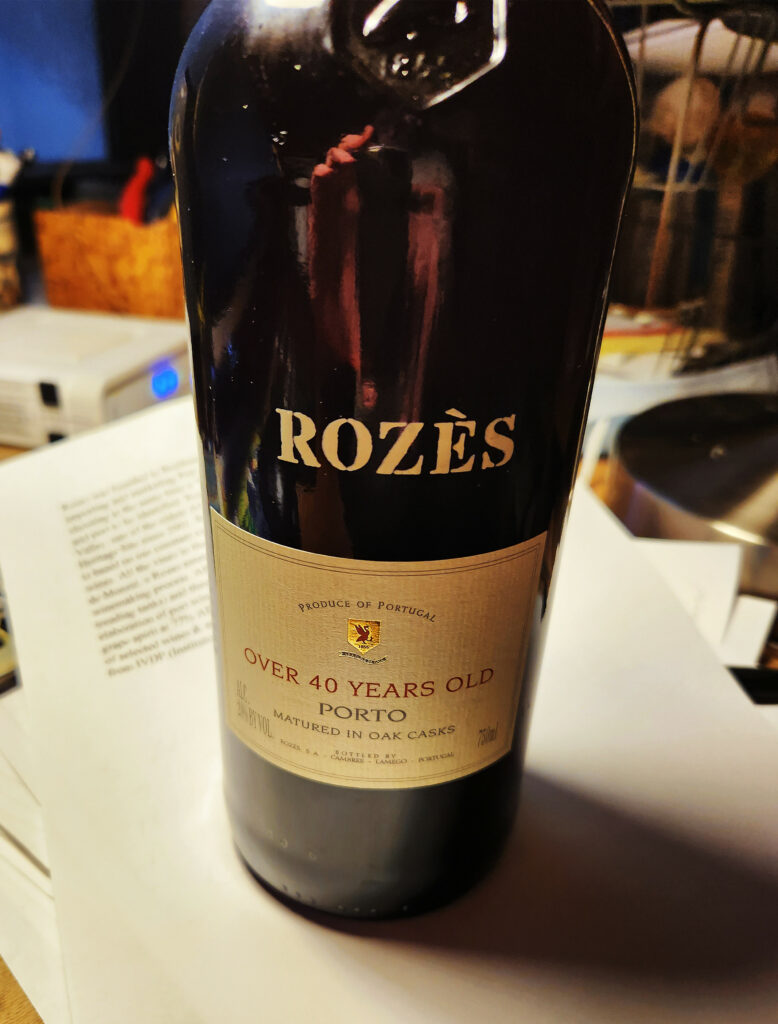 by Robert Millman
Without much ceremony, a representative of the Rozes port house opened a bottle of what proved to be something quite special: their Tawny Port which proudly states on the bottle: "over 40 years old". The key to Tawny Port, which takes its name from the lovely nut-brown color it assumes after aging in oak is precisely how long the aging is allowed to occur. It is generally agreed that it is around 20 years of aging that a Tawny Port achieves the desired state of harmony between sweetness and the mellowing effect of slow oxidation. At 30 and 40 years of aging a new level can emerge I will call the ethereal stage which, if not unique to old Port occurs but rarely with Burgundies and Bordeaux. The robust effect of Brandy in the old port gives a strong support system which helps deliver the ethereal notes in a surprisingly lively manner.
The Rozes wine business was founded in Bordeaux in 1855—the very year of the classification—by Ostende Rozes, a fine wine dealer who then started importing and marketing Port wines. His son Edmond made the wise decision to give the Rozes name brand identity by bottling most of their ports in the traditional Portuguese bottle shape. Rozes was the first Port wine exporting group to settle in the Douro Valley.
I return to the glorious 40+ year old Tawny I so recently tasted. The current version is based on Port from 1937 to which a variety of younger wines are added to create a continuous average age of more than 40 years. The bouquet floats into the nose with gentle yet persistent notes of tobacco, carmel, cinnamon, lightly grilled hazelnuts and ripe pear. It is the kind of bouquet to which the taster can return over and over without loosing interest. The same delicacy informed with innumerable nuances of flavor and texture is present on the palate. The sense of elevation in the nose carries through to the finish. The alcohol is hardly noticeable. The wines has achieved an ideal blend of the sweet and the savory. Imbibe this masterpiece slowly with a moderately sweet cheese accompanied by a selection of nuts. You will be transported! Drinking Window: 2022-2032.
Château Brane-Cantenac 1986 Margaux Grand Cru Classé          95
by Ian D'Agata
Just how great Bordeaux red wines are, or can be, is driven home from time to time by a truly exceptional bottle that helps put the church back at the center of the village, to say it à la française ("remettre l'église au centre du village"). I first tasted this wine back in the early 1990s in Toronto, thanks to a bottle bought in a Buffalo (New York State) wine shop. I remember it well, as it seemed to be a very good wine, if on the lightish side. I then had it a couple more times in those years as my friends had all picked up a few bottles at the same time I had ( while living in TO we used to go to the US often for our wine buys at a time when prices there were much cheaper than those of Ontario, even after adding on the Canadian taxes at the border). In the mid-2000s, while the director of the International Wine Academy of Roma owned by the Hotel Hassler (and of which Steven Spurrier was President), I organized and guided a memorable masterclass on the property, with owner Henri Lurton who flew over bringing with him a vertical of his grand vin dating back to the 1970s (those were the days). I remember that the wines from the 70s and 90s were all exceptional for the most part, but the 1986 at the time seemed very skeletal, woody and somewhat fruit-challenged. Given the excellence of the vintage and my fond memories of previous tastings, I was honestly left a little disappointed. And so it was with these memories swirling in my mind that I approached my last bottle of this wine, also sourced directly from Lurton's cellar, and that had been lying in my cellar in Rome since those long gone days.
The colour is deep red with a ruby tinge and a pale but not too orangey rim. The nose offers deep, complex and inviting aromas of ripe red cherry, blackberry, truffle, underbrush, vanilla, cloves, and cinnamon with a genteel hint of very Cabernet Franc-like cocoa and violet pastille. Then similar flavours rise on the palate, with a suave silky mouthfeel lingering nicely on the focused, gently tannic finish. Very Margaux-like and very Cabernet Franc-like (despite this variety making up only 8% of the final blend), but at the same time not very 1986-like (because of its gently tannic charms in a year of rather structured, tannic left bank wines), this has blossomed into an absolutely knockout wine of impeccable balance and surprising fruitiness, especially in light of what the wine had tasted like also in Rome at twenty years of age. The lightness of being (naysayers might say dilution, but forgive them for they have lost their way) afforded by the Cabernet Franc instead of the heavy-handedness that Cabernet Sauvignon on its own would have delivered, is very evident here and a godsend, frankly. Now 37 years old, the wine is better than it has ever been, and amazingly, can easily stand up to another twenty years of long aging in a good cellar. The magic that is old Bordeaux, the magic of all great Bordeaux wines in fact, is well exemplified by just how well this wine has aged and improved with time. It's a truly revelatory experience for any neophyte, and one I recommend wholeheartedly: only then does the greatness, the uniqueness really, of great red Bordeaux wines become fully apparent. A blend of 69% Cabernet Sauvignon, 22% Merlot and 8% Cabernet Franc, the grapes were picked between September 27 and October 15. This has always been the best Brane-Cantenac of the 1980s, along with the 1983, and this specific bottle was nothing short of exceptional, not to mention delicious. Drinking window: 2023-2043.