Nicolas Joly 2010 Clos de la Coulée de Serrant Savennières    95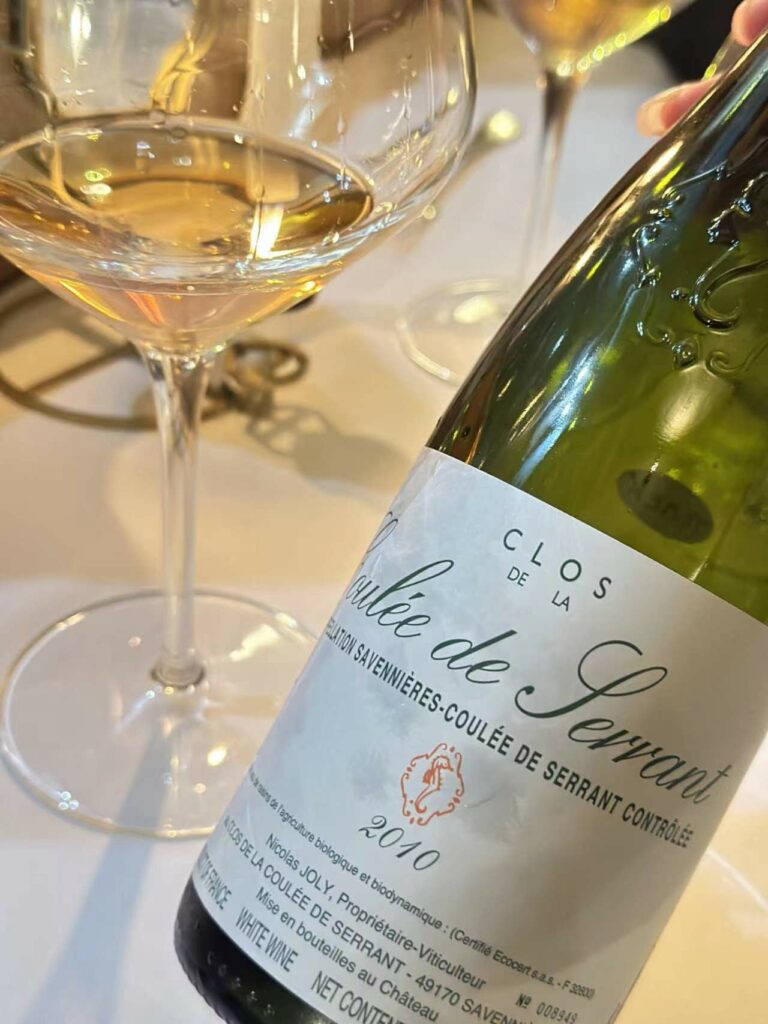 The Clos de la Coulée de Serrant is not just one of the greatest and most famous vineyards of Savennières and in fact of the whole Loire wine region, but of the world. Clearly, much of its fame is due to a series of stellar wines made from the site over the decades, but also to the work and dedication to biodynamics of its owner, Nicolas Joly, arguably the best-known proponent of biodynamic viticulture. The Clos, planted to Chenin Blanc, is a monopole, and produces a wine that is at once rich and deep, oily and light on its feet. And whereas some past vintages were a little funky and aged poorly, recent vintages have been nothing but superb. For example, the Nicolas Joly 2010 Clos de la Coulée de Serrant Savennières is nothing short of impressive. Deep golden-yellow in colour, it boasts deep, concentrated aromas of yellow fruit, crystallized ginger, pear nectar, beeswax, mushrooms, clover honey and a hint of spicy noble rot. A surprising tannic presence provides support to the very luscious, superripe, honeyed tropical and orchard fruit flavours that are nicely extended on the long suave back end by just enough acidity to keep this from becoming too heavy or cloying. Decant this beauty a couple of hours ahead at least and serve in a very wide glass.  Drinking window: 2023-2032.
Manni Nössing 2010 Sylvaner Valle Isarco Alto Adige             95
You can't really begin to understand just how great Italian Sylvaner wines can be unless you have the good fortune to come across a bottle like this one. Now thirteen years old, this is an absolutely memorable wine that showcases just how magnificent this grossly underrated grape variety is and just how marvelous its wines can be (when the product of low yields, mountain/hillside vineyards, relatively old vines, and competent, passionate producers). All of which applies to the wines made by Manny Nössing, one of Italy's most talented winemakers.
The Manni Nössing 2010 Sylvaner Valle Isarco Alto Adige is a work of art. Bright full straw yellow with golden tinges. Offers deep, complex aromas and flavours of stone fruit, apple, chamomile, coriander and crystallized mango, complicated by delicate notes of beeswax, diesel fuel and quince. Rich and multilayered, and boasting very good harmonious acidity providing energetic cut and clarity and nicely extending the ripe fruit and herbal flavours on the long floral finish. Knockout wine that is at once textured and ripe yet lifted and light on its feet. Drinking window: 2023-2030.