Was there anything good about being stuck in lockdown? Probably not. I made a point of engaging in daily exercising and watching my diet, so I lost some weight, but most people I know actually gained weight. More than one friend had serious relationship issues emerge (either because they were living with someone or because they were not living with someone). Financially, many businesses and individuals suffered greatly. The whole experience was basically painful for practically all of us, if nothing else because humans are a gregarious animal species the members of which usually like to spend time together (most of the time).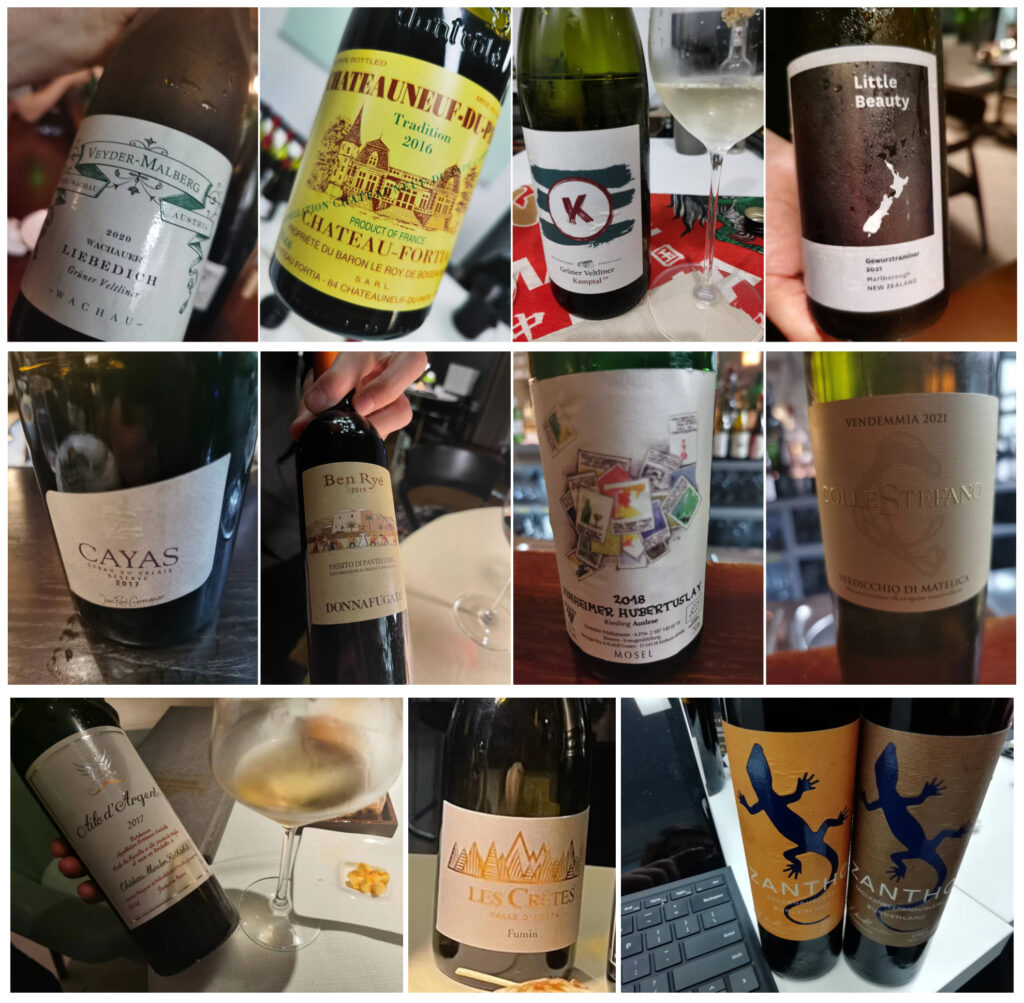 And without doubt, the pandemic and the associated worldwide government measures to limit mobility also impacted lifestyles relative to, and our patterns of, wine consumption. But the forced lockdowns did give those of us with either makeshift or real cellars a chance to finally go through all the wine we had accumulated over the years and that we had forgotten about. In this manner, many of us probably had a whole lot of fun "rescuing" old bottles from undeserved oblivion: I know I ended up finding some old bottles cast away that I didn't even know I still had. Those rediscoveries are always fun. Many of us increased our on-line wine purchases, and tried along the way wines of countries we really hadn't tried much of before. But contrary to popular belief, it does not seem that everybody everywhere drank more because of the lockdown. A November 2020 study conducted by Ifop for the French association Vin & Société found that 76% of French people believed their home wine consumption to have remained essentially unchanged during two lockdown periods. In fact, during the second lockdown 16% of the people responding said their consumption had dropped with only 7% believing that they were drinking more.
So what happened? Perhaps these folks didn't have the right wines at home to cheer up by? Horrible thought! So perhaps better to look ahead and ward of the likelihood of finding ourselves woefully unequipped in the eventuality of another lockdown? I know, I know: perish the thought! However, with an estimated new mutation in the virus per 100,000 new cases, the likelihood of another future lockdown cannot be completely excluded (though we all hope that will never be the case again). Crossing our fingers that nothing else bad will be coming our way in the foreseeable future, in case the unthinkable does happen, it's always good to keep in mind that in times of trouble making a concerted effort to continue enjoying life is one of the best manners by which to fight against negativity. Preparing nice meals and just enjoying them with loved ones is one way to fight back: a good bottle of wine is part of the remedy, as it will only increase the pleasure quotient of the overall experience. To help you get through in tip top shape any future confinements, we sourced a number of lovely potables from all over the world, expressing different terroirs in both young and old vintages. Here's to your never having to use this list for lockdown purposes, but should that be the case, hopefully following it will help bring a smile to your face.
Zantho 2017 Trockenbeerenauslese Burgenland                       96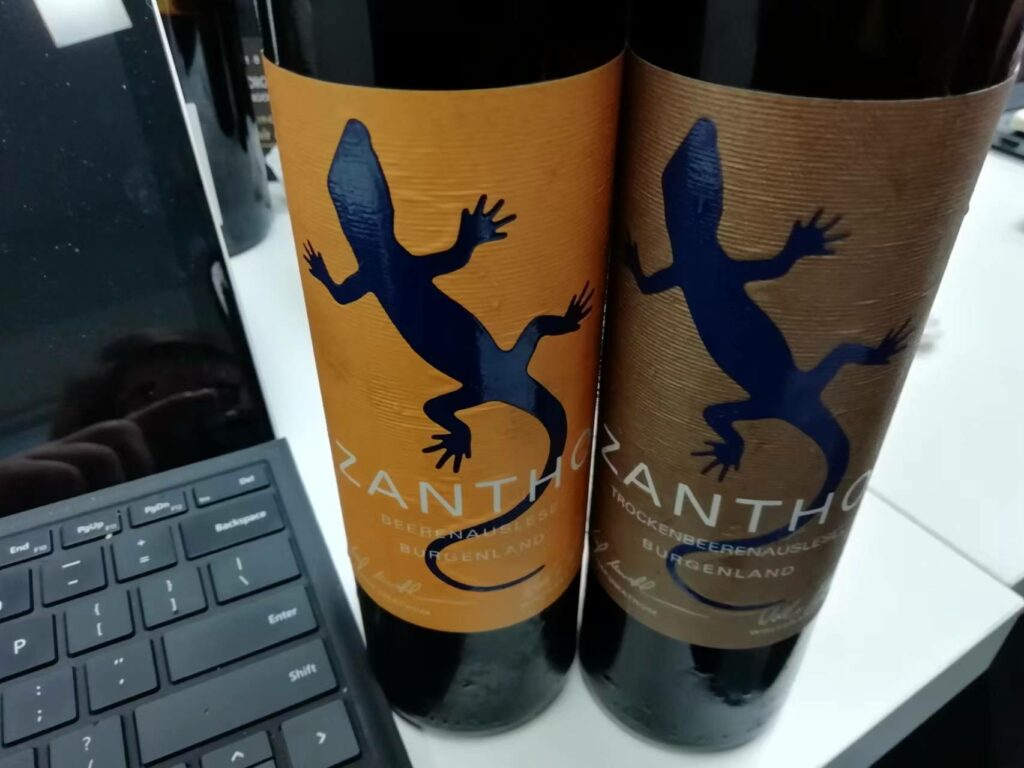 Deep yellow gold. Marmelady noble rot complicates the very clean, very pure tropical fruit and honeyed aromas. The rich and thick flavours are also smoky and honeyed, and there is a captivating multilayered quality to this beautiful wine. Finishes very long and suave, with honeyed reminders. A blend of Riesling and Welshriesling, this is another remarkably successful, well-balanced sweet wine from Xantho. Drinking window: 2022-2028.
Donnafugata Passito di Pantelleria 2019 Ben Ryé                      95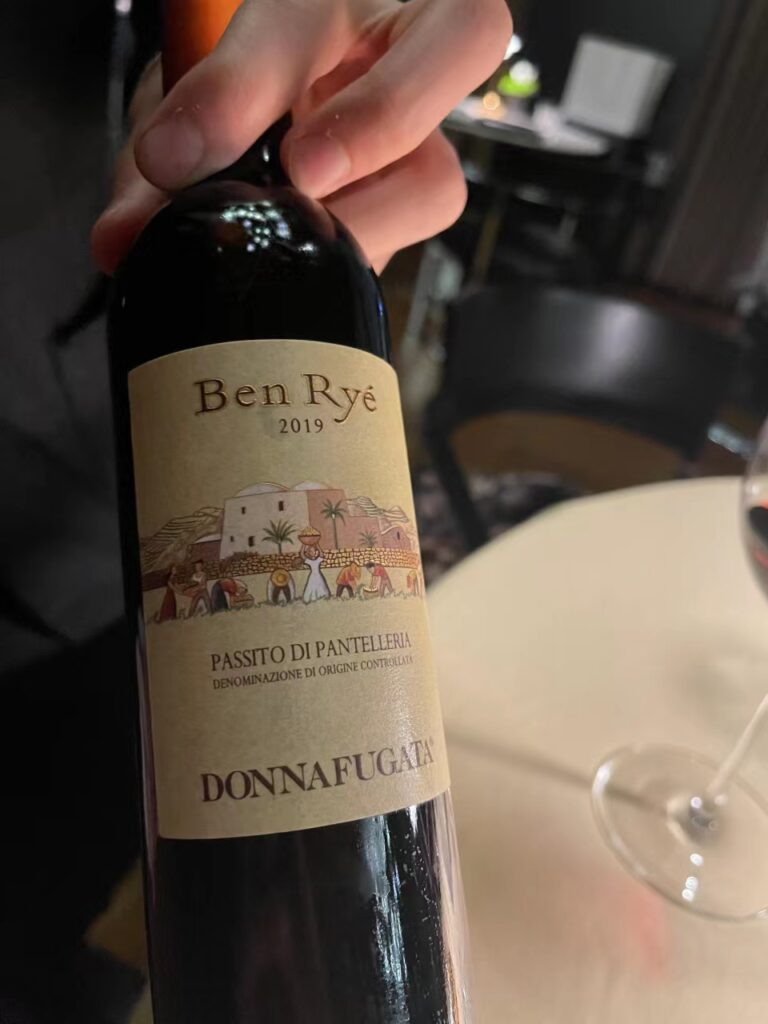 Vivid deep yellow-gold. Vibrant, very intense aromas of tangerine, pineapple, papaya, coconut and brown spices, with a floral character. Concentrated and lightly saline, with bright, firm acidity giving a penetrating quality to the tropical fruit, orange and sweet spice flavours. Boasts an exhilarating sugar/acid balance and finishes with lovely lingering tropical fruit and floral perfume. Beautiful to drink right now, but will last another decade easily in a good cellar, this is one of the freshest, more vibrant versions of Ben Ryé in recent memory, making for a slightly less luscious but more lifted drink. No matter which style you prefer, you'll still find this excellent. Donnafugata has done more to broadcast the quality and different wine styles of the beautiful island of Pantelleria than anybody and the Rallo family deserves immense credit for that. Their Ben Ryé is easily one of Italy's ten best sweet wines and it highlights like practically no other wine the qualities of the Muscat of Alexandria grape, called Zibibbo in Italy. Drinking window: 2023-2032.
Il Poggione 2013 Brunello di Montalcino                                   95
Good bright red. Fresh, brightly floral aromas of red plum, red cherry, mocha, dried flowers, tobacco and licorice. Supple and rich, this densely packed red boasts deep rich flavours of cherry and herbs that are nicely delineated and very long. Refreshing saline minerality contributes to an impression of energy and lift, while the suave tannins leave an impression of easy drinkability. You can drink this gorgeous Brunello now or hold on to it for six or seven years more before pulling the cork and enjoy for another couple of decades after that. Lovely stuff. Drinking window: 2022-2043.
Zantho 2017 Beerenauslese Burgenland                                   95
Good bright pale golden yellow. Slightly resiny nuances complement bright, very pure aromas of grapefruit, lychee, guava and honey. Then similarly expressive on the palate, with bright acids framing the flavours of peach nectar, orange rind and lemon peel. In a bright, juicy style, finishes quite firm, with very good floral persistence. Remarkably fresh and delicate: really very well done. One of the best 100% Sauvignon Blanc wines at this sweetness level I have memory of. Drinking window: 2022-2027.
Chateau Mouton Rothschild 2017 Aile d'Argent Bordeaux Blanc           93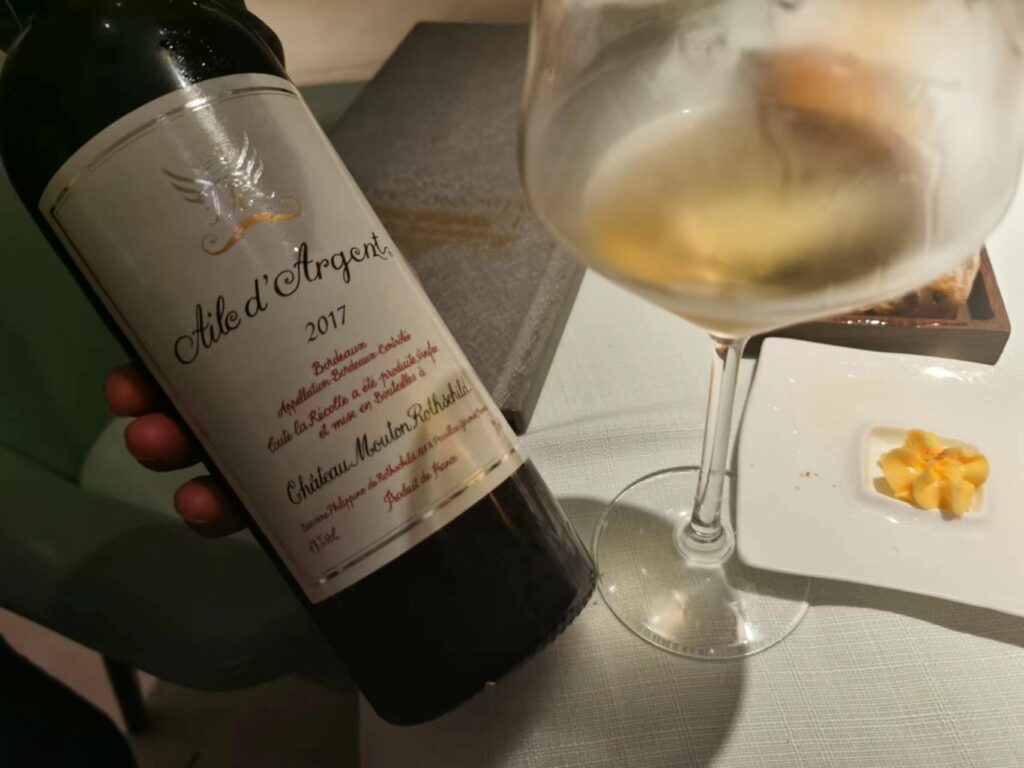 Light green-tinged gold. Enticing aromas of orchard fruit, guava, green papaya and gooseberry. Finely etched, lively fresh citrus fruit flavours expand on the palate, picking up honeyed pear and guava notes, joined by peach, fresh ginger and minerals. Closes long and tactile, leaving behind a strong echo of white peach and gooseberry. A 53% Sauvignon Blanc, 46% Semillon and 1% Muscadelle blend harvested between August 30 and September 5, most of the vineyards escaped the ugly frost episode of April 27, 2017 (only two plots of Aile d'Argent grapes were affected). While this prestigious Bordeaux estate was founded in 1853 when Baron Nathaniel de Rothschild bought Brane Mouton from Isaac Thuret. The Chateau's white wine, Aile d'Argent did not see the light of day until 1991. The wine is named after a children's story imagined by Philippine de Rothschild's father just for her of a silver teapot named "Aile d'Argent la magique" and published by Gallimard in 1947. Drinking window: 2022-2030.
Kistler 2018 Pinot Noir Sonoma Coast                               93
Bright ruby. Explosively fruity Pinot Noir aromas of cassis, flowers and soy sauce on the inviting nose. Then very juicy and fresh, with crisp small dark berry and herbal flavours that have very good inner-mouth perfume and a savory black olive nuance that emerges at the back. Juicy and viscous on the long aftertaste, this is a really lovely New World Pinot Noir wine. Drinking window: 2022-2030.
Les Crêtes 2015 Fumin Valle d'Aosta                                        93
Deep purple-ruby. Fresh and sappy in the mouth, with harmonious acids giving shape to the very pure, fruity flavours of dark berries, sweet spices, minerals, cola and mountain herbs. At once fresh and layered, this conveys an impression of solid extract and finishes with seamless tannins and outstanding focus and length. It's really hard to put the glass back down, you'll find you just want to keep sipping on it. Drinking window: 2022-2028.
Chateau de Pibarnon 2017 Bandol Rouge                                  92
Fully saturated purple-ruby. Very ripe aromas of red cherries macerated in alcohol, prunes, licorice, aromatic herbs and iron, lifted by a bright violet topnote: the aromas clearly speak of a very hot, ripe year, but there's plenty of freshness here such that the wine stays lifted and lively. Then enters ripe and smooth, with almost porty nuances to the ultra-ripe red fruit flavours, with hints of licorice, black pepper, potpourri and anise building in the middle and on the finish which turns slightly showier and austere. This medium-bodied wine boasts a sweet creamy personality and very polished tannins, and a real warm-weather personality but the alcoholic clout is not bothersome. It's a very hearty, somewhat rustic version of this famed Bandol red that while not quite hitting the highs of some of this estate's best wines of the past provides immediate enjoyment but with enough stuffing to age well for another ten years at least (and likely more, given Bandol's amazing track record for longevity). With the 2017 vintage though, probably best not to push your luck and enjoy this pretty wine's charms at their peak. A 90% Mourvèdre and 10% Grenache blend fermented with indigenous yeasts and aged in old and new oak barrels for about 18 months. Drinking window: 2023-2033.
Chateau Fortia 2016 Chateauneuf-du-Pape Tradition                      92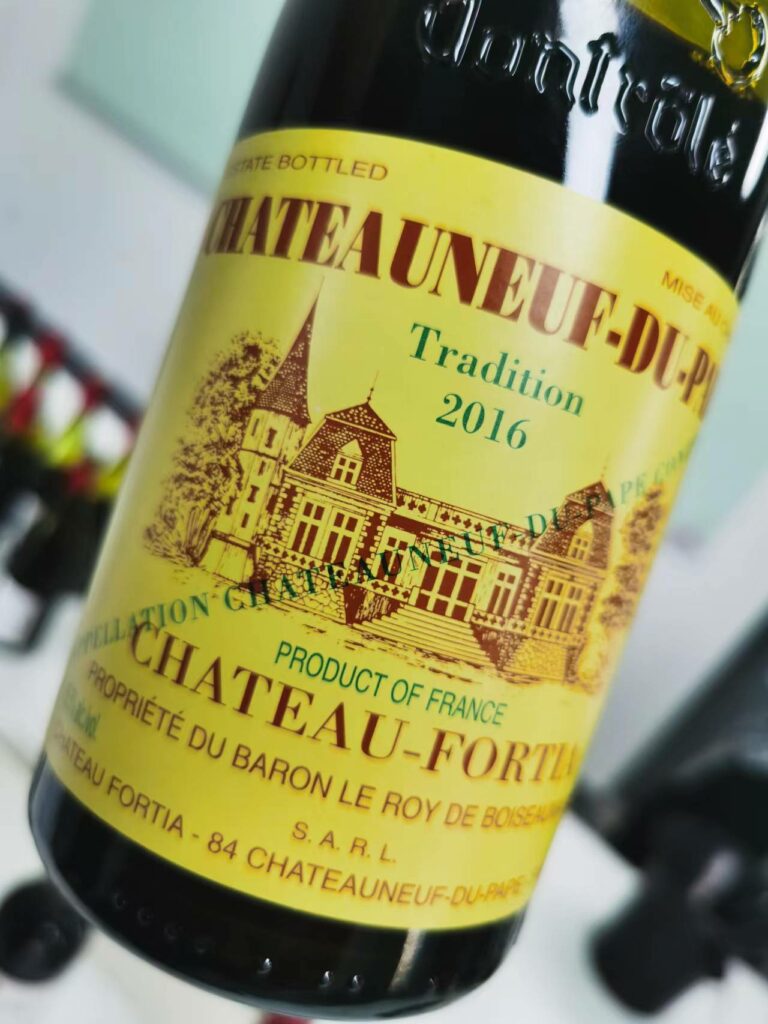 Bright medium red. Inviting aromas of violet, red cherry, raspberry, garrigue, licorice, fennel and black pepper. Classically structured and authoritatively flavoured in the mouth, with layers of red fruit, herbs, woodsmoke, and a moderately tannic, very suave and spicy finish. For added complexity, the fruit vies with delicate mineral nuances for attention. Very pretty red wine from an exceptionally good vintage that is deceptively easy to drink but has the underlying structure to age well. One of the Appellation's most historic and iconic names, Chateau Fortia makes a bevy of very fine wines that rarely disappoint and that are always priced fairly. In other words, there is plenty to like here. The estate dates back to the late eighteenth century and was made famous by Hercule Paul de Fortia in the mid-ninenteenth century, but the estate has had many distinguished owners. Today there are roughly thirty-six hectares of which thirty-two are under vine in the area south of town known as La Fortiasse. Drinking window: 2023-2035.
Eric Chevalier 2018 Muscadet de Sèvre et Maine Cotes de Grand Lieu Sur Lie             92
Crystalline straw yellow. Highly mineral, perfumed aromas of violet and ginger, with hints of vanilla, chamomile, lime and crushed stone. Densely packed, nicely ripe, impressively balanced that is both complex and spicy, with great finishing lift and thrust. Typical expression of a wine from a granite soil, this is just lovely. Drinking window: 2023-2032.
Jean-René Germanier 2017 Syrah du Valais Reserve Cayas            92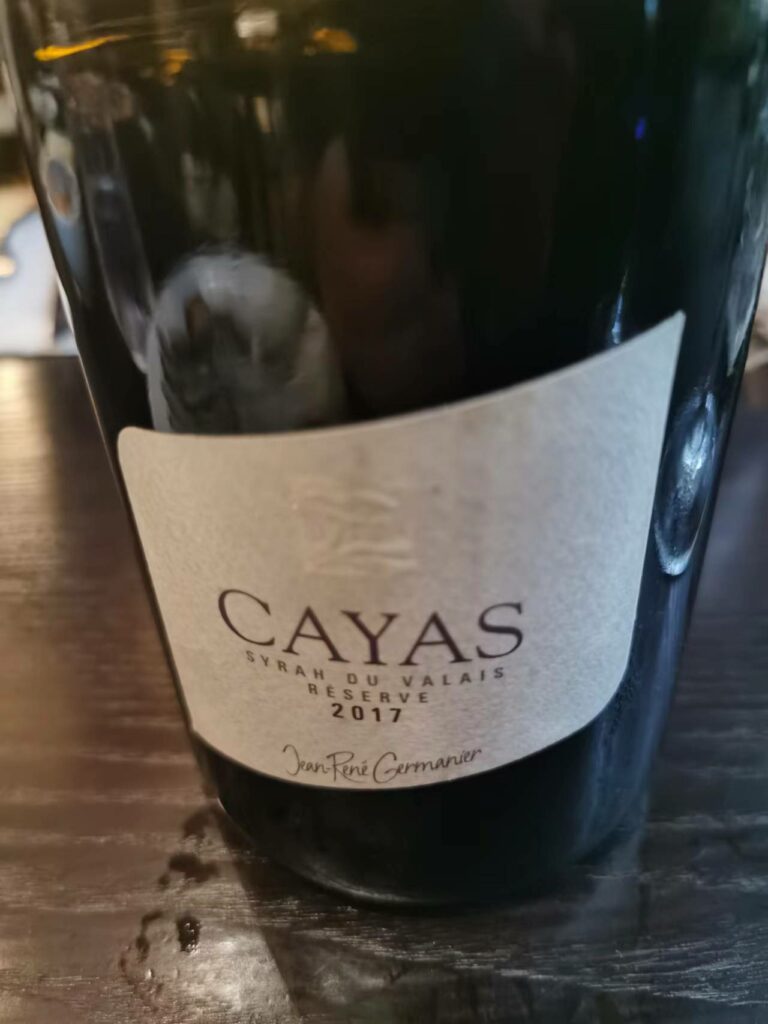 Deep ruby-purple. Perfumed aromas of ripe dark fruit, sweet spices and black pepper. Sweet, spicy and downright sexy in the mouth, with lovely inner-mouth floral lift to complicate the blackberry and dark cherry fruit flavours. Finishes long, with creamy, very suave tannins and enticing mineral bite. Made in a plush style, this will be drinking best over the next six to eight years. Drinking window: 2022-2028.
Trossen Kinheimer Hubertuslay Riesling Auslese Mosel                  92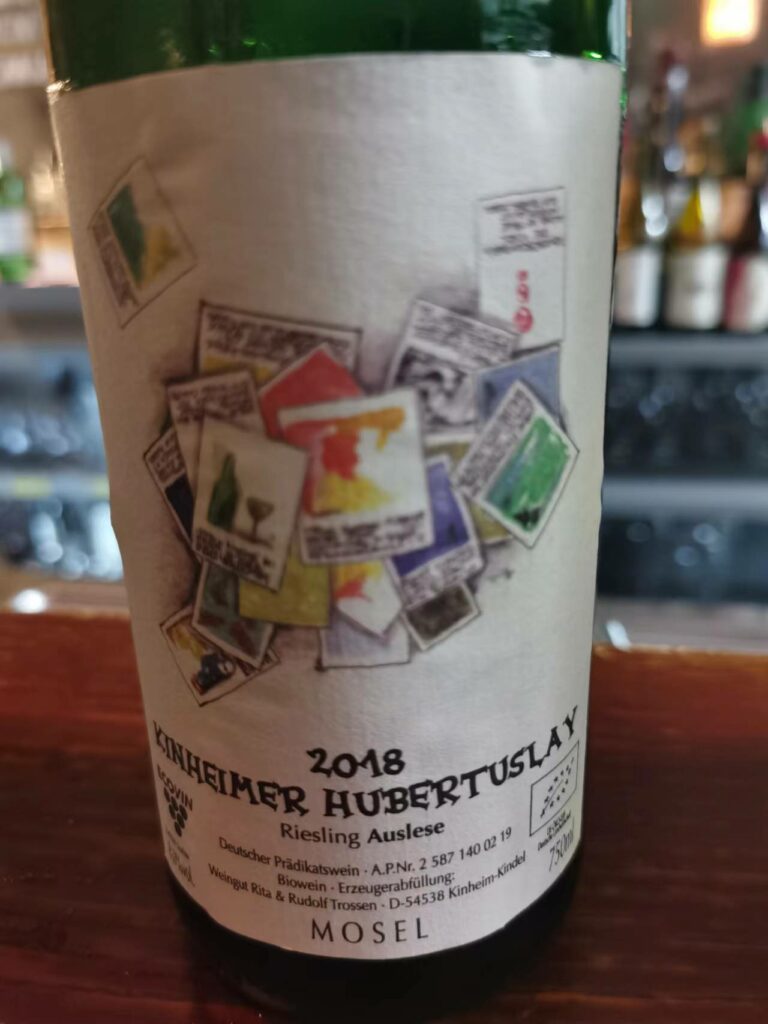 Bright pale yellow-gold. Clean, precise aromas of pineapple and peach are complemented by gingery spices on the exuberantly fruity nose. Sweet and strong, with very good cut to the shapely peach, apricot and apple flavours, with very good texture and richness. The aftertaste is long and noticeably sweet in the typical Auslese way but with so much acid-sugar balance that the wine just drinks beautifully from start to finish, never causing palate fatigue. Very old vines here. Drinking window: 2022-2028.
Greywacke 2020 Pinot Noir Marlborough New Zealand             91
Medium ruby. Aromas of dark berries, black cherry, licorice, smoke and violet. Plump, sweet and already quite expressive, with a very ripe cherry flavor complicated by coffee and mocha notes and a suggestion of blue flowers. Finishes log and juicy, with sweet tannins. This is a pretty, very fruity Pinot Noir, that though not the last word in complexity, is brimming with early appeal and easy accessibility. Drinking window: 2023-2028.
Little Beauty 2021 Gewurztraminer Marlborough New Zealand       91
Good bright yellow. Pure, high-pitched perfumed aromas of tangerine and honey are complicated by subtle nuances of stone fruits, mango and nutmeg. In the mouth, juicy and sweet apricot and peach flavours have a bright white flower lift. Closes clean and persistent, with a hint of phenolic dryness and only faint hints of Gewurzes strong aromatic personality. A lovely wine that will appeal to those who like their Gewurzes in a slightly less exuberant style. This will be best over the course of the next three to four years, enjoyed for its youthful fruit. Drinking window: 2022-2026.
Massena 2018 Riesling Stonegarden Eden Valley                      91
Straw-green. Wild fennel, chamomile, diesel fuel, white flowers on the herbs- and mineral-driven nose. Surprisingly rich and ripe on entry, then jarringly lemony in the middle, with laser-like acidity that gives this a penetrating quality and extends the stone fruit and crushed rock flavours on the long back end. I guess this will be just heaven with oysters, but personally I think that a gram or two of residual sugar more would have allowed for better overall balance. Planted in 1946 at about 385 meters above sea level on sandy loam over a substrate of red clay containing quartz and micaceous gravel. Drinking window: 2022-2028.
Mother Rock Wines Plastteklip Vineyards 2020 Semillon Force Celeste Swartland    91
Bright straw yellow. Clean fresh and minty on entry, with flavours of peach, pea, apple, fresh citrus fruits and with a curious note of green string beans emerging on the long back end. Boasts lively acidity a nice gingery quality that builds with aeration. Drinking window: 2022-2028.
Stefan Lang 2021 Grüner Veltliner Kamptal Austria                              91
Good medium yellow-green colour. Pure, high-pitched aromas of chamomile, lemon tangerine and minerals on the very Grüner-like nose. A step up in energy and fruit intensity with respect to some other Lang wines from this vintage, this showcases lovely clarity to its flavours of white stone fruits, lemon, lime, and crushed rock. Finishes quite long and brisk, in need of at least a year of patience to be enjoyed at its fullest. Drinking window: 2023-2029.
Veyder-Malberg 2020 Grüner Veltliner Liebedich Wachau Austria           91
Luminous straw-green. Citrus fruits and crushed rocks on the nose, with floral and white pepper notes. Juicy, fresh and varietally accurate, with notes of white pepper and mint complicating subtle tropical and citrus fruit flavours. Brisk, focused and clean but not hard on the long minerally finish. Drinking window: 2023-2030.
ColleStefano 2021 Verdicchio di Matelica                          90
Green-tinged yellow. Fruit-driven aromas of lime, apricot, herbs and grapefruit, complicated by a note of licorice. Juicy and relatively soft, with just enough acidity giving shape to the nectarine and sweet herb flavours. Finishes classically dry and persistent. Always one of Italy's best buy wines and in fact one of the country's thirty or so best white wines, the 2021 ColleStefano is a little less concentrated and deep than I am used to with this marvellous wine, but it still is a lovely. Drinking window: 2023-2028.