Roncaglie is one of Barbaresco's best vineyard districts and Poderi Colla owns most of it. Already mentioned by Lorenzo Fantini in his 'Monograph on Viticulture and Oenology in the Province of Cuneo' dating back to 1880, the site really does have quite the history. I have always considered it to be one of the Barbaresco denomination's best sites (far superior to many others that have long been more popular because of savvy marketing strategies, sexier and more visible producers, and/or fleshier, rounder wines than the minerally austere, less immediately showy ones of Roncaglie).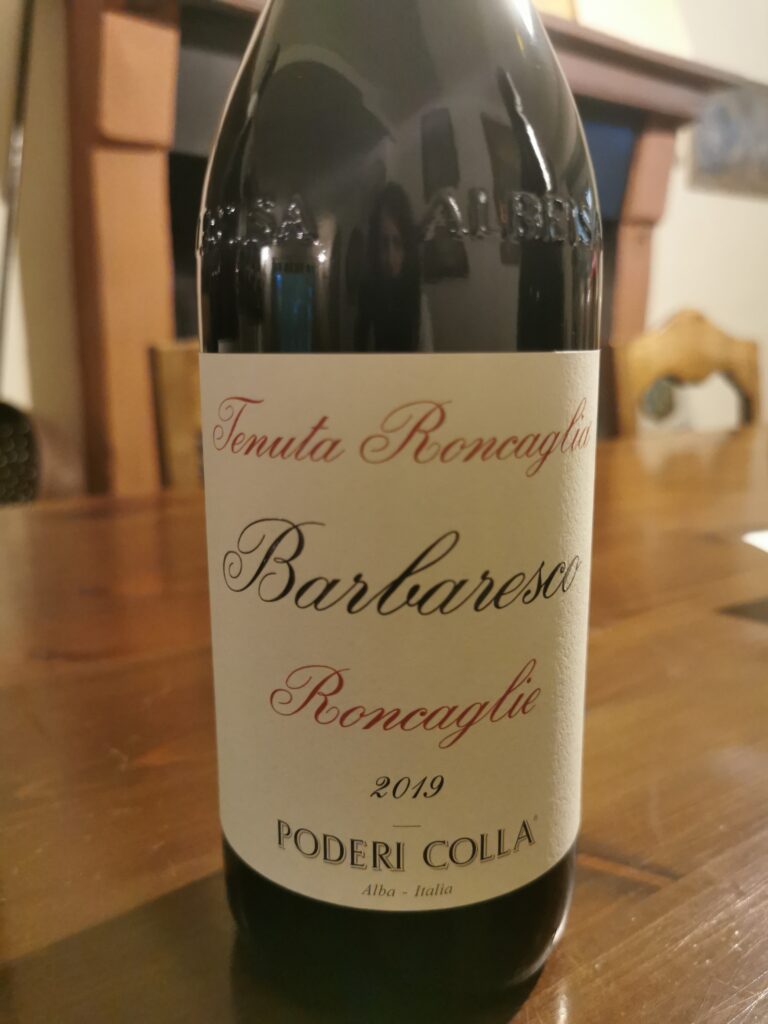 Roncaglie, the cru
Roncaglie is a Barbaresco vineyard district (In Italy they now use the term of a Menzione Geografica Aggiuntiva or MGA for short) that is thirteen hectares large. It has always been reputed to be one of the best sites in which to grow Nebbiolo in all the Langhe and at eight hectares, Podere Colla is lucky enough to own more than half of it. Today's Roncaglie is part of what once used to be a single property and a much larger one at that, entirely owned since 1693 by the noble Galleani family, Counts of Barbaresco and Canelli. What are distinct vineyard districts/MGAs today (Roncaglie and Roncagliette, for example) were once one and the same large expanse of vineyards; but it is not clear if locals identified different subregions (such as might have been for example the modern day Roncagliette and Berchialla) within the larger district already back then. Perhaps not at that time of the Galleani ownership; but later, after the Galleani family had sold off its interests in the area, different portions owned by different families may well have been identified with different names (such as for example Cencio and Socrè/ Sucrè). In any case, the Galleani property was subdivided initially in 1797 and sold in its entirety in 1821, and after that documentation of the Roncaglie-related events are relatively thin. The Colla family bought their portion of Roncaglie, universally considered not just the largest but the best piece of the vineyard district, in 1992. The family's first vintage of Barbaresco Roncaglie is the 1993. In fact, Beppe Colla had known the site for much longer, having vinified the grapes from this true grand cru non-stop over the years beginning with the 1956 vintage (in other words, he began doing so when he was still at Prunotto).
The name of Roncaglia/Roncaglie derives from the Latin Roncaleis (which might refer either to a former Roman settlement or a "steep road"). Interestingly, though the vineyard district is called Roncaglie, the name of the estate that Colla owns is Tenuta Roncaglia, with a final "a" instead of a final "e". Apparently, the estate has always been called so, rather than what seem a more logical Tenuta Roncaglie, though it is not clear why the two names differ in their final vowel (that "a" instead of the "e"). Quite possibly, this has to do with the term "roncaglia" being derived originally from the local dialect, and transformed into "roncaglie" over time with the passage from the dialect to proper Italian language. In any case, the Colla family decided to hang on to the estate's name as it appeared in the old documents, meaning that their Barbaresco Roncaglie is made in the Tenuta Roncaglia. A Roncaglia Roncaglie, if you will. Italy really is such fun: of course, getting people to understand it or its wines, or making them easier to sell is quite another matter, but that's besides the point. Really now, why spoil such fun.
Roncaglie is a steep south- to southwest-facing amphitheater blessed with calcareous marl and sand typical of the Saint Agatha Fossil Marls lithology that gives readier to drink Barbarescos (and Barolos). In fact, Roncaglie is located on a short hill that runs parallel to the Martinenga hill situated behind it but that is much longer and curves in and out, unlike the Roncaglie hillside crest that is shorter and less wavy. Both hillside crests are excellent and are arguably the two best vineyard areas of the Barbaresco commune (a third is the crest where Montestefano, Montefico, and Pajè are located). In fact, these are precisely the type of Barbaresco sites that most appealed to Beppe Colla, who always privileged elegance and refinement in the wines he made and liked to drink. You need to be aware that between the 1940s and 1950s, Colla essentially vinified the Nebbiolo grapes of every single cru or MGA site that we know today, so he was very aware of what each site of Barbaresco could deliver in terms of wines. And he was not a fan of those sites that delivered power for power's sake. In Roncaglie, he felt there was an ideal blend of power and refinement, not unlike that found in the wines of Montestefano, the latter another cru he worked with for many years while at Prunotto.
From a perspective of terroir, Roncaglie is a blessed site. Suffice it to say that in all the years Colla has owned his vineyards in Roncaglie it has never once hailed there. If an area is to be considered a grand cru, a term that in Italy does not officially exist, that sort of climate-linked reality goes a long way in determining the actual value of the site. This is very different from some other sites that have recently surged in popularity (in Barolo, especially) mostly because of important producers buying vineyards there, but that otherwise are MGAs/sites that have in fact never been especially important or thought of much. Of course, now that important, famous producers have bought land in those very vineyard districts you will see that their wines will be the recipients of extremely high scores sprayed around like confetti at a marriage, but what do you expect. Such is the human condition, after all.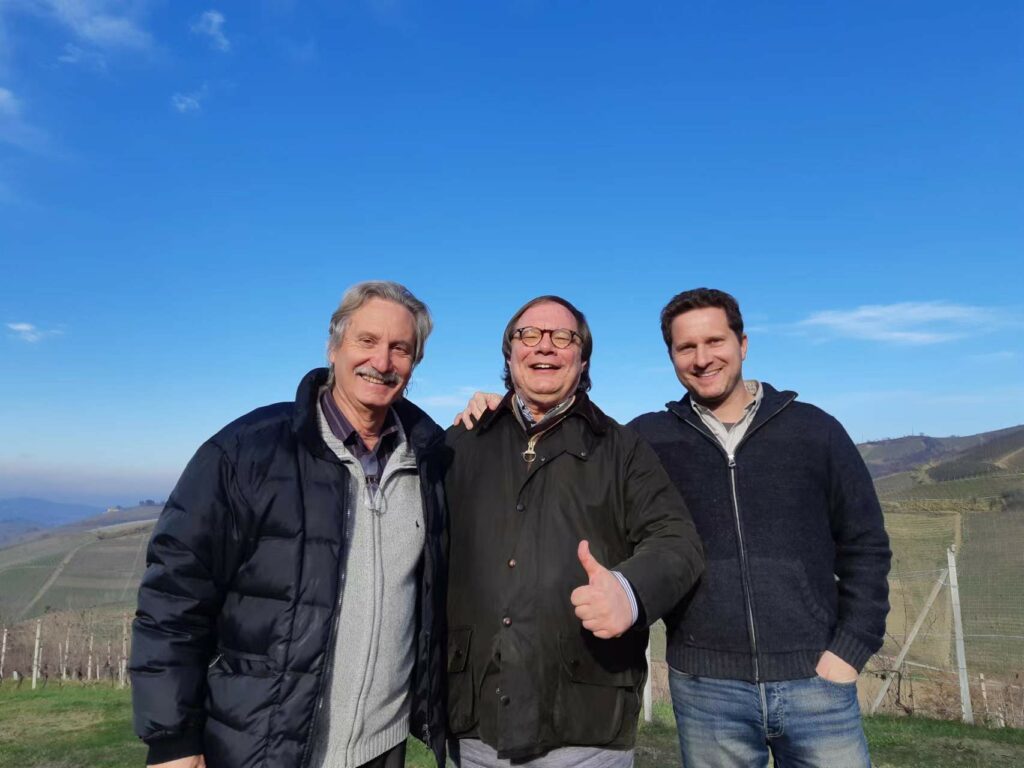 One last thing, and this is important.
Of the eight hectares Poderi Colla owns in Roncaglie, the vast majority but not all are planted to Nebbiolo. A small portion is planted to Barbera. I point this out because it speaks volumes about Poderi Colla, and the people that run it: the care, the passion, the attention to detail. Why do I say as much? Because those Barbera vines were planted before 1930, and another small part in 1995 (and that are used to make the winery's Barbera d'Alba called Costa Bruna). To their credit, the Colla family members have chosen not to uproot these Barbera vines: make no mistake about it, many other individuals would have. You realize that those Barbera vines are planted on hallowed land within the borders of the Roncaglie MGA: therefore, it follows that it would be far more profitable for Colla to yank everything and to replant with Nebbiolo so as to make even more Barbaresco and much more moola. And yet, at Poderi Colla they continue to grow and make Barbera: quite correctly, they feel it would be a real shame to kill off those beautiful old vines just to chase a fast buck or two more. This is the sort of action that speaks louder than words, and gives the measure of a wine man/woman and of a winery.
Besides Poderi Colla, the only other producers of a Barbaresco Roncaglie today are Vietti, Cascina Socrè (that sold most of its vineyards to Vietti, in fact) and Fletcher (who buys his Roncaglie grapes from Colla). Beginning with the 2018 vintage, Vietti has started labeling his Barbaresco previously called simply  "Masseria" as "Roncaglie Masseria". This is possible because the wine is now made entirely with grapes from the Roncaglie vineyard district, while prior to that vintage it was made with grapes from two vineyards, one in Treiso and one in Neive. It is telling that with the launching of the Barbaresco Roncaglie Masseria name, the word Roncaglie on the label is in much bigger font, and placed above, the name of Masseria. It's the privilige of site, after all.
The wine
Colla's Tenuta Roncaglia Nebbiolo vines were planted in 1970, 1980, 1995 and 2010 at approximately 240 to 280 meters above sea level. The wine is traditionally made: manually harvested, destemmed, andmacerated on the skins for twelve to fifteen days at temperatures not exceeding 30 degrees Celsius, it is aged in large Slavonian oak barrels for anywhere from twelve to fourteen months depending on the vintage's characteristics. The wines are now being made by Pietro Colla, son of Tino, and the winery's winemaker since 2006.
In ultimate analysis, despite its fame and historical significance, neither the Roncaglie cru nor the wine have been especially visible or much acknowledged in wine drinking or collecting circles. Other Barbaresco sites and other producers have instead been clamored after. It may well be that the rather austere, traditional, style of this wine has held it back somewhat in popularity contests. However, now that the pendulum has shifted and Barbaresco and Barolo wines that don't taste like Tempranillo or Petit Verdot are finally back in vogue, it is likely the Poderi Colla Barbaresco Roncaglie will slowly but surely earn its just moment in the sun.
The wines in this vertical tasting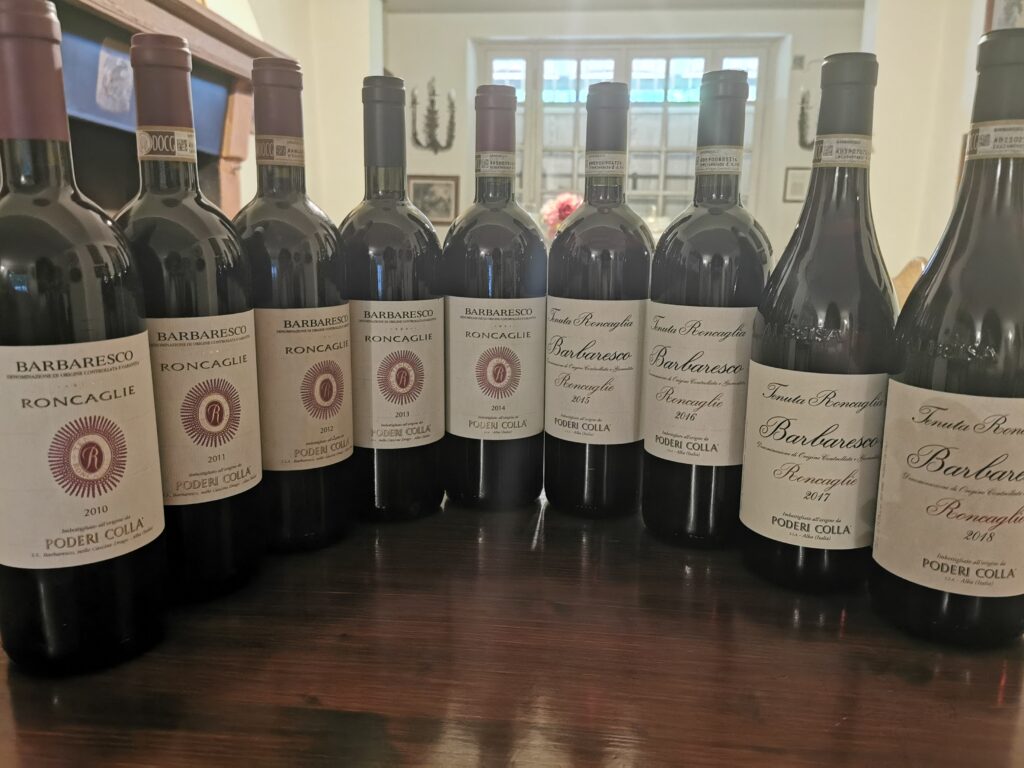 Poderi Colla 2019 Barbaresco Roncaglie                                   93+
Deep lustrous red: this is a really beautiful colour, perhaps a little deeper than I am accustomed to for this wine. A hint of lavender and peony complicate sour red cherry, menthol and mineral nuances on the nose. Then richer, fuller and less pungent in the mouth, where saline, savoury flavours of red fruit, licorice and herbs are clean and long. Finishes nicely tart and still a bit youthfully clenched. Lovely, promising wine that has a herbal/floral edge that may not appeal to everyone. Best after a few more years spent maturing in a good cellar, for a little time will help this show all it has to offer. Drinking window: 2026-2038.
Poderi Colla 2018 Barbaresco Roncaglie                                   96
Now this is a knockout. Good full red. Drop-dead gorgeous nose of red cherry (both fresh and dried) strawberry, musk, tobacco and rose petals. Then very much like munching into a crisp red cherry, with wonderfully focused, clean mineral sweet and sour flavours of fresh red cherry, candied red cherry and red cherry nectar, complemented by minerals. Medium-bodied, this closes very long and with clear-cut savory and saline nuances. An outstanding benchmark Nebbiolo wine. Drinking window: 2024-2036.
Poderi Colla 2017 Barbaresco Roncaglie                                  93
Deep red. Smoke, dried rose petals, licorice and forest floor complement potpourri and red cherry on the nose. Then clean, pure, and very spicy, not to mention plumper than just about every other wine in this vertical dating back to 2010. This also showcases the 2017 vintage's characteristic tougher tannins, but still closing with the Roncaglie's signature saline note and earthy nuances. Thanks to the year's hot weather, this is also a much spicier Roncaglie wine from Poderi Colla than is usual. A tough year of tough wines overall, but Colla acquitted himself very well indeed. Nicely done here, but let this wine develop in a good cellar for at least two more years as I think it will make a world of difference. Drinking window: 2024-2032.
Poderi Colla 2016 Barbaresco Roncaglie                                   95
Poderi Colla's 2016 Barbaresco Roncaglie is a standout. Luminous red colour. Enticingly pure aromas of red fruit, violet, rose, minerals and sweet spices are very inviting. Then fresh and suave, but with still youthfully chewy tannins and lively but balanced acidity nicely framing the pristine red fruit, mineral and spicy flavours. Very long and very light on its feet, this refined wine will age splendidly. It's a stellar wine in a non-showy, understated sort of way but that speaks much louder than many vulgar showboat wines that are all the rage nowadays. Drinking window: 2024-2042
Poderi Colla 2015 Barbaresco Roncaglie                                   90+
Good deep red. Expressive, downright showy aromas of raspberry nectar, dark plum, brown spices, cocoa and chestnut, along with hints of nutty oak. Enters chunky and thick, and stays so in the middle too, with slightly spiky tannins cutting off the wine's fruit on the back. This is structured for sure, and takes the usual savoriness to the nth degree, but I'm not sure this wine is as enjoyable as I might have expected from what was a warm but still outstanding vintage. This will need a few years of patience, but I think Colla was far more successful in 2016: much more so than the difference between the two vintages would have warranted. Nothing would make me happier to see this wine blossom in the years to come, but frankly, for the time being, I'm a little disappointed. Drinking window: 2026-2033.
Poderi Colla 2014 Barbaresco Roncaglie                                   93
Good medium red. Seriously perfumed and lifted nose combines raspberry, minerals, orange peel and spicy oak complicated by leather and minerals. Bright, clean and fresh, with excellent lively inner-mouth perfume, with firm acids framing the very juicy fruity flavours of red cherry and berries that have a lovely floral undertone. Sneaky concentration and building fruitiness here, not to mention rising tannins that give this highly perfumed, brisk Barbaresco very good spine for future development. This is one of the stars of the vintage in Barbaresco, a major success for a difficult vintage that was however much better in Barbaresco than Barolo. Drinking window: 2022-2032.
Poderi Colla 2013 Barbaresco Roncaglie                                   93+
Good full red. Inviting aromas of strawberry, rose petal, orange peel, violet and even a hint of white truffle. Quite powerful for Colla, with a distinctly medicinal character dominating the pure, energetic and high acid flavours of raspberry, kirsch, clove and exotic herbs and woods. Closes long with building but refined tannins. A strikingly good wine that will require patience, this very pure, midweight Barbaresco has a welcome touch of austerity and refinement, and ought to age splendidly. Those who like their reds big supple and sweet will not be as impressed by this wine as I am. Drinking window: 2024-2038.
Poderi Colla 2012 Barbaresco Roncaglie                                   92
Moderately saturated red. Blacker fruits than usual for this wine, perhaps a function of the year's unrelenting heat: cassis and black cherry dominate the hints of tar and violet. Enters wonderfully rich and pliant but with firm underlying structure typical of the year, with ripe strawberry, blueberry and clove flavours that linger impressively on the mountingly tannic but polished long back end. Drinking window:  2022- 2029.
Poderi Colla 2011 Barbaresco Roncaglie                                   91
Good full medium red. Aromas of red fruits, dried rose petals, truffle and underbrush. Lush and sweet on entry, then very firm and tougher in the middle, with bright acidity heightening the sensation of building tannins on the palate and the finish. There's good ripeness to the minerally, spicy and candied red fruit flavours. Closes long and chewy. Drink 2022–2027.
Poderi Colla 2010 Barbaresco Roncaglie                                   94
Bright ruby-red. Sexy aromas of redcurrant, flowers, cocoa and nutty oak. Broad and gently powerful in the typical style of the year but with very good silkiness of fruit to the ripe flavours of red cherry, tobacco and black tea leaf. Closes long and pure, leaving a mouthcoating but polished impression behind. Drinking window: 2022-2030.