Chateau Branaire-Ducru 2018 Saint-Julien Bordeaux         93+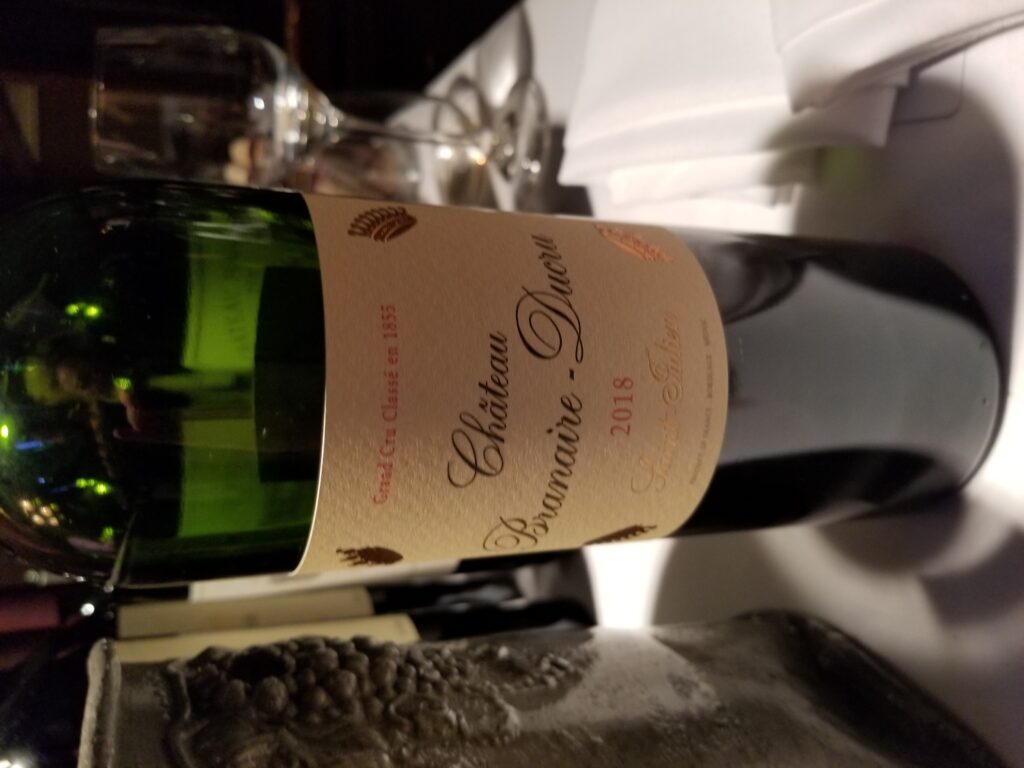 by Robert Millman                                                   
I conducted a tasting of high-end Cabernet Sauvignons recently for a group of business people. There were wines from Bordeaux, California, Washington State, Italy and Chile. I was struck more by the similarities of the wines–separated by thousands of miles of growing locations—than anything else. All were very good to excellent. Cabernet carves out a deep but narrow sensory path from aroma to finish. There is so much more variety of expression in a set of Pinot Noirs and Nebbiolos than in a set of Cabernet Sauvignon wines! I exaggerate but not by much. The consistency and over all reliability of Cabernet Sauvignon is unmatched by any other red wine varietal. The price to be paid for such high-level excellence is the lack of unpredictable and exciting variation that one finds even within Nebbiolo-based wines from Crus a mere 30 miles apart or Burgundy Pinot Noirs from even less distance. I am partial to this unending variation in taste, texture and bouquet from the two afore-mentioned grapes.
That said, one of the Cabernet-centric wines we tasted was particularly pleasing in every dimension that makes wine interesting: aromatic focus, textural elegance, length and harmony from outset to conclusion. The wine in question is Chateau Branaire-Ducru which was ranked a Fourth Grand Cru Classé in 1855. It is well to remember that only about sixty of the red wines of the left bank of Bordeaux were rated Grand Crus some 167 years ago. Even a "lowly" fourth or fifth Grand Cru was still a top wine (it is estimated that fewer than 6% of Bordeaux were ranked Grand Cru in 1855). How would Branaire Ducru stack up today if the wines were re-ranked? Surely at least a Fourth Grand Cru still today and one of the better ones at that. The one good consequence for most of the wines rated 4th or 5th growths is that prices have remained quite moderate compared with more highly ranked Chateaux. The current property comprises nearly 60 hectares from which about 15,000 cases are made annually. Cabernet Sauvignon makes up about 65% of the plantings with Merlot being about 28%. The wines are made with scrupulous attention to detail including a gravity system for filling the tanks. As common as this is now it was rare in 1991 when owner Patrick Maroteaux introduced the system with the assistance of wine maker Philippe Dhalluin who stayed until 2004 when he moved to the first growth Mouton-Rothschild. Almost all wine writers agree that with the 2000 vintage, Branaire Ducru was making first class Bordeaux. Situated in the extreme south western corner of St. Julien, just next to Chateau Beychevelle and beneath Ducru-Beaucaillou, its wine is a satisfying synthesis of the finesse of Beychevlle and the depth of Ducru-Beaucaillou, its famous neighbor.
In the warm 2018 vintage Branaire Ducru excelled. The saturated hue, between black and purple indicted that this would be a wine of real concentration. Yet the impression on the palate was graceful, with sprightly acidity supported by firm yet fluid tannins that point to a long harmonious future. The fruit is sweet with notes of cassis, coffee and tobacco leaf. It is a lovely wine with just the right balance between firmness and fluidity. The 2018 may shut down in a few years for the sleep that precedes full development. In mid-2022, it offers the pleasures of a well made Bordeaux without the tannic bite that can make drinking the left bank wines a challenge at 2 years in the bottle.  Drinking window 2022-2024, then 2030-2040.
Sandrone 2001 Barolo Cannubi Boschis                                        99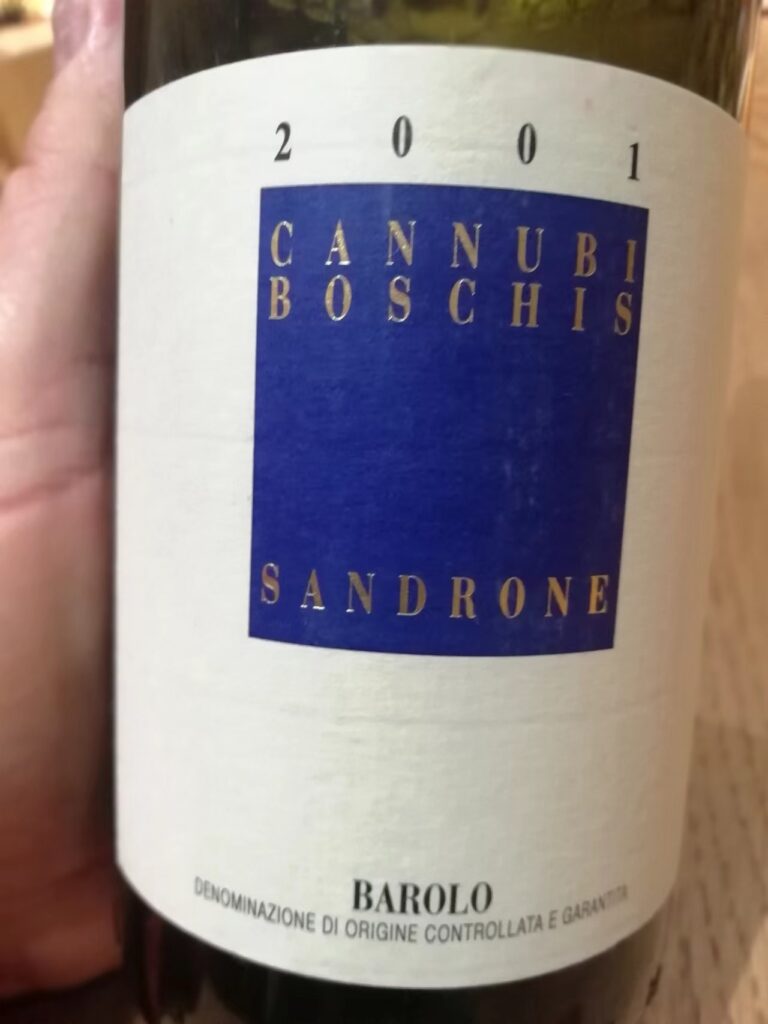 The Barolo that is now called Aleste in honour of his two grandchildren is also the wine with which Luciano Sandrone essentially catapulted Barolo into its new era. There can be no doubt that it was thanks to the Barolo Cannubi Boschis (previously called and labeled as Cannubi Monghisolfo, the original name of the Cannubi Boschis vineyard area) that non-tarditional barolos began taking home. To his credit, Sandrone was the first of the new-wave Barolo producers to achieve success, and again to his credit, he was the first to jump off the new wave bandwagon and started reinstituting some of the more traditional approaches to Barolo winemaking when he realized that things had been pushed too far and were frankly getting out of hand (macerations that were too short; wines that were strangely dark; wines that were over-oaked; wines that were getting so concentrated they just weren't that much fun to drink anymore; wines that failed to develop complexity and to age well, probably because of skin contact having been shortened too much; and still more). Over the years, he has produced a string of exceptionally great Barolos (not just the Cannubi Boschis; the Le Vigne too, and don't forget about his Dolcetto d'Alba, one of the greatest around) very few of which will ever top the 2001 Barolo Cannubi Boschis which was, and still is, a masterpiece. In fact, back in 2004 or 2005, memory fails me now, this was my Italian Wine of the year, tied for the numero uno, number one, position, in the D'Agata&Comparini wine guide that I was publishing at the time. Can't do much better than that.
Bright red in colour with only the palest of rims. Profound nose of stunning complexity: sandalwood, red cherry, raspberry nectar, quinine, pot pourri, minerals and faded rose petals. Then similar flavours to the aromas, brightly supported by harmonious acidity and a polished tannic spine. The extremely long fionish is dense, multilayered and lifted by a still vibrant and remarkably fresh violet topnote. One of the best Barolos you will drink this year or any other year. Bravo! Drinking window: now-2035.