Château Cos D'Estournel 2003 Château Cos D'Estournel Saint-Estèphe                         91
by Robert Millman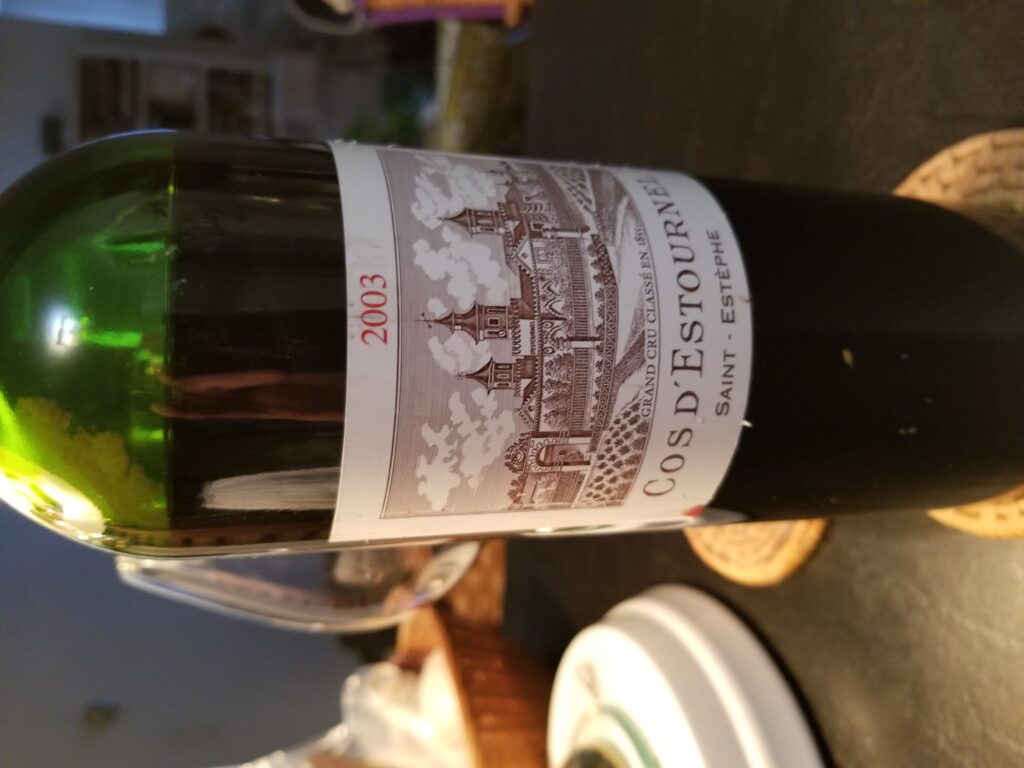 An august member of the unofficial super-second growth club—Ducru Beaucaillou, Leoville Las Cases, Montrose, Pichon Lalande, Pichon Baron and Palmer—Cos D'Estounel is located catty-corner to Lafite Rothschild at the very beginning of the St. Estephe appellation. Compared with big brother Montrose and self-contained Calon-Ségur, Cos has always shown its proximity to Pauillac in its elegance and finesse—not the attributes usually found in the wines of St. Estephe. Ever since the property started making wine up to the potential of its terroir, beginning with the 1982 vintage, Cos has been a favorite for those who do not wish to pay up for the First Growths. Long-lived and aromatically exciting, it can be a first-rate wine given 15-20 years of proper bottle aging. I had been nursing my last bottle of the 2003 for some time. At 16 years in the bottle, this seemed a good time to see how it was performing.
Most readers will recall that 2003 was a scorchingly hot vintage with unrelenting heat throughout June and July. In fact, it was the hottest vintage in Bordeaux since the famous 1947 vintage. It is true that any number of Pomerol and St. Emilion estates made wine of all but inexplicable depth, intensity, and sheer voluptuous beauty in 1947, another mega-hot year (the Cabernet-based wines from the left bank did not fair nearly so well). Sustained heat poses serious threats to the health of the vine, with resulting wines all too often characterized by reduction of malic acid to insignificance and the raising alcohol to disagreeable levels. For a top Bordeaux wine to express its terroir properly, a fine balance of alcohol, acidity, tannin and fruit is essential. It was believed that the heavy clay soils of St. Estephe protected the best Châteaux from the depredations of heat. Indeed, Robert Parker rated Cos D'Estournel and Montrose higher than all the First Growths except for Lafite and Latour. Steve Tanzer, usually a more circumspect reviewer, rated both Montrose and Cos D'Estournel just below Latour and above Lafite, Mouton and Haut Brion, Recently, the Wine Advocate's Lisa Perrotti-Brown "downgraded" the 2003 Cos to 93 while Neal Martin affirmed the original Tanzer score of 96. Where do I stand in such august company? Close to Ms. Perrotti-Brown and rather away from Martin.
First to the good things in my bottle: The cork came out intact. The color was what one should expect from a wine of its age. A dark core of purple plum with black fruits tints. The meniscus was clear with no signs of browning. On the nose I was struck by the cedar, tobacco, and tar—a little reminiscent of a Barolo. The fruit was ripe, but not over-ripe, and the overall impression was one of subdued richness. In my view, left bank Bordeaux ought to show restraint in expression. There are subtleties in great Bordeaux wines which require all the other elements to be held in check. (Mouton might be the exception to this rule—but then again Mouton is in my view a sui generis wine if ever there was one.) Now to the problems with the 2003. On the palate the alcohol dominated the rest of the wine. Over the course of an hour this problem seemed to get worse. First impressions are important but not as important as the judgment that arises after a lengthy familiarizing with a wine. Yes, the core of Cos D'Estournel was present but suppressed by the alcohol. There is still a healthy amount of tannin on the back end but not nearly enough acidity to keep the wine lively on the palate. I cannot concur with Neal Martin's opinion that the wine surprised with its level of delineation. My rating of 91 is course relative to Cos' potential as an outstanding wine. I will add that as I get older, I find high alcohol levels in all but a few wines (it is essential in Amarone, in my view) to be not merely a distraction but a serious interference with what is most important about fine wine. Drinking window: now-2032.
Billecart-Salmon 2002 Champagne Cuvée Nicolas François Brut                              95+
by Ian D'Agata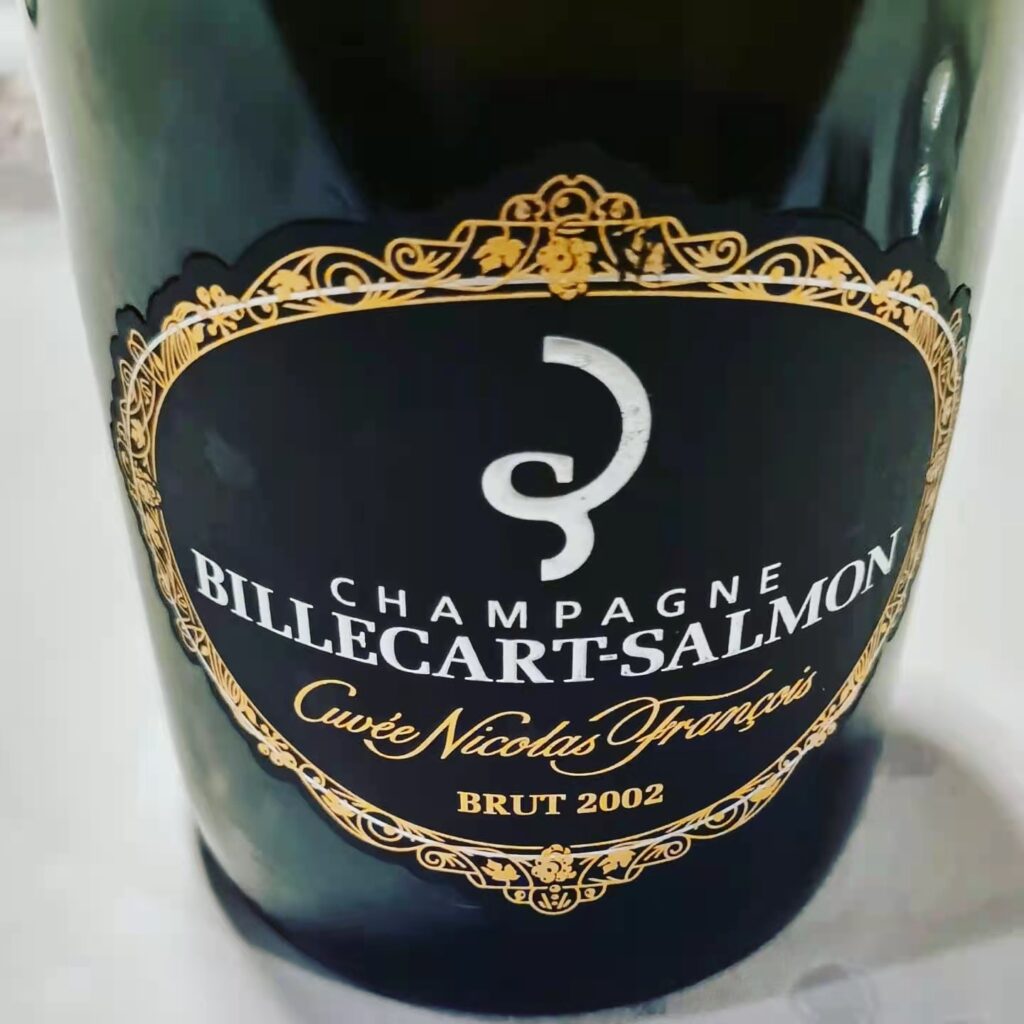 Billecart-Salmon is considered by many experts and wine lovers as possibly the best source of Rosé Champagnes there is, but truth is its non-pink bubblies are pretty good shakes too. Located in Mareuil-sur-Aÿ , a small town in the Marne department of northeastern France just a quick drive from Paris, the company was founded in 1818 with the marriage of Nicolas François Billecart and Elisabeth Salmon. In fact, the two decided to create their Champagne house after their nuptials; Louis Salmon, Elisabeth's brother, became the company's first winemaker. Still today, it is one of the few larger Champagne houses to still be the property of the same original family, and has been run since 2019 by Mathieu Roland-Billecart, company president and who embodies the family's seventh generation at the helm. Besides visiting (the cellars extend for two kilometers of tunnels dating back to the seventeenth through the nineteenth centuries), the most fun you'll have with Billecart-Salmon is drinking all of its delicious wines, that, from non-vintage through to prestige cuvées represent some of the best values for money in the region. Billecart-Salmon owns 100 hectares, but buys grapes from a total of 300 hectares spread across forty crus of the Champagne region (in fact, the majority of the grapes are picked in a radius of roughly twenty kilometers around Epernay). The list of great bubblies at this address is long: my favourite remains the Elisabeth Salmon Rosé, first created in 1988 and arguably the finest vintage Rosé Champagne, but fact is other bubblies from this address are just splendid too. Such is the case with the Billecart-Salmon 2002 Champagne Cuvée Nicolas François Brut, a blend of 60% Pinot Noir from the Montagne de Reims and the Vallée de la Marne plus 40% Chardonnay from the Côte des Blancs, partially vinified in oak (20%). It exudes aromas and flavours that are unabashedly fruit-forward (yellow apple, pear, apricot, peach, crystallized papaya, a hint of ripe mango) and sweetly spicy (vanilla-lovers will be thrilled). Effusively fruity and soft on the palate, it is lifted and extended on the long back end by ripe, harmonious acidity. Deep and rich, yes, but still very young; you can drink this now, but I recommend giving the 2002 Champagne Cuvée Nicolas François Brut another three to five years in a good cellar to allow it to develop all the nuances and complexity it is only hinting at today. This was disgorged back in January 2015 with four grams per liter dosage. A splendid Champagne, it is an historic one too, as it was launched in 1964 in honour of the estate's founder. Drinking window: 2026-2036.