Is San Antonio, TX on your list of gastronomic destinations?  I didn't think so.  It wasn't on mine either, ranking somewhere between Cleveland and Milwaukee.  As a very hectic week at my day job progressed, this looming trip filled me with dread.  Spending another weekend away from home was seriously not at the top of my list of fun things to do.  In fact, it rated VERY HIGH on the "sounded like a good idea at the time" list.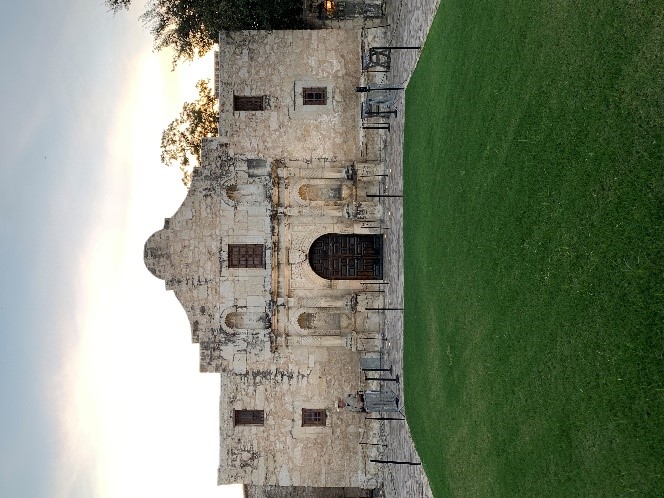 I had nothing against San Antonio.  I was honored to be a representative at the Les Dames d'Escoffier annual convention.  I just did not want to go.  A commitment, however, is a commitment so I packed up and trudged off to the airport.
The trip did not start well.  Poor weather in Texas started an avalanche of flight delays.  By the time I reached Dallas, I had missed 3 connections.  As the 4th and final flight to my destination began accruing delays faster than my bank account earns interest, I walked up to the gate agent and asked if there were any more flights back to Miami that evening.  I was just done.  Of course there were no more return flights that night, so I waited and waited and waited.  When I finally arrived at my hotel 6 hours late, my good friends crabby, crabbier and crabbiest checked in with me.
The next morning, I got my registration packet and "Filled to the brim Swag Bag" and started the day determined to make the best of it.  Les Dames d'Escoffier International, LDEI, is an organization of professional women leaders in food, beverage and hospitality industries.  There are 45 chapters in the US, Canada, Mexico, France and the UK with over 2400 members. Their mission is to support women leaders in the profession through scholarship and philanthropy.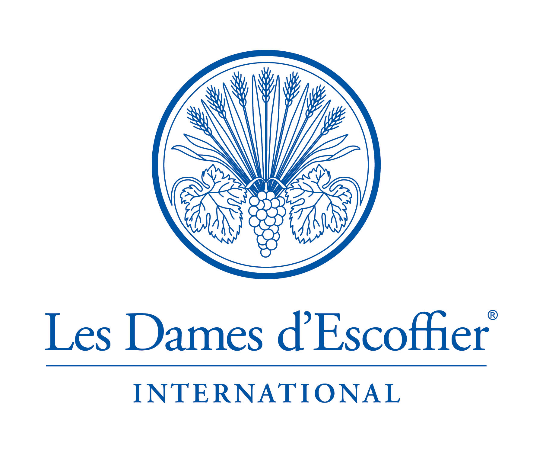 The LDEI annual convention had been postponed the prior year due to COVID restrictions.  As Dames after Dames greeted each other with air kisses, air fist bumps and genuine shrieks of happiness, the energy level of the conference began escalating.  My "First Time Attendee" name badge and green ribbon entitled me to a very warm welcome and virtual embrace by the 200 plus attendees.
I wandered into one of the breakout rooms for the first seminar, San Antonio: A UNESCO Creative City of Gastronomy.  WHAT?! I promptly sat down eager to understand this.  I think we all know about the UNESCO World Heritage sites around the world.  Declaration as a World Heritage Site is intended for practical conservation of the area that might be subject to risk if human or animal trespassing remains uncontrolled or unmonitored.  Some of us have even made travel bucket lists to see as many of these sites as possible.  There are 1154 such sites today and include places like Macchu Picchu, Stonehenge, The Great Wall of China and Yellowstone National Park.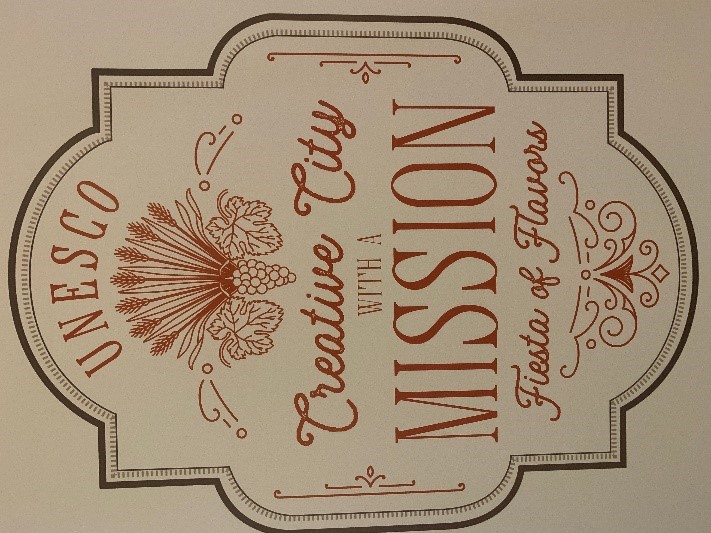 So what exactly is a UNESCO Creative City of Gastronomy and why and how is San Antonio on this list?  In 2004, UNESCO launched a project to promote cooperation among cities that recognize creativity as a major factor in their urban development.  The categories of creativity are Film, Literature, Music, Craft & Folk Arts, Design, Media Arts and…. Gastronomy.  The first City of Gastronomy recognized by UNESCO was Popayan, Colombia.  Today there are 36 named cities including Chengdu, China for creating Sichuanese cuisine and Alba, Italy for its white truffles and vineyards.
The criteria set by UNESCO for approval as a Creative City of Gastronomy include:
Well developed gastronomy that is characteristic of the urban center or region
Vibrant gastronomy community with numerous traditional restaurants and/or chefs
Indigenous ingredients used in traditional cooking
Local know-how, traditional culinary practices and methods of cooking that have survived industrial or technological advancement
Traditional food markets and traditional food industry
Tradition of hosting gastronomic festivals, awards and contests
Respect for the environment and promotion of sustainable local products
Nurturing of public appreciation, promotion of nutrition in educational institutions and inclusion of biodiversity conservation programs in cooking schools
Our panelists included three local movers and shakers who were critical in shaping and executing the daunting application process:  Chef Johnny Hernandez, Angela Covo (Editor in Chief of Edible San Antonio) and Colleen Swain (Director of World Heritage Office, San Antonio).  Together they described the program, how they spent years collaborating on the application, where they've succeeded, how COVID has slowed them down and where they hope to be in the future.  For now, they are focused on a marketing campaign to attract chefs, tourists and conventions to San Antonio and sending some of their local chefs to sister UNESCO Gastronomic festivals in an Exchange Program to build the image of San Antonio.  The group and current advisory committee leaned into the rich international historic culture of the city including American Indians, Spaniards, Canary Islanders, Mexicans and Germans.  Currently, Chef Johnny Hernandez is spearheading a $12Million redevelopment of Maverick Plaza at La Villita in the Riverwalk area which will house 3 restaurants and a demonstration kitchen all showcasing San Antonio's culinary history.
Mind blown, I needed to get out of the hotel and onto the street to check out some of this culinary wonder.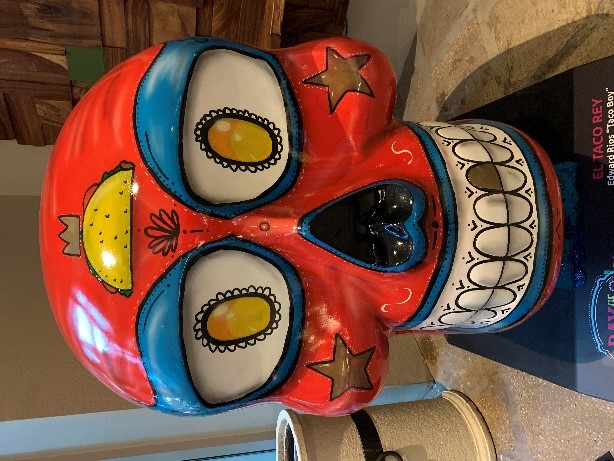 I headed to "The Pearl."  The Pearl is a redeveloped area of River Walk and includes restored 19th century buildings formerly part of Pearl Brewery and features local crafts, local storefronts and chef-led restaurants.  The CIA, Culinary Institute of America, has a new branch here and has adjusted the curriculum adding Latin Cooking classes.  I picked up a few bits and bobs to bring home before heading to the food hall in the former bottling building.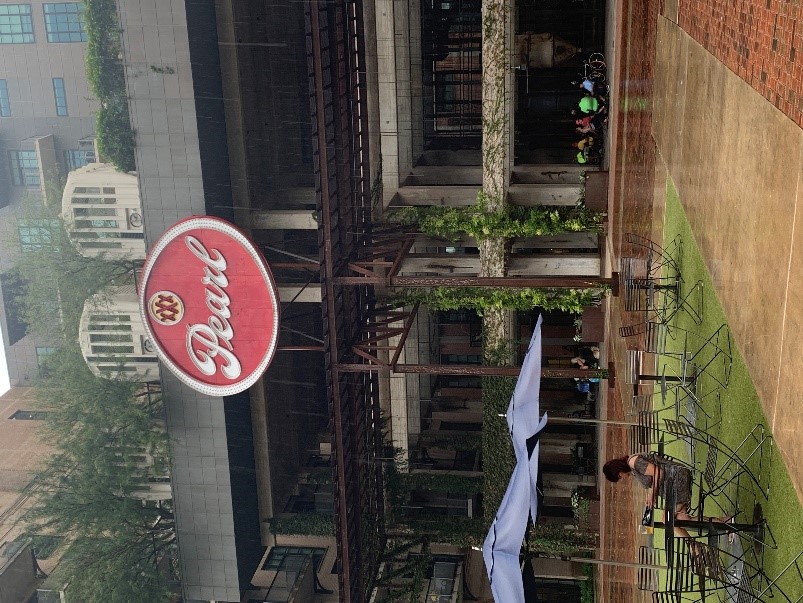 Chilaquil started as a food truck offering traditional Mexican street food by Chef Orlando Aguirre and opened in The Pearl in August 2020.  I indulged in the Chilaquiles Verdes made of tortilla chips, salsa verde, Mexican cream, fresco cheese, pickled red onion, avocado, corn and cilantro all served on a bed of refried black beans in a boat of an oval bowl with significant heft.  A gut bomb for sure but packed with flavor and comfort…. It's easy to see how this dish powers people through the day.  It's filling, tasty, crunchy, mushy, warm and cold.  I was careful not to eat too much fearing I wouldn't be able to try anything else.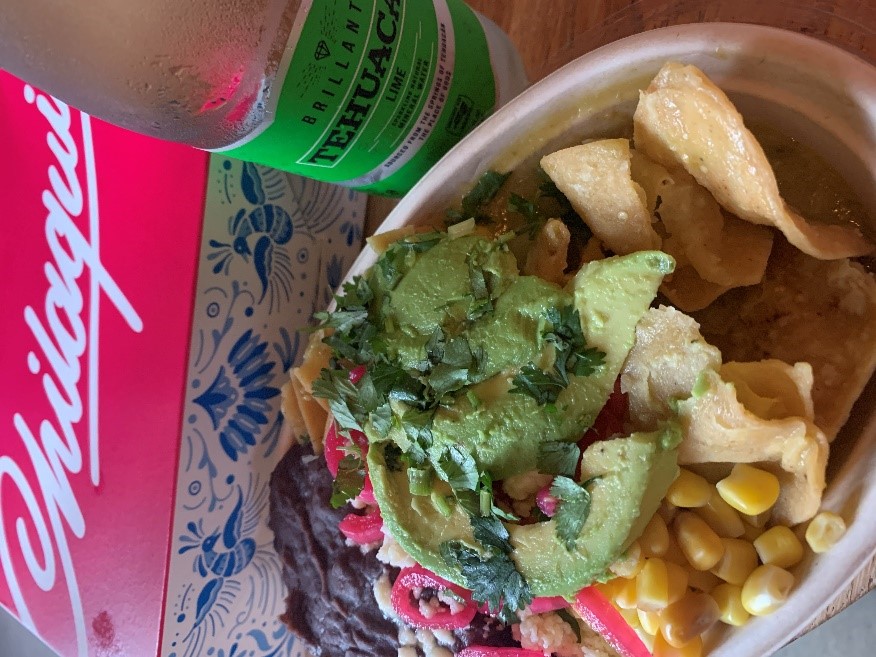 I couldn't leave without trying the King of Street Foods…. The Taco.  I mean seriously, every corner of every city in the USA has a tacqueria right now.  We even have a weekly day dedicated to this food… Taco Tuesday.  I'm pretty sure if tacos mysteriously vanished from the USA, all food delivery service would immediately cease operation.
Given its cultural heritage, there's stiff competition for the best taco in San Antonio.  There are literally hundreds of lists dedicated to the 10 best, 5 best, 8 best etc.  I knew I wouldn't be here long enough to do the deep dive into taco mastery the city deserves so I settled on two options:  Contemporary and Traditional Street
My contemporary tacos came from Chilaquil. I tried the 3 classics: Barbacoa, Al Pastor and Carnitas.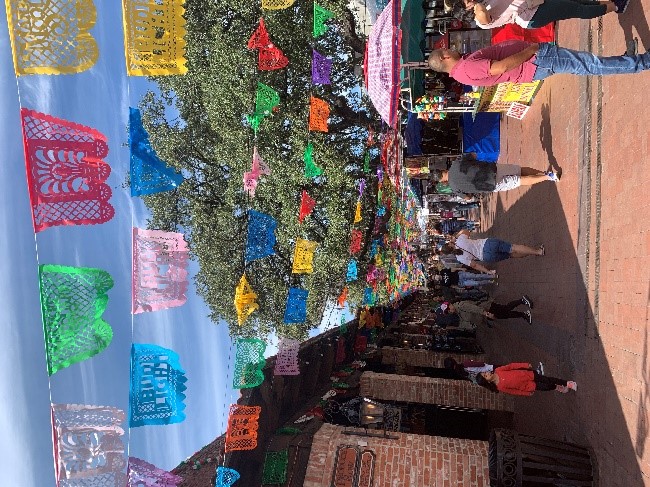 For me, the key to a great taco is flavor, texture and proportion.  Served in blue corn tortillas, all 3 of these checked the boxes.  There was enough meat filling bursting with exotic chilis and umami to fill the entire tortilla.  Pickled onions and cilantro provided crunch and freshness.  Perfectly ripe avocado alleviated the chile heat and a squeeze of lime added an acidic lift to all the savory elements.  Yes, yes and ALL CAPS YES to YUMMY.
The next day I wandered to a street festival in historic Market Square on a gorgeous cool sunny day.  The market was packed with locals and tourists taking advantage of the first cool day after a summer of record-breaking heat.
Two lovely ladies were working feverishly to handle the crowd lined up for their Gorditas.  A Gordita is a thicker corn tortilla that is filled with bits of meat and fried up in hot oil to a puffy pillow of goodness.  After it cools slightly, a small slit is cut into the pillow and fresh salsa is inserted.  I waited patiently for a Gordita Chicharron.  Let me tell you … it was worth the wait.  Crunchy, salty, savory and hot, it really hit the right flavor notes.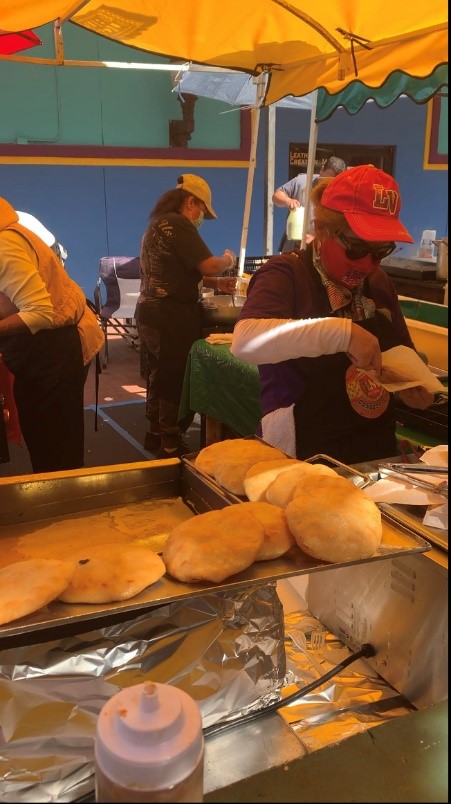 For dinner, I wanted to experience a chef driven destination restaurant.  Earlier in the day, I listened to a fascinating panel led by Chef Elizabeth Johnson on Food as Medicine.  Intrigued and in the spirit of health, I took a long walk from the hotel to her restaurant Pharm.  Chef Elizabeth returned to her native San Antonio after traveling around the world learning about flavors, healing ingredients and spices.  At Pharm she sources products locally, leans into Mexican flavor and creates food that nourishes and heals from the inside out.
Lead by one of the best servers I've had the pleasure of encountering anywhere, Skylar recommended a few do not miss dishes that proved not only delicious but packed with flavor and "good for you" combinations.  Pictured below is the vegetable gravlax platter where one literal bite was better than the next.
Skylar insisted I finish with a chocolate chip cookie and milk….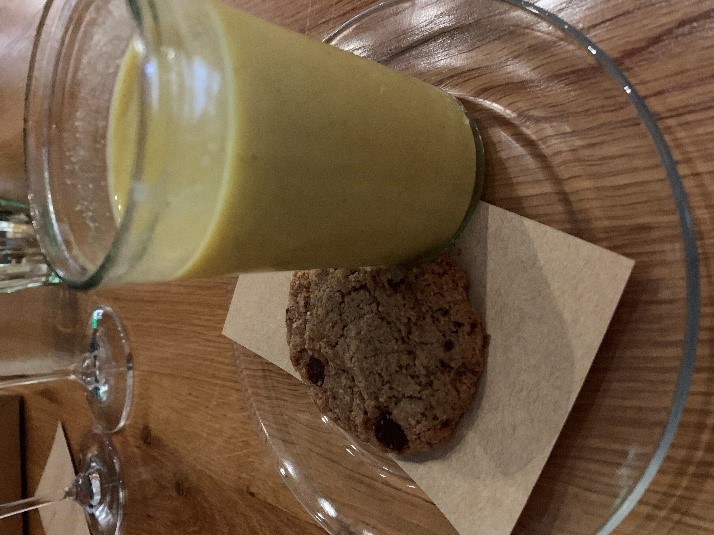 Totally gluten free made with seeds, agave and dark chocolate served with chilled almond milk…. It was so good I could have eaten a half dozen, but I guess that would have defeated the point …
On my way to the airport and settling into my seat for my return flight home (with no delays I'm happy to report) I left San Antonio completely energized.  It was thrilling to see a culinary community come together for the betterment of that community and create an important designation preserving tradition and inspiring economic growth.  It left me wondering how many other cities might be inspired to do the same thing.  And for sure, I need to come back with more time to dive deeper into the tradition and flavor…. I can see a Taco/Wine Pairing Diary in my future……