2010 Château  Rieussec Sauternes                                      95
In 1984, owner Alain Vuillier sold Château Rieussec to the owners of Château  Lafite Rothschild, Domaines Barons de Rothschild, who bought the estate in a partnership with Albert Frere (who was already part owner of Saint-Emilion's prestigious Château Cheval Blanc in St. Emilion). The very next year, the new owners appointed Charles Chevallier as general director of Château Rieussec and so began what is perhaps the greatest thirty year period (relative to fine winemaking) of this storied property's history.
Rieussec has a marvellos terroir: topographically, at seventy-eight meters above sea level, its vines are planted in one of the highest parts of the Sauternes Appellation (only d'Yquem's are higher up) which has important, positive, consequences relative to the appearance of noble rot and the richness of this estate's wines. A very large property (the eighty or so hectares planted to Sémillon, Sauvignon Blanc and Muscadelle are twice more than what was planted when Chevallier arrived), Rieussec's vineyards average roughly thirty years of age and straddle two different communes (Sauternes and Fargues) on soils that are a mix of gravel, limestone, sand, and clay. Château Rieussec is aged in roughly 50% new French oak barrels from eighteen to twenty-four months, depending on the vintage characteristics. In years marred by bad weather, the estate chooses not to produce a grand vin, such as was the case in1977, 1993 and 2012.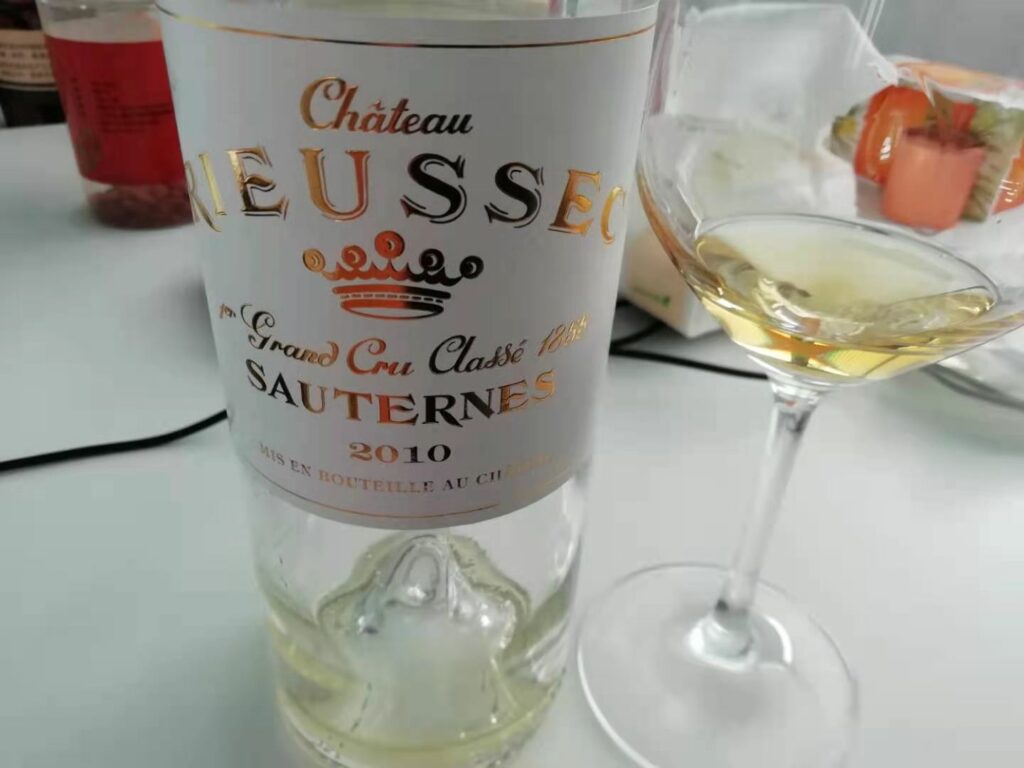 The 2010 Château Rieussec is just an amazing, truly gorgeous Sauternes. The first sip tells you immediately that you are in the presence of greatness. Very powerful but not needlessly leviathanic, this remarkably precise and complex Rieussec offers a mouthcoating, multifaceted personality just oozing layers of saffron, honey, yellow peach, mango and smoky noble rot. A wine of exceptional purity, at once luscious and refined, not to mention both long and suave on the aftertaste, the 2010 Château Rieussec showcases extremely harmonious acidity and well-balanced sweetness. Ready to drink now but just as capable of lasting and improving another fifteen years, this is one Rieussec that will still be drinking splendidly on its 50th birthday. Drinking window: now-2060
1997 Dr.Loosen Ürziger Würzgarten Riesling Spatlese            92
Dr.Loosen the estate been around for 200+ years and so it is safe to say they probably know a thing or two there about winemaking. Fact is, until Ernie Loosen took over the family estate (his father had passed  away and his mother was threatening to sell the estate unless someone in the family took over; but as all of his brothers were either lawyers or doctors and as he was the only one without a "real" job – he was studying archeology – he had to step in, without really wanting to at the time! But as it turns out, Ernie's arrival on the scene was the best thing that could have happened to this historic estate that really hadn't been making memorable wines before his arrival. For Ernie Loosen is one of those rare individuals that combines a remarkable number of qualities in one person: very likeable and quite funny (the man has a truly great sense of humour), a born businessman who could probably sell ice to the Eskimos if he had to, in love with terroir (not at all strange for someone steeped in a love for archeology) and the wines of whom actually taste recognizably different depending on the site they come from (unlike those of many of his colleagues who speak of terroir and then make wines that taste of anything but), a born facilitator (for example, over the years he has struck up successful partnerships with Washington and Australian wineries of note) and much more.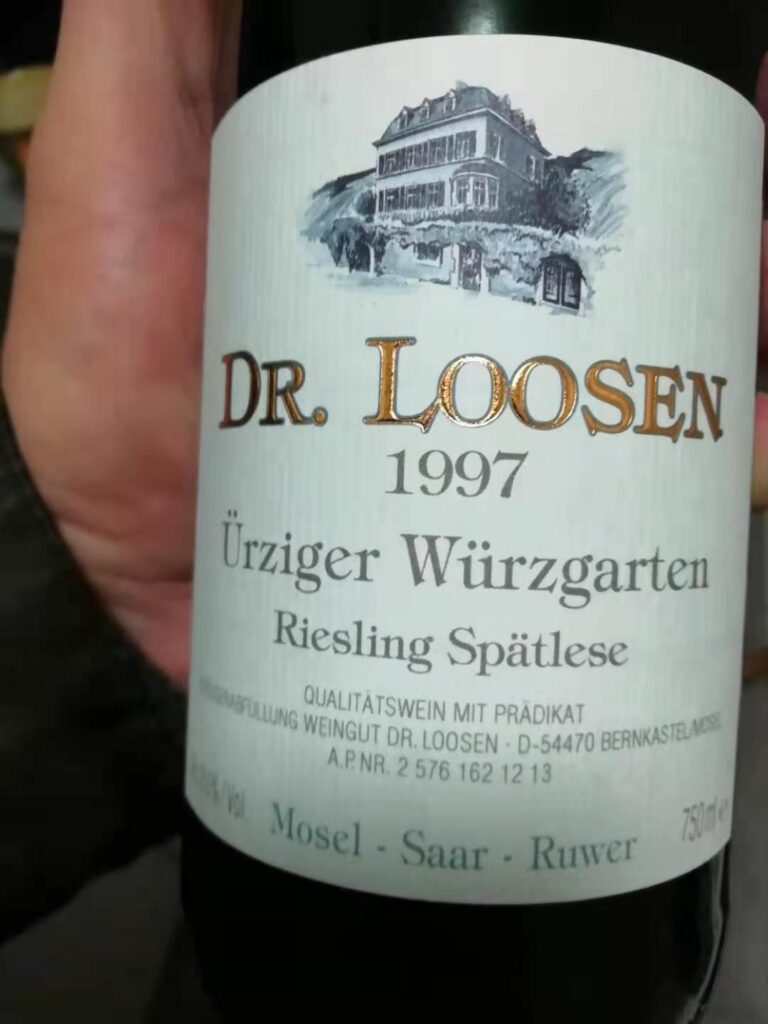 The 1997 Dr. Loosen Ürziger Würzgarten Riesling Spatlese is a gorgeous example of what our good man Ernie does so well. Here we have a wine that is not just delicious, but that clearly speaks of Riesling (of Mosel Riesling at that), and of the vineyard it comes from. The Würzgarten (which traslates into English as "spice garden"), is a truly unique vineyard of the middle Mosel located next to the town of Ürzig just a little upstream from Erden, another of the Mosel's many famous wine towns. The Würzgarten has a unique reddish-coloured soil that is a mix of red slate and "rotliegendes", also a red soil but of volcanic origin (and in this the Würzgarten differs completely from the rest of the Mosel's vineyards that feature, geologically speaking, mostly variations of slate-based soils only). No name could have been more apt: the Würzgarten is one of the most logically and best named vineyards of the world. This is because the red soil really does give Riesling wines of noteworthy spiciness: drinking wines made from grapes that grow there really do take you through a walk in a spice garden at every sip. This spiciness is absolutely easy to recognize and unmistakable: I guarantee you that it is absolutely impossible not to recognize a wine from the Ürziger Würzgarten when tasting wines blind. The wines really are completely different from say those of the nearby and just as famous Wehlener Sonnenuhr and Erdener Prälat vineyards that anyone with a just a little bit of experience will always be able to recognize an Ürziger Würzgarten wine blind. The power of terroir, indeed!
The 1997 Dr.Loosen Ürziger Würzgarten Riesling Spatlese ("spatlese" means late harvest),  is very pretty, soft and juicy, dainty white wine, offering nuances of yellow apple, pear, lemon tart, orange peel, cinnamon, white pepper, and chamomile, all lifted by hints of white flowers. It finishes very long and clean with just a whisper of sweet figs:, admittedly, it isn't exactly the last word in concentration at this level of sweetness, but it's just so lip-smacking good that you won't want to put the glass back down. Made from 100-120 years old vines that have never been touched by phylloxera, this now 24 years old wine is still amazingly light and lively and will be drinking splendidly (if you can believe it!) for another ten years easily. Well done! Drinking window: now- 2030.