Did you know, did you have any idea really, that there exists a street called Château Palmer Drive in Kenner, Louisiana? True story (the postal code is 70065, just in case you want to look it up): in fact, this particular stretch of Kenner has other streets named after famous Bordeaux properties, including Châteaux Margaux and the non-existent Château Petrus (as the real name of latter estate is Petrus only). No matter, having a street named after it on the other side of the Atlantic Ocean is a sign of the fame that Château Palmer and its wines have garnered over the years all over the world.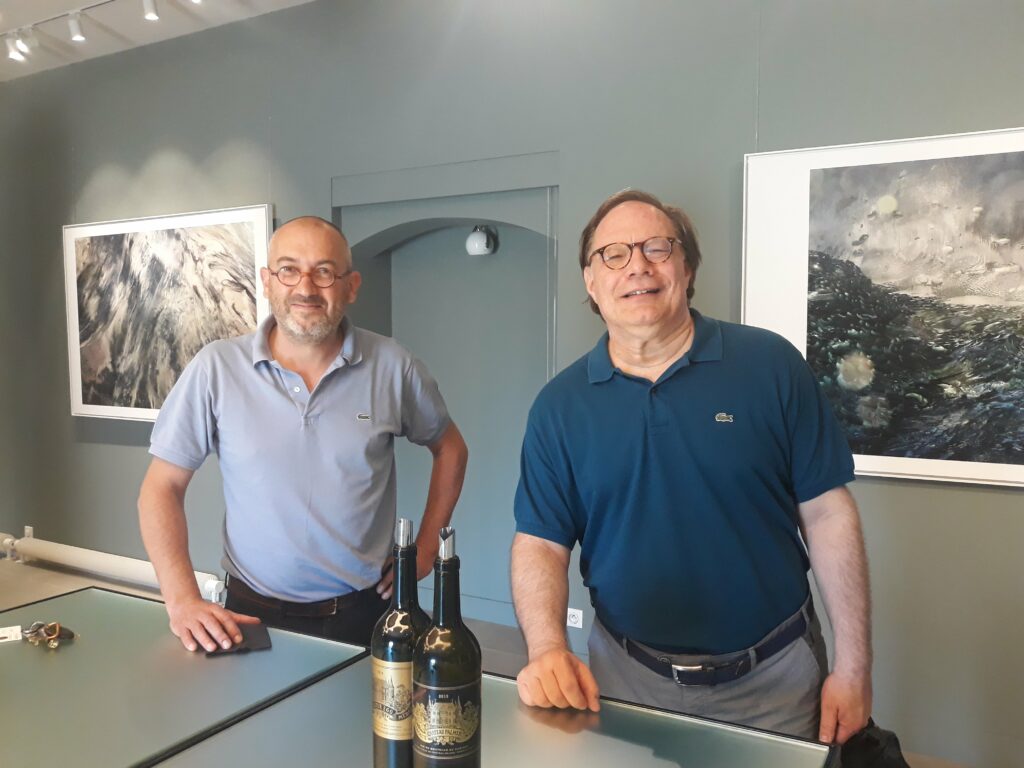 Château Palmer is not just one of the most beautiful Châteaux of all Bordeaux, it also makes one of the region's best wines, classified as a third growth in the famous 1855 Bordeaux classification but that today everyone recognizes to be one of the best Super Seconds of all (and in a sign of destiny, let me point out that 1855 is the year in which the aforementioned Kenner was also founded). Most importantly, Château Palmer boasts 400 years of history and only four owners, relatively unheard of in the Médoc where some estates have changed hands with a frequency that would make the wings of a hummingbird proud.
A little bit of history…
The estate dates to the 17th century, when it was founded with vines that originally belonged to the much larger Château d'Issan. In the 1800s it was known as Château de Gasq, and in fact it was Marie Brunet de Ferrière, a young widow known as Madame de Gascq, who sold the property for 100,000 French francs to the person that would make the estate famous, giving it his name. Apparently Englishman Liutenant Colonel Charles Palmer (later a Major General), an officer and a gentleman, bought the property following a long stagecoach ride in the company of the fair lady; he took over and spent the next thirty years expanding the property (capably helped by his faithful local representative, a Mr.Grey, he tripled the estate's hectarage) while also developing the wine's market in England (where Palmer's Claret's reputation was sky-high). In June 1853, the estate was bought by the Péreire brothers, wealthy bankers who not only invested heavily in improving the estate but also built the absolutely beautiful multi-turreted, neo-Renaissance château (completed in 1854, its construction took only one year!). Then, in 1938, the estate was bought by four wealthy Bordeaux families that among their other activities also counted that of wine négociants and distributors: the Ginestet, Miailhe, Mahler-Besse and the Sichel families. Today, there are twenty-two different shareholders of Chateau Palmer, the majority owners being two of the original four families that had bought the property in 1938, the Mahler-Besse and the Sichel families (the Miailhe family sold their shares to both the Sichels and the Mahler-Besses, while the Ginestet family sold their stakes in the property to Mahler-Besse at two different points in time).
In 2004, at only 32 years of age, Thomas Duroux was appointed technical director of Chateau Palmer, taking over from Jean Bouteiller (Frederick Mahler's son-in-law) who had overseen wine production at the property for forty-two years. There is no doubt that Duroux has helped propel Chateau Palmer into the highest quality wine stratosphere, something which eh had already done at Ornellaia, the iconic Tuscan estate. And though it is only fair to recognize that Chateau Palmer has a long history of outstanding wines behind it (the legendary 1961, if not the best Bordeaux wine of that vintage then certainly one of the top three being a case in point) but there can be no doubt that the estate has known a long string of exceptional vintages over the last fifteen years.
The estate and its terroir
Chateau Palmer is roughly one hundred hectares large, of which sixty-five are under vine, divided into one hundred and twenty-two plots located in the communes of Cantenac, Issan and Margaux. The estate began converting to biodynamic framing principles in 2008, but though at first results left the team perplexed, it hung and bore on, such that the estate became fully biodynamic in 2014 and certified as such in 2017.
Chateau Palmer is situated in the Margaux appellation on the left bank of the Gironde, and its terroir is fairly complex. The Margaux appellation features beautiful gravelly mounds (croupes), the remains of ancient alluvial terraces eroded over thousands of years since the Quaternary Period. Such gravel soils have two characteristics, good drainage and poor amounts of organic matter but there are numerous nuances to gravel soils, and not all gravels are the same. The depth of the gravel layers can be quite variable and the subsoil can include varying percentages of limestone, clay, sand and silt, plus agatoid and lydian stones. The type and depth of the gravel plays a major role in the character of soils and the terroirs of Bordeaux in general and of Margaux in particular, the result being highly different wines on geological basis alone (never mind all the other terroir factors that help account for the high diversity of wines from the area while maintaining clear-cut similarities). For example, the plateau de Margaux-Cantenac (where a good chunk of Palmer's vineyards are located) is characterized by alluvial, round, stones (with generally smaller stones than in the gravel ridges of the northern Médoc, for example) brought down by the Garonne and the Dordogne from the Pyrenées and the Massif central mountain systems. But the Palmer plateau behind the chateau does not feature much sand, while the Cantenac plateau does, making for two very different soils (and hence, wines). Much of Palmer's Cabernet Sauvignon is planted in the vineyards of Issan, further south, where the gravel presence is more noteworthy and the clay less abundant. In any case, at Palmer they have classified eighteen different types of graves, confirming the complexity of this particular soil type in the area.
Clearly gravel soils are best suited to Cabernet Sauvignon, but Palmer distinguishes itself from most other left bank properties for its inordinately high percentage of Merlot plantings (the Palmer vineyard is planted to 46% Merlot, 46% Cabernet Sauvignon and 6% Petit Verdot, and many vintages of Palmer are in fact Merlot-dominated, almost unheard of on Bordeaux's left bank). One of the fundamental keys to understanding the greatness and the uniqueness of Palmer's wines is obviously the Merlot which is not just very old vine Merlot, but also Merlot planted in highly specific plots. In general, Palmer's vineyard plots planted to Merlot are not just some of their best vineyard sites of all (already a strange occurrence in Cabernet Sauvignon-happy left bank) but also have higher proportion of gravel than is usually found in vineyard soils dedicated to Merlot. The higher presence of the gravel in the clay soil makes for a Merlot wine of greater elegance and is undoubtedly one of the reasons at the core of the mystique and quality of Palmer's wines. Last but not least, the winery has also undergone numerous modernizations and upgrades over the years, and now boasts not one but two cellars (actually, there is also a third small experimental cellar) and forty-two temperature controlled stainless steel vats that allow for plot by plot vinification.
The estate makes not just the famous Chateau Palmer, but other wines as well: Alter Ego, the Historical XIXth Century Wine, an extremely rare white wine simply known as Blanc de Palmer, and an even rarer Vin de Paille.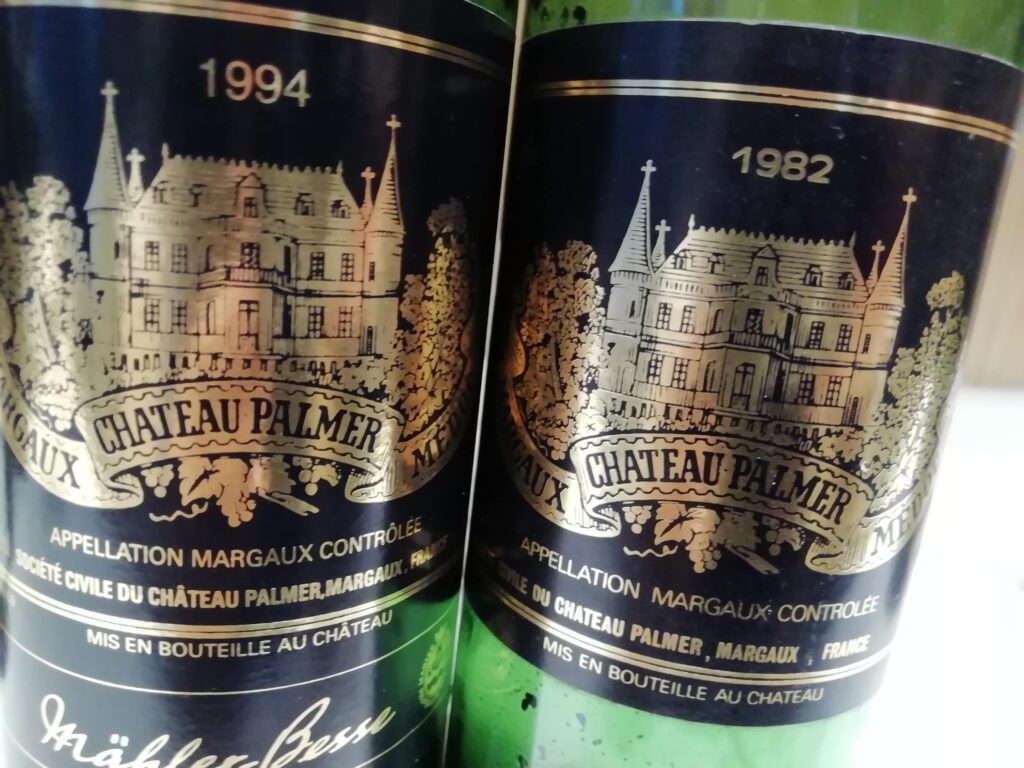 Alter Ego: not a second wine
Alter Ego is not a second wine, but an alternate one. Each in its own way Alter Ego and Palmer present an image of Palmer and its terroir. Alter Ego is more open in its youth but that is not the result of a forced stylistic choice, it's just that the grapes used to make Palmer grown on gravel soils with a higher clay content than those of Alter Ego. Alter Ego is a gentler-styled wine fermented at lower temperatures to preserve fruitiness (fermentation typically lasts two weeks for Alter Ego and three for Palmer) and sees less oak in its aging process: differently from Palmer (which is aged for 18-24 months in 70% new French oak, depending on the vintage), Alter Ego is aged in French oak barrels (25% to 40% of which are new) for 16 to 18 months and has a much earlier drinking window (it is best enjoyed between eight and fifteen years of age). Thomas Duroux sums it best: "If the two wines were paintings, Alter Ego is the more modern interpretation of the same landscape". Palmer did use to make a second wine, called La Réserve du Général, which was essentially where the roughly 10% of the estate's production that wasn't used to make Château Palmer ended up. Production of La Réserve du Général was discontinued in 1997, and now that "left over" 10% is sold off as bulk wine (the other 90% of estate wine is evenly divided up between Palmer and Alter Ego, each of which amounts to about 8-10,000 cases/year, depending on the vintage; usually it's more like 8000 cases/year of Alter Ego and 10,000 cases/year of Palmer).
Palmer's other wines
In 2004, thanks to the generosity of a Californian collector, Thomas Duroux was able to taste an 1869 Palmer that had been hermitagé (in other words, had Hermitage wine added to it, a common practice of the time) and decided he also wanted to make a similar wine. And so was born Palmer's 'historical blend' (with 10-20% Syrah added from Hermitage). Palmer also makes about 2000 bottles a year of white wine, first made in 2007 and simply called Blanc de Palmer. The estate can count on plantings of five different white wine grapes: Sauvignon Blanc, Sauvignon Gris, Sémillon, Muscadelle and Lauzet (the latter grape is a rare native grape of the Pyrenées wine region and is not allowed in the Bordeaux Appellation -while it is in the Jurançon Appellation – and so it is sold not as a Bordeaux Blanc but under the Vin de France label). Hard to find to say the least, but nothing compared to the rarity of Palmer's Vin de Paille; it's safe to say that over the years I have personally heard a greater number of recollections about Nessie sightings than I have of this wine.
The wines in this tasting were mostly served during a Chateau Palmer vertical tasting masterclass organized by TasteSpirit in Shanghai in December 2020 and led by Thomas Duroux (via web) and myself (from the Tastespirit clubroom in Shanghai where the tasting was held). Notes on a few other wines from vintages of importance to Palmer's history and that had been tasted recently (over the course of the last few months) in other settings were added to the tasting report for sake of completeness.
The wines
2015 Alter Ego de Palmer Margaux     94                                                                                                                        
Vibrant ruby-red. Red fruit, thyme, tar cedar and blue fruit plus a hint of spicy mushrooms on the very pretty, expressive nose. Quite rich and fleshy for Alter Ego, with real density to the expressive blue and red fruit flavours. Closes youthfully chewy on the graphite-and truffle-accented long back end; I loved this wine's noteworthy, very pure inner-mouth perfume and precision. The grapes used to make Alter Ego grow on lighter gravel soils that have more sand and less clay than on those where grapes used to make Palmer grow. A 52% Merlot, 42% Cabernet Sauvignon and 6% Petit Verdot blend, I believe this is the best Alter Ego ever made. Hail in spring reduced crop loads, then a warm and dry summer and very fine harvest weather made for an outstanding growing season overall, and the wines have generally turned out excellent. This Alter Ego is a case in point. Drinking window: 2023-2030
2015 Chateau Palmer Margaux         98
Good full deep ruby. Violet, black cherry, blueberry, licorice and thyme on the enticing nose. Enters very pure and juicy, then rich and deep on the middle, with a polished tannic spine nicely framing the blue and red fruit flavours that are extended by harmonious acidity on the long back end. An extremely suave, seamless wine that shows just the faintest trace of alcohol-derived heat with aeration, but I'm really splitting hairs here. This 50% Merlot, 44% Cabernet Sauvignon and 6% Petit Verdot blend is a simply exceptional red wine and an extremely refined version of Palmer; and that's saying something considering the numerous extremely elegant wines this estate has made over the year. Drinking window: 2026-2055
2011 Chateau Palmer Margaux       94
Opaque ruby-red. Deep aromas of cassis, chocolate, coffee and truffle, complicated by a mineral edge. Then very concentrated and sweet, with remarkable flavour intensity of its blue fruit and cocoa flavours. Finishes very long and downright silky, quite a feat in hot and dry 2011. Following on the heels of two monstrously good, century-like vintages such as 2009 and 2010, 2011 is an average quality vintage, given that it was a difficult year that was hot and dry already come springtime. Consequently, the growth cycle started early and the harvest was early as well. Unfortunately, many if not most of the area's wines (top names included) show gritty tannins (but not Palmer, that managed the year's weather conditions brilliantly). The year was made that much more difficult at Palmer because of a hail storm that hit June 4, reducing crop load by 50%. All told, this 54% Merlot, 40% Cabernet Sauvignon and 6% Petit Verdot blend is a remarkably successful wine for the estate. Well done. Drinking window: 2024-2050.
2010 Chateau Palmer Margaux        97
Fully saturated ruby. The captivating nose offers deep aromas of blue fruit, spices and truffle. Then rich, dense and multilayered, with flavours similar to the aromas enlivened by a noteworthy flinty presence. The perfumed aftertaste lingers long. Smooth as silk, the 2010 Chateau Palmer boasts the estate's trademark suave texture and is so well-balanced you will never guess, tasting blind, that the wine actually has 14.5% alcohol. Just like the 2011, this is a 54% Merlot, 40% Cabernet Sauvignon and 6% Petit Verdot blend. Drinking window: 2025-2055.
2008 Chateau Palmer Margaux       98
Deep ruby-red. Enticingly pure aromas of blackcurrant, blueberry, graphite, cedar, and violet are complemented by strokes of graphite and cedar. Clean and extremely focused on entry, with pure flavours of blue fruit and minerals nicely extended in the middle and on the nobly polished close. An utterly beautiful, extremely well-balanced wine, the 2008 is more about refinement and balance than power; the finish lasts and lasts, and so will your memories of this wine. On this day, the 2008 Palmer (a 51% Merlot, 41% Cabernet Sauvignon and 8% Petit Verdot blend) was the surprise wine of the tasting, easily besting many wines from more famous vintages. Make no mistake about this, this is a simply exceptional red wine: I was one of the few wine writers at the time of the Primeurs to write clearly (in my Bordeaux Primeurs report for Stephen Tanzer's International Wine Cellar) that the 2008 red Bordeaux vintage was being heavily underestimated by everyone and that the wines were much better than expected, but even I am surprised by just how well the 2008 Palmer has turned out. Do what you can to stock your cellar up with it. Drinking window: now-2050.
2005 Chateau Palmer Margaux     96
Dark ruby-red with a hint of a pale rim. Ripe aromas of blackberry jam, sweet spices and field herbs, with a candied violet undertone. Rich dense and sweet, with very ripe flavours similar to the aromas, this finishes youthfully chewy and long. A very showy Palmer that speak clearly of the hot solar 2005 vintage (as Thomas Duroux aptly put it "It's an exuberant wine"), this is a slightly less elegant Palmer than most, but what it lacks in refinement it makes up for with really juicy hedonistic lusciousness. It's also an a Cabernet Sauvignon-dominated blend of Palmer (the 2005 is a 53% Cabernet Sauvignon, 40% Merlot, and 7% Petit Verdot blend), something that is more likely to happen at the property in hot vintages like 2005 because Cabernet Sauvignon keeps its freshness despite the heat while Merlot tends to become overripe and exaggerated in its aroma and flavour profile. The 2005 vintage, a memorable one in Bordeaux annals, was the first year Duroux was present at the property from beginning to end. Drinking window: now-2050.
1999 Chateau Palmer Margaux        94
Deep ruby with a hint of garnet at the rim. Sweet herb, cocoa and almond skin nuances to the expressive, evolved blue fruit aromas. This very full-bodied, is by Palmer's normal standards, an almost massive red boasting lovely richness. Finishes long with spicy notes and an earthy complexity. A 48% Cabernet Sauvignon, 46% Merlot, and 4% Petit Verdot blend, the 1999 Chateau palmer has always been an atypically powerful wine for the vintage, exceptionally concentrated and tactile but never over the top. Best of all, it is well-balanced and reasonably smooth despite its tactile, mouthcoating palate presence. Drinking window: now-2034.
1994 Chateau Palmer Margaux      90
Good medium ruby. Fragrant aromas of black cherry, faded violet, orange peel and minerals, plus a touch of graphite and cedar. Juicy and gripping, but still relatively fruity, with substantial building tannins that confer a slightly aggressive quality due to a lack of fruity fleshiness. Nicely persistent on the herb-accented aftertaste. The 1994 Chateau Palmer is 50% Cabernet Sauvignon, 47% Merlot, 2% Cabernet Franc and 1% Petit Verdot blend. The lightest wine in this tasting, but also one of the most fragrant, the 1994 is universally considered a weak vintage that, just like 1993 before it, was also marred by heavy September rainfall. Despite its so-so vintage pedigree, the 1994 Palmer is drinking well and will no doubt afford pleasure for a few more years still. Drinking window: now-2025.
1989 Chateau Palmer Margaux      96                                                                                                                                        
Luminous medium red-ruby. Delightfully open nose, with hints of ripe blue and black fruit, smoked meat, potpourri and sweet spices. The dark fruit, wild herb, coffee and cocoa flavours boast compelling sweetness and intensity, and melt-in-your-mouth tannins that provide an important architectural framework for the rich ripe soft fruit present. Then beautifully floral on the precisely chiseled and very long, suave finish. A hot, sunny year, characterized by beautiful and warm weather in June, July and August, that led to the earliest harvest ever at Palmer (at the time), but the wine has turned out magnificently. As in almost all the hot vintages, Palmer tends to have a bit more Cabernet Sauvignon in the blend than is usual: the 1989 Chateau Palmer is a 52% Cabernet Sauvignon, 41% Merlot, 6% Petit Verdot and 1% Cabernet Franc. Drinking window: now-2040
1982 Chateau Palmer Margaux     95
Medium red-ruby with a hint of garnet at the rim. Lovely floral lift contributes precision to the ripe aromas of blackberry, violet, milk chocolate and licorice. Sweet but sharply delineated, velvety, even opulent, but not thick or over the top with the multi-layered ripe dark fruit, mineral and graphite flavours that linger nicely on the backwardly tannic finish. The nicely persistent aftertaste speaks of red and blue fruits, Sichuan pepper, candied violets, and licorice is smooth and complex. A really superb wine, the 1982 has always been considered one of the great Palmers: it's a blend of 48% Cabernet Sauvignon, 42% Merlot, 7% Cabernet Franc and 3% Petit Verdot. Drinking window: now-2032
1975 Chateau Palmer Margaux          97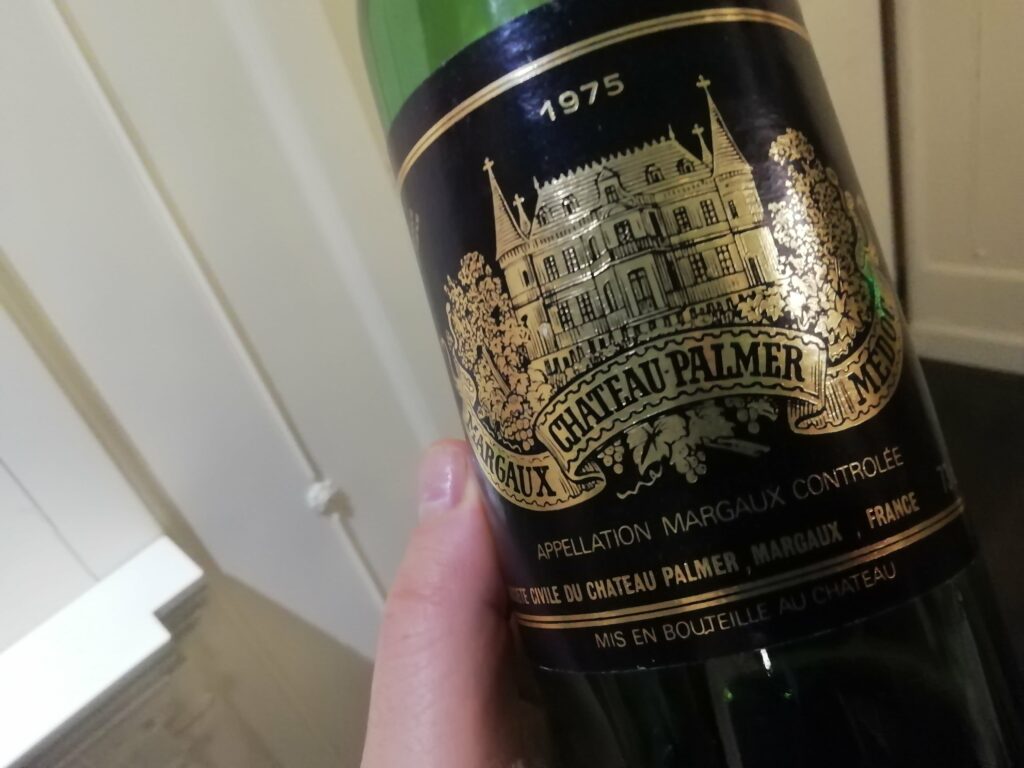 Good full red with ruby highlights and a pale rim. Blackcurrant, violet, mint, and graphite on the nose, complicated by enticing notes of grilled porcini, licorice and tobacco. Juicy, spicy and nicely ripe, with still explosive inner-mouth perfume and superb intensity to the botanical black and red fruit, mineral-accented flavours. A really classic red Bordeaux wine built to age, with no easy-going sweetness but showcasing outstanding balance to its powerful tannic structure that has helped guarantee a long and slow evolution in bottle. Extremely long on the close, with still plenty of ripe fruit to buffer the firm tannic spine. This is a real knockout! Another Cabernet Sauvignon-dominated wine, the 1975 Chateau Palmer is a 47% Cabernet Sauvignon, 40% Merlot, 8% Petit Verdot and 5% Cabernet Franc blend that has aged remarkably well (as is in fact typical of all the best wines from this tannin-loaded vintage, while lesser wines, even from top estates, are marred by tough tannins and a lack of fruit) and still has plenty of life ahead. An absolutely knockout wine, it is, without any doubt whatsoever, one of the most successful, well-balanced and polished red Bordeaux wines I have tasted from the 1975 vintage. Drinking window: now-2032.