By Ian D'Agata
Alsace Sylvaner wines are some of the world's best wine buys. Not only are the best examples downright outstanding, but they often cost only a fraction of the region's better-known Riesling, Gewurz and Pinot Gris wines. And yet it's the Sylvaner wines that are often the better of that bunch. Clearly, that is not true if one refers to the wine made from high-yielding flatland vineyards; but if made from hillside vineyards Alsace Sylvaner wines can rank among the world's truly great white wines. Why is that you ask? Insiders and real wine experts know the reason well: the really great Alsace Sylvaner wines are made from extremely old vines planted in often extremely great sites. And there's no better example than that of Ernest Burn estate (of the famous Clos Saint Imer).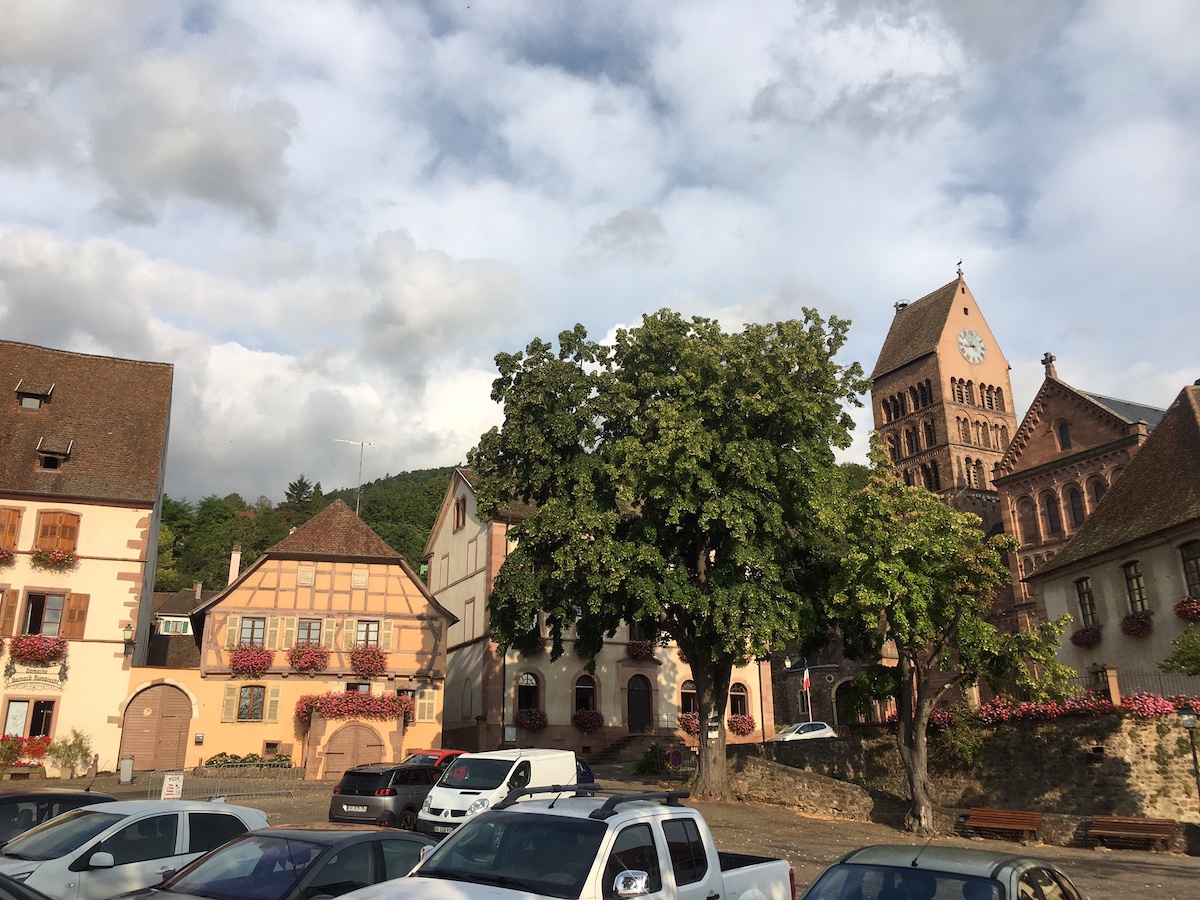 Domaine Burn
The Burn family has been producing wines for more than 400 years around the pretty town of Gueberschwihr in the southern reaches of Alsace's Haut-Rhin department, though the official founding date of the estate established by Ernest Burn is 1934. It is to Ernest's credit that he set out to replant the area's historic vineyards and to rebuild the dilapidated stone walls that had been left to fall apart over the years. He bought six hectares in the very prestigious Goldert vineyard, later named a Grand Cru, and probably the single best site from which to make Muscat wine in all of Alsace. Actually, the Goldert is exceptional for Gewurztraminer as well and quite good for Pinot Gris too; but while the region's other famous wine grapes are also planted there (Riesling and Pinot Noir), the one that really does remarkably well is, you guessed it, Sylvaner. The Goldert is characterized by the presence of a stone wall that delimits the Clos Saint Imer (the patron saint of Gueberschwihr); a small chapel right at the top of the grand cru also belongs to the Burn family; and so it is that both the Saint's likeness and the name "La Chapelle" can be found on the estate's labels (the La Chapelle designation is used only for the estate's best wines each year). Today the estate is run by likeable, talented François Burn and his wife, who like to make wines from very ripe grapes picked later than do most of the area's estates.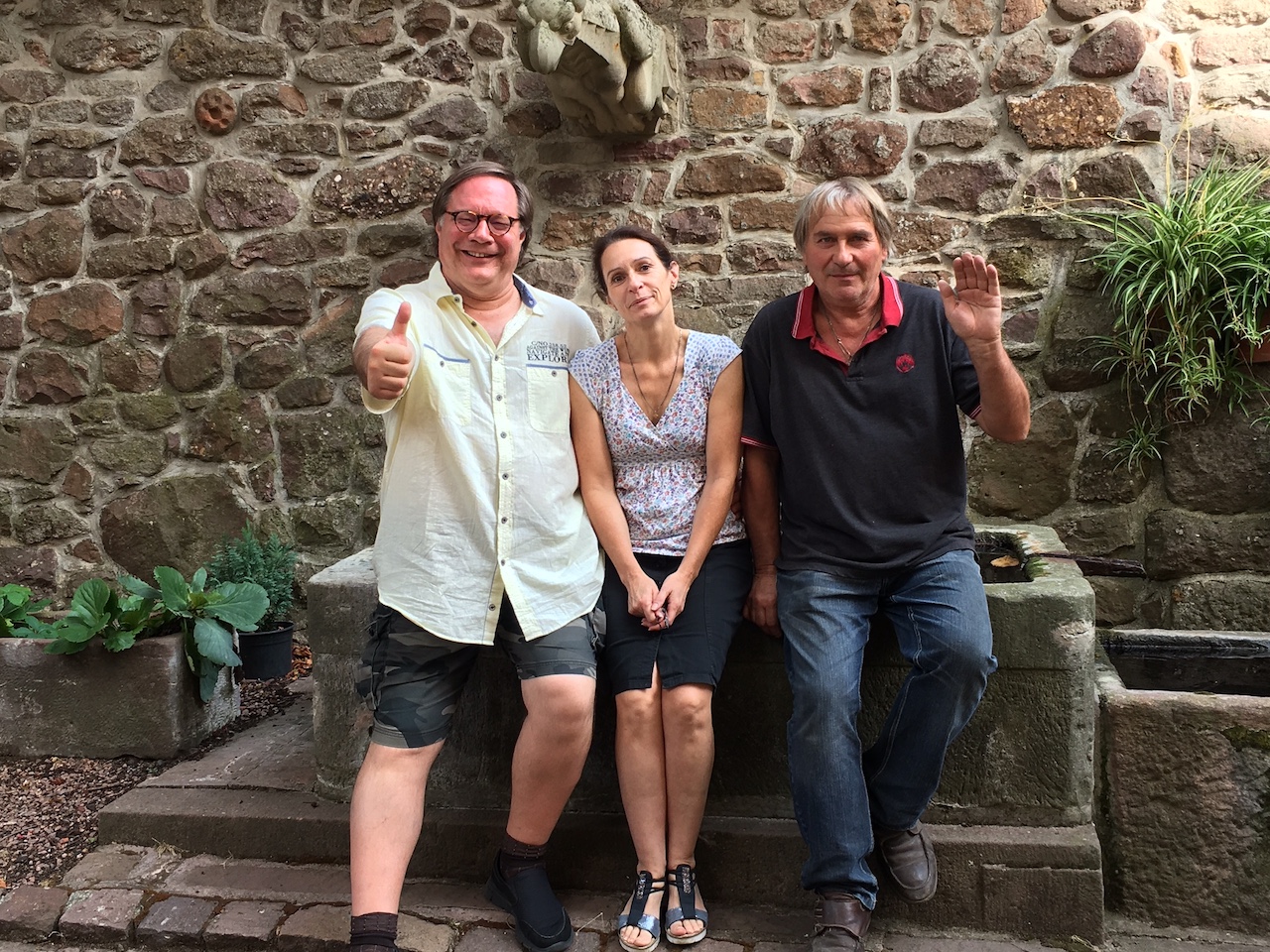 Sylvaner the grape variety
Sylvaner (the French spelling; its Silvaner in Germany, though it used to be written as Sylvaner there too in centuries past) is the result of a natural crossing between Österreichisch Weiss and Traminer (its parents, in other words). A very pretty grape to look at (and a remarkably good one to eat too: of all the wine grapes you might be acquainted with, Sylvaner is without question one of the five best tasting of them all), it's also known as Sylvaner vert because of the intense pale green colour of its grapes (and in all other countries it grows in, except Italy where it is just simply called Sylvaner, there is a "green" descriptor attached to its name: "green Sylvaner" in English; "Grüner Sylvaner" in German; Sylvanské Zelené in Czech language; and Zeleni Silvanec in Slovenian). That colour descriptor is necessary, because there also exists a rarer, unrelated red-berried Sylvaner variety as well (appropriately enough called, for example, Sylvaner rouge, or Sylvaner à peau rouge, or Roter Sylvaner).
Differently from Riesling with whom it shares much the same habitat, Sylvaner is not an especially hardy variety and it succumbs to extremely cold temperatures; in fact, it doesn't particularly like weather that is too hot either. Its growth cycle is earlier than that of Riesling's, budding and ripening earlier, but as late harvest wines are often made with Sylvaner (more so in Germany, where they also make Sylvaner Eiswines), grapes can be picked as late as the end of October (in Alsace, Sylvaner is usually picked sometime in September). Remaining faithful to its not overly resistant personality, Sylvaner is also disease-prone, and both oidium and peronospora can be problematic for it. So, given all that, by now you might find yourself wondering why all the fuss about Sylvaner: well, fact is, when made from old vines planted in ideal sites and cropped low, the wine is quite simply one of the most interesting and enjoyable white wines you'll ever taste. Of course, wine quality was not the reason why Sylvaner was once much more popular than it is today: that was because it is a very copious producer. If and when left to its own devices, Sylvaner has no problems producing waterfalls of wine (it was in fact one of the major backbones to everyday, very inexpensive wines such as Alsace's Gentil and Germany's Liebfraumilch). But at low yields, Sylvaner yields concentrated, complex wines that sit somewhere in between what an ideal cross of Riesling, Grüner Veltliner and Sauvignon Blanc might taste like. Depending on the soil type it is grown on, Sylvaner wines can smell and taste of green apple, pear, chamomile, quince, forest floor, menthol, mint and minerals. When made from late harvested grapes and vinified dry, Sylvaner wines will offer echoes of quince paste and chamomile tea; when late-harvested and made as a sweet wine, Sylvaner wines are luscious, opulent bombshells that are fairly unforgettable.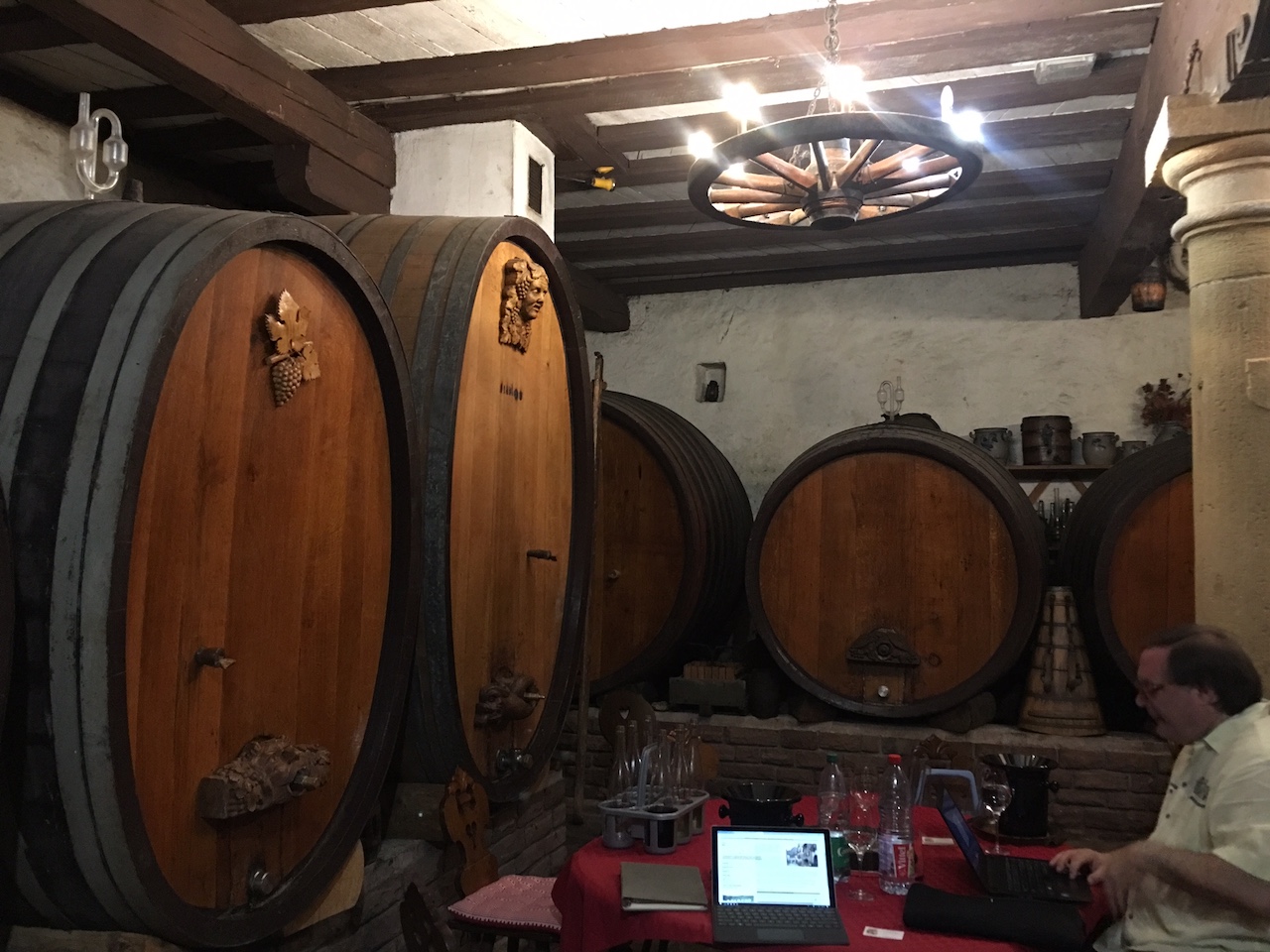 Decades ago, Sylvaner as much as 30% of Alsace was planted to Sylvaner, but that percentage has dwindled down to today's 5%. This sorry state of affairs was brought about by what ranks as one of the all-time less enlightened decisions ever made in wine lawmaking: the Alsace wine law that regulated which grapes were noble and not failed to identify Sylvaner as a "noble" grape, naming only Riesling, Gewurztraminer, Pinot Gris and the two Muscat varieties as such (Sylvaner shouldn't feel slighted: also excluded was Pinot Noir from the "noble grapes" group, a decision which of course they have now begun amending). Consequently, just like Auxerrois and Pinot Blanc, wines made with Sylvaner grapes cannot be labeled as "grand cru", which means the wines sell for much less than some truly horribly dilute, insipid and undrinkable Alsace Pinot Gris, Gewurztraminer and Riesling wines that have more in common with sugary water than they do with wine (but that still manage to sell thanks to the "grand cru" monicker on the label). This situation has led many producers to uproot Sylvaner in favour of the "noble grapes, with the result that much Pinot Gris and the other "noble grapes" have been planted anywhere, just to cash in on the "grand cru" windfall, but all too often on less than ideal sites. In defense of the bureaucrats and public workers that do their job well, an exemption was later made for the Sylvaner growing on the Zotzenberg grand cru: Sylvaner wines made from grapes grown there can be labeled grand cru, but other vineyard areas perfectly suited to Sylvaner, such as the Zinnkoepflé and the Goldert, remain grand crus that cannot grace Sylvaner wine labels.
Happily, Alsace quality leaders are not amongst those who have uprooted their old Sylvaner wines. Besides Burn, other producers that make outstanding Sylvaner wines most definitely worth searching for are (in alphabetical order) Agathe Bursin, Albert Boxler, Albert Seltz, Barmès-Buecher, Dirler-Cadé, Josmeyer, Kuentz-Bas, Muré, Ostertag, Seppi Landmann, and Trimbach, among many others.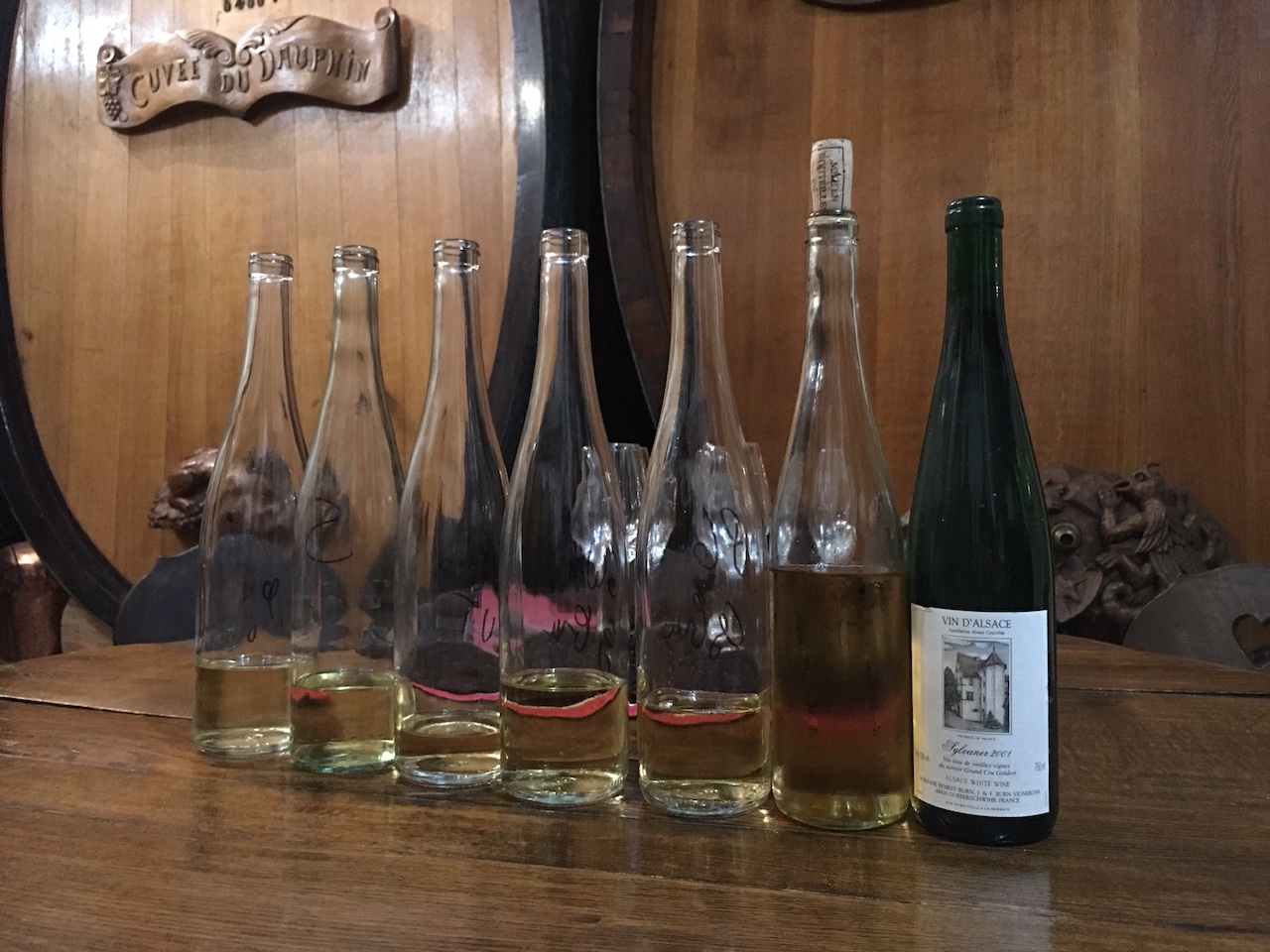 The wines in the vertical
Domaine Burn makes its Sylvaner wine from two extremely old plots planted with massal selections by Ernest Burn in the Goldert roughly sixty years ago. The Goldert's unique terroir explains the greatness of its wines: relatively solar but very fresh (vineyards are east-facing and lie between 230 and 330 meters above sea level on fairly steep slope at the higher reaches that gently flattens out towards the plain) and with mostly deep marl-limestone soils (in fact the Goldert is the only grand cru the geologic substrate is entirely of Oolithic limestone), it give a rich, complex, layered Sylvaner wine that is always characterized by noteworthy acidity. Therefore, a quite different wine from the lighter-bodied and earlier developing Sylvaner wines made for example on sandstone and loam-rich soils. Burn's Sylvaner wine was originally destined to serve as the local house wine sold by the carafe in the town's restaurants, but it was quickly obvious to everyone that it was far too good to be treated as such. And so, the estate began to bottle the Sylvaner, and over the years reduced the yields more and more so as to make a more concentrated, ageworthy wine. François Burn tells me that his yields today are about half what they used to be when Ernest first set out making the wine. In fact, that is not the only change to have taken place over the years: whereas up to about three four years ago Burn's Sylvaner wine was always resolutely sweet, very much in a Vendanges Tardives or even Selection de Grains Nobles mould, he is now vinifying it practically dry. A portion of the grapes are almost always hit by noble rot (depending on the vintage), which greatly increases this Sylvaner wine's richness and complexity. In any case, the combination of very old vines and low yields (40 hl/ha), plus Burn's penchant for picking extremely ripe grapes harvested well after everyone around has finished picking, accounts for the magnificence that is the Burn Alsace Sylvaner wine, for my money one of the best buy wines not just of France but the world.
2017 Alsace Sylvaner                                       92
Pale golden-yellow. Inviting aromas and flavors of chestnut honey, quince, baked cinnamon apple pie, citrus peel and minerals. At once powerful but light on its feet, juicy yet tactile, with lingering citrus peel and vanilla custard flavours. It's a remarkable wine given that 2017 was far from ideal for Sylvaner, a variety that needs long hang time to develop and deliver more complexity in its wines.     Drink: now-2026
2016 Alsace Sylvaner                            93
Straw-green with golden tinges. Focused green apple, quince, nectarine, coriander, and menthol nuances on the captivating nose. Fresh but dense, with energetic flavours of apple, pear, and herbs. A big, structured Sylvaner that tastes basically dry: Burn told me he wanted to make a drier, fresher wine than some of his previous Sylvaner wines, so purposely carried out a slightly longer fermentation than usual in order to reduce the residual sugar(this has only 7 g/L r.s and only 13% alcohol). This Sylvaner wine was made from grapes picked at the end of October in three plots of roughly thirty years old vines (two of which are in the Goldert).      Drink: now-2029
2010 Alsace Sylvaner                          96
Bright golden yellow. Complex aromas and flavors of quince paste, marzipan, lime, candied rubharb, and a touch of minerals. Rich ripe and dense, but with a juicy quality to the lively and sweet pomaceous fruit and spice flavours. The creamy sweet finish is lifted by a zingy note of smoke and lime cordial. This is starting to complexify but is still remarkably young and will have a very long life. Tasted blind, this is a dead ringer for great Loire Chenin Blanc or a Jurançon. Drinking window: now- 2055
2001 Alsace Sylvaner                              93
Dark golden yellow. Intense aromas of beeswax, propoli, quince paste, strawberry and pear are complicated by hints of underbrush and spicy botrytis. Rich, dense and juicy, with honeyed nuances to the pomaceous fruit and candied orange peel flavours. Finishes long with hints of toffee and coffee. Beautiful wine that tastes drier than the 2010.  Drinking window: now-2035
1998 Alsace Sylvaner                          96
Vivid medium-dark golden yellow; this is less dark than the 2001. Extremely fresh nose offers aromas of crystallized ginger, marzipan, pear, glazed kumquat, all complemented by a light touch of beeswax, plus a hint of marmelady botrytis. Rich, dense and tactile, with very precise flavours of pear, chamomile tea, chlorophyll and baked apple. Finishes long and suave, with noteworthy complexity and length plus hints of baked pear. Outstanding wine; the finish lasts for minutes. About 33% of the grapees were hit by noble rot. Drinking window: now-2038
1997 Alsace Sylvaner                              91
Bright golden-yellow. Ripe aromas of poached pear and caramel, then fresh, light and lively, with a lemony and peppery zing. Fresh and juicy with a hint of caramel and coffee and minty herbs. All that flavour and only 12% alcohol! This is made from what were at the time roughly 30 years old vines including a parcel on pink sandstone that has now been replanted with Pinot Noir. Actually, none of the grapes used to make this wine came from the Goldert as the two forty years old plus parcels Burn now owns from which he makes his Sylvaner wine were bought in the 2000s.        Drinking window: now-2027
1992 Alsace Sylvaner                    97
Luminous golden-tinged yellow; this is much lighter and fresher in color than almost all the other wines in this tasting. Minty and mineral on the nose, with hints of delicate herbs, apple and pear plus nuances of quince: This all adds up to a very enticing nose. Spices, minerals and anacardia, plus crystallized fruit linger long on the clean suave finish. A beautiful wine that is magnificently balanced, this could easily be mistaken for a very high quality Riesling from the Pfalz. The 1992 was a vintage characterized by big yields yet this wine is remarkably concentrated and lively. Had I not know what I was being served I would have never guessed this was almost 30 years old. Drinking window: now-2035