Terroir Academy is a column in the TS Review that will detail the terroirs of the world's best wines: this is the first one devoted to the best crus of Alsace and their wines, that are some of my favourite wines in the world.
For the past ten years, I have been, without any doubt, the English-language wine writer that has written at an almost annual cadence the most complete and in-depth reviews of Alsace's wines. It couldn't be otherwise, for the region is one of my five favourite places on earth. In fact, I have visited Alsace as many as five times a year for the past twenty years. Beginning in 2000, I have never been there less than three times a year, more often four, and quite often five. Even this year, a Covid-ruined year for all writers, sommeliers and wine professionals who were unable to visit any wineries, I visited Alsace three tiumes between June and August 2020. Alsace is my home away from home: I like the people, the food, the scenery, the history, and of course, the wines.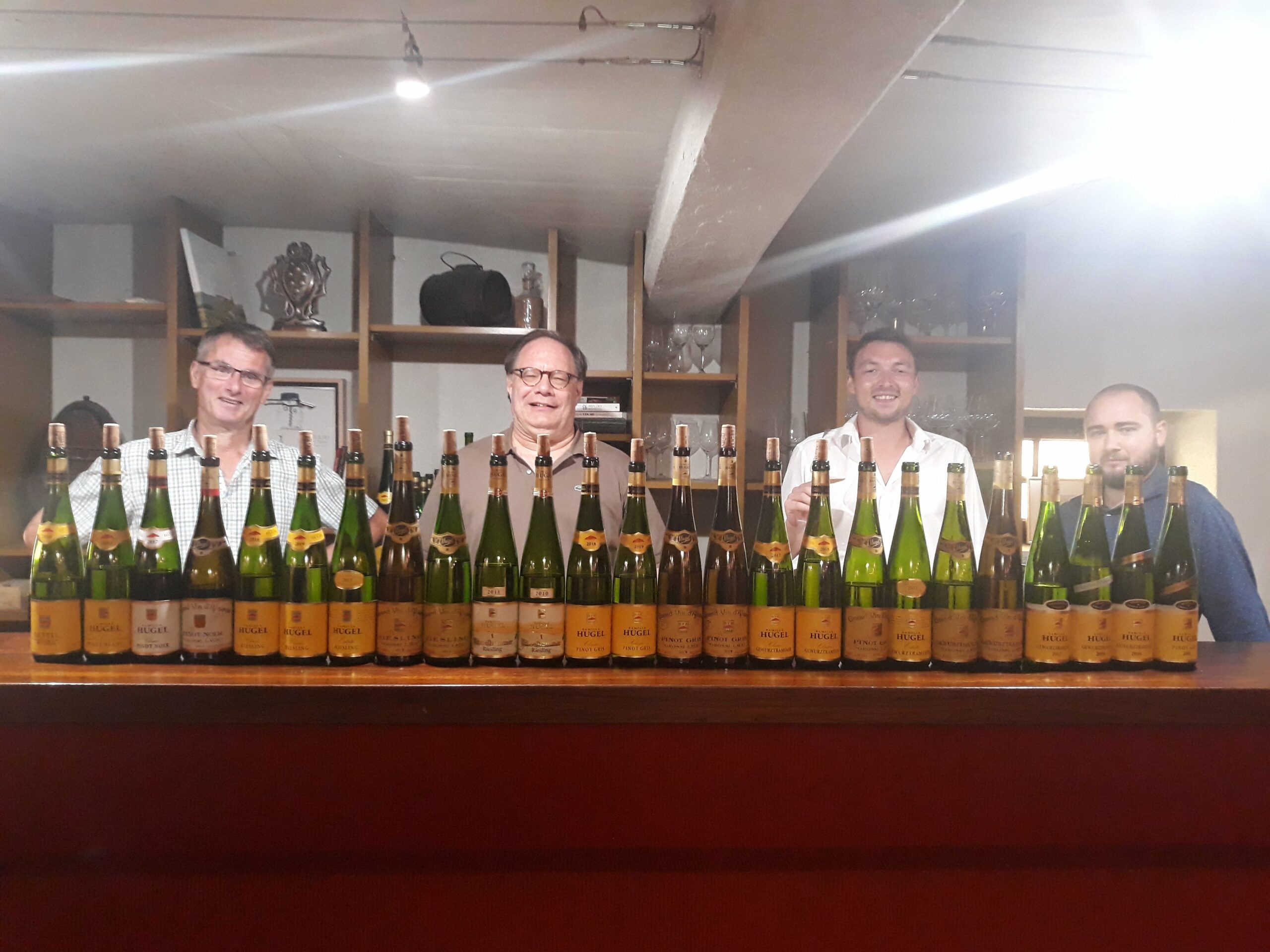 Is the Schoenenbourg my favourite vineyard in Alsace? That's an almost impossible question for me to answer, as my love for Alsace and its wines is such that I have many "favourite" vineyards: in alphabetical order, just the first to come to mind are the Brand, the Eichberg (to be precise, Eguisheim's Eichberg), the Geisberg, the Goldert, the Hengst, the Mambourg, the Osterberg, the Rangen, the Rosacker (in the portion that gives Clos Ste. Hune, at least), the Schlossberg, the Sporen, the Zinnkoepflé, the Zoztenberg… all have their merits, and I am surely forgetting a few more hallowed sites I know and love that deserve to be included. For a variety of reasons, each holds a special place in my heart, and so it's really a matter of "first among equals", rather than simply picking one favourite. In fact, the more accurate and knowledgeable way to pose that same question is by wording it differently: what one should really be asking is "… which is your favourite Alsace grand cru relative to one specific grape variety?". Because if you want the best of all possible Gewurztraminer wines, the Mambourg, the Sporen and the Zinnkoepflé Grand Crus would all vie for the top spot, not the Rangen or the or the Schlossberg, that are instead ideal sites for Riesling. Likewise, if it is safe to say that if it's Alsace Muscat you pine for, then the Goldert Grand Cru is near unbeatable (please note that by "Alsace Muscat" I am correctly referring to the wine, because that is the name of the Alsace wine made most commonly with varying percentages of the two different Muscat varieties that grow in the region, the Muscat d'Alsace and the Muscat Ottonel; there is also a red-berried biotype of the former, and all three, if used together, contribute something different to the final blend); Alsace's best kept wine secret, old vine Sylvaner, does best on the Zinnkoepflé and the Zoztenberg Grand Crus (but in fact, given most of the Sylvaner growing in Alsace has been reduced to old vines everywhere, you'd have to be pretty incompetent not to make at least a very good Sylvaner wine from any of the old plots planted in decent grand crus), and so forth. Therefore, while naming the best sites for each variety is a fun endeavor and one I am very proficient at given that I have been walking Alsace's vineyards regularly for the past thirty years (I began in 1976: a sign of destiny, as it was an excellent year for Alsace wine), that is not the scope of the present article. But had I chosen to continue doing so, the discussion would have inevitably led us to the subject of Riesling, and hence the Schoenenbourg grand cru. Because when it comes to Riesling, the matter is simple enough: if it is not just the single best plot of land on which to grow Riesling in Alsace, it is at no worse one of the top two. What this also means is that it is also one of the world's fifty greatest terroirs from which to make wine, period. And if you don't believe me, then ask Jean-Michel Deiss, because he said exactly the same thing first already some years ago.
A little bit of history
Fact is, the Schoenenbourg hill has been famous for its wines since the Middle Ages, a fame that has continued untarnished to this day; and unless everybody has been non-stop drunk in the interim, roughly seven hundred years of incessant praise and wanton desire usually mean something. And it was no small praise indeed, ranging from the oft-quoted "the most noble wine of this country" uttered by the Swiss cartographer, Matthäus Merian, in his 1643 opus "Topographia Alsatiae", to my own "Schoenenbourg Riesling wines combine power and refinement like few other white wines anywhere in the world" . The cru's fame was even more remarkable because from the late 13th to the beginning of the 17th century, Alsace was the central wine region of Europe, and numerous Alsace vineyards had an international reputation. Thanks to the flourishing commerce with the northern "European" cities of the Hanseatic league (a group of north German merchants towns and producer associations created to forward and protect the members' commercial interests) Alsace wine was very much a prized commodity. In fact, many of Alsace sites (not just the Schoenenbourg) and their wines had already been long famous in Alsace wine circles: after all, records show that already in the ninth century the Abbey of Murbach tended to vines in what is today's Eichberg Grand Cru, and that in the eleventh century the Abbey of Basle bought vineyards in what is the Rangen Grand Cru nowadays (and it's safe to say the monks wouldn't have done so if the sites hadn't held noteworthy wine potential). And yet, the Schoenenbourg was always a step above, its wines amongst the most expensive wines in the world. Why this was so may also have had to do with how well the wine kept, besides its intrinsic organoleptic qualities: clearly, centuries ago humans evaluated wine quality differently than they do today. For instance, the fact that the Schoenenbourg produces uniquely ageworthy wines was surely a matter of some relevance, given that the wines were often required to travel by land and/or by sea for weeks before reaching their consumers. Throughout the centuries, the fame of the Schoenenbourg's wine was such that many famous people sought to own land there (for example, the writer and philosopher Voltaire owned vineyards in the Schoenenbourg). And according to Marc Hugel of the world famous Hugel wine family, the fame and reputation of the Schoenenbourg wines are confirmed by the trade registers of Strasbourg (where all Alsace wine had to transit through prior to reaching their destination) that provide records of the very high prices fetched by this grand cru's wines.
The Schoenenbourg's terroir
Located next to the small and fairy tale-like pretty town of Riquewihr (but the grand cru is also associated with the nearby town of Zellenberg), the Schoenenbourg has a very specific topography and geology. South-and southeast-facing and very steep, located at an altitude of 265 to 380 metres above sea level, its soil and subsoil are generally described as having a presence of Keuper marl (a mixture of indescent and gypsum marls) along with dolomite covered by layers of very fine Vosgian sandstone and silt pebbles). Everyone I have ever met who was worth listening to on the subject, old-timers and present day experts alike, maintained that the heart of the grand cru, which is also the cru's steepest section, is where its best wines are made. However, I point out that this is a rather broad (dare I say superficial?) generalization that is not completely correct, because one of the Schoenenbourg's most salient features, in fact in my view its defining characteristic, is the gypsum content of the soil. Generally speaking, the Schoenenbourg's soil and subsoil are composed of a lighter, friable topsoil layered over a clay-rich, more fertile layer below. In my experience, it is those plots of vines growing on the gypsum-rich soils that give the Schoenenbourg's most interesting wine. However, the gypsum is not uniformly present throughout the grand cru, explaining in part why, producer talent and work ethic aside, many Schoenenbourg Riesling wines differ from each other to a greater or lesser degree, and very good wines can be made in some other areas somewhat removed from the Grand Cru's historic center. I may be hopelessly wrong of course, but I have found over the years that the gypsum plays a major role in allowing producers to fashion Riesling wines that are at once some of the most powerful and also some of the most refined white wines made anywhere in the world, so its presence or absence in the specific plot where the Riesling vines grow is a matter of real significance.
In fact, the Schoenenbourg can be divided into four different sections, based on a number of different geological and topographical characteristics. The cru's famous middle section falls on the western part of the hillside, where the soil and subsoil typically described as those of the Schoenenbourg are found (the outcroppings of Keuper marls with secondary era -roughly 220 million years old- green and purpleish marine sediments lie at the surface. The top part of the hillside must be considered to be a another, different, section of the grand cru: the soil here is composed mostly of sandstone deposits and siliceous particles and is rather poor in organic matter: it is a slightly less fertile area compared to the rest of the cru and in my experience at least, can have problems in droughty vintages. This soil varies in depth, ranging from a few centimeters to meters deep: the former areas give wines characterized by freshness and a certain lightness of being, but the latter are not suited to quality viticulture. The third section of the Shoenenbourg hill is its lower slope, also a rather fertile soil characterized by alluvial deposits that can lead to high vigor and even higher yields; even downright diluted wines, in many vintages. The fourth section of the grand cru is the Kronenbourg, located on the eastern flank of the grand cru. East facing, it is completely different from the rest of the Schoenenbourg hillside, as its soils contain a high percentage of clay (in fact, these soils share similarities to those of the Sporen, another of Alsace's most famous grand crus, and one of the best sites for Gewurztraminer in the world). In fact, Hugel points out that the rare Gewurztraminer Sporen wines you might have come across at one time or another are all most likely made from this part of the Schoenenbourg's expanse of vines. Clearly, the soil gypsum is by no means the only geologic feature of the Schoenenbourg that accounts for the uniqueness of its wines: for example, another important feature of the grand cru's soil is its clay content. The Schoenenbourg's clays are characterized by large internal facies and ensure good water retention, a real plus in those vintages marked by a hot growing season.
But there's more than geology to the magic that is the Schoenenbourg's terroir: because of the grand cru's proximity to the Vosgian Fault, the meso-climate of Schoenenbourg is a relatively cold, late-ripening one. It allows not just for longer average hang time (and therefore more grapes endowed with greater potential complexity) but also the frequent formation of noble rot, a hallmark of truly great Schoenenbourg wines, both the classically dry ones and not.
The wines
A typical Riesling wine from the Schoenenbourg is rich, deep, powerful, but elegant, and with a telltale smoky note (smoky more than flinty; but depending on the vintage the latter note can also be more or less present) plus a hint of balsamic herbs. That said, it is the honeyed quality that all of the Schoenenbourg's best wines exude (and this already at a young age) that ties all the disparate elements together. It is this honeyed character that, at least to me, so characterizes this grand cru's Riesling wines, and that adds an extra dimension that would otherwise risk making the wines monolithic and lacking in charm and nuance, at least at a young age. The honeyed quality that derives not just from the grapes air-drying on the vine (as might be the case with grapes from the Rangen) but from the presence of noble rot. Last but not least, the best Schoenenbourg wines age extremely well, and develop a marked minerality that is not really present when the wines are young (a fact that allows you to judge the effective Alsace wine knowledge of those standing before you and talking: because people rely on the fact that Riesling wines are minerally-inclined and say so at every turn of the road, not realizing that that this is one truism that is not so with young Schoenenbourg wines). Undoubtedly, this grand cru's wines are mineral, but the minerality (gypsum-soil content related) is not obvious at a young wine age.
There are numerous estates making Riesling wines from this grand cru, and some are amongst Alsace's, and France's best white wines; unfortunately, the Alsace official approach to granting labeling permissions is rather lax (a charitable choice of words), and so, very unfortunately, there are a number of dilute and frankly uninteresting Schoenenbourg wines that you should avoid (for example, those of most Alsace cooperatives: excessively high yields are but one problem that there seems to be little interest in fixing in the region). In order to avoid disappointment, look for the Schoenenbourg Rieslings made by the likes of (in alphabetical order) Bott-Geyl, Julian Schaal, Kientzler, Meyer-Fonné, and Trapet. Of course, do not forget Hugel and Deiss: these two venerable estates make some of the best wines of all from the Schoenenbourg. Just keep in mind that Hugel does not use the grand cru's name on the label (confiding in the power and fame of their family name, and so they should), while Deiss believes in field blends and so his Schoenenbourg is not 100% Riesling, as many other varieties are co-planted along the Riesling vines.
Bott-Geyl 2014 Alsace Riesling Grand Cru Schoenenbourg                 95
Bright golden-tinged yellow. Deep aromas of mirabelle, pear, minerals and white flowers on the captivating nose. Juicy, bright and dense, with a multilayered quality to the complex, concentrated mouthfeel and flavors of stone fruit and minerals. Finishes very long with a bright lemony zing but a honeyed quality that lasts and lasts. This struck me as a less massive Schoenenbourg than usual when I first tasted it at the estate back in 2015 (I had originally scored it 93+ and it has certainly picked up a couple of points more over time as my plus sign after the score had indicated it might) but also as being exceptionally refined. This wine has since picked up volume and flesh and exudes an oily, luscious mouthfeel, but always refined, boasting noteworthy complexity and depth (interestingly, Bott-Geyl also makes a Riesling Kronenbourg – a continuation of the Schoenenbourg's main core- which while delicious, possesses neither the class nor depth of the grand cru). Bott-Geyl owns three different plots in the Schoenenbourg, located in the heart of the cru. Drink: 2020-2028
Deiss 2016 Alsace Grand Vin de Schoenenbourg                       95
Bright golden-yellow, this literally explodes from the glass with aromas of orange oil, tangerine jelly, orange juice, mint and hints of brown sugar and cinnamon. Fantastically luscious and suave in the mouth, with truly noteworthy density and a multilayered personality to its honeycomb, citrus fruit and sweet spice elements. Closes long and rich, with very good lift for a wine of this size. drink: 2024-2032
Hugel 2009 Alsace Riesling Schoelhammer                          95
Beautiful green-tinged pale golden yellow colour. Prettyu floral and white fruit notes on the nose, with a strong mineral overlay. Long, lovely and precise, this deceptively easy to drink wine is concentrated and quite powerful, hinting at marzipan and white truffle on the bright suave aftertaste. Tastes slightly sweeter than the past two vintages of Schoelhammer (but only has 8 g/l r.s.) but is exceptionally well-balanced and boastas a Mosel-like daintiness. A velvet glove, but there's an iron fist lurking beneath this beautiful wine (the typical Schonenbourg power and ripe acidity are evident). Without question the best Schoelhammer made to date. Drink: 2022-2040.
Trapet 2010 Alsace Riesling Grand Cru Schoenenbourg                        95
Pale golden yellow. Honey and chamomile dominate the mineral-laced aromas and flavours of yellow apple, pear and peach. Extremely suave in the mouth, with an almost oily texture that is kept light and lively by noteworthy but very well-balanced acidity. The long finish features repeating honeyed and herb elements that are magically mouthcoating and smooth. Knockout wine, though those looking for a classically dry white wine might find the residual sugar not to their liking. I didn't mind that off-dry quality at all, and find this will pair magnificently with any larger fish in citrus sauce or even white meat dishes with mushrooms and/or fruit sauces (roast turkey with cranberry jelly, grilled pork with apple sauce). Drink: now-2030
Deiss 2013 Alsace Grand Vin de Schoenenbourg                            94
Luminous straw yellow with both golden and green tinges. Deep, dense and luscious, with notes of brown sugar, caramel, apple pie, orange blossom and lime cordial, all complicated by a strong mineral undertone. Right from the first time I tasted this wine back at the Deiss winery the year it was released, this has always seemed to me to be a less massive Schoenenbourg wine but also one of the best balanced and I still feel the same way today. Drink: now-2030
Hugel 2011 Alsace Riesling Schoelhammer                            94
Vivid straw-green. Very forward aromas and flavours of puff pastry and custard cream, plus canned peach and crystallized apricot, lifted by a whisper of ginger. Very suave and almost soft in the mouth, with a curious bittersweet element on the long, smooth finish. When I visited Hugel this year in July, they told me that this wine had one the lowest total acidity levels they have recorded in their Riesling wines, but the wine is still nicely vibrant and refreshing. A faster evolving Riesling from Hugel, this will be especially splendid over the short term. The family will be releasing this wine before the 2010, which is much more closed presently (and given the characteristics of that outstanding vintage, it is hardly surprising). Drink: 2022-2031
Hugel 2016 Alsace Riesling Grand Cru Grossi Laue                       94
Bright straw-green. Superlative, complex nose of spicy green apple, white peach, jasmine, and minerals. Then very complex on the palate too, with vibrant flavours of white peach and crystallized ginger on the long finish, with lingering echoes of citrus fruit nectar and apple juice. Made from grapes selected in three vineyards of roughly 30 year old vines in the heart of the Schoenenbourg grand cru, the wine's name refers to the "best vines" and is a quality indicator equivalent to that of Burgundy's "grand cru" or the Mosel's "grosses gewächs". It's one of the best young grossi laues I have memory of. Drink: 2024-2033
Kientzler 2016 Alsace Riesling Grand Cru Schoenenbourg                                    94
Bright straw. Aromas and flavors of white stone fruit, flowers and herbs. Deep and dense, this offers real Schoenenbourg-like power on the long aftertaste (this clocks in at 8 g/L total acidity, which makes the 8.2 g/L r.s. virtually disappear), where the flavors of orchard fruit linger nicely. Kientzler's plot of vines is is not in the heart of the Grand Cru where it is steepest, but it's close to the gypsum quarry, a very high-quality site. DrinK. 2024-2035
Hugel 2013 Alsace Riesling Grand Cru Grossi Laue                                93
Vivid pale green-tinged golden yellow hue. Chamomile and orange peel on first whiff, then minerals and ginger, pkus a hint of toasted brioche. Rich and dense with honeyed flavours of cinnamon roll and canned peach, with bright lemony lift neatly tightening the flavour profile on the long, suave finish. The 2013 vintage was not an easy one here (it rained a great deal in October) and there's an obvious note of noble rot that I find particularly appealing. Note that all the Schoelhammer's grapes went into this wine as that wine isn't going to be made in 2013. Drink 2022-2033.
Kientzler 2017 Alsace Riesling Grand Cru Schoenenbourg                                    93
Bright straw yellow with golden highlights. Mirabelle plum, lemon, lime, mirabelle, and jasmine on the nsoe are complicated by a solid dusting of minerals. The orchard fruit and spice flavours are rich and deep, nicely extended on the long finish by harmonious acidity practically dry. This is made from only 0.3 hectares but you can be sure Eric Kientzler jumped at the chance to buy any land that came up for sale in the Schoenenbourg. DrinK. 2024-2035.
Meyer-Fonné 2017 Riesling Alsace Schoenenbourg                                  93
Straw-green with golden tinges. Lime, sweet spices and minerals on the nose and in the mouth, complicated by hints of garden vegetables and menthol. Powerful and a tactile, with a round and ripe texture, but exudes lively balance and length. In the style of this cru, where grapes have no trouble ripening, this tastes slightly off-dry. Drink: 2022-2029
Bott-Geyl 2012 Alsace Riesling Grand Cru Schoenenbourg                                     92
Pale golden yellow colour. The warm year is evident from the air-dried quality on the nose and in the mouth, with aromas and flavours of canned peach, glazed kumquat, star fruit and candied ginger. Closes long and suave, this is a beautiful wine that is ready to drink. Drink: now-2028.
Julien Schaal 2107 Riesling Schoenenbourg                                  92
Straw green. Mineral, lemony and floral on both the nose and the mouth. But the Schoenebourg's signature of power and size comes through very clearly, especially on the complex broad suave finish. Long and tactile, there's just a whisper of sweetness here, though I doubt most people will notice it (6.5 g/L r.s., but as the pH is 3, the sugar fades into the background). Strikes me as being readier to drink than many other wines from this grand cru, but there's nothing wrong with that. Drink: 2022-2028
Meyer-Fonné 2016 Alsace Riesling Grand Cru Schoenenbourg                                           92
Bright straw-green with golden reverberations. Offers a refined set of aromas and flavours reminiscent of lemon ice, white flowers, honey, canned peach and crystallized apricot. Powerful, rich and round, this lovely wine is made from but one plot of vines located not far from Hugel's Schoelhammer. DrinK: 2023-2034
Trapet 2013 Alsace Riesling Grand Cru Schoenenbourg                             92
Bright straw-green with golden nuances, this lovely wine is typical of the year, with a cool climate-like quality to its minty green apple and stony aromas and flavours. Finishes juicy and precise, with a strong saline quality and mint and mineral returns. DrinK. Now-2028
Dopff au Moulin 2016 Alsace Riesling Grand Cru Schoenenbourg Domaine Familial                                   90
Straw green with golden highlights. Minerals and flowers vie for attention on the nose and in the mouth, with layered, soft nuances of apple jelly, peach pie, cinnamon and ginger. Finishes long with hints of caramel and minerals, this is a rich tactile and lovely wine. Drink: 2022-2029
Dopff au Moulin 2014 Alsace Riesling Grand Cru Schoenenbourg Domaine Familial                                  88
Bright golden-tinged straw green. Aromas and flavours of lavender, petrol, and peach. Clean and fresh. But with only modest complexity and length on the slightly simple finish. Drink up sooner rather than later. Drink: now-2024.