One of the world's most popular grape varieties, Merlot is relatively easy to grow and its wines much loved for their juicy fruit and softly tannic qualities. Compared to Cabernet Sauvignon, wines made with Merlot have a much gentler tannin structure and therefore lack the at times intensely astringent mouthfeel of the former cultivar's wines. These qualities have led to Merlot being grown all over the world and to be most often used (when not blended) to make simple monovarietal wines that inhabit the lower end of the price spectrum. In fact, making good to very good wines with Merlot is not difficult, and there are countless examples of well-made, easy drinking Merlot wines made all over the world, from the USA to Canada, from Australia to South Africa, from Argentina to Chile and elsewhere. But making world-class Merlot wines that rank with the world's greatest is quite another kettle of fish (or canister of grapes, if you prefer). While a few high quality, excellent Merlot wines can be found in just about any wine region, from Washington State to Hungary, truly exceptional wines of noteworthy complexity, structure and age worthiness are common in large numbers in only three places: Bordeaux's right bank, Tuscany, and Switzerland's Ticino region.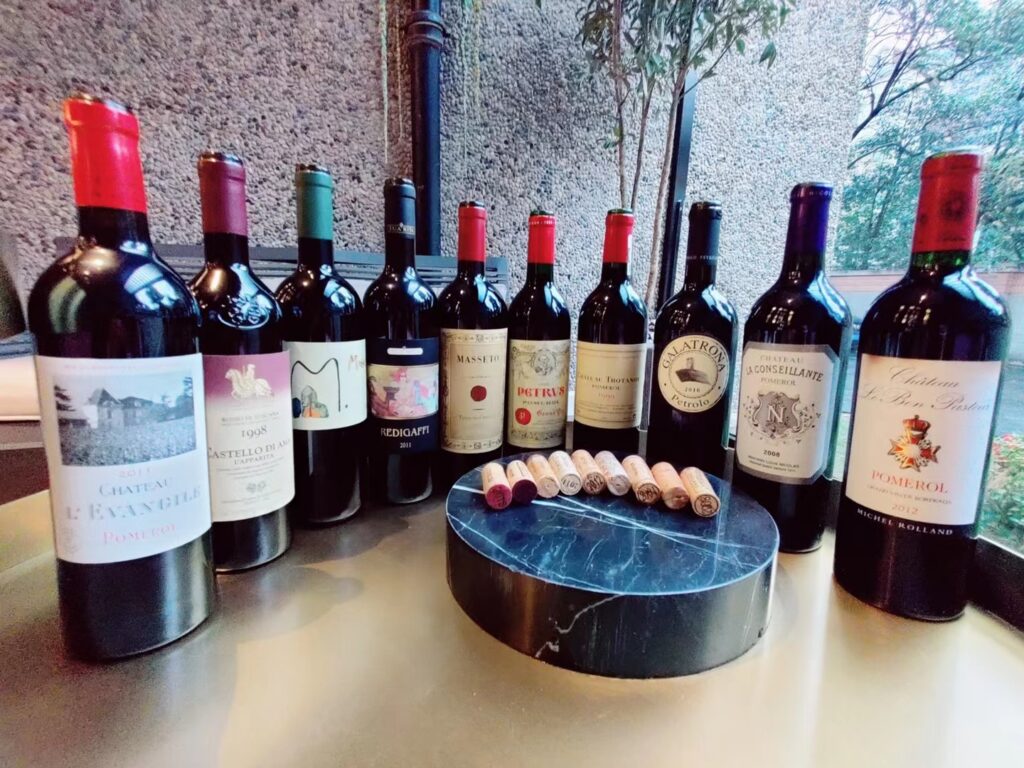 You don't have to listen to me: just ask Jean-Claude Berrouet, for over forty years the technical director at Etablissements Jean-Pierre Moueix where he was in charge of making wines of near-mythical stature including, among others, Petrus, Trotanoy, La Fleur-Pétrus, Magdelaine and Dominus (in California). Berrouet has told me as much on numerous occasions over the twenty years I have known him, and given that he is arguably (not!) the world's single greatest Merlot expert, I would venture to say his point of view is one well worth making our own.
Merlot: the grape variety and the wines
Merlot takes its name from the French word merle or merleau, referring to the small blackbirds the dark plumage of is highly reminiscent of the dark colour of Merlot grapes. Another, equally likely, hypothesis holds that the blackbirds were fond of eating sweet Merlot grapes, and that is how the grape got its name.
Merlot is characterized by dark blue, round berries that have thin skins, while the bunch is most often conical in shape and medium-large in size (clearly that is a general description, as morphology depends on which clone and biotype you are looking at). Merlot belongs to the Carmenet family of grapes (and please note that is not a typo: Carmenet, not Cabernet), that also includes Carménère, Cabernet Sauvignon, Cabernet Franc and Malbec. All are direct or indirect descendants of Cabernet Franc, the oldest member of that rather famous posse. In fact, it was only recently discovered (circa 2009) that Merlot's parents are Cabernet Franc and Magdeleine Noire des Charentes. The 2004 discovery of a few old vines of Magdeleine Noir des Charentes (a variety previously considered extinct) growing near a monastery in Saint-Suliac, France led to genetic studies, and these revealed it to be one of Merlot's parents. Merlot is also the parent of many other grape varieties, natural or man-made crossings, such as Ederena (Merlot x Abouriou), Carmine (Merlot x Cabernet Sauvignon x Carignan, not to be confused with the almost similarly-named Carmina grape, which is instead a Blauer Portugieser and Spätburgunder crossing), Merlot Blanc (Merlot x Folle Blanche), and Rebo (Merlot x Teroldego), among many others.
Merlot is popular especially because it provides fleshy, juicy wines that are softly tannic and easy to enjoy. Furthermore, the aromas and flavours of Merlot's wines reads like a who's who of desirable descriptors, including plum, blackcurrant, blueberry, blackberry, cocoa, milk chocolate, vanilla, coffee, mint, plus delicate hints of herbs. Honestly now, who does not like cocoa coffee and blueberries? So you realize why good Merlot wines, that aren't really much about black pepper, tomato paste, leather, licorice and burned rubber have it all over many other of the world's wine grapes. It is also an outstanding blending grape, the ideal partner to the more austere and tannic Cabernet Sauvignon ("Merlot's plushness fills the mid-palate hole of Cabernet" is a frequently heard saying in wineries all over the world), but Merlot works very well in tandem with other grapes too, most notably Italy's Sangiovese. Last but not least, Merlot wines are the perfect match to myriad different foods, ranging from pasta to pizza to steaks and wild game. And Merlot's softer personality means it will be the life of the party at any carefree barbecue or gathering of friends and family (as opposed to the more austere Cabernet wines). Merlot is especially fun to pair with sweet or savory preparations of softer meats such as chicken, turkey, duck, and pork.
Merlot and terroir
So why is it that it is so easy to make good, even very good, wines with Merlot and yet truly outstanding world-class wines are rare outside of three rather small world viticultural areas? Once again, it all boils down to terroir: dramatic differences in Merlot wine aromas and flavours, not to mention texture and complexity, arise depending on exactly where Merlot is grown. Of the many factors associated with the notion of terroir (including soil, exposure, climate, topography, geology, microbiology and human intervention) it is my view that with Merlot climate and geology are especially important. In short, soil-wise Merlot needs clay (but not too much clay, and it has to be the right kind of clay too; by contrast, strongly gravel soils are instead ideal for Cabernet Sauvignon); and climate-wise, Merlot simply will never give truly great wines in hot areas.
Due to its thin skin and the fact that it is prone to water stress, choosing the right sites becomes absolutely essential for Merlot: these need to ensure good drainage (Merlot hates "wet feet", leading to poor fruit set) but to also have a substantial amount of clay in the subsoil assuring an adequate amount of water retention in years of hot weather and drought. Clearly, growing a thin-skinned grape variety under strong hot sunlight conditions such as those commonly found in the likes of Australia, South Africa, and in southern Italy only increases the challenges that grape growers and winemakers will face. It is therefore not surprising that Merlot is being uprooted in world areas that are just too hot for it to deliver great wines (because of climate change, this is now also taking place in once-cooler regions too) or in extremely cold areas where it doesn't ripen properly or routinely fails to survive the harsh winters (such as Canada's Niagara region, though in this case climate change may end up giving Ontario Merlot-lovers a hand).
It follows that with Merlot's wines, it really is best to know your vintages. Much like Cabernet Sauvignon wines, bad Merlot wines are thin, harsh and weedy (birds of a feather flock together, so you might say grapes of the same family hang together too). Fact is, when Merlot's wines (and Cabernet sauvignon even more so) are good, they can be very very good, but when they're bad, they are very, very bad. Funny how (given how famous and loved Merlot and Cabernet Sauvignon are), those two grapes are responsible for some of the truly best and some of the absolutely worst wines you will ever drink in your lifetime.
In ultimate analysis, my hope is this (admittedly long) article will help you get to know those terroirs where Merlot fares best, so as to enable you to pick those wines you will basically never go wrong with.
Merlot in France and Italy
France's Bordeaux right bank appellations of Pomerol (especially) and Saint-Emilion are where the world's best Merlot wines are found. Only Italy can boast a decently large enough number of Merlot wines to try and challenge France's leadership in this particular field.
France
If for no other reason than sheer volume of numbers of fantastic Merlot wines, it is only fair to recognize that Bordeaux's Pomerol and Saint-Emilion Merlot wines are really the best of the best. Estates such as Bellegrave, Certan de May, Canon, Canon La Gaffèliere, Clos Fourtet, de Sales, Gazin, La Fleur-Gazin, L'Evangile, La Conseillante, La Fleur-Petrus, La Violette, Le Pin, Petrus, and Trotanoy (but just a few of what would be an incredibly long list; and I'm not even including famous names such as Ausone, Cheval Blanc, Lafleur and Vieux Château Certan, all of which are in my view more heavily marked by the presence of Cabernet Franc than they are of Merlot, and in the case of Vieux Château Certan of Cabernet Sauvignon too) make exceptional wines that are the envy of winemakers the world over. In fact, for the most part, 100% Merlot wines are rare in France: even in the right bank, Merlot is most often blended with 10-20% Cabernet Franc. For example, few people realize that up until the dawn of the twenty-first century even Petrus, usually thought of as the ultimate 100% Merlot wine, was actually blended in roughly three years out of ten with about 5% Cabernet Franc. But most importantly, not only are the French right bank wines exceptionally good, they also speak very clearly of the different terroirs they come from (such as, for example, the highly sandy soils of de Sales and the more gravel-clay soils of La Fleur-Petrus, two Merlot wines that could not be anymore different despite being made a short car drive from each other). But despite France's amazing success with this variety today, things weren't always looking good for Merlot.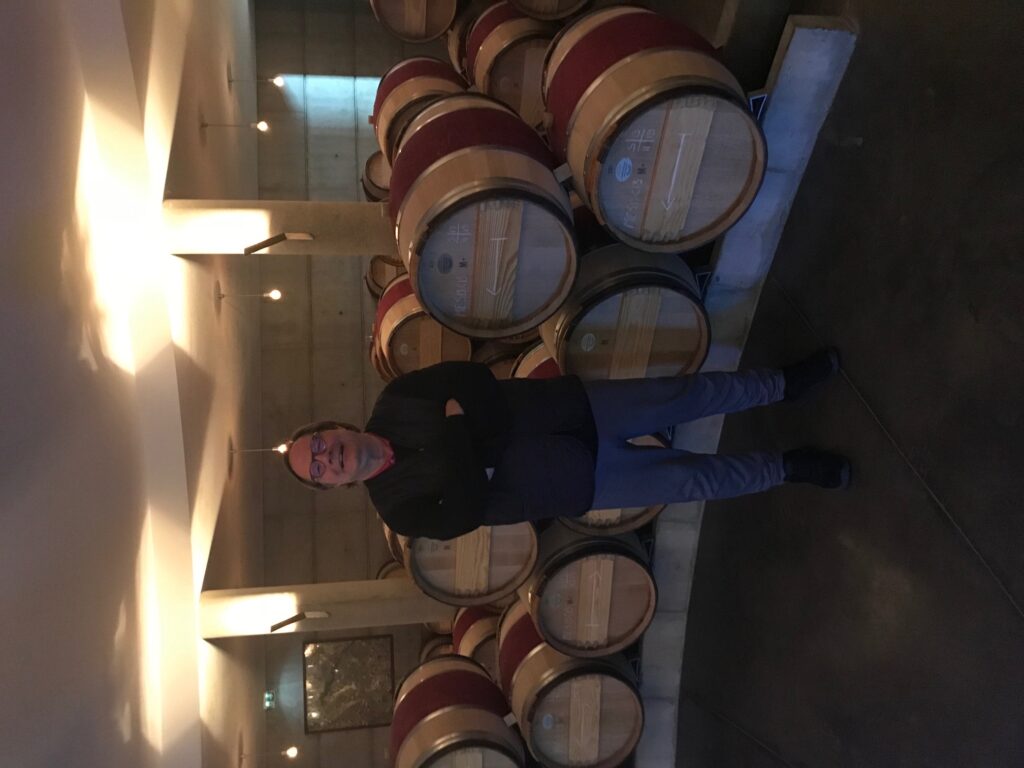 In fact, for such a popular and frankly important wine grape, official documentation of Merlot's existence in France is relatively thin and doesn't stretch that far back. The first official mention of Merlot (the wine) in France dates back only to 1784, when a local French government official deemed it one of the country's finest wines. Most likely, Merlot (the grape) was most likely hanging around (literally) in the countryside of Italy and France for many centuries prior, even millennia. After all the biturica grape of the ancient Romans is believed to have been Cabernet Sauvignon and it is likely that Merlot was also present in the area at the same time, though when it comes to events occurring two thousand plus years ago, absolute certainties are hard to come by, unfortunately. And while Merlot's popularity surged in the nineteenth and in the first half of the twentieth century, with the grape shifting from being mostly a blending agent by which to soften the austere wines made with the two different Cabernet grapes to a variety capable of flying solo in monovarietal wines of great commercial success, two devastating events almost eliminated Merlot altogether. In 1956, Bordeaux endured a deep freeze of almost legendary proportions, and almost all of its Merlot vines were killed off (for this reason there are very few truly très vieilles vignes of Merlot in Bordeaux, most having been planted after that date). To make matters worse, attempts to replant the variety following the frost of '56 were stymied by horrific rot problems. Things got so bad that the French government imposed an outright ban on new Merlot plantings in an effort to cease the rot's propagation, a ban that was finally lifted only in 1975, after which Merlot's popularity has done nothing but soar, with only minor temporary glitches.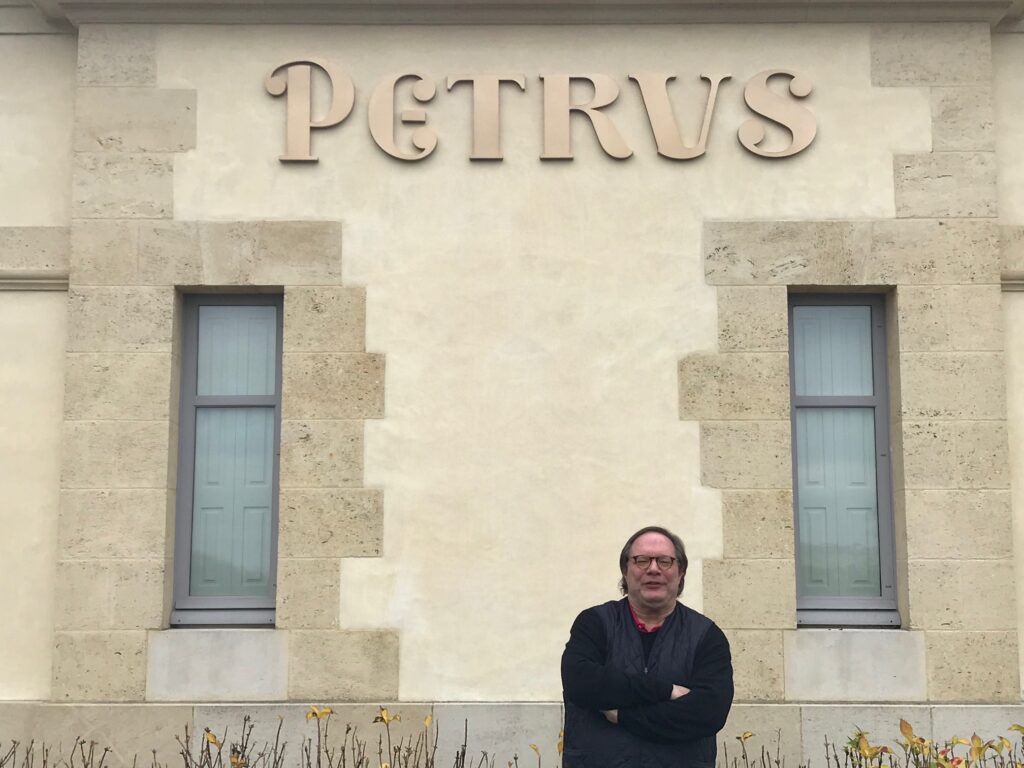 Italy
Unlike Bordeaux's right bank, where 100% Merlot wines are rare, Italian Merlot wines tend to be 100% monovarietal wines. But in Italy too, Merlot became popular only relatively late in time. While it had been sporadically grown in Italy by individual noble families at their estates already before the nineteenth century, it is only at the end of that century that Italian winemakers began cultivating Merlot on a large, country-wide scale. However, for most of the twentieth century, Merlot was really only popular in Italy's northeast (Veneto and Friuli Venezia Giulia, mostly). Then, at the beginning of the 1970s, it rapidly gained a footing in Supertuscan wine blends, those top-level Tuscan wines that fell outside famous denominations such as Chianti in which international varieties (such as Merlot) were not contemplated (allowed). But Supertuscans were far too good and have since become internationally famous: today they rank among Italy's best wines. Clearly, not all Italian Merlot wines are memorable: many are uninteresting at best and not good at worst. With only very few exceptions (Gravner and Miani come to mind), Veneto and Friuli Venezia Giulia's (FVG) Merlot wines though popular locally, have failed to soar much outside local boundaries (Veneto and FVG are just too cold and rainy for Merlot to deliver much of anything interesting). And in Italy's central and southern reaches, the grape has not fared much better: flying consultant winemakers pushed to have Merlot planted in an effort to duplicate their winemaking recipes everywhere they went, but the variety has been ripped up or grafted over at many estates (for example, Sicily is just too hot for this particular wine grape to give anything remotely noteworthy). Of course, heat is but one part of the fine wine equation, and the reasons why Merlot fails to deliver wines as grand as those of Pomerol almost everywhere else are many and varied. For reasons that are not entirely clear, Merlot carries on splendidly in Tuscany: both on the Tuscan Coast (mostly around the town of Bolgheri and in the denomination of the same name, where it is actually very sunny and can get quite hot), but also in the region's cooler and less sunny interior (such as in Chianti Classico and surrounding areas), Merlot can perform like a star (soil-wise, the world famous Masseto estate does boast the blue clay in its soil that has made Petrus and a small section of Pomerol famous, so that probably doesn't hurt). In any case, there can be no argument that the sheer number of world class Merlot wines coming out of Tuscany is second only to those of France's right bank: wines such as Duemani (), Le Macchiole (Messorio), Masseto (Masseto), Petrolo (Galatrona), San Giusto a Rentennano (La Ricolma), and Tua Rita (Redigaffi) are undoubtedy not just some of the world's top 25-30 or so Merlot wines, but rank amongst the world's greatest reds.
The wines in this report were chosen by me and tasted in January 2021 at Shanghai's Wukang Garden restaurant during a dinner especially designed for the Merlot wines served.
The wines
1998 Castello di Ama Merlot Toscana Rosso Apparita           95
Luminous deep ruby. Cassis, black cherry, violet and minerals on the very refined, pure nose. Very pure and concentrated, with excellent cut and vinosity too to its dark fruit, bitter chocolate, herb and licorice flavours. Extremely fine-grained and light on its feet, yet this gorgeous and still very young wine communicates a strong presence of extract, harmonious acidity and polished tannic spine, a combination that will guarantee future aging. Not a blockbuster but refined and suave, as is highly typical of Apparita. A beautiful wine. Drinking window: now-2034
2016 Petrolo Toscana Rosso Galatrona             89
Bright ruby. Musky nose combines blueberry, blackberry, violet, herbs, and spices, plus obvious slightly funky undertones of game and leather. Suave and silky, with a somewhat wild quality to its concentrated flavors of small dark fruits, licorice, minerals and leather. Finishes long with nobly polished tannins and harmonious acidity. I normally love Galatrona, which I think is one of the world's top dozen or so Merlot wines, but this specific vintage strikes me as being a little gamey, and may not be for everyone owing to its slight funkiness. Extended aeration helped bring out more intense and purer fruit and violet nuances, but it's never a good sign when the person next to you turns over at first sip and asks "Is this a natural wine"? (in fact, Petrolo follows organic viticulture and minimal intervention practices). I have never had this problem with Petrolo's wines before, so I am hoping this was a one time thing. In my experience, Galatrona is normally always a beautifully clean, pure, wine that ages magnificently well and that I regularly score in the 93-97 range. Drinking window: 2024-2032.
2012 Château  Le Bon Pasteur Pomerol                    91  
Medium-dark saturated ruby. Bright aromas and flavours of blackberry, violet, coffee, pepper and mint. Then juicy, saline and very smooth, with an almost candied quality to its dark fruit flavors. Neither especially fleshy nor the last word in complexity, but very suave and well-balanced, finishing long and savory. A very good example of the simple but very pretty style of Merlot from the Maillet area of Pomerol, this wine denotes quite a bit of class. Drinking window: now-2030.
2008 Château  La Conseillante Pomerol                96
Vibrant good full ruby. Highly perfumed and beautifully precise aromas and flavours of blueberry, blackcurrant, peppery herbs, minerals and underbrush. Then virtually weightless, with outstanding focus and inner-mouth aromatic perfume and noteworthy density. Finishes very subtle and long, with refined tannins and repeating notes of liquid minerality and explosive violet perfume. The La Conseillante wines of the last half of the 2000s were some of the purest, most beautiful wines ever made at the property (and of all Pomerol actually), then things changed and wines have become bigger and more fleshy. Whatever makes you happy, I guess. Drinking window: now-2038.
2006 Miani Merlot Friuli Colli Orientali              NR
Full, deep ruby-red. Polished aromas of blackberry, violet and licorice with sexy oak tones of bitter chocolate, cocoa powder and espresso are unfortunately ever so slightly marred by cork taint. The wine seemed to be wonderfully velvety and rich, with outstanding verve to the primary black fruit, violet and licorice flavors, but clearly the wine was impossible to appreciate as it deserved to be. Given the wine was sullied by cork taint, I did not score it: the NR stands for "not rated".
2011 Château l'Evangile Pomerol             94
Fully saturated ruby. Broad, pure aromas of black fruit syrup, licorice, cocoa, roast coffee and candied violet. Dense, creamy and impressively deep, showing a velvety texture and noteworthy sweet ripeness to its ultra-concentrated black and blue fruit flavours. Impeccably balanced and downright plush, you can tell 2011 was a hot year. That said, the tannins are splendidly polished, and the very long, lush, suave finish is a marvel. I prefer my wines on the side of refinement and nuance rather than that of opulence and lusciousness, but it's hard to argue with how good this wine is. Drinking window: now-2040.
2011 Tua Rita Toscana Rosso Redigaffi        98
Fully saturated ruby. Knockout aromas of blueberry, red cherry, violet, minerals, coffee, milk chocolate and aromatic herbs. Suave, juicy and attractively sweet, with rather Bordeaux-like flavours of dark berries, herbs and spices but with southern Tuscany's lusciousness. Multilayered and exceptionally deep, this ultra-complex, rich wine is amazingly light on its feet and boasts truly remarkable clarity and cut (especially considering that 2011 was a hot year). The long, rising finish features very smooth tannins and harmonious acidity. Long on personality, this is an absolutely knockout Redigaffi: simply put, one of the ten or twelve best Italian red wines I have had from the 2011 vintage. Drinking window: now-2036.
1999 Château Trotanoy Pomerol              98
Deep luminous ruby. The deep, perfumed nose combines blackcurrant, raspberry, fruity peppercorn, licorice, cocoa and minerals all lifted by a strongly fragrant violet topnote of exceptional purity. Then pure silk in the mouth, the 1999 Trotanoy boasts an almost painful intensity and soil-driven precision to its flavours of black and blue fruits, spices and minerals. A Trotanoy that is not just about power, but of real finesse and thrust too. The finish kept me company while I was walking home hours later. An outstanding Trotanoy that had been marvelously well cellared, this is the best bottle of 1999 Trotanoy I have ever had. Memorable wine. Drinking window: now-2045.
2004 Ornellaia Toscana Rosso Masseto             99
Bright ruby-red. Multidimensional aromas have a decadent quality with thick, ripe blackcurrant, black cherry, brown spices, bitter chocolate, minerals and violet notes literally exploding out of the glass; this has an air-dried, almost Amarone or Port-like quality but is amazingly refined too. Sweet, creamy and deep, yet focused and energetic in spite of its ripe, velvety texture. The dark fruit and spice flavors carry through on the extremely long, vibrant finish featuring smoother than silk tannins and building sweetness. One of the best Massetos ever made, this is just an unforgettable mine and I'm probably being stingy giving it "only" 99 points. Drinking window: now-2040
1995 Petrus Pomerol              99
Bright medium ruby. Very perfumed and pure on the nose, with expressive red and black fruits, sweet spices, cocoa and flowers jumping out of the glass. Then extremely smooth and suave in the mouth, with unbelievable class to the dark berry, coffee, Oriental spices and bitter chocolate flavors; uncommonly for this Pomerol of nearly mythical proportions, the 1995 Petrus boasts a penetrating minerality that contributes to the impression of precision, verve and lightness of being. The finish is smooth and classic, with noble tannins and lingering violet and cocoa echoes. Not the most powerful Petrus you'll ever taste, but a paragon of balance and gracefulness, it's simply impossible to describe just how seamless and weightless this beautiful wine is, with tannins that are so unique in their "touch" that I cannot but score the wine as high as I have. Drinking window: now-2045.