Verduno Pelaverga is one of Italy's five or six hottest wines currently, with bottles literally flying off wine store shelves and restaurant wine lists all over the world, because people everywhere seemingly cannot drink enough of it. This success is well-deserved, as Pelaverga really is one of Italy's most exciting, enjoyable red wines of today.
However, when it comes to Pelaverga wines, you need to know exactly what it is you are talking about: unfortunately, the reality is that when it comes to Pelaverga wines this is harder said than done, because even wine experts don't know that there are different Pelaverga grapes and wines. That's right grapes, not grape; and wines, not wine. For "Pelaverga" doesn't exist: it is neither a grape nor a wine, and it is therefore wrong to use that name. There are two different Pelaverga grape varieties: the Pelaverga Piccolo and the Pelaverga Grosso. The former variety grows in the territory of the town of Verduno and is used to make the wine called Verduno Pelaverga (Verduno is mostly famous because it is one of only eleven communes allowed to make Barolo). By contrast, the latter variety grows in the Salluzzese area of Piedmont (which is only a couple of hours by car to the east of the Langhe from where Verduno is situated) and is used to make a completely different wine called Cari.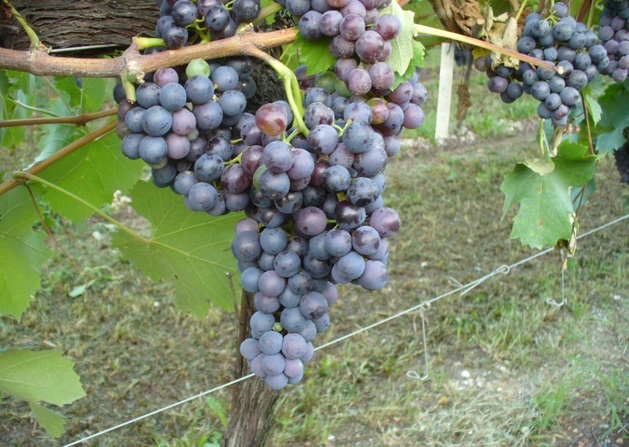 So in summary, there are two Pelaverga grapes, Piccolo and Grosso, that are used to make two different wines, Verduno Pelaverga and Cari. The two wines are completely different because the grape varieties used to make them have very little in common but also because they grow in two territories that differ because of a number of factors, such as the soil, the exposures, the soil water regimens, the average day/night temperatures, the precipitation rates, and the human factors. For example, the Pelaverga Piccolo grapeis a semi-aromatic variety, while Pelaverga Grosso is not; it also tends to give bigger wines with more structure but less perfume than Pelaverga Piccolo. And the Salluzzese area is generally colder and rainier than the part of the Langhe in which Verduno is found. So remember: Pelaverga Piccolo is the grape, and Verduno Pelaverga is its wine; Pelaverga Grosso is another, different grape, and it gives the wine called Cari.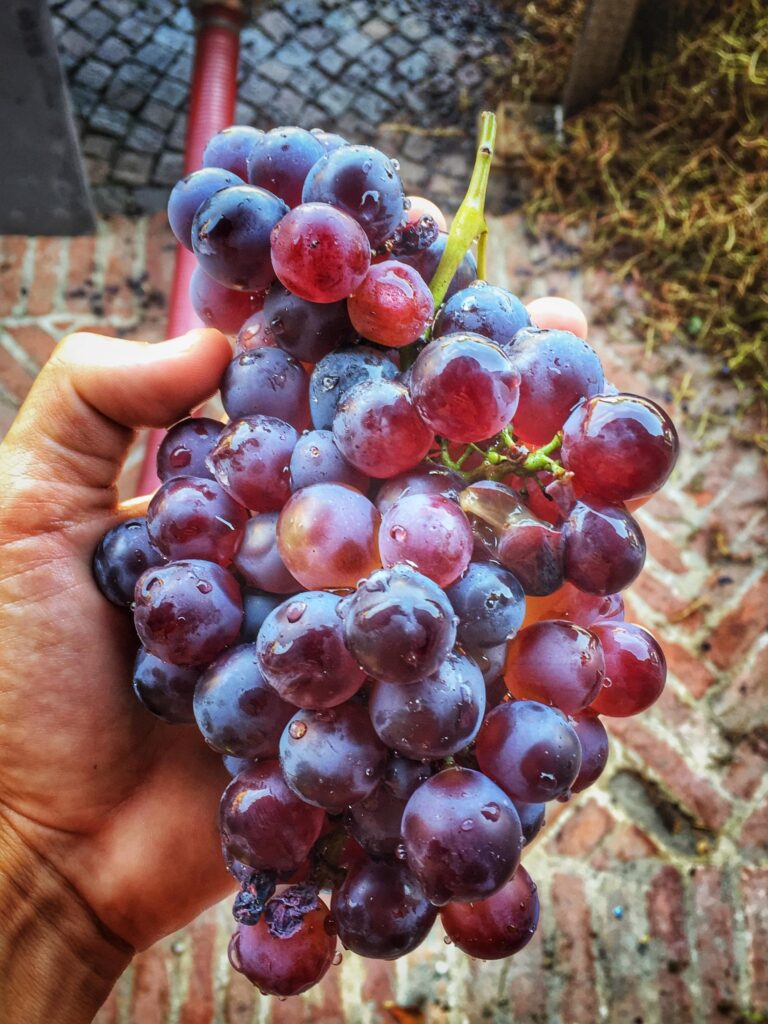 The terroir
As with all of the world's top wines, the greatness of Verduno Pelaverga is a direct consequence of the terroir that allows for its expression. Or in other words, of the combination of the effects exerted by the ensemble of specific grape variety, physical factors such as the topography, geology and climate of site, and human factors (yield reduction, canopy management, pruning techniques, organic farming, use or not of oak aging, and more). The grape variety as we have already seen is unique and rare. Its name is of uncertain origin, but the word "pelaverga" is believed to derive from the union of pela and verga, which mean "to peel" and "branch" respectively, so it is thought that pelaverga refers to some old vine-training technique ("branch-peeler"). Pelaverga Piccolo does not pose too many problems in the vineyard, while it does in the cellar, where its tendency to form reductive off odors can be a real problem, and therefore a convenient amount of airing out of the musts is absolutely key in order to make clean wines of noteworthy aromatic purity. Another potential concern (for some winemakers, but not for me and not for many other wine lovers too) is that Pelaverga Piccolo does not release a great deal of colour, so its wines are never more than a deep red in hue, and often paler than that. Not surprisingly, some winemakers would like to obtain wines of a much darker tonality, but with Pelaverga Piccolo, the attempt to leach out as much color as possible from the skins is an exercise fraught with peril, give the very high likelihood of then also releasing bitter tannins into the must.
The territory of Verduno also contributes to the uniqueness that is Verduno Pelaverga (and to its Barolos, for that matter). The town is situated up at 380 meters above sea level, very close by the Tanaro river that explains the area's on average temperate climate (compared to other sections of the Barolo denomination). The name "Verduno" is of celtic origin and means "flowery hill". Verduno's soil was formed mostly during the Tortonian stage of the Miocene epoch and is composed of mainly Saint Agathe's marls (blue-grey marls rich in manganese and magnesium) that usually give early-maturing wines of noteworthy perfume and generally lighter structures. In fact, the soil is also rich in sand (with as much as 30% sand) that further explains the perfume and light-bodied quality of the Verduno Pelaverga wines. Without doubt, it is the relatively high sand content that allows the Pelaverga Piccolo variety to fully express its aromatic potential here. It is also worth noting that Verduno is not just characterized by a slightly warmer mesoclimate than surrounding communal territories, but also by less rainfall than other areas of the Barolo production zone. It also certainly does not hurt that the producer talent is generally high in the area, such that most of the wines made with the Pelaverga Piccolo grape are generally quite good.
Best of all, because of their personality traits and characteristics, Verduno Pelaverga wines match particularly well with Asian cuisines, more so than many other wines made with other grapes in both the New and Old World. And while Cabernet Sauvignon and Chardonnay remain two of the world's most popular grapes, the simple fact of the matter is that a grape like Pelaverga Piccolo gives wines that match with many Asian cuisine dishes far better than do the two more famous grapes. Try Verduno Pelaverga wines with many lighter-styled chicken, veal, lamb and vegetable dishes of from various different Asian cuisines. While it will not provide the best match for something like braised honey-laquered pork, or sweet and sour chicken, it will prove an excellent match with most other dishes featuring spices such as star anise, black coriander, cinnamon, fennel and cloves.

The wines
2016 GB Burlotto Verduno Pelaverga                    92
Luminous medium-pale red. Aromas and flavours of cinnamon, sour red cherry, raspberry, white pepper, coriander and lavender. Bright and crisp, with a hint of candied violet emerging with aeration, it closes long on the aftertaste with a building mineral presence. As is always the case with Burlotto's version of Verduno Pelaverga, there is little in the way of tannin and alcohol to mask the pretty fruit and spicy notes present. Drinking window: now-2024
2016 Fratelli Alessandria's Verduno Pelaverga "Speziale"                         91
Vibrant pale red. The intensely floral notes add complexity and depth to the usually fairly ripe strawberry aromas and flavours that in my experience always characterize this wine (more so than they do other Verduno Pelavergas). Much like Burlotto's version, it is also characterized by a lifted, medium-bodied structure and well-balanced acidity that makes the wine a joy to drink again and again, but differently from that wine, Fratelli Alessandria's version is always less perfumed but riper, featuring an almost candied red berry/red cherry quality. Drinking window: now-2024
2016 Ascheri Verduno Pelaverga                              90
Bright red, with hints of sour red cherry, cranberry and balsamic oils on the nose and in the mouth. At once juicy and creamy, with a rising mineral bent on the long aftertaste. This is delicious and really easy to like. Try with lighter meat dishes and even fish cooked with vegetable and citrus fruit sauces. A very good Verduno Pelaverga. Drinking window: now-2023
2016 Castello di Verduno Verduno Pelaverga Basadione                                  90
Made in a style that falls somewhere in between the wiens of Burlotto and Fratelli Alessandria, with a more austere, penetrating and less ripe personality than the Fratelli Alessandria wine, but also less of the piercing fragrance that characterizes GB Burlotto's. Still, the small red berries and aromatic floral fragrance of the Pelaverga Piccolo variety are very obvious here too. The wine finishes long and clean. Drinking window: now-2024
2016 Bel Colle Verduno Pelaverga                             87
Bright pale red. Slightly reticent aromas of small red berries, herbs, and menthol. Juicy and suave, wuith a creamy red cherry and berry note that is nicely persistent if not especially aromatic. This wine is well-made and perfectly fine, but I wish it offered more of the Pelaverga Piccolo typical aromatic power, which I find somewhat lacking here. Finishes medium-long and clean. Drinking window: now-2022