After the presentation of Pelaverga Piccolo and the Verduno Pelaverga wine in my Wechat blog last week, I now describe another little-known Italian wine terroir, that of the Montello Colli Asolani in Veneto and its Recantina grape variety. Please note that much as it is with Trebbiano Abruzzese, the Cesanese varieties, Bellone and practically all other little-known Italian native grapes that are written up and spoken about in tastings and wine courses today, much of the information presented is derived from my work combining the research performed by ancient ampelographers as well as modern ampelologists and other scientists, producer experiences and anecdotes, and my own twenty years of winery visits and tastings. This information has not been written about before in similar amount of depth and is simply not available as such anywhere else.
Recantina is yet another of the many recent success stories in Italian wine. A native grape that had been forgotten and risked disappearing was brought back to life roughly fifteen years ago and now numerous producers are making wines from it again. Though still only a mostly local reality, Recantina wines are fresh perfumed and spicy, boasting more than enough qualities to have become favourites of all those who have tried them. And despite it being a relatively difficult variety to work with in the vineyards (mostly because of an extremely compact bunch), there is no doubt Recantina will see its plantings increased, because the wines made with it are just simply too good to ignore.

A little history
The Recantine grapes have been famous since at least the 1600s in the area around Treviso in Veneto, and already then people were aware that there existed various different subvarieties, the best known of which were the Recantina Pecolo Rosso (pecol refers to the grape stem or stalk, so this is the red-stalked Recantina biotype) and the Recantina Pecolo Scuro (the green coloured stalk biotype), and the Recantina Forner (named after the owners of the farm on which it was discovered). This last Recantina differs considerably from the other two: researchers at the University of Verona I have interviewed over the years have told me they believe the main Recantina variety to be the Recantina Pecolo Rosso, from which all others descend, but this is not totally certain as of yet.
For sure, Italians seem to have always thought highly of variety: Agostinetti in 1600 listed it (calling it Recantina or Recardina) as one of Veneto's best red grapes, though a few passages in his report unleash the suspicion that he was at least partly confusing the Recantine with the Raboso varieties (Raboso Piave and Raboso Veronese are two other very important local Veneto red grapes). A century later Zambenedetti clearly distinguishes between the Rabosos and the Recantine, and strongly recommended the cultivation of the Recantine (Zambenedetti called the group Recaldine, and in fact Recaldina Nera has long been the other name used for Recantina). It appears the French liked it less: reportedly, when Napoleon's troops passed through the area to continue their warring ways with the rest of Europe, Recantina wines were viewed as unimpressive at best and much of the Recantina vines ripped out (like you'd think marauding soldiers would have better things to do with their time, given also that none of those gun toting "luminaries" could hardly be thought of as credible viticulture or enological experts, but so be it). But there are records that show the grape was in fact quite abundant at the time. For example, Vianello and Carpanè documented in 1874 Recantina to be one of the most abundant red varieties planted in the territories of at least three towns around Treviso, and two each around Asolo and Castelfranco Veneto. And though I realize that a similar statement might not mean much to people, in fact it is an observation of immense importance, for it tells us clearly that the Recantine were mostly cultivated in territories different from the Raboso varieties. This in turns allows us to infer that the two varieties were not confused as much as some superficially written documents of the area might have led us to fear. That the same authors clearly enunciated that Recantina needed to grow on hillsides where instead Raboso should never be found further confirms that already back then most people (the locals, at least) were very aware of the differences that existed between these wine grapes. In 1901, Zava reports a "Recoldina" variety that grew in Friuli near Udine, but we have no way of knowing if that was the same variety as Veneto's Recantina or a different variety altogether (Zava called Recantina "Recandina"). Unfortunately, phylloxera and the very compact bunch that characterizes many Recantina biotypes (which unfailingly leads to rot-related problems) did the rest and so Recantina disappeared from much of the countryside in which it grew in. In any case, at that point in time close to 29,000 hectoliters of wine were being produced with Recantina, not exactly a small volume. At long last, the Centro Sperimentale di Conegliano, Italy's leading wine institute and research center began studying Recantina (in conjunction with Veneto Agricoltura) growing it in its experimental vineyard and performing microvinifications. These initial microvinifications made it clear to researchers and wine producers alike that Recantina held noteworthy winemaking potential and so replanting of the grape was taken up again by a those more forward-thinking producers.
Recantina's terroir: the wine grape and other local factors of terroir
Terroir is the result of a series of effects caused by the combination of factors: biologic (the specific grape variety and soil microbiology); physical (climate, soil geology, soil water regimen, exposure, topography) and human factors (viticultural and enological choices made by humans relative to winemaking).
Recantina is a grape variety boasting many interesting features and it produces a fairly unique wine. The variety's prototypical morphology and viticultural behaviour depends on which biotype one looks at; in general, the two Recantina biotypes characterized by different coloured stalks are more similar, while Recantina Forner differs considerably from the other two. In general, the leaf of Recantina Forner is pentagonal in shape and has five to seven lobes, while that of the Recantina Pecol Rosso and of Recantina Pecol Verde is round without any obvious lobes to speak of; the inferior page of the leaf is hairy in Recantina Forner, and smoother in the two Recantine named after their coloured stalks. The grape bunch is medium- to medium-large (that of Recantina Pecol verde is the smallest of the three), pyramidal, winged, ranging from loosely-packed to very compact depending on the biotype (the Recantina biotypes with coloured stalks have more compact bunches). The grapes are round, medium-sized, and blue-black in colour. Recantina is quite vigorous and resistant to common diseases (not surprisingly, given its wealth of polyphenols, which are phyto-protective agents), though clearly rot can be a real problem in wet years in those sub-varieties with very compact bunches. For this reason, humidity is an enemy of farmers growing Recantina, and so the grape is grown almost exclusively on hillsides, where drainage is best and the likelihood of water retention in the soils is greatly reduced compared to flatland vineyards (water retention can lead to greater humidity levels and therefore an increased potential risk for the development of rot). Despite it being a vigorous variety, Recantina's yields are low, and this is true of all three biotypes. As it has a long vegetative cycle, it is usually harvested later than many other local grape varieties; Recantina Forner is the last to be picked, usually in early October (the other two are usually picked at the end of September). It is this very long growing season that leads to weather and disease-related problems, as Recantina grapes are still hanging when the weather in northeastern Italy inevitably turns sour in the fall, and the variety's compact bunch then poses an even bigger problem than normal. I have seen the variety in numerous vineyards in Veneto, all in the Montello Colli Asolani denomination though it is allowed in other nearby denominations as well. Presently there are only about fourteen hectares planted to the variety, a number that, given the unquestionable quality of the wine made with this grape is sure to increase in the years to come.
Microvinifications conducted by the Cancellier research team showed first, and commercial vinifications later confirmed, Recantina to have truly noteworthy winemaking potential. The variety has the capacity to deliver very perfumed wine (exuding notes of blackberry as well as an intense note of violet) with good tannic structure and acidity. Not only can it be predicted that Recantina will almost certainly one day be included in the Valpolicella and Amarone blend, but I can certainly see it stand on its own as well as numerous producers are effectively starting to show. As I have written many times before, it is hard to keep a good wine grape down, and while back in 2013 when I was completing my Native Wine Grapes of Italy (University of California Press, 2014) bible monovariety Recantina wines were nearly impossible to find, that is no longer the case today.
The main denomination in which Recantina grows is that of the Montello Colli Asolani, better known for its production of one of the two DOCG Prosecco wines of Italy. The Montello is a mostly hillside area located on the right bank of the Piave river about fifteen kilometers northwest of Treviso (Italy's Prosecco capital) and reaches as high as 638 meters above sea level. Topographically, the hill is characterized by the presence of the prese, numerous little roads (twenty-one) built for forestry control and census purposes already under Venetian rule at the start of the 1400s and that cut through the hillside in a north-south direction, plus one longer one that runs east-west from Nervesa della Battaglia to Biadene (Pederiva) and that collects all the others much like a main river will collect tributaries. Geologically the area is the result of the combination of tectonic earth movements and erosive fluvial forces that led to the emergence of the conical formation that is the Montello hill. It follows that it is not surprising that the general soil lithology is made up of conglomerates rich in carbonate-loaded rocks and layers of clay-loam and compacted sands, with plenty of clay lower down below. There is a noteworthy presence of iron oxide in the soil, which helps give wines of structure, something the red wines of the area have long been known for. These red soils are very abundant in the area and are known as the "terre rosse" of the Montello area, rich in hematite, goethite and other iron oxide formations. The presence of sand, clay and loam varies depending on the altitude at which one performs the soil analysis: the higher sections of the Montello are characterized by roughly 47% loam, 37% clay and 16% sand, while middle and lower sections are made up roughly of 13% loam, 26% clay and 61% sand. Also, the soil pH at the higher altitudes is acid, while it is neutral or alkaline at the middle and lower elevations. Soil mineral concentrations also change with the altitude: while phosphorus and nitrogen levels increase from top to bottom, it is the opposite with iron and boron (in other words, concentrations of these two elements are lowest in vineyard soils located at the lowest altitudes); by contrast, potassium and magnesium concentrations appear to be unrelated to altitude. Climate-wise, the Montello area's macroclimate is characterized by fairly stable temperature excursions; based on 1997-2007 data, the reported average temperature from April to September included is 19°C (for comparison's sake, the lows average 14°C). Average annual rainfall is 730 mm, and there is generally little risk of summer drought (at least this was true up until now, but with ongoing climate change, it's anybody's guess as to what might happen over the next twenty years). Clearly, because of the area's topographic diversity, there are specific mesoclimates and microclimates that will further impact the wines made (this is even more true of the Colli Asolani area than it is of the Montello).
The wines
There are now numerous monovariety Recantina wines available for sale, though the word "interpretations" might be the most suitable to use here, given that different producers interpret the grape as they see fit (those who use oak, and those who don't; those who use small size barrels and those who use large ones; those who harvest early and those who harvest late; etc…etc…), and in so doing of course only obtain the unfit result of not having anyone understand what the grape's wines are really about or what they should really taste like. One thing that is certain is that the grape is exceptionally endowed with polyphenols, so colour is never an issue with this variety's wines: they are always deep ruby-purple, or have at the very least a very strong purple tinge.
The world-famous Veneto producer Serafini & Vidotto makes an outstanding Recantina wine: besides being just plain excellent, is also the closest thing to what I think Recantina as a wine grape can give and what its wines ought to be like. In this light, the 2016 Serafini&Vidotto Recantina Montello Colli Asolani is just a textbook example how lovely these wines can be. The Giusti company makes an excellent still version (they have also used a little Recantina in the past to make a Rosé sparkling wine, blended in with other grapes such as Chardonnay), without question the best wine Giusti makes and it has done nothing but improve over the years. The 2016 Giusti Montello Colli Asolani Augusto is still very good today; aged in neutral large oak casks for about 12 months, this is remarkably smooth and voluptuous, while maintaining the lovely spicy fresh red berry qualities this grape's wines are known for.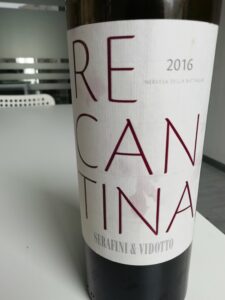 Even older, the 2011 Pat del Colmèl Recantina Montello Colli Asolani is still alive and kicking, and a testament to this high acid variety's capacity to produce fresh, spicy red wines of real ageworthiness, and this despite their relatively light- to medium-bodied frame. Ida Agnoletti and Manera also make Recantina wines, and I have liked both in the past, especially the former that sees no oak aging, but my experience with the wines of these two specific wineries is too limited to comfortably write anything more on them. So far, it strikes me that the best Recantina wine is the one by Serafini&Vidotto, with Giusti a close second, but more important is the fact that at least there are now a number of different wineries involved in growing and vinifying Recantina once again after centuries of disinterest. This is a fact of paramount importance, for having more and more producers believe in the grape and its wines is the only way by which both will become better known. Hopefully one day the producers can get together and decide how to best proceed in their winemaking ways (oak or no oak, what size oak, what kind of oak, how long in oak and that's just the aging vessel dilemmas) so that there is a bit more of a common ground for Recantina and its wines.