On Wednesday Oct 5th my friends John and Ed and I traveled to the suburbs of Baltimore to have lunch with Robert Parker at what turned out to be a first-rate Italian restaurant called Vito's. We knew in advance that Parker would be bringing 1982 red Bordeaux from previously unopened cases. It had been eleven years since we had seen him. For many years Parker hosted lunches at a fine Chinese restaurant in Falls Church, Virginia, where a dozen or so of his friends would assemble, each armed with one or two excellent wines to drink with the endless quantity of Dim Sum that Parker ordered in advance. Parker himself almost always brought older Barolos whose scents and flavors he found matched felicitously with the food. Given my own proclivities I invariably brought either a fine Auslese or an equally good Sauternes. These extravaganzas came to an end after Parker sold the Wine Advocate in the fall of 2011. Of course, we maintained e-mail contact. Quite beyond the opportunity to taste what are now 40-years old 1982s from a perfect cellar, this was an important moment to re-connect with the man who has impacted the world of wine to a degree that is quite beyond calculation. In my case, Mr. Parker's annual tasting for Executive Wine Seminars, the wine events company I had formed with my partner Howard in 1981, made the difference between the companies' fame and relative obscurity. Our debt to Parker cannot be repaid. I will add that he was and is one of the nicest, most generous and honest people I have ever met. He is also a born raconteur.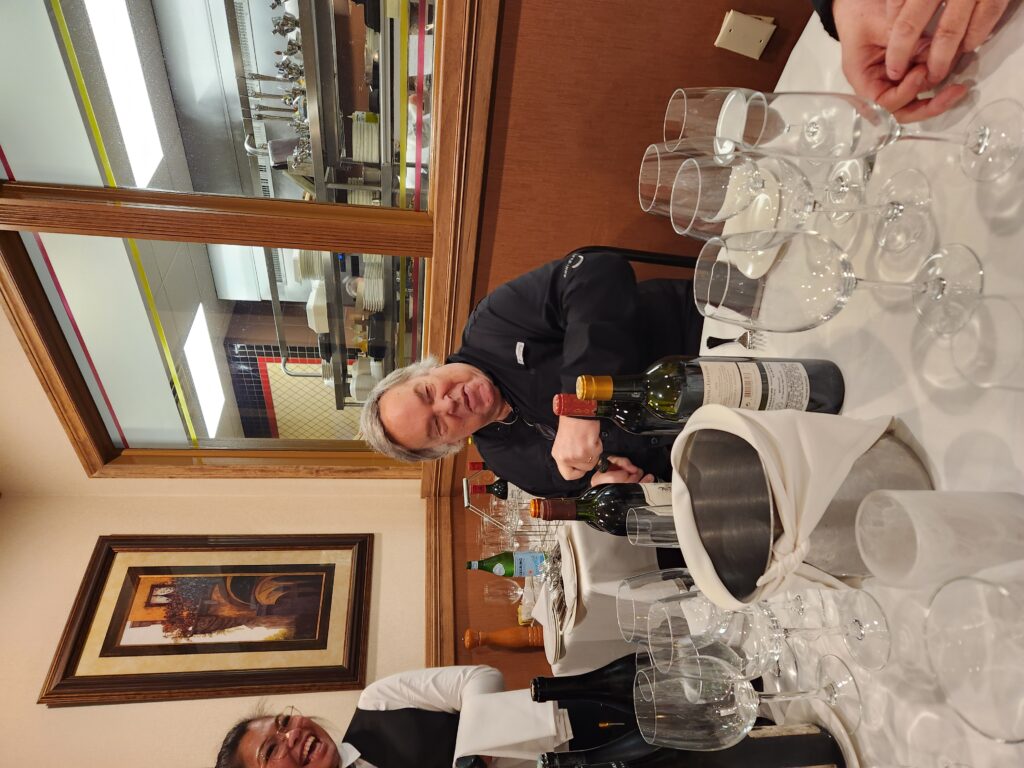 Before tasting the 1982s we did a quick palate-stimulating tasting of a half dozen white wines courtesy of Ed and John. The most interesting was a Malvasia from a brilliant woman wine maker, Victoria Torres Pices who runs a 100-year-old estate in the Canary Islands. Enticing aromas of pecans, melon and citrus with a broad palate of dark fruits and crushed nuts and bracing acidity, this turned out to be the surprise of the afternoon. The 2009 Domaine de Chevalier Blanc met all expectations. One of the finest dry white wines made in Bordeaux it carried its oak superbly with richness and depth of flavor which served as a perfect segue to the 1982 red Bordeaux.
Parker served the wines in the following order: Le Gay (Pomerol), La Tour Haut Brion (Pessac Léognan), Beychevelle (4th Growth St. Julien), Mouton Rothschild (1st growth Pauillac) and Grand Puy Lacoste (5th Growth Pauillac). The three of us speculated on what wines we thought Parker would bring before getting to the restaurant. Frankly Mouton was the only wine of which I was certain. I thought that Latour, possibly Pichon-Lalande and maybe Trotanoy would be there. Never predict what a great man will do! It is now clear to me that Parker wanted to demonstrate the excellence of vintage through tasting wines from several less glamourous Chateaux. Just serving the 1st growths along with a high powered Pomerol would have been a less convincing demonstration of just how good 1982 was across the board.
Some observations about the quality and condition of these five wines is in order before discussing each individually. Parker acquired them from reputable sources upon release. They have been resting in perfect storage since mid-1985. I can say emphatically that not one of the wines was anything like beyond its peak. Colors were deep yet clear with little evidence of browning on the edges. Despite being a very warm vintage, not a single wine suffered from sur-maturite, over -ripeness. Had I been served the wines blind I might have said 20 years old at most. It is wise to remember that yields were very high in 1982 and that the kind of radical selectivity of the grapes that has been practiced since 2005 or so was non existent in Bordeaux in the 1980s. Every grape went into the hopper. If this microcosm of the 1982 vintage is indicative, then the wines have aged with a grace and harmony that not even Parker expected. When the 1982s were first tasted in Bordeaux most commentators hedged their bets. Yes, delicious wine but high in alcohol and just too good to last. The American wine writer, Robert Finigan, called them hot, alcoholic and oafish. This remark, as it tuned out, was the beginning of the end for his wine writing career. Parker, relatively new to the wine reviewing world, stuck his neck out calling the 1982s by far the best vintage since 1961. It is certainly true that after 1961 Bordeaux had not had an outstanding vintage in twenty years. The 1970s might have been first rate if wine making standards were higher in that bad period. The 1978s and 79s were good to very good but not exceptional. Parker told us that when he went back a second time to taste the 1982s before bottling they seemed even better. One of the most interesting things Parker said at the lunch was about his visit to Jean Delmas at Haut Brion: Delmas took out the documents for the 1959 vintage to show Parker that, analytically, the 1982s were all but identical to their famous predecessor. This confirmed what Parker had recognized in the wines. His courage in asserting this over and over proved decisive both in the sales campaign for the 1982s and his status as the most important wine reviewer in decades. The public, without having tasted a drop of the 1982s, decided to trust this lawyer-turned-wine-lover and bought the 1982s as futures hand over fist. When the wines starring arriving in the spring of 1985, groups formed to taste a few bottles. Almost everyone was thrilled to discover that the gentle giant from farm country outside of Baltimore was right: The 1982s were simply gorgeous wines. Questions as to their longevity may have arisen but not their inherent qualities. There is something of a bias among wine experts about young wines of significant status tasting so good when young: As if wines must grow from an awkward period of not tasting very appealing only to emerge after lengthy cellaring into adult beauties. How many times do such wines actually emerge from the ugly-duckling stage to the beautiful swan stage? Parker has said repeatedly that even inherently tannic wine—Bordeaux and Barolos for example—should show some sensuality and ripeness early on to be worth the investment. The idea that wine which tastes appealing when young can never become a great wine is a prejudice, not sound judgement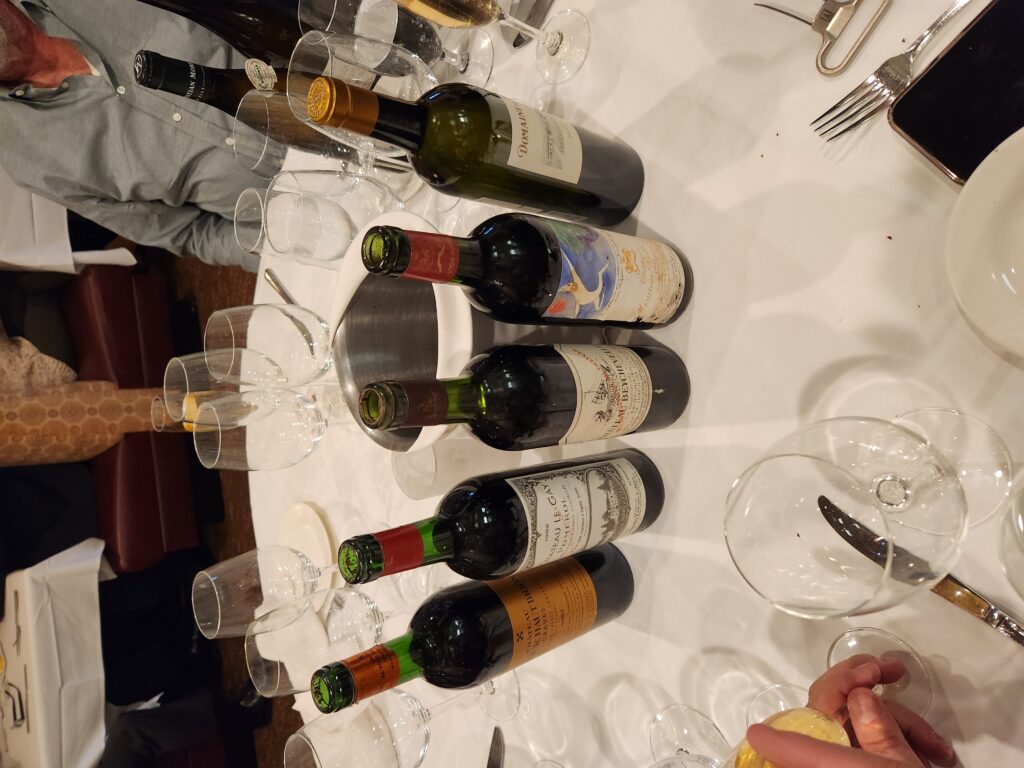 Back to the 1982s we tasted (all comments, tasting notes and scores are mine, save for the Mouto 1982 where I just used Parker's original commentary because I find it is still apt today):
Chateau Le Gay 1982                                                    
We started with one of the most rustic, old-fashioned wines made in Pomerol. It was run by the Robin sisters for sixty years until 2001. An unusual blend of 50% Merlot and 50% Cabernet Franc the wine was famous for its tannic backbone, deep dark fruit and irregularity from bottle to bottle. Looking over Parkers' reviews from the early 90s to his last in mid-2009, one cannot help notice his early doubts about the wine. But by 2009, the quality of this thorny wine had fully emerged. Rich, deeply colored, earthy and a little wild, the 1982 has defied time. Whatever peculiarities the wine exhibited when young have disappeared. I will call this a rustic masterpiece in which the ripeness of the vintage allowed the terroir to express itself in attractive clothing. I am sure that the 19082 will taste this way for at least another decade. I'd score it 94 points.
1982 Chateau Beychevelle St. Julien                             
This has been a Parker favorite from the time he first tasted it. Beychevelle is a bit of an oddity. It often hides behind its 4th growth status content to be very good but not better than that. From time to time the wine blossoms into a veritable beauty. Parker's rating and judgment of the wine increased over time. This is another wine which started out well and got even better. The bouquet is striking in its cassis and lead pencil prettiness. The beauty continues on the palate which starts sweet and lively. On the back end the wine is still mildly tannin bringing the wine back to its discreet, delicate nature. A little more generosity in the finish and the 1982 would have achieved 2nd growth quality. Still. A lovely wine and a pleasure to experience. Quite youthful for its 40 years! I'd score this between 94 and 95 points.
1982 La Tour Haut-Brion Pessac-Léognan
The second wine from La Mission Haut-Brion. In fact, from separate parts of the vineyard, it has been replaced by the wine named La Chapelle de la Mission Haut-Brion. This was the one wine which did not seem to merit Parker's consistent enthusiasm for both the 1982 in particular and earlier vintages in general. The only wine to show browning on its edge, it was the oldest, softest and least expressive of the five wines we tasted. Yes, the tobacco, earthy minerality and smoky aromatics were still showing. But on the palate this bottle was clearly in a declining stage of its life. At 40 years it is indeed bottle by bottle. Parker himself was disappointed by its showing. Should be consumed soon, and no more than 90 points for me.
1982 Chateau Mouton Rothschild Pauillac
Fabulous wine. By far the best of the afternoon. There has been some inconsistence in bottles of the 1982. Not this bottle. The gorgeous sweet, spicy sexy nose, so Mouton, bespoke the qualities both of the vineyard and the vintage. Luxuriously rich on the palate with stimulating fresh acidity and a friendly tannic background the wine tasted better with each sip. Parker has reviewed the wine many times. I am going to quote his last review published in 2009 as it says better than I can what this incredible wine expresses: "This wine remains one of the legends of Bordeaux. It has thrown off the backward, youthful style that existed during its first 25 years of life, and over the last 4-5 years has developed such secondary nuances as cedar and spice box. The creme de cassis, underlying floral note, full-bodied power, extraordinary purity, multilayered texture, and finish of over a minute are a showcase for what this Chateau accomplished in 1982." From the Wine Advocate Issue 183, this was 100 points!  I am sure that the 1982 will last two decades. But it smells and tastes so good now, why wait?
1982 Chateau Grand-Puy-Lacoste Pauillac                        
How could any wine follow the incomparable Mouton? Perhaps Cheval Blanc. If Parker had wanted to demonstrate the essential correctness of the classification system, he could not have chosen a better pairing. Grand Puy is one of the most classical wines made in Bordeaux. Always tannic, firm, tightly focused with a noble bouquet and uncompromising integrity it is a wine more to admire than love. No one would have guessed this testament to longevity to be forty years old. Lacking the generosity and explosive extroversion of the Mouton it could only suffer by comparison. Tasted earlier its virtues would have earned it a higher score: so I'd say 92 on this day. Will drink well indefinitely.