The late, great former Speaker of U.S. House of Representatives, Thomas P. "Tip" O'Neil, the very definition of a Boston Irish politician, succinctly observed, "All politics is local." That alone may explain why the Clos Saint-Jacques vineyard in Gevrey-Chambertin failed to be included among the grands crus when the classification was codified in the 1930s. Burgundian experts have explained how the major owners of Clos Saint-Jacques at the time, the Serre family and the Comte de Moucheron, were both from Meursault. As a result, the Gevrey-based growers were not about to acquiesce to "foreigners" wishing to be included among their grands crus. Equally plausible is that Clos Saint-Jacques' location on the Combe de Lavaux meant it was not contiguous with the line of Gevrey's eight grands crus.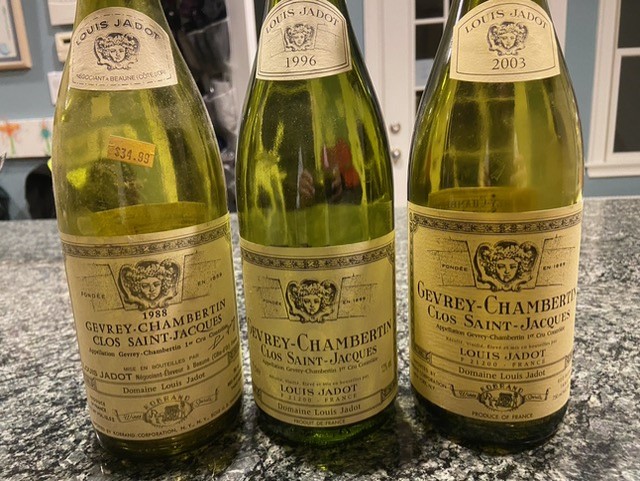 Writers have aways held the vineyard in high regard. In his classic nineteenth century work, Dr. Jules Lavalle ranked Clos Saint-Jacques just below Chambertin and Clos de Bèze. And indeed, even today, Clos Saint-Jacques is one of few premier cru vineyards Remington Norman includes in his book, Grand Cru: The Great Wines of Burgundy Through the Perspective of its Finest Vineyards (Sterling Epicure, 2011). As Clive Coates, M.W. opines in The Wines of Burgundy (University of California Press, 2008), "Meanwhile, the brilliance and poise of Clos Saint-Jacques, denied grand cru status, forever points a finger at the errors of the appellation controllée ratings." Coates goes on to argue that Clos Saint-Jacques "is clearly head and shoulders above all the other Gevrey premiers crus."
Certainly, the U.S. market agrees with Coates. Jadot's Clos Saint-Jacques commands at least a 50 percent premium over their very good Cazetiers, another premier cru that lies adjacent to Clos Saint-Jacques on the Combe de Lavaux.
The history of the Clos is itself both rich and fascinating. Clos Saint-Jacques likely received its name after a statue of Saint James found in a chapel at the entrance to the Clos. Like Vézelay further north, historians speculate that the Clos, once belonging to the Cluny Abbey, could have been a stopping point on the pilgrimage to Santiago de Compostela. Sitting at the same elevation as the upper part of Chambertin and Clos de Bèze, this 6.7 hectares (ha) vineyard is ideally situated on a steep slope facing south and east. The upper half of the slope with its white marl differs from the lower half whose soil contains more clay. Wind from the Combe helps make the site cooler, which accounts for the later ripening of the Pinot Noir planted there. Currently, there are only five owners, Domaine Armand Rousseau (2.22 ha), Domaine Sylvie Esmonin (1.6 ha), Domaine Louis Jadot (1.0 ha), Domaine Bruno Clair (1.0 ha), and Domaine Fourrier (0.89 ha).  Each owns a strip that encompasses both the lower and upper parts of the vineyard, which means that all of the wines are representative of all that this great site has to offer.
It's important to remember that although Maison Louis Jadot is a venerable Beaune-based négociant, they also own or control over 200 ha of vineyards, over half of which are premier or grand cru in the Côte d'Or. Jadot acquired their 1.0 ha slice of Clos Saint-Jacques when they purchased part of formerly family-owned and prized Domaine Clair-Daü in 1985.
I must credit Robert Millman for this tasting.  After reading his high praise in these pages (TerroirSense Wine Review, Sept. 5, 2022: Wines of the Week: Louis Jadot&Ramon Bilbao) for two other of Jadot's 2003s, I was intrigued to see how Jadot's 2003 Clos Saint-Jacques was evolving. After tasting it, science pushed me to compare it with two older vintages. The three wines below, the 1988, 1996, and 2003, were all purchased upon release—note the price tag on the 1988—and have been stored in my cellar.  I recently drank them with dinner over three consecutive nights.
Spoiler alert: All were glorious. There was, unsurprisingly, a family resemblance, but the differences among the vintages showed clearly. They have miles to go before they sleep.
Louis Jadot (Domaine Louis Jadot) 1988 Gevrey-Chambertin Clos Saint-Jacques                                                 96
At 34 years of age, the oldest of this trio is showing no signs of fatigue. Indeed, it was even more lively the following night. The hard tannins that characterized many wines of this vintage when young have melted away, leaving a suave texture that enhances its presence. Broad-shouldered, yet not a powerhouse, it is deceptive, delivering more impact than its weight suggests. Herbal and savory nuances complement dark fresh fruit nuances. An elegant wine, you hardly notice its power. The wine impresses with its complexity as it evolves in the glass, rather than its size. Drinking window: 2022-2030.
Maison Louis Jadot (Domaine Louis Jadot) 1996 Gevrey-Chambertin Clos Saint-Jacques                                98
Unbelievably fresh and full of energy—the vintage speaking—this wine makes a powerful argument for grand cru status. The acidity is in perfect harmony, giving life without a trace of harshness or sourness that plagued some of the other reds from this vintage. It amplifies the gorgeous array of dark fruit intertwined with savory, almost leathery, aspects. It's the epitome of what I consider the hallmark for Burgundy: flavor without weight. It explodes on the palate the way a ballerina glides through the air. Drinking window: 2022-2035.
Maison Louis Jadot (Domaine Louis Jadot) 2003 Gevrey-Chambertin Clos Saint-Jacques                                92
What a surprise, given the heat of the vintage, perhaps the first inkling of climate change in Burgundy. I remember liking this wine when I tasted it in Jadot's cellars, though I remarked at that time that it was atypical for Burgundy. Nineteen years later, I still like it and it remains atypical. The surprise is its liveliness and brightness. Where did the acidity come from? Its thicker texture and a hint of dried, rather than fresh, dark fruit reflects the vintage's heat. Though it may lack the energy of the 1988 and 1996, it is still not the least bit tired and conveys glorious savory and mineral nuances that balance it boldness. Drinking window: 2022-2030.