Stiller
In the LN Garden Hotel
368 Huanshi Dong Road
Guangzhou, China
Tel. +86 185 6523 8274
The dishes
Seared Hokkaido scallop, dashi-butter, porcini, bacon jam
Haamburger al Brot (Smoked eel, scrambled eggs, roasted sour dough)
Hackepeter (Beef tartare, marinated beef tongue, sauce remoualde, pickles)
New Zealand "Te Mana" lamb shoulder, grilled vegetables, artichoke mash, gremolata
Enten-Keule mit Rotkohl (Confit duck leg, fig-red cabbage, brezel knödel)
Sautéed mushrooms
Apfel strudel, vanilla ice cream
The wines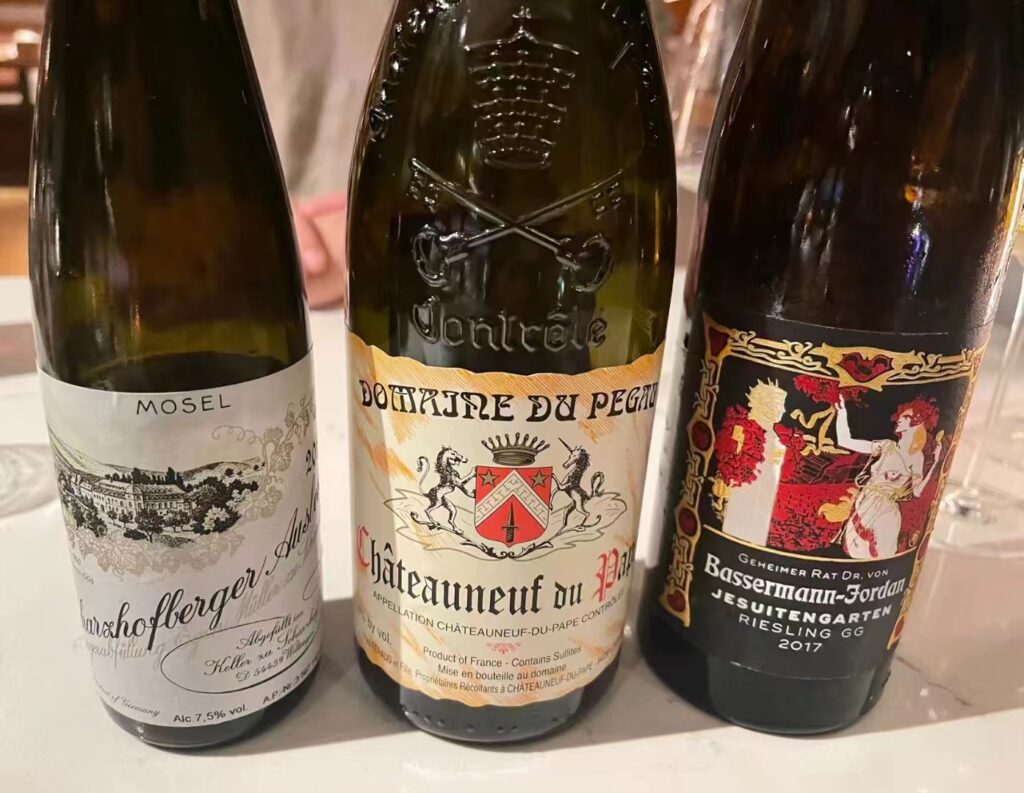 Bassermann-Jordan 2017 Riesling Jesuitengarten GG                    93
Domaine de Pegau 2015 Châteauneuf du Pape Rouge                   92
Egon Muller 2017 Riesling Scharzhofberger Auslese                     94+
Stefan Stiller is the much acclaimed chef of Taian Table, three Michelin stars in Shanghai (and reviewed here in the TerroirSense Wine Review on March 19, 2021; see Restaurant&Wine section) who has recently branched out with another Taian Table in Guangzhou and his eponymous bistro-style/social dining restaurant called Stiller. The two new openings have met with resounding success, with the former garnering two stars and the latter one very well deserved star from the red car tire guide. Really well-deserved: considering the atmosphere, the quality of the food and its prices, Stiller offers one of the best dining experiences in China. In fact, as blasphemous as it may sound, there are many local and non-local epicures who prefer it to the more famous Taian Table. But clearly, the two are non-comparable, as they intend, and do, offer very different dining experiences.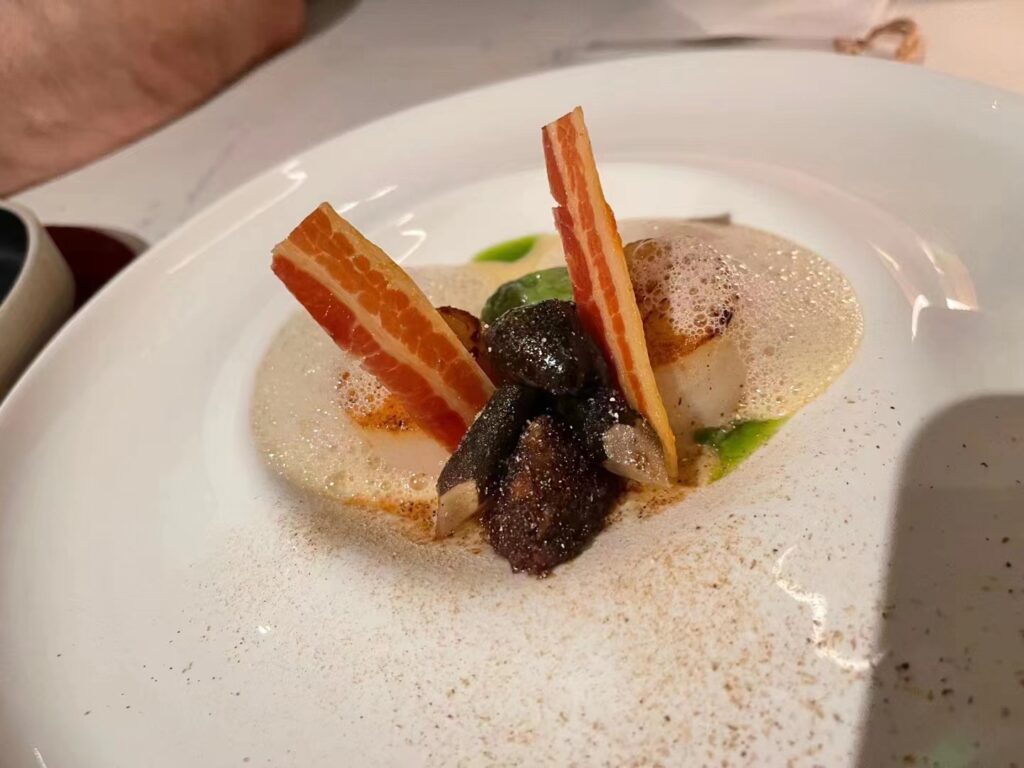 Stiller offers a series of contemporary western dishes with over 300 different wine labels and hand-crafted cocktail menu in colourful, laid-back ambience.  In effect, it's hard to find fault with anything at Stiller. The space is large and airy; the tables very well distanced apart; the noise and lighting level are perfect such that you can both hear what your dining partner/s are saying and see them too; the service is exceptional; the food remarkably tasty; the wine list excellent; and provided you don't get too carried away with the wine list choices, the bill come evening's end relatively gentle for what Taian Table costs or any dining experience similar to that offered by Stiller. Really, what more can you ask for?
Stefan Stiller is of course an ultra-talented and likeable chef who weaves his German heritage into a fusion cuisine with pan-Asian sensibilities. In fact, a section of the menu is entitled "German inspired" and is rufe with the likes of blutwurst maultaushen (black pudding ravioli and sauerkraut), knusprige schweins-haxe (crispy pork knuckle with sauerkraut and mustard), Haamburger al Brot (Smoked eel, scrambled eggs, roasted sour dough), hackepeter (Beef tartare, marinated beef tongue, sauce remoualde, pickles) and enten-keule mit rotkohl (Confit duck leg, fig-red cabbage, brezel knödel). The menu however also offers many non-germanic dishes, including a standout New Zeland "Te Mana" lamb shoulder, slow-cooked Wagyu baby short ribs, gazpacho Andaluz, oysters, foie gras terrine, tuna tataki, and spinach gnocchi. On my night I opted for mostly Germanic-inspired fare, and I have to say it was truly excellent:  the smoked eel dish showed perfect balance, with the sweetness of the eggs nicely offsetting the pungent saltiness of the eel, with the two, plus the bread, providing an interesting combination of textural contrasts. Similarly, the juxtaposition of flavourful duck leg with a sweet and sour red cabbage and fig accompaniment was spot on and made it so the dish was light and lively at every bite, and never tiring on the palate.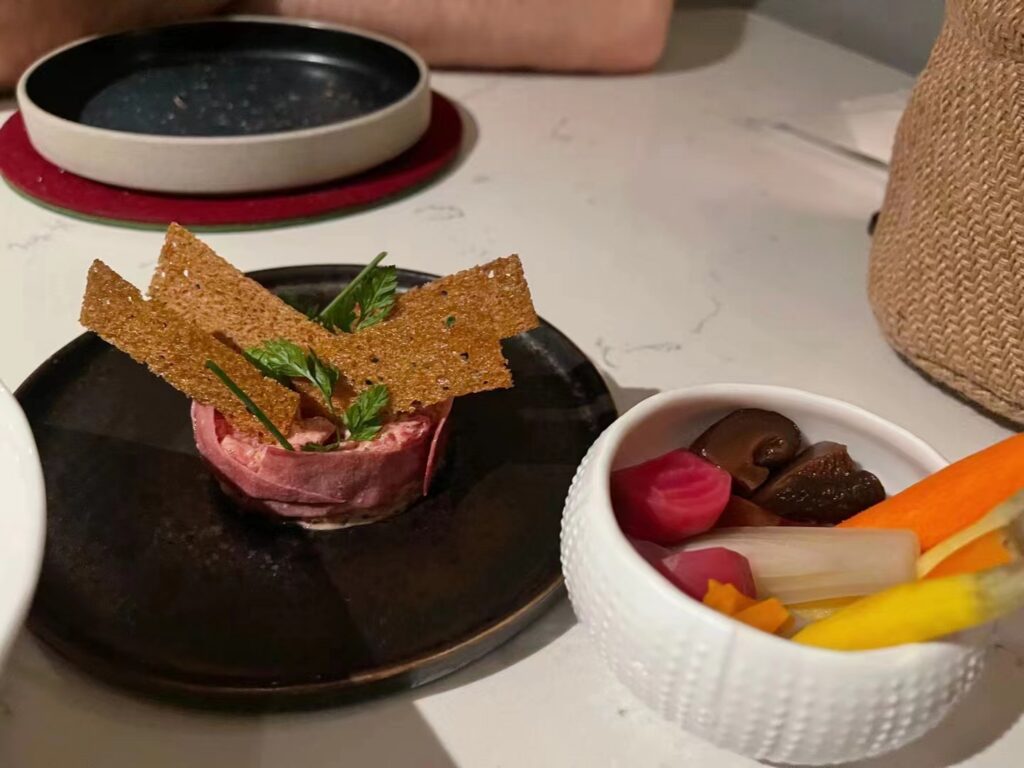 I think Stefan Stiller's cuisine hits nothing but home runs in this restaurant, and given the man's pedigree it could hardly be otherwise. Over the many years he has honed his craft, he has apprenticed and worked at some of Germany's best multiple-starred dining institutions, including at Goldener Pflug in Koln (3 stars), Schweizer Stuben in Wertheim Bettingen (2 stars), the Deidesheimer Hof as well as the Gasthaus zur Kanne in Deidesheim (both 1 star establishments) before moving to China and working and manning many different establishments in the country (as well as acting as president of the Bocuse d'Or for China and the Asia Pacific zone).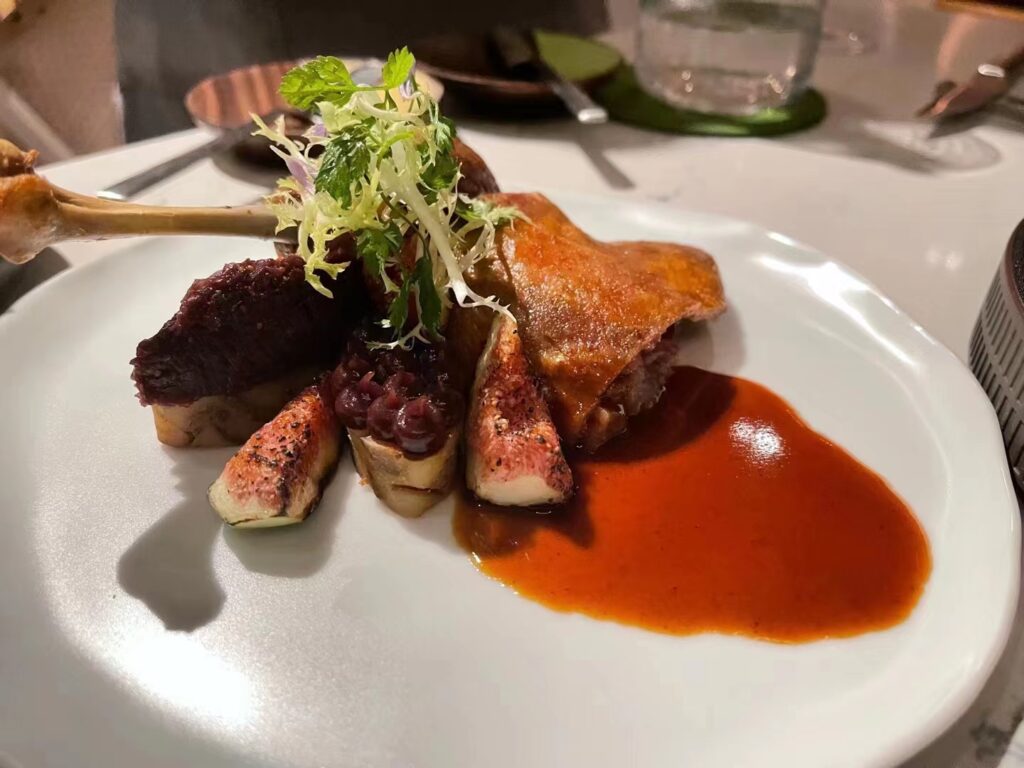 But he is not the only one with an impressive resumè in his restaurant galaxy. Undoubtedly, one of Stiller the restaurant's strong suits is the service where the very likeable and ultra-competent Jose Muiños Tabares de Nava runs things smoothly as silk: his title is that of Restaurants Operations Manager since August 2022 of both Guangzhou dining spots, but what that really means is that he is maître/wine director/restaurant manager all rolled into one. Previously at the Taian Table in Shanghai, he accepted the offer of a new post and so moved to Guangzhou: having known and greatly appreciated him during his time at Shanghai's Taian Table, I was glad to hear he had been promoted in Guangzhou, as I knew the new restaurants could not have fallen into any better hands. Muiños trained at the Peninsula in Chicago and then at the Peninsula in Shanghai, where he became the Senior Assistant Manager/Bar Opertions before moving to Taian Table in 2020 as its Restaurant Manager. His sunny smile and gentle disposition makes him an ideal fit for this job where being good around people and understanding the needs of his clientele are a vital necessity. You will hardly ever be taken care of better in any restaurant you might dine in.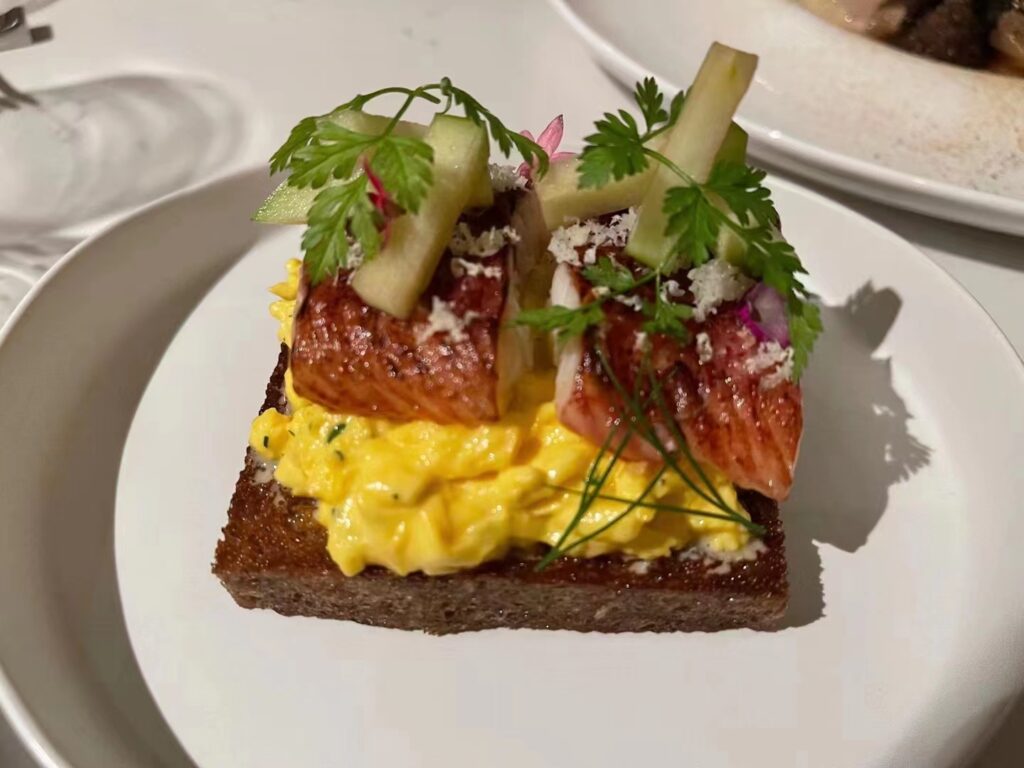 The wine list, not just the food and the service, are spectacular at Stiller's. For sure, nobody runs the risk of going thirsty. On this night, I kicked things off in grand fashion, the marvelous Bassermann-Jordan 2017 Riesling Jesuitengarten GG being everything one expects from what is not so arguably one of Germany' five greatest vineyards (in my humble opinion, the Forst's Kirchenstück, Bernkastel's Doktor and the Scharzhofberger being three of the remaining four: I will let you decide what the fifth one might be). The 2017 is rich and layered but vibrant and still painfully young, only hinting at its wealth of gingery orchard fruit and basalt-accented minerality. Always a classic, the Domaine de Pegau 2015 Châteauneuf du Pape Rouge is about as sure a bet in wine as there is: and not just the 2015, but just about any vintage of this cuvée. Rich and ripe but lively, with a multifaceted set of aromas and flavours of red cherry, plum aromatic spices, coffee and vanilla, it offers a wonderfully luscious and velvety mouthfeel that makes it truly hard not to finish the bottle in an embarrassingly fast time. To close a marvellous dinner off, a marvellous wine such as are all those by Egon Muller, one of the world's two or three most famous white winemakers. Over the years I have had a bevy of amazing wines from this estate, and it was no different this time around. The Egon Muller 2017 Riesling Scharzhofberger Auslese is a marvel of purity, nicely chiseled and seamless in ist deployment of pit fruit and white flowers with gentle honeyed nuances. That much said, this is a real Auslese, and not a declassified BA or TBA as some of Muller's Auslesen have been in the past (for example, the 2005), so those who appreciate a lighter, more penetrating and less rich/sweet style will adore this. Myself, I can't help but say I prefer the richer versions, but it's not as if I came away disappointed. For sure, this little jewel gains considerable depth and weight with aeration, so my advice is to decant it a couple of hours before you drink. It's also very young, so any cellaring will only help it improve (hence the + sign on my score, as I believe this wine will improve greatly with another eight to ten years or so of cellaring).
In ultimate analysis, it was still a perfect close to a perfect evening.