Suzie
464 Jianguo Xi Lu, near Yueyang Lu 
Tel: 54489799, 18964036698
Shanghai, China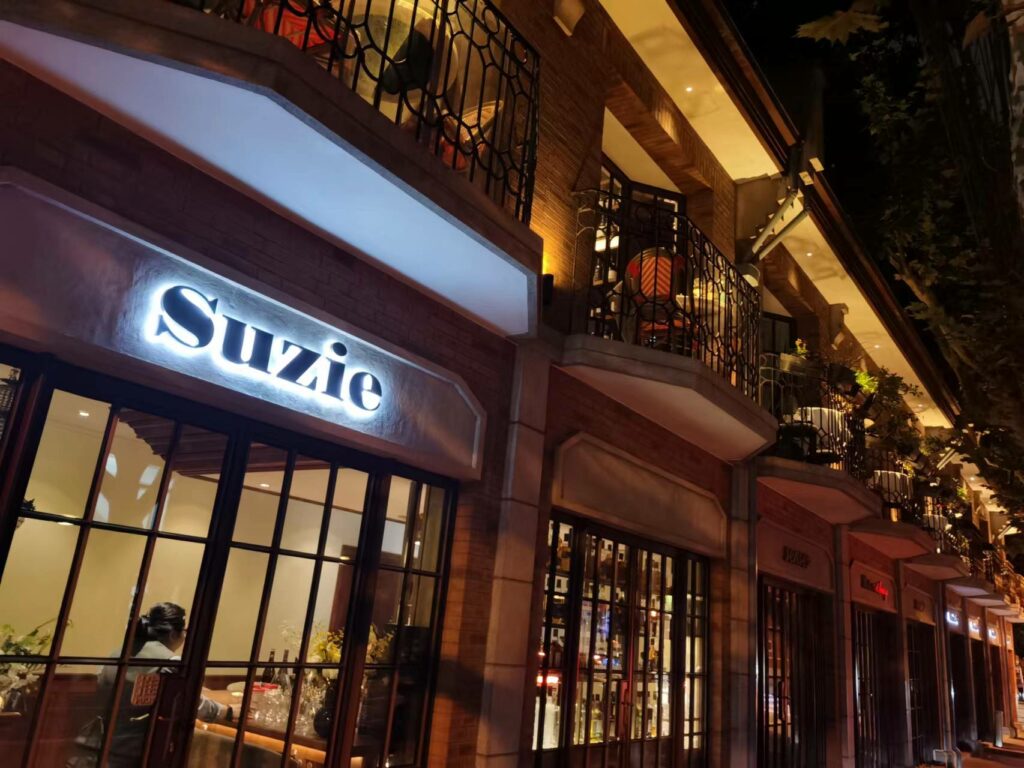 The food
Venison Tartare Nordic (pickled cucumber/kohlrabi/smoked mayo/spicy herb dressing/lichen)
BBQ scallops (smoked charred cabbage/spicy BBQ sauce/sour orange)
Pigeon and foie gras Wellington (cep/black truffle sauce)
Chocolate soufflé 'Intense flavour'
The wines
Billecart-Salmon NV Champagne Brut Sous Bois                     92
Domaine de Villaine 2016 Bouzeron                                          94
Frédéric Esmonin 2016 Ruchottes-Chambertin Grand Cru                    94+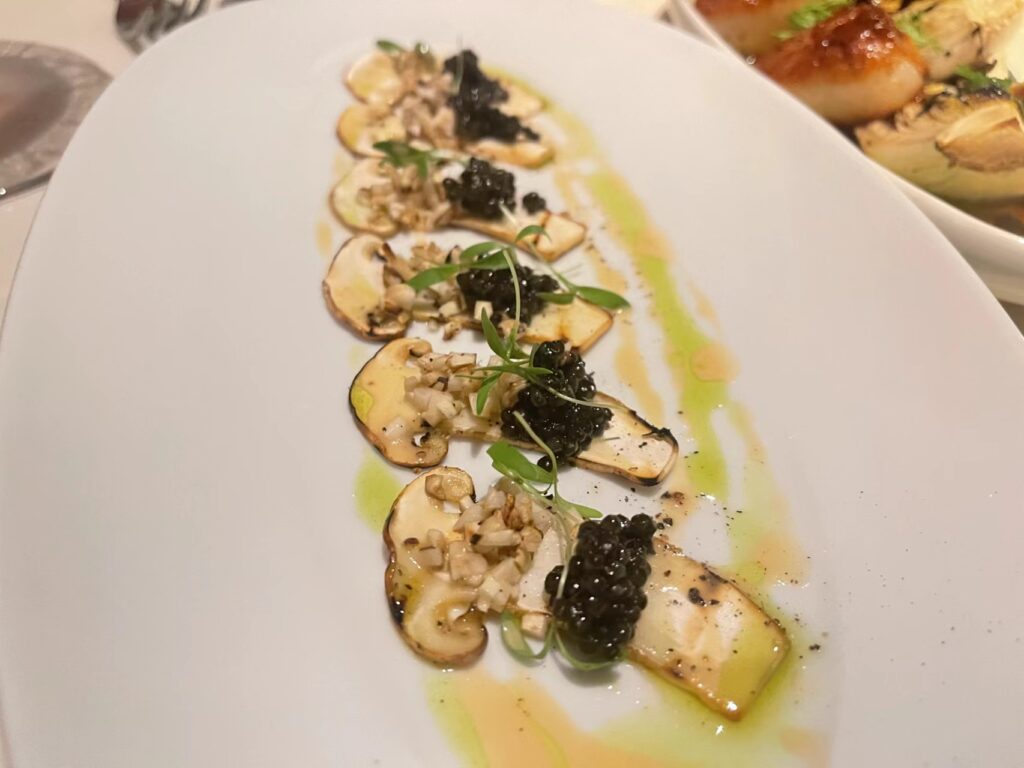 When it comes to Shanghai you can be pretty sure that any new dining destination that well-known local restaurateur and big-time wine lover Li Ze is behind of will be amongst the best in its category. It is no different with Suzie, his latest enogastronomic venture. Already at the helm of Ottimo, the Warehouse and SOiF, with Suzie he breaks new ground for his group while at the same time strengthening the already large number of excellent to outstanding French-styled bistros in the city.
Practically adjacent to the chic Capella complex, Suzie is housed on two floors of a renovated shikumen [or "stone warehouse gate", because of its stone door frame; a shikumen, sometimes translated in English as a "lane house", is one type of lilong residence that is widely regarded as Shanghai's most typical architectural cityscape constructions (just as the hutongs and siheyuans are typical of Beijing) that up until the 1950s actually constituted up to 60% of all the Shanghai dwellings and that provided a home  for 60% of the local population]. Apparently named a after a fictitious maître d', Suzie is extremely pretty on the outside, memorably so even, admittedly imbued with a charming Old World feel. Inside, its relatively dim lighting, wood paneling, chandeliers and Georg Jensen vases further contribute to its compelling Euro French bistro atmosphere; and if that doesn't do it for you, then a read of the menu and the wine list certainly will. The only caveat is that for all the buzz words of "romantic", "date night" and "lux" thrown about in association with Suzie by many a Shanghai restaurant reviewer, you risk being disappointed. Beware that the place is not such a romantic hideaway at all: the first floor is mostly ideal for the cocktail and bar loving set, but its dining area lacks charm and is not particularly inviting; furthermore, like the upstairs area, it is too snug. Patrons are seated quite close to one another, and besides uncomfortable in these Covid-plagued times, that also hardly makes for a place you can whisper sweet nothings to your loved one in because some guy you've never seen before is listening just a few feet away. Hardly a "romantic" feel in my books, quite honestly. Fortunately, Suzie boasts a few single tables on small balconies overlooking the quiet street that are perfect for two people. And yes, those are very romantic. Therefore, make sure that if you are planning a date night at Suzie you ask for one of those balcony tables, because otherwise I doubt your companion will come away as impressed as you might have hoped. Then again, if all you want to have is a solid bistro meal while having a good time with friends, then any table at Suzie will prove just fine: my warning applies only if you have romance on your mind. This small distinguo relative to the "romance factor" aside, I am sure your time at Suzie will be a happy one. The restaurant's wine list is exceptional and the wine knowledge of the wait staff is much above the city average; the food is expertly cooked and the ingredients first-rate; and the service is nothing short of phenomenal, indeed one of the best restaurant service environments you'll find in any Shanghai restaurant. Chapeau, Suzie!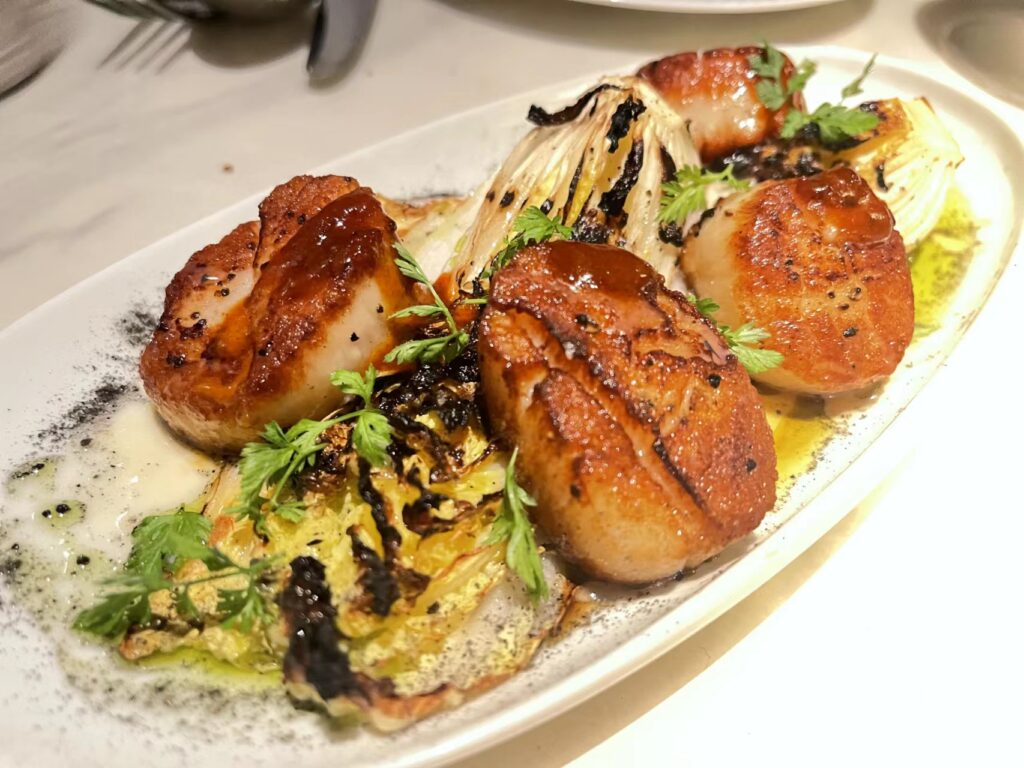 The kitchen is manned by Freddy Raoult, the co-founder and full-time chef, where he has conjured up an inviting menu loaded with very well-rendered traditional French fare, lifted by a nordic twist. All the typical French bistro and restaurant staples are present and accounted for: oysters, caviar, mushrooms, truffles, foie gras and scallops. Happily, they are prepared and presented with elegant simplicity. This allows each of the ingredients to sing their tune, as they are not smothered by a heavy use of seasonings or too many other ingredients with which they might be otherwise forced to share the limelight with.
Raoult is well-known to the Shanghai dining crowd; after all, he has encountered noteworthy success in this large cosmopolitan city after living and working abroad for many years. A native of France, he studied at the Lycée Professionel François Bise in Bonneville where he obtained his Advanced certificate in Culinary Education. He followed this up by training in prestigious venues such as the Hotel-Restaurant La Reserve (Anency), La Vendée (Geneva), Roland Debuyst (Bruxelles), Shozan and Elysées Vernet (both in Paris). He began developing and honing a love for Nordic cuisine while working in Helsinki, Finland where he was acting first as sous-chef and later as chef de cuisine at Palacen Ranta and Sipuli respectively. Then, from 2004-2010, he was owner and Executive Chef of La Place, also in Helsinki. He later moved to Shanghai where he was Executive Chef at Café de l'Avenue and then the Executive Chef of the ultra-popular and excellent  group of Nordic-influenced (clearly, no surprise there) restaurant/gastro-lounges called The Nest, The Cannery, Perch and Rye & Co.
If the food at Suzie does not disappoint, it's the wine list that downright thrills. Yonex Zhang (Zhang Xinyang), Suzie co-founder and also its Wine Director (actually, of the whole VOS group's restaurants including Ottimo and the Warehouse), has done an amazing job sourcing the best from Burgundy (especially), but also has numerous other great wines from Champagne and Italy, plus a smattering of notables from other countries. One of Shanghai's up and coming top somms everybody has nice things to say about, Yonex was previously at Jean-Georges and Mercato (the latter another of the fine dining restaurants of the Vongerichten galaxy). Clearly, he has been well trained. For Suzie he has curated a prestigious 600-plus portfolio of fine wines with man hard to get names available. Like at all the group's restaurants, you just get up before your meal starts, walk over to the walk-in wine cellar and choose the bottle or bottles you want to dine with by picking them off the shelves from where they are staring at you. And here too, I must say I am in slight disagreement with my Shanghai restaurant reviewer writing colleagues: unlike they, I do not believe the price tags on the bottles to be high or pricey. Quite the contrary: in fact, I think that given some of the exceptionally hard to find names they have for you to drink, and the high quality of some of the artisanal names they have wines of, I think prices are more than fair. And not especially costly.
My most recent dinner at Suzie glided along smoothly from start to finish. I reiterate that service is exceptional, and one of the highlights of the restaurant. The number of the waitstaff per patron must be one of the higher ones in Shanghai and that much becomes obvious as the evening wears on. Your glasses never go empty, the food arrives to the table at a good clip, any question you might have is answered almost immediately, and you are never left too long on your own, but without the presence of the waitstaff becoming overbearing or heavy.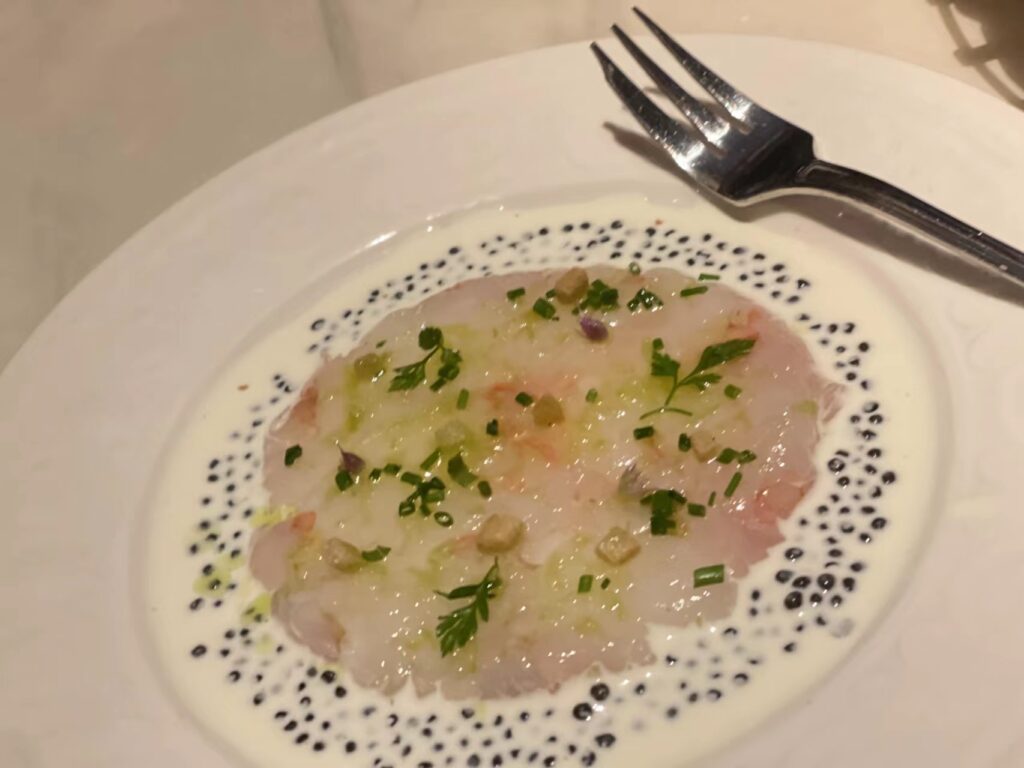 On this specific night, the venison tartare nordic was loaded with dark red lean chunks of soft meat (venison from New Zealand) mixed with pickled cucumber and kohlrabi. These add crunch along with the crispy spiced lichen, a welcome touch. As is always the case when other condiments are blended in with the raw meat, the flavour of the deer goes somewhat lost in the ensemble, but Suzie's version remains nicely gamey. The dish is excellent and one that I will definitely be ordering again.
The BBQ scallops are delicious, and for someone like me who spent a good deal of his life in Canada and the USA they are also a harbinger of home, what with the sweet and smoky barbecue sauce, lifted by nuances of sour orange and herbs nicely complementing the sweet beautifully seared juicy white seafood meat. A special on my night there was a simple dish of thinly sliced Yunnan mushrooms enlivened with herbs that was not just tasty but served as a perfect foil for the dish to follow, the ultra-rich and luxurious pigeon and foie gras Wellington, where foie gras and pigeon meat are encased in a flaky puff pastry. Very flavorful and expertly cooked, it's not the sort of dish your cardiologist will be happy to hear you ate, but Suzie's version is neither too large nor too oily, and so when all is said and done, not especially heavy either. By the time it's time for dessert you might find yourself not being that hungry anymore, but it would be a shame to pass on Suzie's outstanding chocolate soufflé 'intense flavour' worth every calorie. It's deep, rich, and sweet to the right degree: exactly what you go looking for in a soufflé, and the ice cream it comes with is also tops in the flavour department.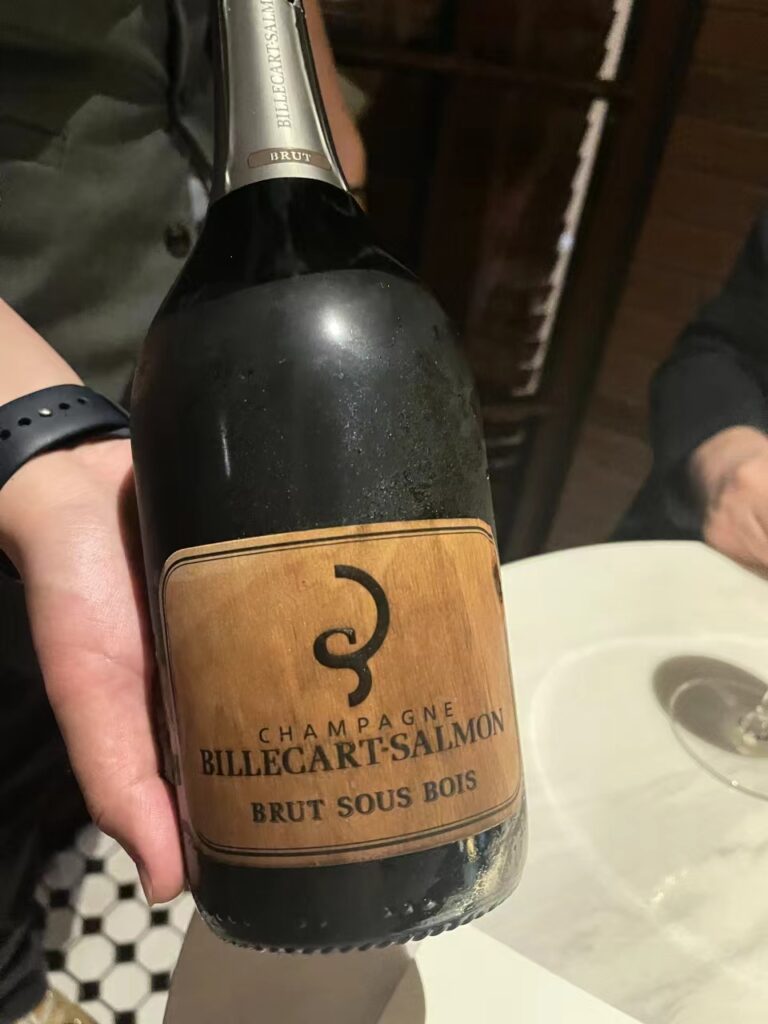 My evening at Suzie was an even bigger success because of the wine. The Billecart-Salmon NV Champagne Brut Sous Bois is always a lovely way to start any meal: entirely vinified in oak, it is neither heavy nor too oaky, its balance being a trump card it plays effortlessly and solidly. A blend of Champagne's classic three wine grapes, it exudes aromas and flavours of candied ginger, brioche, white flowers, red berries and toffee, but while undoubtedly nicely textured, it is fresh and lively. A very nice aperitif that stimulates hunger.  The Domaine de Villaine 2016 Bouzeron is utterly beguiling. Vibrant straw-yellow in colour, it is marvellously vibrant on the nose and in the mouth, with very pure and deep aromas and flavours of jasmine, lemon verbena and fresh citrus fruits, complicated by hazelnuts and mint. Also very mineral, it has a luscious mouthfeel but is nicely framed by harmonious acidity that really extends the flavours on the long vibrant juicy back end. A spectacular Bouzeron that has years of life ahead and is actually a much better bottle than one I had recently written up for the TerroirSense Wine Review in my article devoted to Bouzeron and its wines (see Terroir Academy section, December 23, 2021: Understanding Bouzeron, Its Terroir, And the Great Wines of Domaine de Villaine). The Bouzeron may have been a hard act to follow, but next up was the Frédéric Esmonin 2016 Ruchottes-Chambertin Grand Cru and it is just a beautiful wine. It is made even more special by the fact it is very faithful to the Appellation. In other words, if you were to taste it blind, and someone told you it was a wine from  one of Chambertin's grand crus, there is no way you could mistake it for anything but a Ruchottes: it's that typical. Very cool and somewhat still youthfully closed in its delivery of pure, mineral, balsamic-nuanced red cherry and berry aromas and flavours, the wine is complicated by nuances of truffle, iron shavings, candied violet and sweet spices. Very persistent and austere on the finish, it will greatly benefit form ten years in a good cellar, as it needs to shed its oaky veneer. But make no mistake about it, this is a gorgeous, classic wine.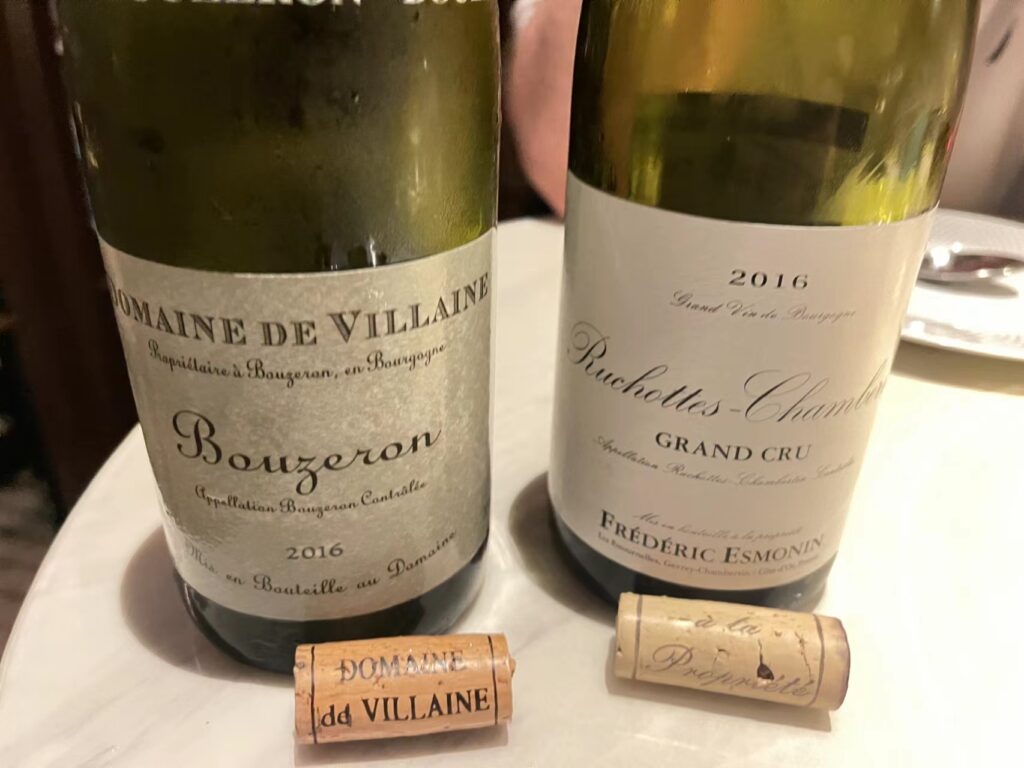 Come to think of it, gorgeous and classic are the words that also apply to our evening at Suzie. I look forward to going back soon.