About thirty years ago or so one of my finest wine mentors ever was speaking about well-known Bordeaux wines and trying to explain to me and put into perspective just how famous they were. He said "…You see Ian, some wines are famous. Other wines are very famous. And there are wines that are very, very famous. Some wines are even very, very, very famous". Then he paused, and asked me how famous I thought the likes of Petrus and Château Cheval Blanc were. My mother not having raised any fools, I had understood by then how his line of reasoning went, and so I confidently answered: "Easy: Petrus and Château Cheval Blanc are very, very, very, very famous". He looked at me with fake bewilderment and promptly said, smiling: "No Ian, not at all: Petrus and Château Cheval Blanc are damn famous!!!"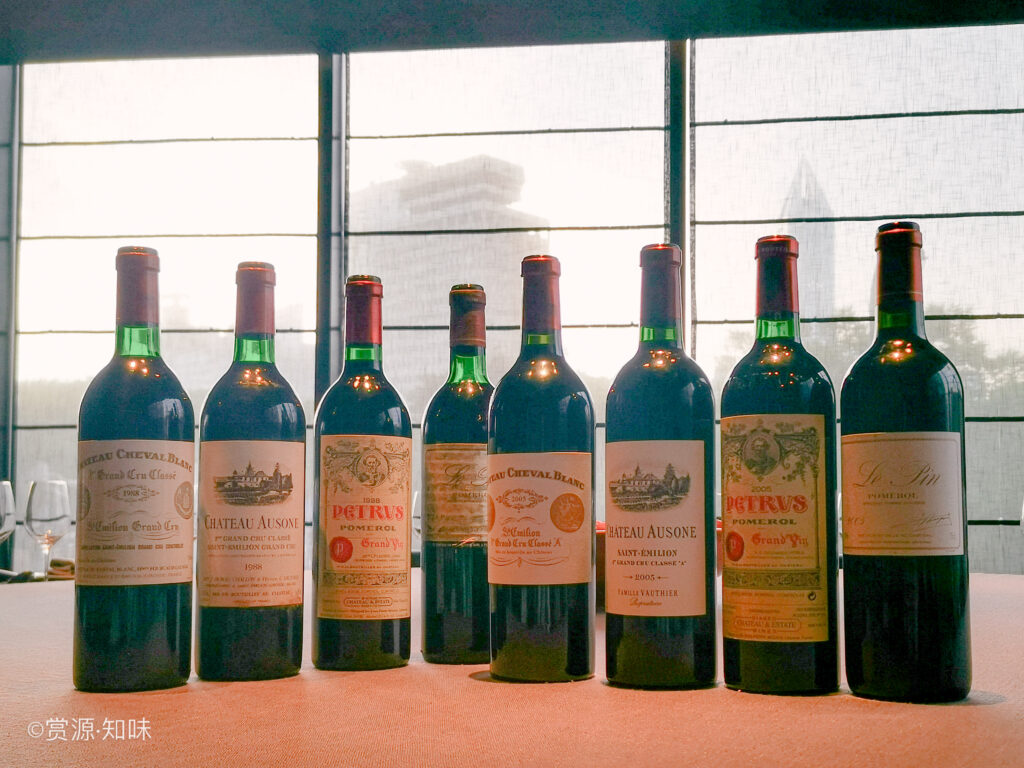 Clearly, we could have included Château Ausone and Le Pin in that funny little repartee and nothing would have changed: for there is no doubt whatsoever that Petrus, Le Pin, Château Ausone and Château Cheval Blanc are four of the world's most famous wines, light years ahead in terms of fame, quality, prestige and cost of almost every other wine made anywhere. The four represent two different realities of Bordeaux's right bank: Petrus and Le Pin showcase the virtues of Pomerol, while Château Ausone and Château Cheval Blanc are the flagbearers for Saint-Emilion. Even better, each represents very different terroirs of those two Appellations. Petrus speaks of clay (and blue clay at that), Le Pin of mostly sand and gravel; Cheval Blanc of gravel, clay and a little limestone (indeed, its soil has more in common with Pomerol than it does with most of Saint-Emilion) and Ausone of limestone mostly. The high quality of each property's physical aspects of terroir, combined with the uniquely talented viticultural and talented teams working at each estate (the human component of terroir) lead to truly exceptional, memorable wines in most if not all vintages.
Just this past month I sat through my second tasting of the grand vins of these four estates from the 1988 and 2005 vintages. The two flights of wines tasted approximately three weeks apart in completely different but ideal tasting conditions gave essentially the same results and left me with the same unforgettable memories: save for the 1988 Petrus of the second tasting, which was slightly marred by cork taint, the wines were simply spectacular. And in the case of the 2005s, rather amazingly, also nowhere near their optimal drinking stage. Believe me, while we all know that Bordeaux wines can age seemingly forever, it's when you sit down with properly stored, authentic wines from a vintage like 2005 (or 1986 and 2010, or 1998 on the right bank) that you realize the truly incredible, head-shaking longevity that these wines have. The 2005 Petrus, for example, is at least twenty years away from being anywhere near being ready to drink. Really, I'm not kidding: twenty years. And remember the thing is already seventeen years old. Not that it cannot be drunk now: but just a few sips and even novices will immediately realize the wine has so much more to say than it is telling presently.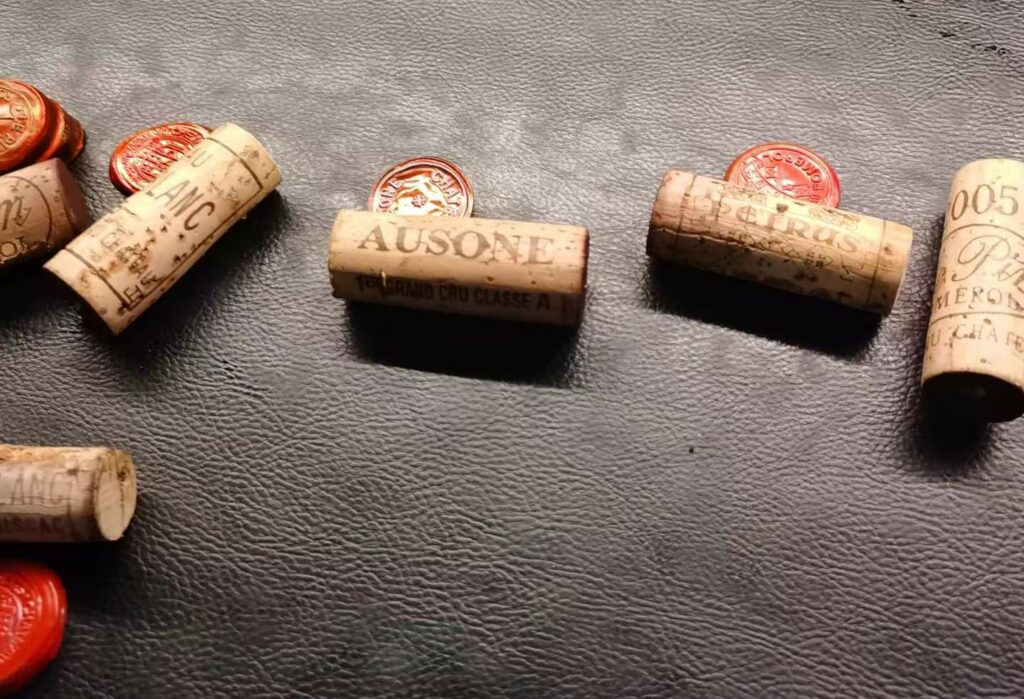 The grape varieties: but of course…
Undoubtedly, there is a right bank-somewhereness, because the wines of Pomerol and Saint-Emilion are like nothing made anywhere else in the world, and are recognizably Bordeaux wines most of the time. Clearly, we have all, at one time or another, mistaken an old Napa Valley wine for an old Bordeaux but for the most part, with a little knowledge and experience, it is hard to confuse Bordeaux's best with any other Cab-Merlot wines (and it's much harder to be fooled by the wines made after the 1980s). But the fact is that there is no single broad "right bank terroir" to speak of: for example, the geology of Château Cheval Blanc and Château Ausone could not be any more different, and what really sets their wines apart from all the other right and left bank wines of Bordeaux is not so much their soil but their hefty presence (50% or more in most vintages) of Cabernet Franc. A Cabernet Franc of a quality that is unlike that of any other wine producing region in the world (with the exception, perhaps, of Bolgheri and the Tuscan Coast). At the same time, the Bordeaux's right bank blessed existence is fully evident when you stop to consider its Merlot wines, which are also quite unlike anything else made in the world (and with respect to Merlot wines, there is nobody else even close to their level of quality). The right bank is unique in that while good, even great Cabernet Sauvignon wines are found in almost every other major wine producing area of the world, truly exceptional, benchmark world-class Merlot and Cabernet Franc wines are legion only in Pomerol and Saint-Emilion.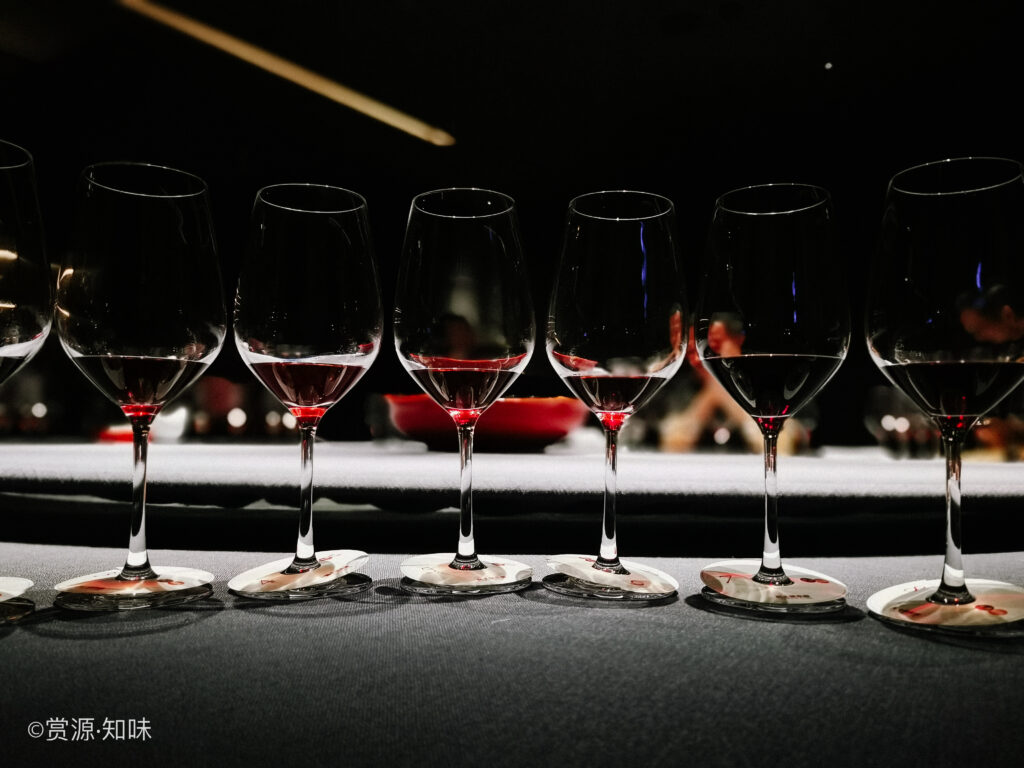 The right bank's Merlot wines are uniquely supple yet powerful, perfumed and elegant, and in spite of all their plump fruit and youthful showiness and easy accessibility, age spectacularly well. Monovariety Cabernet Franc wines are rare, but there are many in which it comprises 50% or more in the blend (in tandem with Merlot), and perhaps because of climate change, beginning to increase in number. The best are wines of a perfume, depth and complexity without peer. And while one can generally summarize that Pomerol is about clay and Saint-Emilion is about limestone, nothing could really be further for the truth, as each of each of these Appellations are characterized by a large diversity of soils and subsoils, leading to a highly different wines made at even neighbouring chateaux.
The 1988 and 2005 vintages on Bordeaux's right bank
The 1988 and 2005 vintages were remarkably different but each is a great Bordeaux vintage in its own right. Admittedly, 1988 is the less famous of the two: it is by far best for Sauternes and Barsac, two Appellations that made some of their best wines of the last sixty years. And while Bordeaux's red wines had a generally much tougher time, it has always been my firm opinion that 1988 always deserved better than it got. It followed on the heels of the difficult and initially over-hyped 1987 vintage, marred mostly by (but not just) too much rain at harvest time. In fact, the 1988 Bordeaux vintage continued where 1987 left off, with rain being very much part of the equation in the first five months of 1988 too. No doubt, it was a vintage characterized by a wet spring (in fact, figures show above-average rainfall right through to June 1988). Disease pressure was very high right from the beginning, with spraying left and right a necessity at most estates. Flowering was delayed and rather uneven, meaning that grape ripeness was also rather uneven at harvest, making sorting ability and decisions all-important. The summer months were not especially warm and September saw still more rain hit the vines. This led to many estates pulling the trigger early on picking their grapes, fearing diluted wines and rot-related issues. Clearly, Cabernet Sauvignon being a late-ripening variety, this meant that the left bank was at a considerable disadvantage in 1988, and grapes were picked not fully ripe at many left bank Bordeaux properties (chaptalization was common that year). What saved the vintage was the October weather, with rather warm and dry conditions (a real Indian Summer) with the best grapes characterized by relatively thick skins. However, because of the uneven flowering grapes, both within vineyards and across vineyards, varying grape ripeness levels were commonplace and only those estates that ensured careful and draconian reduction in their grape selection made stellar wines.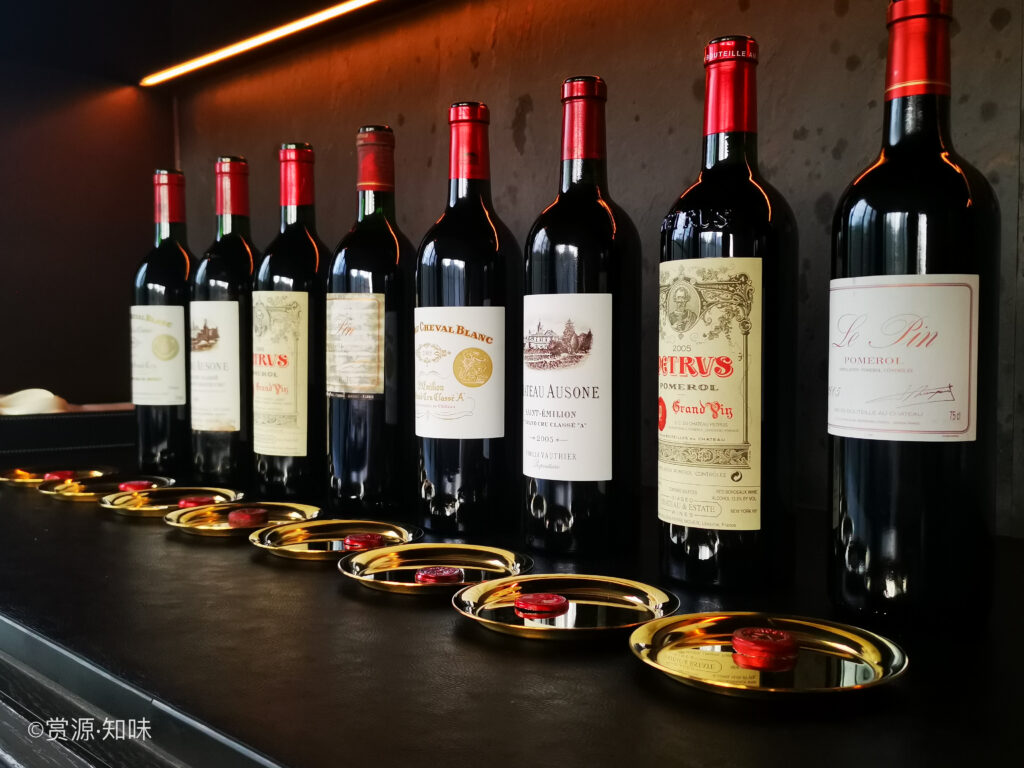 Because the fact is that in 1988 some Bordeaux properties did make stellar wines, and nowhere was this more true than in Pomerol. Of Bordeaux's major red wine grapes, it was the early ripening Merlot that managed to ripen best in 1988, with Cabernet Franc faring next best. It is this difference that explains, at least in part, why the 1988 Pomerol wines were generally slightly better than those of Saint-Emilion. However, like all the vintages that decade, and especially the excellent, generally sun-blessed trifecta of 1988, 1989 and 1990, yields were too high: indeed, 1988 recorded the highest yields of the decade up until that point in time, only to be surpassed by 1989 the following year. But more than dilution, all of the 1988 wines reflect a certain austerity: it is only the most successful wines that also have noteworthy amounts of flesh and sweet fruit. Clearly, the outstanding 1988 wines made by Petrus, Le Pin, Château Ausone and Château Cheval Blanc furnish clearcut evidence of just how great the wines of 1988 could have been. And just because others were unable to achieve similar results does not mean the vintage wasn't or could not have been an excellent one. Frankly speaking, 1988 in Bordeaux is one of those vintages that says a great deal more about the individual property than it does about the wines.
By contrast, the 2005 Bordeaux vintage is the stuff of legends. Quality was simply fantastic across the board on both the left and right bank; the wines of Sauternes and Barsac, though in a very rich, ample style, are excellent too, if not quite at the heights of other sweet wine vintages of that decade. No such worries with the 2005 reds, a vintage in which many Bordeaux properties made the greatest wines of their history, something that for many still holds true to this day. This does not mean that the vintage was a runaway success for all of Bordeaux's estates: though it should have been thanks to generally benevolent weather, winemaking styles and the prevailing sorry fashions of the time were causing far too many producers to make overly-extracted wines of no charm and drinking enjoyment whatsoever (the many garagistes of the right bank, for example), something that is apparent to everyone nowadays. But those who maintained an even keel to their viticultural and winemaking approaches in 2005 undoubtedly made some of their greatest wines ever.
From start to finish, the weather conditions of 2005 were near-perfect. The growing season will be remembered for its exceptionally dry weather, so much so that drought posed real problems in many Bordeaux Appellations, but the right bank benefited from rainfall on August 17 (with more falling on September 8 and on September 25)  helping greatly in bringing liquid refreshment and avoiding water stress in the best terroirs. Flowering took place at the beginning of June in very fine weather and the warm days of summer and autumn ensured excellent grape maturity levels. One of the defining characteristics of the 2005 wines is their tannic clout: because of the thick skins and small size of the grapes, particularly of the left bank's Cabernet Sauvignon, 2005 recorded some of the highest ever tannin levels in Bordeaux wines. But almost uniformly across Bordeaux, these tannins were fully ripe, so that the 2005 red Bordeaux are not just powerful but silky. Furthermore, the cool summer and autumn nights ensured that the total acidity levels in the grapes remained high, making for wines boasting an uncanny and fairly unique combination of balance, concentration, power, silkiness, sweet fruit and freshness. For a while, there was some concern that the 2005 wines were perhaps too tannic for the amount of fruit they possessed, and that the fruit might not outlive the tannins. This would have made for skeletal wines somewhat reminiscent of the 1975s, that never quite came around. However, this fear has proven unfounded: all the best 2005 wines are drinking gloriously right now. Those that are not, or have not aged well, are almost all from those overhyped properties with no real terroir to speak of and that were engaging in formulaic winemaking (excessively late-picked grapes; too much Merlot, and usually overripe Merlot at that; over extraction; 100% new oak to a fault) completely irrespective of what their terroir could really give; high scores and bombastic praise notwithstanding, it was almost always a case of the emperor's new clothes. In ultimate analysis, I believe that 2005 was best in Pomerol and Pessac-Léognan, followed closely by Saint-Emilion, though admittedly some other experts place Saint-Emilion in the top spot. The best 2005 Bordeaux reds are simply stunning wines and that will age extremely well though there is absolutely nothing "simple" about them: indeed, you can count the vintages in which the wines of Bordeaux were so uniformly great on the fingers of two hands, with fingers to spare.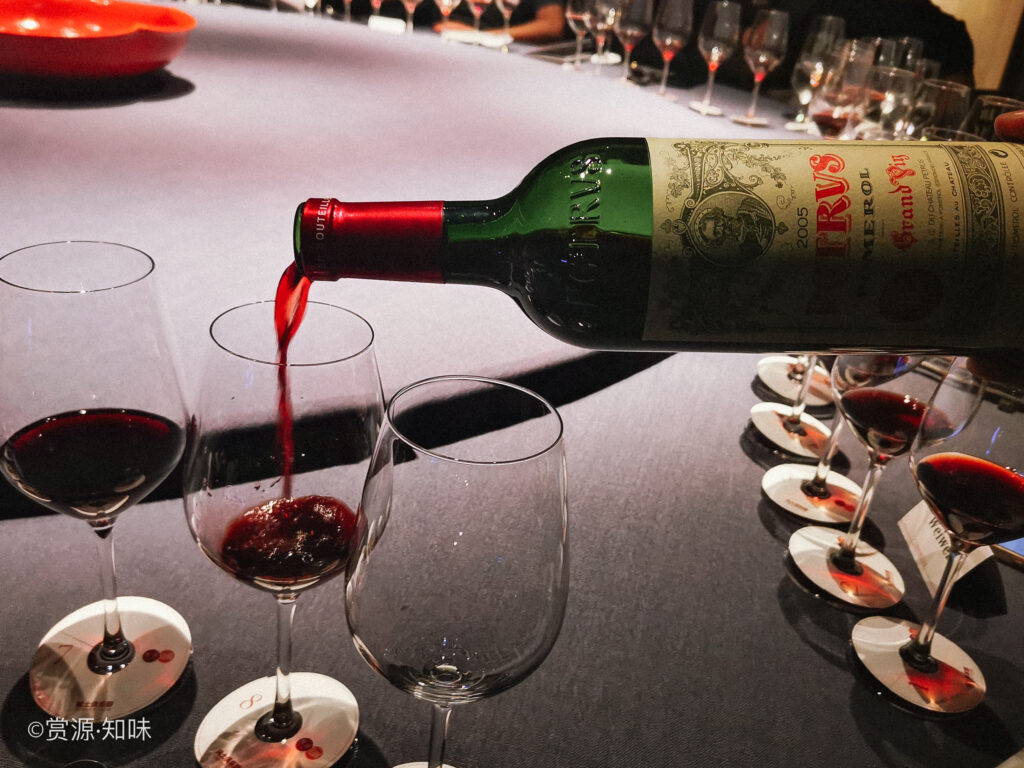 One last note…
I point out that my scores, for all wines across all grape types and countries, are remarkably similar even ten to twenty years after having first tasted and scored the same wines. This is something I am extremely proud of and that I have verified with great assiduity over the years, for it is my guarantee to you, my reader, that what I have found on one occasion is more often than not what I will find again many years later, give or take a point or two at most. And there is real value in that, for wine lovers and wine collectors alike.
The following wines were tasted in September 2022 in Shanghai, where I live and work. On this occasion, the 1988 Petrus was affected by cork taint, and so my tasting note recorded here, differently from all the other wines in this report, is that of a 1988 Petrus tasted earlier this year, in May 2022.
The wines in this tasting
Petrus 2005 Petrus Pomerol                                    100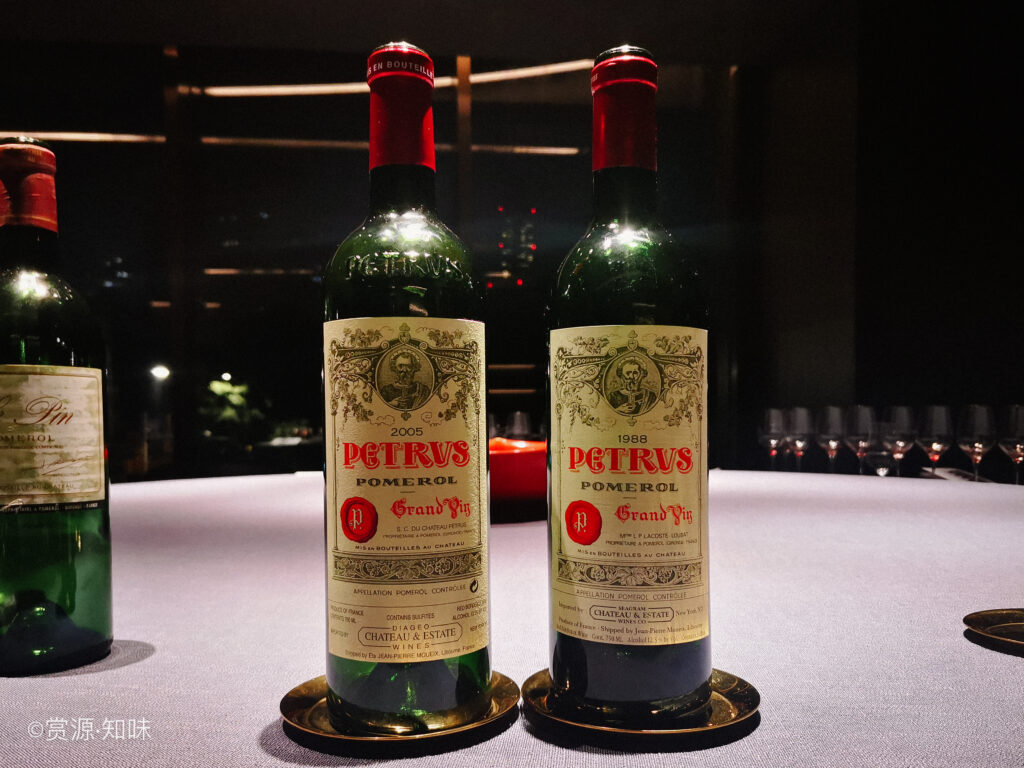 Glass-staining ruby. An impressively complex nose offers black cherry, dark plum, ripe black figs, dark chocolate and flint, lifted by a violet top-note. Very deep, youthfully chewy dark fruit, coffee and cocoa flavours boast truly massive density and are nicely supported by suave tannins. It becomes deeper and sweeter with air, finishing with a strong note of candied violet and plum reduction and exceptional length. Built to age, this is a monumental Petrus that isn't anywhere near ready to drink: I don't mean to imply you will suffer should you decide to pull the cork now, but if you want to taste this magnificent sleeping giant of a wine in its optimal drinking phase then you will need to wait for it at least fifteen more years more (kept in a good cellar). I'm not kidding. Drinking window: 2037-2075.
Château Cheval Blanc 2005 Château Cheval Blanc Saint-Emilion      100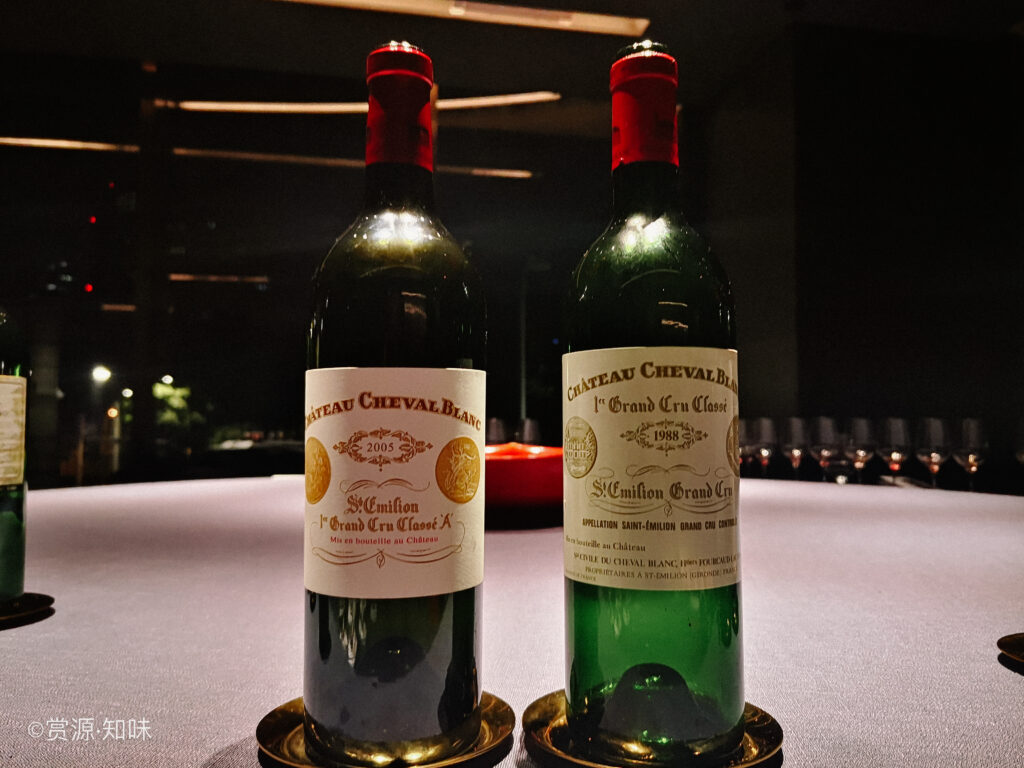 Good bright red-ruby. Highly complex and perfumed nose combines black and red cherry, dark berries, mint, tobacco leaf and licorice, complicated by violet and cocoa nuances; this is utterly beautiful and precise. Then sweet, suave and dense, boasting impeccable acid-fruit-tannin balance and exceptional inner-mouth perfume to its very floral flavours of red fruit, minerals and cocoa. The wine's unforgettably smooth tannins arrive late, allowing the nuanced fruit to build slowly and the wine's perfume to linger subtly. This is an exceptionally great, remarkably elegant Cheval Blanc that is deceptively ready to drink now but will last another thirty or so years effortlessly. Drinking window: 2030-2060.
Château Ausone 2005 Château Ausone Saint-Emilion                       98+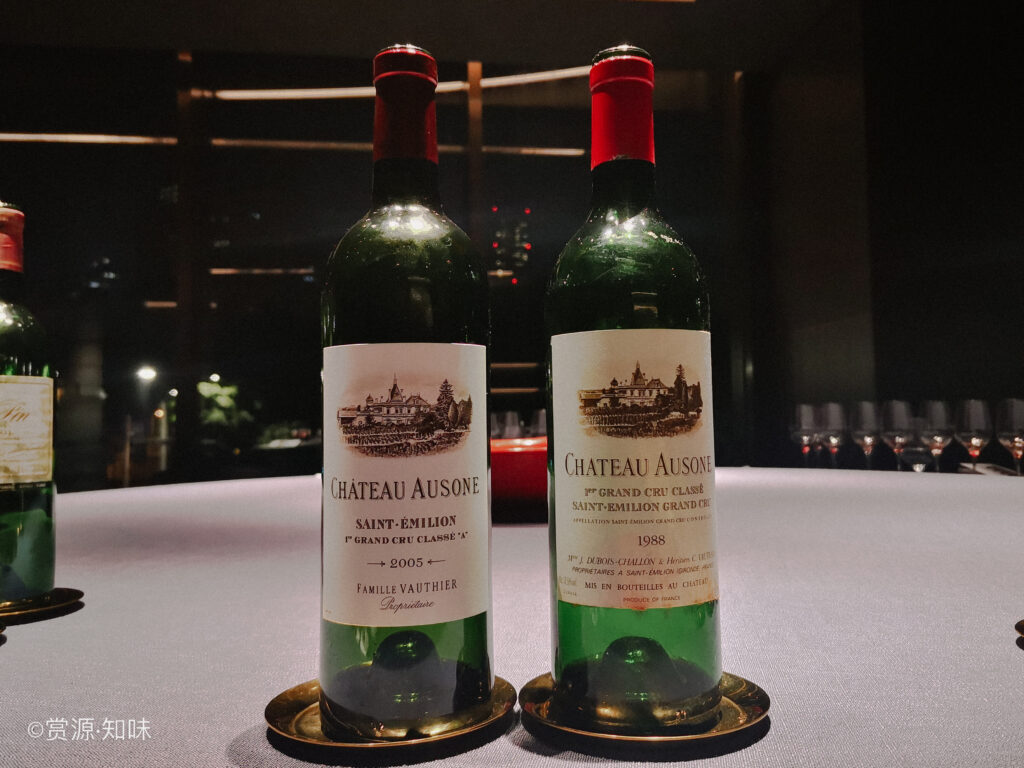 Fully saturated bright ruby. Still very closed, youthfully inexpressive aromas of black cherry, menthol and dark chocolate complemented by spring flowers, cocoa powder, and blueberry reduction. Musky, dense and monolithic today, but clearly superconcentrated, decadent and lush, with compellingly ripe, precise floral flavours of blue and black fruit, cigar humidor, and cocoa. Very broad, ample, muscular wine that finishes extremely long with thoroughly buffered tannins and outstanding length. Needs time in a good cellar to showcase all it has which is plenty. Still too closed today to evaluate clearly, but this has the potential to be a future 100-point wine, hence the + on my score. Drinking window: 2035-2065.
Le Pin 1988 Le Pin Pomerol                                           98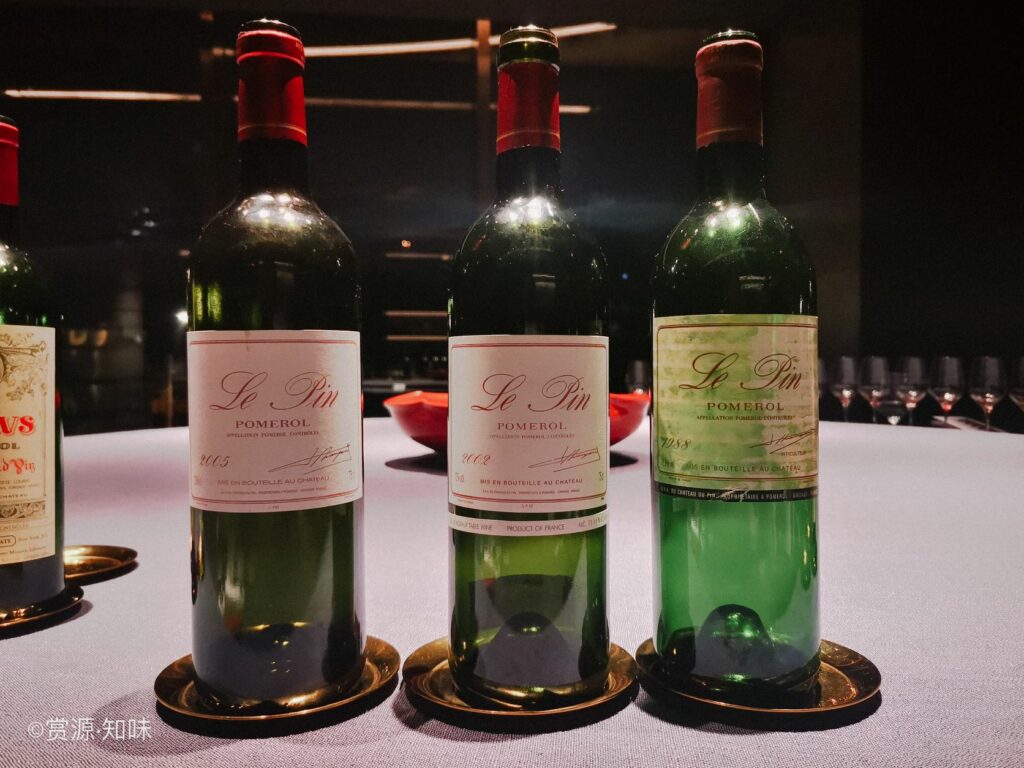 Bright deep ruby-red with a pale rim. Superripe aromas of musky raspberry, spicecake, brown sugar, and smoke, lifted by a candied violet element. Lush, seamless and velvety, with superb inner-palate energy to the decadent flavours of blackberry, blackberry, licorice pastille, milk chocolate, tangerine, and Cuban cigar smoke. This thick but lifted elixir of aged Merlot is a fruit bomb but is neither huge nor heavy. Finishes with supple tannins and building elements of sweet spices and graphite minerality. Trust me: it's simply impossible not to like this. Drinking window: 2022-2035.
Petrus 1988 Petrus Pomerol                                           96
Bright ruby-red. Knockout nose combines black and red fruits, violet, black olive, black pepper, truffles, violet, flint and brown spices. Then compellingly sweet and smooth on the palate, but with a shockingly light touch and lovely inner-mouth perfume to its floral flavours of blueberry, dark plum, cocoa and truffled underbrush that is so typical of Petrus. A very elegant version of this famous wine but at the same time customarily powerful, finishing with terrific rising length and thoroughly suave tannins. Quite unlike most 1988's, the 1988 Petrus is a testament to the greatness of this property's terroir and of Jean-Claude Berrouet, the supremely talented winemaker of the time. An underrated Petrus, drink it any time you have the chance to do so. Drinking window: 2022-2050.
Le Pin 2005 Le Pin Pomerol                                    95+
Inky ruby.  Curiously mineral-driven aromas of raspberry and red cherry, turning to blackcurrant and crystallized blueberry with aeration, with pleasant violet and smoky lift but little presently of Le Pin's exotic notes. Then nicely spicy dark berry flavours are sharply focused and framed by noble if assertive tannins, with the floral note repeating on the long, energetic and serious finish. Another knockout wine from Le Pin, but at the risk of seeming impossible to please, slightly underwhelming considering what one has come to expect from this fabled estate. Admittedly, this Le Pin is still painfully young and so spending time in a good cellar will only help it develop further complexity. But still: every time my taste buds cross paths with this vintage of Le Pin I can't help but feeling like it could and should have been even better than it is. Given the 2005 vintage's characteristics, I wonder if Le Pin's mostly sandy-gravel soil, which allows for excellent drainage in rainy years but is not as ideal in those that are hot and droughty, placed the estate's vines at a metabolic disadvantage in 2005. That small doubt cast aside (my fears could be completely off-base), the very silky tannins (no sign of grittiness whatsoever) make me think all the 2005 Le Pin really needs is a little more time, after which it ought to shine like the star it is (hence the + sign on my score). Drinking window: 2029-2045. 
Château Cheval Blanc 1988 Château Cheval Blanc Saint-Emilion 95
Bright ruby-red with a pale garnet rim. Strikingly precise aromas of raspberry, truffled forest floor, dark chocolate, coffee and iron filings, with a subtle note of tobacco and a suave undercurrent of pungent incense. A strong floral note gains strength with air and carries onto the palate, adding complexity to the very pure red berry and cherry flavours. The aftertaste is very long, textured but smooth, with hints of tangy blood orange and mineral qualities lingering impressively. I really like this wine's balance and graceful touch, and I have to underscore how the 1988 Cheval Blanc has put on considerable weight since it's early days. This is a vintage of Cheval Blanc I know extremely well, having had this wine at least two dozen times in my life, and this one was without doubt one of the best bottles I have ever had of it. Given I hadn't tasted it in the last four or five years, I was amazed to find how the '88 Cheval Blanc is not just in its usual Cabernet Franc-dominated splendour, but also denser and concentrated than I remembered (ten-fifteen years ago, I almost always scored this wine between 92-94 points, but it deserves more today). On this night at least, the 1988 Cheval Blanc makes me feel like I wronged it: it's an absolutely gorgeous Cheval, and possibly one that was very underrated from the start (and I point out that Cabernet Franc is a long-distance runner, with its wines typically really emerging and coming into their own after many, many years of proper cellaring: this appears to be very much the case with the splendid 1988 Cheval Blanc). Drinking window: 2022-2045.
Château Ausone 1988 Château Ausone Saint-Emilion                    93
Good bright ruby-red with a healthy dose of age-appropriate garnet at the rim. Spicy, straightforward black cherry, dark berry and gentle pepper aromas are complemented by earthy and toasty nuances. Firm cherry and dark berry flavours greet the palate, with slightly dusty tannins giving the wine a serious mien that doesn't really come around even with prolonged aeration. The black cherry note lingers nicely on the close, which is refreshingly energetic and tangy, but somewhat reticent. A very good Ausone that is somewhat marked by its impressive noble tannic framework: I can't help but wonder if its fruit will ever fully emerge from its tannic cloak. That caveat aside, the tannins are very polished, the fruit clean and pure, and the impression is of an outstanding Bordeaux blend that I wish I had more of in my cellar. Drinking window: 2027-2045.