In many respects, the Le Vigne di Eli estate on the Etna volcano is one of those feel-good stories that wine does so well, and of which it never hurts to have more of. To begin with, it is a Lilliputian estate that makes wines of Brobdingnagian quality, so that's something to write home about right there. But there's much more to the story.
Le Vigne di Eli winery
Established in 2006 and with only three hectares of vineyards, Le Vigne di Eli is hardly ever going to be known for its huge wine volumes. Today, it boasts vineyards in two Etna contrade Moganazzi-Volta Sciara and Calderara Sottana; it previously also farmed a vineyard holding in Pignatuni (one of the two wines that are highlighted in this vertical tasting report) but the rental agreement was up in 2017 and not renewed (and so the 2017 is the last vintage Le Vigne di Eli made a wine from Pignatuni). At one time or another in its short existence, the winery has also made wine from the Santo Spirito, San Lorenzo and Feudo di Mezzo contrade. The contrade (singular: contrada) can be considered to be the equivalent of Burgundy's crus (such as Clos de la Roche or Chambertin) but being generally much larger expanses of vineyard land than most Burgundian crus, actually translate more precisely to "vineyard districts": by definition, in Italy contrade are either city subdivisions or, as it is in this case, rural subdivision units. On Etna, they correspond to large vineyard expanses made up of many different smaller vineyard plots and larger vineyard areas; this is why the contrade cannot be viewed as single vineyards but rather as (more or less) large vineyard districts.
The winery was established by well-known American importer Marc de Grazia, who launched the Barolo Boys movement and now vignaiolo in his own right. He owns not only Le Vigne di Eli but also the very famous Etna estate Tenuta delle Terre Nere, universally regarded as if not the volcano's best estate, then for sure one of the denomination's leading lights. To his credit, and this deserves to be underlined at every turn of the keyboard, de Grazia has really fought for, defended, and affirmed the Etna terroir and was one of the driving forces (along with Andrea Franchetti who sadly passed away recently but whose contribution to the knowledge about and promotion of Etna wines cannot and should not ever be forgotten) in the creation of the contrade and in limiting the denomination's size (that a slew of people now of course now want to increase so as to be able to cash in on the "Etna" name; isn't life just wonderful?). His two wineries are situated close to each other, on the northern slope of the Etna volcano, the best part of the denomination for red wines.
The winery was founded as an act of love from a father to a daughter. Upon buying two very small vineyards in 2006, de Grazia was reminded of his daughter Elena, and decided to name a winery after her. But he didn't stop there: he also decided to use his daughter's artwork as the subjects of the estate's wine labels. Wait now, there is more. Obviously thinking that having bought a vineyard; creating a new winery; naming it after his daughter; and using her drawings as the labels was not quite a full day's work, de Grazia also decided to do something for other children as well. And so it is that a portion of the estate's wine sales are devoted to the Florence Children's hospital, the Ospedale Pediatrico Meyer. Over the years, the estate and its wines have met with success and so de Grazia was spurred on to buy still more little vineyard plots for the just as little winery. The wines are brilliantly made by Calogero Statella, who is both the viticulturist and the winemaker not just at Le Vigne di Eli but also at Tenuta delle Terre Nere. He is an amazingly talented man who gives his heart and soul for the De Grazia wineries but in his little spare time also makes very small amounts of excellent wines at his own family estate (Famiglia Statella). In other words, talent runs deep just about everywhere at the DeGrazia estates and in this specific neck of the Sicilian woods.
The Etna
The Etna is a remarkably beautiful place and offers a panorama like none other in Italy; in 2013, it was declared a patrimony of humanity by UNESCO. At 3329 meters above sea level, it is Europe's tallest volcano and dominates life in the north-eastern part of Sicily like nothing else. In fact, 3329 meters is not the Etna's height. It is, but it isn't. At least no longer, that is. The Etna today is higher, listed at 3357 meters, as a result of the eruptive activity of 2021 that brought new accumulations of lava and new crater formations and accumulations (in fact, the southeast crater is now taller than the northeast, which had long been Etna's highest point). A little-known fact about the Etna, one that will I have no doubts surprise my readers, is that its height has never been particularly stable and it has in fact changed often over time: it was 3,274 meters tall in 1900: 3,290 meters in 1956 and 3,345 meters in 1978. Its altitude issues aside, the Etna was formed during the Quarternary period, which is the last of the three periods of the Cenozoic Era; it began only about 2.58 Million years ago and it is the moment of archeological time in which we are currently living in (note that words such as "Era" and "Period" refer to specific archeological moments in time and should not be used haphazardly). The word "Etna" derives from the ancient Greek Aitna (from aitho, meaning "to burn"), while it was known as Aetna in Roman times.
In just a very short twenty years, the Etna has morphed from volcano and tourist destination to one of Italy's (the world's, actually) hottest viticultural and winemaking regions, where both outstanding red and white wines are made. The reds are mostly made with Nerello Mascalese and small percentages of Nerello Cappuccio and other local red varieties, while the whites are made with mostly Carricante and a few other local white grape varieties. I seize the opportunity to make clear that while Nerello Cappuccio has often been confused with Carignan and of Sangiovese, and many vineyards that were believed to be of the Sicilian variety are actually of those other two grapes, this does not mean that Nerello Cappuccio is Carignan or Sangiovese, it just means those vineyards were misidentified as being of Nerello Cappuccio to begin with). Thought there is not as much Nerello Cappuccio in vineyards as it was previously believed, this does not mean, as many will tell you and others will write too, that all Nerello Cappuccio is Carignan or Sangiovese.
Talking terroir: the Pignatuni and Moganazzi-Volta Sciara contrade and their wines
The Pignatuni and Moganazzi-Volta Sciara are two distinct Etna contrade that give very different wines.
Le Vigne di Eli's holding in Pignatuni boasts vines that are about fifty years old, planted at about 660 meters above sea level on soil that is obviously volcanic in nature, but not especially deep and that contains numerous rocks and stones. It derived from the lava flows that resulted from the volcanic activity of the Ellittico volcano that was active between 15,000-60,000 years ago. This is the same soil origin of the Calderara and San Lorenzo contrade and is considered by many to be the grandest soil of all Etna, a grandest cru area amongst grand crus, if you will. In my experience, Pignatuni gives wines of great refinement and aromatic complexity, not to mention noteworthy aging potential. Pignatuni's wines are characterized by red fruit and sweet spice notes. Calogero Statella's experience with the wines is similar to mine: given he knows a lot more about Etna than I ever will, it's good to know that I'm not imagining things.
By contrast, Moganazzi-Volta Sciara's vines are much older (seventy years old and counting) and planted at 630 meters above sea level. The soil is also volcanic (a mix of volcanic ash and black pumice: it could hardly be anything but volcanic in nature, given we are on Etna) but is very different from that of Pignatuni. Differently from the latter contrada, the soil of Moganazzi-Volta Sciara is medium-deep to very deep. While it is not especially fertile in its shallow stretches, it is very fertile deeper down, has very little in the way of stones or rocks, but is characterized by excellent water-retentive capacity. It's a much younger soil than that of Pignatuni, having developed 1,000-10,000 years ago during the eruptive activity of the "Mongibello Recente". In reference to the wines, I find those of Moganazzi-Volta Sciara wines are much spicier than those of Pignatuni, and often with a marked minty herbal component. This contrada's wines are generally chunkier than those of Pignatuni, especially in their youth when their tannic clout is quite noticeable, but with time evolve into something more elegant. The origin of Moganazzi-Volta Sciara's name is unclear: it may derive from two different families who first made their homes there, or more likely the two different villages from where the initial inhabitants of the area all hailed from. No matter: the name of the Moganazzi – Volta Sciara contrada refers to just one whole vineyard area and not two.
As both wines are the product of very old vines, they are not just Nerello Mascalese-Nerello Cappuccio blends as is commonly reported, but rather blends of more than 95% Nerello Mascalese and a few other varieties, including Nerello Cappuccio but also white grapes like Minnella Bianca, Grecanico and Inzolia. Many decades ago it was commonplace to co-plant different varieties in the vineyards (and this not just on Etna) as farmers logically wished to hedge their bets against pests and the vagaries of inclement weather. In any case, the grapes are hand-harvested, pressed gently, the alcoholic fermentation lasts about ten days, and the wines aged for about eighteen months in 20% new oak barrels.
The wines in this tasting
Pignatuni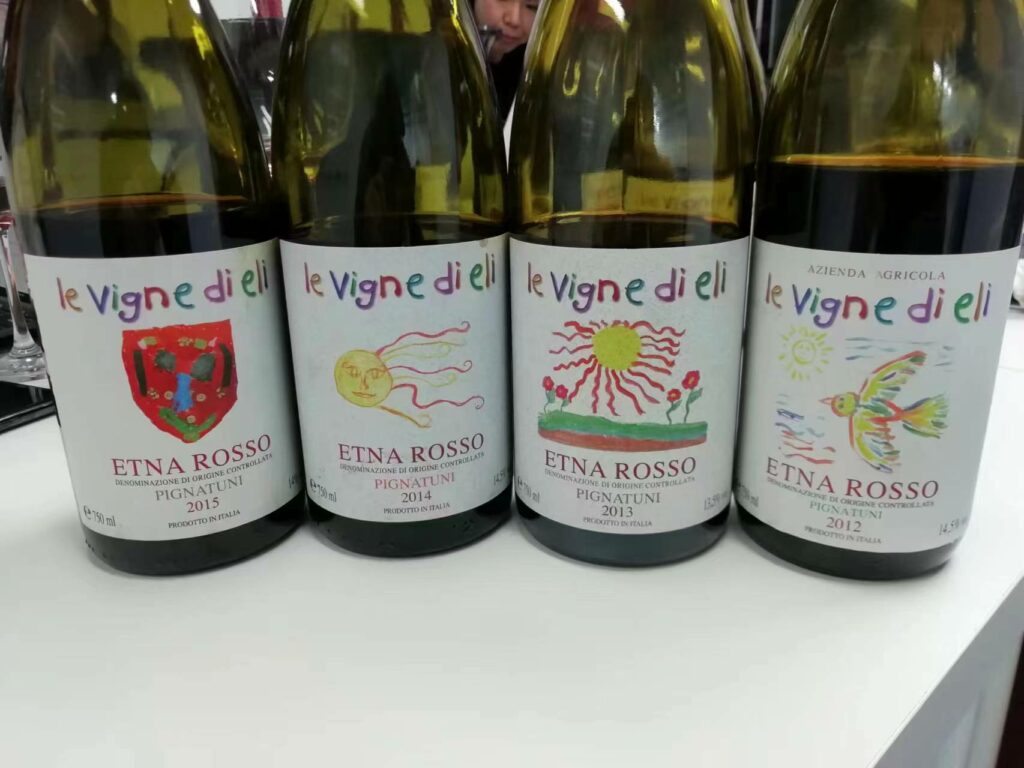 Le Vigne di Eli 2015 Etna Rosso Pignatuni                         91
Bright red. Fresh and juicy on entry, then slightly lean in the middle, with open-knit, fruity and herbal aromas nicely complemented by a chocolaty note on the finish. The aftertaste features smooth tannins and a building presence of forest floor and smoky mineral notes. Drinking window: now-2025.
Le Vigne di Eli 2014 Etna Rosso Pignatuni                         94
Good full luminous red. Complex, interesting aromas and flavours of sour red cherry, raspberry, wild fennel, flint, and sandalwood. Then very mineral and savoury in the mouth, with a bright refreshing saline edge to the glossy mineral-accented red fruit that lingers impressively on the vibrant aftertaste. A beautiful wine of noteworthy refinement and that ought to age very well. The 2014 vintage was stellar one on Etna, unlike the rest of Italy, and this wine showcases very well the great vintage that it really was. Drinking window: now-2030.
Le Vigne di Eli 2013 Etna Rosso Pignatuni                         93
Moderately saturated red. Austere mineral nuances to the strawberry and mineral notes on the classic nose. Juicy and fresh in the mouth, with a seamless quality to its red berry and delicately spicy flavours that are very precise, vibrant and clean. Not as concentrated as the 2014, but a long beautiful wine that finishes with a sweet note of kirsch. More Audrey Hepburn than Mae West, more Hugh Grant than Sylvester Stallone. Drinking window: now-2028.
Le Vigne di Eli 2012 Etna Rosso Pignatuni                         88
Medium dark red. Slightly muted nose hints at herbs and flint with some red cherry nuances. Then also slightly inexpressive in the mouth, with clean but lean and slightly tough red fruit and herbal flavours. Finishes with a tarry, savory note dominating on the medium-long close that hints at sesame oil. By no means a bad wine but in this vintage really not much better than the estate's Etna Rosso, just a little fleshier. Drinking window: now-2025.
Moganazzi – Voltasciara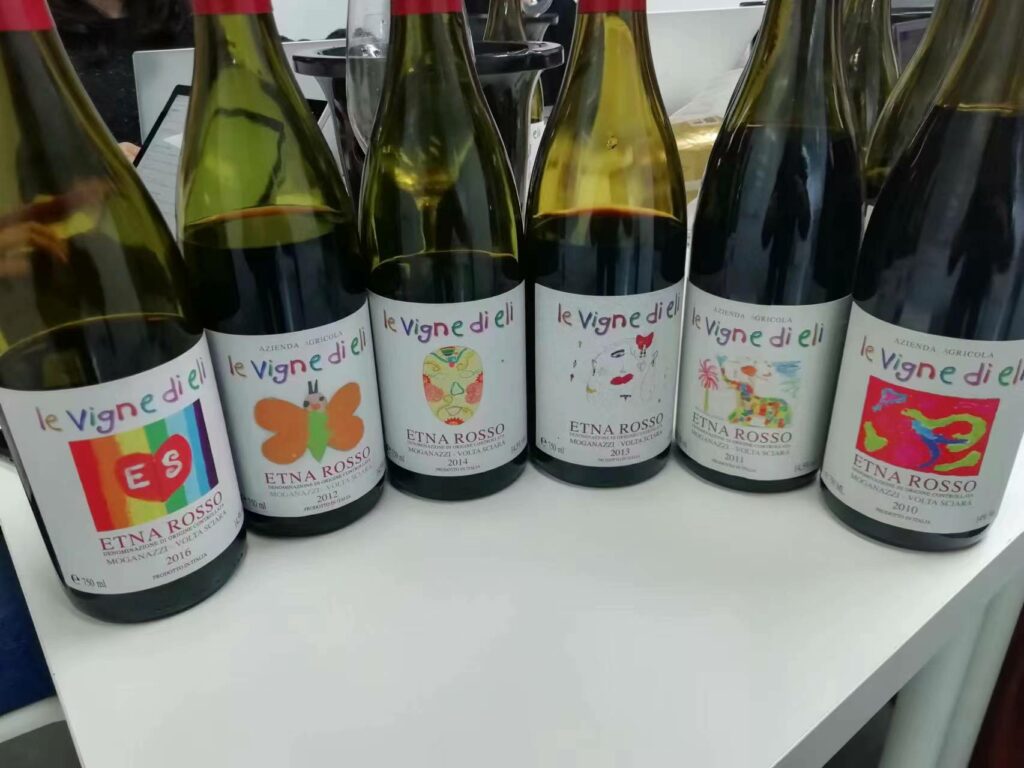 Le Vigne di Eli 2017 Etna Rosso Moganazzi – Volta Sciara                     93
Saturated dark red. Compellingly sweet aromas of raspberry and milk chocolate, with very subtle oakiness and hints of forest floor. Youthfully chewy and rather dense, with red berry, red cherry, mineral and spicy flavours nicely framed by harmonious acidity. Strikes me as finer than past vintages of this wine, with a particularly floral aftertaste. The ripe tannins are polished and noble. Drinking window: now-2028.
Le Vigne di Eli 2016 Etna Rosso Moganazzi – Volta Sciara                     92
Vibrant red. Lovely clean perfumed aromas of red cherry and violet. Then mineral and very refined on entry and in the middle, turning classically austere on very energetic and long, youthfully chewy but polite finish. Very pretty red cherry and floral nuances give this light and lively wine noteworthy lift and inner-mouth perfume; tasted blind, this is remarkably like a good Barbaresco. Drinking window: now-2025.
Le Vigne di Eli 2014 Etna Rosso Moganazzi – Volta Sciara                     94
Good full red. Herbs, redcurrant and sweet spices on the powerful nose. Then very focused and energetic, but with real size and depth to the ripe, fleshy and savory spicy, herbal and black fruit flavours. Finishes tactile with harmonious acidity, minerality and excellent length. Very much like the 2016 Moganazzi – Volta Sciara, but much bigger, denser, richer, and deeper than that wine. Drinking window: now-2030.
Le Vigne di Eli 2013 Etna Rosso Moganazzi – Volta Sciara                     91
Medium garnet red with quite a bit of rim here, hinting at incipient oxidation. Then rather evolved on the nose too, with a note of bouillon and beef broth dominating the porcini, sage, thyme and red cherry and plum aromas. In the mouth, it tastes very clean and ripe, luscious even, but with savory nuances of spicecake and minty herbs emerging strong on the long clean and very smooth finish. On the nose I thought the cork had let seep too much oxygen in, but after tasting it I think the bottle was actually just fine. Still, I wouldn't hold on to this wine too much longer. Drinking window: now-2025.
Le Vigne di Eli 2012 Etna Rosso Moganazzi – Volta Sciara                     93
Medium red. Slightly neutral inky, balsamic and savoury aromas and flavours that develop notes of grilled beef and spicy dried underbrush with aeration. Finishes with some alcohol-derived heat but plenty of structure and lovely hints of sweet spices like cinnamon and nutmeg. This really improved with aeration and tasted much better eight hours after opening, so make sure you decant well ahead. Drinking window: now-2028.
Le Vigne di Eli 2011 Etna Rosso Moganazzi – Volta Sciara                     95
Deep red. Very closed, initially inexpressive but vibrant nose is both mineral and austere, but really opens with aeration offering explosive, rich notes of sweet spices, red cherry, smoky plums, camphor, tar and licorice. Then similar flavours to the aromas, with a pretty clean fresh and long finish. This boasts a multilayered quality and noteworthy complexity on the very pure, long aftertaste. Knockout wine, just make sure you decant well ahead.  Drinking window: now-2025.
Le Vigne di Eli 2010 Etna Rosso Moganazzi – Volta Sciara                     91
Slightly evolved red colour with plenty of garnet at the rim. Tomato paste and herbs dominate red fruit aromas on the nose. Then clean, fresh and remarkably vibrant in the mouth, offering a note of candied red cherry on the finish, even of chocolate-covered cherries too. Closes long with real power and size. A good example of Moganazzi – Volta Sciara's power compared to Pignatuni's elegance and refinement. Drinking window: now-2025.
Le Vigne di Eli 2008 Etna Rosso Moganazzi – Volta Sciara                     92
Vivid red-ruby. Perfumed, sappy aromas of redcurrant, violet, menthol and spices. Intensely flavoured, high-pitched and lively, with a deep spicy element complicating the minerally pure red fruit and herbal flavours. Closes very long and brisk, with substantial but polished tannins and very good acid-fruit balance. Drinking window: now-2025.