Muré's magnificent Sylvaner Cuvée Oscar is an historically important wine for the venerable Alsace house of Muré, as it's a wine the family used to drink, and still drinks, all the time, as it's  a real family favourite. It's easy to understand why: to put it simply, it's not just plain and simple delicious, but also one of the world's great white wines. However, the importance of Muré's Sylvaner Cuvée Oscar goes far beyond just good taste and a sense of history. If nothing else, it showcases just how great the wines of less famous, less fashionable grape varieties can offer, when the product of old vines and great terroirs. I for one firmly believe that rather than fill the world with so much non-descript Chardonnay, Sauvignon Blanc and even Riesling wines of little or no interest, made often from very young vines and sites that are, more often than not, of questionable suitability for the varieties themselves, wine lovers everywhere would benefit greatly from giving wines made from very old vines of less famous varieties a try. Muré's Sylvaner Cuvée Oscar is just such one wine, utterly irresistible in its mouthcoating, multilayered delivery of rich deep aromas and (admittedly rather sweet) flavours. It showcases extremely well just how great old vine Alsatian Sylvaner wines are (or can be); in fact, wines that are so much better than many Alsace Riesling and Pinot Gris wines even from grand cru sites that are diluted, flavourless and just frankly embarrassingly bad. To be clear, wines that should never be allowed to go into bottle sporting a grand cru's name on the label. And so it is that it is much better to drink a wine such as this Sylvaner, made from old vines grown in an excellent  grand cru site such as the Vorbourg. But very sadly, Alsatian estates are not allowed to state this fact on the label, given that Sylvaner is not one of the grapes included in the list of Alsace varieties from which grand cru wines can be made save for the Zoztenberg. For the good of Alsace and of everybody who loves wine, that is something that is just going to have to change, sooner or later.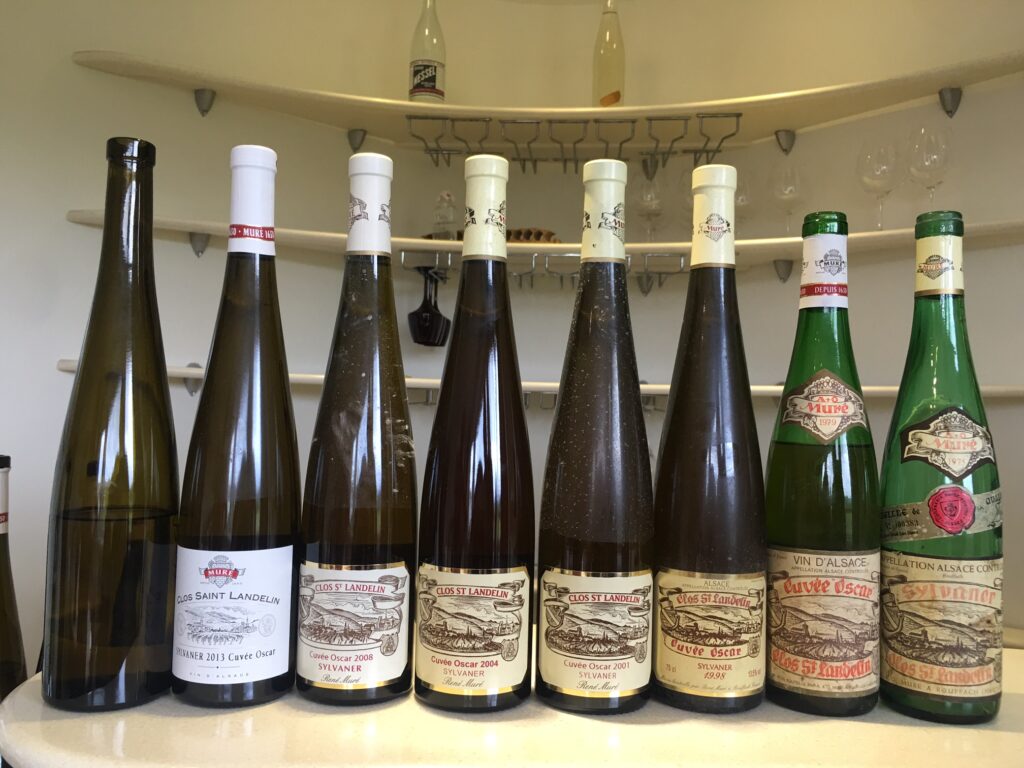 Muré, the estate
The wine history of the Muré firm is along one, beginning in 1650 when Michel Muré established himself as a wine grower in the Alsace village of Westhalten. However, the family winery really enters its modern age in 1935, when Alfred Muré bought the Clos Saint Landelin, the iconic monopole walled-vineyard in the Vorbourg grand cru near the town of Rouffach. In fact, Muré is so associated with this legendary site that its name is often incorporated into the family firm's  name, as in "Muré- Clos Saint Landelin". And so, perhaps not unreasonably wanting to get closer to the most important source of their grapes, in 1966 Oscar and Armand Muré decided to move the winery from Westhalten to Rouffach. And last but certainly not least, René Muré took over the estate in 1976, and really helped lift it into the quality stratosphere the winery finds itself today. It is around that time that I began falling in love with the Muré wines and I remember trying not to gush too hard or hoping my knees wouldn't go weak the first time I met the man. That can happen, when you meet one of your childhood heroes, though of course René had, and still has, no idea it was just so. But if when I moved my first tentative steps in the world of professional wine I so fell in love with the wines of Alsace (that still today are amongst the wines that I love the most and know the best), a lot of that merit must go to René Muré, because his were some of the first truly great white wines I ever drank in my life. Wines so good that even someone just then beginning to take steps in the world of professional wine writing could understand their grandeur. For example, his 1983 Tokay-Pinot Gris Clos Saint Landelin (so the variety was called back then) Sélection de Grains Nobles (SGN), tasted for the first time in Toronto at the Le Select bistro (back in the late 1980s when it was still on Queen Street West) remains one of the benchmark late harvest wines of my lifetime. Today, it's the turn of the latest generation of Muré family members, siblings Véronique and Thomas Muré, to propel their family winery to even greater heights. They do so not just by continuing the splendid work of their ancestors with the likes of Pinot Gris, Riesling, Sylvaner and Gewurztraminer (without the umlaut on the "u", because that's the way they spell the grape's name in Germany, but not in Alsace), but by adding their own skilled contributions, such as truly amazing sparkling and Pinot Noir wines, and some amazing work with Syrah as well. What can I tell you? Wine talent just seems to flow freely in the veins of the Muré family members. Niceness genes abound too, since you won't meet nicer people in wine anywhere, but perhaps that's besides the point.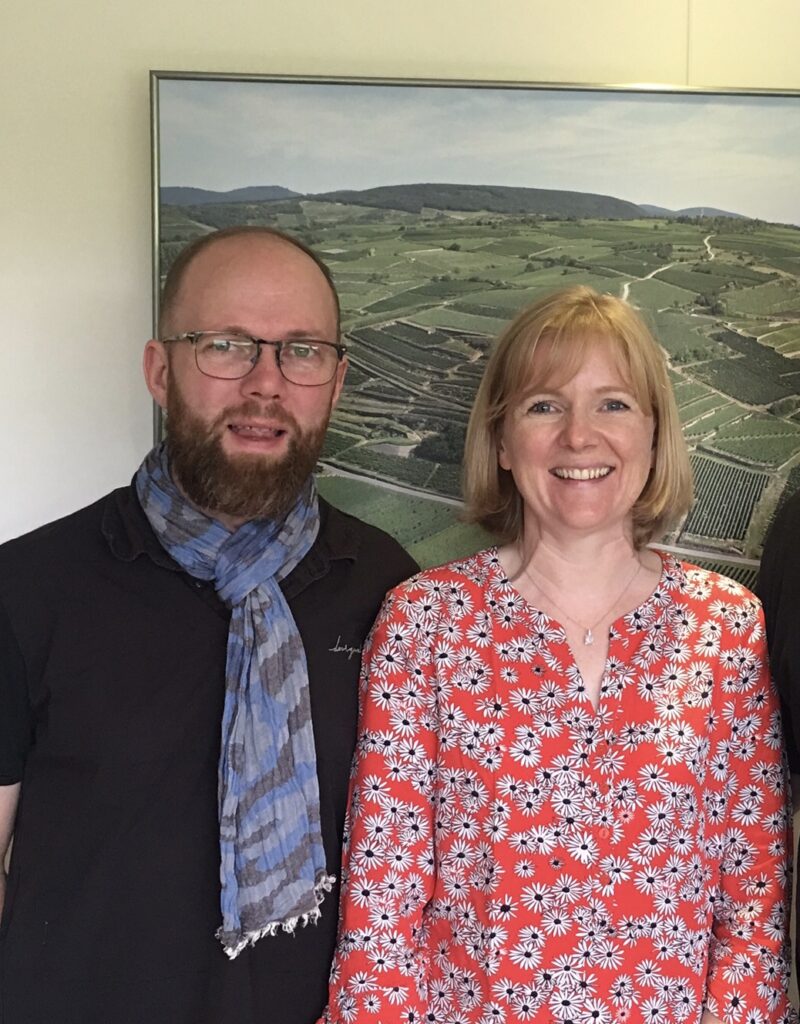 And so it is that, at thirteen generations and counting, they really do know a little something about wine at Muré: this is the address where some of Alsace's, France's even, best wines are made. By almost everybody's accounts, this is the winery that makes Alsace's best sparkling wines (Crémant d'Alsace) and the region's best Pinot Noir wines (to be really clear on this subject, their Pinot Noir and the sparkling wines are right up there with very good bottles of Burgundy and of Champagne). The other typical grapes of Alsace are also used to make some stellar wines at Muré, but there Muré has more competition: still, there's a lot to be said for the winery's Pinot Gris wines (in both dry and late harvest styles), that are especially spectacular and noteworthy (it is my belief that the absurd level of quality of their Pinot Gris wines owe a lot to the Vorbourg's specific soil and microclimate, a combination that seems to elevate this grape variety to some of Alsace's highest quality echelons). But the one wine gem not many wine lovers are aware Muré can really boast about is their Sylvaner wines: in fact, the estate makes not one but two simply spectacular wines with this grape variety. Do yourself a favour and run, don't walk, to grab as many bottles of the Muré Sylvaner Steinstück and Oscar bottlings that you can find. You simply won't find too many better wines for the money.
Sylvaner, the grape variety
(For more information on this grape variety, please see: TerroirSense Wine Review. Verticals section, June 8, 2022: One of Italy's Best White Wines: Köfererhof Sylvaner 'R' Alto Adige Valle Isarco Vertical 2006-2016; and March 30, 2021: Ernest Burn Alsace Sylvaner Vertical Tasting 1992-2017.)
Muré's magnificent Sylvaner Cuvée Oscar
Named after Oscar Muré, the grandfather of Véronique and Thomas, the sibling duo currently running the show at the winery, the wine was never bottled and sold as such during Oscar's lifetime (1915-1985). It was his son René who decided it merited to be bottled and sold as such; and if truth be told, René could not have made a better or smarter decision in his lifetime.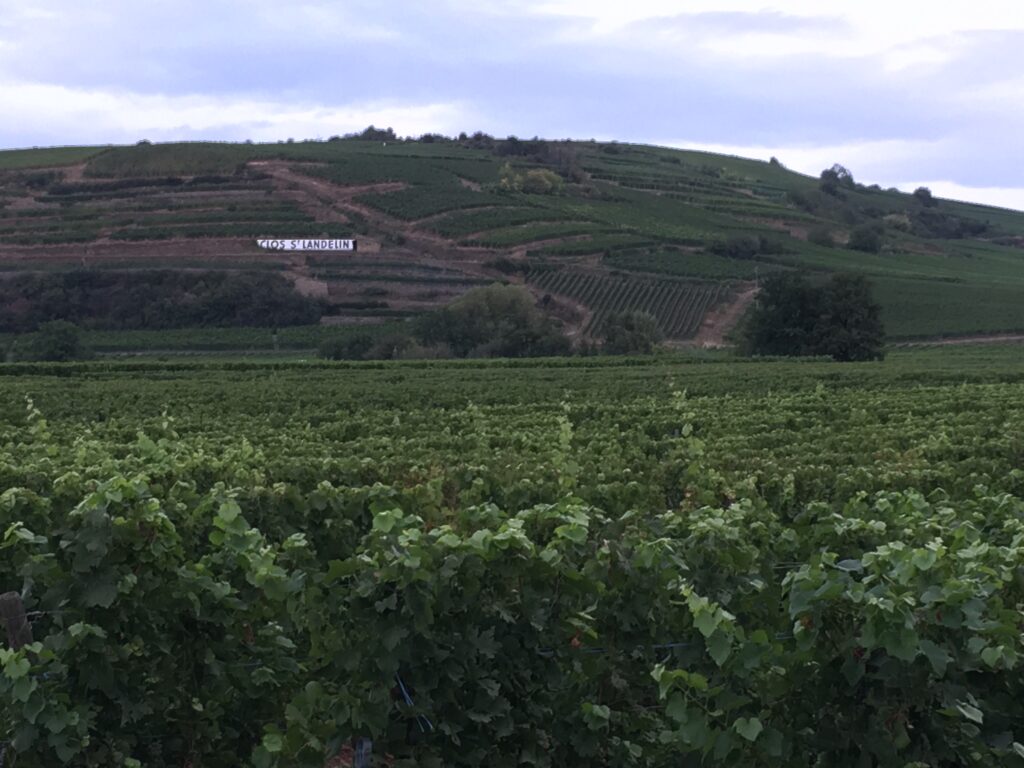 What has to rank as not just one of the great Sylvaner wines, but one of the world's great white wines, is made from grapes grown in two plots of vines (only 0.5 hectares!) growing in the Clos Saint Landelin, one of Alsace's most famous and best monopole vineyards (it has been in the Muré family since 1935, when Alfred Muré, the ninth generation of the family saw fit to buy it, and good for him). About twelve hectares large and very steep, the Clos Saint-Landelin is located on the southern portion of the grand cru Vorbourg at the exit of the valley and is characterized by an extremely complex soil (marl and limestone soil with stones over a bed of Middle Jurassic Bajocian calcareous sandstone and Oligocene calcareous conglomerate subsoil) that, coupled with the old age of some of the Sylvaner vines, allows for monumental Sylvaners to be made that ages extremely well. If one of the secrets to great wines is old vines (in my view, if not the single most important factor in determining wine greatness, then it's squarely at number two; and I'm still not sure what number one might be) then Muré's magnificent Sylvaner Cuvée Oscar wine is as well set as any wine there is. Just imagine that these southeast-facing Sylvaner vines were planted before World War II, and then replanted in 1973 (which means that even the replanted vines are about fifty years old!). The plot is located in the bottom quarter of the Clos, at about 250 meters above sea level; the roughly sixty centimeters of compact clays with limestone on Oligocene calcareous conglomerates rich in oolithic limestone pebbles is a type of soil that Sylvaner does particularly well on. Thomas tells me that you could also make a great red wine there too. By contrast, there are only 30 centimeters at the top of the Clos (where, not surprisingly, drought can be more of a problem). There is Riesling planted right next to the Sylvaner in the Clos, so that in itself is indicative of the high esteem the Sylvaner grape has always been held in at Muré. The grapes from this specific small old section of the Clos are late-harvested: for example, they are picked two weeks later than those of the Steintstuck, a lieu-dit from where Muré makes another exceptionally good Sylvaner wine. Last but not least, these Sylvaner vines are both organic- and biodynamic-certified, and are farmed as such (the estate has been farmed organically since 1999, and biodynamically since 2013).
The vinification is simple, very light pressing (lighter than that used for the Riesling at 0.55 per kilogram of grapes); no sulfur dioxide is used before the end of fermentation, and the wine is both fermented and aged in stainless steel. Thomas finds that the warm climate of Rouffach and the grape ripeness level that is easily achieved in the area means that oak aging leads to Sylvaner wines that can age and evolve too quickly. Well, no such worries with the Cuvee Oscar, a grand cru Sylvaner wine in everything but name only. In Alsace, legislators should be frankly ashamed of themselves that so much crappy Riesling and Pinot Gris wines are allowed to be called "grand cru" on their label when a truly grand cru wine as such as this Sylvaner wine cannot.  What a joke. Some people in Alsace need to do their job better. Perhaps it's high time something is done about it.
The wines in this vertical tasting report
Muré 2019 Alsace Sylvaner Cuvée Oscar Clos Saint Landelin                95
Luminous golden yellow. Aromas and flavours of apple, pear, peach and lemon verbena are complicated by a honeyed nuance. Then yellow fruit cocktail and custard cream echoes linger nicely on the suave sweetly spicy finish. Not exactly a dry wine (45 g./L r.s will; make it anything but classically dry!) but boasts magical balance so this tastes less sweet than 45 grams per liter of residual sugar imply. The rich but nicely focused aftertaste is extremely complex and will have you reaching for your glass over and over again. Try this sultry beauty of a wine with grilled sausages, oven-roasted veal loin, chicken fowl and grilled pork dishes with tropical fruit chutneys and or mushrooms. Will also go wonderfully with ethnic cuisines, such as those of Morocco or Thailand. Drinking window: now-2038.
Muré 2018 Alsace Sylvaner Cuvée Oscar Clos Saint Landelin                94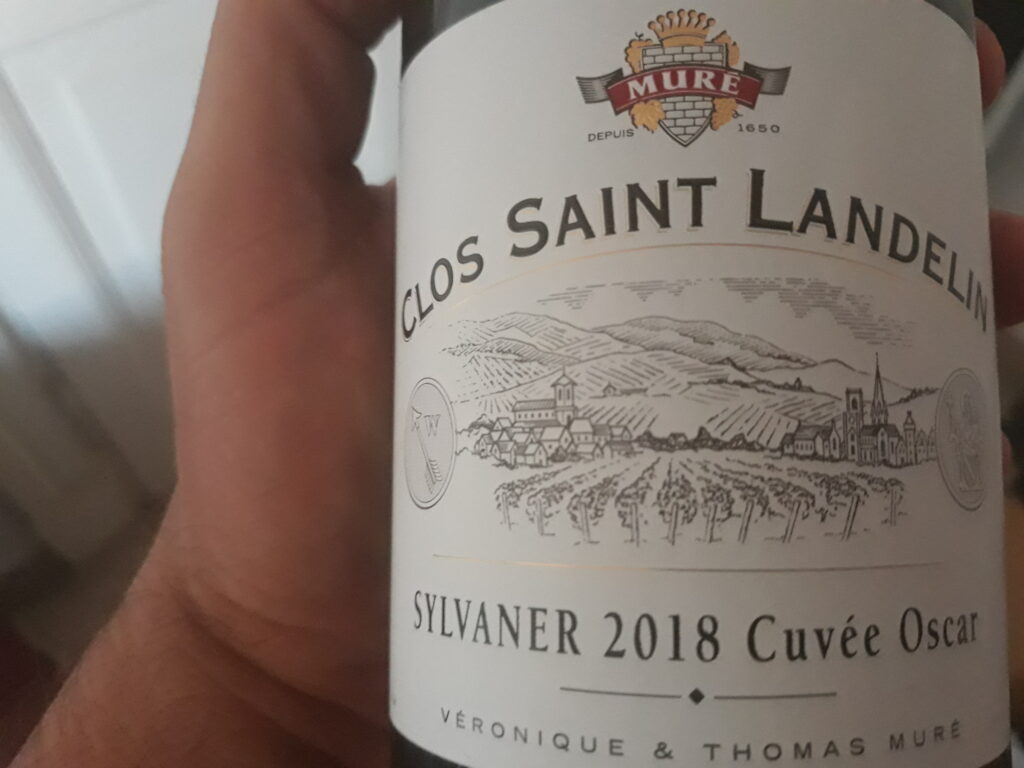 Luminous straw-green. Captivating aromas of lemon ice, baked pear, cinnamon, jasmine and buttercups. Then rich dense and suave but with a brighter mouthfeel than some other vintages of this wine and less residual sugar too. A gorgeous wine that still hovers on the off-dry to sweet side, very much in a late harvest style: it's also a grand cru wine, in everything but name only. That much said the acidity is such that this beauty boasts impeccable balance. Try it with roast chicken and mushrooms, shrimp with an orange-tropical fruit chutney or emulsion and pumpkin soup spiced up with cilantro leaves. Drinking window: 2022-2042.
Muré 2017 Alsace Sylvaner Cuvée Oscar Clos Saint Landelin                88
Good full bright yellow. Yellow peach, herbs, scorched earth, caramel and sweet spices on the very ripe nose. Tactile in the mouth with ripe flavours similar to the aromas but not especially expressive. More structured than flavourful or perfumed, with a somewhat monotonal mouthfeel and element of finishing austerity. The slightly hot year shows through. Drinking window: now-2026.
Muré 2016 Alsace Sylvaner Cuvée Oscar Clos Saint Landelin                90
Bright straw yellow with obviopus golden tinges. Delicately aromatic aromas of thyme and cinnamon complicate nuances of yellow apple, pear and tangerine. Ripe and luscious and with plenty of structure in the mouth, but not especailly profiound in its slightly simple flavours of tangerine cream, lemon curd and orange marmelade. Closes long and fresh. More sweet than dry, this is an excellent Sylvaner wine that boasts impeccable sugar-acid balance, though it struck me as being a little less deep and complax than I am used to with this wine and compared to other wines in this vertical. Still, you'll be hard pressed to find a better white wine with roast turkey or aged soft cheeses than this one. Drinking window: now-2028.
Muré 2015 Alsace Sylvaner Cuvée Oscar Clos Saint Landelin                93
Bright straw-green with golden tinges. Lively aromatic notes of white pepper and lemongrass complement zingy aromas of ripe yellow peach, Bosc pear and tangerine. Then multilayered and focused, with pristine flavours of tropical and citrus fruit that are at once concentrated, multilayered and fresh. This beauty closes very long and very light on its feet. Frankly, I found it irresistible. Drinking window: 2022-2035.
Muré 2013 Alsace Sylvaner Cuvée Oscar Clos Saint Landelin                93
Bright pale straw-green. Minty herbs and sweet spices complicate peach, pear and quince on the lively nose. Then similar flavours to the aromas with mouthwatering freshness and a saline nuance extending the flavours and providing lovely lift and cut. This is not unlike the knockout 2001. Outstanding wine that will prove very ageworthy. Harvested on October 25. 14% alcohol. Drinking window: now-2030.
Muré 2010 Alsace Sylvaner Cuvée Oscar Clos Saint Landelin                96
Bright golden yellow. Captivating aromas of acacia honey, baked apple, grilled peach, aromatic herbs and tropical fruit plus a noteworthy load of marmalade botrytis. Then more ripe tropical fruit flavours complicated by minerals and honeydew. Long and vibrating, this is an absolutely magical wine. Wow. Deeper and richer than the outstanding 2008 (a similar year characterized by high acidity with lots of malic acid) this is fresh and juicy and yet creamy and suave. This will age splendidly: my guess is at least thirty years in a good cellar. Only 12% alcohol and a ton of flavour. Picked on October 1, probably because of an early burst of noble rot. If you've never tried a great Sylvaner, this is about as good a place to start. Drinking window: now-2040.
Muré 2008 Alsace Sylvaner Cuvée Oscar Clos Saint Landelin                94
Bright golden yellow. Delicate but deep aromas and flavours of chamomile, coriander, quince, pear and cinnamon. Lively and light on its feet, but with sneaky concentration, this will age magnificently. Maybe not as concentrated as the 2010, but make no mistake about it, this is a marvellous wine. Drinking window: now-2040.
Muré 2005 Sylvaner Cuvée Oscar Clos Saint Landelin                            95
Luminous yellow-gold. Peach, lemon curd, butter, acacia honey and balsamic oils on the nose, with a further complicating presence of guava and papaya nectar, not to mention lemony botrytis. Then rich and creamy, with similar flavours to the aromas. Finishes long and creamy. Really remarkably full-bodied and textured, but with a suave mouthfeel and real sweetness (62 g/L r.s.); this is much more like a Vendanges Tardives or a lighter-styled Sélection de Graine Nobles than it is a classically dry white wine. All that being true, it's just a drop-dead gorgeous wine. Drinking window: now-2040.
Muré 2004 Alsace Sylvaner Cuvée Oscar Clos Saint Landelin                94
Luminous yellow-gold. Rich luscious and precise, with a penetrating quality to the ripe apple, baked pear, cinnamon and quince paste aromas and flavours. Long sweet and suave, with a light on its feet quality thanks to harmonious but lively acidity. This is yet another absolute knockout of a wine. Though not as rich as the 1998, it has just as great balance and is a viticultural and winemaking tour de force. A lighter styled Oscar but beautiful nonetheless, I think many wine lovers will actually find this vintage more to their liking than some of the other more opulent, rich and sweet Cuvée Oscars made over the years. Picked on November 4, as René held off while everyone around him got nervous: the risk-taking has paid off handsomely. Drinking window: now-2040.
Muré 2002 Alsace Sylvaner Cuvée Oscar Clos Saint Landelin                92
Deep golden yellow. Aromas of chamomile, balsamic oils, quince and marzipan, with hints of underbrush. More delicate and very typical of the vintage, this boasts clean, pure and piercing flavours of orchard fruit and sweet spices nicely accented by a mineral sheen. The 2002 vintage has proven to have been especially good in southern Alsace, probably better than 2001. The Sylvaner grapes were picked on October 11. Drinking window: now-2032.
Muré 2001 Alsace Sylvaner Cuvée Oscar Saint Landelin                        92
Amber-tinged golden yellow. Caramel, botanical herbs, and camphor on the nose, complicated by hints of spicy botrytis. Rich and dense but juicy too, with underbrush notes that are very typical of older Sylvaner wines and noteworthy sweetness and amazing balance. Finishes with floral notes and a peppery bite. About 20% of the grapes were hit by noble rot and you can really tell. The year was characterized by a fast growth cycle thanks to lower yields due to an episode of late season frost. The grapes were picked on October 18. Drinking window: now-2034.
Muré 2000 Alsace Sylvaner Cuvée Oscar Saint Landelin                        94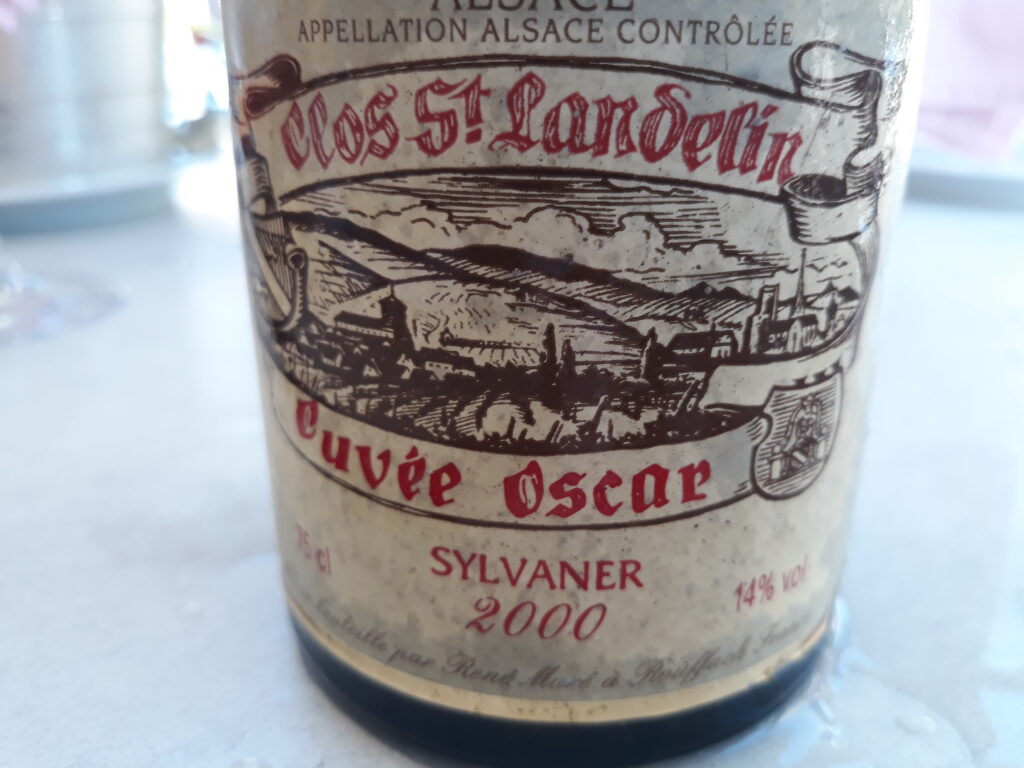 Good full golden yellow. Ripe pear, coriander, cinnamon, yellow peach nectar and minerals on the captivating nose, complicated by lavish amounts of honeyed botrytis. Rich and very suave, with mind-blowing mid-palate density to the rich, ripe and utterly seamless flavours of honey, apple, crystallized ginger guava, and mango. Boasts a luscious mouthfeel but also impeccable balance, closing with repeating notes of ginger and lemon curd. You can tell the year's heat led to a great deal of passerillage, more so than noble rot, and yet this beauty boasts not just luscious sweetness but also noteworthy complexity of flavour. Fantastic 2000 wine, and you will never guess this is now twenty-two years old. Drinking window: now-2035.
Muré 1998 Alsace Sylvaner Cuvée Oscar Clos Saint Landelin                97
Bright golden yellow. Rich, ripe aromas of tropical fruit (mango, papaya, passionfruit), honey, and botanical herbs. Velvety and luscious, this has refined over the years and is less rich and sweet than I remember it, but it's just a memorable wine. Perfectly balanced and honeyed on the long delicately aromatic finish. The noble rot (about 30% of the grapes were hit) has concentrated the acidity as well providing great clarity and cut. I point out that the 1998 vintage has proven to be an amazing one for Alsace Sylvaner, as just about every good Sylvaner made by a competent producer and old vines I have had from that vintage has been a cut above almost any other vintage I can think of. The grapes were picked on October 4, which is relatively late in the warmer Rouffach area but not so late for Muré. Drinking window: now-2035.
Muré 1979 Alsace Sylvaner Cuvée Oscar Clos Saint Landelin                93
Luminous golden yellow-green. Musky aromas of honey, fresh yellow fruits, orange zest and mineral dust complicated by cilantro and quince paste. Fairly glyceral on entry, then juicy, dense and fairly dry with soft acidity leaving an impression of softness and creaminess on the palate. Lovely purity and freshness to the botrytis character with the flavours of orange marmelade, peach jelly and honey complicated by forest floor notes. Long and suave on the finish. Delicious but drink up. Drinking window: now.
Muré 1975 Alsace Sylvaner Cuvée Clos Saint Landelin                           92
Good medium yellow-green. Initially reticent but very pure aromas of crystallized fruits, acacia honey, yellow flowers and white truffles nicely complemented by strong minerality. Then dense and classically dry, with harmonious acidity nicely extending the classic Sylvaner flavours of chamomile, orange, apricot, flint and spices on the long, zingy aftertaste. The close is intense and pure, with a restrained sweetness. Maybe it was just me but I don't remember seeing the words "Cuvée Oscar" on this label, but no matter, it was still a pretty great wine from one of the greatest all-time Alsace vintages. I felt not just lucky but honoured to have been able to try it. Drinking window: now.