Arguably the single most coveted piece of vineyard land in all Barolo, the Vignarionda vineyard district in the Serralunga commune has been the source of some of the best wines ever made in the entire Barolo denomination. To give you an idea just how coveted, it is highly unlikely any plots will be coming for sale anytime soon: but if so, how much would a hectare there cost nowadays? Would five million euros/hectare do it? Probably not.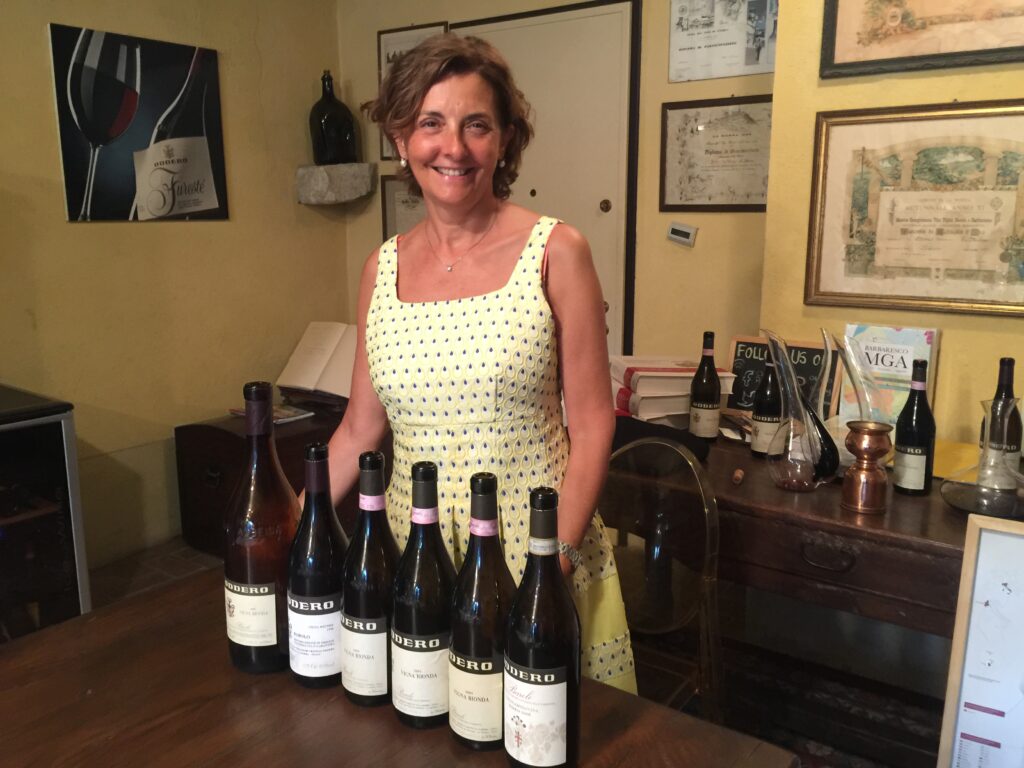 The greatest Barolo I have ever tasted, and I assure you I have tasted quite a few in my time, was a Bruno Giacosa 1978 Vigna Rionda Riserva Speciale. In fact, as talented as Giacosa was, there is no denying that much as it is with the Les Clos grand cru of Chablis or Chambertin, the Barolo from Vignarionda is always the most important and best wine made by producers lucky enough to be able to farm or own vines there. It's just a magical place in which to grow Nebbiolo and make Barolo from; and while it is a relatively small vineyard district such that only a small number of producers can make wine there, winemaking talent amongst those who can runs high. Of those few estates that can in fact make a Barolo Vignarionda, one of the most traditional and best is the venerable firm of Oddero and their wine is the subject of this vertical tasting report.
A little bit of history: Vigna Rotonda, Collina Rionda, Vigna Riunda, Vigna Rionda and Vignarionda
Vignarionda's name is the new spelling of Vigna Rionda, which was changed with the 2011 launch of the official vineyard district names of the Barolo denomination (these vineyard districts are referred to in italian as Menzioni Geografiche Aggiuntive or MGAs). This change was in order so as to leave the use of world "vigna" for real single-vineyard wines made within a denomination, while Vignarionda, like just about every other vineyard district/MGA if Barolo is not one vineyard but rather one large district of many vineyards. The name of this hallowed piece of land has changed numerous times over the years, and has been alternatively written as in "Vigna Rionda", but also as "Vigna Rotonda" (whered rotonda, or round in Italian, is a reference to the site's  more or less rounded topographical conformation) and its dialectal modification of riunda. In the early years in which he made a wine from this prestigious site, Bruno Giacosa preferred using the wording of "Collina Rionda". Vigna, Collina, Rionda, Riunda, Rotonda, Vigna Rionda and Vignarinda, plus a few I am probably forgetting now. What can I tell you, it's not surprisng to have such a long list of place names: this is Italy, after all.
Vignarionda, the vineyard district.
Vignarionda is located in the southern half of the Serralunga commune and on the western-facing flank of the Serralunga ridge that runs north-south and divides the commune more or less in two. If you were to look at a compass while standing on top of the Vignarionda, the entirety of Vignarionda's border to the north is near the Damiano MGA, while a distance away to the south lies on a separate parallel ridge, the Collaretto MGA. Never mind famous: that neither of those other vineyard districts are even well-known relative to their Barolos, while Vignarionda right there is the Holy Grail of Barolo vineyard land, tells you all you need to know about the magic of terroir. For as a result of a diversity of both physical and human factors, vineyard lands that really are only a relative hop, skip and jump away from each other can really give vastly different results. Broadly speaking, Vignarionda is a warm site (though not all the site has quite the same warm microclimate); the heart of Vignarionda is fully south- and southwest-facing (a smaller, less favourably exposed section of Vignarionda rounds out westwards as the hillside crest it lies on curves to the west and north, though I submit that with the onslaught of climate change we will all be forced to rethink these sort of assertions). The vineyard's district sunlit exposure further aids in creating an ideal microclimate for the vines. By analogy to cities, where there are more desirable neighbourhoods to live in and streets to own a house on, so it is with vineyards, some portions of which are better than others. And so it is that the Champs Elysées (Paris), Forest Hill road (Toronto), Bond Street (London) or Fifth Avenue (NYC) of Vignarionda is the middle section of the hillside crest. It is this part of the vineyard district that is generally recognized to be Vignarionda's best section [the area from where Bruno Giacosa used to source grapes from Aldo Canale (vineyards since inherited by the Giovanni Rosso, Guido Porro, and Ettore Germano estates)]. Those lucky enough to also farm this finite middle part of Vignarionda include estates of Luigi Oddero, Oddero, Giacomo Anselma and the Terre del Barolo coop. However, this is eally rakin to splitting hairs: all of the Vignarionda is a blessed site for Nebbiolo, and even the lowest-lying plots and those where the hill turns west are excellent sites, and the object of desire of all those who love and make wine that I have talked with over the years.
Vignarionda's soil is classic Serralunga: the landscape belongs to the Land Unit of Serralunga and it is characterized by the typical Lequio Formation lithology (compacted sands and marls with plenty of limestone). It's not a particularly fertile soil but is rich in elements such as potassium, phosphorus, manganese, magnesium, boron and iron. Locals believe that it is the large presence of of limestone and of mineral elements that helps Vignarionda's Barolos be not just complex, but marked by slightly higher acidity than is common. In fact, Oddero winemaker Luca Veglio (who has been at Oddero since 2001) believes that these help the formation of aromatic precursors. (For a much more lengthy, in-depth and data-filled analysis of the Vignarionda, I refer you to my upcoming book on Barolo and its wines, Barolo Terroir: Crus People Places, available this August 2022, where an entire section is devoted to the single crus/vineyard districts of Barolo.)
The Oddero estate and Vignarionda
Oddero bought a parcel of Serralunga d'Alba's famous Vigna Rionda cru in 1982 and made their first Barolo Vigna Rionda in 1985. Oddero's vines have a south-eastern exposure and are planted on KoberBB and SO4 rootstocks. The vines planted in the central part of Oddero's holding in Vignarionda are the oldest (planted in 1972); the estate replanted the upper part of their site in 1982 and the lower section in 1986. Even younger are the six rows replanted in 2017 (all in the central part) and another eight that will be replanted in 2023 (it has become necessary to do so given problems related to hillside erosion). Mariacristina Oddero recalls that the latter was replanted with Nebbiolo clone 71 (a Michet biotype), but has no knowledge or documentation of which clones/biotypes were used to replant the upper portion (though she believes that they chose to replant that section with massal selections of the old vines in the central portion). What she does know, and was literally blown away when I identified its presence when tasting the wine, was that there are about 5-10% of the vines that are of Nebbiolo Rosé, a specific biotype of Nebbiolo, growing in the upper portion of the vineyard. With a little experience, its lovely, perfumed contribution to the finished wine is indeed recognizable. And as of 2013, Oddero's Vignarionda holding is organically farmed.
Winemaking at Oddero is very traditional. The grapes macerate 20-30 days on the skin (no major differences between any vintages, according to winemaker Luca Veglio and Mariacristina) at maximum temperatures of 28-30°C. What changes is the number of pump overs and rack and returns (but as of 2012 no more délestages are performed, which Veglio believes was giving less fragrant wines and wasn't softening the tannins any). Beginning with 2019 they have begun using The Pellenc grape cruisher that removes all stems and actually leaves many grapes whole, and also as of that year natural yeasts. They have also introduced wood containers for the vinification process.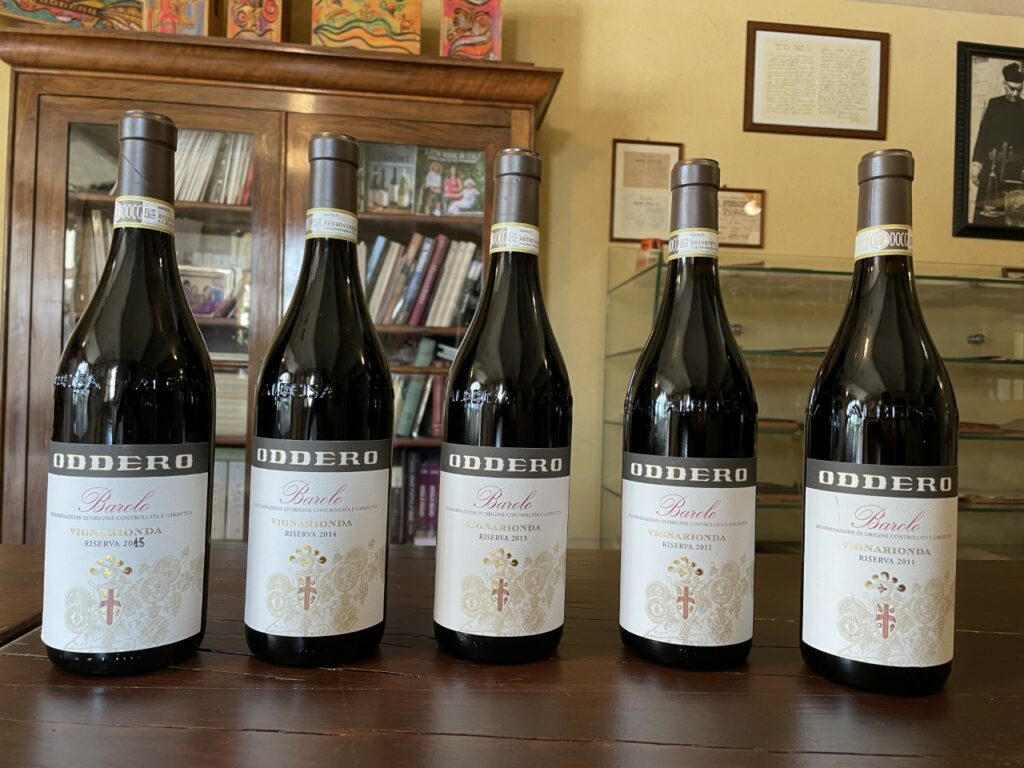 While the estate had previously released Barolo Vignarionda bottlings, as of the 2006 vintage it has decided to release its wine as a Riserva only. Therefore, the first ever Barolo Vignarionda Riserva released by Oddero is the 2006. The exact time after which the Riserva is released for sale is variable, and depends on the taste tests conducted at the winery and the characteristics of each vintage and wine. For example, the 2006, 2008 and 2009 were released ten years after the vintage, while in 2014 and 2018 that time was reduced to only five years (given the characteristics of those vintages, a quite reasonable decision, I'd say), still other times the Vignarionda Riserva has been, and will be, released seven years form the vintage. By contrast, when the vintage is not good enough to allows production of a Barolo Riserva, the estate chooses to blend its Vignarionda wine into the estate's classic Barolo (perhaps one of the reasons why the classic Oddero Barolo was so great in 2002, for example). The 2006 vintage is important for another reason too: Mariacristina started officially working at the winery in 1997 but became fully in charge of operations in 2006, so you might say that her own life at the winery has walked step in step with the Vignarionda Barolo, which became a Riserva permanently with that vintage. Furthermore, keep in mind that it is with the 2006 vintage that the wine's label carries the name written as Vignarionda (one word), whereas prior to 2006 the wine was labeled with the site's historic name of Vigna Rionda.
While I am at it, I would like to point something about this wine, because it speaks volumes about Mariacristina and the Oddero estate. You know how estates tell you they only make a specific wine in the best vintages and then, unless you walk through life completely asleep,  you see it on sale almost every vintage? Well, not so at Oddero, a class act where in miserable years they really do not make the Barolo Vignarionda. For example, none was made in 1992, 1994, and 2002; and only 1200 bottles were made in 2003, a horrific year that many tried desperately to talk up in an effort to save it but I still believe is the worse year for Barolo in memory (that said, the Vignarionda isn't nearly as bad as many other Barolos that were put on sale in that sorry vintage). A very traditional estate in its winemaking approach, Oddero's Barolo Vignarionda that really needs, in good years, at least fifteen years in the cellar before popping the cork, or you will miss out on everything this amazing site and wine have to offer.
The wines in this vertical tasting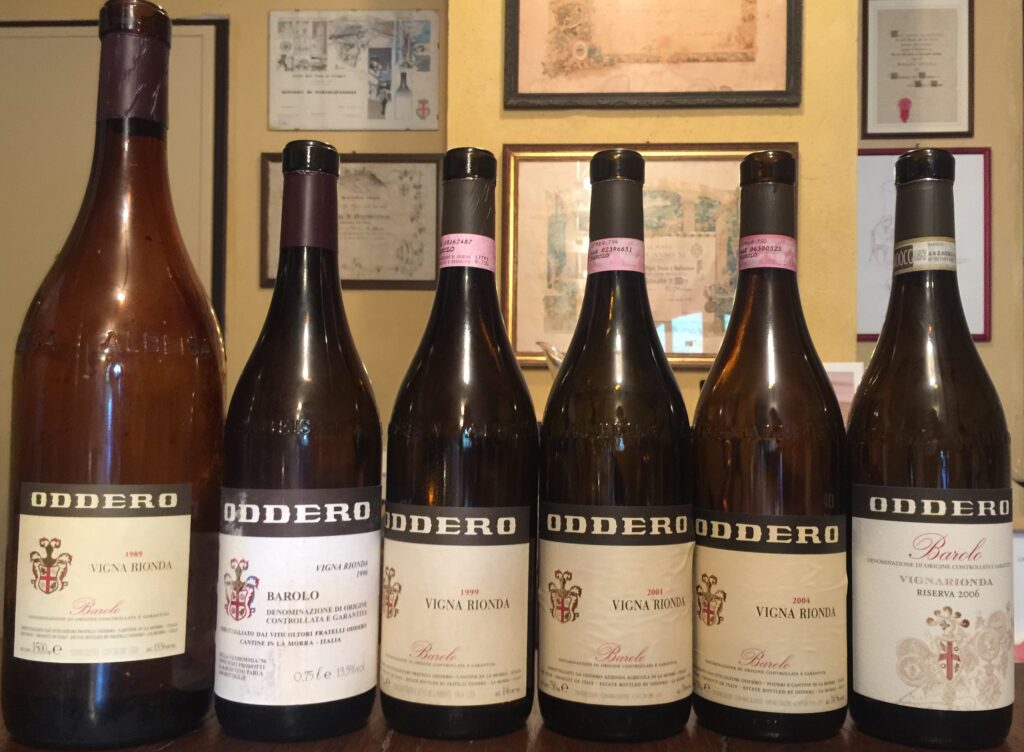 Oddero 2015 Barolo Vignarionda Riserva                                  97
Saturated vibrant red. Cherry-vanilla, cinnamon, strawberry jelly, and smoke on the nose nicely complemented by violet and red rose petal topnotes. Broad and tactile but also juicy and sweet, offering lush red and dark berry flavors and complicating notes of clove and minerals. The finish features a tangy cherry skin note and apricot, lingering long withwonderful clarity and spicy cut. I loved this wine being surprisingly light, almost pinot-like on one hand and rich and suave on the other. Drinking window: 2027-2050.
Oddero 2014 Barolo Vignarionda Riserva                                  94
Good full red. Vibrant aromas of red cherry, strawberry, blood orange, licorice, camphor, violet, and spices, with suggestions of crushed rocks, pine forest and lavender. Moderately dense and fresh, with perfumed floral nuances to the red cherry, licorice, and mineral flavours. Rather elegantly styled wine in keeping with the cool climate vintage characteristics. Closes firmly tannic and extremely long. Drinking window: now-2038.
Oddero 2013 Barolo Vignarionda Riserva                                  96
Medium bright red. Cool red cherry, mint, star anise and stone fruit on the nose, comoplicated by a hint of cinnamon and nutmeg that speaks of the Nebbiolo Rosé. Boasts a nice medicinal reserve that carries through onto the tight minerally-accented palate. With aeration, this showed a silky texture and lovely definition, not to mention a lingering dried cherry flavour a multilayered expression that unfolds slowly. A classically made Barolo, made in a very classic year (2013 is a relatively cool climate year that is, in many respects, a throwback to the vintages of the 1980s). Drinking window: 2025-2045.
Oddero 2012 Barolo Vignarionda Riserva                                         94
Good medium red. Sappy raspberry, redcurrant, flowers, tobacco and licorice on the nose, along with a hint of torrefaction. Offers restrained sweetness and hints of minerals and blood orange along with candied rose and strawberry nectar flavours. Closes with lovely intensity and vinosity and very polished tannins for the hot vintage. Drinking window: now-2045.
Oddero 2011 Barolo Vignarionda Riserva                                         92
Bright red with garnet highlights. Brooding aromas of dark plum, spicecake, cocoa, camphor and licorice. Boasts a gravelly and tar quality, not to mention considerable medicinal reserve to go with its plum and black cherry fruit. Showing less baby fat and obvious sweetness than Oddero's 2009 or 2012 Barolo Riserva Vignarionda, and amuch darker fruit and tannic personality. Finishes with the building tannins that won't let go of you with their firm grip (a little grippy, in fact), but also lovely sugar/acid balance and length. Drinking window: now-2033.
Oddero 2009 Barolo Vignarionda Riserva                                  95
Good bright red with garnet tinges. Forward, ripe red fruits, coffee, tar and spearmint on the nose are lifted by a bright blood orange topnote and a brown spice element typical of Nebbiolo Rosé. Then supple and surprisingly soft in the middle for a Riserva but in keeping with the vintage's characteristics, with an earthy and pliant quality to the sweet spice, dried candied rose and strawberry jelly flavours. Finishes long with building tannins but also suave. This open-knit Barolo is a major success for the vintage and is quite ready to drink. Drinking window: now-2032.
Oddero 2006 Barolo Vignarionda Riserva                                 92
Bright red with garnet highlights. Orange peel, spicecake and sour red cherries are lifted by rose and violet nuances. Boasting a cool and collected personality, with a slighly austere middle, but closing with rich savory flavours of red cherry, sweet spices and crshed rocks. A slightly green, nuance energes at the back along with slightly tough tannins. The finish is long, bright and spicy, but I wonder just how ripe the tannins were and about the oak used. Relative to the oak used, Mariacristina told me this was aged thirty months in large Austrian oak casks, but perhaps the fifty-five millimeter staves were too thick (slowing the wine's evolution and giving it a more tannic heft). Drinking window: now-2033.
Oddero 2004 Barolo Vignarionda                                                95
Lively red. Penetrating, concentrated aromas of raspberry, nutmeg, cinnamon, and forest floor. Ripe and rich, with a multifaceted personality to its cocoa, smoke, red cherry and tar flavours nicely framed by vibrant harmonious acidity. The close is long and structured, with tannins that were initially a bit tough when the wine was first released but have since mellowed nicely. This aged twenty-four months in large thirty hectoliter Slavonian oak barrels. Drinking window: now-2035.
Oddero 2001 Barolo Vignarionda                                                 96
Vibrant garnet-red. Sweet spices, ripe red cherry, strawberry, marzipan, and thyme on the perfuemd, mineral-accented nose.nose. Then similar flavours to the aromas, with a brightly suave tannic spine nicely framing the lush fruit flavours. Finishes long with building complexity and a refined personality. Drinking window: now-2035.
Oddero 1999 Barolo Vignarionda                                                95
Easygoing garnet red. Very elegant aromas and flavours of red fruit, star anise, forest floor, tar and camphor. Thick yet suave, with noteworthy energy and focus to the vibrant and lively red cherry and berry flavors complicated by hints of cilantro, tar and lavender. Finishes long with beautiful clarity and cut. Drinking window: now-2035.
Oddero 1996 Barolo Vignarionda                                                 91
Bright red with an orange rim. Dried flowers and both red and black fruits on the nose, with a strong underpinning of underbrush. Slightly reticent in the mouth, with a noteworthy tannic spine pushing the fruit in the background, and with slightly drying tannins on the long brightly floral finish. A slightly austere, fruit-challenged version of this wine but beautifully pure, precise and clean. Drinking window: now-2030.
Oddero 1989 Barolo Vignarionda                                                94
Luminous bright red with orange tinges. Beautifully nuanced wine that offers aromas of raspberry, boysenberry, candied rose, cinnamon, marzipan and violet. Compellingly sweet and marvelously balanced, with a piercing quality to its red fruit, tobacco and sweet spice flavours. Finishes long and sweet, with hints of milk chocolate, sweet pipe tobacco, leather and crushed rocks. A beautiful Barolo made in a riper, fleshier style that reflects both the vintage and the estate's winemaking at the time. Drinking window: now-2030.