Unforgettable
Via Lorenzo Valerio, 5b,
10122 Torino (TO)
ITALY
Tel. +39 011 1892 3994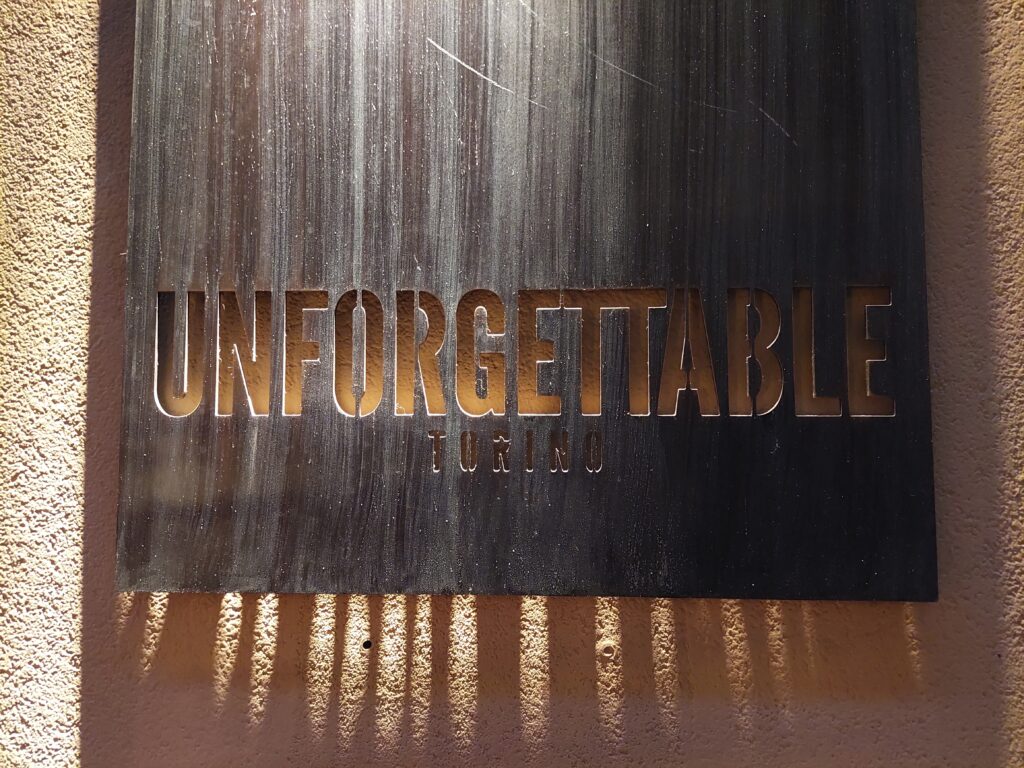 "I drink Champagne when I'm happy and when I'm sad. Sometimes I drink it when I'm alone. When I have company, I consider it obligatory. I trifle with it if I'm not hungry and drink it when I am. Otherwise, I never touch it – unless I'm thirsty." Lily Bollinger, (1899-1977), Bollinger Champagne.
How could Champagne be better defined?! It was 1961, and this was Madame Bollinger's answer to a London Daily reporter's question: "When do you drink champagne"?
Because, as a friend of mine is used to saying: "Champagne is not a wine. It's Champagne! It's a world apart!". In fact, when we are at the table with friends, at the end of the dinner, for him, the bottles of Champagne not count for the final tally of the bottles that get polished off on the night!
Champagne is one the best wines in the world (definitely one of my favorites). It's enticing, it's good, it's just one of those wines for which not a bottle … but a magnum is never enough. There are many fantastic bubblies from all over the world: Franciacorta, Cava, Crémant, English Fizz, Tasmanian sparklers and many many more, but Champagne, well, it's just Champagne.
Like all bubbly wines, Champagne is versatile, far more versatile than people give this class of wines credit for (versatile from the point of view of food pairing), indeed it is in my view by far the most versatile wine there is. It can accompany you like no other wine I can think of from the aperitif throughout the meal: it goes well with appetizers, fish, meats and even cheeses (but not with desserts, unless you gte the rare and not always easy to find Demi Sec or Doux versions!!!).
Furthermore, Champagne is also a wine that ages very well, again better than most people imagine. Champagne is not afraid of time, it loves time, it actually needs it to release all its charm. And I am not referring only to the great vintage Champagnes; the simplest of the N.V. champagne, after two-three years from the dégorgement is undoubtedly better (my opinion is that, mif well kept or even cellared, the quality NV cuvées all improve up to ten years from the dégorgement). A good vintage Champagne, on the other hand, comes easily beyond fifteen-twenty years and beyond.
Champagne, among the world's wine-growing areas, is unique.
Unique because of its climate: it is the most northern of the French wine regions (and among the northernmost of all). We are, in fact, close to the limit (50th parallel) for the cultivation of "Vitis vinifera": in fact, for some up there wine should not even be made. The average temperature of about 11 degrees Celsius is quite low, very close to the value below which the bunches do not normally ripen. Last but not least, it rains a lot, on average about 700 millimeters a year (although the rain is well distributed in all four seasons). There are vintages in which rainfall reaches even 900 total millimeters.
Unique because of its soils: in Champagne soil means craie, which cannot simply be translated with chalk. It is something much more complex. In Champagne, 75% of the subsoil is calcareous (craie, marl, etc.), but the craie (about 26% of the production area) is the type of soil that characterizes the Grand Crus of this region. It is a calcareous-chalky sedimentary rock (granular aggregates of calcite), of marine origin, white and very pure, made almost exclusively of calcium carbonate, soft and brittle, with a high porosity. The craie is fundamental for viticulture in Champagne as it acts as a water retentive agent and a thermal regulator; it allows this wine-growing area to face and put up with both very cold and very hot years, drought years and others that are by contrast very rainy, always without major problems.
In addition, the craie (like all calcareous soils) appears to have a very positive influence on the quality of the grapes, and on the aromas and finesse of the wines. And though what "minerality" exactly means in wines, or how even the minerals in the soil weave their magic into wine is not yet entirely clear, it only seems logical to infer that there is some cause and effect link or relationship by which to explain the freshness and minerality of Champagne. A freshness different from that given only by acidity: deeper, richer and more integrated.
And if we talk about terroir, as a perfect and fitting combination of soil, climate and human-beings, in which the last voice may or may not be, for good and for bad, the most important of these three factors (true, in nature wine would not exist without the role of men and women), with Champagne clearly the human element is of the utmost importance. Clearly, the more the climate is complicated, variable, irregular (as in Champagne), the more the wines are potentially unbalanced and acid (like Champagne), and so the more important is role of humans with their ability to interpret a territory and to make (hopefully right) decisions in the vineyard and in the cellar. Maybe more so than with other wines, when it comes to Champagne and bubbly wines in general, human-beings make the difference.
And we come to our blind tasting. An unforgettable tasting, at Christian Mandura's "Unforgettable" restaurant. Twelve Champagnes from the 2012 vintage paired with the chef's most iconic dishes.
The 2012 vintage is considered among the most difficult ever in Champagne, but, in the end, as often happens, among the most extraordinary that can be remembered. A true wine miracle, despite the frosts between April 13th and 17th and another series of catastrophic events reducing production by about 40%. Definitely abundant rainfall until mid-July (over 340 mm, + 60% compared to the average, the rainfall record since the early 1990s), with all the attendant phyto-sanitary problems it is easy to imagine. Then in August a drastic change in weather conditions: things became suddenly favorable (a dry season ensued, with almost torrid heat, which in this case was welcome because it helped dry the water-logged grapes off)  and a noteworthy day-night temperature range allowed grapes to preserve acidity levels while maintaining and building a high sugar content All this allowed not just to save the harvest, but to hope for a great vintage (confirming the old saying: "It is August that makes the must!"). And so it was: a  "small" (in quantity) but "great" (in quality) vintage that will remain in the history of Champagne.
Thus the 2012 Champagnes (as we can see in our tasting and you can from the relevant tasting notes below) turned out to be vibrant but generous, fruity but with a sneaky acidity, perfectly balanced; of immediate pleasure and great and deep concentration. A vintage that has all the prerequisites to age very well. To quote Alice Paillard of Bruno Paillard: "Où la force épouse la grâce" (Where strength marries grace): her words summarize in an admirable way the character of these 2012 wines.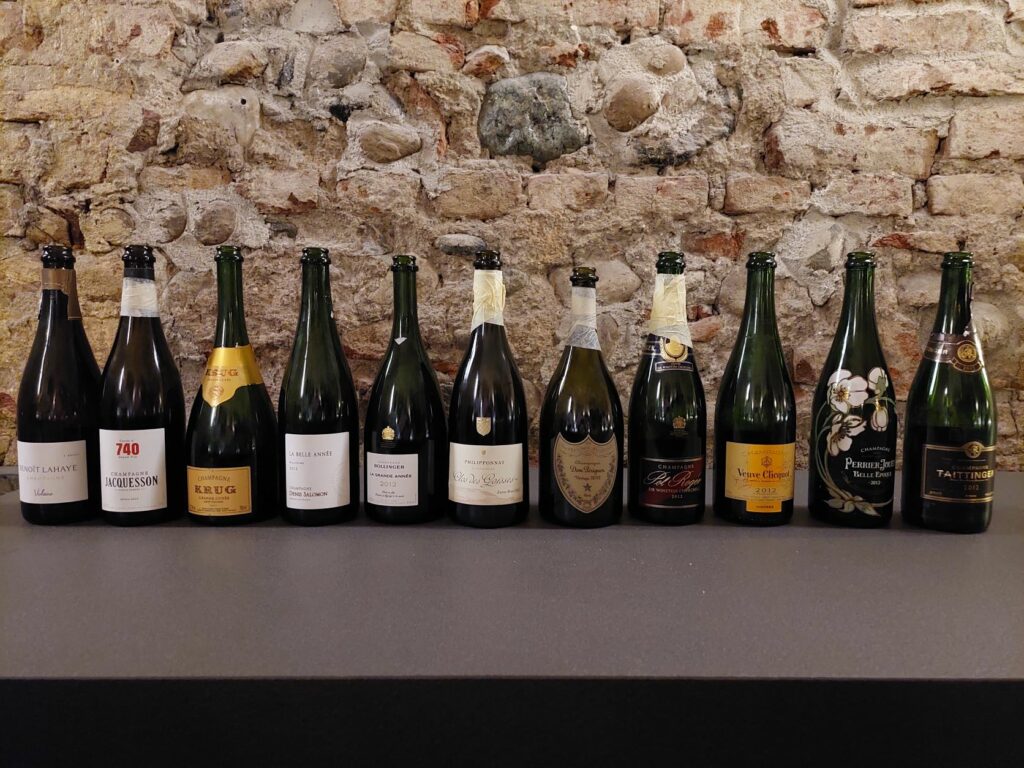 The wines, in order of service (served blind):
Louis Roederer – 2012 Champagne Brut Cristal
Benoit Lahaye – 2012 Champagne Brut Nature Violaine
Jacquesson – NV Champagne Extra Brut Cuvèe N° 740
Krug – NV – Champagne Brut Grande Cuvée 168éme Édition
Denis Salomon – 2012 Champagne Brut La Belle Année
Bollinger – 2012 Champagne Brut La Grande Année
Philipponnat – 2012 Champagne Extra Brut Clos des Goisses
Dom Perignon – 2012 Champagne Brut
Pol Roger – 2012 Champagne Brut Cuvée Sir Winston Churchill
Veuve Clicquot – 2012 Champagne Brut
Perrier Jouet – 2012 Champagne Brut Belle Epoque
Taittinger – 2012 Champagne Brut
All scored more than 90 points. For all of these, definitely "one bottle is not enough", and like I wrote earlier, for some (at least for my best six) a "magnum" might not be enough…in fact, I am looking forward to getting hold of a case of some of these beauties!
My best six Wines Of The Night (WOTNs) were:
Krug NV Champagne Brut Grande Cuvée 168éme Édition                     98
The 2012 vintage of Krug's iconic Grande Cuvée is a blend of Pinot Noir (52%), Chardonnay (35%), Pinot Meunier (13%). To be blunt, some recent verisons of this usually stellar wine have left me scratching my head (and not just me as I have heard the same sort of musing from other knowledgeable wine friends). For whatever reason, some recent Grande Cuvées have been thin, tart and far removed from Krug's historic and traditional rich, slightly oxidative, buttery hazelnutty style. Whatever the reason (too many bottles? Too high yields?), people don't want to talk about it much, and maybe I was just unlucky with the bottles I tried. Who knows. So we'll just let sleeping dogs lie and say it's great to see this incredible bubbly back on track. The Krug NV Champagne Brut Grande Cuvée 168éme Édition is superb. The aroma and flavor profile is amazing. Citrus, gingerbread, freshly blossomed flowers, and ripe apricot, then enticing notes of pan brioche, almonds, marzipan and honey. Wonderfully vibrant and elegant on the palate; rich and exceptionally fresh, with a terrific core of citrus flavors and an extremely long finish. Gorgeous. Drinking window: now-2035.
Philipponnat 2012 Champagne Extra Brut Clos des Goisses                  98
A blend of Pinot Noir (61%) and Chardonnay (39%). Clos des Goisses it is the oldest clos (walled vineyard) in Champagne and, above all, the steepest (≈ 45°) with an exceptional soil (rich in craie). Astonishingly elegant and refined on the nose, notes of chamomile, raspberry, praline, brioche, honey and pastry cream. Fresh and silky, complex and balanced, with a long and mineral finish. A very fine and enticing Champagne, and much better than the slightly disappointing 2011 Clos de Goisses. Drinking window: now-2040.
Jacquesson  NV Champagne Extra Brut Cuvèe N° 740                  96
Based on the 2012 vintage (> 70% of the base wine). Multifaceted bouquet; citrus (with some candied hints and nuances), apricot, hazelnut, dried flowers, pastry and mineral and flinty notes. Rich, creamy, silky and refined on the palate, with a pleasant long finish with citrus reminders. Drinking window: now-2030.
Bollinger 2012 Champagne Brut La Grande Année                        96
Pinot Noir (65%) and Chardonnay (35%) are the blend in 2012. Expressive, elegant and complex on the nose, with aromas of chamomile, citrus zest, apricot with notes of almond, honey, and brioche. On the palate, it stands out for its texture and exceptional and balanced structure. Vibrant and creamy, with intense and refined fruity flavors, and an enticing mineral and mouthwatering finish. Drinking window: now-2030.
Louis Roederer 2012 Champagne Brut Cristal                         94
Another bubbly dominated by Pinot Noir (60%) with Chardonnay (40%). Rich and complex bouquet: white flowers, lemon zest, citrus, hazelnut and vanilla enriched with pastry and mineral notes. Vibrant, deep, with a graceful texture, and a chiseled acidity that makes this wine extremely pleasant and enchanting. Drinking window: now-2032.
Dom Perignon 2012 Champagne Brut                             93+
As often happens when Dom Perignon is first released, it is not the Champagne that enchants the most: it is with aging that it shows all its charm and greatness (so for example, if I were to repeat this tasting ten years from now, my scores would look different; hence the + sign on my score here). Notes of fresh almond, mint, candied lemon and dried fruit, complemented by toasted hints. Powerful, intense, creamy: this 2012 has plenty of energy, perhaps not yet perfectly in balance, but it will have a great future. Drinking window: now-2030.
These great bubblies only made a memorable evening of wine and food even greater. In fact, just as unforgettable were the dishes that Christian Mandura prepared for this unforgettable tasting.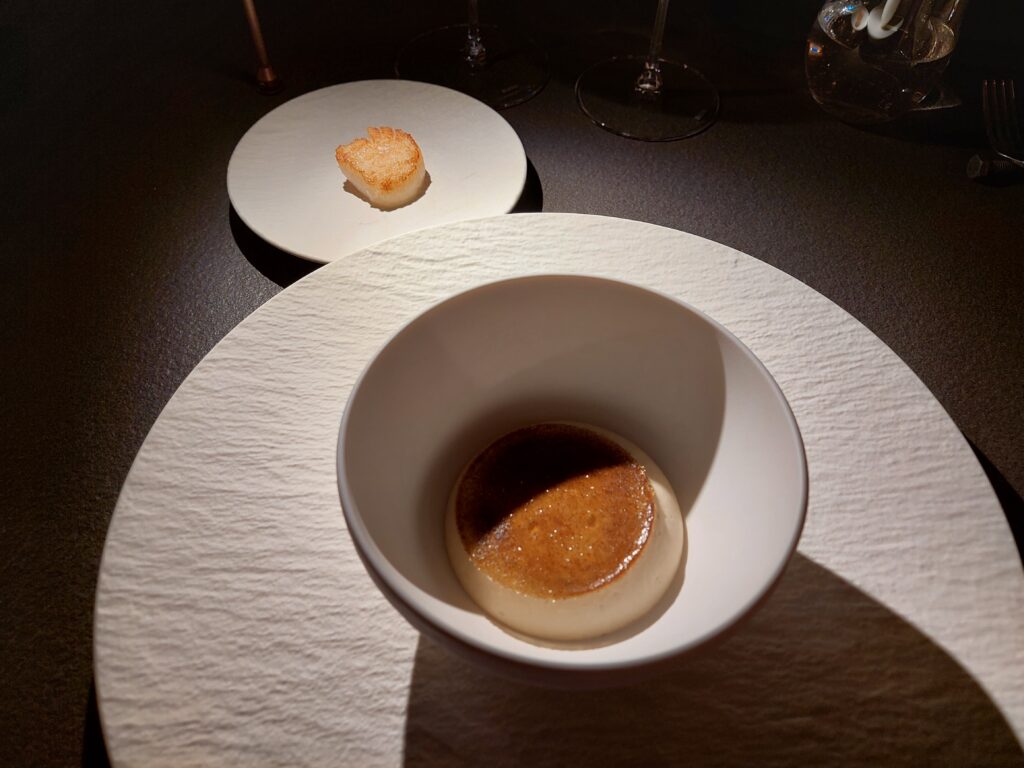 Opened in 2019, and despite forced closures due to Covid-19, the restaurant has grown enormously in quality and level of precision. Not only the cuisine is excellent; the dining room (a charming seventeenth-century room with exposed bricks), the atmosphere and the service are just as excellent too. Dinner is served for all diners at a single social table, a counter where you perch, rather comfortably, for dinner, and with Christian (and his brigade) explaining the dishes face to face. It's a bit of a show but it works well, and we had a lot of fun.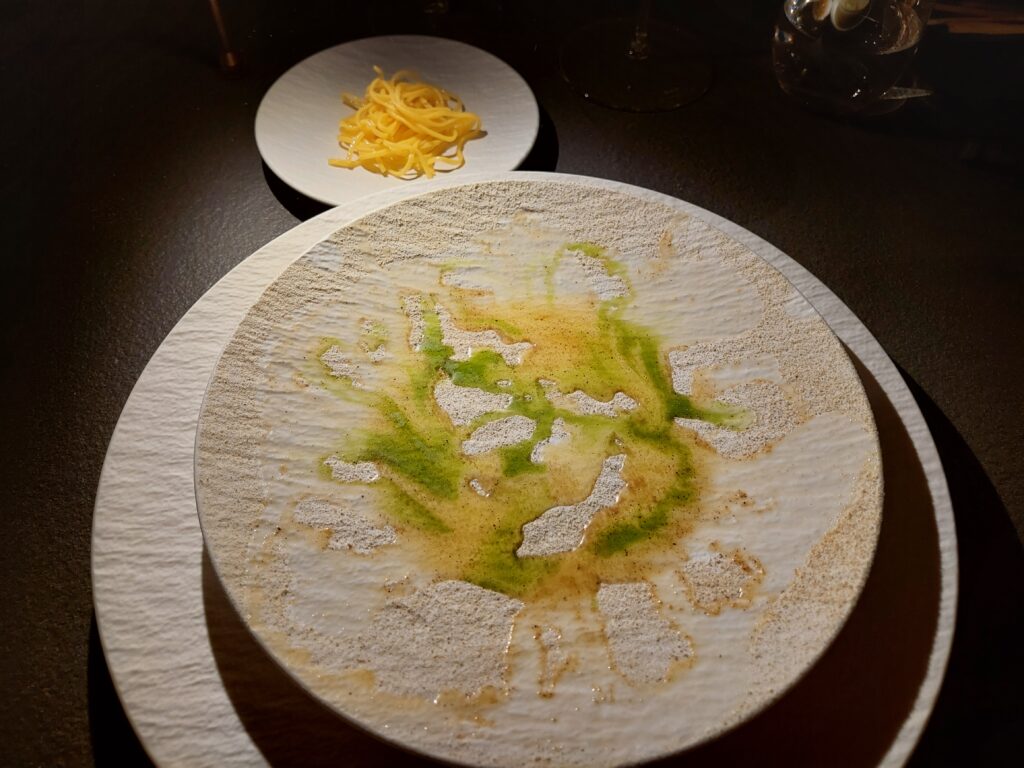 The style, the fil rouge if you prefer,  of Cristian's innovative cuisine is: "vegetables front and center". A la Passard, the protagonists of each dish are vegetables. There is no shortage of animal proteins, but only as a side dish (indeed the main plate is for vegetables and the proteins are served in a smaller side plate, the exact opposite of what happens in most restaurants all over the world). The results are surprising explosions of taste and contrasts, in a perfect balance of flavors and textures.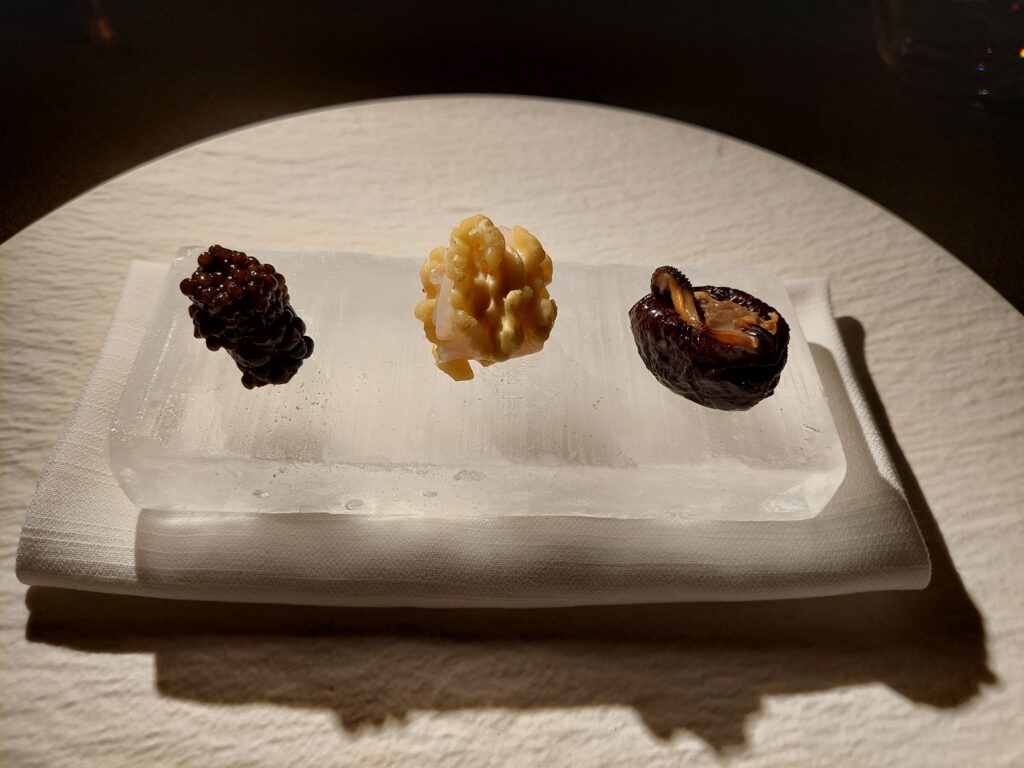 My favorite dishes were undoubtedly: Blackberries and caviar; Cauliflower, licorice, and scallop; cold tagliarini with porcini mushrooms and hazelnut oil.
Great wines and great dishes that made for an unforgettable experience.