Opera
Via Sant'Antonio da Padova, 3,
10121 – Torino (TO)
ITALY
Tel. +39 011 1950 7972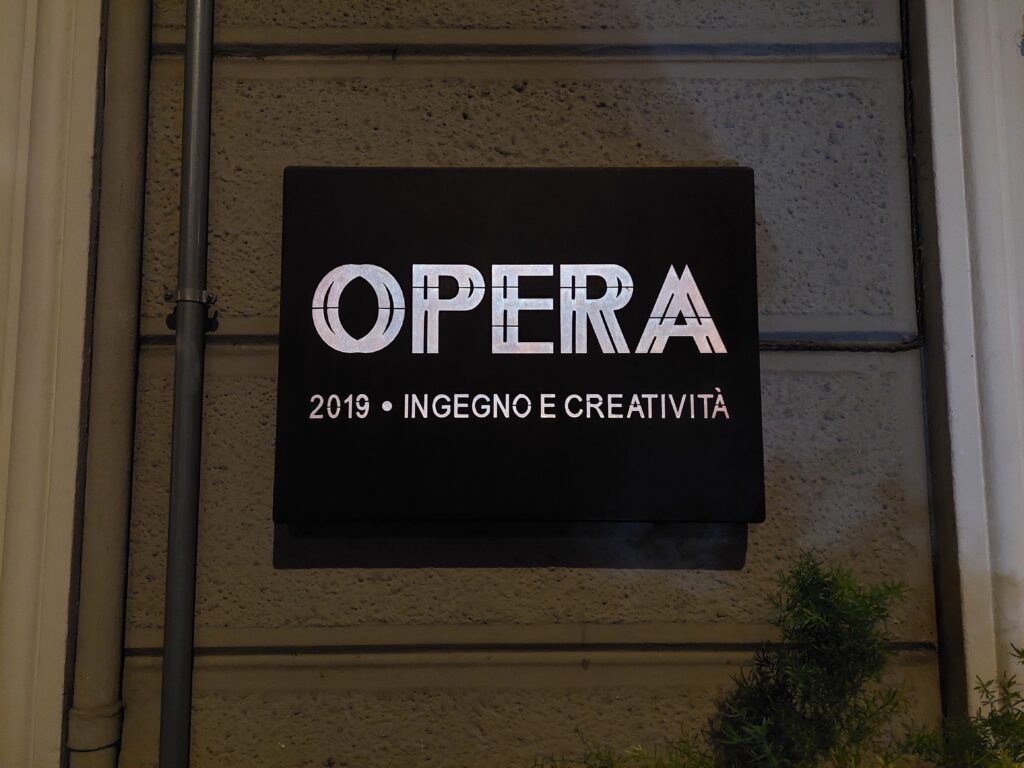 When you find out that a new restaurant has just been opened, whose chef was born and grown in the same town you live in, the curiosity can only push you to go and try it. And so, it was in summer 2019, with some friends of mine who also live in the same town, we decided for the first time to go to Turin to try this new restaurant.
The Opera restaurant, led by Chef Stefano Sforza, is based in Turin downtown, very close to the new Porta Susa railway and underground station. Opera is an Italian word used in many contexts with different meanings. It is a word that refers both to manual labor (typical of the craftsman), and to the idea of art, whether it be a painting, a sculpture, or a musical creation. It is a word capable of combining manual abilities with inspiration, ingenuity, and creativity. Opera is the word that represents the essence of the philosophy of this restaurant. In these 3 years the reputation of this restaurant and its young chef has grown.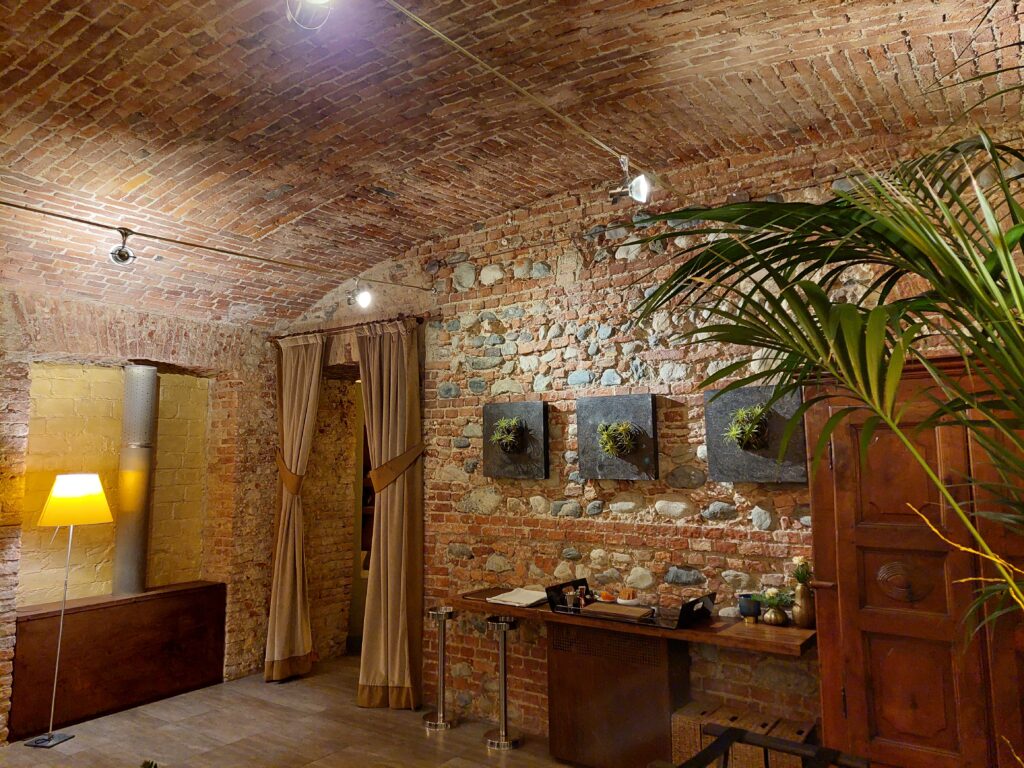 I returned this spring, to taste Stefano's new dishes, intrigued by his choice to pay particular attention to food ethics (taking up the challenge launched by the WWF on the sustainability of farm animals) and consequently to eliminate from his menu foie-gras, eel and monkfish (which were actually some of his signature-dishes) and replaced them with foods capable of offering similar sensations and tastes, without using animals at risk of extinction. Stefano Sforza, born in 1986, boasts important experiences with Pier Bussetti, Alain Ducasse and Luigi Taglienti, all extremely famous chefs. After more than 15 years of experience (at the Bellevue in Cogne, at the one Michelin star Cambio di Torino, at the Trussardi alla Scala in Milan and at the Les Petites Madeleine of the Turin Palace Hotel), he espoused the Cometto family's project and set up shop at Opera Restaurant as Executive Chef.
Already from the entrance you are struck by the splendid setting of the restaurant, with its barrel vaults, exposed bricks, and parquet floors. The kitchen overlooks, with large crystal windows, the elegant entrance corridor that leads to a very beautiful and large dining room. The atmosphere is elegant and welcoming. The tables are well spaced out and the service is delightful, attentive, friendly, professional and not at all stuffy. Stefano's cuisine is made of territoriality, innovation, and tradition, with a menu that changes every 3-4 months, according to the seasonality of the products. It is the result of years of studies and careful research aimed at the sleekness and at promoting foods that are the best Italian cuisine expression.

Opera offers two tasting menus (one completely vegetarian, designed not only strictly for vegetarians, but for those who want to go beyond the concept of vegetables) as well as à la carte dining. We opted for the "Opera" menu, which is designed to be the chef's manifesto. A tour around the world, in which to be guided through a creative path, where Stefano using different types of cooking and textures, gives free rein to his creativity and expresses all the essence of his cooking style. Bread and leavened products are of their production; simply delicious is the "the farinata wafer", that is a chickpea farinata cooked in the wafer mold, which gives an immediately recognizable shape and a particularly fragrant texture. We tasted very original dishes, perfectly balanced and technically flawless.The Scallop with litchi and caviar (Canestrello, litchi, caviale) was the best dish of the night, a sublime, intensely concentrated and savory dish, revealing above-average technical ability, first-rate ingredients and great care in the combination of aromas and textures. Almost as good was the Fava-bean ravioli, apple and Angostura (Ravioli di fava, mele, Angostura) that lights up the mouth with an explosion of different flavors and textures. Very good also the "Spaghetti, herring and orange" (Spaghetti, aringa, arancia), with a perfect combination of smoky aromas (herring) and fresh and fruity flavors (orange).
Wine-wise, Opera presents a fairly priced and well thought out wine list, managed with competence by the young sommelier Carlo Salino. The Ballabio Spumante Classic Method Pas Dosé  Farfalla Noir Collection Zero Dosage is only made with Pinot Noir grapes, from the estate's historic vineyards grown at over 400 meters a.s.l. on predominantly marly soils. Tirage with selected yeasts and bottle aging for at least 40 months on the lees. The bouquet is rich and multifaceted, refined and elegant. Fruity notes of orange, pear, white peach and melon with hints of bread crust, dried fruit and white chocolate. Creamy, rich and elegant on the palate, with a long, fresh and savory finish. A beautiful "gastronomic" wine. A pleasant surprise. The 2017 Scala Fenicia  Capri Bianco is made from a blend of Greco (50%), Biancolella (30%) and the Falanghina (20%) varieties. Aromas and flavors of wildflowers, aromatic herbs, citrus, apricot and pear complemented by a mineral note. Saline and juicy, with a fresh and pleasant finish with reminds of marine breeze. A perfect pairing with our dishes. Last, but not least, the 2019 Francois et Julien Pinon Vouvray Les Déronnières Sec from the best estate's vineyards, on calcareous and chalky soils, is 100% Chenin Blanc aged five months in tonneaux on the lees. I love Chenin Blanc, and this wine is really a beautiful example of what the Loire terroir can offer. Enticing and complex nose: spring flowers, citrus peel and apple aromas with mineral and saline notes. Deep and elegant, intense and refined, wonderfully clean and bright with a pleasant and long finish; its mineral, citrus profile matches with our dishes exceptionally well.

We had a simply wonderful meal at the Opera this time around.The use of marinated or fermented fruit in its dishes is intriguing, as an acid note in combination to both meat and fish. From apparently simple proposals, unexpected combinations and textures emerge that harmonize together, and the results are real explosions of taste; surprises that delight the palate.Opera is a restaurant capable of surprising the gourmets, thanks to the creative flairs and undeniable skills of Stefano. A beautiful discovery that enriches the panorama of Turin restaurants, which I highly recommend to all those who decide to come and visit one of the most beautiful cities in Italy… and in the world.
The dishes
Amuse bouche
Beetroot, blackberry vinegar, Tonburi (Barbabietola, aceto di more, Tonburi)
Scallop with litchi and caviar (Canestrello, litchi, caviale)
Cow tartare, pomegranate, radicchio (Tartare di vacca, melograno, radicchio)
Fava-bean ravioli, apple and Angostura (Ravioli di fava, mele, Aangostura)
Spaghetti, herring and orange" (Spaghetti, aringa, arancia)
Artichoke broth, yogurt, salty lemon  (Brodo di carciofo, yogurt, limone salato)
Turbot, chards, pomelo  (Rombo, biete, pomelo)
Caramel, peanuts, grapefruit (Caramello, arachidi, pompelmo)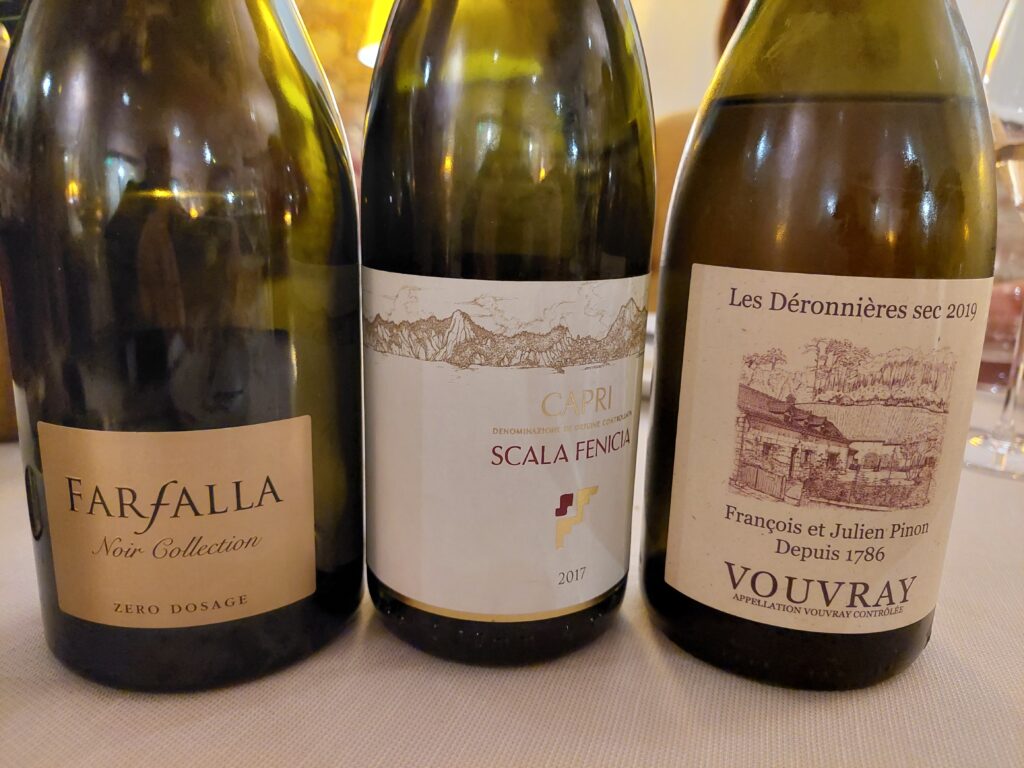 The wines
Ballabio NV Spumante Classic Method Pas Dosé  Farfalla Noir Collection  Zero Dosage     92
Scala Fenicia 2017 Capri Bianco                                                           91
Francois et Julien Pinon 2019 Vouvray Les Déronnières                            94