Piazza Duomo
Piazza Risorgimento, 4 – angolo Vicolo dell'Arco
12051 – Alba (CN)
ITALY
Tel. +39 0173 366167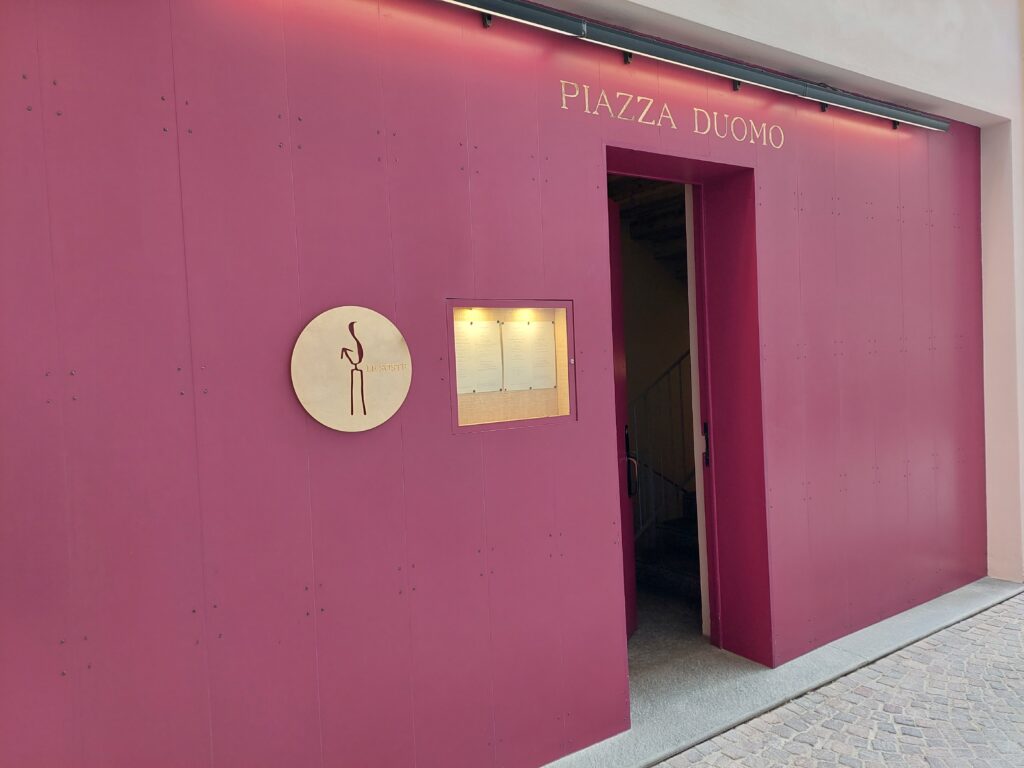 All-right now: you can imagine just how happy I am to tell you about yet another amazing tasting menu created by Enrico Crippa, one of the greatest chefs in Italy, and especially so when the menu is presented as an "ode to Barolo".
Enrico, after obtaining the Hospitality Institute Diploma from an Italian school, began his apprenticeship with Gualtiero Marchesi (the father of modern Italian cuisine and by almost everybody's account, the most historically relevant Italian chef of the last fifty years) in Milan and then flew abroad, where he collaborated with the best European chefs. In 1996, he opened Gualtiero Marchesi's restaurant in Kobe and remained in Japan until 1999: three fundamental years for the development of his talent.
In 2003, the meeting with Bruno Ceretto, who thanks to the tasting of Enrico's "Crunchy Pumpkin Seeds and Malghesino" dish (a blue cheese from the region south of Milan), realized he had finally found the chef with whom to achieve his dream. That being to have the first three Michelin Star restaurant in the Langhe area.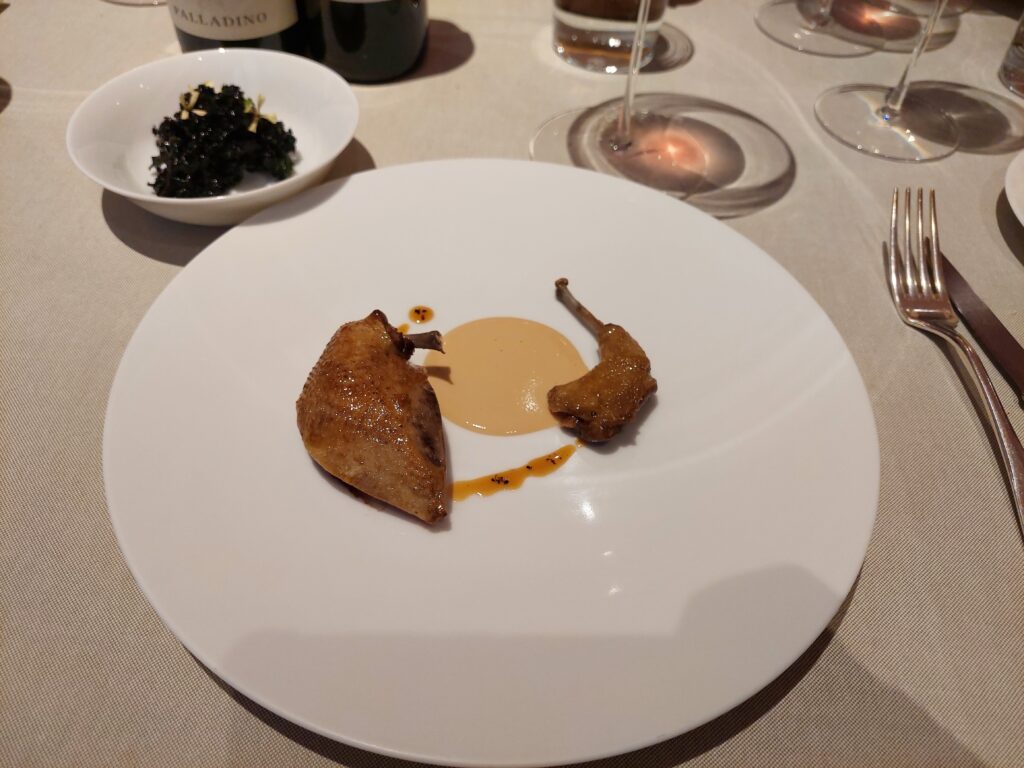 And so it was that in 2005 the project for the Piazza Duomo restaurant in the center of Alba began. Talent and dedication are rewarded by Michelin stars: the first star arrived in 2006, the second in 2009 and, in 2012, the third rewarded all the team's hard work and efforts (that same year, Crippa became president of the jury for the Bocuse d'Or, an old and still well regarded chef's competion named after the legendary Paul Bocuse). Since 2013, Crippa's cuisine has brought Piazza Duomo into the list of the 50 Best Restaurants in the World and has gathered numerous other important accolades and awards. In 2017, Crippa was awarded the "Grand Prix de l'Art de La Cuisine Award" assigned by the Académie Internationale de la Gastronomie.
It is fair to say and only honest to recognize that the "Ceretto Family & Enrico Crippa" partnership is one of the most successful food and wine associations of the Italian restaurant scene; an enlightened and ambitious wine family (who always had in mind to promote tourism in Langhe also by wayof the excellent regional ingredients -that go far beyond the well-known white truffle- and the cuisine of a great restaurant), who left carte-blanche to the inspirational drive of one of the most brilliant and talented Italian chefs of his and other generations. The end-result is Piazza Duomo, one of the world's best restaurants.
Enrico Crippa's style is unique and unmistakable; it digs deep, resides even, in the wise and frequent use of plant and floral elements, and in its "essentiality", if you allow me the term. The canons of "essentiality", or in other words getting to the core and highlighting the essence of things, means that in a dish it is always better to subtract than to add (because less is more), in the ability to master the cooking techniques while at the same time enhancing the ingredient (Crippa's main focus) with an aesthetic sense and a hint of the Orient, a sensibility that Enrico developed during his time and accumulated life experiences in Japan.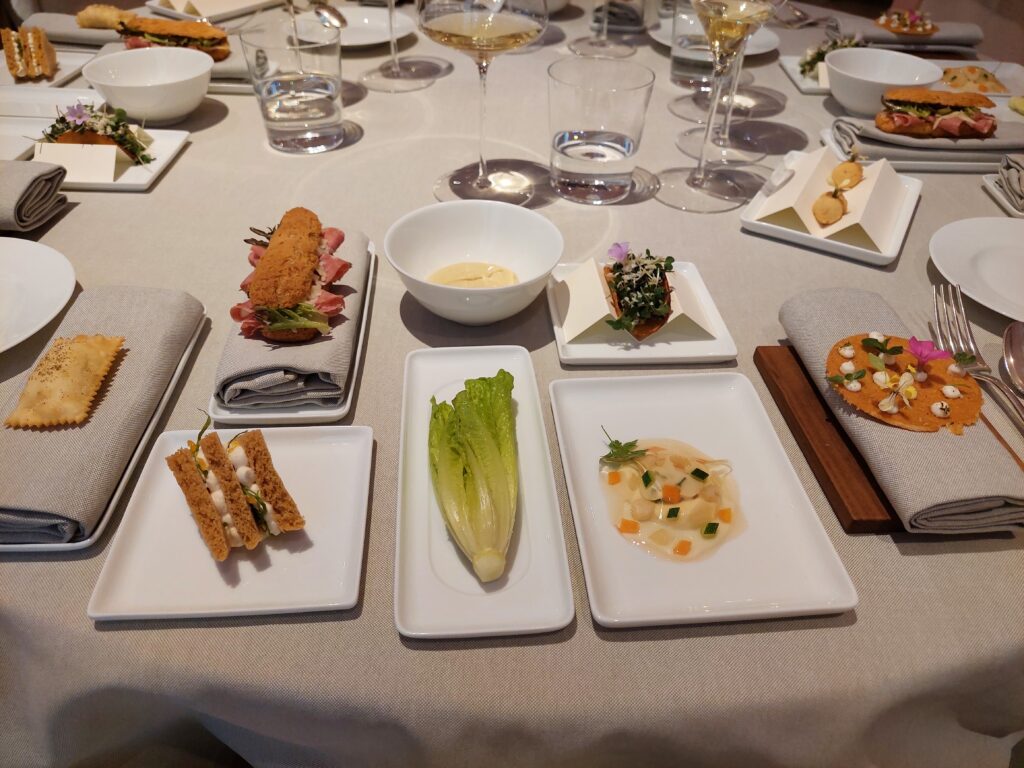 But having a recognizable and original style is not enough. It is also necessary to know how to decline it in different forms, flavors and tastes, without ever repeating that style for the style's own sake. In other words, in having the ability to offer dishes time after time that are always different, in which, however, you recognize the common thread and the soul of the chef. Dishes that ultimately are always able to amaze the customer.
In the Langhe, thanks to his style developed over the years, Enrico Crippa has been able to carve out a very personal space in which he has been good at respecting territory and seasonality, while at the same time, innovating and holding local tradition in high regard. It was during the last Covid-related lockdown that Enrico Crippa came up with the idea of a brand new menu dedicated to Barolo. It is the logical result of years of study, research, his passion for the beautiful territory of Barolo and its wines, as well as the perfect harmony that exists between himself and the Ceretto family. In this respect, Federico Ceretto told me: "We were able to define and create this menu because we finally had the time, I won't say thanks to, but rather because of Covid, to define in detail and experiment with some ideas that we had been mulling around for some time. The menu is the consecration of fifteen years of meticulous research, notes, experiences on the territory and ideas that were already in Enrico's mind, born in these years he had lived in the Langhe, but also inspired by his many travels around the world. There was just a need to rearrange everything, give all those ideas time to settle, and find the right moment and ways by which to reveal them and create a menu paired with Barolo. So in this menu, the wine was and is the creative spark. The menu therefore takes shape in the nineteenth century, right in the House of Savoy, from an idea of then chef Giovanni Vialardi, to whom we also owe the wine list. At the time, Barolo was already a protagonist, and in some sections of society at least, there were menus entirely dedicated to Barolo. But I stress that this menu is also an ode to Piedmont and its great culinary traditions, yes from the royal house of Savoy, but also from the peasant realities that had to make do with every day poverty and ingredients. And so it is that this menu alternates "royal dishes" (such as risotto and game), a dish picked right out of the historical menus of the House of Savoy, with dishes more typical of a poorer, rural cuisine (such as snails of the Benedictine tradition or the Vine-grower's -vignarola-salad, which admirably recycles the leftovers of the typical Piedmontese "Bollito" / boiled meat). When all is said and done, the menu combines elements of the latter cuisine, admittedly ennobled by the touch of Crippa's modern and forward-thinking creative mind; and those of the former, a noble-bourgeois cuisine but that has also been reinterpreted, mostly lightened in dishes that were once somewhat heavier because of the ingredients used, thanks to the technique of a talented chef like Enrico. It really couldn't be otherwise, given that he has made balance, lightness and the enhancement of ingredients his creed." It follows that with this menu, a fusion between royal and peasant, traditional and innovative, Enrico Crippa and his brigade guide the diners on a journey through time, to let him and her know the history and the relationship of Barolo, the wine, with the cuisine of Barolo, the territory. An articulated culinary journey, in which Crippa's ability in seeking the essential and removing the superfluous achieves a perfect synthesis between tradition and innovation, between fatness and acidity, in wonderful balance with the flavors, aromas and tannins of the king of wines and the wine of kings, Barolo.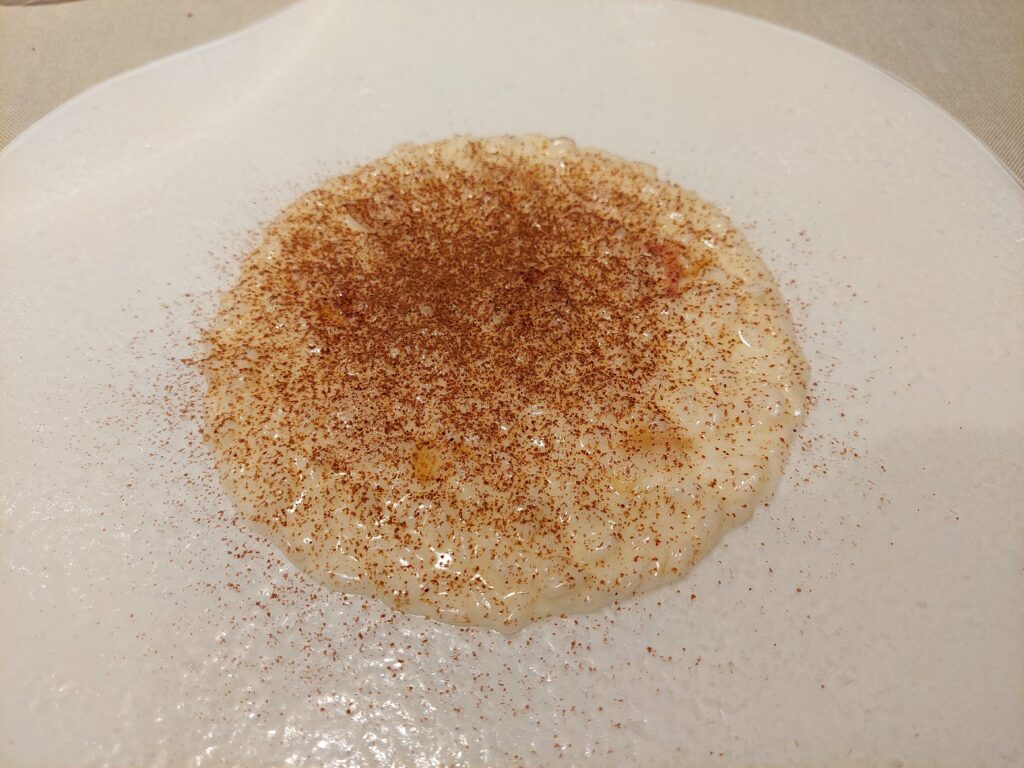 Starting with the amuse-bouche (a modern idea of the "welcome to the court", or the Turin Aperitif: it is believed that the rite of the aperitif was born in Turin at the end of the 18th century), Piazza Duomo's Barolo menu shows its peculiarity, with a series of small tastings that always harken back to and recall the history and culinary traditions of Piedmont. There are doubtless French influences, with the Eclair (but that is stuffed with salame cotto  and Raschera cheese, both typical of the local Italian Piedmontese reality) and with the Arlette (but made with Parmigiano cheese), but that are blended with those of Italian origin. Similarly, there are the Russian salad, a very typical dish of the poorer sections of society but that comes covered with gelatin, something more in accordance with the bourgeois traditions, right up to the famous tramezzino (a sandwich made with soft chickpea bread, stuffed with mayonnaise and egg yolks), a tribute to Caffè Mulassano, in Turin, where this sandwich was invented. And many other delectable dishes still, including the "Vinegrover's Salad" (Insalata del Vignaiolo): an iconic Crippa dish, further revisited where the thin layer of escarole is stuffed with green lettuce, apple, salsa verde, hazelnut, walnuts, veal tongue and Raschera cheese; the "Fassona Garibaldi": Fassona meat Carpaccio dedicated to Garibaldi, a dish that is a reinterpretation of the Albese Carpaccio, enriched with black truffle, black truffle sauce and hazelnuts, served with a hazelnut sandwich and a cup of veal broth, which, when you are finishing the dish, will be enriched with a half glass of Barolo, as they used to do in the Langhe tradition; "Snails and Polenta", another simple and poor peasant recipe that becomes a masterwork with the Enrico's lighter touch; "Risotto Rooibos", risotto with rooibos powder (used to make South African red tea), crispy bacon and orange (such a delicious dish that "one dish is not enough … for me"); "Cardoncello Mushroom", mushrooms in a creamy mushroom sauce with truffle and mushroom broth on the side; "Cavour Pigeon", a breast and thigh served with a sauce of black truffle and foie gras, with a crunchy black cabbage to combine the various elements that make up the dish; "Pumpkin Seeds and Malghesino", pumpkin seed brittle with Malghesino, a blue cheese from the region south of Lodi, with dehydrated raspberries (previously mentioned as the dish that first bewitched Bruno Ceretto); "Cavour Bisotto & Zabaione", a tribute to the Count of Cavour, one of history's most illustrious Piedmontese men, Italians actually, who was not just a politician, but also a refined gourmet and great supporter and producer of Barolo, and so his presence in this menu was unavoidable. The biscotto, cookie, named after him is a savoyard to be dipped in eggnog: spectacular, before coffee. In Crippa's cuisine everything revolves around the ingredients, always treated with respect and intelligence. I have always thought that his dishes, so elegant and refined, were a bit like the great Nebbiolos (whether they are Barolo or Barbaresco, Lessona or Gattinara, Roero or Carema), because like these wines, they too require great attention to taste them and to grasp every nuance.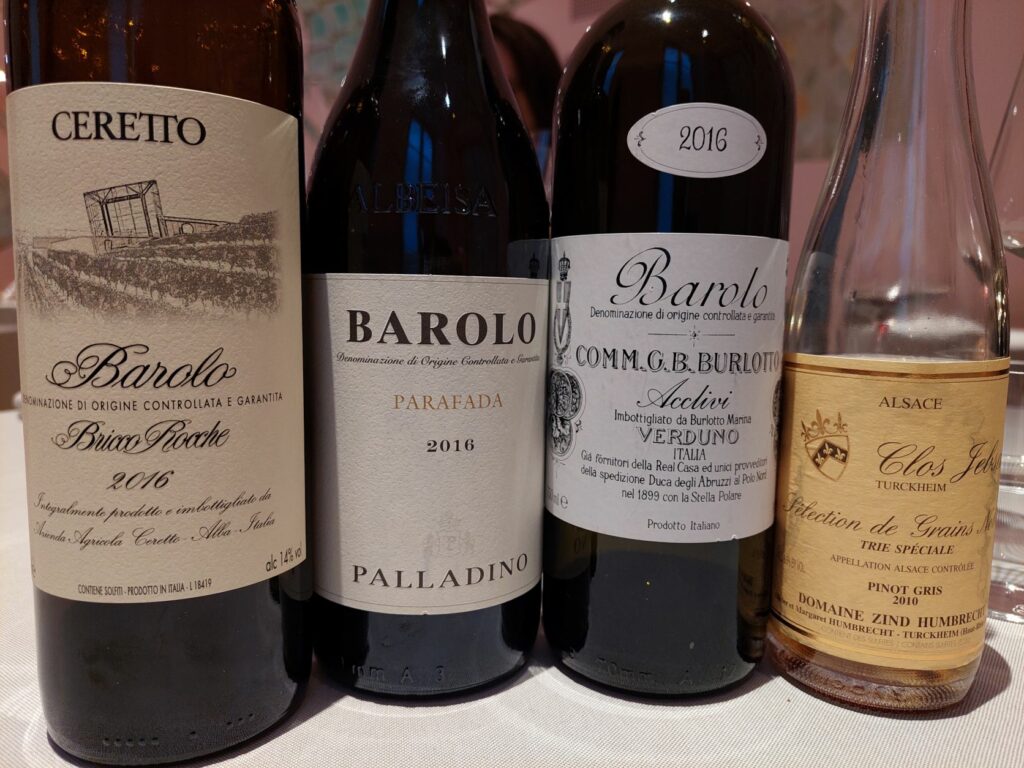 During my stay, the dishes were clearly great, but so were the wines. We began with a Delamotte NV Champagne Blanc de Blancs (bottling for Piazza Duomo). Complex, rich and ample, with white flowers, pear, aromatic herbs, citrus. Depth and creamy, savory and pleasantly fresh. A blanc de blanc with a vibrant personality and a long elegant finish form a house that is a recognized master of this Champagne type. The G.B. Burlotto 2016 Barolo Acclivi is a testament to Fabio Alessandria's skill, whose Barolos are always an expression of purity and elegance. The Barolo Acclivi expresses the great potential of the Verduno terroir, and is produced only in the best vintages from a rigorous selection of grapes from their best and oldest Verduno sites (Monvigliero, Neirane, Rocche dell'Olmo and Boscatto). Elegant and fresh nose, with plenty of floral notes (violet, rose geranium), followed by delicately fruity flavors of red cherry, raspberry, and blood orange with slight spicy hints. Smooth tannins with a pleasant, elegant and long finish make for a winner. On a totally different note, the Palladino 2016 Barolo Parafada, from a Serralunga vineyard, on a calcareous-clayey soil and a small percentage of sand. A rich, dense, and deep Barolo made in a highly traditional manner, it offers strawberry and red cherry, officinal herbs and balsamic hints; roasted and tobacco notes add complexity with aeration. Full-bodied, textured and rich on the palate, this beauty is firm and finely tannic with a pleasant juicy, savory and long finish. The Ceretto 2016 Barolo Bricco Rocche is complexity, elegance, and austerity personified: the typical signatures of this vineyard are wonderfully on display in this memorable vintage of which this is one of the most perfumed, refined and best Barolos of all. Potpourri, raspberry, red-cherry, face powder and balsamic hints are part of this m multi-layered Barolo, where gracefully silky, polished tannins and a gorgeous textural feel linger memorably long. The Zind Humbrecht  2010 Pinot Gris Clos Jebsal Selection de Grains Nobles Trie Speciale is an extraordinary ending to a magnificent lunch and a perfect pairing to the "Cavour Biscotto & Zabaione". Incredibly complex and intense, beautifully balanced, with bergamot, orange, pear, apricot jam, wild herbs, saffron and minerals on the nose. At once opulent and silky, but pleasantly fresh on the palate with a vibrant and extremely long and captivating finish, it's the sort of wine one doesn't forget soon.
Come to think of it, just like the whole meal at Piazza Duomo, and its Barolo menu.
The dishes
Amuse bouche: Turin Aperitif (l'Aperitivo di Torino)
Vinegrover's Salad (Insalata Vignaiola)
Fassona Garibaldi L'Albese: Fassona Carpaccio
Snails and Polenta
Risotto Rooibos
Cardoncello Mushroom
Piccione Cavour
Pumpkin Seeds and Malghesino
Predessert
Cavour Biscotto & Zabaione
The wines
Delamotte NV Champagne Blanc de Blancs (bottling for Piazza Duomo)                       94
G.B. Burlotto 2016 Barolo Acclivi                                                              95
Palladino 2016 Barolo Parafada                                                             95
Ceretto 2016 Barolo Bricco Rocche                                                              97
Zind Humbrecht 2010 Pinot Gris Clos Jebsal Selection de Grains Nobles Trie Speciale       97