1999 Domain Wachau Gruner Veltliner Achleiten Smaragd                            93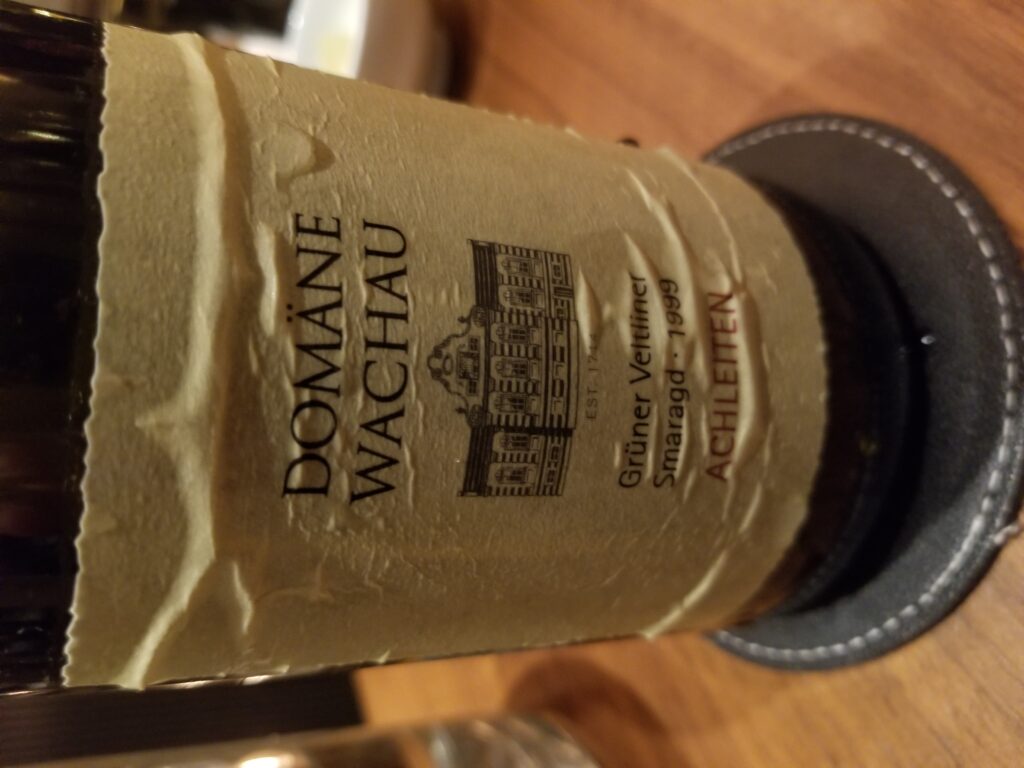 I had dinner with 2 friends at one of New York's most innovative restaurant operations. It is called Intersect by Lexus. The concept is this: Every 3 months a highly regarded chef from anywhere in the world is invited to set up shop at Intersect's fabulous open kitchen working with the skilled staff to teach them to execute his or her food in a manner worthy of the original. Highly regarded chefs from France, Chile, California, Israel and now New Orleans have made their impact felt in the city of 25,000 restaurants.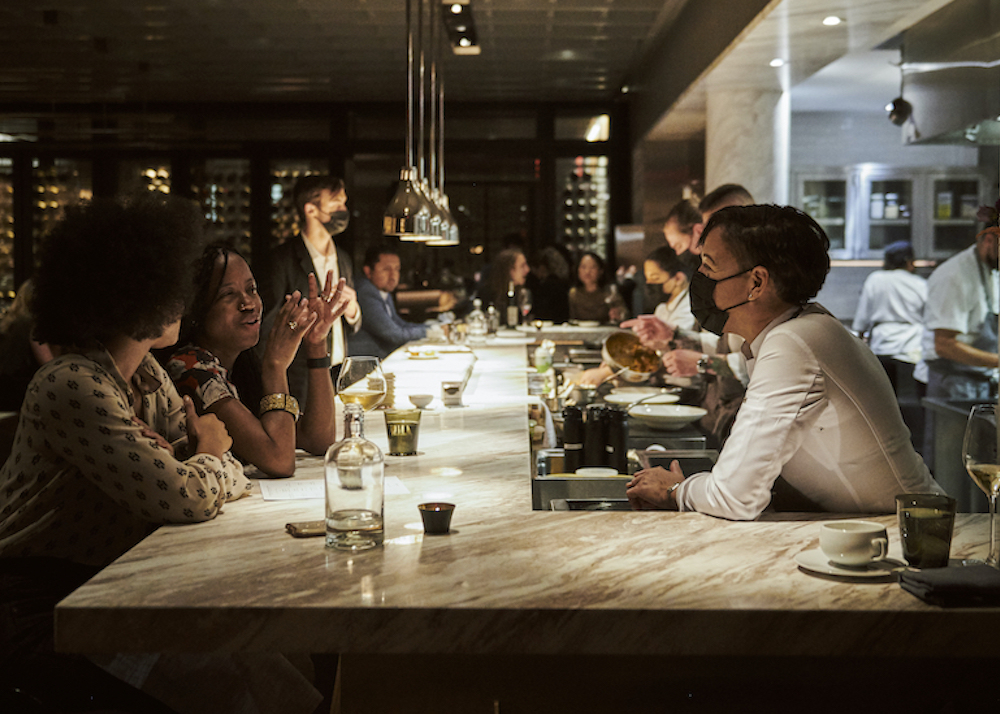 Nina Compton, the chef-proprietor of Compère Lapin in New Orleans is the latest top chef to grace Manhattan. Her New Orleans/Caribbean cuisine presents a serious challenge for selecting wines which work well with her spicy, intense, multi-layered food. We started with Champagne which is a close as there is to being a "universal donor" for foods of every type. With eight different dishes ranging from Dover Sole to Caribbean goat, Peanut Soup, Crisp Pigs Ears, etc., what wine or wines could possibly prove compatible with so many different tastes and textures? Then it dawned on me: Gruner Veltliner, Austria's most important grape variety, has functioned for years as the go-to wine when a multiplicity of preparations are being served. Many years ago, chefs discovered that Gruner is possibly the best wine in the world for vegetable dishes. Gruner's popularity, alas, has waned for no particular reason. Perhaps this is the result of so many dry German Rieslings coming to market. Another factor may be that the best Gruners are typically fairly expensive and often benefit from 5-10 years of bottle age. In fact, there were no Gruner Veltliners on the wine list at Intersect by Lexus. The Sommelier remembered that she had two Gruners off the list. She brought them to the table—a 2018 FX Pichler and a 1999 Achleiten Smaragd from Austria's superb Coop—Domain Wachau. Who could resist a 21-year-old Grand Cru Gruner? It proved to be an inspired choice. Before I discuss the wine and why it worked so well with the cuisine, a few words about Austrian nomenclature: There are three contiguous areas in Austria which produce first-rate Rieslings and Gruner Veltliners: Kamptal, Kremstal and smallest and in my opinion best, the Wachau. In the Wachau and only in the Wachau the wines are classified but the ripeness of the fruit: Steinfeder for wines with a maximum of 11.5% alcohol, Federspiel between 11.5 and 12.5% and Smaragd (lizards which like to sun themselves on rocks!) for the ripest and best grapes. One might be inclined to compare this with the German Pradikat system. But that would be a mistake. All or nearly all the Austrian Rieslings and Gruner ferment out dry. Richness and density characterize the Smaragd wines. The cool breezes above the terraced vineyards in the Wachau help the wines retain wonderful levels of acidity. This enables the wines to be rich but rarely heavy.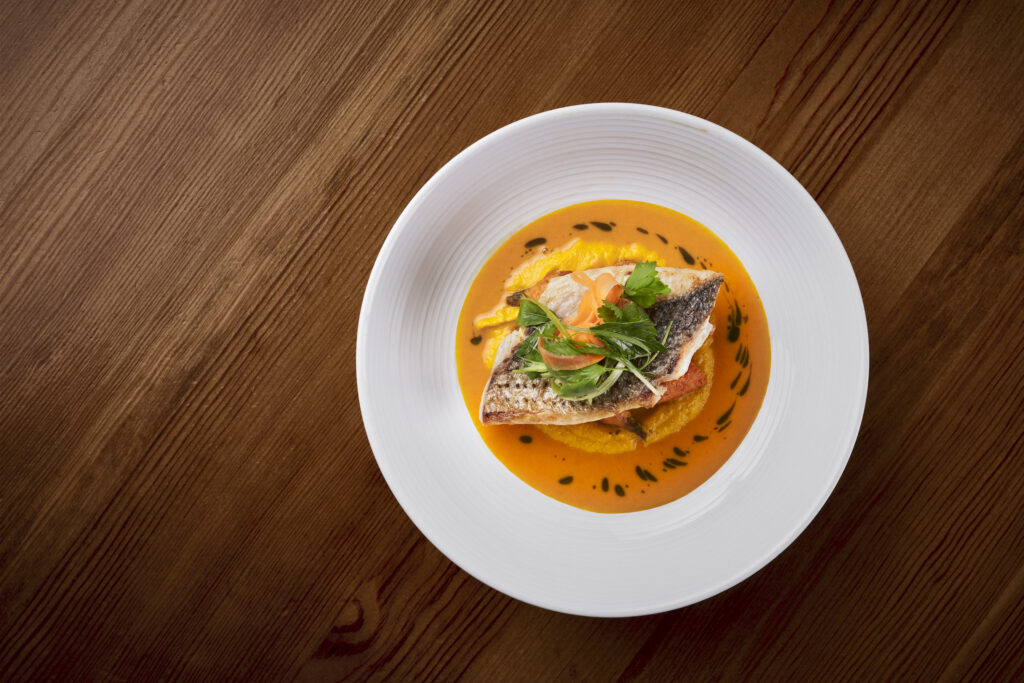 I return to the 1999 Domain Wachau Achleiten Smaragd. The first thing to note is that the wine did not betray even a hint of oxidation. The golden color was more a manifestation of the ripeness of the grapes than the effects of age. Had I been asked to guess, I would have said a wine 8-10 years old in terrific condition. I would have been way off. The age worthiness of white wines is the subject of a separate essay. Suffice it to say that there are far more white wines that maintain a lengthy plateau of excellence than one might suspect. The most striking feature of the wine was its wonderful density and persistence over a luscious surface of pear, green apple and marzipan. The fluidity of the wine on the palate made the high alcohol seem appropriate. The wine magically adapted to every course we tasted. What a fabulous wine for New Orleans cuisine! Drinking window: now-2026.