Trimbach 2016 390th anniversary Riesling Alsace                              95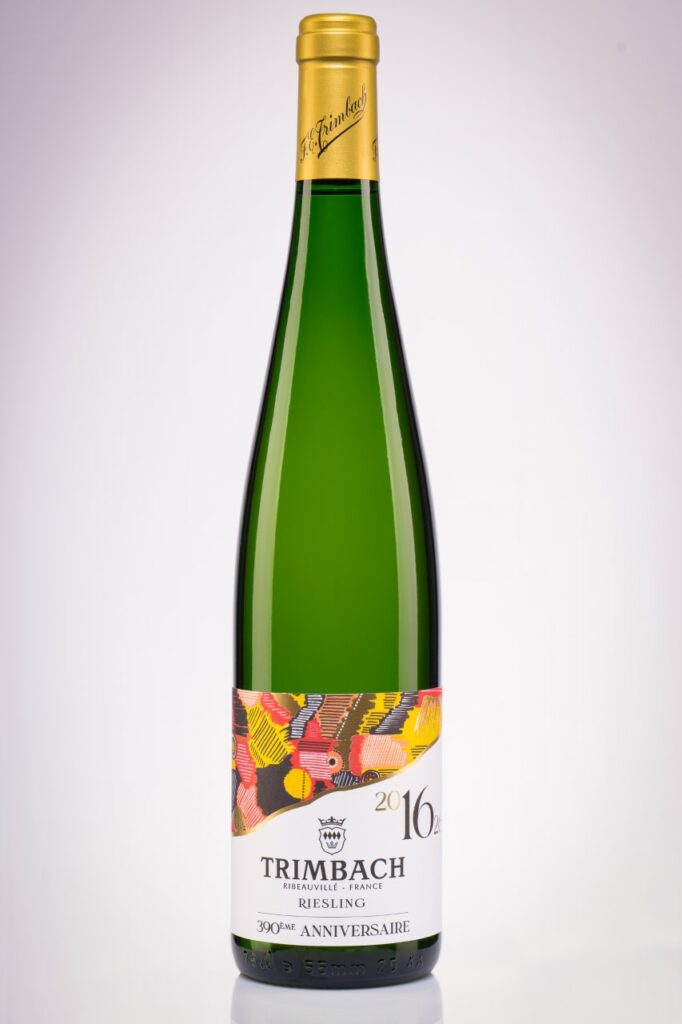 by Robert Millman
I will not be awarding the Trimbach  2016 Riesling 390th anniversary 100 points. So why then am I calling it a perfect Riesling? Read on for the answer. I brought my bottle to a July 4th party. There were eight of us. Someone brought a 2015 Chablis from an estate I admire: Moreau-Naudet. As good as it was it could not hold a candle to the brilliant Trimbach Riesling. The last time Trimbach issued and anniversary bottle was in 1976. The quality of the Riesling in 2016 was such that is seemed the right time to issue another anniversary wine: Such admirable restraint! The wine is made from the finest Riesling fruits from Trimbach's many sites including Grand Crus Oesterberg and Schoenenberg.
The Trimbach's are honoring their very long history in producing blends of grapes from a diversity of sites in which the whole is greater than the sum of the parts. This is not the place to get into a long discussion of single terroir wines versus combinations of several terroirs. It is fairly recently that the norm in Alsace has been single vineyard bottlings. Even the "King of the Terroiristes", the Zind-Humbrecht winery, makes a wide range of generic and regional wines which capture Olivier Humbrecht's scrupulosity almost as well as his Grand Cru bottlings. It is only in the last decade that the Trimbach's began making serious bottles from their single vineyard Grand Crus. Their most famous wine, indeed Alsace's iconic wine par excellence, the Clos Ste. Hune, is not named for the Rosacker Grand Cru vineyard which is the source of its Riesling grapes. The wine is named for a saint, not a vineyard! Even if we agree that the world's very best wines are made from very specific sites, we all have experienced profound pleasure from masterful blends. Think of any great Château in Bordeaux. The surrounding plantings are divided into 25-50 plots each with its own signature. The Château bottled wine is a blend of the best grapes from these various sites. Otherwise, there might be fifty versions of Château Lafite or Château Margaux! Skilful selection and blending is crucial to the quality and consistency of the Bordeaux Châteaux.
I return to the superb 390th Anniversary Riesling. The bouquet is an enticing combination of citrus fruit, pear and green melon with just a hint of the famous arôme de petrole which in discrete amounts gives great Riesling wines a rich, dark overtone. In the mouth the wine immediately attacks the palate with lively, fresh acidity which then expands over the mid-palate when the underlying richness takes over. The finish, if there is one, is almost a matter of choice on the part of the taster. In a review published nearly four years ago, Ian D'Agata spoke of an "unctuously sweet personality" although the residual sugar was only 6 grams per liter (this is lower than the amount allowed for Germany's Grosses Gewachs dry Rieslings). Years later the sugar is definitely in the background but is clearly present, imparting a delightful underlying richness. A great Riesling wine by any standard and a perfect example of Trimbach art of blending. I rate the wine 95. A "perfect" 95 as it were. For me at least, 100 points is still for ultimate terroir wines. Drinking window: 2022-2030.
Château du Cèdre 2018 Cahors                                                                93
Château du Cèdre 2018 Malbec Cahors Cèdre Héritage                 91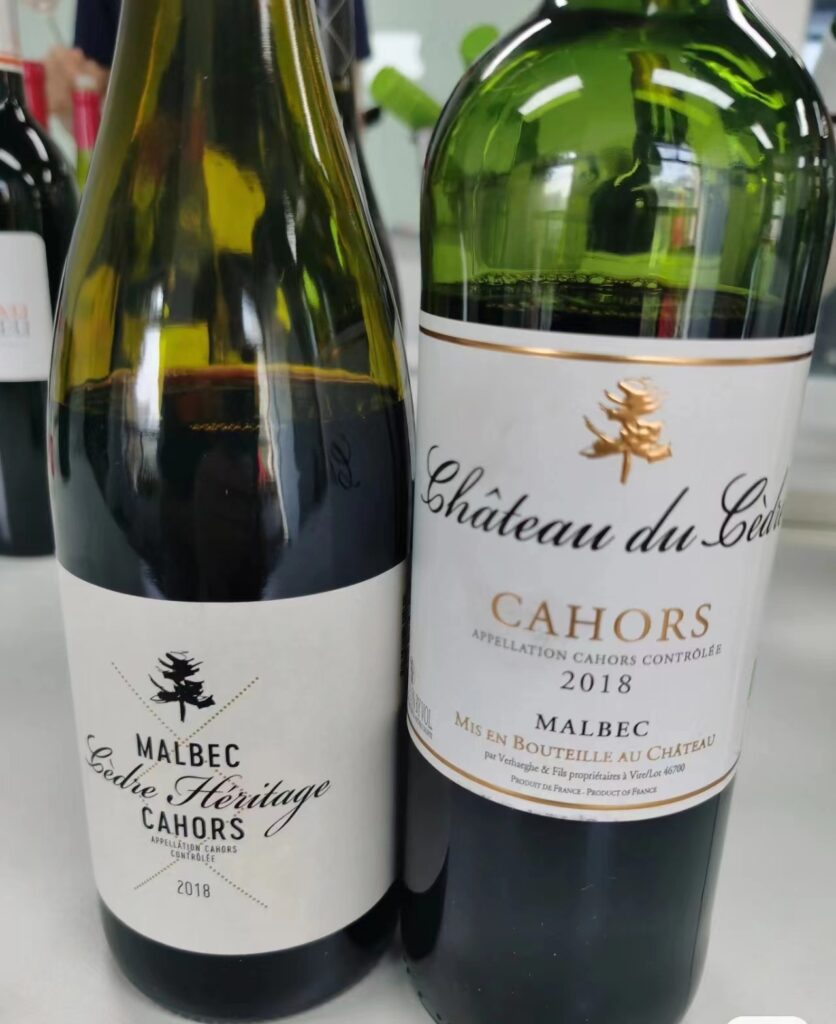 by Ian D'Agata
Château du Cèdre, a small family owned and run estate, is generally viewed as being one of the best sources of high-quality Malbec wines from France. Now run by the second generation duo of Pascal (he makes the wines) and Jean-Marc Verhaeghe (he follows the vineyards), the vines are certified organically farmed (the winery stopped using herbicides in the early 1990s and all sprayed chemicals by 2002). And so it was that the winery first made a certified organic wine in 2012. Another characteristic of the estate is its mix of Burgundian and Bordeaux philosophies: they assemble lots coming from different vineyards but always made with only one, the same, grape variety: Malbec. The variety is planted in two different types of soil: either mostly stony clay and limestone ( which give slightly more austere, refined  wines characterized by fine tannins) or soils composed of clay, sand and rich in pebbles that give more powerful and dense wines. The Château du Cèdre 2018 Cahors (a 90% Malbec, 5% Merlot and 5% Tannat blend) is superb. Bright purple-ruby colour. Captivatingly perfumed aromas of violet, dark plum, blueberry and minerals are remarkably pure and lifted; an undercurrent of tobacco, cocoa and balsamic oils adds complexity. Then similar flavours to the aromas, nicely framed by an harmonious acidity that extends the long vibrant seamless finish. 100% de-stemmed and fermented for thirty days with daily punch-downs for the first few days, malolactic transformation took place in barrel and the wine was aged twenty-four months in 25% new French oak barrels, and bottled un-fined and unfiltered, with minimal added sulphur at time of bottling. Absolutely pure and pristine, this is really a knockout Malbec wine that has very little of the sweet chocolaty creaminess of South American versions but is rather more floral and mineral. Drinking window: 2024-2032.
The slightly more entry-level Château du Cèdre 2018 Malbec Cahors Cèdre Héritage offers an easy drinking alternative to the Château du Cèdre 2018 Cahors. Dark, ruby colour with purple tinges. Cassis, minerals, balsamic nuances, violet and sweet spices on the inviting nose. Then slightly simple and straightforward on the palate, but with very pure and juicy blue and black fruit flavours complicated by a little tobacco and licorice. Finishes smooth and long, with balsamic nuances. A blend of 95% Malbec and 5% Merlot, about 80-90% of the wine is aged in concrete tanks and 10-20% in two years old barrels for sixteen to eighteen months. Roughly 70% of the grapes are picked from vines planted on the limestone plateau (the causses) while the remaining 30% of grapes are picked from the iron-rich gravelly terraces of the Lot River valley, known for more concentrated grapes that give bigger, riper, richer wines. Drinking window: 2022-2026.