September, 2021
INTRODUCTION
The last time we met we journeyed up the Maine Coast on a Lobster Roll food and wine extravaganza through "The Lobster Diaries."  Well, I'm back with tales from the wild west via "The Montana Diaries" and yes…. MOM is back too.  This time we are joined by my sister, Sara.  Travel with us as we tour the Big Sky State through food, wine, cocktails, adventure, old stories, new memories and all things western.
Before the adventure begins, let me provide a little background.  I grew up in New York City.  My Mom grew up in Montana.  Practically every summer of my childhood, we plane-ed, train-ed and automobile-ed out west to visit family and escape the heat & humidity.  As a kid, I really resented it.  While my friends were headed off to glamourous sounding sleepaway camps in upstate NY, we headed west.  Back then it wasn't cool or romantic.  It just seemed weird.  As an adult, I cherish those memories and the exposure I had to open land, big skies, Native Americans, wildlife, fishing and cooking.
EPISODE 1 – "HUCKLEBERRY HOUNDS"
Summers in Montana are berry season…. Cherries, Chokecherries, Huckleberries, Black Caps.  Cherries from the Flathead Lake area are famous.  My grandparents had an Airstream Trailer in Big Fork, MT right on the lake.  We spent a few weeks there fishing, picking cherries and baking cherry pies.  When it was time to close up the trailer and head south to Billings, we'd pick as many cherries as possible, load up the car and race down state to jam, can and preserve.  At some point before or after cherry–mania, we'd scavenge along creek beds and dusty roads for chokecherries and huckleberries.  Today we call it "foraging" and it's cool.  Back then, I called it torture and it sucked.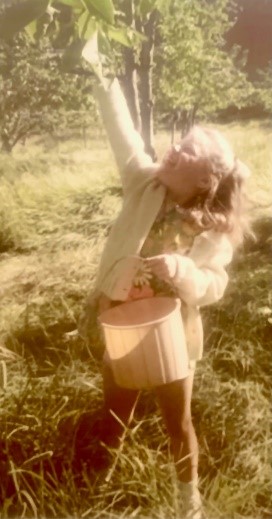 It was however, worth it.  The jams, jellies and preserves made by my Grandma were extraordinary.  Certainly, these were some of the first exotic flavors I experienced.
Huckleberries grow wild in the northwest US and western Canada and cannot be cultivated.  They look like blueberries but taste a lot more tart.  As a berry, they are super versatile used in jams, jellies, pies, syrups, pancakes, pastries and whatever else you can think of.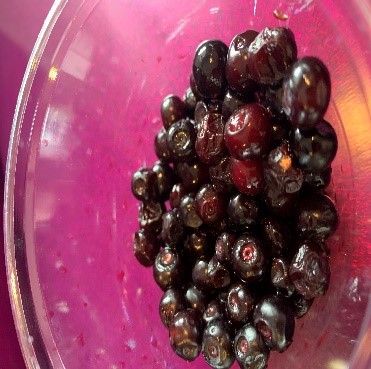 The three of us converged upon Billings ready for adventure.  We began the two weeks odyssey with several goals in mind.  One was trying to consume as many huckleberry iterations as possible, so why wait????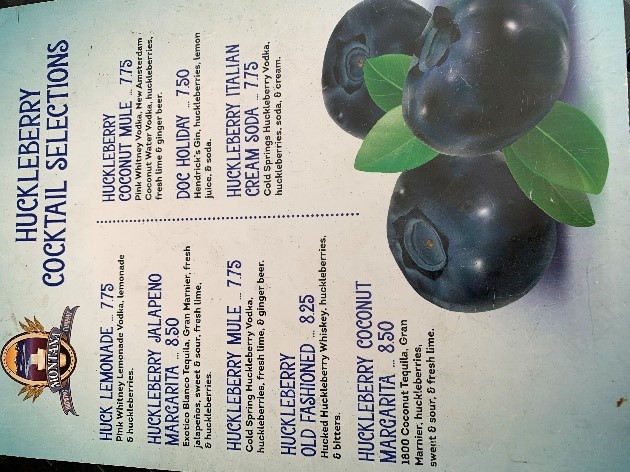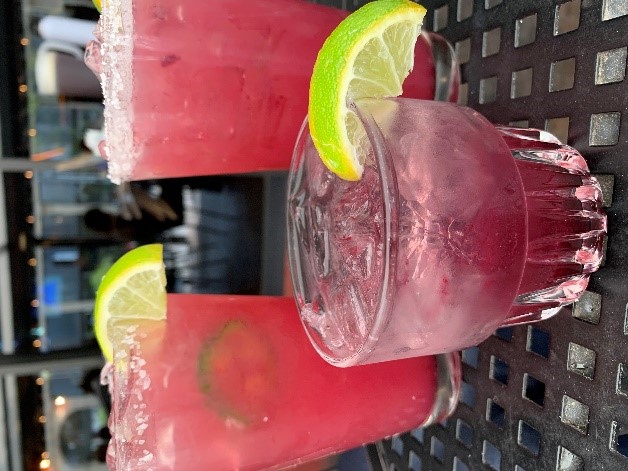 And why not start with a huckleberry cocktail at Hooligan's Sports Bar (109 N Broadway, Billings, MT) After all, it was a gorgeous late summer evening and there was outdoor seating.  We were thirsty and we needed extra vitamin fortification as we settled into our adventure.  Huckleberries are loaded with antioxidants, iron and Vitamin C.  Clearly, we were starting our trip with our HEALTH in mind.  Sara had a huckleberry margarita.  Mom had a huckleberry jalapeno margarita and I tried the Doc Holiday.  One healthy delicious drink led to a snack and maybe another round of drinks (more vitamin fortification) and the next thing you knew, the sun set and the band arrived…
I could say we planned to arrive in Billings for the Burn the Point outdoor concert, but I'd be lying.  Regardless, there were cowboys on stage jamming out some great music so we stayed.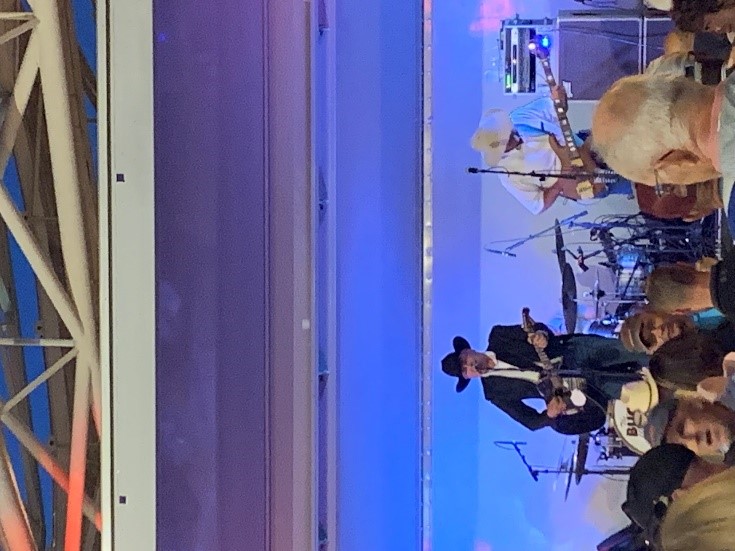 After a little bit of boot scootin', we called it a night.
The next day we hit the Billings Farmers Market in search of huckleberry jams and jellies.  The market did not disappoint.  First of all, there was more live music….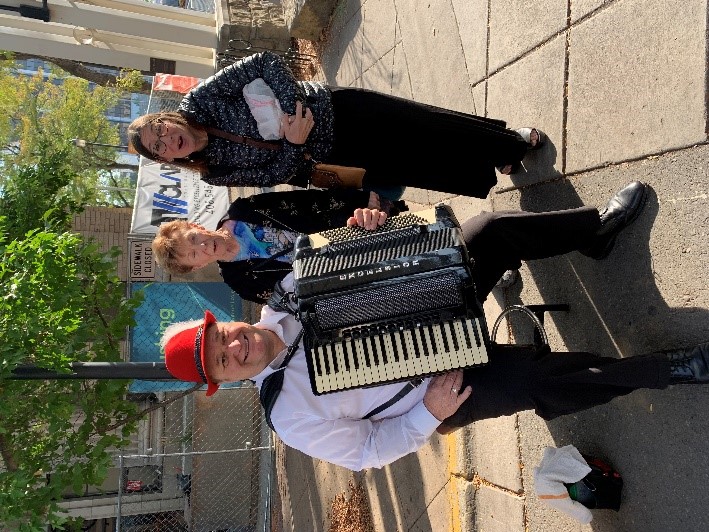 Then I met some fellow Master Gardeners from Yellowstone County….
We compared notes on growing zones, growing seasons, native plants and the Montana v Florida Master Gardener program.  They informed me that this was really the last great weekend for the market where you could really find locally farmed produce.  We took full advantage.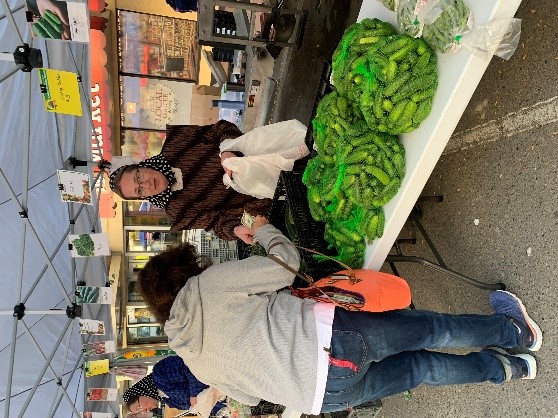 And then we hit pay dirt….!
Becky's Berries (https://beckysberries.com) was started in 2006 by Becky and Tim Stahl in their kitchen in Absarokee, MT.  Their jams and jellies are reflective of the wild fruits and berries available in Montana.  I grabbed a huckleberry jam, a chokecherry jelly and a chuckleberry jam.  Chuckleberry is my favorite combining huckleberry, raspberry and chokecherry in a sweet-tart, chunky flavor bomb.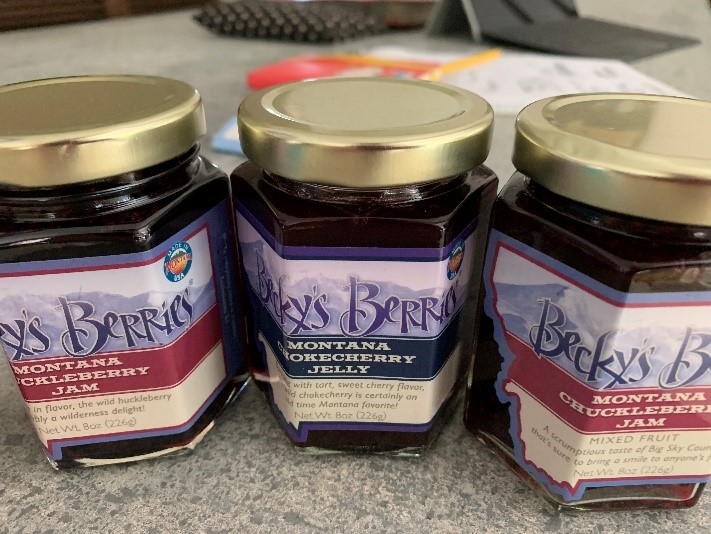 Our next huckleberry immersion happened in Butte, MT.  Butte is really old-timey Montana.  It was once the wealthiest and largest city in the state built on steep hills and solely dependent upon copper and mineral mining.  Legend and lore tells stories of great wealth and loss, wild west times, speakeasy's and ladies of the evening.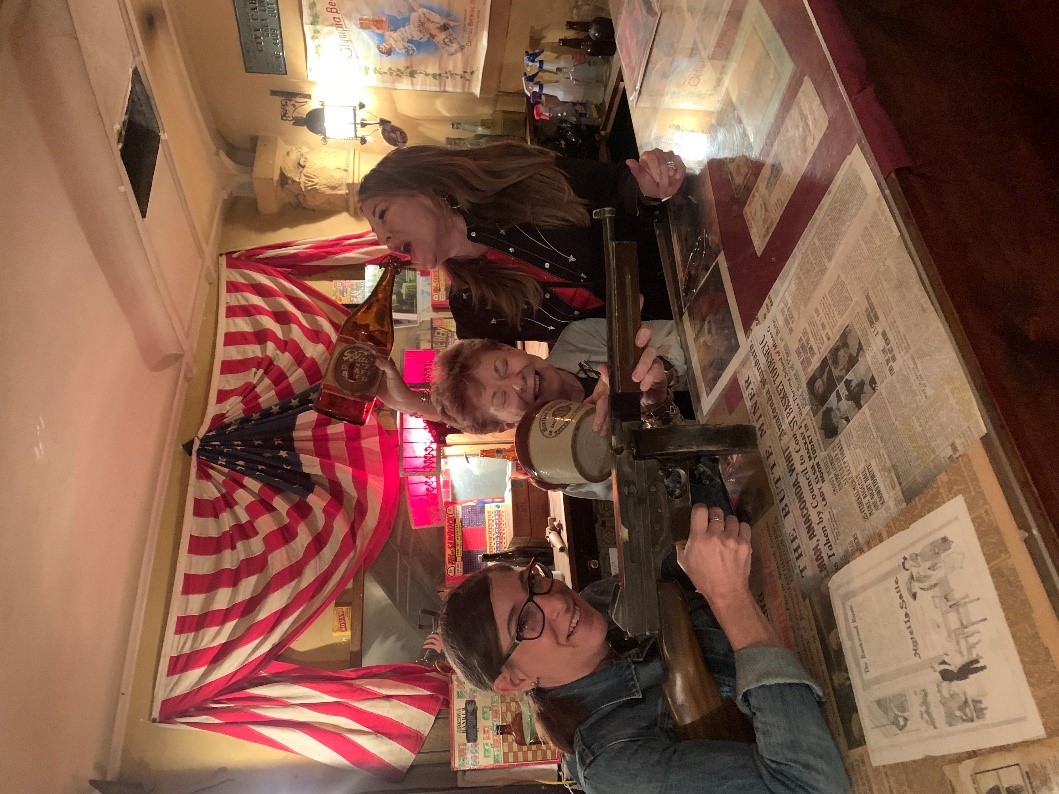 While the mines closed permanently in the early 1980's, Butte still has a rough and ready feel.  After some historic tours and a bit of antique shopping, we decided to join the legends and hit the speakeasy, FiftyOne Below (51 W Park Street, Butte, MT)
We descended underground to a secret passageway, picked up an old telephone, dialed the secret code which opened up a new pathway and weaved our way to the bar where Don, our mixologist invited us in.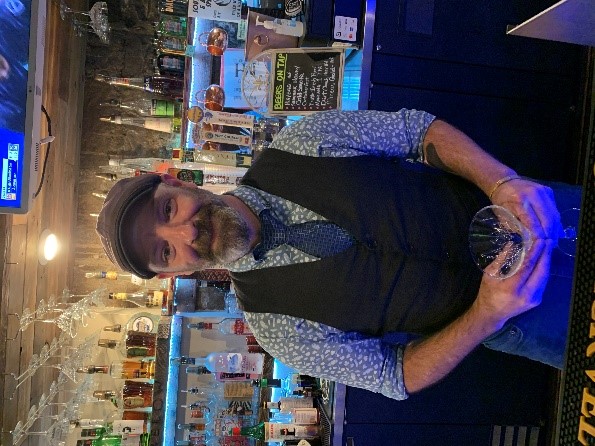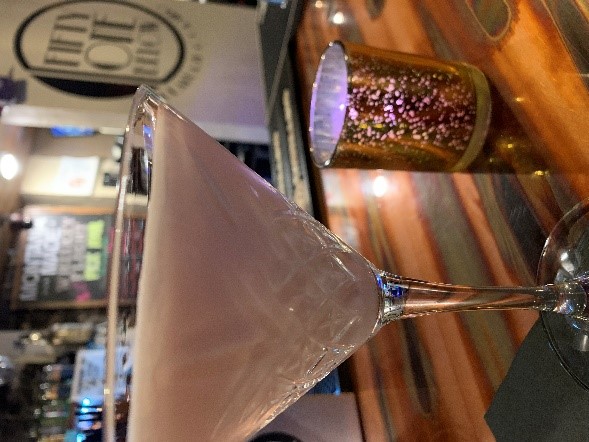 Our favorite huckleberry concoction was the huckleberry cream-tini…. Sweet, chilled and served UP, it completed a super fun evening.
On the way to Missoula, we spotted a purple painted bison on the side of the road in front of The Sweets Barn (11380 US Highway 93S, Lolo, MT) screaming STOP FOR CHOCOLATE at us.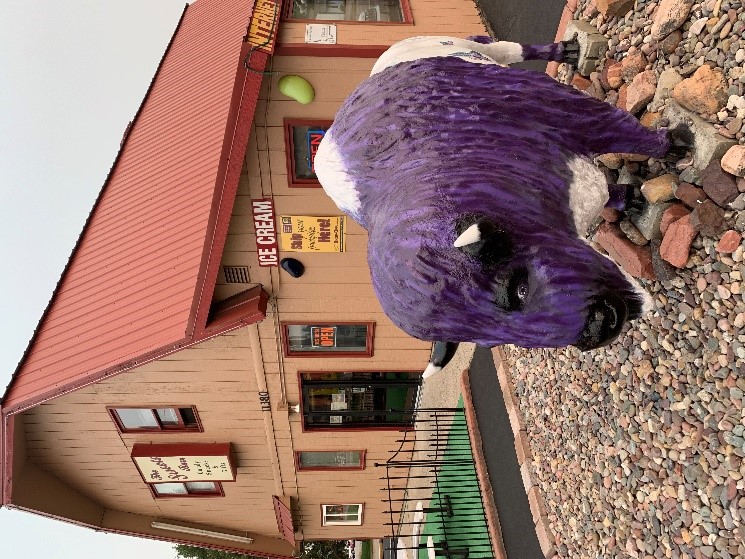 So we did…. The Sweets Barn makes all their own chocolate confections.  We tried and purchased many… haystacks, MT whiskey truffles, peanut butter cups and our favorite…. A huckleberry praline with cashew claws.  WOWSERS…. Rich dark chocolate surrounded a thin layer of caramel and a chewy huckleberry sweet/tart jelly in the center.  It was almost too much chocolatey goodness for one sitting.  Mom and I ate half of ours and saved the rest for later but Sara scarfed the whole thing…..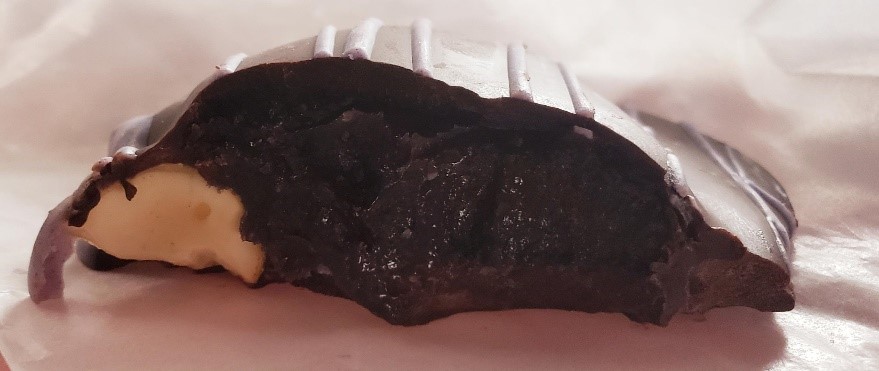 After a few nights in Missoula, we were finally headed north towards Flathead Lake, Big Fork, Kalispell and Whitefish.  Here we met with family, reminisced, had the wildest night of our western adventure and enjoyed our favorite huckleberry experiences of the trip… in Episode 2 of The Montana Diaries:  Huckleberry Hounds.