DAY 1: AUGUST 2, 2021
Meet my Mom, Ginger.  She retired 20 or so years ago, moved to the New Hampshire White Mountains pursuing her lifelong dream of becoming a ski bum and Yes… she still skis.  With Ginger driving, we set off on our Mid-Maine Coast Lobster Roll-A-Thon.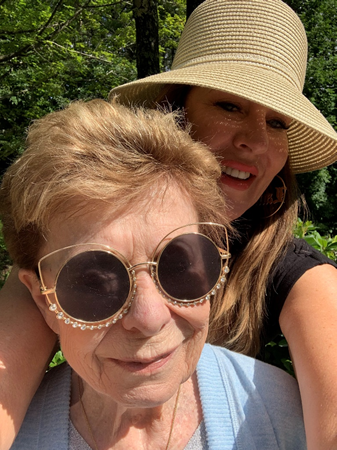 We hit the Road heading for Boothbay Harbor but before we crossed the state line into Maine, we stopped at Frye's in Conway, NH (1642 E Main St, Center Conway, NH 03813; Tel. (603) 447-2955) for a little Lobster Roll snack.  Loaded with lobster, this roll was a pretty good warm up for the goodness yet to come.  Mostly claws and lightly dressed with a dollop of mayo, we found the submarine style bread a little overwhelming.  We trashed the roll and just ate the lobster salad.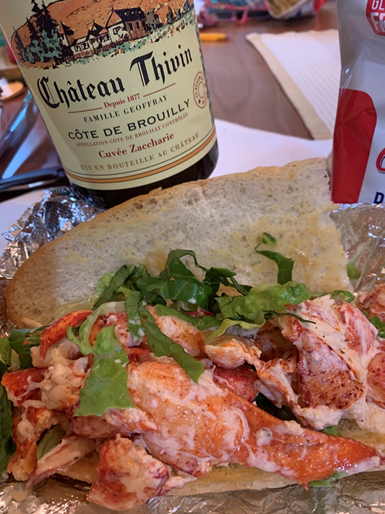 Our wine pairing was one of my favorite summer wines:  Chateau Thivin 2018 Cru Beaujolais Morgon Cuvee Zacharie.  Ripe black cherry, black berry and raspberry jam flavors up front with a mineral vein centering the wine on our palate and an earthy persistent finish… absolutely delicious and a fantastic wine by itself to be sure.  However, we found the ripeness and richness of the 2018 vintage to be a bit too overpowering for the delicate lobster flavors.
Crossing the state line on our way to Boothbay Harbor, we made a slight detour down to the shore in Freeport to check out the Harraseeket Lobster Shack (36 Main Street, South Freeport, ME 04078; (207) 865-3535/865-4888).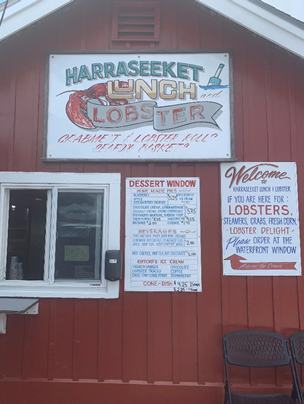 We watched a truck of lobsters and freshly caught haddock unloaded while our lobster roll was prepared.  Here we were able to bring our own alcoholic beverages and experiment with a classic and local Maine wine pairing… bonus points for Harraseeket Lobster Shack!
The Lobster Roll was great… lightly tossed with mayo, super fresh, briny sweet and very delicate. Clearly, an entire picked and cleaned lobster was crammed into the classic split bun.   We were a little let down by the actual roll which was unevenly toasted, lacked butter and honestly lacked flavor too.  The big monster green leaf lettuce leaf looked great but was kind of annoying.  Once again, we chowed on the lobster itself leaving the accoutrements alone.  SIDE BAR:  Cole Slaw was delicious!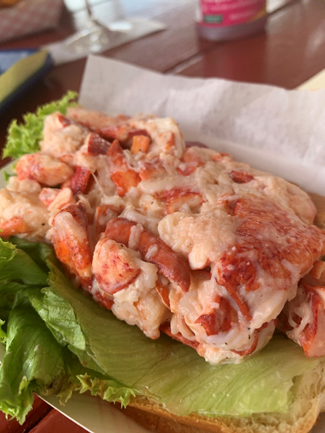 We tried the Rafael Palacios 2017 Godello "Louro" and a local recommendation, Honeymaker Lavender Mead with our lobster roll.  Truth be told, I was seriously skeptical about this mead stuff… I mean really… a honey fermented beverage with LOBSTER????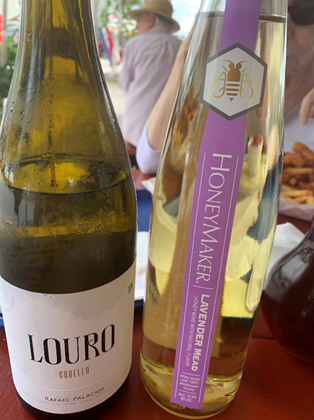 The "Louro" Godello was bright and citrusy with lemon and lime notes, a sharp mineral focus, moderate acidic lift, some leesy flavors and a salty briny finish.  It was really an excellent wine pair with our Lobster Roll.
The Honeymaker Lavender Mead was a SHOCKER… The attack on the palate started with all the honey elements minus the sugar, a hint of bright lavender, sweet, fresh green herbs, a hint of elderflower and a persistent dry finish.  Frankly, we were amazed.  It was light and refreshing and as Ginger said… "Yummy in her Tummy."
WINNER: Honeymaker Lavender Mead!
After a bit of a hiccup…..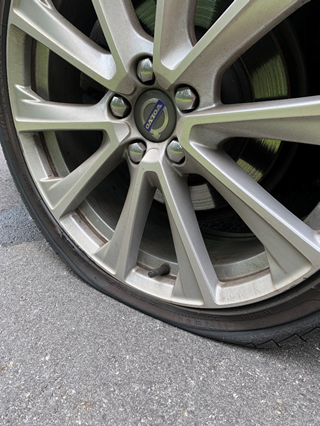 We headed to Boothbay Harbor.
Originally, we had Red's Eats (41 Water St, Wiscasset, ME 04578; (207) 882-6128) on our Lobster Roll Hit List.  It's on EVERY Maine Lobster Roll List, blog and IG account.  Thanks to our very kind and truly life saving AAA tow truck driver who was "in the know" we learned that all the locals really do go to Taste of Maine (161 Main St, Woolwich, ME 04579; (207) 443-4554) in Woolwich and there is an awesome Facebook page called "Give Red's Eats the Finger."  (We did… both of us)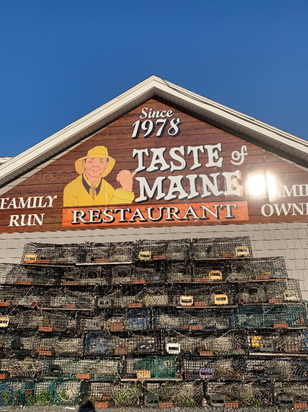 Taste of Maine is famous for the world's largest Lobster Roll.  Rumor is it holds 5 whole picked, cleaned and tossed lobsters.  We tried to order it but unfortunately, they were out of the special roll baked for this delicacy.  We settled for the mere mortal size lobster roll.
DAY 2: AUGUST 3, 2021
We woke up in charming Boothbay Harbor on a perfect summer Maine day.  What does that mean?  Bright sun, cool temperatures and no humidity and for this Florida girl, that is a summertime treat.  After a morning run, we hit the streets for a little retail therapy.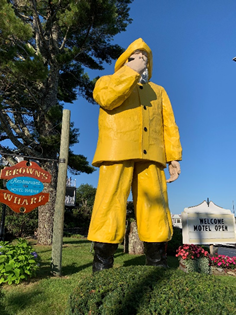 Our first Lobster Roll stop of the day was Shannon's Unshelled (23 Granary Way, Boothbay Harbor, ME 04538. Tel: (207) 350-7313).  Shannon's sandwich board boasts the "biggest and most lobster on a roll" in Boothbay.  True?  Maybe… maybe not, but it sure was good!  One whole lobster deshelled, picked, cleaned and cooked to tender perfection atop a buttered and toasted split roll.  The Lobster Roll is served with melted warm butter meant to be poured over the top.  We added onion rings which were lightly battered and fried to crispy golden deliciousness.  Shannon's sells a really excellent local Blueberry Soda by Maine Root.  It's full of blueberry flavor and not too sweet.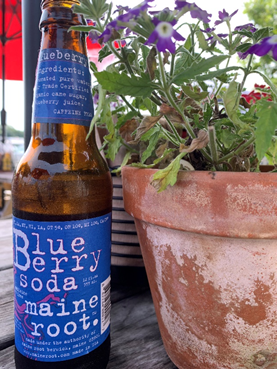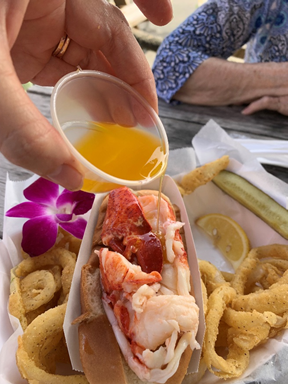 Personally I LOVE this type of Lobster Roll … no mayo… just some sweet lobster meat and some warm savory butter…. YUMMERS.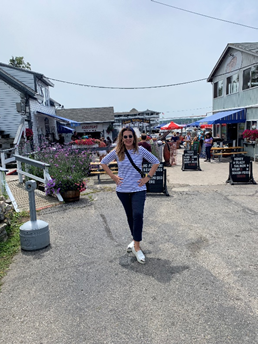 Around Boothbay Harbor we went onto our next  Lobster Roll destination, The Lobster Wharf (97 Atlantic Ave, Boothbay Harbor, ME 04538. Tel: (207) 633-4900.) which came highly recommended.  They sell lots and lots of different seafood but their specialty is lobster.  They will steam 'em, fry 'em, roll 'em and ship 'em…. Serious business and seriously fresh with pretty outdoor seating right on the bay….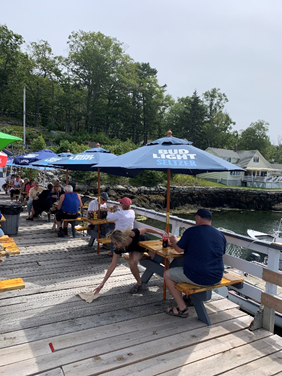 I'm sad to say this Lobster Roll was disappointing.  We chose the 10 oz size and received a little bit of a mess on a bun…..rubbery, tough and disheveled laid out on an untoasted, flavorless hotdog bun…. A sad way for this lobster to go.  Ginger hated it.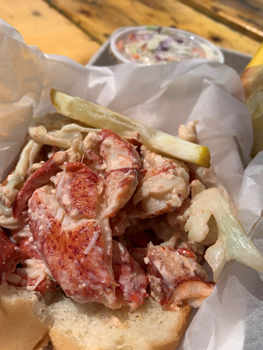 As we continued up the Maine coast to our next destination, Ginger made a surprise pit stop at her favorite mid-Maine Coast PIE destination, Moody's Diner (1885 Atlantic Hwy, Waldoboro, ME 04572. Tel: (207) 832-7785) in Waldoboro.  Moody's has been serving guests since 1927. No lobster rolls here, but between 50 and 60 pies are freshly baked every day.  I have to say I was a little bit surprised considering that my Mom, Ginger is a pretty excellent pie baker in her own right.
Ayuh! (as they say in Maine….) she wasn't kidding…. I had the warm four berry pie with vanilla ice cream and it was AMAZING.  Sweet, Tart, Savory, Warm perfection….. Ginger had her favorite Moody's delight… Lemon Meringue.  Check out how high the meringue is piled in the picture below.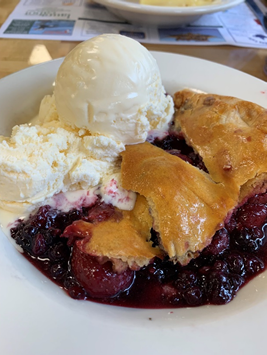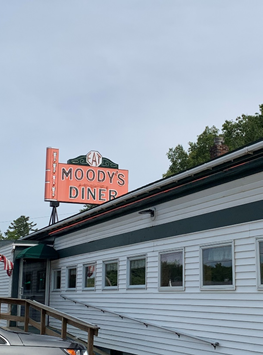 As we continued up US1 North on a sugar and shopping high, we peeked at beautiful New England homes hugging the coastline, absorbed the rugged coast beauty and cruised into our next stop…. Camden.
Day Two is now done and gone…. Two Lobster Rolls, No Beverage Showdowns but a total surprise discovery that I'll reveal in tomorrow's installment of The Lobster Diaries……