DAY FIVE
August 6, 2021
I have very fond memories from a visit to Belfast, Maine as a young adult filled with possibility, romantic dreams and hopes.  For sure, we had to make a stop to revisit my memories and check out the famed Young's Lobster Pound (2 Fairview St, Belfast, ME 04915; Tel:  (207) 338-1160)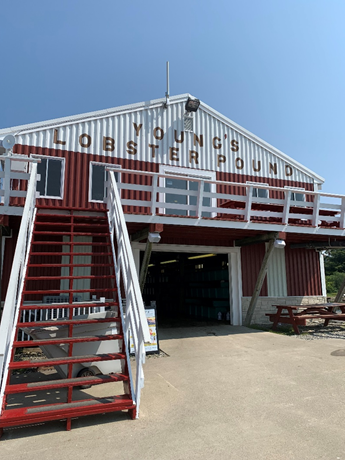 I was delighted to find Belfast a little lost in time, still very earthy, crunchy and crafty and only slightly bigger.  Chase's Daily and the Belfast Food Coop survived and thrived.  Ginger's one request on our expedition was a stop at a special knitting shop here, Heavenly Yarns.  She shopped.  I explored.
Young's Lobster Pound sits on the water across from Belfast Harbor.  Between 80-100 picnic tables surround the main building, some on the water and some in a little pine tree shaded area.  You can even sail in and tie up to the dock while you dine on site or take your seafood spoils to go.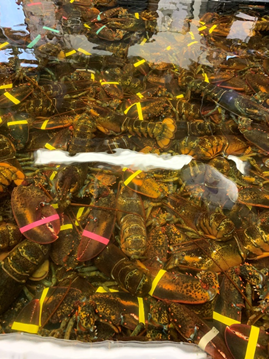 The Lobstermen at Young's represent a new generation of charismatic hosts – charming and audacious.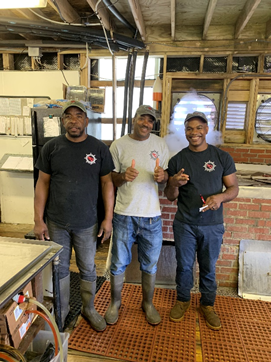 Mom was lobstered-out.  I know!  How could that not be?  She ordered the Peeky Toe Crab Roll.  I stayed true blue to the mission at hand and ordered a Lobster Roll.  These sandwiches are served on seeded hamburger style buns which provide an interesting but acceptable meat to bun ration.  The lobster was sweet and tender but the bun style receptacle proved a bit too sloppy.  Chunks of meat kept slipping out.  Mom's Peeky Toe Crab Roll however, was the revelation of the day.  Piled high with crab tossed very lightly in mayo, it was light, tasty, sweet and salty.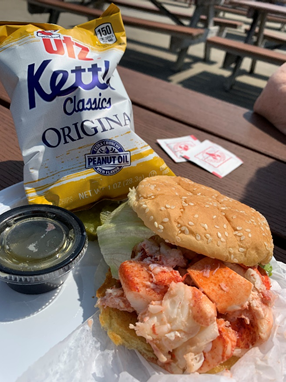 Young's gets big bonus points for it's BYOB, BYOT (Tablecloth) and BYOC (cocktail) policy…. We watched as the crowds arrived toting fancy coolers and decamped their treats on the tables while they waited for their order to be prepared.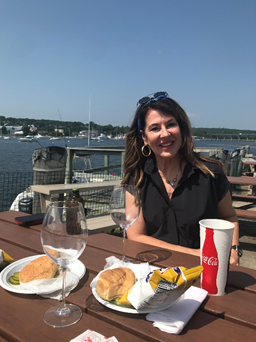 Belfast is buzzing about a new Lobster Shack arrival and the LOBSTER WOMAN who owns and operates it, Sadie Samuels.  As you might imagine, lobster women are uncommon.  Captain Sadie sets out each day around 4 a.m. to set and haul in her lobster traps, returns to the harbor and sets up her lobster shack, Must Be Nice [Lobster& Merchandise] (15 Front St, Belfast, ME 04915; Tel: no phone number available, not even on the website), to open at 11:00 a.m.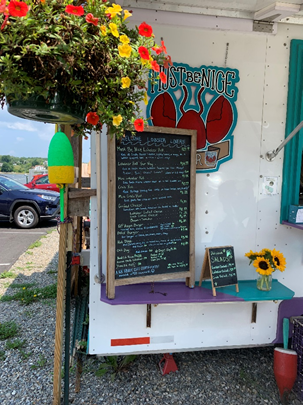 Her Lobster Roll is a classic, simple treat tossed in mayo and served on a lightly toasted split roll.  Two plusses for Must be Nice include the picturesque Belfast Harbor setting and the Mini Lobster Roll… a quick little affordable bite at $11.
We headed a little inland to Augusta for our last stop on our Lobster Roll journey.  The Red Barn Diner (455 Riverside dr. Augusta ME 04330; Tel: (207) 623-9485) is famous and since we were on our way back down to Portland, we stopped for one last Lobster adventure.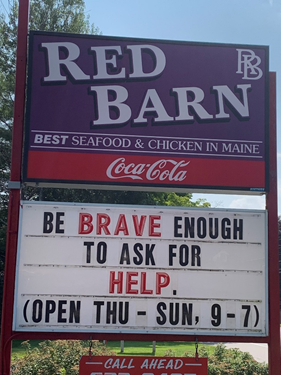 The Red Barn features Lobster Rolls and Fried Chicken.  As much as I positively LOVE fried chicken, I stayed true and ordered the Lobster Roll.  Lots of covered picnic tables adorn the hillside so there's plenty of seating.  There are even some enclosed structures in case of some Maine inclement weather.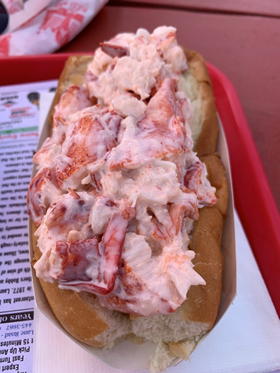 The Lobster Roll was sweet, tender, loaded with lobster and tossed in mayo.  I think this one might have mastered the perfect ratio of toasted split bun to lobster meat.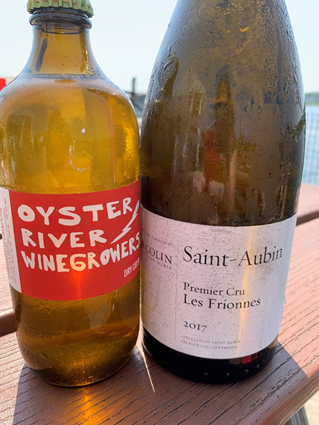 CLASSIC WINE PAIR v MAINE BEVERAGE PAIR
Domaine Joseph Colin Saint-Aubin 1er Cru Les Frionnes v Oyster River Winegrowers Dry Cider
Domaine Joseph Colin Saint-Aubin 1er Cru Les Frionnes 2017
I know you're thinking we brought another heavy hitter and how could the Maine Cider compare to a Domaine Burgundy?  Well hold on…. True enough, the chardonnay was fantastic filled with green and yellow apple flavors, lemon citrus, mushrooms, minerals, light toasted oak notes and layers of creaminess enhanced by the buttery rich lobster.  However, it was too rich for the Crab Roll… and completely over powered the light and delicate salty crab.
Oyster River Winegrowers Dry Cider
We stumbled into their tasting room back in Camden and discovered a little hidden gem.  Founded in Warren, ME in 2007, Oyster River Winegrowers produces dry ciders from organically farmed apples and natural wines made from American Hybrid grapes also grown organically in Maine and Vitis vinifera (familiar grapes like Chardonnay and Cabernet Franc) grown in Long Island, New York.  We tried the "Carbonic Maceration" Red and the Chardonnay at the shop and purchased the cider for our beverage showdown.  Well, this dry cider was crisp, light and refreshing with just a bit of earthy funk on the finish and paired perfectly with the Crab Roll.
WINNER:  IT'S A TIE!!  SERIOUSLY…..
The trip is winding down.  We've lobstered, wined, dined, sailed, tasted and discussed.
August 7th, 2021
WRAPPING AND ROLLING IT UP
Cruising back down the coastline into Portland for one final night together, Mom and I compared notes on our hits and misses, best bites and sips and most fun memories.
HERO OF THE WEEK AWARD:
Predat, our tow truck driver, literally saved our trip.  This very kind man could have left us stranded after he got us off the highway.  Instead, he went out of his way calling, texting and searching for a tire place open with the tires we needed available and ready to install.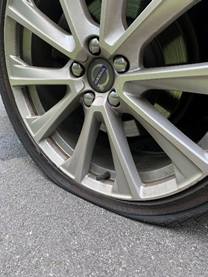 FUNNIEST MOMENT OF THE TRIP:
Driving by Red's Eats in Wiscasset and "Giving Red's the Finger."  Probably shouldn't post that photo here or Ian will fire me but you can go to the Facebook page and find it.  We laughed all night about it.
BEST LOBSTER SHACK SETTING
McLaughlin's in Lincolnville.  I'm not sure if it was the foggy, drizzly New England day or just the quiet and quaintness of the cove but there was something special about this setting that exceeded my Lobster Shack imagination.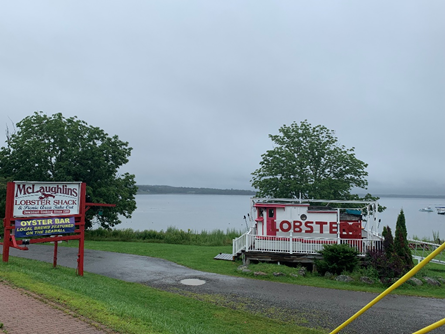 BEST LOBSTER SHACK HOSPITALITY
Hands down, the Lobstermen at Young's Lobster Pound in Belfast take the prize here.  They were charming, handsome, fun and loved being part of experience.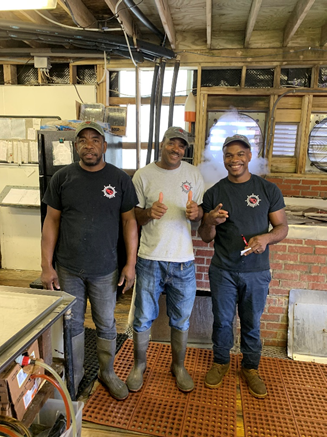 BEST OUTFIT OF THE WEEK
I'm going to let you choose this one, Mom thinks it's her Elton John rock style sunglasses but I think it's my black and white striped tee with the sequined lobster that I found in Rockland at some strange off-brand shop for $7.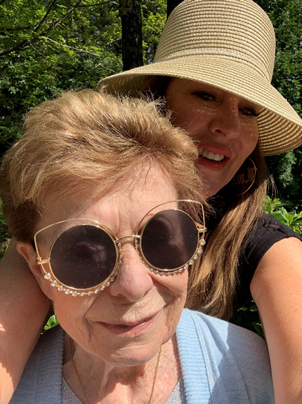 BEST SETTING TO EAT A LOBSTER ROLL
Really?  I chartered a private schooner in Camden…. Yep I think that wins.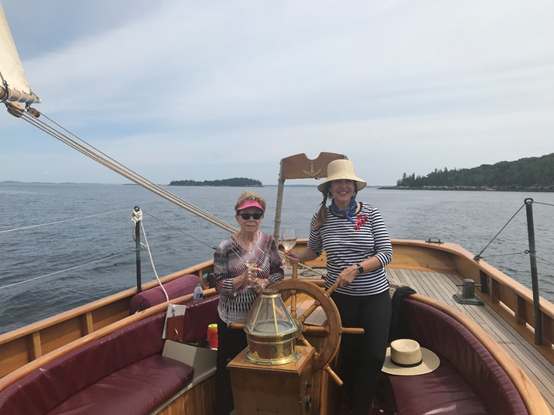 BEST MAINE BEVERAGE
This was pretty tough to pick.  We were surprised by the variety and quality of what we found.  To be sure, there is an authenticity, craft and earnestness in every Maine beverage we tried whether it was cider, mead or wine.  Our winner by the slimmest margin is the Honeymaker Lavender Mead.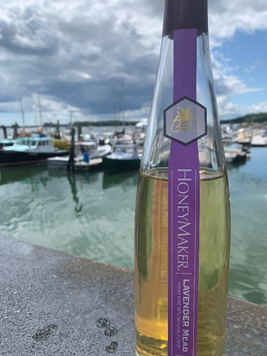 BEST CLASSIC WINE PAIR
Another very tough choice here…. They were all pretty great.  I think just in terms of pure pleasure, the Do Ferreiro Cepas Vellas Albarino 2019 takes it because MOM finished the whole bottle…..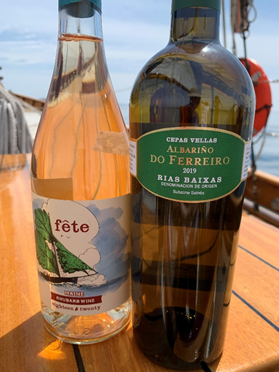 AND NOW…. BEST LOBSTER ROLL…..
Mom and I are unanimous.  It was the CLAW-ossal at Claws in Rockland.  Never mind that the roll was just overflowing with complete huge sweet lobster tails and juicy, tender claws.  The meat was thoroughly cleaned, poached in butter, drizzled in butter, soaked in butter and did I mention, the butter?  It was warm and steamy and just plain lip-smacking deliciousness.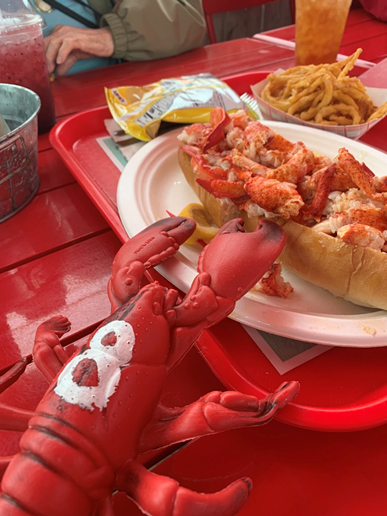 BUT… we have to give an Honorable Mention to the LOBSTER POPOVER at The View at 16 Bay Harbor, Camden. We were delightfully surprised at how good this tasted.  Sure, it's a more upscale, gourmet version of a lobster roll but it was pure tasty goodness.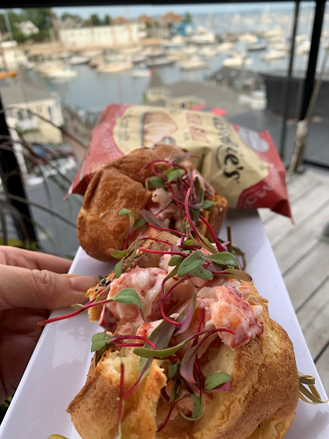 And so that's the end.  We made some new cherished memories.  Saying goodbye at the airport is always tough but did I mention we're going to MONTANA next month???  I wonder what culinary diary I can come up with for you all!