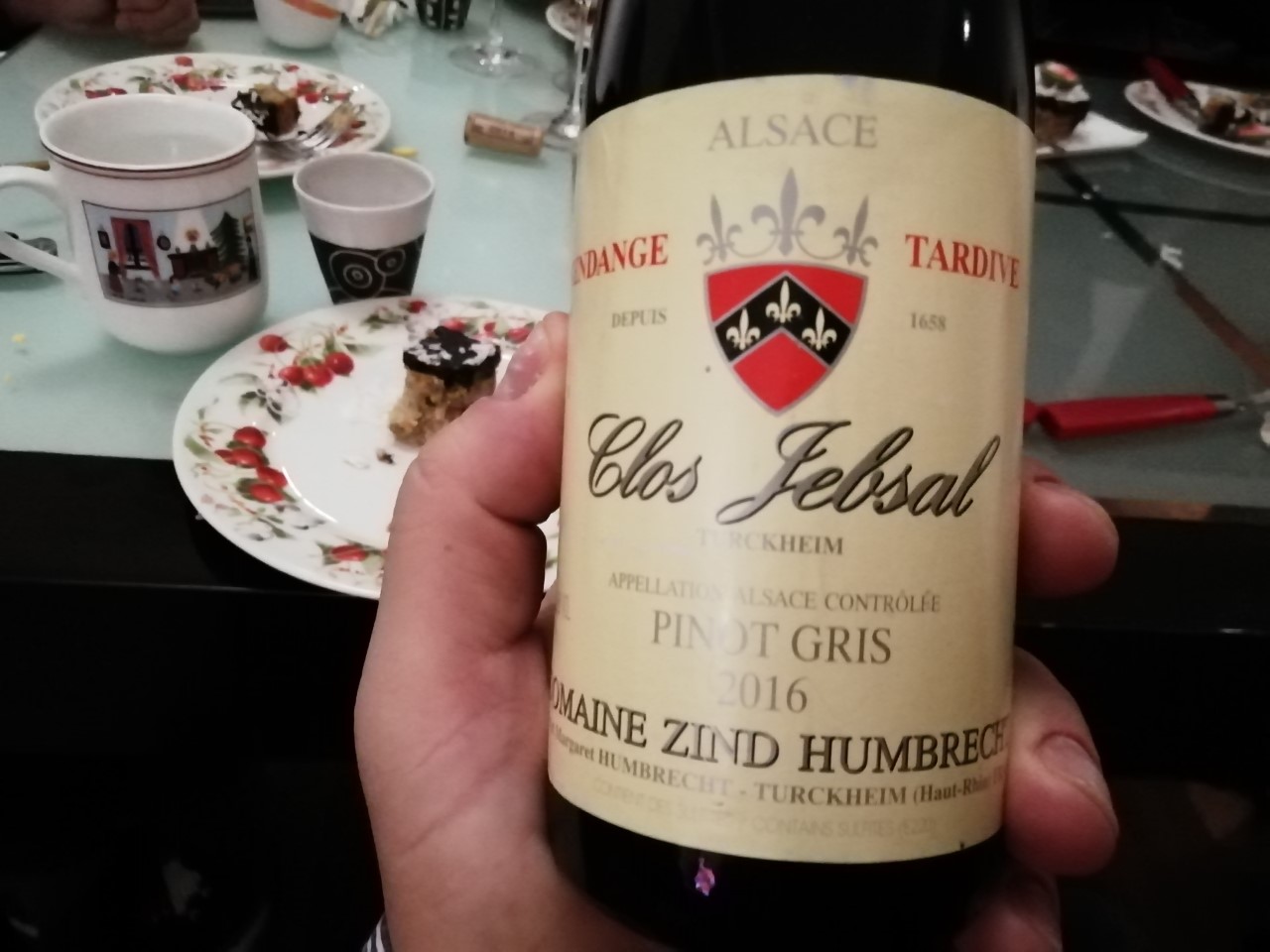 For a slew of reasons, Zind Humbrecht is one of the world's thirty most important and arguably best wineries. Reasons that support that statement are too numerous to count, but the fact is that very few people have done as much for Alsace wine than the father and son team of Leonard and Olivier Humbrecht (the latter also France's ever first MW). One taste of their Pinot Gris Rangen Clos St.Urbain, the world's best dry Pinot Grigio (pardon me, Pinot Gris) is more than enough to convince any skeptic, and that's even without dipping into any of the other magnificent bottles they have made over the years from storied grand crus and other high quality vineyards such as the Hengst, the Goldert, the Brand, the Clos Windsbuhl, the Rangen (this time for the Riesling) and many others, including the Clos Jebsal.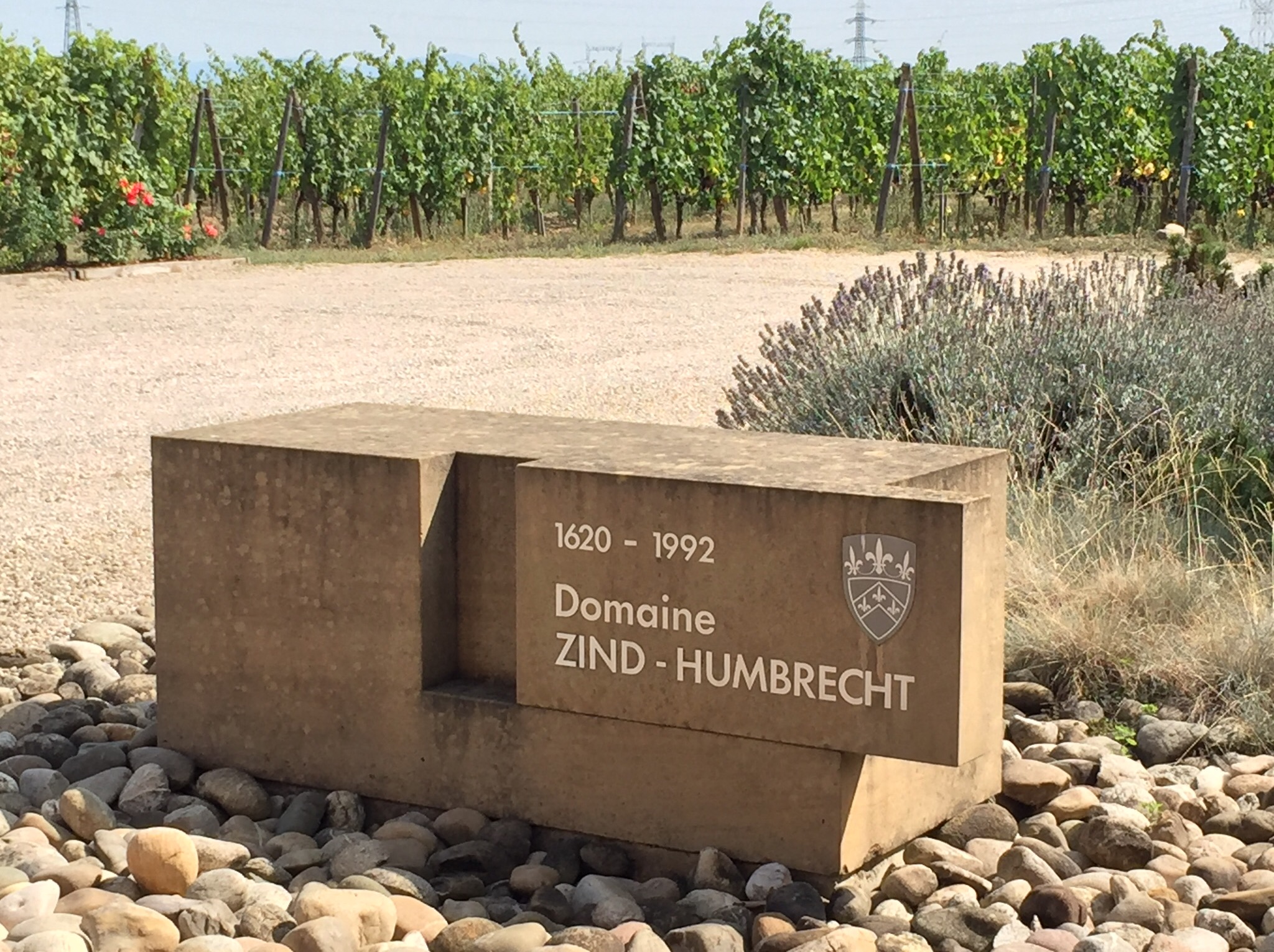 Speaking of which, Alsace's "Jebsal" is a lieu-dit, or more precisely a lieu-cadastré, officially documented as a 1.3 hectare parcel of vineyard land in the pretty township of Turckheim (not far from where the Zind Humbrecht winery is located). The Jebsal was always historically famous as a grape source, well-known at least since the sixteenth century; back then, it was divided up amongst many different owners. However, viticulture was abandoned on the Jebsal because its steep slopes were not exactly endearing to the poor farmers who had to eke out a living by working its unforgiving escarpment (and to make matters worse, not exactly cool temperature-wise, either). And so the Jebsal lay more or less abandoned until 1982, when Leonard Humbrecht swept in and reunited all the small plots under one happy banner (his). He immediately planted the site with Pinot Gris (consequently, the first vintage of the Zind Humbrecht Clos Jebsal Pinot Gris wine was the 1987).
The terroir of the Clos Jebsal
Situated just below the famous Brand grand cru, the Clos Jebsal is characterized by a grey marl-limestone soil rich in clay and gypsum. It is the latter mineral substance, copiously present in the subsoil and a distinguishing geological feature of the vineyard, that gives it its name, as jebsal derives from "gypsum". The vines face directly south, and the vineyard is terraced, given its 50% gradient. The south facing exposure and the fact that the Jebsal benefits from the sheltering effect of the Brand above it means that this cru is marked by a very warm and early microclimate. By contrast, the deep clay-rich soil is a cool one, and warms up only slowly, allowing for slower ripening of the grapes than might otherwise be expected, given the ambient temperatures. This is an especially noteworthy feature of the cru given that Pinot Gris is a low acid variety and therefore it is always preferable for it to be planted where it may ripen over an extended time frame (otherwise, wines lack not just in complexity but in acidity too). But the one truly important feature of the Clos Jebsal is that it is a site where noble rot develops regularly and with ease. At Zind Humbrecht, they have made a wine of Vendanges Tardives (late harvest) or a Selection de Grains Nobles (selection of Noble rot affected grapes or SGN for short) level of sweetness from the Jebsal in every vintage since 1989. Indeed, some of the richest, sweetest wines this estate has ever made were those made with grapes from this vineyard.
In fact, the Jebsal's geology is a little more complicated than it appears at first glance. For example, there are differences between the upper portion of the cru and its bottom part. This is usually true of all hillside vineyards, be they in Alsace, Burgundy or Barolo. The highest part of the Clos Jebsal is characterized by the lowest percentage of clay and more gravel, but also more of a Mushelkalk limestone component here. Consequently, the wines express aromas of noteworthy finesse. In the middle part of the Clos, where four terraces run parallel to the undulations of the slope, gypsum rules with deep, rich marly soils that give wines of real power and acidity. The lowest and very big terrace is also characterized by gypsum in the subsoil but also by more humidity, and so not surprisingly, it is where noble rot develops with greatest ease. According to Oliver Humbrecht, while the Clos Jebsal is characterized by good water retention capacity, drainage is also quite good.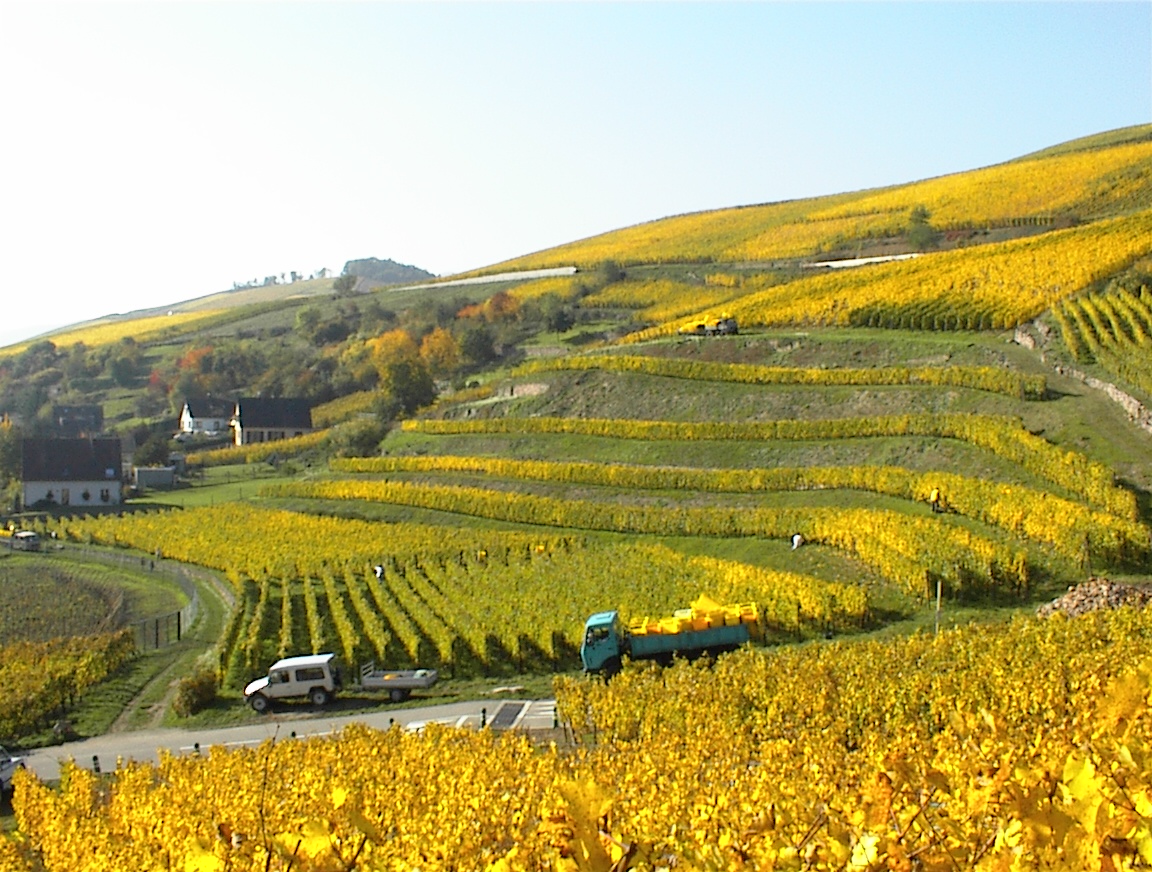 The curious/ not so curious choice of Pinot Gris for the Jebsal
The choice to plant Pinot Gris in the Jebsal was that of Oliver's father Leonard. It was a wise move, even though it might seem odd at first glance (and certainly Riesling would have fared there just as well). Given the presence of gypsum in the subsoil, much as one finds in the Schoenenbourg (a famous Alsace vineyard: see TerroirSense Wine Review, Terroir Insight: Alsace Grand Cru Schoenenbourg, January 2021) but where there is basically little or no Pinot Gris planted, it cannot but strike the accidental wine expert as strange to have planted the Clos Jebsal with Pinot Gris. In fact, it is not so strange at all. Gypsum is always associated with clay, the presence of which characterizes cold soils, where grapes ripen slowly. This means that Pinot Gris in the Schoenenbourg would risk being planted too late in the season (with all the attendant potential weather-related disasters in tow, as well as the risk of being able to make only late harvest wines). Clearly, this is not a risk with the Jebsal, characterized by a much warmer and earlier-maturing microclimate. In fact, Oliver Humbrecht states that with global warming, it is becoming increasingly harder to make late harvest wines marked by pure and clean noble rot: for example, in 2020 they only made a dry wine from the Clos Jebsal (essentially unheard of) and the 2019 Vendanges Tardives they did make they really didn't like, and so declassified it and blended it into other wines.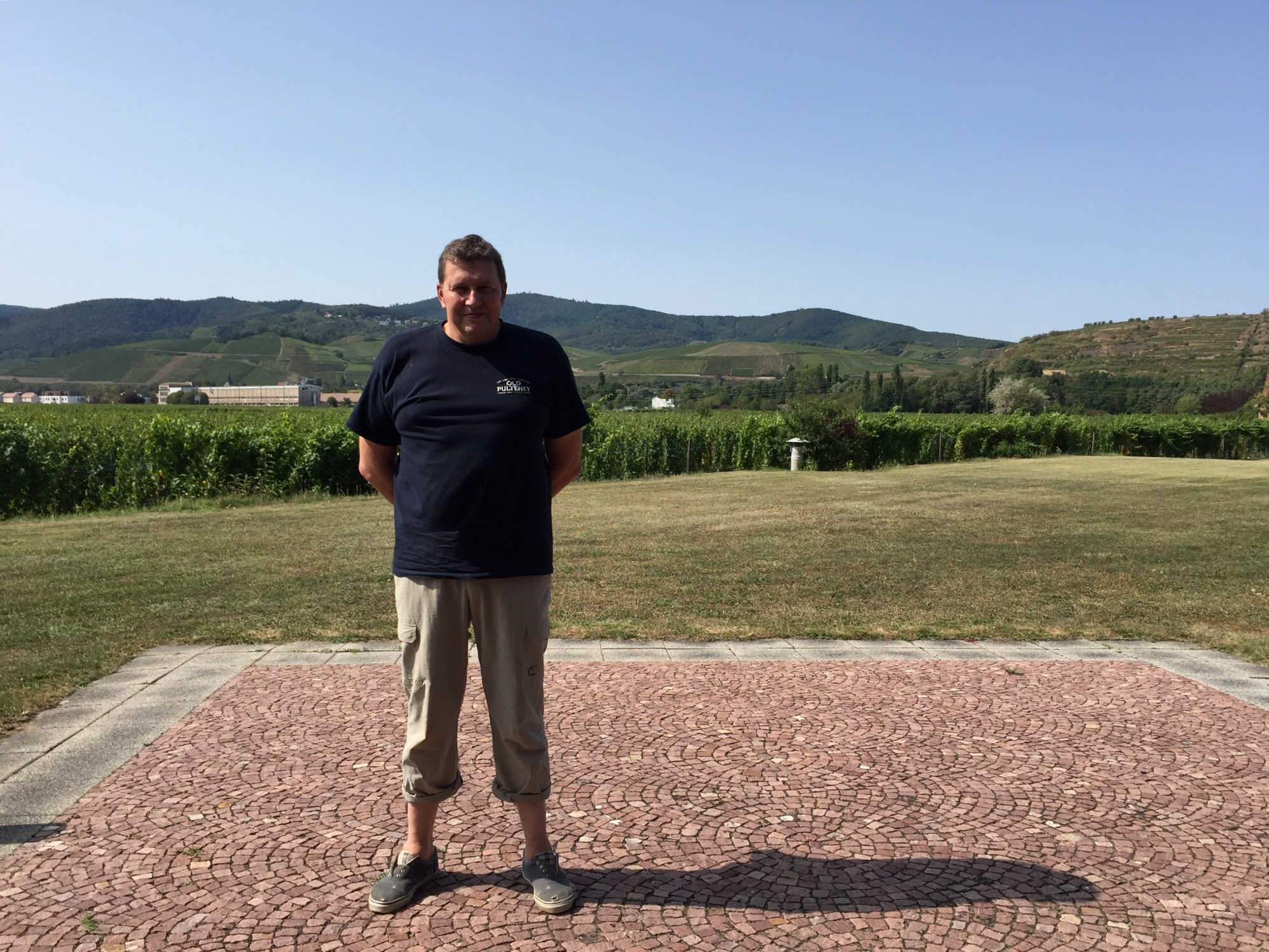 The wines
Clos Jebsal Pinot Gris always starts out in life closed and slow to develop, even reduced, offering nuances of rocks and chalk, with underlying floral, orchard fruit and honeyed elements. This behaviour is typical enough of cold clay-rich spoils, as is the undeniable power the wines come equipped with, and the Clos Jebsal wines are no slouches in that department. With age notes of white and yellow fruit appear, and the mouthfeel is always round and suave thanks to very fine tannins (given the solar nature of the site, the Clos Jebsal's grape skins ripen well, giving wines that are always marked by highly polished tannins). The Clos Jebsal's wines are unlike those of any other Alsace grand cru Pinot Gris wines (of which there aren't actually that many): according to Oliver Humbrecht, perhaps only the Pfingstberg and the Rotenberg grand crus give Pinot Gris wines that are somewhat similar to those of the Clos Jebsal. Clearly, the better parts of the Hengst do so too (but not those parts of the Hengst characterized by excessively meagre soils).
In ultimate analysis, the Clos Jebsal gives unforgettable Pinot Gris wines, quite unlike any you might have tasted from anywhere else. And though I am partial to the Pinot Gris of the Clos Saint-Urbain and the Clos Windsbuhl, it is undeniable that the Clos Jebsal's absolutely unique expression of Pinot Gris aromas and flavours can be downright stunning.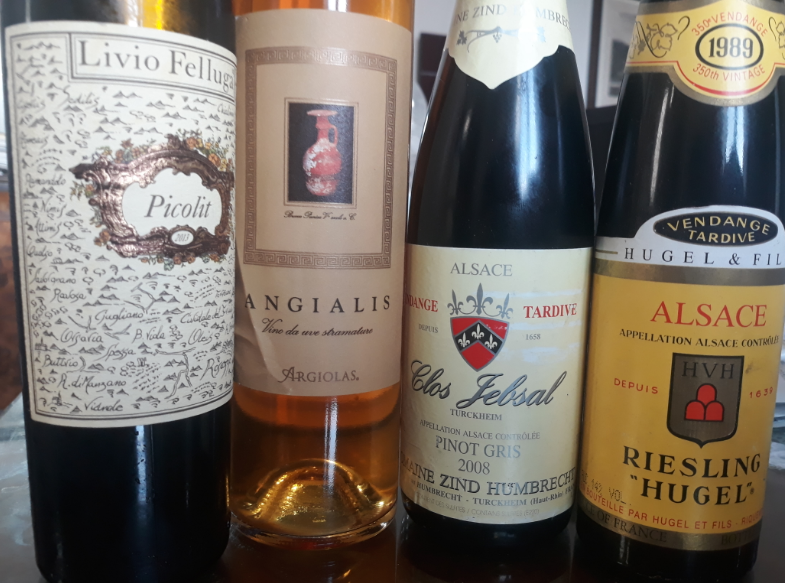 Zind Humbrecht 2016 Pinot Gris Vendanges Tardives Clos Jebsal                   91
The Zind Humbrecht 2016 Pinot Gris Vendanges Tardives Clos Jebsal is a pale golden yellow in colour. Delicately perfumed, the nose offers aromas of apricot and pear, complemented by nuances of honey and white flowers. Then light and lively in the mouth, with a hint of glyceral richness in the background and with repeating honeyed orchard fruit flavours persisting nicely on the long, tapered and rather light and not especially sweet back end (49 g/L residual sugar and 5.3 g/L total acidity). The 2016, though certainly not the most concentrated or most memorable Clos Jebsal ever made (the only 13.5% alcohol is welcome), is a pretty, refined wine, the hallmark of which is the delicate structure and a relatively drier style than is typical with wines from this site. Above all, the 2016 Clos Jebsal does not have any of the problems of many other 2016 Alsace wines (lack of acidity, tough bitter skins, not enough ripeness). This is a lovely wine from a difficult vintage and it speaks to Olivier Humbercht's immense skill as a farmer and a winemaker. In 2016, a mild and wet spring (there was more than three times the normal monthly average rainfall in each of April, May and June) was associated with huge disease pressure, and many growers lost large portions of their crop. By contrast, summer and autumn were both hot and droughty (how droughty? Very: there were only 100 millimeters of rain in the four months following the flowering) and so water stress became a huge problem by the end of August. Fortunately, the harvest took place uneventfully and was carried out over a long period of time in sunny and dry conditions. Drinking window: now-2027.
Zind Humbrecht 2009 Pinot Gris Vendanges Tardives Clos Jebsal                   94
I have never been a huge fan of the 2009 vintage in Alsace and of too hot vintages in general, but the Clos Jebsal VT from this year is exceptional. The Zind Humbrecht 2009 Pinot Gris Vendanges Tardives Clos Jebsal is remarkable in that it offers the kind of Pinot Gris (Pinot Grigio) drinking experience that only Alsace can deliver. Golden yellow in colour with copper highlights, the wine boasts explosive aromas and flavours of ripe tropical fruit jam, smoky bacon, honey, grilled porcini and strawberry nectar. At once suave and sexy, it finishes long and opulent with hints of smoky noble rot and of air-dried berries lingering long on the luscious aftertaste. I found this to be quite big for a VT, but it is very well balanced and harmonious (90 g/L residual sugar and 5.4 g/L total acidity). The 2009 growing season was characterized by a good spring and summer: the latter season quickly became very hot and dry (I distinctly remember walking through many Alsace vineyards that August and seeing yellowing leaves everywhere) and water stress was a problem almost everywhere, with many wines marred by soft or downright lacking acidity. All in all, I'd say the Jebsal handled it extremely well. Drinking window: now-2028.
Zind Humbrecht 2008 Pinot Gris Vendanges Tardives Clos Jebsal                   95
The Zind Humbrecht 2008 Pinot Gris Vendanges Tardives Clos Jebsal showcases a beautifully vibrant golden yellow hue. Rich, deep aromas of nectarine, yellow peach, beeswax, pear, strawberry and fresh citrus fruits are lifted by floral and mineral notes. Then clean and pure in the mouth, with lemony botrytis nuances nicely framing the ripe orchard and stone fruit flavours on the long, suave finish. This is a very focused, serious Clos Jebsal that hints at the opulence of an SGN but stays politely within the limits of a VT. The 2008 is remembered as one of the all-time great Alsace vintages characterized by wines of often record-breaking acidity levels. Weather-wise, a good spring was followed by a colder than normal June and at times a very rainy July and August, with September being rainy as well into its second week. After that, the weather improved and the long harvest took place over a protracted period of time in sunny and dry conditions. Drinking window: now-2038.
Zind Humbrecht 1993 Pinot Gris Selection de Grains Nobles Clos Jebsal       96
The Zind Humbrecht 1993 Pinot Gris Selection de Grains Nobles Clos Jebsal is deep golden yellow luminosity. Aromas and flavours of beeswax, crystallized apricot and yellow peach, yellow melon and honey are pure and focused. Hints of noble rot and of minerals add complexity on the not especially sweet finish (I find to be closer to a Vendanges Tardives in sweetness than to an SGN). No matter, you'll find this wine as delicious as I do. And though now almost thirty years old, it is aging gracefully and will live another ten years or so easily. Drinking window: now-2030.