One of Italy's best white wines and one of the ultimate apéritif wines of the world, Blanc de Morgex et La Salle is a delight for tired (and non-tired too, for that matter!) taste buds. Bright, fresh, piercing and vibrant, loaded with juicy and zesty acidity and light-bodied floral and white fruit flavours, these wines are just what the doctor ordered for all those looking for good food wines that don't cost an arm and a leg and that match well with many different foods. The only caveat is that Blanc de Morgex et La Salle wines are not made in huge volumes, given the alpine habitat the vineyards are found in and their very small extensions…so don't expect to find these wines in your corner supermarket. However, a good importer will have no trouble finding them, so all you need to do is talk with the wine shop owner you normally frequent and he will almost certainly manage to snag some bottles for you.
A little bit about the grape variety and its wines
Blanc de Morgex et La Salle was made famous by a priest, the parish priest Alexandre Bougeat: back in the 1960s and early 1970s, his Blanc de Morgex et La Salle wines were thought to be amongst the best white wines of Italy. (He created the wine's fame, and his work has been carried on by others I will detail in this report.)
Blanc de Morgex et La Salle is a light to medium-bodied white wine made in Italy's smallest region, the northwestern bucolic Valle d'Aosta, a mountain region that snuggles up to the Alps and  next to France that sits right on the other side of the mountain range that forms the border. Valle d'Aosta is in fact the one area of Italy where you will encounter a lot of Italians with French names, and the food and wines are often French-inspired. The grapes grown in the area are of clear French extraction: Pinot Noir, Pinot Gris, and Chardonnay rule the roost among international varieties, but this small, absolutely gorgeous region is also a treasure trove of native Italian grapes. There are thirteen red varieties and one native white grape in the Valle d'Aosta, that, for as little as it is, actually grows and makes wine in commercially relevant numbers from about as many native grapes as do Piedmont, Campania, and Friuli Venezia Giulia, the Italian regions that lead the native grapes and wines sweepstakes.
The one lone native white grape of Valle d'Aosta that is in any way common is Prié Blanc, the official name of which is actually just Prié (another native white grape, Blanc Commun, does exist, but its presence in vineyards and in wines is still mostly anecdotal at the present time). To be clear, Prié Blanc is the name of the grape and Blanc de Morgex et La Salle is the name of the wine. The latter's name harkens back to the two communes the territories of which are where this variety grows best: Morgex et La Salle. Prié Blanc is a bit of a hermit that likes to live at almost impossible altitudes [almost always around 700-900 meters above sea level (asl), but in fact there are quite a few vineyards at more than 1000 meters asl too] as it thrives in cool weather. Most often people avoid planting it too high up because the amount of soil sand increases as you move up, and given that the vineyards are not irrigated there, drought can be a problem.
A very high acid grape, Prié can be used to make not just fantastic still white wines, but outstanding sparkling wines (classic method wines made in the manner of Champagne with secondary fermentation taking place in the bottle, though Charmat-Martinotti tank method examples also exist) and even excellent sweet wines identified as flétri on bottle labels (a word derived from the local language that refers to air-dried grapes). And you might be surprised to know that the Valle d'Aosta is where you can find one of Italy's very few Icewines, also made with this grape.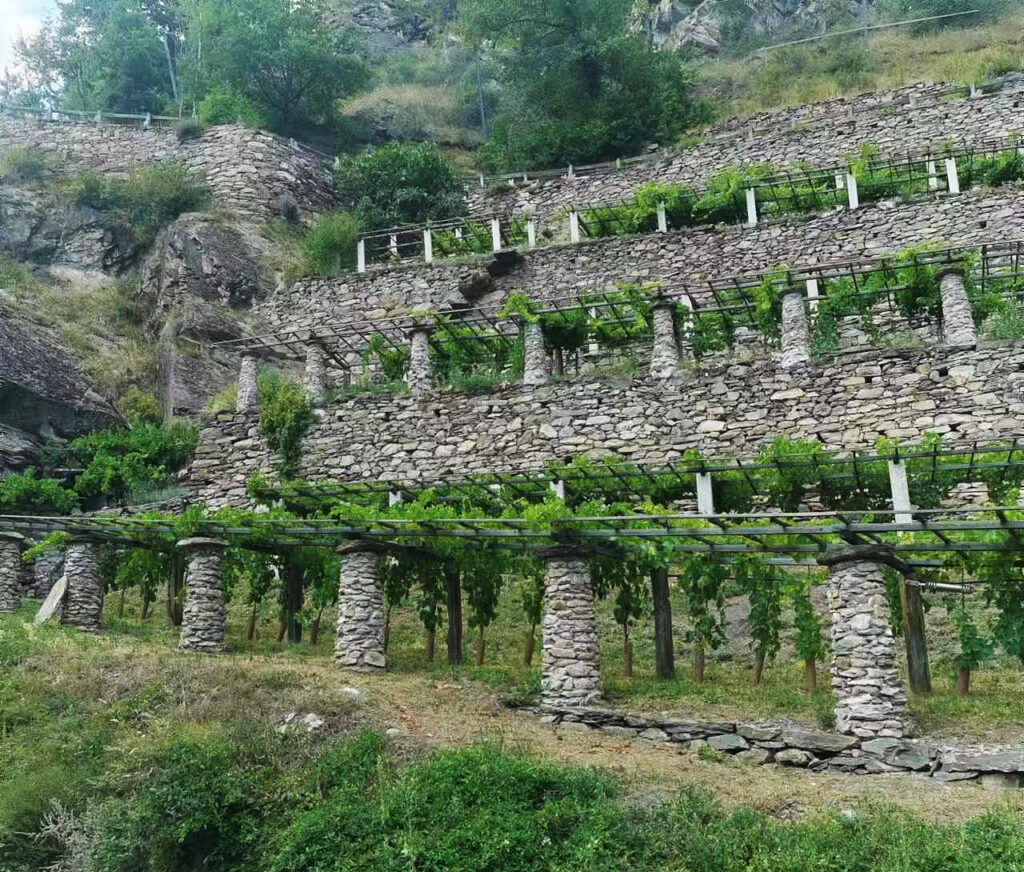 Morgex and La Salle are two bucolic little mountain towns the territories of which are rather different. Soils around Morgex have a bit more clay, La Salle's a bit more sand, such that the wines of the former are a bit more complex and deep while those of the latter more open-knit and broad. This is why the grapes of the two territories have always been blended for they complement each other (in theory, it was also once believed that Morgex gave more quality but La Salle more quantity), making for a wine the sum of which is more than its individual parts. In truth, when I used to visit the area twenty to twenty-five years ago, I was routinely told that Morgex's wines were more interesting, but with climate change that view has been modified somewhat; over the last ten years, global warming has made it so that the grapes now ripen more or less at the same time (it used to be that Morgex's ripened at least ten days before, and that difference can be crucial in a mountain environment). Also noteworthy is that in the territory of La Salle, the grapes never suffer drought, so much so that nowadays more and more producers are planting vineyards in la Salle. How times change.
Morgex and La Salle are located in the upper third of the Valle d'Aosta, what in Italy is referred to as the Alta Valle. It is a remarkably beautiful territory, first described in-depth by Honoré Bénédict de Saussure in the eighteenth century. Documentation of the grape actually precedes that of the vineyards and landscape. In 1691, Prié is mentioned as such for the first time in a document of sale of vines near the hamlet of Saint-Pierre. And so it is that because Prié has been hanging around these mountain slopes for quite some time, it has spawned a number of different, new, grapes: the local varieties of Primetta (also called Prëmetta), Roussin de Morgex, Mayolet and Blanc Commun all have Prié as one of their parents. Prié is a very resistant grape save for the fact the grapes have thin skins, with all the attendant problems that condition entails. The wines are beautifully steely and fresh (especially when mostly made with grapes from Morgex, otherwise they are more floral and ample) with gorgeous notes of thyme, mint, chlorophyll and green apple, plus or minus notes of riper citrus and orchard fruits depending on the source of the grapes and that year's weather conditions.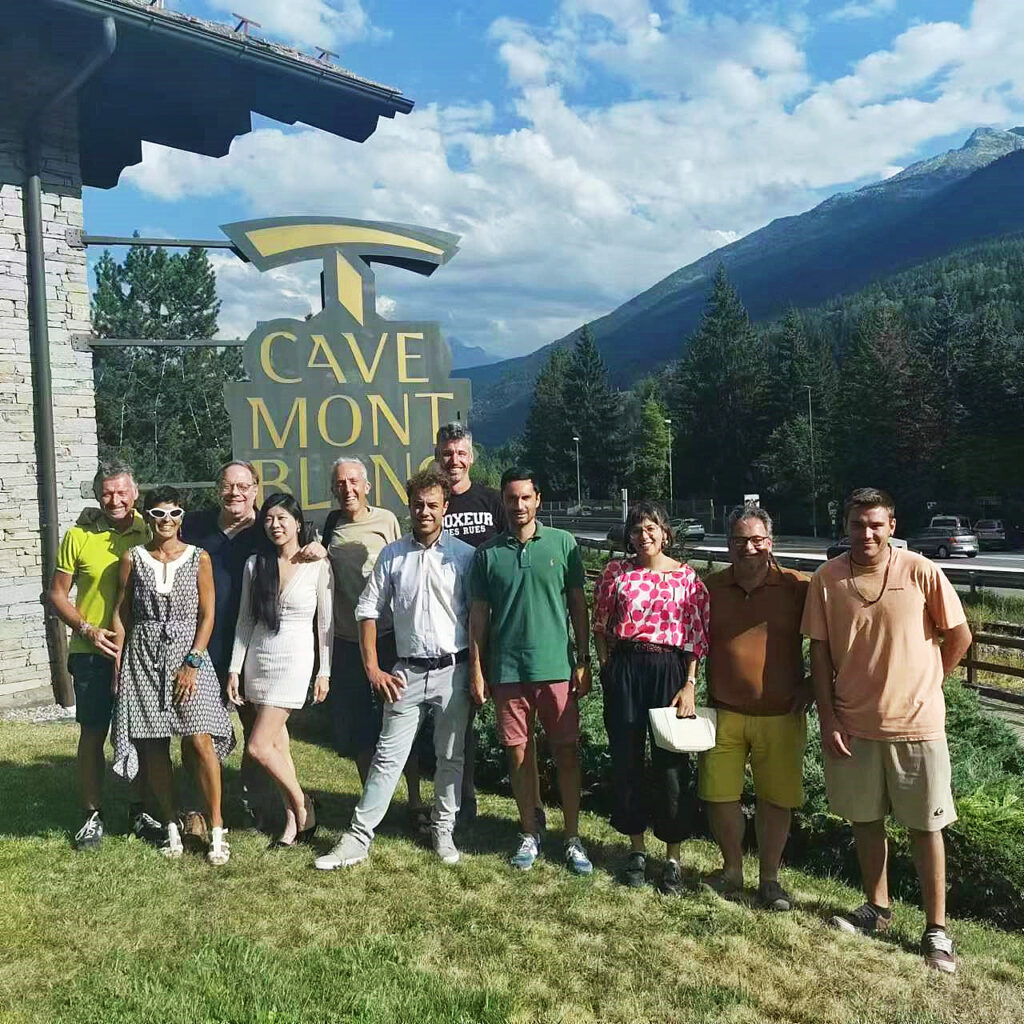 group of producers altogetherThere are currently only about thirty hectares of Prié planted in the Valle d'Aosta; the age of the vines runs from eight years old and much older, with the average being forty years of age. Clearly, given that paltry hectarage and the small volumes of wine produced, most of the producers save for the Cave du Mont Blanc (the local coop) and Ermes Pavese need to devote themselves to other jobs so as to get by. Growing vines and winemaking is very much a second occupation for all involved. And so it is that Mario and Valeria of Marziano Vevey work in distribution of electric materials and commercial electric companies; Piero Brunet of the winery of same name has been a plumber for something like forty-seven years; Joslei of Domaine Quinson is a ski teacher at Courmayeur; and Mario Vevey of Albert Vevey is a trained veterinarian and geneticist who has long acted as the director of an association of livestock breeders (the Valle has it own local breed of bovines).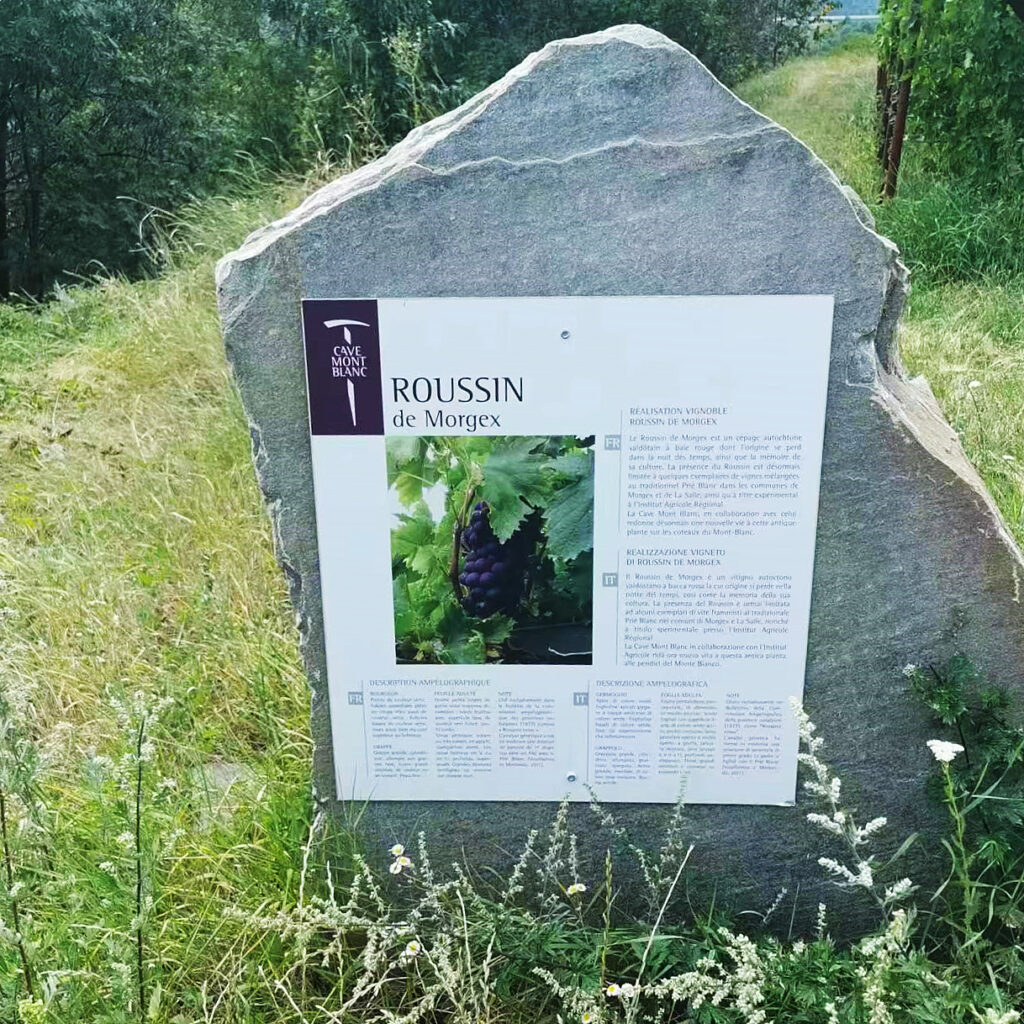 But wait!!! There's more than a white grape: Roussin de Morgex (Roussì), take a bow!
There's no question that Prié is really the dominant grape of the upper third of the Valle d'Aosta (about 98% of all the plantings). It grows nowhere else in the region. That said, there are a few other varieties that also grow in the area's beautiful vineyards (low-trained canopies hugging the rocky cliffs that hide the pale, translucent green-white, almost ghost-like grapes: you have to get on all fours sometimes to look beneath the leaves and gaze at the beautiful grapes hanging there). In fact, the old vineyards also have some plants of Freisa and Barbera, plus other rare local varieties, but the most important red grape of them all is the Roussin de Morgex.
Roussin de Morgex is the only truly native red grape of this part of the Valle d'Aosta, and it is a variety close to my heart since I have been directly involved for over fifteen years now in its resurrection (free of charge, of course). Its importance to the region cannot be over-emphasized, given it is the only native red variety of the area and therefore is a grape that nobody else has. It literally calls, just like Prié, Morgex and La salle its home. Roussin de Morgex (not to be confused with Roussin, which is a different grape variety) is a beautiful little grape that actually gives pink-coloured wines that have much more in common with rosé/rosati wines than they do with reds; but no matter, the little grape gives delightful wines. Thanks to Nicola Del Negro, the technical director of the Cave du Mont Blanc (de Morgex et La Salle), the biggest wine producer of this part of the Valle d'Aosta, and the members of the cooperative as well as the former and current president who have followed his suggestions and recommendations, wines made with Roussin de Morgex are now alive once again. The grape had been all but abandoned, because it is a very delicate grape that falls prey too many different diseases; and so local growers, who face enough adversity as it is in a similar mountain environment, were never too keen on growing it. But Del Negro was able to cull together about six to seven of his members who still had vines of it in their vineyards (the coop can count on about sixty members) and enough vines were selected to plant an experimental vineyard. Two horrific years of early frost killed the original vineyard (I'm still crying about it) but with real love, passion and attention to detail it was re-established, something I will never give everyone involved enough credit for. Well done everyone, for they have combined to avoid the disappearance of a grape variety. That's no small merit. Roussin de Morgex is a very high acid variety and so is better suited to making sparkling wines: I have had a number of these and there is no doubt the wines can be excellent (aromas and flavours of redcurrant, rosehips, thyme, spearmint and wild strawberry), so we all have something to look forward to in the hopefully near future. As an aside, given arcane European wine laws that as always do very little to truly service and help small entities (ever wonder why that is?) and those who live in specific places, it is not allowed to name a variety with the name of a place, and so Roussin de Morgex's official name is now Roussì, and officially inserted in Italy's National Registry of Grape varieties as such this year (2023). Better than nothing; it is what it is (though it shouldn't be).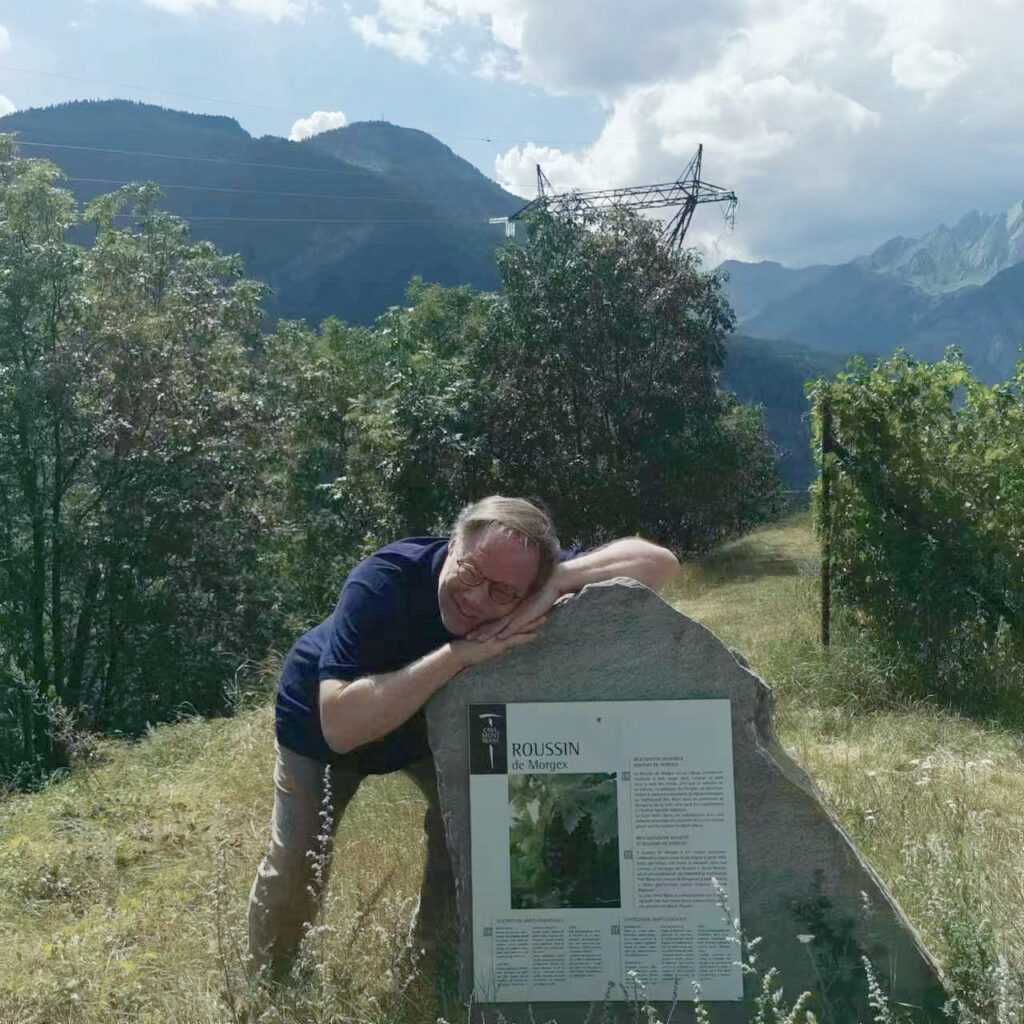 The wines in this tasting report
All the wines in this tasting report were tasted by me directly in the Valle d'Aosta this past August when I visited the region. I thank the Cave du Mont Blanc (de Morgex et La Salle), its president Nicolas Bovard, and technical director Nicola Del Negro for allowing me to call over all the producers of Blanc de Morgex et La Salle to their fine winery and therefore bring together the largest selection possible of wines to describe and write about. I had a fabulous, fun time meeting everyone and really sitting down and getting to talk and ask questions. So thanks also to the individual wine producers for their time and patience. Honestly, I simply never tire of spending entire afternoons like this, so thank-you, thank-you, thank-you everyone!
To the best of my knowledge, this is the only article detailing these wines in similar depth in any English-language wine publication. But I trust that you have come to expect no less from me and the TerroirSense Wine Review.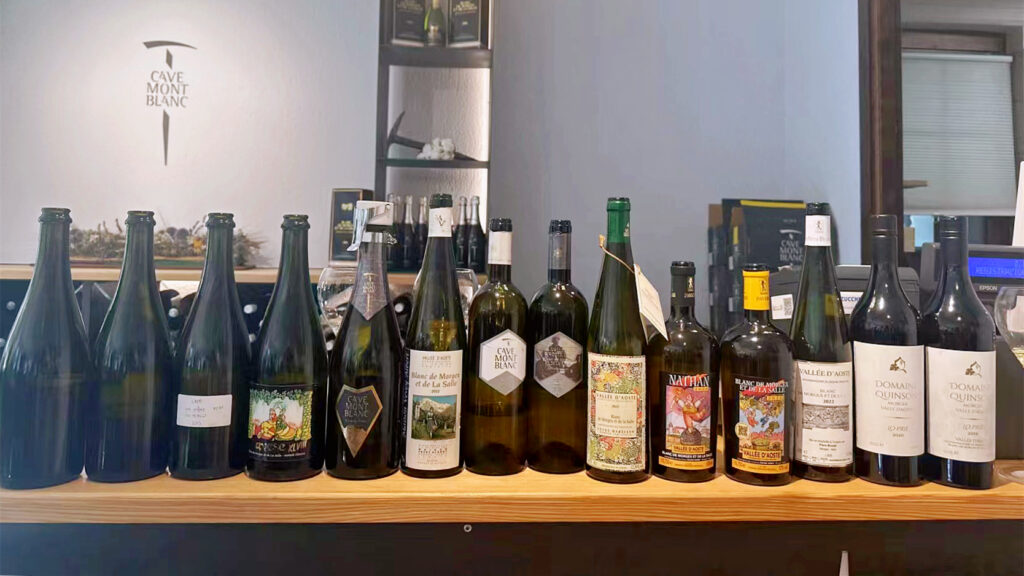 Albert Vevey.
Mario Vevey took over in 1990 when Albert passed away. The estate was founded in 1968, and is all of 1.5 hectares large. About 10,000 bottles of Blanc de Morgex et La Salle are produced a year (2000 of which are sparkling wine, and 1000 of the outstanding sweet wine called Flapi). The wines have always been standard-bearers of the high quality Valle d'Aosta wines are characterized by.
Albert Vevey 2020 Blanc de Morgex et La Salle Pas Dosé Metodo Classico Milles Bulles Vallé d'Aoste                    93
Straw-green. Rare example of a Blanc de Morgex et La Salle boasting aromas and flavours of bread, butter, hazelnut and bread crust (usually these wines are more minty, mineral and floral). Spent 24 months on the lees. This is a great buy for the money. The estate will release a sparkling wine that spent 36 months on the lees this fall. Drinking window : 2023-2026.
Albert Vevey 2022 Blanc de Morgex et La Salle    91
Medium-dark yellow. Chamomile, eucalyptus and lime complement pear and yellow apple aromas; this is more balsamic than examples of Blanc de Morgex et La Salle from other producers. Then richer, rounder, and creamier in the mouth, with flavours similar to the aromas (this has 12.8% alcohol, which is high for Blanc de Morgex et La Salle, hence it seems rounder). Closes very long and clean. About 8000 bottles/year. Drinking window : 2023-2026.
Albert Vevey 2021 Vino da Uve Stramature Blanc Flapì     94
Pungent gooseberries, lime and sweet spices on the perfumed nose. Then very piercing, with fresh flavours of passionfruit and papaya. There's so much harmonious acidity here you really can't tell it's that sweet a wine (100 g/L of residual sugar and 8g/L total acidity). Enters warm and round, then finishes long, cool and tapered. Made with grapes that were air-dried for two months in cassettes and then frozen. Clocks in at a surprising 14.5% alcohol, but I guarantee you won' t be able to tell. Drinking window : 2023-2027.
Cave Mont Blanc de Morgex et La Salle.
This is one of the classiest cooperatives in Italy and the world, one that makes a bevy of very fine wines all from just one single grape variety, Prié.  The Cave Mont Blanc de Morgex et La Salle has currently 68 members, each of whom bring their grapes to Nicola Del Negro, technical director, who makes the wines; in total, the coop has an annual output of about130,000 bottles (45,000 of which are of sparkling wines, but the coop actually also makes small volumes of one of Italy's extremely rare Icewines). The coop makes about ten different wines, and absolutely excels at sparkling wine production; their bubblies rank not just with the best of Italy but can give many a Champagne a run for their money. The members own about eighteen hectares of Prié, planted over thirty-three different subzones, each identified as lieux-dits. Some, like La Piagne, have now become quite famous in their own right, earning an unofficial grand cru status for the Prié variety and its wines. Clearly, the Cave du Mont Blanc is also responsible for the highly meritorious rediscovery of the forgotten local native red grape Roussin de Morgex (now officially called Roussì), with which some truly excellent pink sparkling wines are made in the manner of Champagne (by secondary fermentation in the bottle). The 24 months on the lees bubblies is really something else. Well done!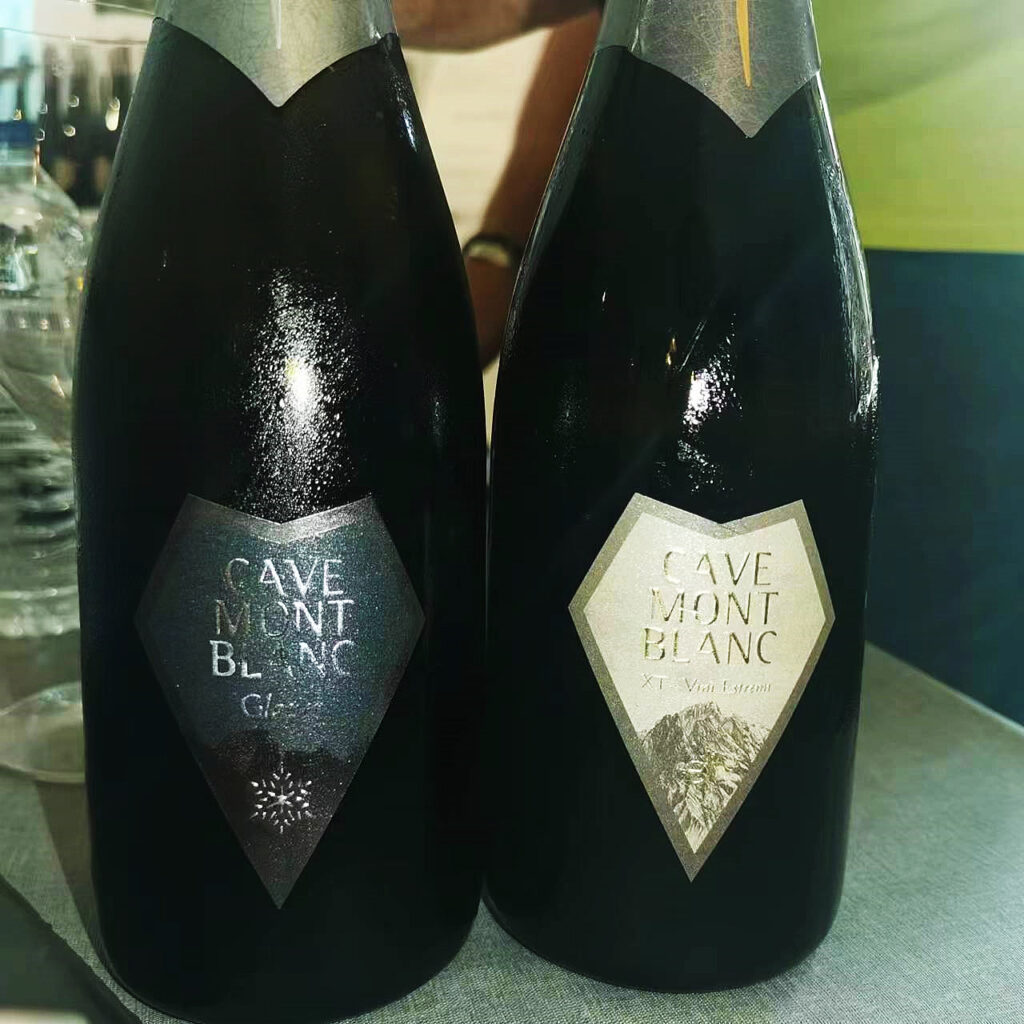 Cave Mont Blanc de Morgex et La Salle 2015 Roussì (Roussin de Morgex) Rosé Metodo Classico Valle d'Aosta         94
Pale pink with a reddish tinge. Intense aromas of rosehips, redcurrant, cranberry jelly and violet. Fresh and energetic, with a vibrant mouthfeel but also a juicy quality to its small red fruit and floral flavours. Finishes with sneaky creaminess and an underlying whiplash of acidity that really extends the flavours on the long back end. Spent 24 months on the lees. This is a real knockout. Drinking window: 2023-2030.
Cave Mont Blanc de Morgex et La Salle 2015 Roussì (Roussin de Morgex) Blanc de Noirs Metodo Classico Valle d'Aosta   91
Pale golden-tinged yellow. White flowers, apple and some fresh citrus on the nose and in the mouth. Straightforward and taut, this spent 48 months on the lees but is not so hazelnutty or buttery as that long time on the lees might suggest. Currently a little folded in on itself, it will be interesting to see if it picks up complexity with bottle age. Drinking window: 2023-2032.
Cave Mont Blanc de Morgex et La Salle 2020 Blanc de Morgex et La Salle Metodo Classico Vini Estremi             93
Pale straw-green colour with a thin, rapidly moving bead of small bubbles. Very fresh and clean on the nose and in the mouth, offering a steely, laser-like combination of fresh mountain flower and white orchard fruit aromas and flavours. Spent 24 months lees on the lees and was bottled with a very small volume of liqueur d'expedition. This is an outstanding example of just how talented the Cave du Mont Blanc is at making bubbly wines that are less hazelnutty and oxidative than many other sparkling wines made elsewhere, but are at the same time livelier and fresher. Drinking window : 2023-2032.
Cave Mont Blanc de Morgex et La Salle 2019 Blanc de Morgex et La Salle Metodo Classico Glacier             92
Very pretty on entry, with an intense note of tropical fruit and ripe peach. The aftertaste is medium-long and satisfying, with arising note of saffron. This is very much in the style of the 2019 vintage, which gave fruitier wines than usual. Drinking window: 2023-2028.
Cave Mont Blanc de Morgex et La Salle 2016 Blanc de Morgex et La Salle Metodo Classico Brut Nature Cuvée du Prince          94
Straw-green with golden tinges and steady stream of small bubbles. Explosively floral on the nose, with complicating hints of thyme, lemon verbena, green apple and pear. Then nicely glyceral in the mouth but also fresh long and lemony with rising nuances of vanilla adding complexity. Spent 72 months on the lees; it used to be 48 months, but was changed to 72 as of the 2012 vintage. About 60% of the grapes are from Morgex and 40% from La Salle. Only about 1350 bottles of this beauty were made. Drinking window : 2023-2030.
Cave Mont Blanc de Morgex et La Salle 2022 Blanc de Morgex et La Salle                  93
Brilliant straw-green. Lemon verbena, jasmine, green apple and nectarine on the captivating nose. Very clean and precise with flavours similar to the aromas, this closes, long mineral and pure. Lovely wine that will blow your socks off as an aperitif or any simply prepared fish dish (freshwater fish, especially). Drinking window : 2023-2028.
Cave Mont Blanc de Morgex et La Salle 2020 Blanc de Morgex et La Salle Affinato in Miniera                    91
Pale golden-yellow. Ripe yellow apple, pear and peach dominate on the nose and in the mouth, with hints of hazelnuts and almonds. Very smooth and long on the juicy finish. Curiously, the wine evolves sooner both on the nose and in the mouth than the others kept in normal cellar conditions: the cavernous mine environment, at 2000 meters asl, has more humidity but less oxygen and so at the cave they thought, not unreasonably, that the wine would turn out more austere but not so. Drinking window : 2023-2028.
Cave Mont Blanc de Morgex et La Salle 2021 Blanc de Morgex et La Salle Chadelune Vin de Glace             94
Pale golden-yellow with golden tinges. Very refined and elegant on the inviting nose that is still shows a youthful oakiness, with sweet spicy nuances to the aromas of hazelnuts, almond oil and ripe yellow fruits. Very harmonious in the mouth, with bright acidity keeping the ripe but juicy tropical fruit and lime flavours light and lively. A very unique Italian wine (Chaudelune is made by combining two different winemaking methods: the Icewine process of using naturally frozen grapes on the vine, but the liquid is then left to mature in open top containers so as to develop Sherry-like oxidative notes) that is silky-sweet wine (110 g/L r.s.) but boasts so much refreshing, even piercing acidity (9 g/L total acidity) that makes this particular vintage of Chaudelune seem less sweet than some past vintages of this wine. No matter, this is really very pretty. Drinking window: 2023-2032.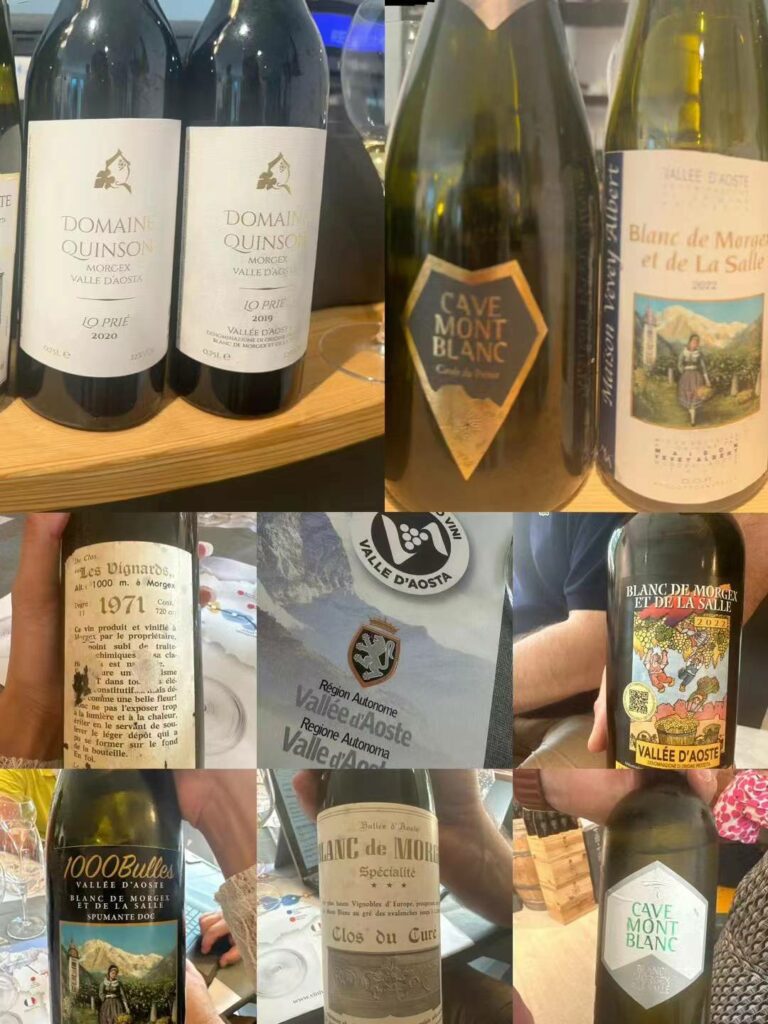 Domaine Quinson.
Like many other families in the area of Morgex and La Salle, the Quinson family have been long-time members of the Cave du Mont Blanc coop (since 1983); but in fact, Marcello Quison had started bottling on his own already back in the 1960s as the "Marcelo Quinson winery", so well before the Cave was born in 1981. The new generation decided to start estate-bottling in 2019, and currently make wine from 1.2-1.3 hectares (they are going to plant another 0.5 hectares next year). For the moment, they are producing about 6-7,000 bottles a year. In 2020, they made their first bubbly, all of 1000 bottles but it's still on the lees currently. Joseli follows the vines along with dad Agostino, who is one of Italy's most famous chefs of the Café Quinson restaurant in Morgex. The wines are made with Morgex grapes only with the help of Hermes Pavese, another well-known Blanc de Morgex producer.
Domaine Quinson 2021 Blanc de Morgex et La Salle Lo Prié                 92
Straw yellow with some green. Aromas and flavours of thyme, yellow apple, quince and peony. The aftertaste is long and savoury. This is a fairly bigger, relatively fuller-bodied version of Blanc de Morgex et La Salle that finishes long, rich and dense (1kg of grapes are used per one bottle). Drinking window: 2023-2026.
Domaine Quinson 2020 Blanc de Morgex et La Salle Lo Prié                   91
Very balsamic on the nose and in the mouth, with strong notes of  eucalyptus and minty herbs complicating the crisp white and yellow orchard fruit notes. Finishes long with compelling sweetness of fruit and excellent length. Better on the creamy, layered mouth today. This is the first vintage released, but the vines were still recuperating from the horrific frost episode of 2017, and so at Quinson they feel the wine will change in its organoleptic characteristics in future vintages. Still, I liked this. Drinking window: 2023-2025.
Ermes Paves.
One of the more famous or at the very least better-known names in Blanc de Morgex et La Salle production today, the estate boasts 7.5 hectares from where they source grapes (two hectares are owned outright). About 40,000 bottles a year are made of thirteen different wines, but the lion's share is represented by the still Blanc de Morgex et La Salle. The new generation is now taking over from the father in running the winery (and the siblings have named after them): Ninive follows the commercial side of things as well as the winemaking (with dad Hermes) while brother Nathan is in charge of the vines. Ermes Pavese founded his winery in 1999; at the time he had been a graphic artist, selling mineral water and also ran a butcher shop in Morgex, but began making wine thanks to the father of Valeria (he used to bring them his grapes to vinify and was amiably but literally pushed into making his own wine). In the end, it proved a very successful decision, as Ermes Pavese is today the only winery in the Morgex et La Salle area that lives by wine production only (in other words they do not need to hold down a second or any other jobs).
Ermes Pavese 2016 Blanc de Morgex et La Salle Metodo Classico XLVIII            88
Bright straw yellow with a quick-rising bead of small bubbles. Strong herb and nectarine aromas have a funky cast in a somewhat natural wine style. Then similar flavours, with an underlying green nuance. Closes long and broad. I'd suggest decanting this a few hours before drinking. About 5-6000 bottles made. This spent  48 months on the lees. Drinking window : 2024-2029.
Ermes Pavese 2022 Blanc de Morgex et La Salle                  91
Luminous straw-green. Bergamot, thyme, mint and green apples on the perfumed nose. Then fresh yet round, with lovely juicy ripe apple and yellow fruit flavours. The long finish is both energetic and creamy. Drinking window : 2023-2028.
Ermes Pavese 2020 Blanc de Morgex et La Salle Nathan             91+
Vivid straw yellow. Enters savory, with very strong  herbal notes to the yellow fruit flavours. Closes rich and round with a long juicy salivating mouthfeel. This is nicely concentrated, but also a little too herbal and earthy for me. Macerated 48 hours on the skins. The grapes are sourced from the three oldest plots of Prié that Pavese owns, and that are about 50-60 years old. Aged in tonneaux, partly used, for twelve months. Drinking window : 2024-2029.
Marziano Vevey.
Small high-quality winery that has long made excellent high-quality Blanc de Morgex wines. Annual production hovers at about 7500 bottles a year, of which 1500 are of Brut Nature bubbly. At Marziano Vevey, they own 1.5 hectares of vines; the modern-day estate was founded in 1981, but traces its roots back to Vevey Marcello who was working in wine already at the end of the 1970s. Today the winery is run by the husband and wife team of Valeria and Mario Vevey.
Marziano Vevey 2020 Brut Nature Metodo Classico    93
Limpid pale green with delicate golden highlights. Knockout nose is at once perfumed and refined. Rich round and clean, this is brimming with very intense apple and nectarine aromas and flavours. Very mineral and floral on the extremely focused and long finish. First made it 2016, this spent 24 months on the lees. Disgorged in June 2023. Drinking window : 2023-2031.
Marziano Vevey 2022 Blanc de Morgex et La Salle       92
Deep straw yellow; strikes me as a rather dark yellow colour for a Blanc de Morgex et La Salle, but this dark colour is usual for this winery. Aromas of almond paste, confit lemon, apple and nectarine. Then rich and round, with a very mellow glyceral mouthfeel, and the flavours of ripe yellow fruit lifted by herbal nuances. Excellent, harmonious acidity leaves the mouth feeling very clean on the long brisk aftertaste. Drinking window : 2024-2029.
Piero Brunet.
Brunet is the lone wolf of the group, but may well be the most talented winemaker of the bunch. He owns only 5-6000 square meters of vines, but is lucky enough to own what is the undisputable Grand Cru Superieur of the Blanc de Mrogex et La Salle denomination, in that of the 3-4 plots of Priévines he owns, two are those that belonged to the Abbé Bougeat, the local priest who most did to put this wine on the world wine map back in the 1960s. His wines were always the best of the area (they're certainly the most mineral and vertical) and though the man has since passed away, there's no doubt that Brunet is making him no doubt proud. Brunet produces about 3500 bottles a year only, of which 500 bottles are of Metodo Classico.
Piero Brunet 2022 Blanc de Morgex et La Salle               94
Pale straw-green. Highly mineral, minty notes complement green apple, guava and white peach, with a lively lemon verbena undertone. Bright and juicy in the mouth, with a steely quality to the orchard fruit and minty floral flavours, this is without doubt the most vertical of all the Blanc de Morgex et La salle wines made today. Only 11.8% alcohol, yet packs in a ton of flavour. Super-well done here! Drinking window : 2023-2031.