Alexander Valley Vineyards.
Since 1962, four generations and counting of the Wetzel family have been running Alexander Valley Vineyards, or AVV as it is perhaps even better-known. The winery benefits form a large swath of vineyards planted on both sides of the Russian River and makes a large number of fine wines from many different varieties ranging from the classic Cabernet Sauvignon (that does extremely well in Alexander valley) to less common ones such as Gewurztraminer and Sangiovese. In 2010, the winery received the Sonoma Green Business qualification for its ecosustaianable farming practices.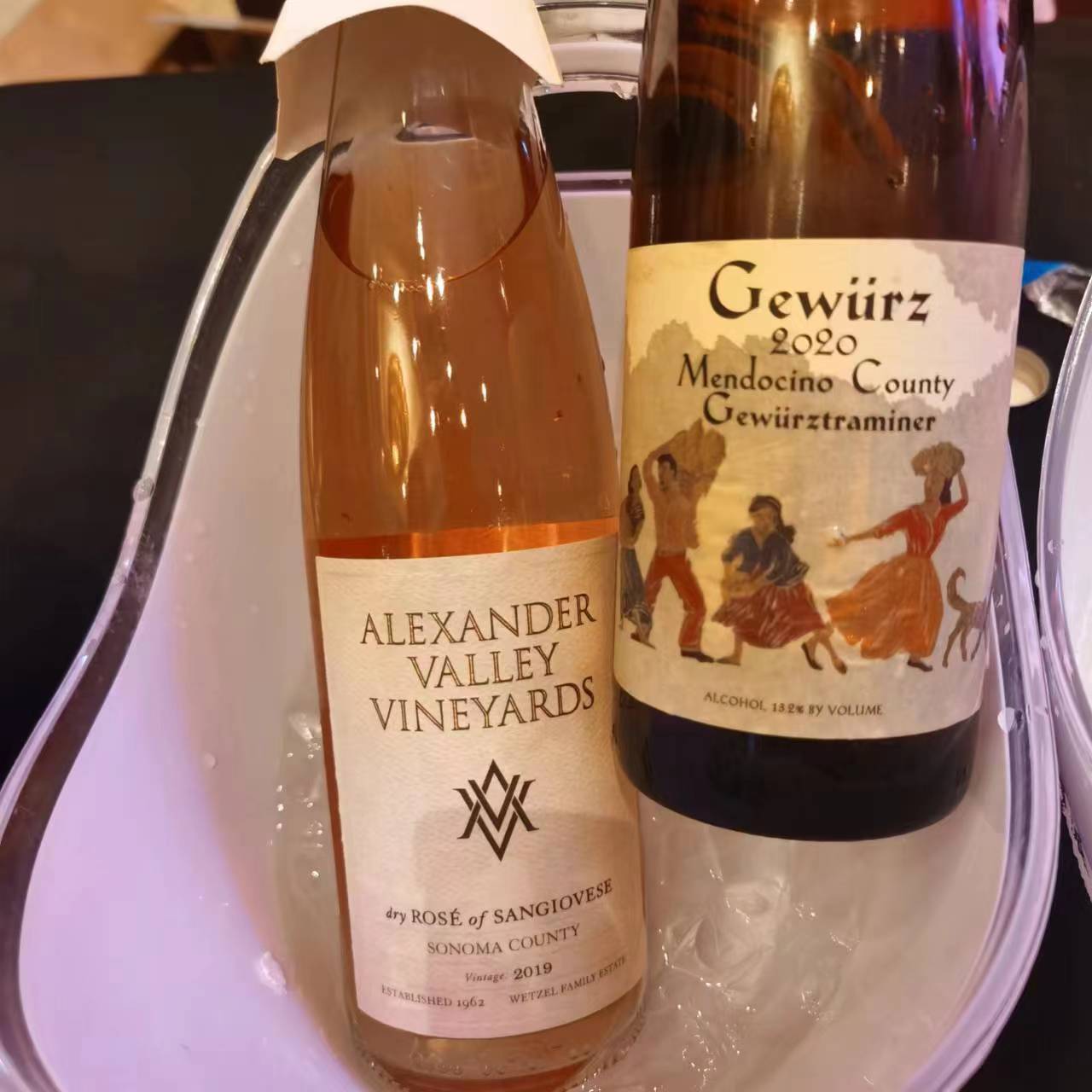 Alexander Valley Vineyards 2020 Gewürztraminer Gewürz Mendocino County              88
Bright yellow. On the nose, this offers hints of pear, grapefruit honey and sweet spices. Then similar flavours in the mouth, with a further hint of candied rose petal. Finishes broad, spicy and medium-long. Try it with roast turkey and cranberry sauce. Drinking window: 2023-2025. (ID)
Alexander Valley Vineyards 2019 Dry Rosé of Sangiovese Sonoma County                                       90
Orangey-pink. Aromas of fresh white and pink flowers are complemented by notes of redcurrant and hay. Lively and juicy in the mouth, with simple but enjoyable flavours of small red fruit and herbs. Closes long with an orange peel nuance. Drink up for maximum enjoyment. Drinking window: 2023-2024 (ID).
Alexander Valley Vineyards 2018 Homestead Red Blend Alexander Valley Sonoma County                        88
Deep ruby-purple. Plush easygoing aromas and flavours of plums, sweet spices and coffee. Medium-bodied and medium-long on the easygoing slightly monotonal finish. Drinking window: 2023-2028 (ID).
Alexander Valley Vineyards 2018 Cabernet Sauvignon Alexander Valley Sonoma County                90
Good full ruby. Lively aromas of violet, dark berries, minerals, and herbs. Medium-bodied flavours of plums and sweet spices, with a suave mouthfeel. The long close is ripe and round. Not the last word in complexity, but very easygoing and graceful, this red is good to drink now but will actually handle a few years in a good cellar. Mostly Cabernet Sauvignon with 6% Cabernet Franc, Merlot, Malbec and Petit Verdot. Drinking window: 2023-2028 (ID).
Alexander Valley Vineyards 2018 Syrah Alexander Valley Sonoma County                      88
Dark ruby. Approachable aromas and flavours of red and dark cherry, forest floor and a hint of black pepper in the background. Finishes medium-long and suave. Drinking window: 2023-2027 (ID).
Arterberry Maresh.
To be frank, anyone who knows anything about wine, and Oregon wine in particular, should be acquainted with the Maresh vineyard, one of the estate's best. I have fantastic memories of some Pinot Noir wines made from its fruit by the likes of Rex Hill (his 1985 is still one of the best Oregon Pinot Noirs I have ever tasted) and later Lynn Penner-Ash and every time I was in Oregon, either at the International Pinot Noir Celebration or just visiting wineries on my own and eating in restaurants in wine country, I never lost an opportunity to try any Pinot Noir wine made with grapes from this magical vineyard site. It was Jim Maresh's grand-parents, Jim and Loie, who first planted the Maresh vineyard in 1970 (and unless memory fails me, I remember someone there telling me that no other Pinot Noir vineyard existed at the time outside of David Lett's at Eyrie Vineyards). Organically farmed, this is one of the grandest crus of all grand cru sites in Oregon. The elder Jim senior's daughter, Martha Maresh, married Fred Arterberry, and the current Jim (Jr., if you will) who is running the winery today is their son (he launched his own brand in 2007, hence the winery's name, Arterberry Maresh). The wines are imbued with an Old World sensibility, with not much new oak used (rarely if ever more than 15%) and wines that are bottled unfined, unfiltered and that rarely exceed 14% alcohol by volume.
Arterberry Maresh 2022 Pinot Noir Dundee Hills Oregon                        90
Bright, deep red. High-pitched aromas of raspberry, red cherry, and fresh herbs, are lifted by a pretty floral topnote. Juicy, bright and easygoing, with racy acids and an easy-to-drink quality that is very inviting. Not especially concentrated but crisp and food-friendly. Finishes juicy firmly and persistent. Drinking window: 2023-2026 (ID).
Arterberry Maresh 2021 Pinot Noir Maresh Vineyard Dundee Hills Oregon                      95
Deep bright ruby-purple. Complex aromas of black cherry, dried rose, black tea, violet and fresh herbs. Sleek and refined, showing superb red cherry and dark berry fruit flavours along with hints of mint, licorice, and earthtones, all with noteworthy inner-mouth perfume. Finishes long and multilayered, with harmonious acidity, suave tannins and excellent grip. This is the winery's flagship wine, made from Pinot Noir grown in the Maresh vineyard, arguably Oregon's single best Pinot Noir vineyard (and managed today by Martha Maresh and her husband Steve Mikami). Drinking window: 2024-2035 (ID).
Au Bon Climat.
In 1982, founders Jim Clenenden and Adam Tolmach decided to start a winery that ahs since then known nothing but success after success. The pair intelligently focused on Burgundy varieties, and these ended up making Calera's and Clenenden's outrageous fame (Tolmach left in 1990 to pursue his own project). Today Calera sources its grapes from truly outstanding vineyards, including the Le Bon Climat but also the Bien nacido and the Sanford & Benedict in Santa Rita Hills, all recognized as three of the premier Pinot Noir sites in the State. As an aside, passionate and knowledgeable wine lovers know to also look for the wines of the Clenenden Family Vineyards (a sister property) that focuses on less common varieties and makes truly splendid wines from most of them (the Nebbiolo wines are especially good: I have written about the Nebbiolo "The Pip" bottling here on the TerroirSense Wine Review before).
Au Bon Climat 2022 Chardonnay Santa Barbara County              91
Bright straw yellow with some gold. Expressive aromas of ripe yellow apple, banana and lemon curd. Then more hazelnutty, with nuances of toasted bread and vanilla, but with plenty of succulent juicy orchard fruit flavours and repeating notes of lemon and lime persisting nicely on the fresh ripe finish. Pressed with whole clusters, barrel-fermented and kept on the lees, this rather full-bodied Chardonnay wine nonetheless showcases plenty of lift and nuance. Drinking window: 2024-2030 (ID).
Au Bon Climat 2018 Pinot Noir Oregon                     92+
Good deep red-ruby. Nuanced aromas of crushed dark and red berries, violet and oak. Lively and forward on entry, then more layered and closed in the middle with a still youthfully imploded quality today, but hints at plenty of sappy, pungent flavors of blueberry, strawberry, violet, and salty minerality. Despite its apparent easygoing nature, this wine's youthful, noble tannins allow me to predict a long aging capacity and further improvement in the years to come (hence the '+' attached to my score). The finish hints at the presence of 25% stems. Lovely wine. Drinking window: 2024-2030 (ID).
Au Bon Climat 2018 Pinot Noir Knox Alexander Santa Maria Valley                   93
Bright medium red-ruby. Slightly brooding, slow to open aromas of black cherry, minerals and herbs, with hints of cedar and strawberry emerging with aeration. Then dense and powerful but still fairly tight today, with a whiff of minerality nicely focusing the powerfully stony flavours on the long medium-bodied finish. I picked up an intriguing hint of flint and herbs on the long back end. Drinking window: 2025-2034 (ID).
Au Bon Climat 2018 Pinot Noir La Bauge au Dessus Santa Maria Valley                    91
Vivid pale medium red. Aromas and flavours are mostly of red fruit (strawberry, cranberry) and herbs (sage, rosemary, thyme). Brisk and invitingly tart on the palate, with juicy red berry nuances somewhat kept under wraps by a string herbal presence and sturdy tannins. The aftertaste is long and graceful. Grapes are sourced mostly from the Bien Nacido area with some from Le Bon Climat vineyard too. Drinking window: 2024-2033 (ID).
Bergström.
An iconic name especially in Oregon Pinot Noir wine (thought the chardonnay wines are well-regarded too), Bergström was founded in 1999 by John and Karen Bergstrom (with son Josh and his wife involved too). Famous for its small-batch wines (as many as nine different Pinot Noir wines), the grapes are farmed biodynamically and are sourced from four different Willamette Valley subregions.
Bergström 2021 Pinot Noir Cumberland Reserve Willamette Valley Oregon                     93
Medium-deep ruby-red. Red cherry, raspberry and rose petal on the tangy nose, softened by hints of mocha and sweet pipe tobacco. Lively, juicy and firm, with superb Pinot Noir tang to its red and blue fruit flavours, complicated by hints of blood orange and herbs. Built to age, with noteworthy but harmonious acidity, and firm but noble tannins. Drinking window: 2025-2032.
Bread & Butter.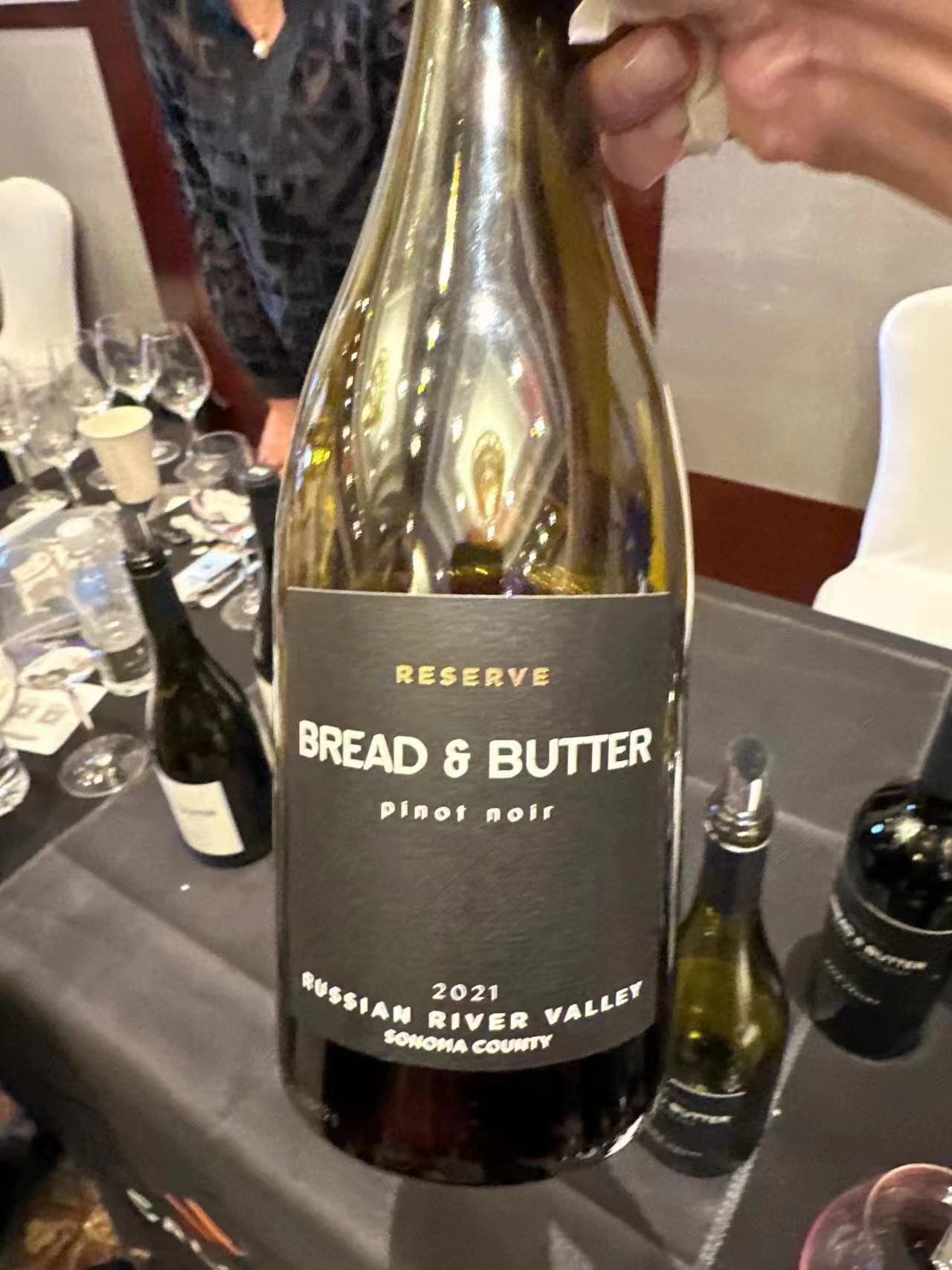 Bread & Butter 2021 Reserve Russian River Valley                     92
Ruby red. The nose is full of berry aromas (blackberry, blackberry) and wild cherry complemented by notes of dried rose petals, wet leaves and a touch of smoky spice on the finish. Moderate acidity, appropriate ageing and barrel flavours make for a well-balanced wine with silky tannins, good complexity and overall power and elegance. Drinking window: 2023-2026. (YL).
Calera.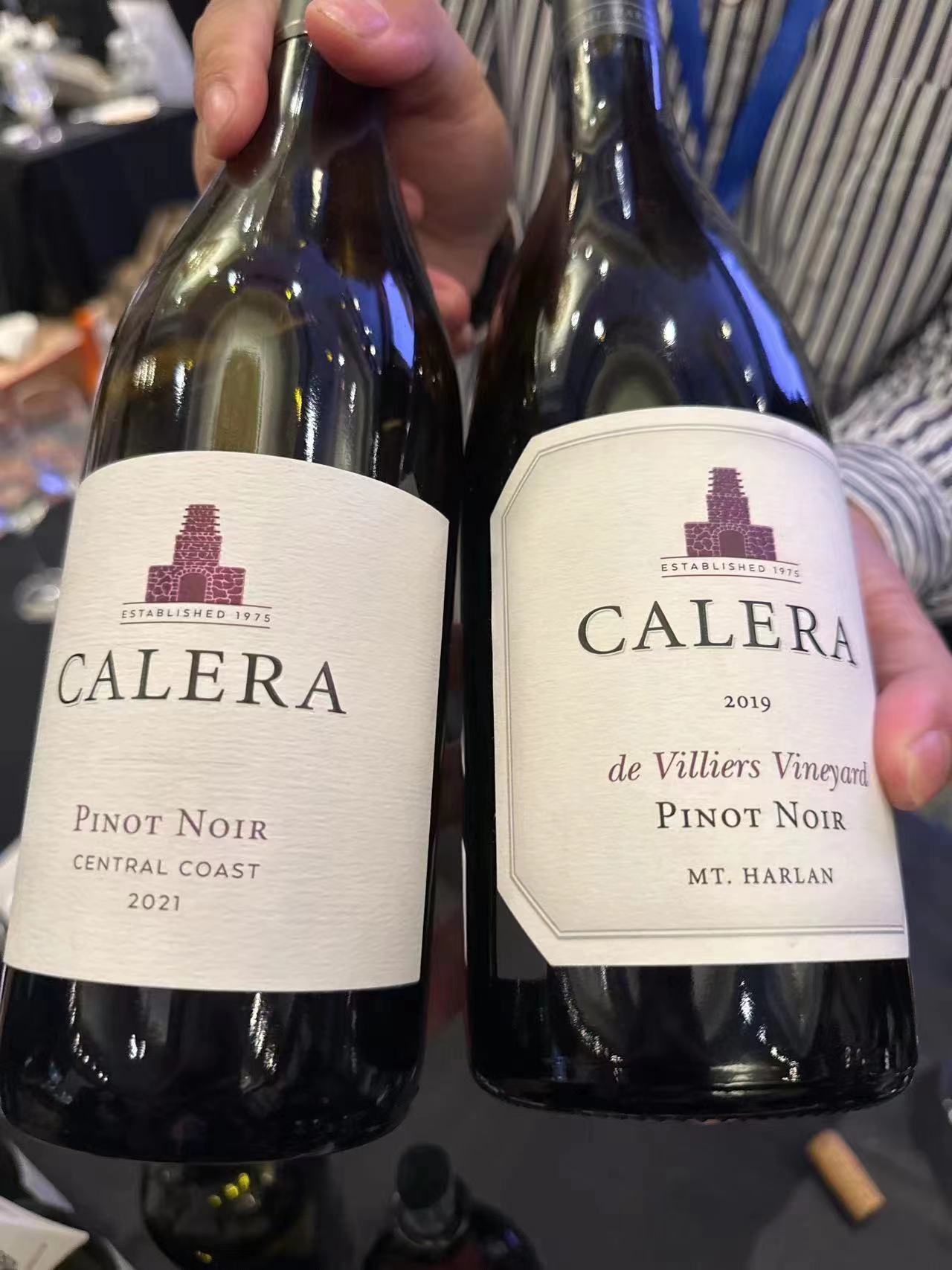 While just about every vineyard owner and their sister will tell you their soils have limestone, the simple fact of the matter is that is far from true. At Calera though, limestone really is the name of the game, and it is in fact why founder Josh Jensen decided back in 1975 to place his winery where he did (the word calera is Spanish for 'lime kiln'), in Mount Harlan, a place far removed from where everyone else was making wine in California at the time. But Jensen knew what he was doing, and thanks to the very poor, low-yielding, limestone-rich soils of the Central Coast's Gavilan Mountains he has made an almost innumerable amount of great wines over the years from many different vineyard sites. If "location, location, location" makes sense in real estate, it does even more so in wine, and Jensen did the right thing. Calera's are some of the most beautiful, purest Pinot Noir wines of California, far removed from the jammy Cabernet-like wines made by many other wineries and their "enthusiasts".
Calera 2021 Chardonnay Central Coast            91
Bright golden yellow. Smells rich and ripe, with notes of tropical fruits such as banana and pineapple. In the mouth the wine is round and full offering some vanilla and creamy orchard fruit flavours, medium acidity and a long finish with a hint of savouriness that adds freshness. Lovely California Chardonnay that eschews the oiliness of some other wines from this State: this will prove ideal slightly chilled with richer seafood dishes such as those prepared with white sauces. However, I would not recommend serving it with lighter, uncooked/raw seafood, such as oysters and sashimi that are best suited to somewhat lighter white wines. A lovely wine and areal crowd-pleaser, the grapes were sourced from sourced from a number of top vineyards across the central coast: Bien Nacido, Laetitia, Pedregal, and Zabala. Drinking window: 2023-2027 (YL).
Calera 2021 Pinot Noir Central Coast              91
Pale ruby-red. Slightly oak-dominated aromas of red cherry, sweet spices and violet. Rich red fruit flavours of strawberries, raspberries and cranberries, with a sweet and attractive inner-mouth perfume evoking cherry gum. Smooth tannins nicely frame the light-bodied texture. Finishes with medium and harmonious acidity. This is easygoing and approachable to drink, with a low alcohol level that makes this fresh and lively and not at all burdensome to drink. Drinking window: 2023-2030 (YL).
Calera 2019 Pinot Noir de Villiers Vineyard Mt. Harlan               93
Bright ruby red. Expressive red and blue fruit aromas, complicated by a dried rose and lavender nuance. Lovely clarity and cut in the mouth, with a smooth texture, moderate acidity, and real finesse to its red fruit, soil tone and floral flavours. Very long on the pure, vibrant finish. Old vines and aging bring noteworthy concentration and complexity to the fore, and the high-altitude vineyards bring wonderful harmonious acidity that is much more noteworthy than it was in Calera's 2021 Central Coast Pinot Noir. Mount Harlan is one of the highest, coolest and driest AVAs (American Viticultural Areas) in California and this wine showcases it clearly. Drinking window: 2024-2032 (YL).
Daou Vineyards.
Daou Vineyards 2021 Cabernet Sauvignon Paso Robles                        92
Deep opaque purple-ruby. Superripe elderberry, boysenberry and blueberry coulis jump out of the glass, coupled with hints of balsamic vinegar, herbs and milk chocolate. Then similar flavours in the mouth. Very creamy but with a strong underlying tannic spine leaving a tactile mouthfeel behind, along with hints of a smoky finish. This isn't really my style of Cabernet Sauvignon or even red wine for that matter, but I get it why this very typical California Cab will make all lovers of this type of almost over the top, creamy, luscious, glycerally-sweet red wine swoon. Daou is a real pioneer of Cabernet Sauvignon in Paso Robles. Drinking window: 2026-2032 (ID).
Domaine Drouhin.
I first visited Domaine Drouhin in 1993, during the summer I attended what was at the time only the Thrid International Pinot Noir Celebration in McMinnville, Oregon, at the time held on the Linfield College campus. Founded in 1987, the estate attracted a ton of curiosity and attention right off the bat, with many wine people, both in France and California, totally surprised (and left shaking their head) that a famous Burgundian family would invest in a region that at the time was still a fledgling wine destination at best. But the place was beautiful, and the Pinot Noir wines of all the historic Oregon wineries much better than average (and infinitely better than 95% of the Pinot Noir jam-junk made at the time in California), so Drouhin made the right call. Not surprisingly, it has since been emulated by many other Burgundy wineries that have also set up shop in Oregon. Today the wines are brilliantly made by Véronique Drouhin-Boss, fourth-generation winemaker of the storied family (her brother Philippe follows the vineyards). Domaine Drouhin Oregon, or DDO as it is affectionately known for short, also makes fine Chardonnay wines, but truth is that there is a chasm in quality between the Pinot Noir wines, that rank not just with the best in Oregon but also the best in the world (I remember the 2002 Laurène for example, a marvel) and the at times over-oaked Chardonnay wines. How good are DDO's Pinot Noir wines? So good that when their undeniable quality became apparent to everybody, at a time when nobody was still ready to believe Oregon could make such great wines, there were malignant whispers that the family was secretly blending some of their red Clos de Mouches wine in the Oregon stuff. Rumours like that one abound in vineyards all over the world, but it helps put in perspective just how good the DDO Pinot Noir wines have always been.
Domaine Drouhin 2021 Pinot Noir Dundee Hills Oregon                       91
Bright medium red-ruby. Easygoing, delicate aromas and flavours of red berries, violet, rose and flint, complicated by hints of loam and herbs. Juicy and lively, with an approachable quality that makes it hard to stop downing full glass after full glass. Closes long and lifted, with silky tannins and hints of nutmeg, cranberry cocktail and orange zest. This is an excellent wine given the difficult 2021 growing season. Drinking window: 2023-2027 (ID).
Domaine Drouhin 2021 Pinot Noir Cuvée Laurene Dundee Hills Oregon                   95+
Deep red-ruby with purple tinges. Delicate, penetrating aromas of red cherry, crystallized redcurrant, sweet spices, minerals and mint. Then nicely tangy, rich and deep, with vibrant but harmonious acidity nicely lifting the red fruit and mineral flavours on the complex and multilayered finish. As always with the Laurene, the 2021 also typically packs in plenty of flavour on a light frame, offering its telltale combination of texture, grip, purity and gracefulness. Drinking window: 2024-2033 (ID).
Domaine Serene.
Ken and Grace Evenstad founded Domaine Serene Vineyards and Winery in 1989 in the Dundee Hills of Oregon. Today, this large estate is a leading quality Pinot Noir wine producer of Oregon, one that really helped put the State on the world wine map. The winery is sustainably farmed, for which it is LIVE certified. The estate also makes very good Chardonnay wines, but its the Pinot Noir wines remain non-pareil.
Domaine Serene 2019 Pinot Noir Yamhill Cuvée Willamette Valley Oregon                                   91
Bright deep red-ruby. Nicely easygoing and approachable with forward aromas and flavours of pomegranate, strawberry-rhubarb pie and redcurrant jelly, complemented by hints of tobacco and forest floor. Finishes brisk and simple but delicious. Drinking window: 2023-2026 (ID).
Domaine Serene 2019 Pinot Noir Evenstad Reserve Willamette Valley Oregon                       94+
Good full purple-tinged red. At once sweet and savory with nuances of forest floor, potpourri and birch bark complicating aromas and flavours of red fruits (cranberry, pomegranate, red cherry) and candied violet. Dense and savory, boasting a long and generous finish with the silky tannins buried in fruit and herbs. Drinking window: 2024-2033 (ID).
Double Diamond by Schrader.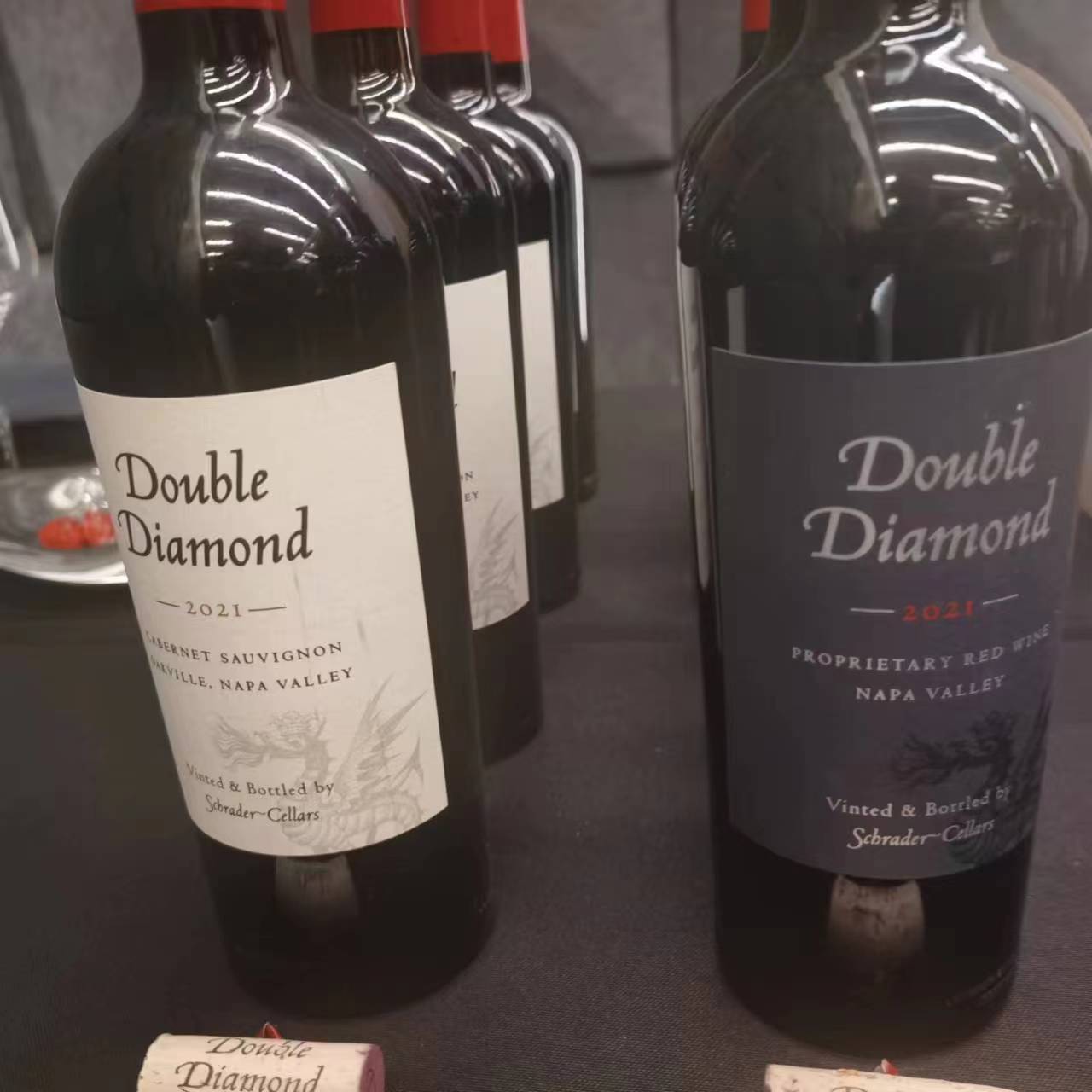 Double Diamond 2021 Cabernet Sauvignon Napa Valley            93
Nearly impenetrable red-ruby. Exotic, liqueur-like aromas of red and black cherry, candied violet and baking spices. Then more herbal in the mouth, with hints of Assam tea and damp earth, but with rising waves of syrupy red fruit that are nicely supported by ultra-suave tannins. Offers terrific size and volume on entry, then a major wave of lush, fat fruit, closing very long and ripe. 100% Cabernet Sauvignon aged in 54% new oak. The Double Diamond wines are made by Schrader, and are meant to be approachable earlier and give wine lovers wines that embody the same quest for excellence at a fraction of the cost of the Schrader wines. Drinking window: 2025-2030 (ID).
Double Diamond 2021 Proprietary Red Wine Napa Valley                       94
Deep fully saturated ruby. Subtly perfumed aromas and flavours of blackberry, blueberry and violet are complicated by hints of cedar, cocoa and graphite. Boasts superb density and fruity sweetness, with utterly suave but firm underlying tannic and acid spine nicely extending the flavours and leaving an impression of a penetrating quality. Finishes with nicely lingering dark berry and plum nuances. A blend of 50% Cabernet Sauvignon, 25% Merlot, and 25% Cabernet Franc, this was aged in 50% new oak (78% French, 22% American oak) and strikes me as being fresher and less syrupy than Double Diamond's 2021 Cabernet Sauvignon wine.  My understanding is that this is the inaugural release. Drinking window: 2025-2031 (ID).
Duckhorn.
I first tasted a Duckhorn wine in, of all places, Rome back in 1982 at a highly successful tasting of American wines led by Edward Steinberg (he who wrote "The Vines of San Lorenzo". Already that evening now so long ago, I loved the Duckhorn merlot wine the best. Nothing has changed since then, and Duckhorn remains a winery dear to my heart (I got to meet Dan Dukhorn when I visited the estate years later, and in the early 1990s also met his daughter who showed me and some Canadian friends around the always marvelous grounds). The estate was founded by Dan and Margaret Duckhorn in 1976, and has log been identified as one of California's premier Merlot wine producers (in truth, their Cabernet Sauvignon wines are also great), a variety that, truth be told, very few truly excel with in the State. Duckhorn also founded what was initially a sort of "second label" winery, Decoy, but that ahs since evolved into its own thing. Decoy is well-known by wine lovers everywhere for its delivery of exceptional quality at just as exceptional prices (just see the tasting notes and scores below).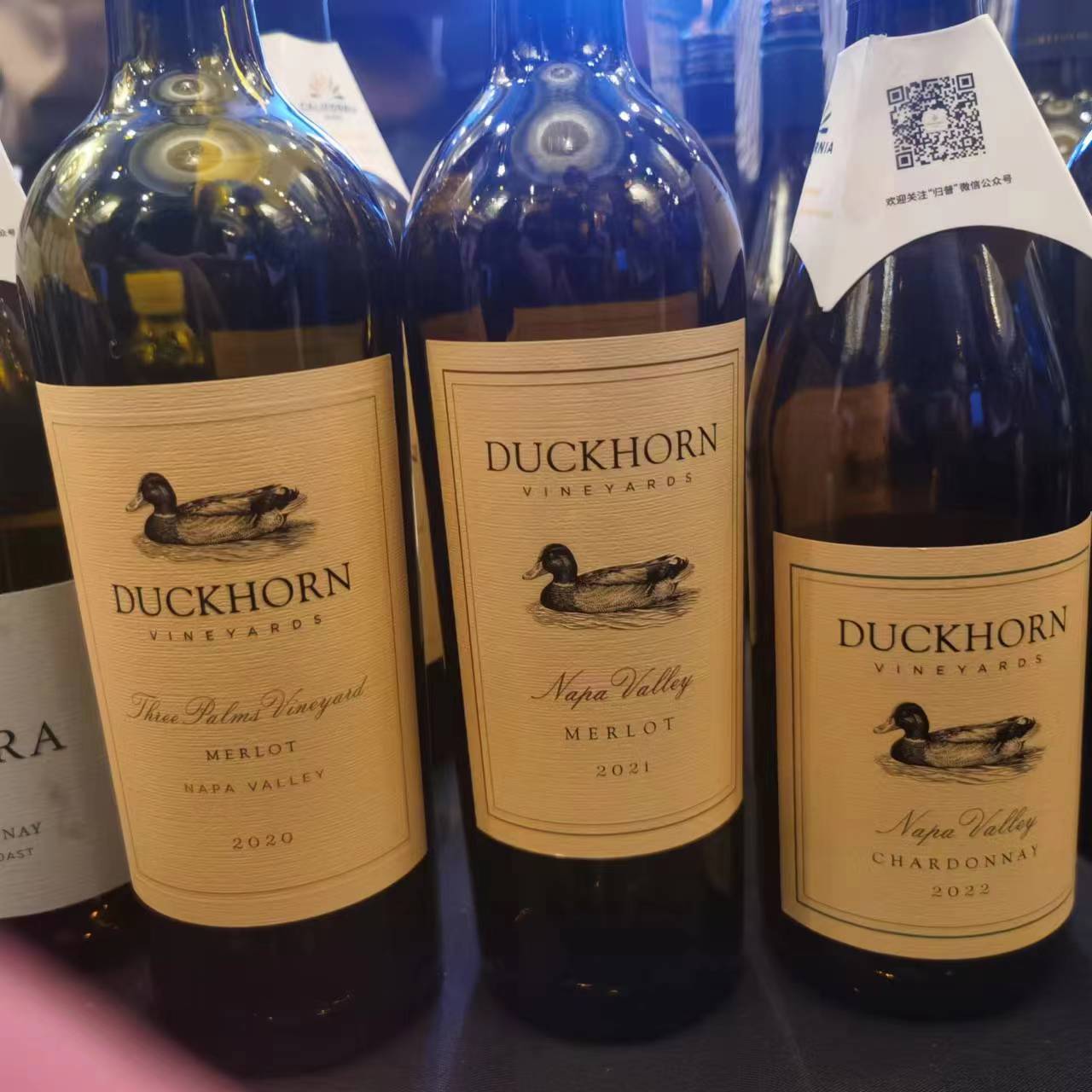 Duckhorn Portfolio Decoy 2021 Chardonnay California            88
Golden yellow colour. Ripe orchard and tropical fruit on the nose, this is obviously from a warm region. Then flavours of vanilla, coconut, and milk sugar confirm that impression, along with a ripe, full-bodied mouthfeel that strikes me as being somewhat dominated by its oak component. Drinking window: 2023-2025. (YL).
Duckhorn 2022 Napa Valley Chardonnay   89
Bright golden colour. Sweet lemony buttercream on the nose, along with ripe citrus, grilled almond and freshly baked bread.  In the mouth there are hints of tinned pineapple and toast, complicated by almondy notes. Medium acidity leaves an impression of roundness and silkiness behind, with an obvious touch of spiciness. Drinking window: 2024-2027 (YL).
Decoy 2021 Cabernet Sauvignon Limited Alexander Valley                 92
This is really excellent. Deep saturated ruby. Ripe but lifted, with very focused pure and rich aromas and flavours of dark berries, cedar and minerals. The finish is long and clean and offers a ton of wine for the money. Not like most Californa Cabernet Sauvignon that you can think of, this has an element of Old World austerity while also supplying new World fleshy sweetness and charm. Really well done. Drinking window: 2024-2031 (ID).
Duckhorn 2021 Merlot Napa Valley                  92
Good bright ruby-red. Inviting nose offers cassis, black cherry, and licorice, along with a whiff of dark chocolate and black tea. Sweet, supple and ripe, with dark chocolate and dark cherry flavours that are at once inviting and broad. Easygoing, approachable Merlot wine that is a real crowd-pleaser. As it often happens with California's Merlot wines, make sure you realize that this is not a 100% Merlot wine, but rather a blend of 80% Merlot, 17% Cabernet Sauvignon, 2% Cabernet Franc, and 1% Petit Verdot that aged fifteen months in French oak (40% new). Drinking window: 2024-2030 (ID).
Duckhorn 2020 Merlot Napa Valley                                         88
Very oaky vanilla-dominated on the nose, then tactile and mouthcoating with more vanilla notes dominating the blue and black fruit flavours in the mouth. The long finish showcases tannins that though noble are still very tough presently. Best to give this time in a good cellar to hopefully round out some more: try after 2027. Drinking window: 2027-2031 (ID).
Duckhorn 2020 Merlot Three Palms Vineyard Napa Valley                        95+
Medium full ruby. Subtly spicy, perfumed nose blossoms with aeration to showcase blackcurrant, blueberry reduction, mocha, licorice, minerals and herbs. Dense, spicy and penetrating, with a steely quality to its fleshy, suave fruit and considerable power, energy and focus. Very suave and stylish, this drop-dead gorgeous and very classy Merlot wine finishes extremely long, with firm tannins and a minty austerity. This important red was one of California's very first iconic single-vineyard Merlot wines; this 2020 vintage will only further fortify this beautiful wine's legacy as a great American wine classic. Drinking window: 2026-2036 (ID).
Elk Cove Vineyards.
I have always been a huge fan of the Elk Cove wines, a winery I first visited in 1992 but the wines of which I had always been drinking with real relish in restaurants and bistros anytime I came across them. One of Oregon's oldest and to my way of thinking best wineries, Elk Cove Vineyards was founded in 1974 by Pat and Joe Campbell as a small entity that has since grown to considerable size (six separate sites in the Willamette Valley) and fame. The winery's name, "Elk Cove", stems form the majestic Roosevelt Elk, which migrate into the valley each spring. As good as the Pinot Noir wines are from here, make it a point to taste the Pinot Gris and Pinot Blanc wines too: the former especially, are outstanding.
Elk Cove Vineyards 2022 Pinot Blanc Willamette Valley Oregon                      91
Pale bright straw colour. Delicate hints of yellow peach and yellow melon soar from the glass, but are present again as crisp, juicy flavours in the mouth. Lively but harmonious acidity enlivens the zingy, herbally nuanced mouthfeel, with lingering hints of buttermilk and thyme. Lovely New World Pinot Blanc wine that is bright, crisp and refreshing. Drinking window: 2023-2025 (ID).
Elk Cove Vineyards 2022 Pinot Gris Willamette Valley Oregon                    92
Medium dark straw yellow. Intense aromas of Kaiser pear, peach jelly, lemongrass and a hit of tropical fruits in the background. Then more pear in the mouth, complicated by hints of cinnamon, nutmeg and mint. The finish is long suave and juicy. Nicely done Oregon Pinot Gris, a wine that has been painfully underrated by most everyone over the last decade, from an expert in the field. Drinking window: 2023-2026 (ID).
Elk Cove Vineyards 2021 Pinot Noir La Boheme Yamhill-Carlton Oregon                     94
I am proud to say that my love for wine and the seriousness with which I do my job had me visit Elk Cove the year they released this wine for the first time, and I still remember, vividly, Dan Campbell telling me all about La Bohème and what it was meant to represent. Right off the bat, it was supposed to be the estate's best wine; and I guarantee you that one sip of that first vintage left no doubt whatsoever. The 2021 is another very great La Bohème: This was fermented in temperature-controlled steel tanks, twice a day hand punched down and aged for ten months in French oak. The wine is actually a selection of the best barrels. Drinking window: 2024-2032 (ID).
Eyrie Vineyards.
Of all the great moments in my life devoted to wine, I can safely say that one of the top three is doubtlessly the time I was fortunate enough to be able to taste the mythical Eyrie Vineyards 1975 Pinot Noir Reserve South Block, the wine that won the Pinot Noir Challenge back in 1979 in Paris and essentially put Oregon Pinot Noir on the world wine map. But I was probably even luckier in getting to meet David Lett himself while he was still alive, and greatly enjoyed my time with him (did you ever hear him pronounce the word "Bordeaux" and why?). I even took some clothing lessons from him:  ever since meeting him, I have also taken up to wearing a safari jacket, Hemingway- and Lett-like, when visiting wineries all over the world. Lett was a forerunner, a man endowed with real wine acumen and was the first to identify Oregon as a potential goldmine relative to potentially great Pinot Noir wines, and time has proven him completely right. He not only pioneered Pinot Noir in Oregon, but also Pinot Gris, which gives, when well made, Oregon's best white wines (no matter what the Chardonnay cheerleaders and cartel want you to believe). Today the winery is run by his son Jason who has expanded the winery's offerings, but nothing else has changed: the estate is still one of the wine quality leaders not just of Oregon wine but of all the New World.
Eyrie Vineyards 2021 Pinot Gris Dundee Hills Willamette Valley                             93
The wine combines a strong a savory quality with counter balancing citrus, stone fruit and mineral underpinning. The grapes come from four vineyards in the Dundee AVA, all owned by the Lett Family. The wine undergoes full malo which does not appear to have undermined the wines' excellent acidity. Aging in barrel is quite a bit longer than at most Oregon wineries which make Pinot Gris. Drinking window: 2023-2028 (note by Robert Millman).
Eyrie Vineyards 2021 Pinot Noir Estate Dundee Hills Willamette Valley                             94
Luminous red-ruby. Perfumed, nuanced aromas and flavours of strawberry, raspberry, rose petal, savory herbs, and minerals. No blockbuster but extremely pure and refined, not to mention wondrously well-balanced, in the benchmark style of this winery. The aftertaste is long, savory and delicious. Drinking window: 2024-2030 (ID).
Flowers.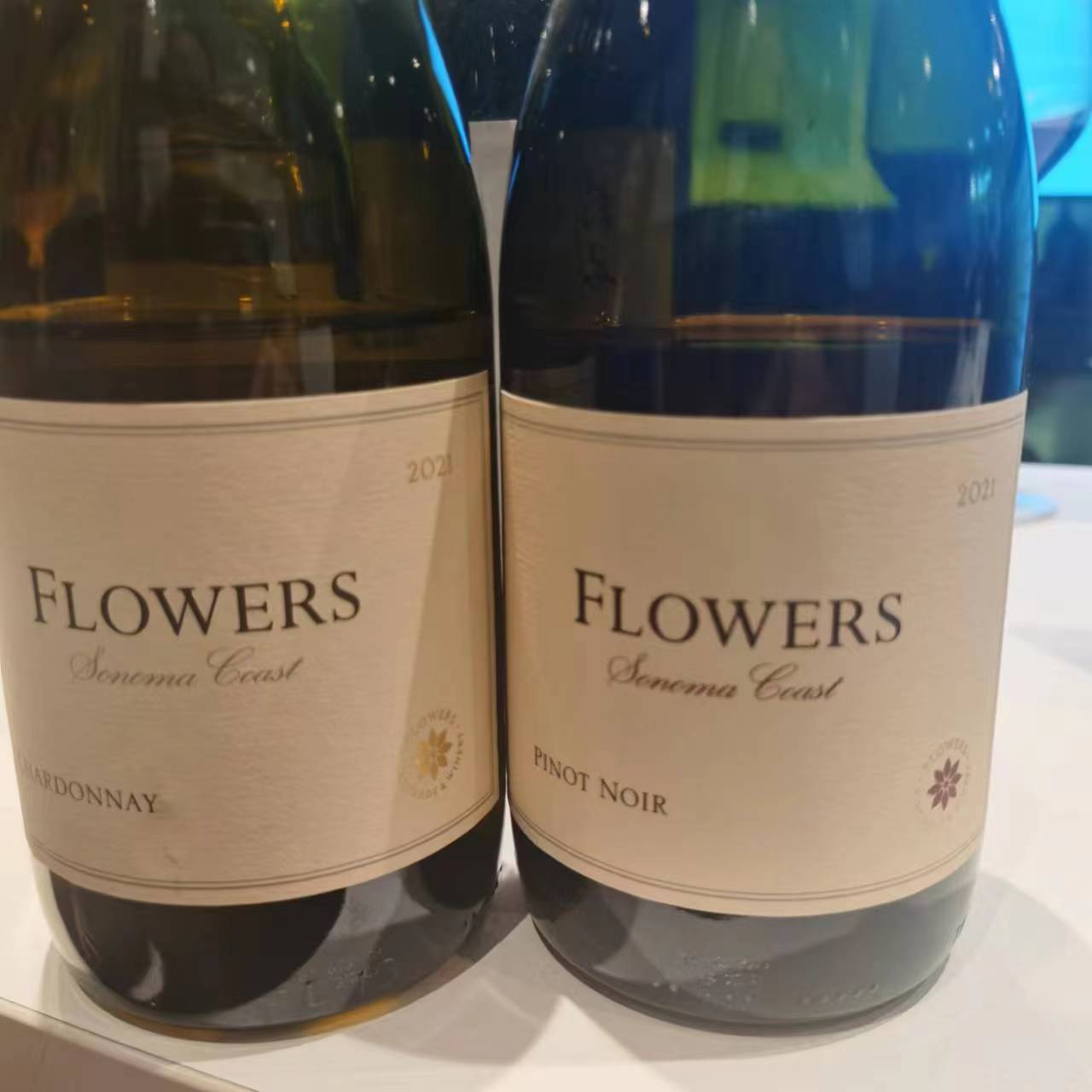 Flowers 2021 Chardonnay Sonoma Coast     90
Full pale golden-tinged yellow. Musky aromas of ripe peach, banana and yellow apple, with coconut nuances. Ripe, round and smooth, but with flavours of stone fruits thanks to adequate acidity. Finishes broad and persistent, with lovely ripe acidity extending the flavours on the vibrant back end. Drinking window: 2023-2025. (ID)
Flowers 2021 Pinot Noir Sonoma Coast  90
Medium deep ruby. Inviting aromas and flavours of plum, black berry and dark cherry are enlivened by hints of soy sauce and sweet spcies. Bright and clean, this boasts a fresh mouthfeel that lingers nicely. Drinking window: 2023-2026. (ID)
Girard.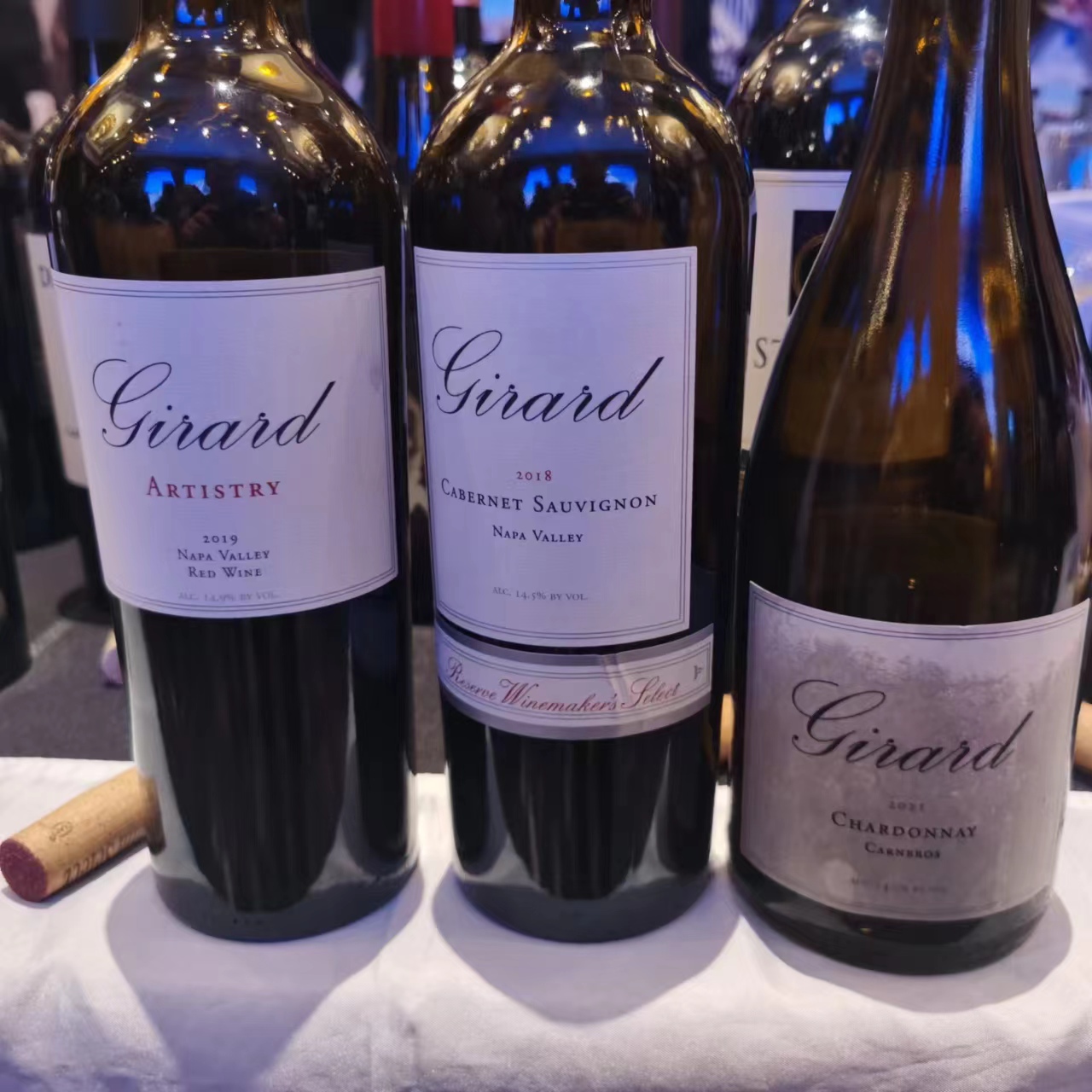 Girard 2021 Chardonnay Carneros               90
Bright straw yellow. Ripe citrus, peach and coconut on the nose. Dense, classically dry and fresh, with approachable apple, graphite and mineral elements. A laid-back Chardonnay wine with good weight and inner-mouth energy, finishing long and easygoing. This approachable, uncomplicated medium-bodied Chardonnay evokes the freshness of Carneros. Aged in 40% new oak. Drinking window: 2023-2025 (ID).
Girard 2019 Red Wine Artistry Napa Valley               90
Good full ruby. Floral nuances on the nose of cassis, violet and cocoa. Elegant rather than fleshy, but very good volume to its dark and red fruit, cedar and herb-accented flavours. This medium-bodied red is a blend of 70% Cabernet Sauvignon, 10% Merlot, 8% Cabernet Franc, 7% Malbec and 5% Petit Verdot that spent eighteen months in 40% new oak. Uncomplicated and approachable, it's a good buy in fine-grained, easy-drinking not overly-complex red wines. Drinking window: 2023-2028 (ID).
Girard 2018 Cabernet Sauvignon Napa Valley             92
Deep ruby. Black cherry and cassis aromas are complicated by vanilla, sandalwood and mace, plus a suggestion of iron. Then sharply delineated, with firm but ripe acids nicely framing the dark fruit, herbal and steely flavours. Finishes with smooth but still youthfully mouthcoating tannins and very good freshness. Drinking window: 2024-2030 (ID).
Grgich Hills.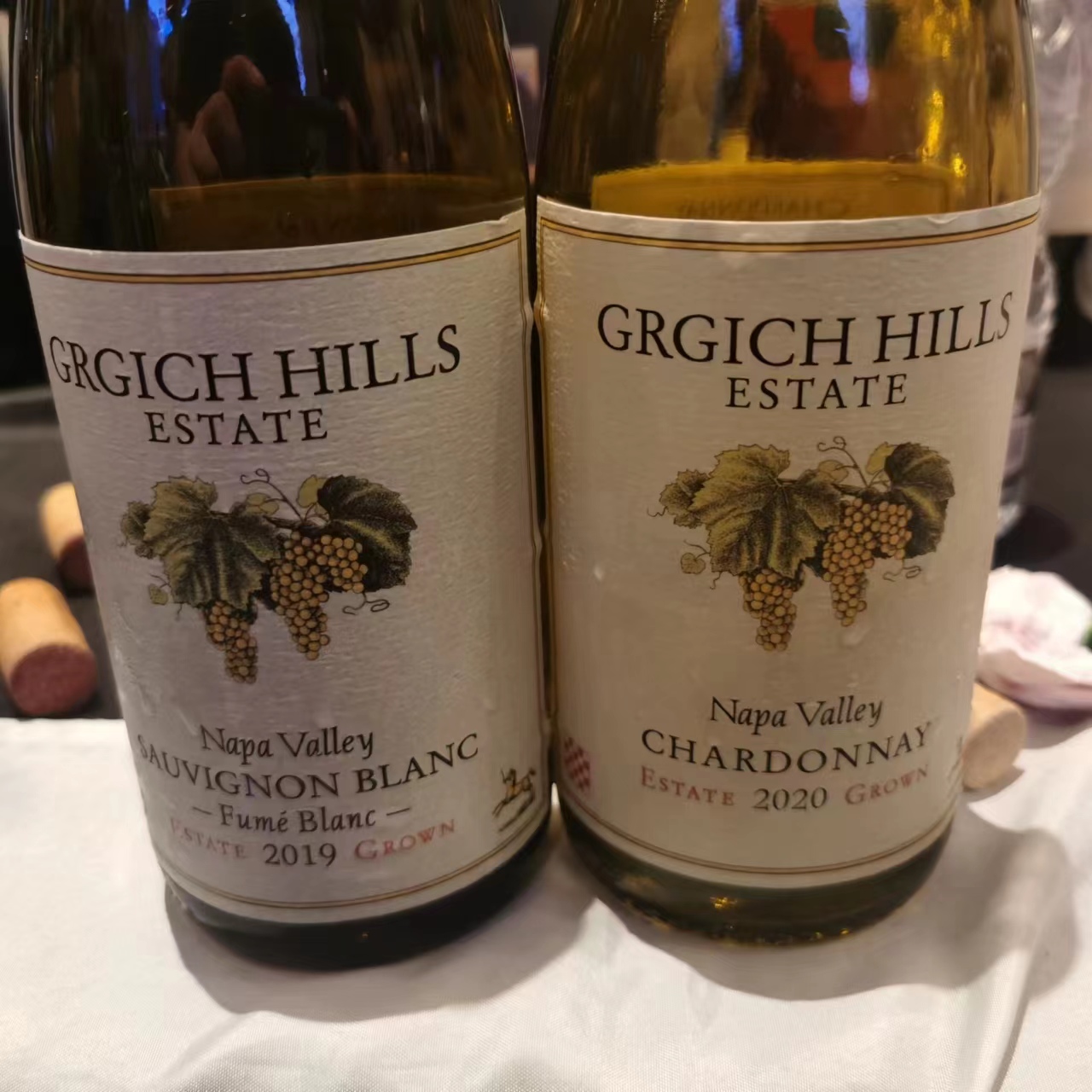 Grgich Hills 2020 Chardonnay Napa Valley                92
Full bright golden-tinged yellow. Musky aromas of apricot, pear, white tea, ripe citrus and lees, with coconutty notes. Ripe, round and smooth, but with very good clarity and cut (no malo done) brought to focus by harmonious acidity that nicely frames the flavours of orchard fruits and sweet oak. Finishes broad and long with compelling acid-fruit balance and hint of finishing lemongrass. I raise my glass to Mike Grgich, one of California's iconic and trailblazing wine producers, who turned 100 in April 2023. Drinking window: 2023-2026. (ID)
Grgich Hills 2019 Sauvignon Blanc Fumé Blanc Napa Valley                          92
Vivid straw yellow. Complex nose combines lime cordial, nectarine, sage, peppery spices, flint and passion fruit. At once round and rich but also fresh and lively, with pure, soil-accented flavours of citrus peel, herbs and flint. Offers noteworthy breadth and persistence on the shapely but vibrant finish. Very serious Sauvignon Blanc wine that is not just about greenness and freshness but rather boasts above average complexity and depth. Drinking window: 2023-2025. (ID)
Hirsch Vineyards.
Hirsch Vineyards 2021 Bohan Dillon Pinot Noir              92
Beautiful light ruby red colour. Forward, expressive aromas of red fruits and flowers such as sour cherries, raspberries, strawberries, and fresh roses. Then more sweet red fruits on the palate, with plenty of freshness thanks to high but harmonious acidity, with a multilayered quality, silky tannins and a long finish. The 2021 Bohan-Dillon Pinot Noir is an outstanding Pinot Noir wine made from three West Sonoma Coast sites: the Hirsch, Hellenthal and the Heintz vineyard. Well done. Drinking window: 2024-2030 (YL).
Hirsch Vineyards 2021 Pinot Noir Hirsch San Andreas Fault Estate                       93+
Beautiful ruby red colour. On the nose there are enticing aromas of dried rose petals, red cherries, cranberries, raspberries plus a dusting of minerals and sweet spices. In the mouth, it is juicy and tart, prompting the mouth to salivate; with aeration, hints of earth, wet stones and forest floor emerge adding complexity. The long and impressive aftertaste features repeating nuances of red fruit and forest floor. Already very easy to drink, with rich ripe tannins that are assertive but not at all gritty, I have no doubt this beauty will shine even more with age. The winery believes that the terroir of the San Andreas Fault brings richness and complexity to the wine. I don't know about that, but what I do know is this is one exciting, outstanding California Pinot Noir wine. Drinking window: 2024-2032 (YL).
Kendall-Jackson.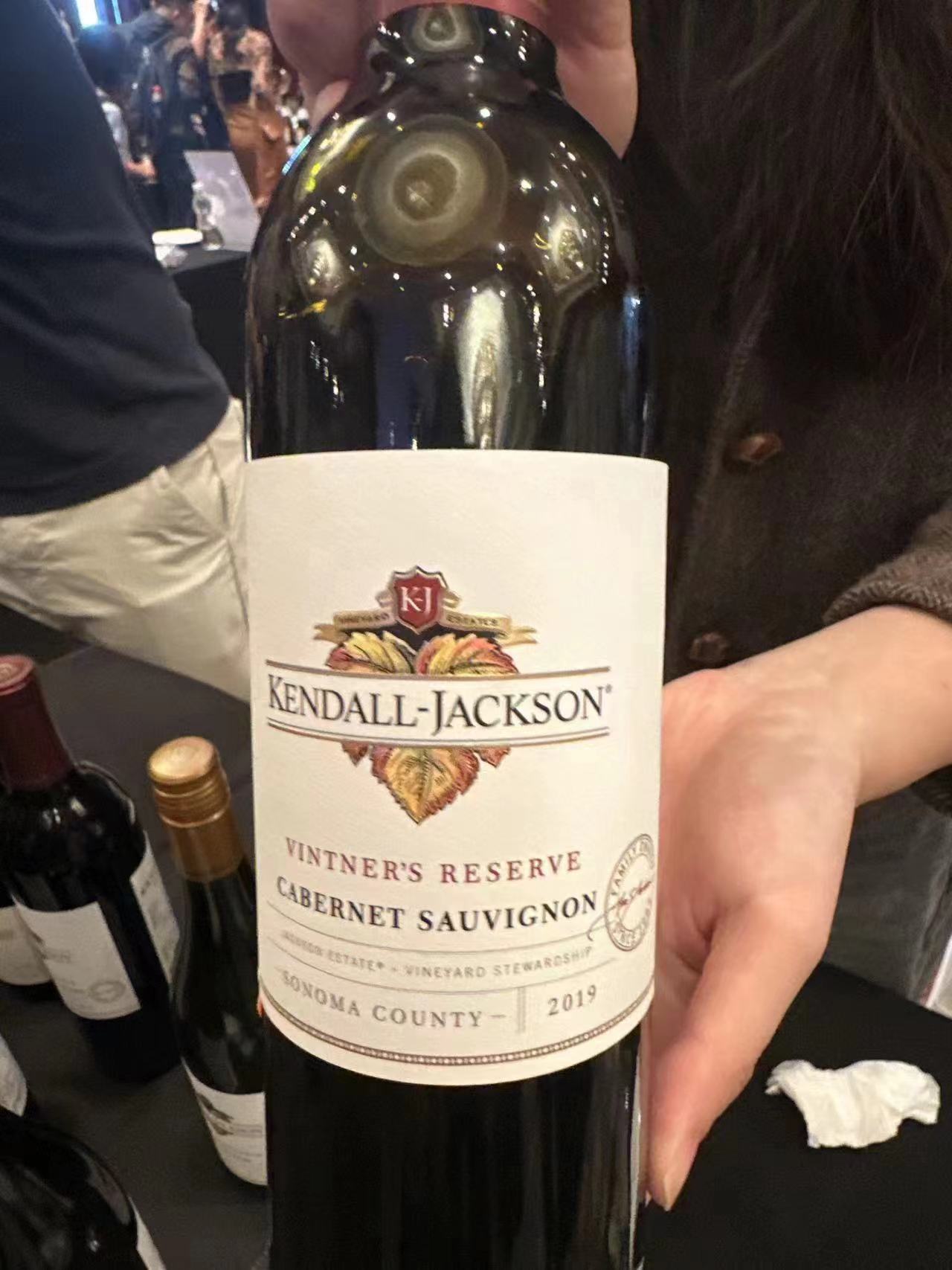 Kendall-Jackson Grand 2020 Reserve Chardonnay                  89
Bright yellow. The nose is just bursting with aromas of apple, nectarine and almond. In the mouth, a large proportion of new barrels, malolactic fermentation, and what seems like plenty of stirring of the barrels, results in an oily, dense wine with robust barrel flavours and a smoky finish. Medium acidity heightens the impression of creaminess. This rich wine will prove ideal for those who like the thick, powerful classic California Chardonnay wine style that was rampant a few decades ago. Drinking window: 2023-2026 (YL).
Kendall-Jackson Vintner's 2019 Reserve Cabernet Sauvignon                   88
Deep ruby colour. The nose couldn't be anything but Californian: ultra-ripe, ultra-sweet black fruit aromas (blackberry, cassis) bordering on the syrupy, but also ripe tropical fruits, freshened up by note of violet. Mocha and nutmeg dominate on the palate, where the tannins are tight but not coarse or green. Medium acidity nicely lifts the sweet ripe fruit on the long finish. Drinking window: 2023-2027 (YL).
King Estate.
When I was still living in Rome and writing for Italy's major wine magazine (just prior to leaving having been asked to write on Italian wines -and later of the wines of Alsace, Bordeaux and Canada as well- at Stephen Tanzer's International Wine Cellar newsletter), I set up a tasting of world Pinot Gris wines for the staff, that save for Alsace's had basically never tried one from outside of Italy. Of all the Pinot Gris wines in the tasting from Oregon, Canada and the Netherlands, for example, it was The King estate reserve wine that topped every New World wine in the blind tasting. That brilliant result was no surprise to anybody in the know: fact is, Oregon's King Estate has long been a huge believer in Pinot Gris and has made great wines from it for just as long.   , Nowadays, King Estate is a huge, certified organic and sustainably-farmed vineyard and winery located in the southern end of Oregon's Willamette Valley, in the Coast Range foothills. King Estate owns its own vineyards, but also works with Willamette Valley growers who also practice sustainable agriculture. The estate is a culinary mecca as well as a natural haven of sorts, boasting vegetable gardens and organic orchards, not to mention a slew of wild animals, including even bears and mountain lions (pumas or cougars, if you prefer).
King Estate 2022 Pinot Gris Willamette Valley Oregon                        92
Bright deep straw yellow. Grapefruit and honeysuckle complicate rich Bartlett pear, white peach, kiwi and mineral aromas and flavours. At once vibrant yet powerful, it finishes very long and crisp, with zingy notes of lemon peel and pine cones. Drinking window: 2023-2026 (ID).
La Crema.
La Crema 2021 Russia River Valley Chardonnay                      90
Golden yellow. Aromas of white peach and pineapple on the enticing nose. Then follows with a distinctly savoury and tight mouthfeel from the minerality, cool acidity balancing the full-bodied ripe tropical and orchard fruit flavours. Pleasantly restrained oak barrel notes round out the wine's profile, making for an elegant mouthful of American Chardonnay. Drinking window: 2023-2026 (YL).
La Crema 2019 Monterey Chardonnay                 87
Bright straw-gold colour. Easygoing, simple aromas and flavours of ripe pear, pineapple, guava and butter, with hints of Meyer lemon. Finishes medium-long with soft acidity and a round mouthfeel. Maybe it was just my bottle, but I'd drink this up soon. Drinking window: 2023-2024 (ID).
Le Pich.
Le Pich 2021 Pinot Noir Sonoma County       91
Ruby red. Perfumed aromas and flavours of red and black fruit, smoke and herbs. Subtly layered and nicely suave, with a refined mouthfeel and a long refreshing close. This well-balanced, easy drinking Pinot Noir is a lovely wine that's ready to drink now, but can age for a few more years hould you choose to let it. Drinking window: 2023-2026.
Purlieu 2017 Cabernet Sauvignon Napa Valley                  92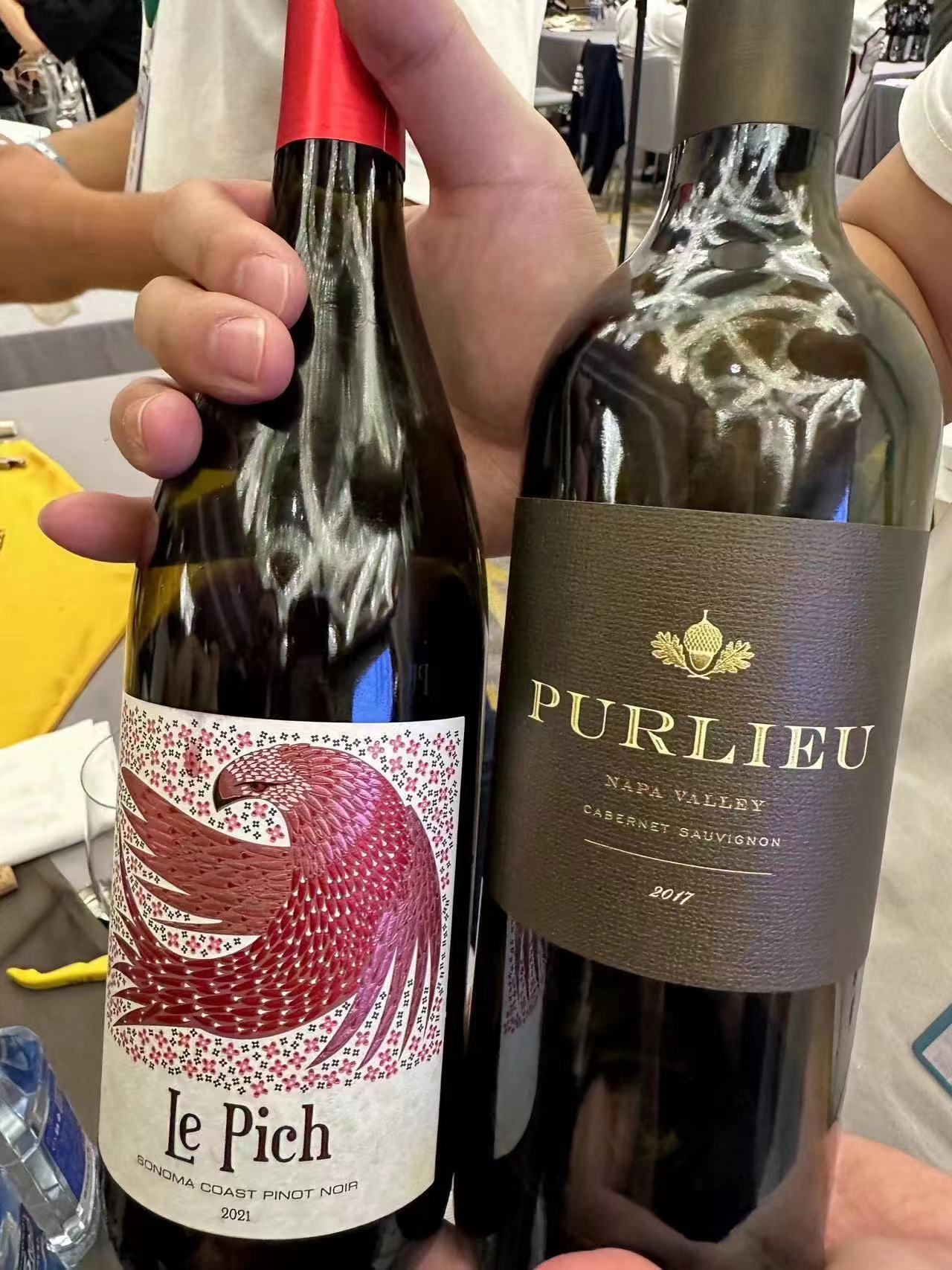 Fully saturated ruby. The nose offers complex and deep aromas of black currant, smoke, herbs, violet and minerals. Powerful and boasting good inner-mouth perfume, the flavours of dark cherry and berries are nicely framed by harmonious acidity and supported by noble tannins. Drinking window: 2023-2030.
Nicolas Jay.
Nicolas-Jay 2021 Pinot Noir Willamette Valley Oregon                94
Good full medium-deep purple-ruby. Complex, brooding aromas of blackberry, black plum, strawberry, cracked black pepper, and underbrush. Then sweet and savory, with a supple, lush mouthfeel featuring ripe dark fruit and smoke flavours. The building aftertaste is nobly tannic, pliant and persistent. Drinking window: 2025-2033 (ID).
Nicolas-Jay 2021 Pinot Noir Bishop Creek Yamhill-Carlton Willamette Valley Oregon                            95
Moderately saturated ruby. Graphite, anise and forest floor complement ripe dark plum, coffee and cassis on the showy nose. Then rich and layered, with a complex set of flavours including earthy, peppery, mushroom notes, black cherry and coffee. Finishes very long with hints of blackberry pie and minerals. Made with grapes from ungrafted old-vines site in the northwestern section of the Yamhill-Carlton district. Drinking window: 2025-2037.
Nicolas-Jay 2018 Pinot Noir Willamette Valley Oregon                92
Deep red-ruby. Lively aromas of plum and blackberry, then rising loamy notes and game. Fresh red and black fruits on entry, complicated by potpourri and spicecake nuances in the middle; the dark fruits slowly become prevalent with aeration. Citrus peel and spices dominate on the long still youthfully chewy finish. This is very ripe and dark in its organoleptic profile, in keeping with the 2018 vintage's characteristics, but still fresher than many Oregon Pinot Noir wines I have tried recently. Drinking window: 2025-2032.
Pike Road.
Pike Road 22 Pinot Gris Willamette Valley       90
Luminous straw green-gold. Zingy, fresh aromas and flavours of orchard fruit, honey and lemon crisp. Then more nectarine, peach and pear in the mouth, with a saline acidity nicely extending the flavours on the fresh juicy finish. It starts with fresh aromas of Honeycrisp apples, honeycomb and lemon. The grapes were hand-picked and gently pressed, then cold fermented in stainless steel tanks. No oak, making for a gentle, delicate and fresh white wine that will make a lovely aperitif. Drinking window: 2023-2035.
Ponzi.
For my money, Ponzi and Eyrie Vineyards gave always been the cream of the crop in Oregon wine, certainly relative to Pinot Noir. Ponzi also ventured into other varieties too, and given their Italian ancestry successfully ventured into winemaking with Italian native grape varieties, such as their Arneis wines I used to greatly enjoy in my younger days (when I lived in places I could find them more or less easily). But the gamily also owend and ran Oregon's oldest microbrewer, Bridgeport Brewing, prior to selling it so as to concentrate on its wine business. The second generation of Ponzis, Luisa, Anna-Maria and Michel helped bring the winery to even greater heights than those reached by their father Richard (Dick) Ponzi (Michel stepped down in 2012 as CEO to pursue his other interests in food industry, and currently resides in both Italy and Oregon). The estate's vineyards are all certified sustainable.
Ponzi 2021 Pinot Noir Laurelwood District Willamette Valley Oregon                                      95
Palish medium red-ruby. Knockout aromas of red cherry, redcurrant, smoke, cinnamon and earth that pick up intensity and penetrance with aeration. Dense and concentrated but also vibrant and light on its feet despite its undeniable power, with subtle flavours of red fruit, spices, orange peel and pipe tobacco. Finishes firmly but nobly tannic and extremely long. Made with grapes sourced from throughout the Laurelwood District. Drinking window: 2025-2035.
Ponzi 2019 Pinot Noir Laurelwood District Willamette Valley Oregon                      94
Good medium ruby-red. Sappy aromas of red cherry, blackberry, violet and sandalwood. Ripe but with nicely austere, concentrated flavours of dark and red berries, bitter chocolate and sweet spices. Very solidly structured Pinot Noir, finishing firm and classy, not to mention long. Drinking window: 2025-2035.
Trinite Estate.
Trinite Estate 2018 Acaibo Red Wine Sonoma County                     94
Bright deep full ruby. Aromas and flavours of small dark berries, minty plum, pine needles and coffee are pure and focused. The suave tannins provide excellent support to the rich ripe fruit and extend the flavours on the long back end. Drinking window: 2025-2034. (ID).
Trinite Estate 2016 Acaibo Red Wine Sonoma County                      96
Deep ruby. Aromas and flavours of dark and red berries, coffee, cocoa and mineral dust, plus a strong violet top-note. Fresh and lively in the mouth, with a suave texture and herbal nuances to the dark and red fruit flavours that linger nicely on the smooth medium-bodied, highly mineral finish. I have written before that though this is a blend of 72% Cabernet Sauvignon, 18% Cabernet Franc, and 10% Merlot, the wine seems pleasantly dominated to me by the Cabernet Franc that leaves a welcome impression of elegance and restraint behind. Drinking window: 2023-2032. (ID).
Twomey.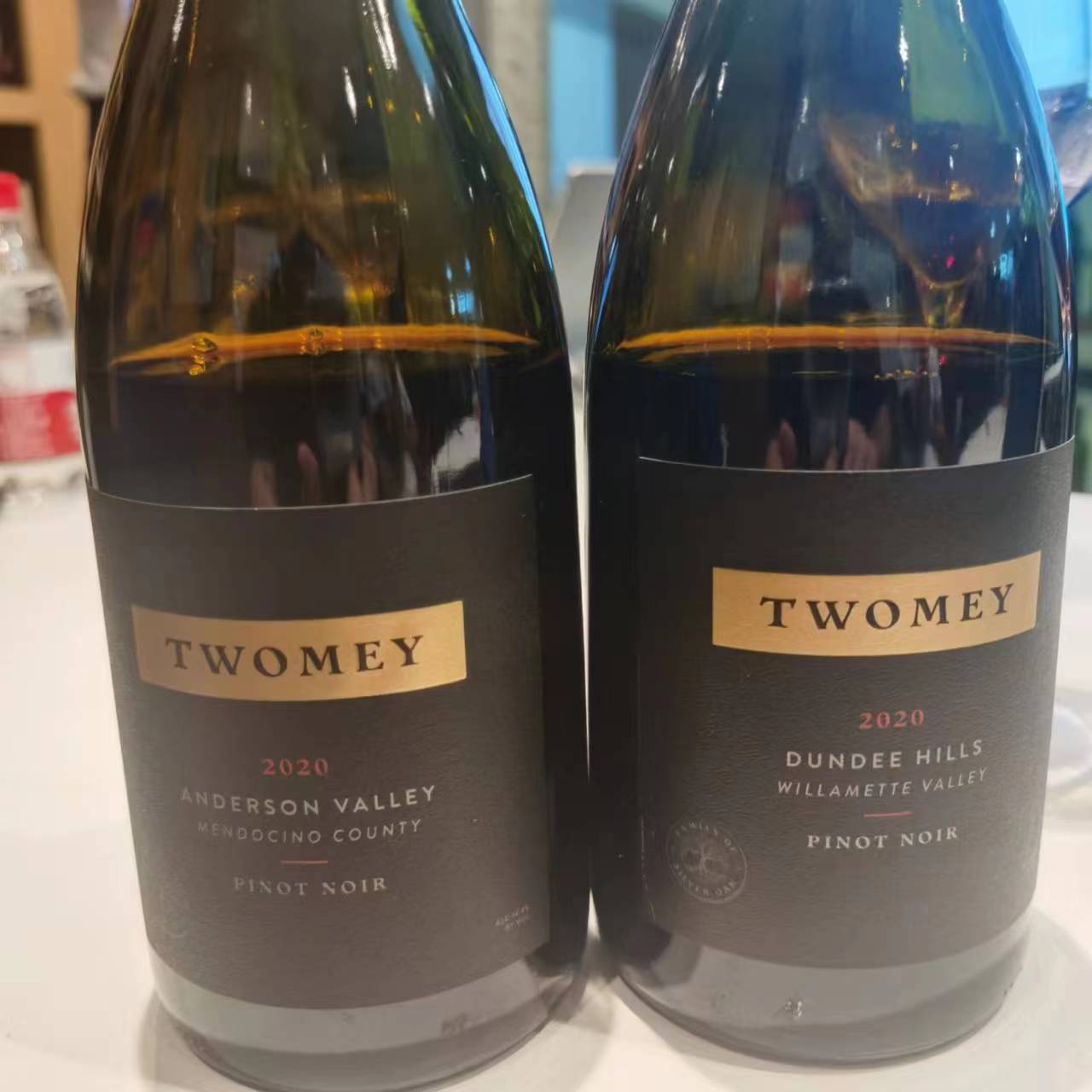 Twomey 2020 Pinot Noir Mendocino County Anderson Valley                         92
Deep red-ruby. Initially slightly reduced on the nose, this opened with aeration to show perfumed red cherry, strawberry, minerals, and smoke. Suave, rich and deep, with creamy acidity giving the red and dark fruit and spice flavours a sappy quality. Offers a very good combination of generosity of texture and grip. Drinking window: 2023-2027. (ID)
Twomey 2020 Pinot Noir Dundee Hills Willamette Valley                      93
Good deep red-ruby. Penetrating aromas of dark cherry, licorice, violet, minerals and mint. Enters slightly austere, with firm flavors of dark cherry, minerals, mint and herbs, firmed up by an edge of acidity but fills out in the middle revealing abuilding creaminess to the red and dark fruit flavours, complicated by a dusting of minerals and herbs. This vibrant Pinot Noir finishes long with noteworthy tannins and good acid spine, and outstanding depth of fruit, not to mention just as outstanding clarity and cut. Drinking window: 2024-2028. (ID)