Eyrie 2021 Pinot Gris Dundee Hills Oregon                93
by Robert Millman
For many years the principal white wine grape in the Willamette Valley was Pinot Gris, not Chardonnay. Although I have been favorably disposed to the Pinot Noirs coming out Oregon from the beginning I was never happy with most of the Pinot Gris' I tasted: Oily, low acid, fat and heavy handed. Yes there were exceptions—there always are. The few Pinot Blancs I tasted seemed much more pleasing and refreshing. Chardonnay went through a forty years also-ran period. Decent wines but not comparable in quality to the best California Chardonnays. All this has changed starting, to be arbitrary around, 2012. In the last 10 years or so the best Willamette Valley Chardonnays compete very well with the best Sonoma Coast and Anderson Valley Chardonnays. Quite different in style yet now commanding considerable attention from experienced tasters.
But I digress. At a distributor event the 2021 Eyrie Pinot Gris was among the wines served. I was delighted to taste a wine from this quirky grape—which does so well in Alsace—which captured the essential density and richness of the variety but with brilliant supporting acidity and freshness. Eyrie is the first winery to set up shop in the Willamette valley nearly sixty years ago by maverick wine lover David Lett. There were literally no vines planted in the Valley before 1965! The Letts loved the perfume and finesses of red Burgundies and were apparently somewhat allergic to Cabernets Sauvignon. They did not find California hospitable to their intentions. It must have taken a lot of courage and stubborn commitment to recognize the potential of this beautiful but vine-free region of Oregon. David Lett started something which has reached the point where there are over 500 Oregon wineries (80% or so in and around the Willamette Valley). The 2022 year saw sales of Oregon wines reach one billion dollars. Eyrie is not only a full organic winery but now practices a no-tilling of the soil approach which is sweeping wineries world wide. Aging in barrel is quite a bit longer than at most Oregon wineries which make Pinot Gris. The wine undergoes full malo which does not appear to have undermined the wines' excellent acidity.  The grapes come from four vineyards in the Dundee AVA, all owned by the Lett Family. The wine combines a strong a savory quality with counter balancing citrus, stone fruit and mineral underpinning. Retailing in the United States for a modest $35, it is one of the finest white wines in its price category one could hope to find. Drinking Window 2023-2028.
Mas des Bressades 2021 Cinsault Les 5 Sens Vin de France                   93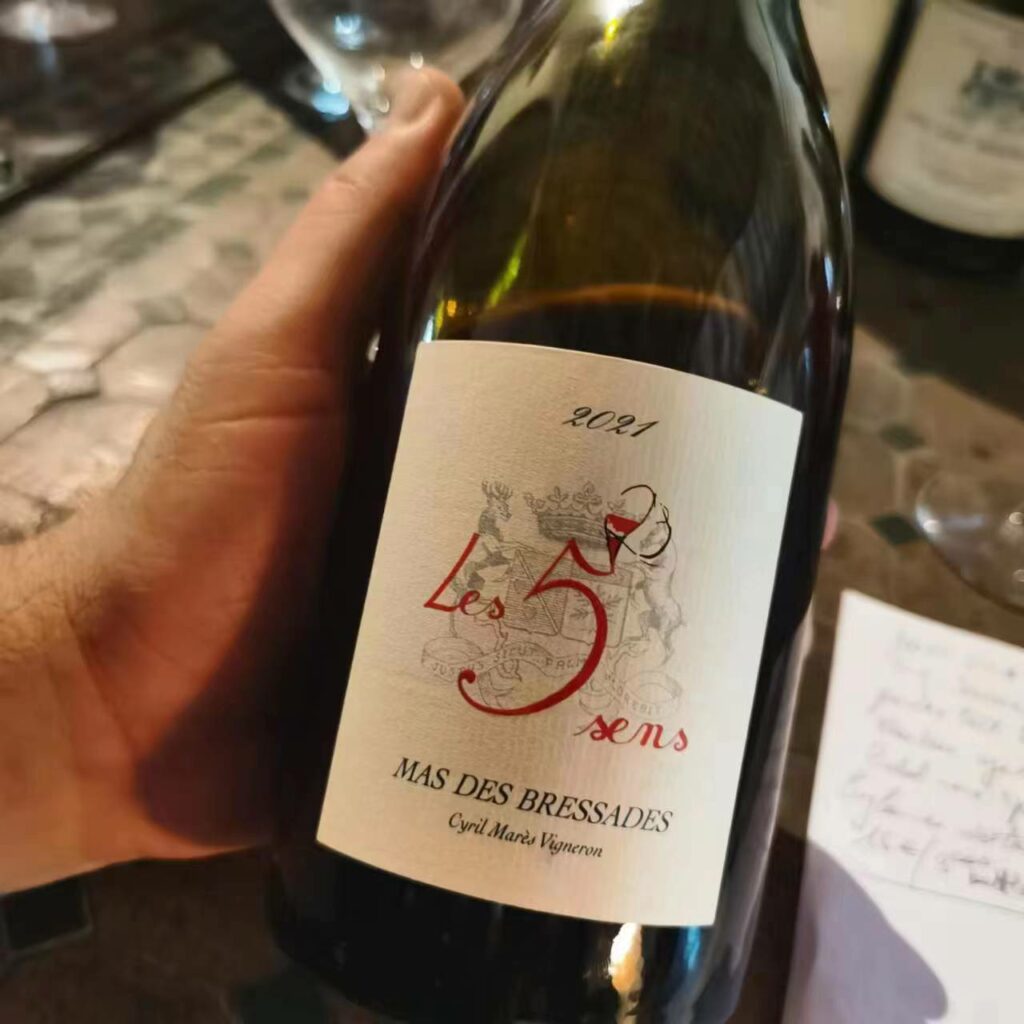 Cinsault is one of the world's most underrated grapes: an historic part of the Châteauneuf du Pape blend (one of its thirteen grapes), the variety is now reduced mostly to making often non-descript pink wines from Provence. But I can safely say that the grape deserves far better, and old vine red wines can be just fantastic (and not just in France: in Italy's Puglia region, old vintages of Ottavianello -the Italian name for Cinsault- can be just magnificent).
Mas des Bressades is the best winery in Costières de Nîmes, founded by Roger Marès in the 1960s. The Costières de Nîmes is the southernmost Appellation of the Rhone valley, and so most of the grapes grown there are those you would more normally associate with the northern section of those regions, such as Syrah and Grenache. The estate spreads out over forty hectares and most of the vineyards lie at seventy meters asl. Since 2017, the winery is organically certified.
The 2020 Cinsault Les 5 Sens Vin de France is a work of art. Beautiful deep red colour. Complex aromas and flavours of red cherry, raspberry nectar, sweet and Oriental spices, soy sauce and wild herbs make for a knockout nose. Then smooth and layered, with penetrating acidity carrying and extending the flavours on the smooth long finish. Grab as many bottles as you can. Cinsault like this gives you a whole other understanding of the variety and this wine in particular showcases just how good its red wines can be. Well done here. Drinking window: 2023-2030.